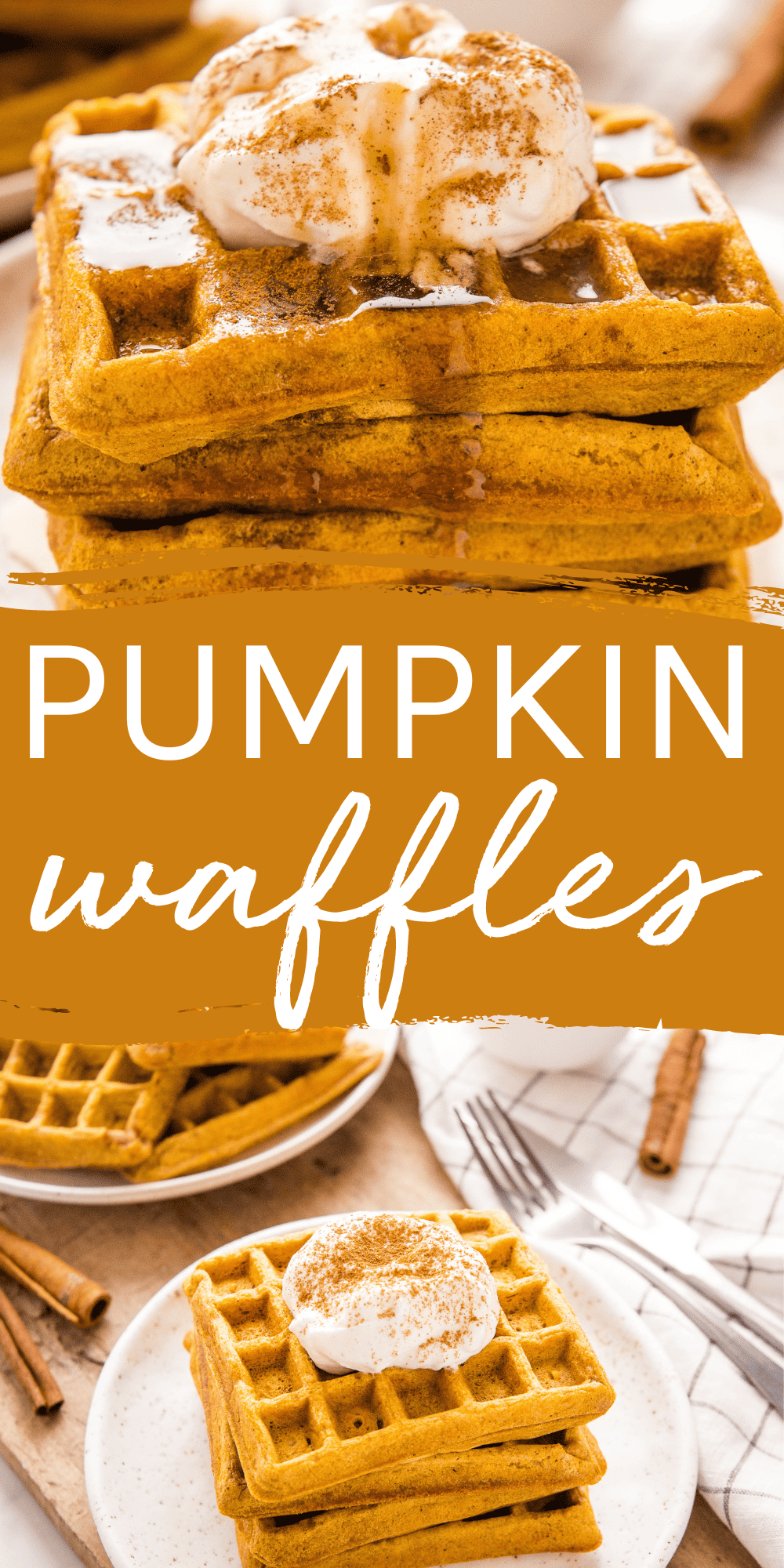 This Pumpkin Waffles recipe is the perfect fall breakfast or brunch. The BEST light and fluffy waffles made with pumpkin and spice – serve them with maple syrup and whipped cream!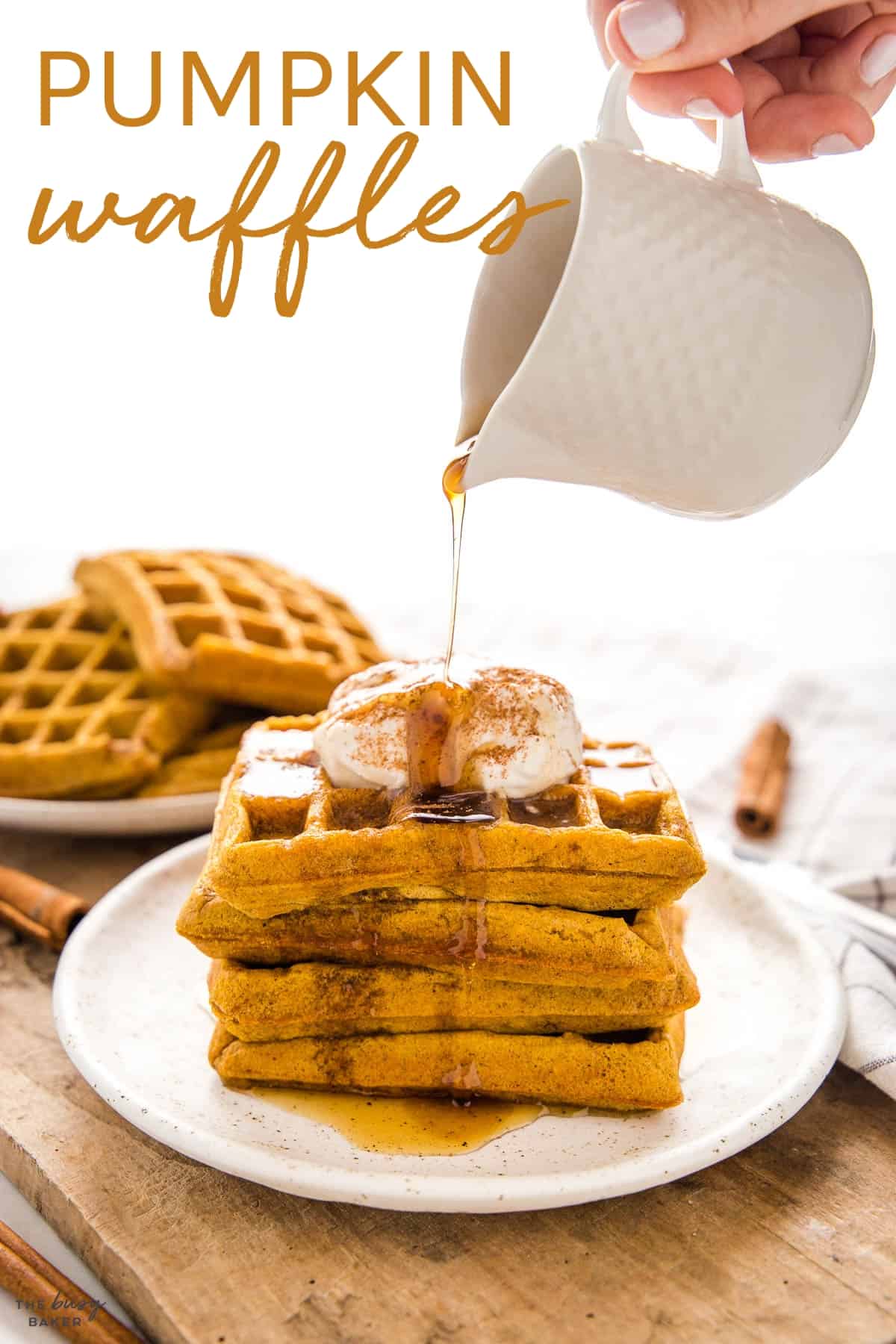 Estimated reading time: 7 minutes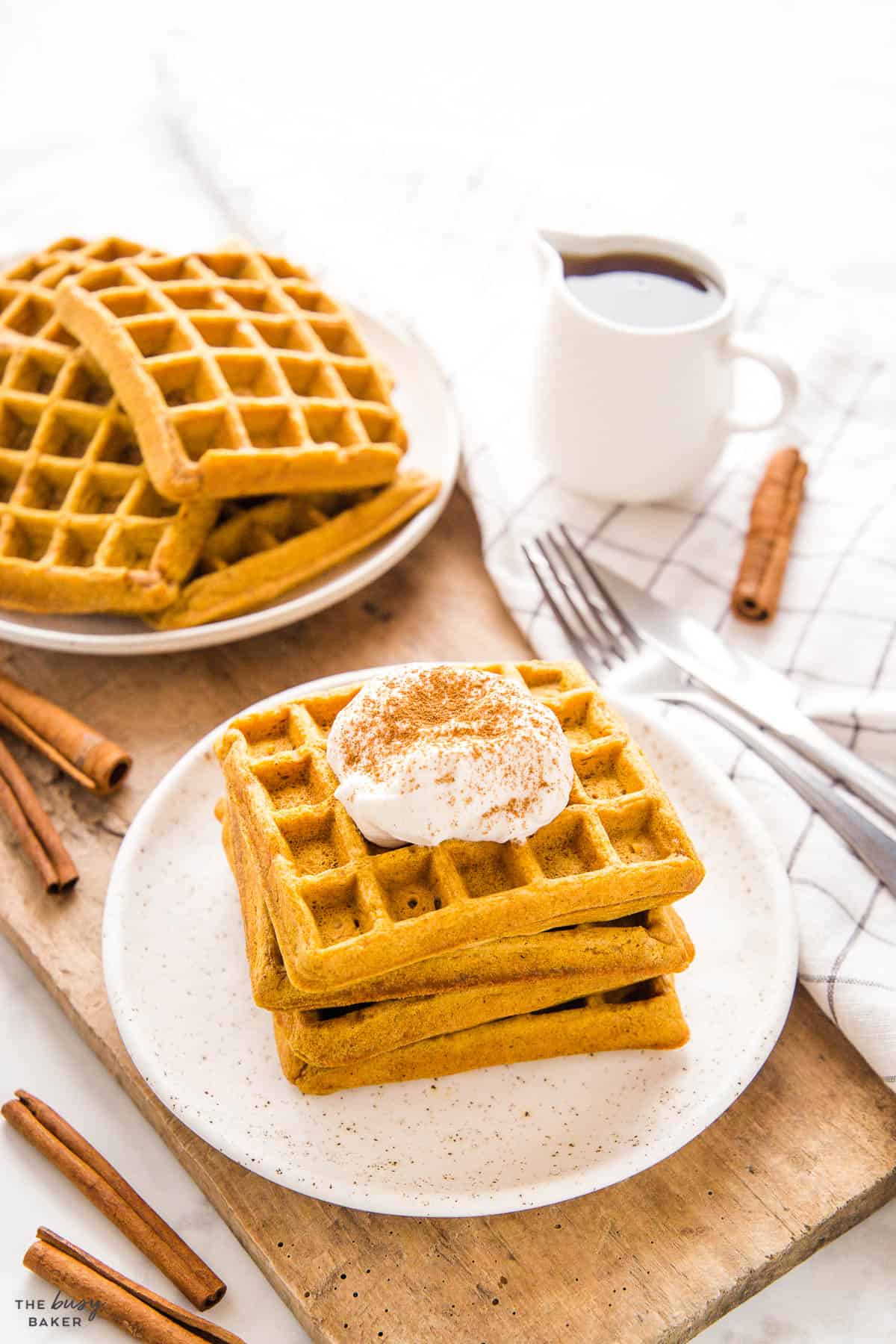 If you've been a reader of The Busy Baker for any length of time you'll already know how much we love a good pumpkin recipe! 'Tis the season for everything pumpkin, and if you're looking for a delicious fall recipe for breakfast or brunch, this Pumpkin Waffles recipe is one of the best!
Light and fluffy waffles with a slightly crispy exterior, flavoured with pumpkin and cinnamon, and served with whipped cream and sweet maple syrup? Yes please!!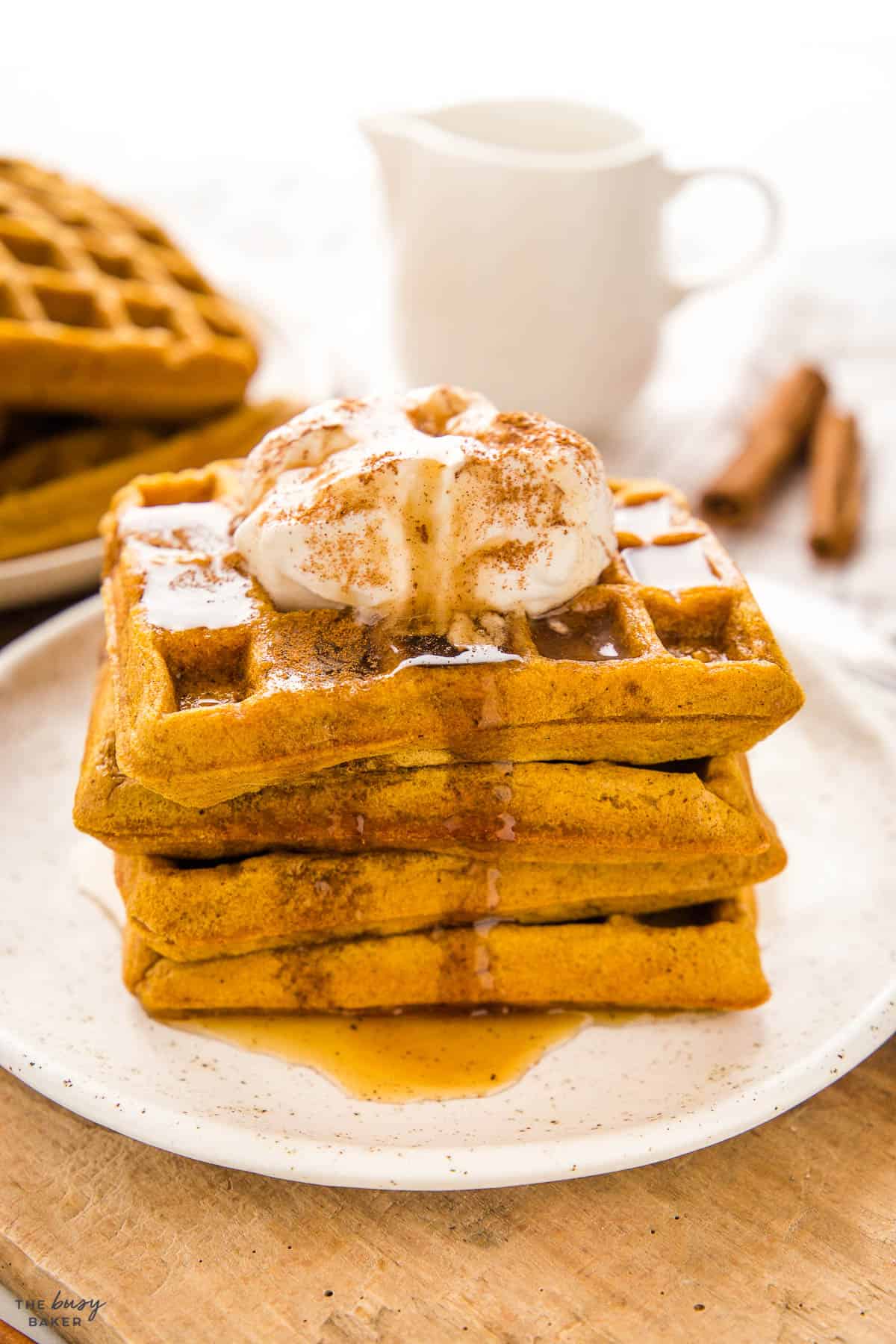 If you want to up your waffle game and achieve the perfect fluffy waffles, there's one secret tip that works every single time: whipped egg whites!
Add your dry ingredients and wet ingredients to two separate bowls. When adding the eggs to the wet ingredients, add the egg whites into a third bowl by themselves and mix the egg yolks with the other wet ingredients.
Before you combine the wet and dry ingredients to form the waffle batter, whip the egg whites to stiff peaks using a hand mixer or stand mixer. Then combine the wet and dry ingredients. Once they're combined, fold the egg whites in to the waffle batter slowly, just until no streaks of egg whites appear.
Adding the whipped egg whites to your waffle batter right before cooking will create an ultra-fluffy batter with lots of tiny air bubbles. They'll be the most fluffy waffles you've ever tasted!
If you're short on time, you CAN prepare the waffle batter without whipping the egg whites – simply mix the whole eggs in with the rest of the wet ingredients and prepare the recipe as directed. You'll still be left with delicious waffles!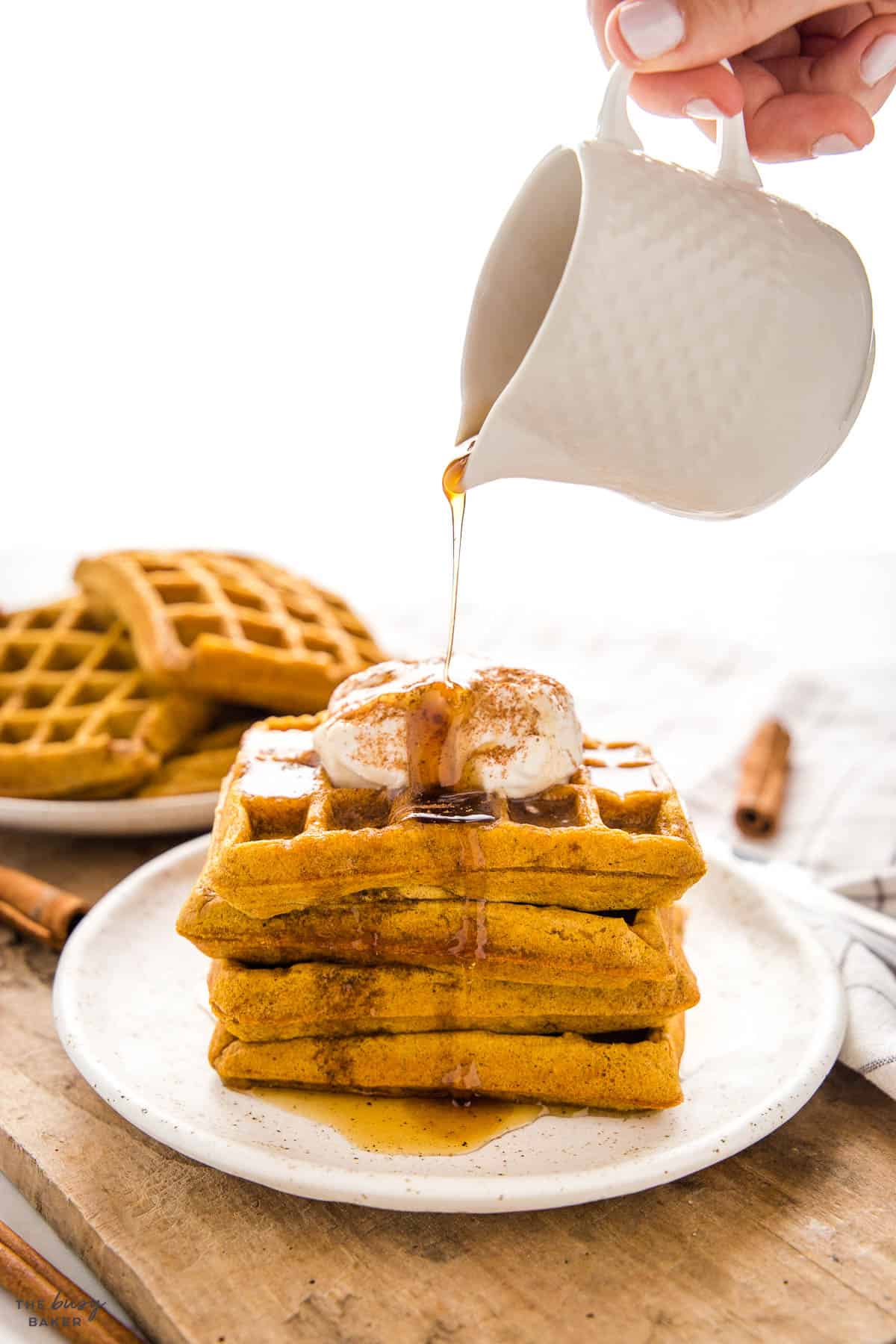 One of our most-kept kitchen secrets is a make-ahead breakfast for busy weeks. We LOVE making a big double batch of this Pumpkin Waffles Recipe on a fall weekend and freezing the leftovers to enjoy throughout the week. The kids LOVE to pop them in the toaster and then smother them in peanut butter and enjoy with some sliced bananas and maple syrup before heading off to school.
The great thing about this pumpkin waffles recipe is that it's easy enough for a simple weekend breakfast and it's stellar enough to enjoy for a thanksgiving breakfast or brunch! If you're looking for Thanksgiving, Christmas or Easter-worthy solutions for breakfast or brunch, we've got you covered. Sign up below for our FREE Easy No-Fail Holiday Meals E-course for all our best holiday meals tips, tricks, recipes and tutorials, including all the best breakfasts to wow a crowd!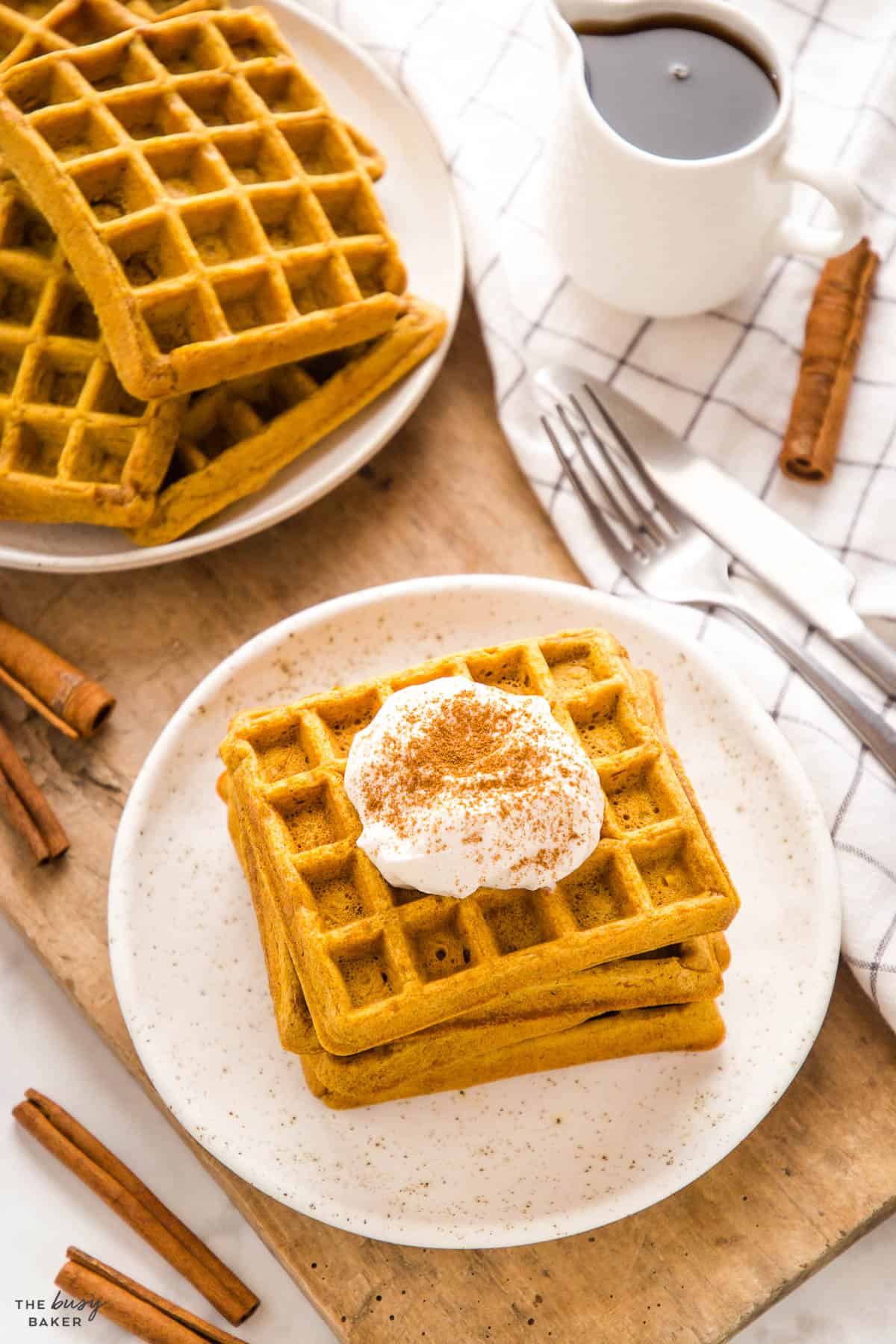 Making homemade waffles is easy, as long as you have this basic kitchen equipment (paid links):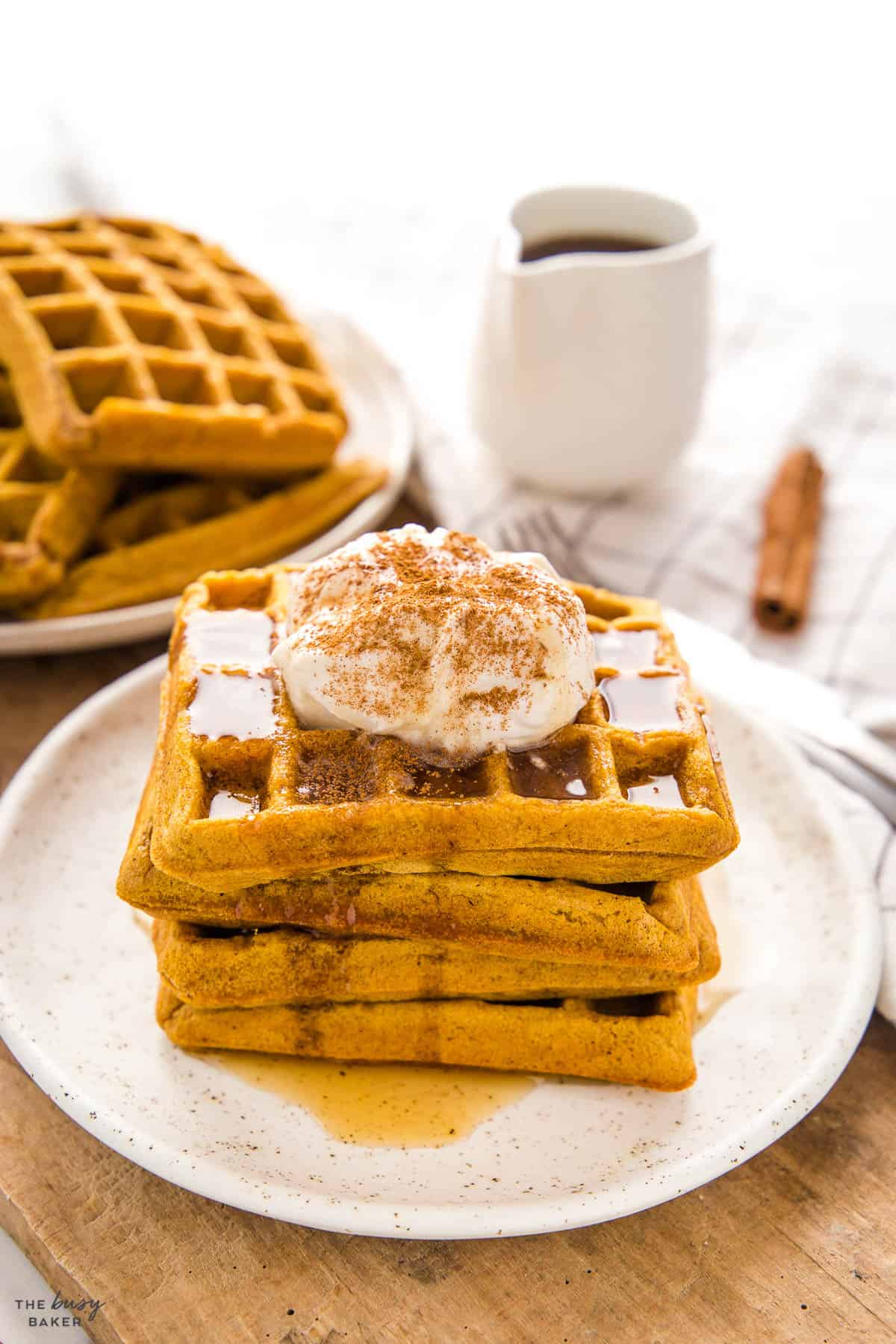 all purpose flour
brown sugar
baking powder
baking soda
ground cinnamon
ground nutmeg
ground cloves
salt
pumpkin puree (we recommend canned)
low fat buttermilk
eggs
vegetable oil or melted butter
vanilla extract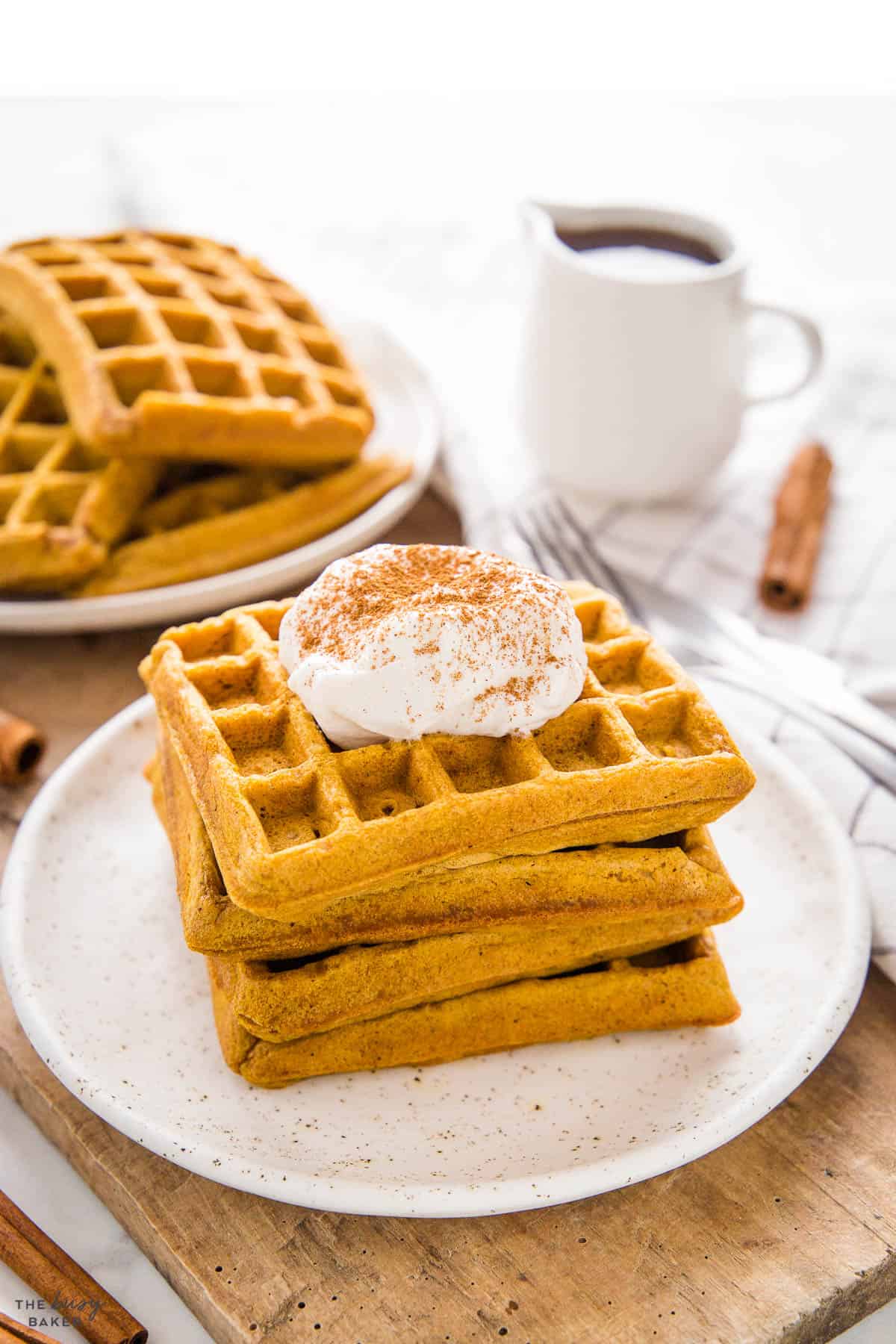 Time needed: 30 minutes
Follow these steps for the perfect waffles every time!
Preheat your waffle iron.

Make sure your waffle iron preheats while you make the batter so you're able to begin cooking immediately after the batter is mixed.

Mix the dry and wet ingredients seperately.

Mix the dry ingredients in one bowl and measure the liquid ingredients into a separate bowl, separating the egg whites into a third bowl.

Whip the egg whites seperately.

Whipping the egg whites to stiff peaks and folding them in to the batter creates a beautiful light and fluffy waffle with a crispy exterior.

Don't over-mix the batter.

Stop mixing when no more streaks of the egg whites are visible. This will help create a light and fluffy texture.

Make the waffles right away.

The batter will deflate if you let it sit for too long, creating tougher and less fluffy waffles. It's best to cook the waffles immediately after you mix the batter for best results.

Enjoy with your favourite toppings.

We love these waffles with whipped cream and maple syrup, but feel free to enjoy them with your favourite waffle toppings.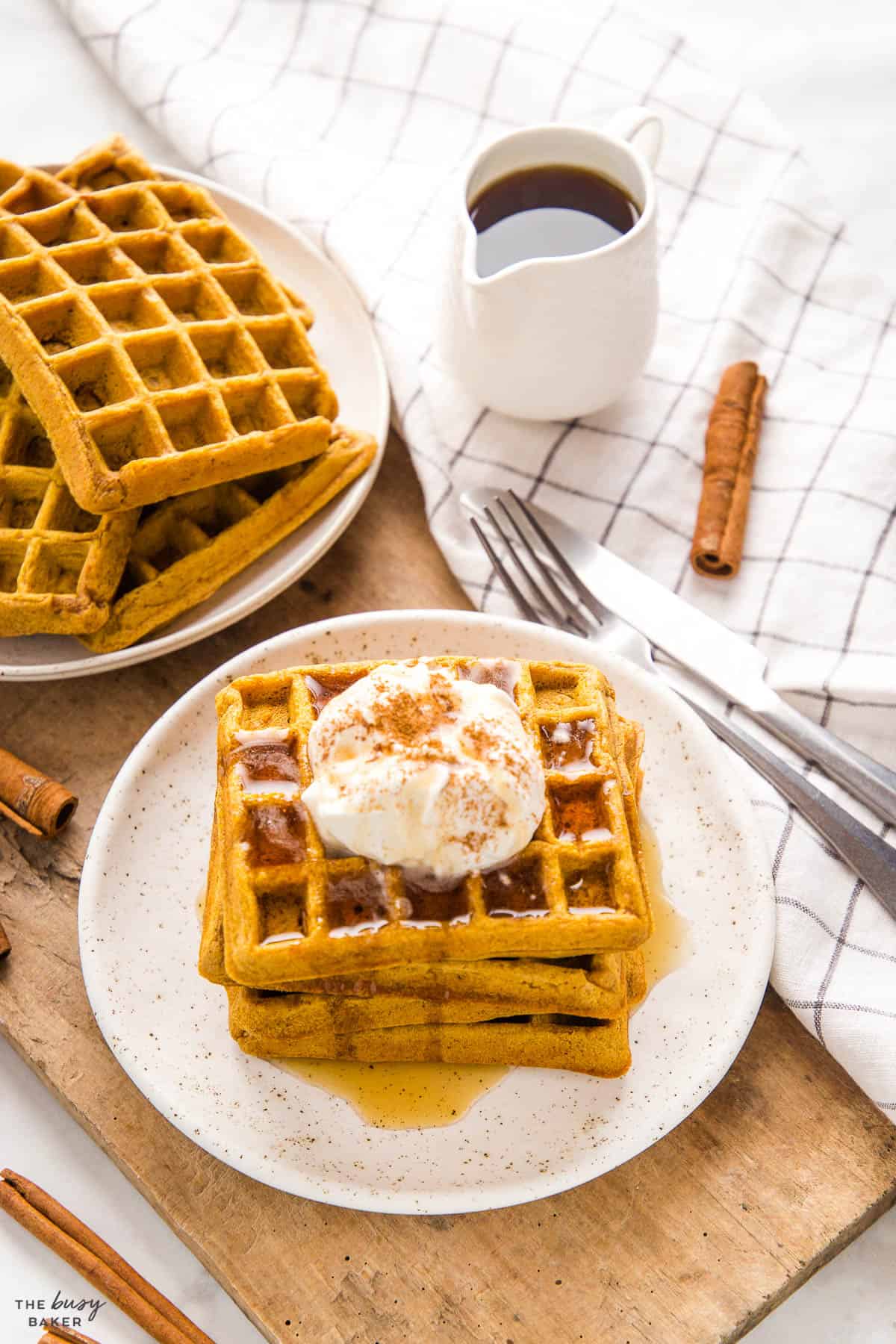 Are waffles just pancakes?

Waffles and pancakes aren't the same. Waffle batter usually contains more sugar and fat than pancake batter, and waffles are often made with whipped egg whites for an extra fluffy interior and crispy exterior.
Are waffles difficult to make?

No! Waffle batter is easy to make and using a conventional waffle iron with non-stick plates makes it even easier to achieve the perfect waffles!
Can I make this recipe ahead of time?

We recommend making these waffles and enjoying them right after they're made. We don't recommend making the batter ahead of time as the waffles won't be as fluffy (the batter will deflate over time). Once they're made, the waffles can be reheated in the toaster or microwave.
Can I freeze these waffles?

Yes! Freeze these waffles in an airtight container with parchment paper between them to prevent them from sticking. Reheat in the toaster or microwave.
Can I make these waffles gluten-free?

It's possible to make these waffles gluten-free with a gluten-free flour that performs similarly to all purpose flour. Since we don't do much gluten-free baking, we can't guarantee the results will be the same.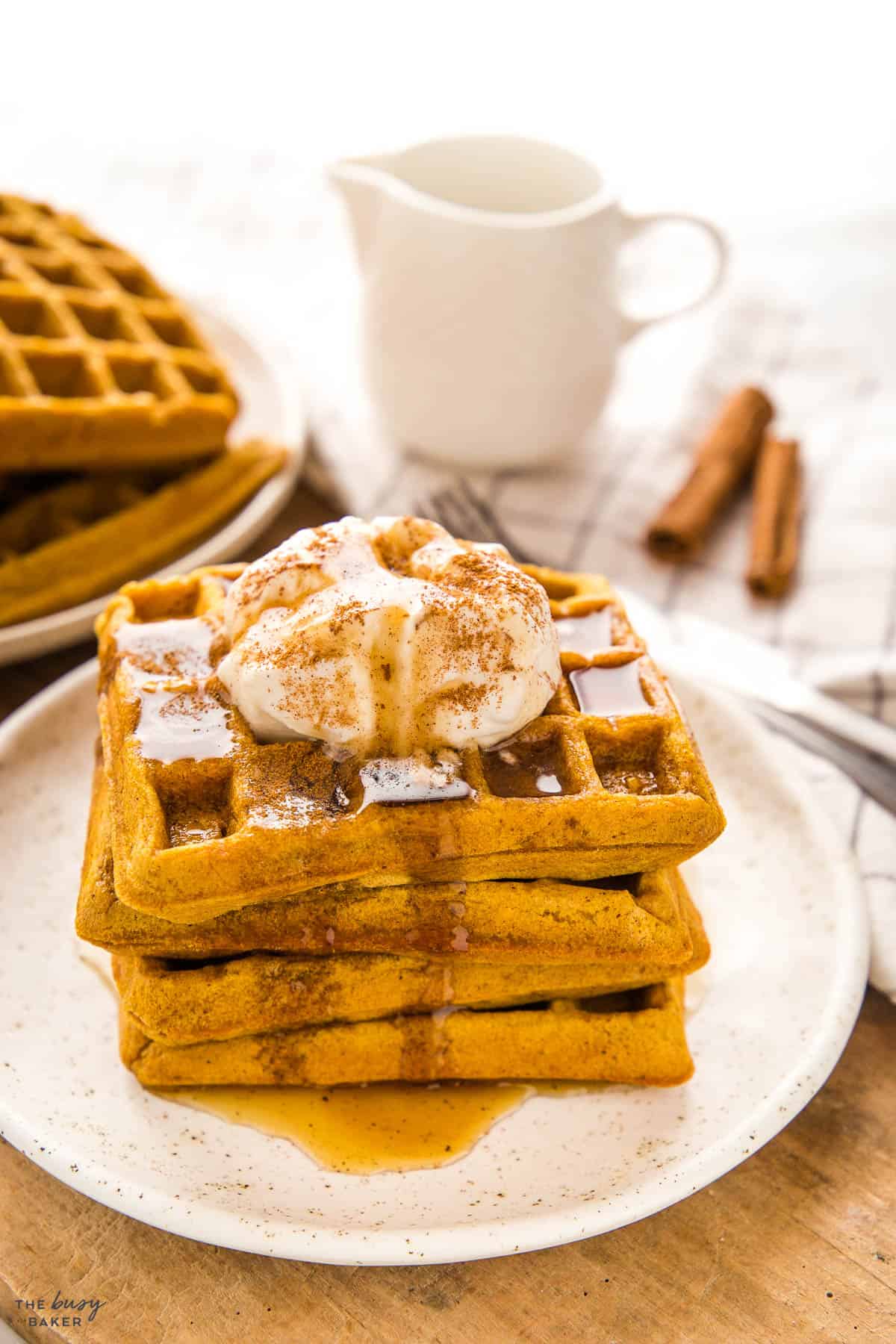 We hope you love this fall breakfast recipe as much as we do! Let us know in the comments below, what's your favourite pumpkin recipe? We'd love to know!
If you made this, share a photo!
Are you trying this recipe? Use the comment form below to share your take; now with support for image uploads and comment voting!
Share a photo
Pumpkin Waffles
The BEST easy-to-make light and fluffy pumpkin waffles served with maple syrup and whipped cream! The perfect fall breakfast or brunch.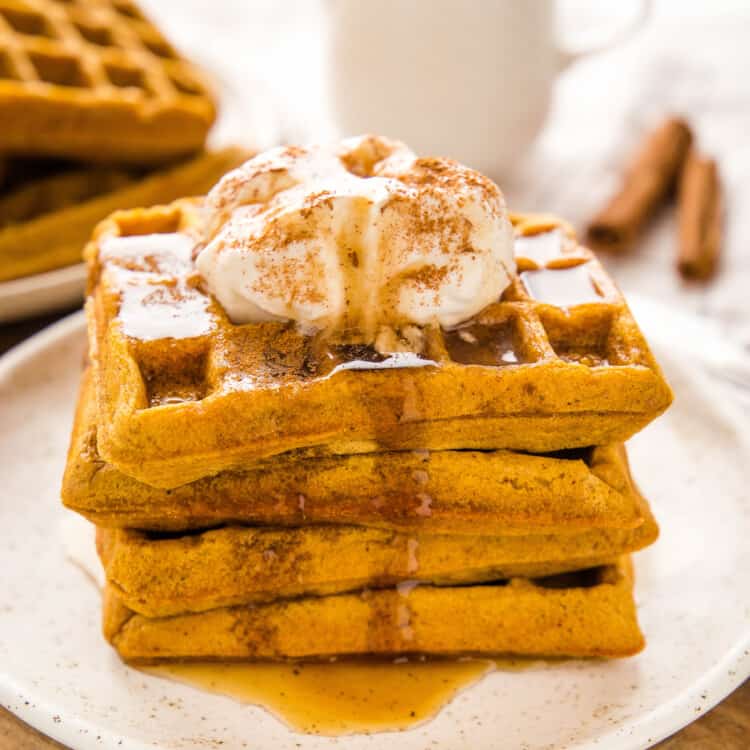 Recipe:

Instructions
Preheat your waffle iron.

In a large bowl, whisk together the flour, sugar, baking powder, baking soda and salt, and the spices. Set aside.

To a separate bowl, add the melted butter, buttermilk, pumpkin, egg yolks, and vanilla. Whisk well to combine.

Add the egg whites to a separate bowl and mix on high speed with a hand mixer or stand mixer until they reach the hard peaks stage (when you remove the mixer from the egg whites they form peaks that don't fall). If you're short on time, feel free to mix the eggs whites in with the butter, buttermilk, yolks and vanilla instead of whipping them separately.

Add the dry ingredients to the wet ingredients and mix well with a silicone spatula, scraping down the sides of the bowl.

Add the whipped egg whites, a little at a time, and fold them into the batter gently just until all the egg whites have been incorporated.

Brush the waffle iron with oil or spray it with cooking spray.

Ladle about 1/2 cup of batter into the waffle iron for each rectangular waffle, and more if you're making round waffles. This recipe makes approximately 4 round Belgian-style waffles or 12 smaller square waffles.

Cook according to your waffle iron's instructions (every waffle iron is different), or until the waffles are golden brown. Repeat until all the batter is gone.

Serve immediately with whipped cream, maple syrup, or your favourite waffle toppings.
Recipe:

Notes
Storage Instructions
Store these waffles (once cooled completely) in an airtight container in the fridge for up to 3-4 days.
Reheating Instructions
To reheat these waffles, add them to your toaster and toast until reheated. You can also reheat them in the microwave.
Freezer Instructions
To freeze these waffles, place them in an airtight container with parchment paper between the waffles so they don't stick together when frozen. Remove them and reheat one by one, as desired.
Easy Batter Method
Feel free to skip the step where the egg whites are separated, whipped and incorporated into the batter right before cooking. While this helps you achieve extra light and fluffy waffles, the recipe will still work well if you simply mix the eggs together with the other wet ingredients.
Recipe:

Nutrition

Nutrition Facts

Pumpkin Waffles

Amount Per Serving (2 square waffles (as pictured))

Calories 308

Calories from Fat 72

% Daily Value*

Fat 8g12%

Cholesterol 79mg26%

Sodium 449mg20%

Potassium 336mg10%

Carbohydrates 50g17%

Protein 9g18%

Vitamin A 4532IU91%

Vitamin C 2mg2%

Calcium 152mg15%

Iron 3mg17%

* Percent Daily Values are based on a 2000 calorie diet.

Notice: Nutrition is auto-calculated, using Spoonacular, for your convenience. Where relevant, we recommend using your own nutrition calculations.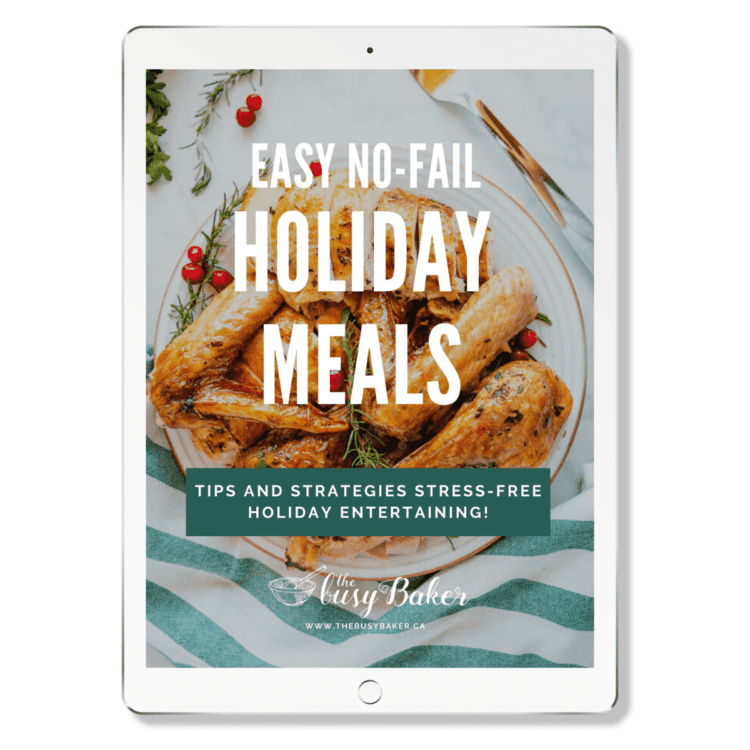 Looking for more?
EASY NO-FAIL HOLIDAY RECIPES AND COOKING & BAKING TIPS
Get my easy no-fail holiday meals e-cookbook!
Click here to learn more!