*I'm excited to be participating in a Monthly Ingredient Challenge
with a great group of food bloggers! Our November ingredient is
Caramel, so I'm sharing these Chocolate Caramel Shortbread Bars as one of my favourite all-time caramel recipes. Be sure to check out the other
bloggers' caramel recipes linked at the bottom of this post!
The holidays are coming quickly, and along with the many gatherings of family and friends comes much eating and entertaining. It's always a good idea to arm yourself with some dependable and healthy holiday recipes like roasted vegetables, warm salads, easy appetizers, and even a low-fat dessert or two, but because it's the holidays and it's a time for celebration, it's also important to bring out those once-a-year recipes that are so deliciously decadent you save them for special occasions like Christmas because they are just so good you only need to make them (and eat them) once a year. These Chocolate Caramel Shortbread Bars are exactly that: rich, buttery, deliciously sweet and perfectly decadent. I grew up enjoying these when my Grandma made them every Christmas and it's become a family recipe that I'm glad I can share with you. I know you are going to love them as much as my family does!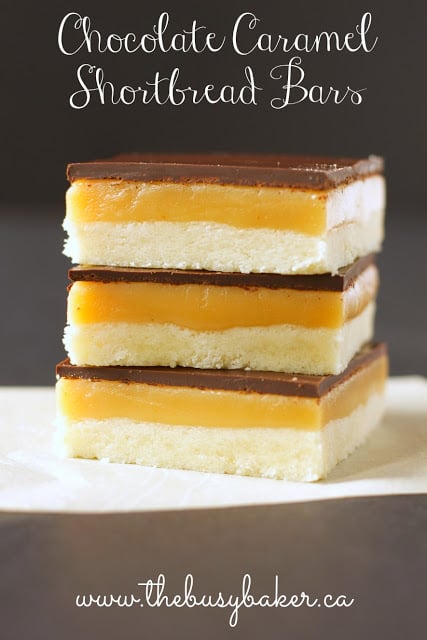 You'll need:
For the shortbread base:
1 cup unsalted butter, at room temperature
1/2 cup white sugar
2 1/4 cups all purpose flour
1/4 tsp sea salt
For the Caramel filling:
1 tin sweetened condensed milk
1 cup white sugar
1 cup unsalted butter
4 tbsp corn syrup or brown rice syrup
For the chocolate topping:
8 oz semi-sweet chocolate
To make:
Preheat your oven to 350 degrees Fahrenheit. Prepare a 9×13 baking dish with completely square sides by greasing it with a teaspoon or two of butter and lining it with parchment paper. The parchment paper will help you remove the bars from the pan, so make sure to leave some parchment paper hanging over the edges for easy removal.
In the bowl of your stand mixer (or with a hand mixer) cream the butter and sugar for the shortbread base until it's light and fluffy and pale in colour. Add the flour and sea salt and mix on low speed just until the dough begins to come together and the flour is absorbed.
Press the mixture as evenly as you can into the prepared baking dish and bake at 350 degrees Fahrenheit for 18-22 minutes, or just until the edges begin to turn a very pale brown.
Let the shortbread base cool almost to room temperature while you prepare the caramel filling.
Add the butter to a medium pot over medium heat and let it melt. Once the butter is melted, add the sugar, the sweetened condensed milk, and the brown rice syrup (or corn syrup). Combine these ingredients over the heat using a wire whisk until the mixture is smooth. Continue whisking constantly as the mixture heats up and once it reaches a slow boil continue whisking for 7 minutes. I would be remiss not to stress the importance of constant whisking at this point in the recipe. I have ruined more than a few batches of this caramel filling because I got a little lazy while I was whisking and let the caramel overcook on the bottom of the pot. If this happens, you'll start to see brown flecks appearing in the mixture as it boils and there's absolutely nothing you can do about this except throw the whole thing in the trash and start again (been there, done that!).
I don't make recipes like this too often simply because unless my kids are asleep there's no guarantee I won't have to step away from the stove for even a short moment. And even if you stop whisking and take the pot off the heat, those brown flecks will still appear and your mixture will taste burnt because the bottom of the pot retains a high level of heat for several minutes even if it's off the element. So don't stop to answer the phone, don't scratch your nose, don't break up a fight between your kids, don't do ANYTHING else except whisk the heck out of the caramel for a full 7 minutes and it will turn out beautifully!
After you've whisked the boiling caramel for 7 minutes, you'll notice it has darkened slightly and thickened a bit. Pour it quickly and carefully over the shortbread base and smooth it out with a spatula, pushing it into the corners of the pan if you need to. It's okay if the shortbread base hasn't cooled completely at this point. If it's a touch warm that's fine, just make sure it's not straight from the oven when you add the caramel.
Set the baking dish aside for 10 minutes before beginning to melt the chocolate to spread over the top. This will allow the caramel to set slightly so the chocolate will spread easily.
Chop the chocolate and add it to a heat-proof glass bowl over a small pot of simmering water to melt it. Using a rubber spatula, stir the chocolate pieces around in the heat-proof bowl over the simmering water until the heat of the steam has melted the chocolate completely.
Alternatively, you can microwave the chocolate pieces on 50% power for 45 seconds at a time, stirring after every 45 second increment until the chocolate is completely melted.
Spread the melted chocolate over the caramel filling carefully using an offset spatula until the chocolate has covered the entire surface of the caramel.
Set the baking dish in the fridge for 1-2 hours to allow the layers to set and remove it from the fridge 10 minutes before you plan to cut into it so the chocolate layer will slice easily. Use the parchment paper to lift everything out of the baking dish and onto a cutting board for easy slicing. A great trick to slicing this dessert is to heat the knife before slicing so it moves through the layers smoothly. Just dip your knife in boiling water and wipe it with a clean kitchen towel after each time you dip it in the water. This will help you achieve clean edges that beautifully display each layer.
Slice 24 bars and serve! Grab one while you can…they won't last long!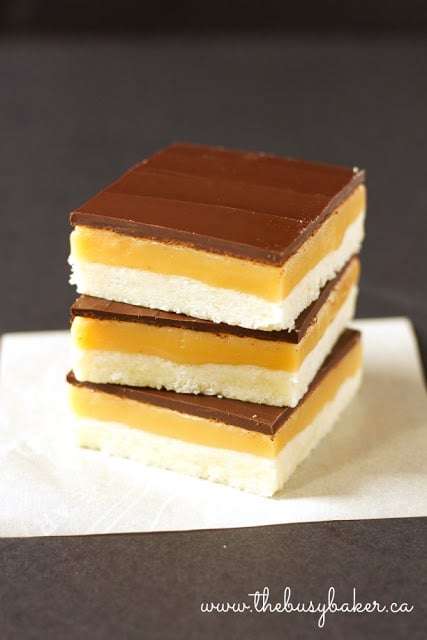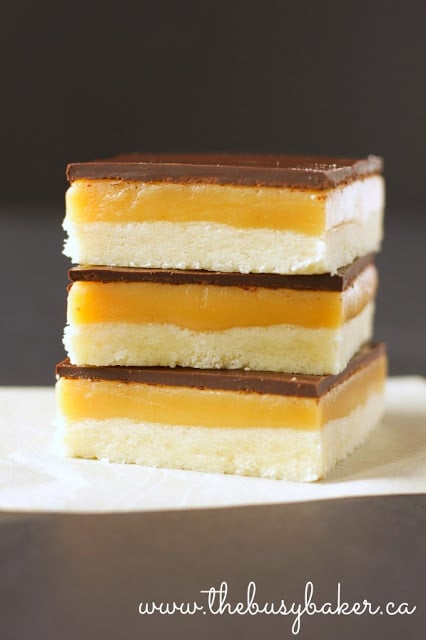 Aren't those layers beautiful?? This is such a decadent and delicious dessert for the holidays and it'll be the hit of every party!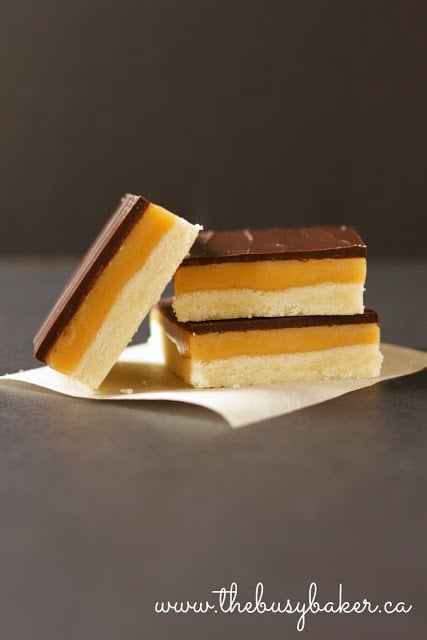 These Chocolate Caramel Shortbread Bars are definitely not something to eat every day since they're 10 Weight Watchers PointsPlus per bar, but if you love shortbread, caramel and chocolate, they're a great once-a-year treat for the holidays!
I hope you enjoy this recipe! Please check out the collage below for all the caramel recipes featured in this month's Monthly Ingredient Challenge Caramel Recipe Roundup! Click on an individual photo for the recipe!