This Earl Grey Vanilla Tea Latte or London Fog is simply delicious! It's a popular coffee shop drink that's so easy to make at home and it will cost a LOT less than those high-end coffee shops! And it calls for real, healthy ingredients – it's low in fat, can be made dairy-free, and it's free of refined sugars!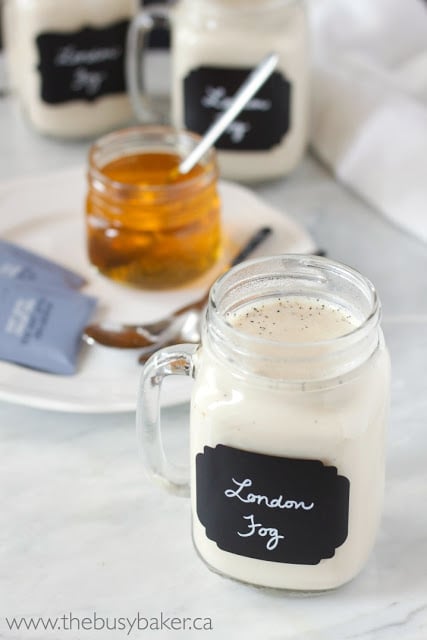 Want to stay updated on what's happening in my kitchen? Like my page on Facebook!
I don't drink coffee. I know, that's probably hard to believe since I have two kids 3 and under but I just never got into it and now I can barely choke down a latte without feeling like I've eaten rocks. Tea on the other hand…well, that's a different story. Some of my earliest memories are of tea parties with my grandma and I just grew up loving it. There's almost nothing better than a warm cup of tea with milk on a cool day and if I'm at home, you'll almost always find a mug of tea within my reach.
MY LATEST VIDEOS
A few years ago I was introduced to the idea of a tea latte – strong tea brewed with milk and other added flavours. After my first Earl Grey Tea Latte (London Fog) I was hooked!! But since I don't enjoy spending $5 on one cup (and really, who does??) and I'm not a big fan of all the sugar and chemical sweeteners and flavours in those coffee shop drinks, I was determined to come up with a homemade version that would satisfy. This recipe has only 4 ingredients, it's so delicious, and if you like tea lattes as much as I do, you're going to love it!
It's a good idea to serve this Earl Grey Vanilla Tea Latte right away while they're hot off the stove, but you can also portion them out into mason jars and keep them in the fridge for a few days. Just shake well, re-heat and enjoy whenever you need a little pick-me-up!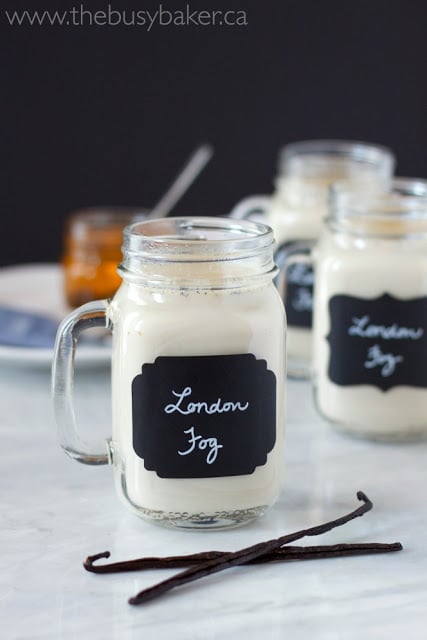 I love creating recipes like this because there's almost always a way to make a favourite treat healthier at home with natural ingredients. The best thing about this recipe is that you can use whatever milk you like – full fat, skim, or even your favourite dairy-free milk replacement. It's really up to you!
I hope you enjoy this Earl Grey Vanilla Tea Latte recipe! Let me know in the comments below, what's your favourite coffee shop treat to make at home?
Want to stay updated on what's happening in my kitchen? Like my page on Facebook!
Earl Grey Vanilla Tea Latte (London Fog)
Skip the drive through and make this simple Earl Grey Vanilla Tea Latte at home!

Ingredients
2

cups

water

2

Earl Grey tea bags

your favourite brand. I like Stash Tea.

2

tbsp

liquid honey

4

cups

milk

I use skim or 1%

1

vanilla bean
Instructions
Set a medium pot over high heat and add the water. When the water begins to boil, turn the heat to low and add the tea bags. Let the tea steep until it's as dark and strong as possible (about 5-7 minutes).

While you're waiting for the tea to steep slice open the vanilla bean pod and scrape the seeds out using the back of a paring knife. Set the pod and the seeds aside.

Remove the tea bags from the pot and stir in the honey until it dissolves.

Add the milk, the vanilla bean seeds and the whole vanilla bean pod to the pot and stir gently with a spoon until the mixture reaches a simmer. Keep the heat low to prevent the mixture from boiling and to maintain a low simmer. Let the mixture simmer for about 4-5 minutes over low heat, stirring every minute or two.

Strain the mixture as you pour it into 4 mugs. Some of the vanilla bean seeds will sneak through the strainer but the strainer will catch the big chunks. This will create a beautifully speckled appearance to the latte mixture and the addition of real vanilla bean instead of vanilla extract creates an intense vanilla flavour that's the perfect compliment to the flavour of the Earl Grey. If you can't find vanilla bean pods, feel free to add 2-3 tsp of real vanilla extract instead. The flavour won't be quite as intense, but it will still be delicious!!
Save
Save
Save