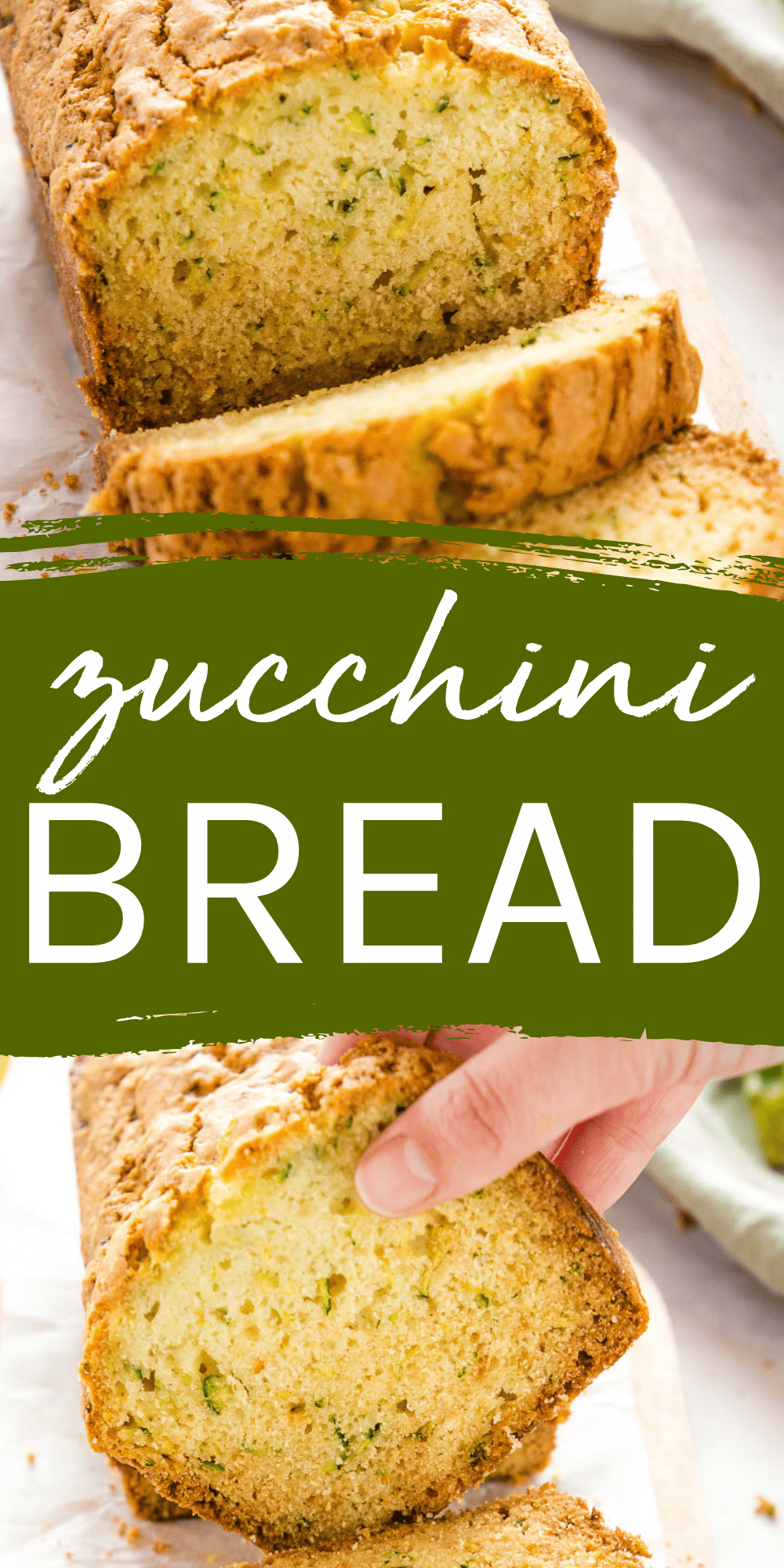 This Zucchini Bread recipe is a moist and tender loaf cake packed with fresh zucchini and flavoured with lemon. Easy to make in one bowl!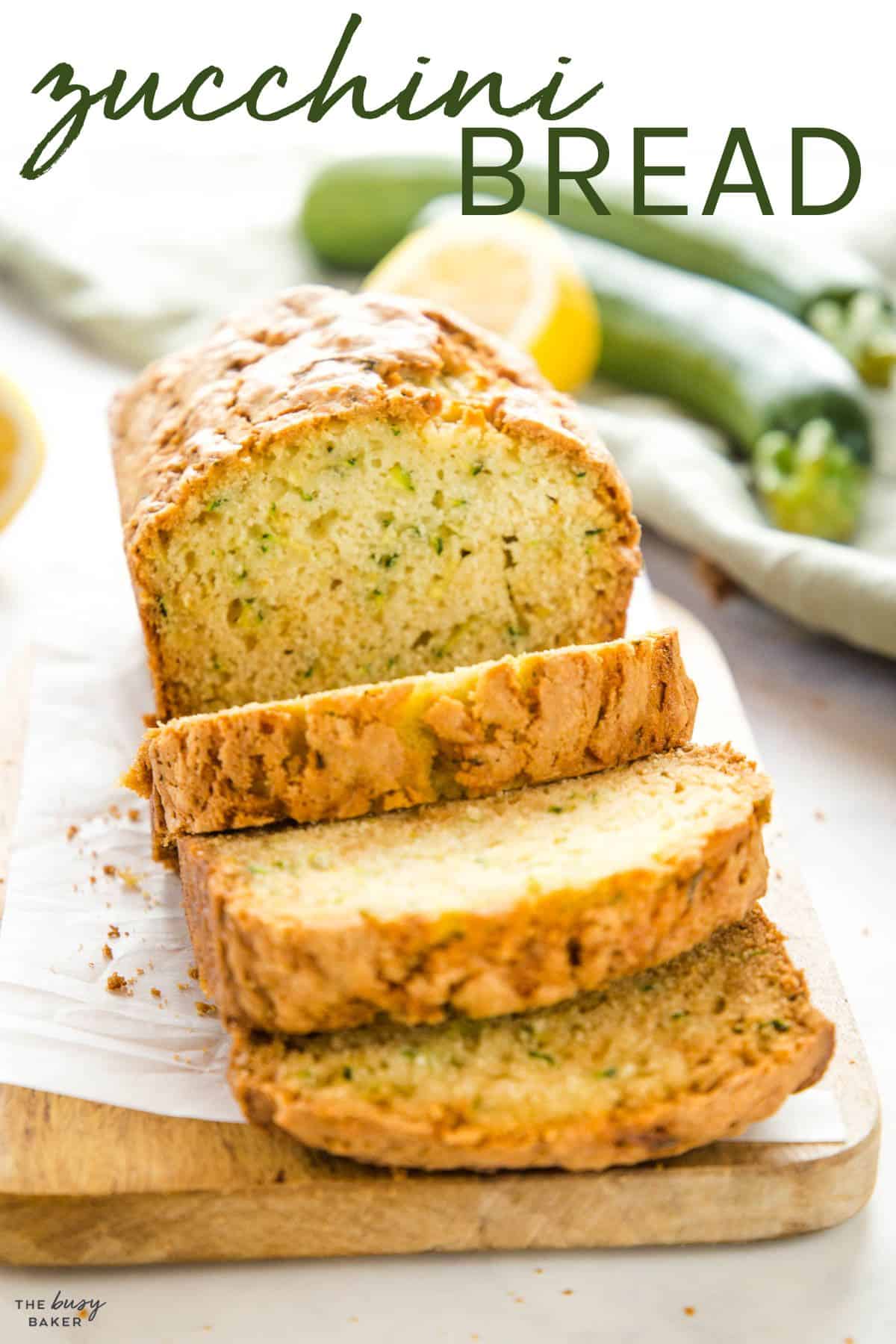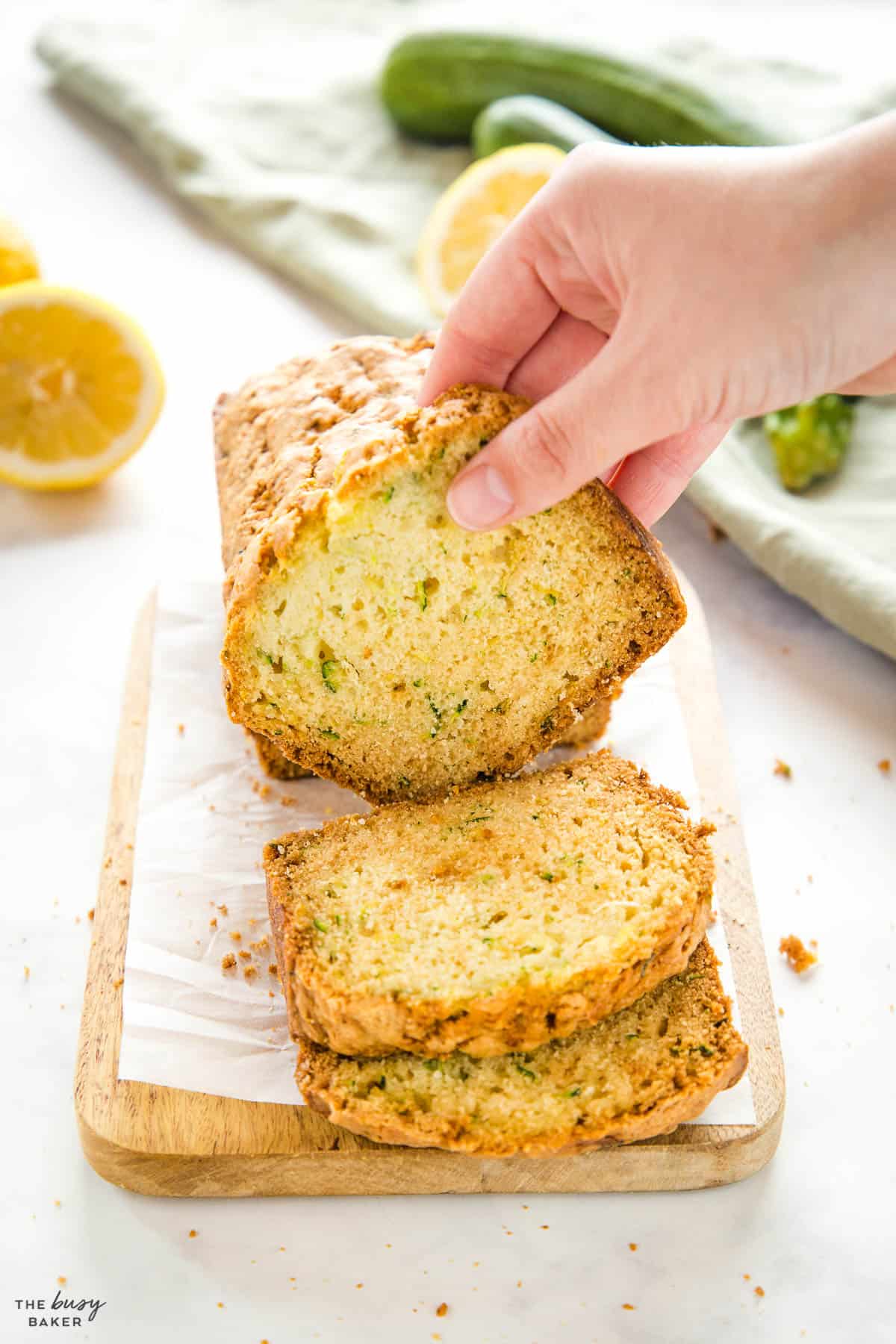 When the garden is teeming with fresh zucchini, there are a few recipes we turn to to use it all up! This Zucchini Slice is one of our favourite protein-packed breakfasts made with fresh zucchini. While we love this Chocolate Zucchini Cake and these Double Chocolate Zucchini Muffins, this Zucchini Bread recipe is one for the books!
This Zucchini Bread recipe is a super simple one-bowl recipe that's perfect for beginning bakers. It's made with basic ingredients, it's made with freshly grated zucchini (but you can also use frozen!), and it's flavoured with the zest of fresh lemons so it's got the perfect fresh and bright flavours for summer. Trust us, you're going to love it!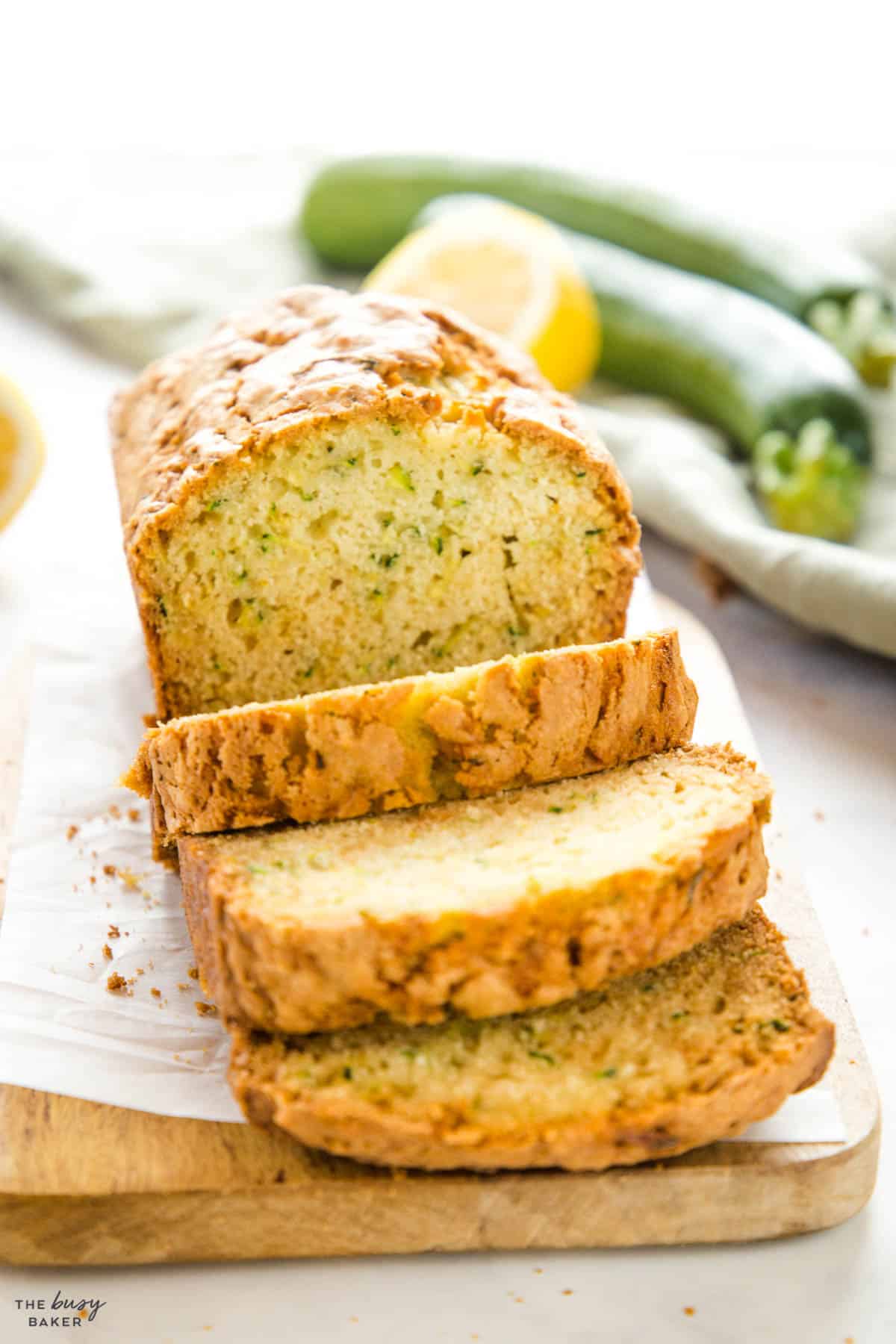 Zucchini bread is a delicious baked treat that combines the goodness of zucchini with the comforting flavours of a quick bread. It's moist and slightly sweet and it's perfect for breakfast, snacking, or even dessert.
It's made with grated zucchini and it has a tender texture. Zucchini bread is often spiced with cinnamon or nutmeg, or flavoured with lemon zest (like in the case of our recipe), and it's easy to customize depending on the season. It's a fantastic recipe for using up extra zucchini and it's a really great recipe for beginners in the kitchen because it can be made easily in just one bowl – no electric mixer required.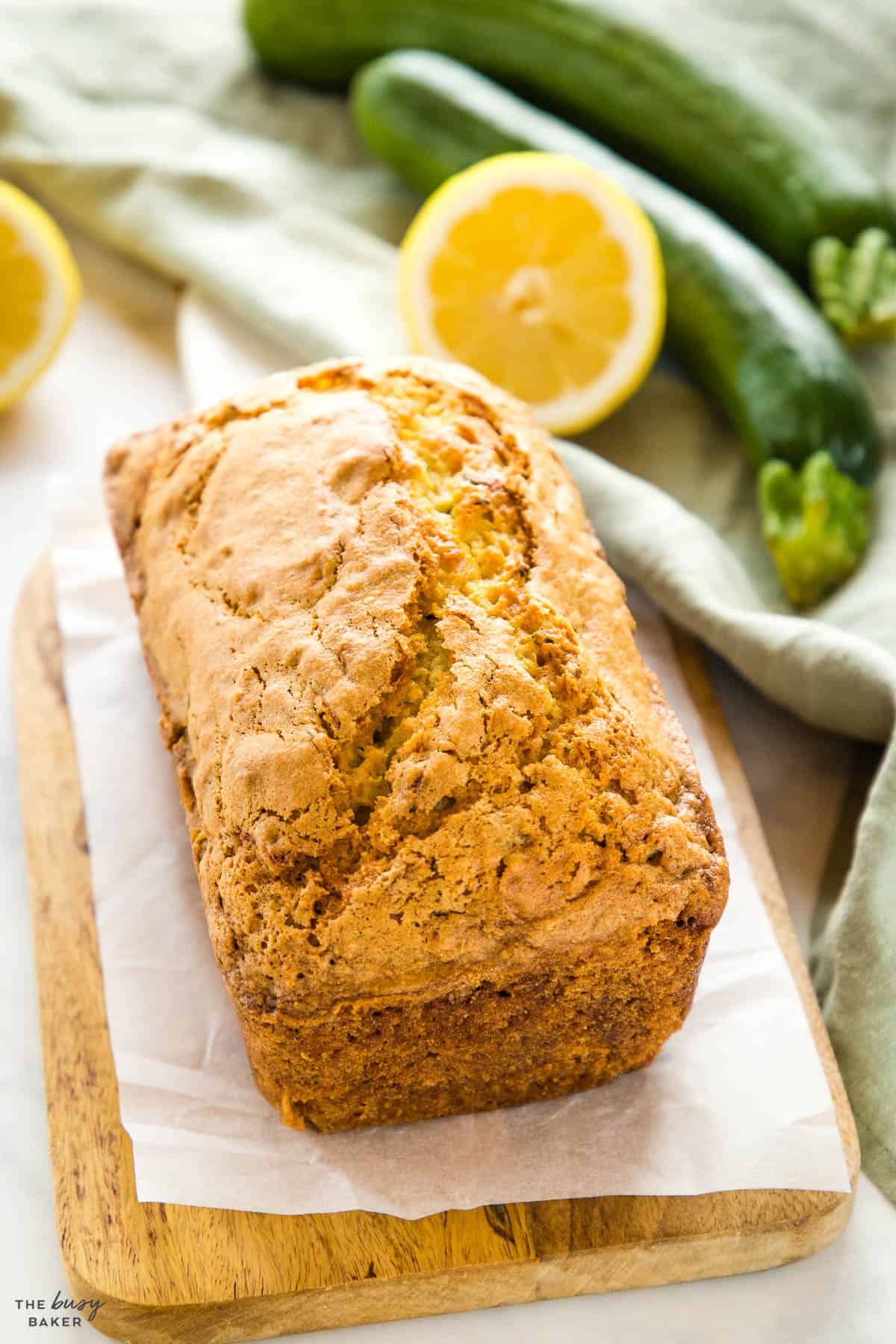 To make this recipe, you'll need these kitchen items (affiliate links):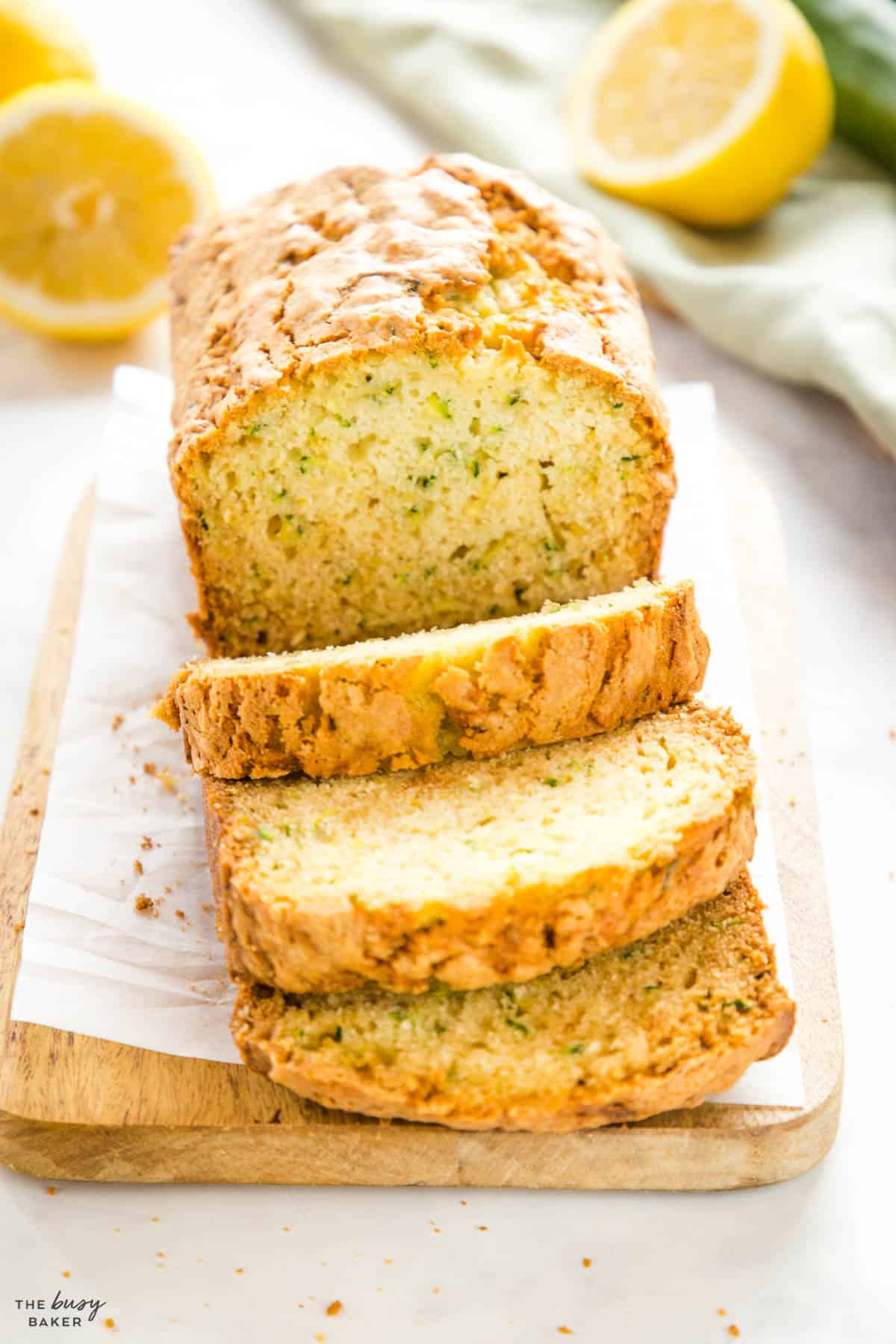 You'll need these ingredients to make this Zucchini Bread recipe:
shredded zucchini
white sugar
lemons
eggs (or substitute 1/2 cup applesauce for the eggs in this recipe to make it vegan)
milk (or use dairy-free milk to make this recipe vegan)
Try one of these delicious variations on the basic zucchini bread recipe:
Chocolate: Add some rich & decadent chocolate chips into the batter before baking.
Nutella: Swirl in a generous dollop of Nutella into your zucchini bread batter and sprinkle some chopped hazelnuts on top for added crunch.
Cinnamon Spice: Sprinkle a generous amount of ground cinnamon into your zucchini bread batter instead of the lemon zest for a comforting and aromatic twist that's perfect for fall.
Tropical: Add in some crushed pineapple, shredded coconut for a tropical twist.
Berry: Whether it's blueberries, raspberries, or strawberries, adding some fresh berries to the batter will create so much sweet flavour and colour!
Savoury Herb: Experiment with savoury herbs like rosemary, thyme, or basil to create a unique and savoury twist on the traditional zucchini bread. Perfect for brunch or as a side dish with soups and salads.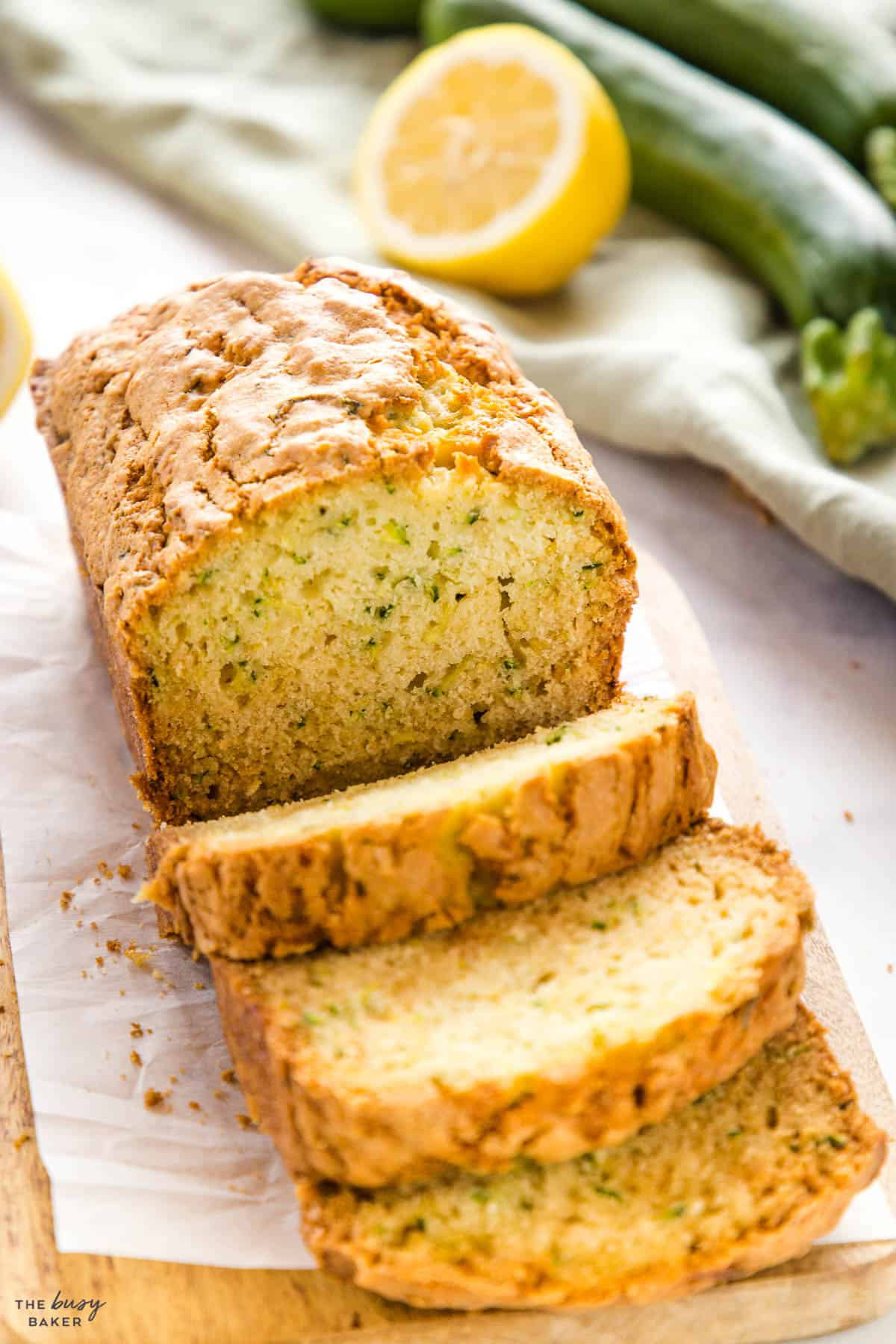 Time needed: 1 hour
Follow these steps for the perfect zucchini bread!
Grease and line your loaf pans.

Prepare your loaf pans in advance by greasing them and lining them with parchment paper.

Finely grate the zucchini.

This bread is the best when the zucchini is freshly grated. Grate it right before using for best results. You can also use frozen grated zucchini – be sure to thaw it before using and drain most of the water off of it first.

Mix the wet ingredients together.

Add the zucchini to a bowl along with the sugar and other wet ingredients. Mix very well to combine.

Add the dry ingredients on top of the wet.

Instead of using a separate bowl for the dry ingredients, add them on top of the wet ingredients, starting with the flour. Mix them gently with a fork before incorporating them into the wet ingredients.

Avoid overmixing.

Mix them together just until combined, until no streaks of flour appear.

Bake to perfection.

Bake for 45-55 minutes and let it cool before slicing.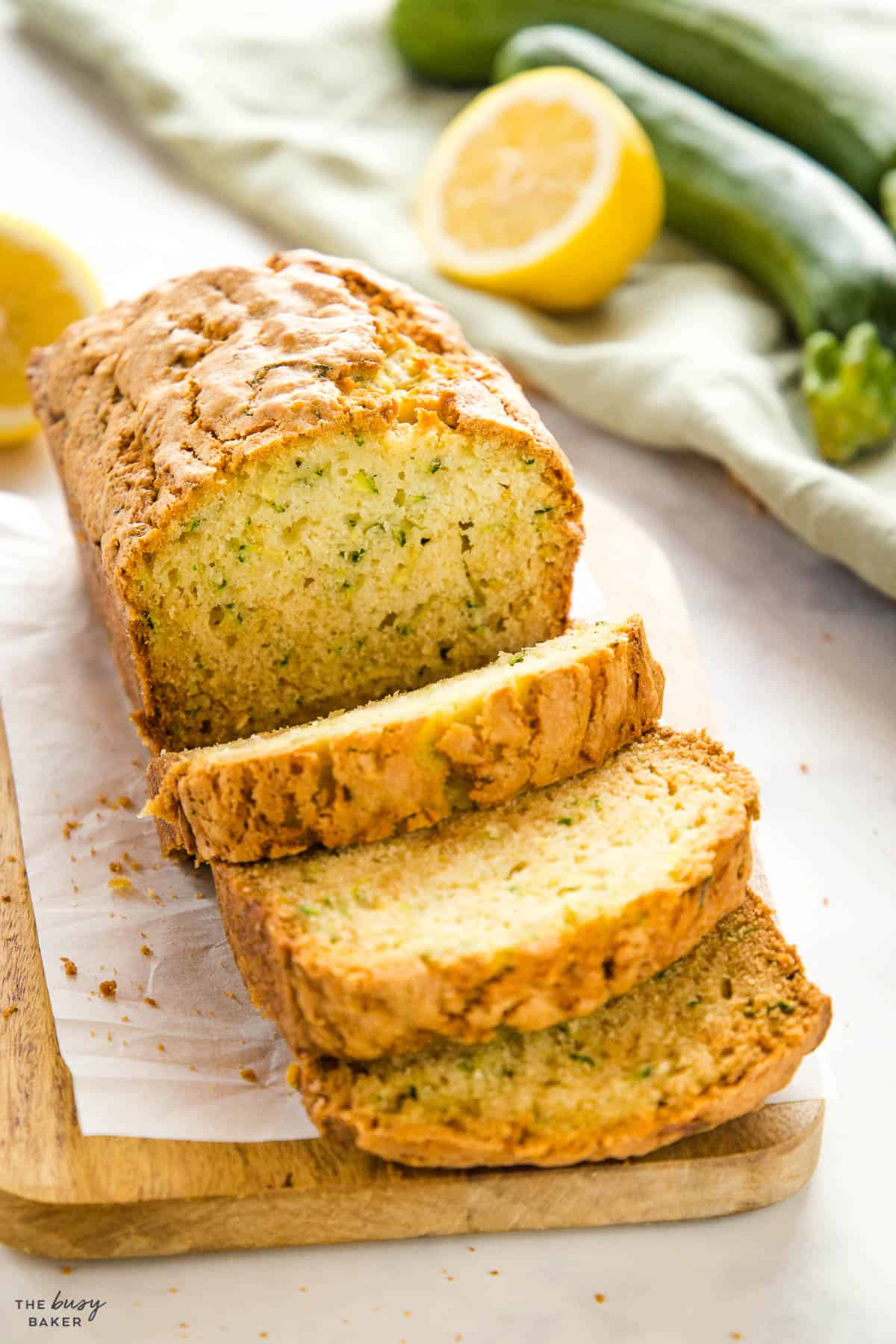 Can I freeze zucchini bread?

Yes, zucchini bread freezes well. Just make sure to wrap it tightly in plastic wrap or store it in an airtight container before freezing. Thaw it at room temperature when you're ready to enjoy.
Is zucchini bread healthy?

Zucchini bread is a great way to sneak in some extra veggies, but it contains refined sugar and white flour, and is similar to a cake.
Can I substitute zucchini with something else in the recipe?

You can substitute the shedded zucchini for grated carrots, apples, or even 3 mashed bananas as substitutes. It might change the flavour and texture slightly, but it will still be delicious.
Can I make zucchini bread gluten-free?

If you use a flour replacement that performs similarly to real all purpose flour, feel free to use it in this recipe.
How long does zucchini bread stay fresh?

Properly stored, zucchini bread can stay fresh for up to 3-4 days at room temperature. If you want it to last longer, refrigerate it for up to a week or freeze it for up to 3 months.
Can I add nuts or chocolate chips to my zucchini bread?

Of course! Adding chopped walnuts, pecans, or chocolate chips can add extra texture and flavour to your zucchini bread. Just fold them into the batter before baking.
Can I make zucchini bread without eggs?

Yes, feel free to substitute the eggs for 1/2 cup unsweetened applesauce.
Can I use yellow squash instead of zucchini?

Absolutely. Yellow squash can be a great substitute for zucchini in zucchini bread. They have a similar texture and mild flavour, so go ahead and use them interchangeably.
Can I make mini zucchini bread muffins?

Definitely! Just pour the zucchini bread batter into greased muffin tins and bake for a shorter time, usually around 18-22 minutes. Make sure not to overfill the muffin tins – only fill them to about 2/3 full.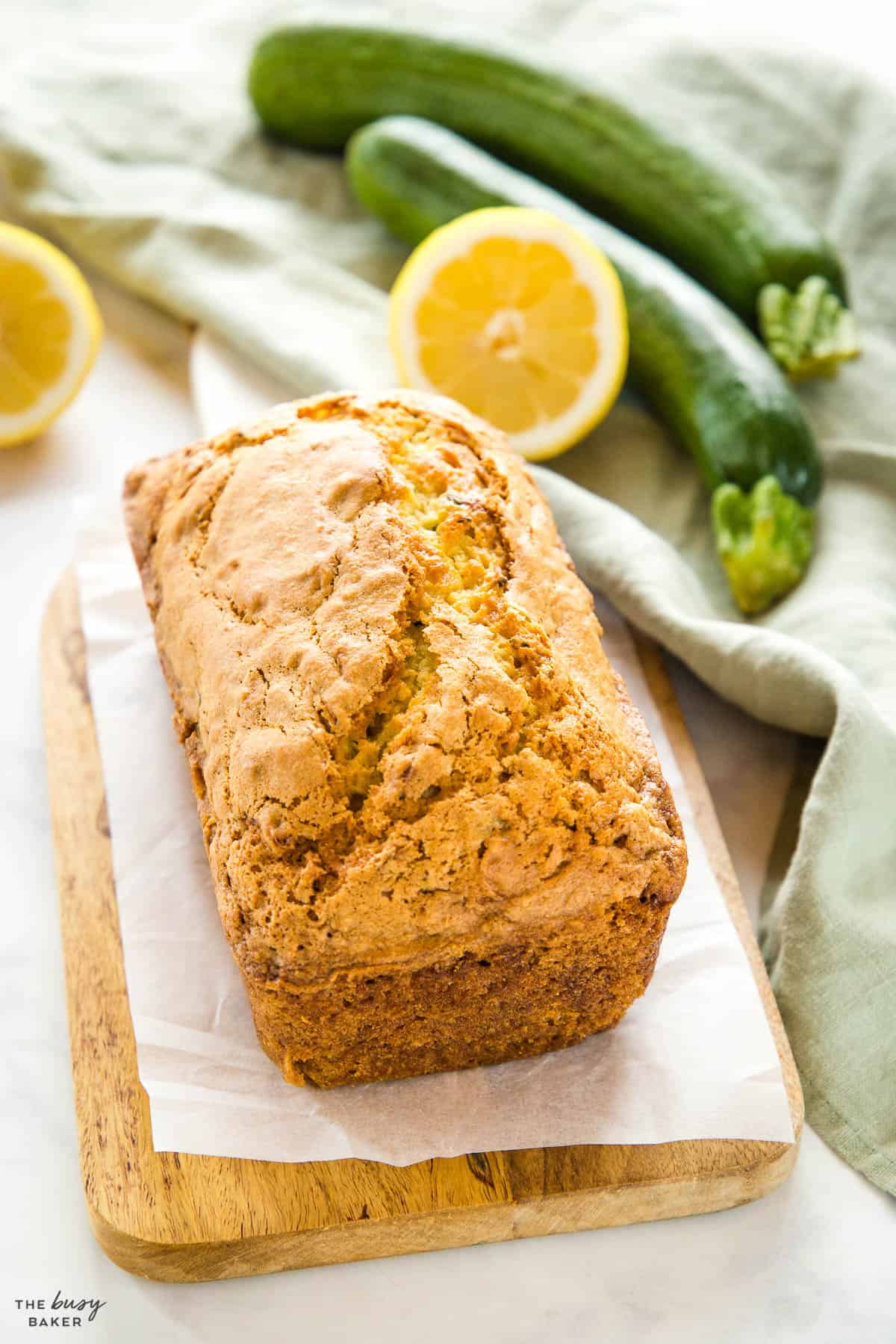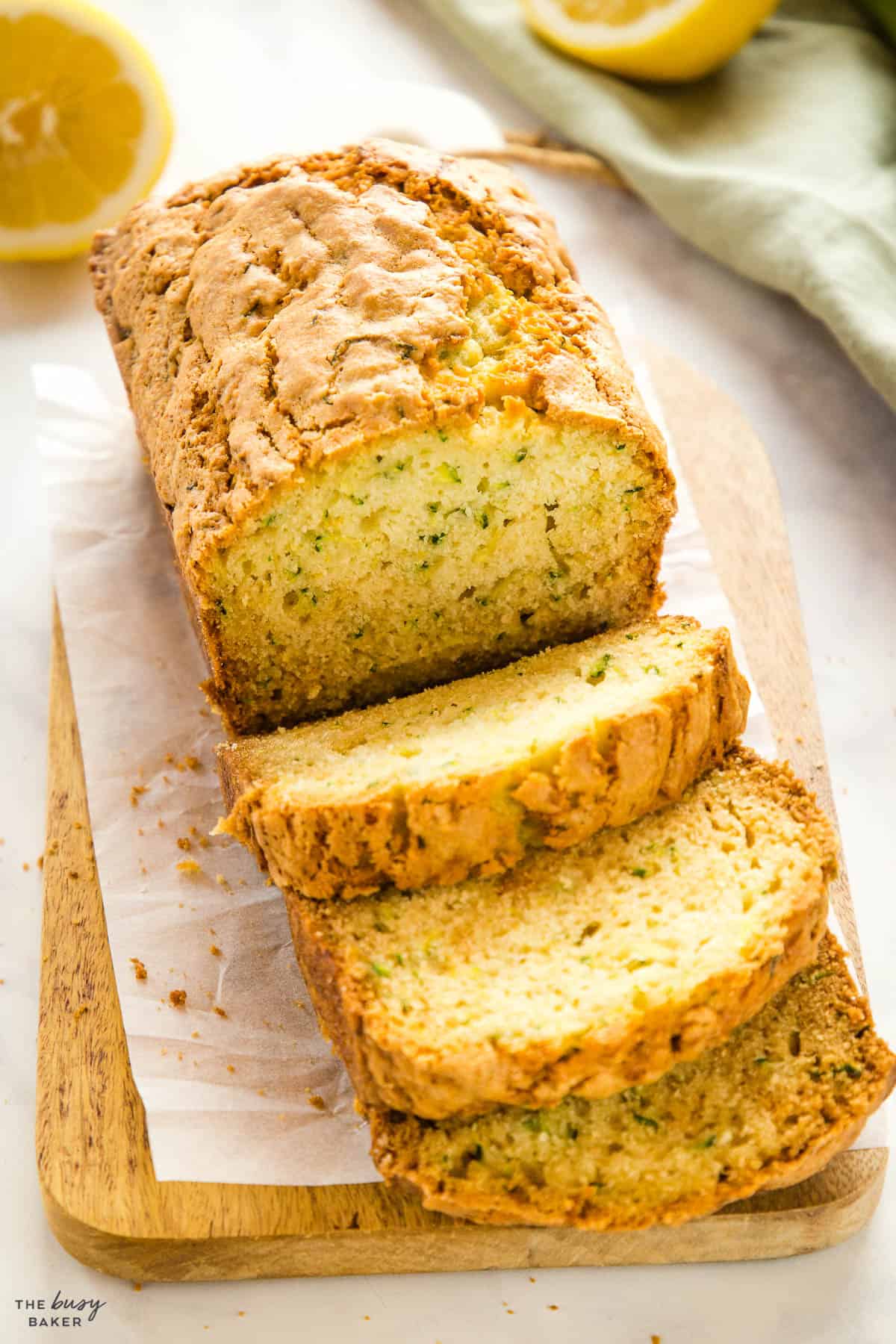 We hope you love this recipe as much as we do! Let us know in the comments below, what's your favourite recipe to make with fresh zucchini? We'd love to know!
If you made this, share a photo!
Are you trying this recipe? Use the comment form below to share your take; now with support for image uploads and comment voting!
Share a photo
Zucchini Bread
A one-bowl Zucchini Bread recipe that's made with freshly shredded zucchini and lemon. A moist and tender loaf cake that's easy to make.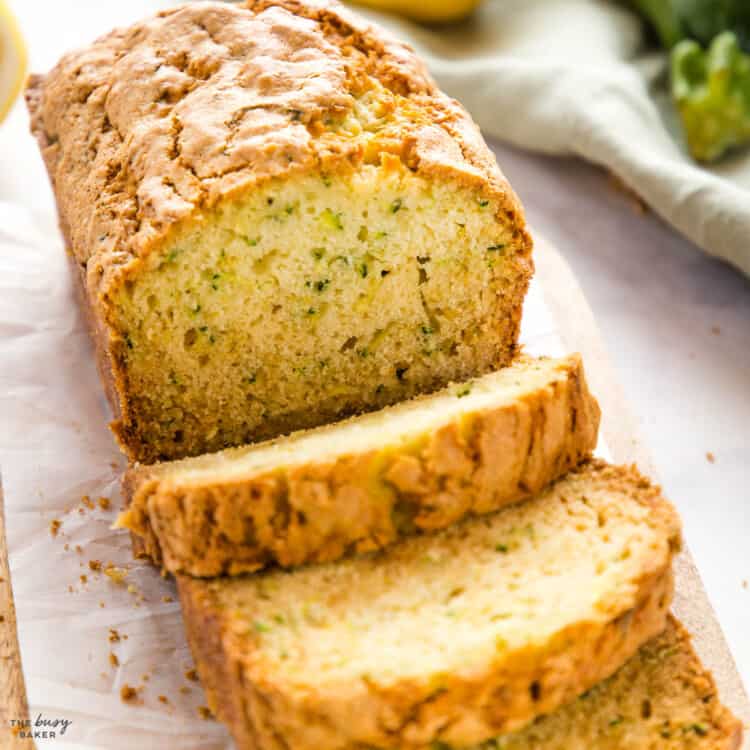 Recipe:

Instructions
Preheat your oven to 350 degrees Fahrenheit and grease two standard (9-inch by 5-inch) loaf pans, lining them with parchment paper if desired.

Add the shredded zucchini to a large mixing bowl..

Add the sugar, lemon zest, eggs, oil, milk and vanilla and mix until everything is incorporated.

Measure the flour, baking soda and salt into the bowl and gently stir them together with a fork, over top of the wet ingredients.

Carefully mix the wet and the dry ingredients together. The danger here is over-mixing which will result in a dense, flat and dry loaf. The best technique for mixing is to scoop underneath the mixture and pull up gently instead of stirring around in a circle (like you'd stir your coffee, for example). Continue mixing this way just until the dry ingredients have been incorporated. It's fine if there are a few small streaks of flour in the batter; it's the large pockets of flour you want to make sure are incorporated.

Pour the batter into the prepared loaf tins, smoothing out the tops.

Bake the loaves in the oven at 350 degrees for about 45-55 minutes (depending on your oven), or until they're golden brown on top and a toothpick inserted into the centre of the loaf comes out clean.

Let the loaves cool in the pan for about 10 minutes and then lift them out of the pan using the parchment paper (or turn them out gently if you didn't use the parchment paper) to cool completely on a wire rack.
Recipe:

Notes

This recipe makes two loaves.
Storage Instructions
Store these loaves in an airtight container or resealable plastic bag at room temperature for up to 4 days.
Freezer Instructions
These loaves freeze well in a resealable plastic bag for up to 3 months.
Vegan Option
Replace the milk with dairy-free milk and add 1/2 cup applesauce in place of the eggs.
Recipe:

Nutrition

Nutrition Facts

Zucchini Bread

Amount Per Serving (1 serving)

Calories 170

Calories from Fat 9

% Daily Value*

Fat 1g2%

Cholesterol 19mg6%

Sodium 179mg8%

Potassium 77mg2%

Carbohydrates 37g12%

Protein 4g8%

Vitamin A 65IU1%

Vitamin C 2mg2%

Calcium 17mg2%

Iron 1mg6%

* Percent Daily Values are based on a 2000 calorie diet.

Notice: Nutrition is auto-calculated, using Spoonacular, for your convenience. Where relevant, we recommend using your own nutrition calculations.