These Best Ever Chocolate Chip Scones are the perfect snack or dessert to enjoy with coffee or tea, and they're SO easy to make for beginning bakers! Packed with mini chocolate chips and topped with a simple sweet glaze! Follow all my pro tips for making the best homemade flaky scones!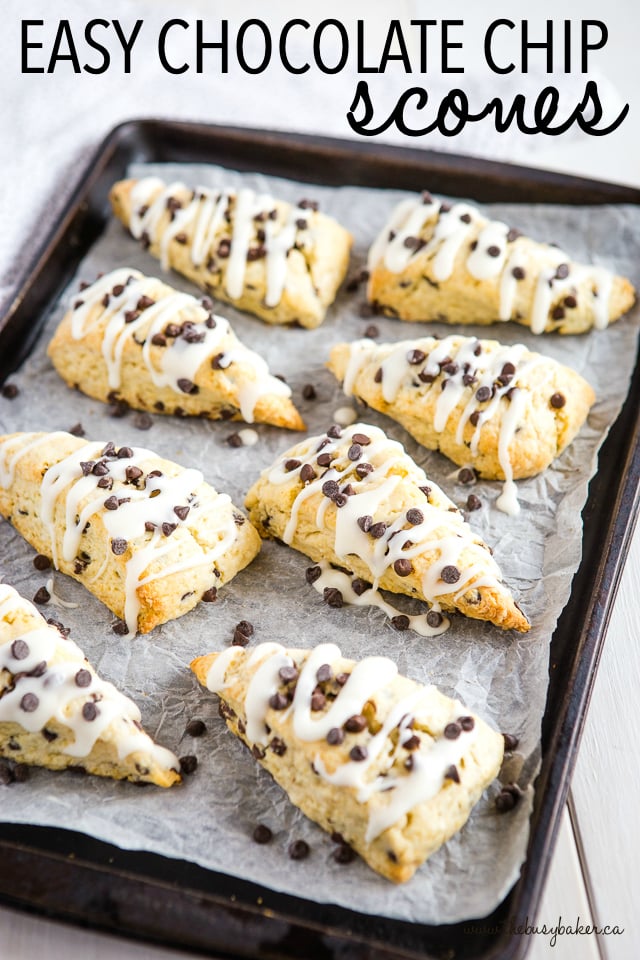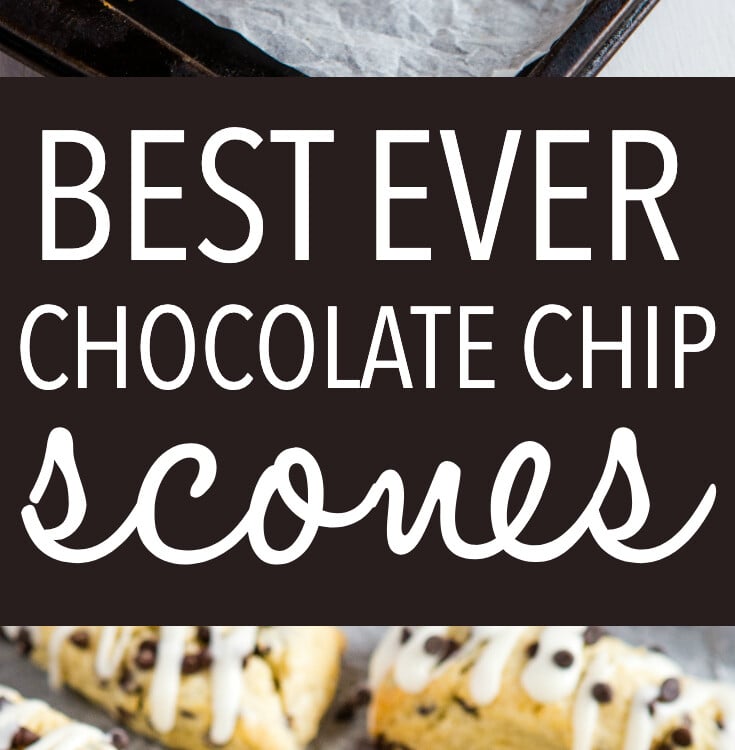 NEVER MISS A POST! FOLLOW ME ON: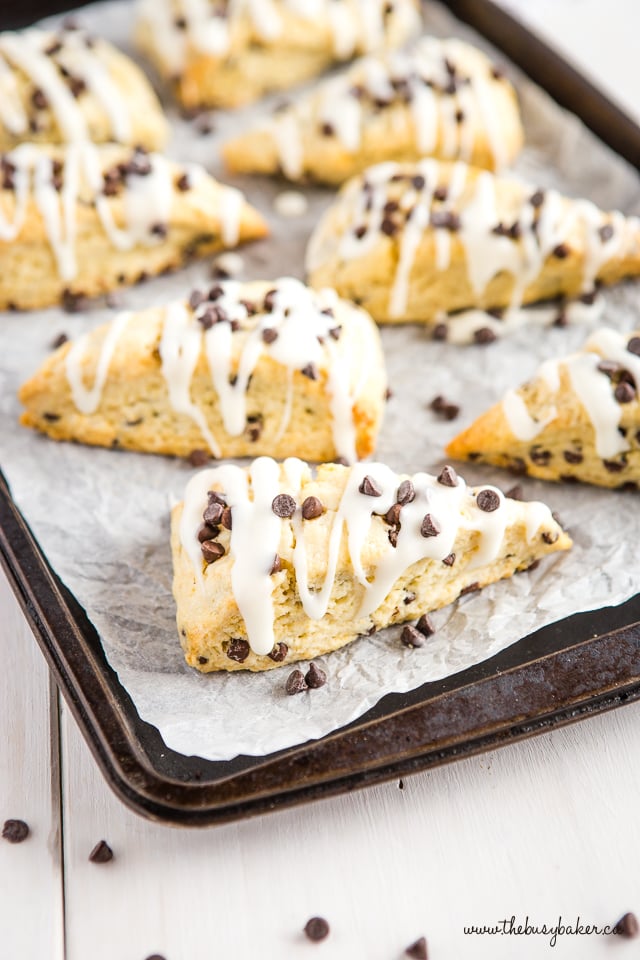 I know I've told you many times that muffins are my favourite thing to bake, but scones are a close second. There's just something so special about making flaky scones from scratch – mixing the dough with your hands and creating those gorgeous sheets of butter. These Chocolate Chip Scones are one of our favourite treats to serve at brunch or and I know you're going to love them!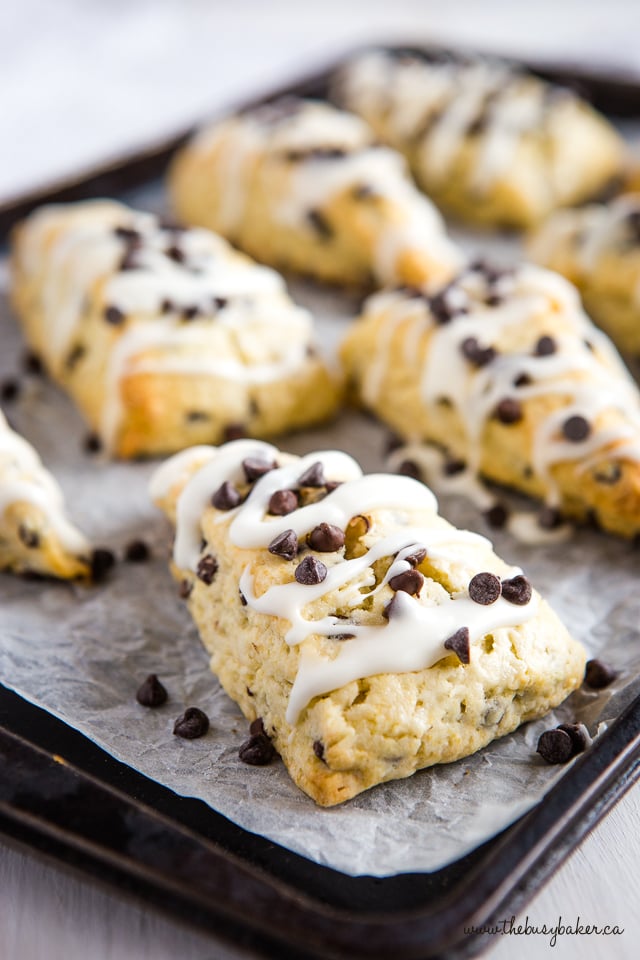 One of the reasons we love scones so much is that they're not all that sweet – the dough itself contains very little sugar, but with the addition of mini chocolate chips and a sweet creamy glaze these Chocolate Chip Scones are just sweet enough!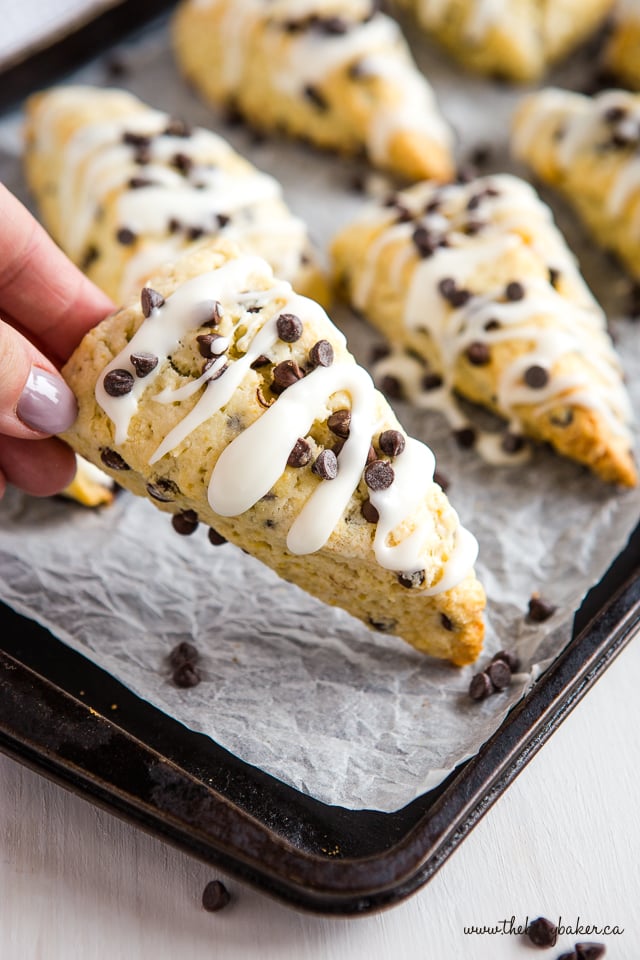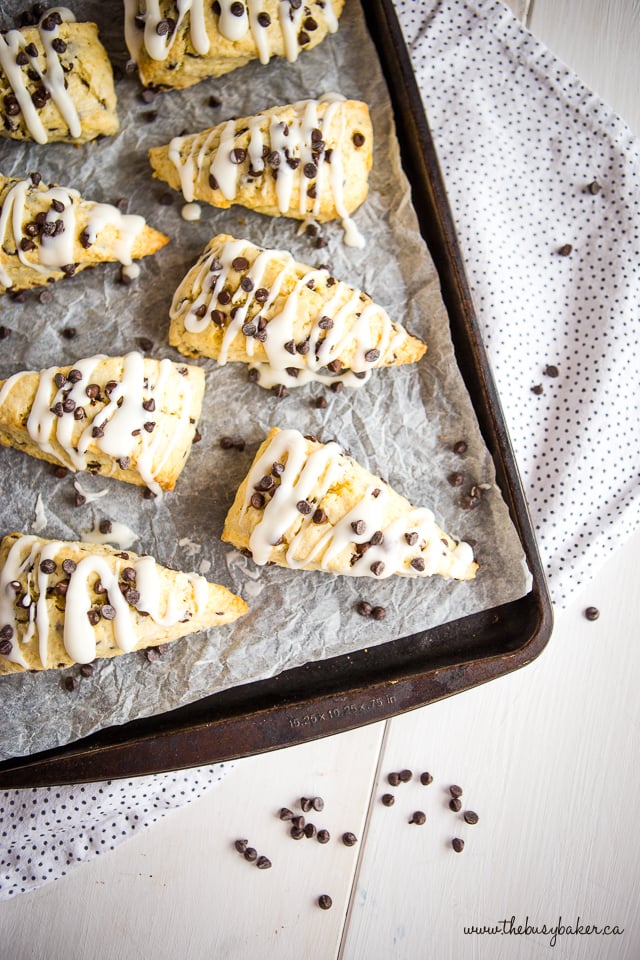 How to make flaky scones
Use COLD butter! – Cold butter straight from the fridge is what helps create those flaky layers you see in bakery scones. Using warm or room temperature butter will cause your scone dough to be too liquid-y and you'll end up with a mushy mess!
Use your HANDS! – The best way to combine the dry ingredients and the butter is with your hands, using quick rubbing motions. Pick up a handful and rub it once between your hands to create small sheets of butter instead of tiny clumps. This will help create those flaky layers!
FOLD, don't knead! – When the dough is just about mixed (when you still see flour!), pour it out onto a work surface and fold it in half, and in half again (and again…) until everything is combined. This will also create those delicious layers and prevent the dough from becoming dry.
Don't over-mix! – Nobody likes a tough, dry scone. Mix just until the flour almost disappears and you'll be left with flaky layers and a nice, tender scone!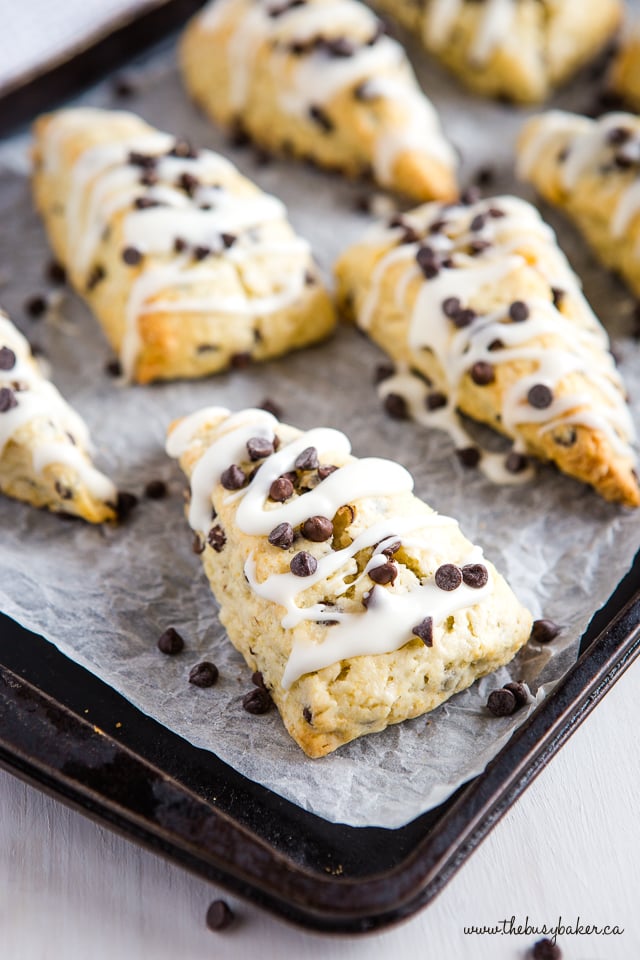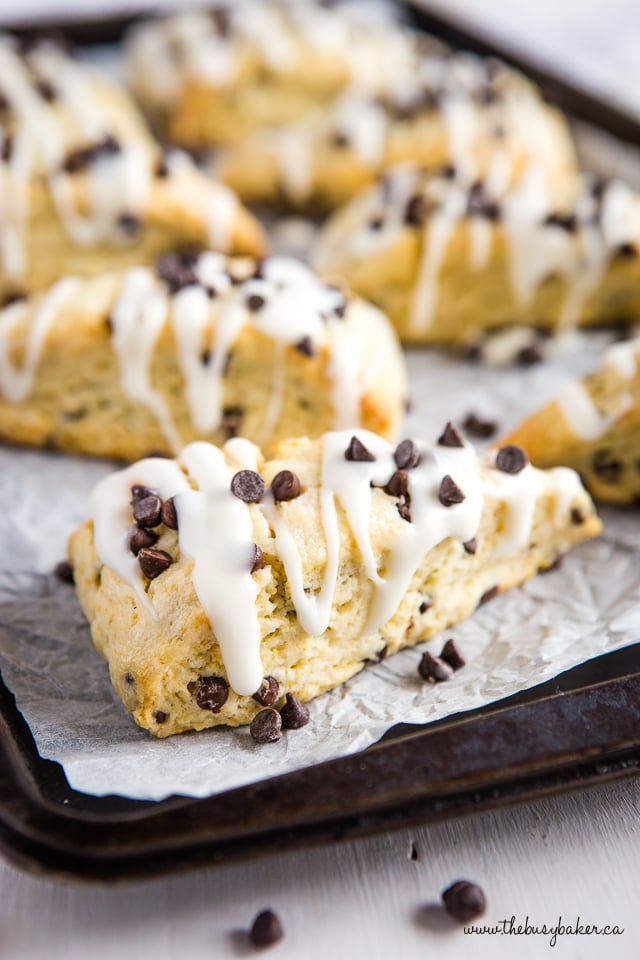 NEVER MISS A POST! FOLLOW ME ON: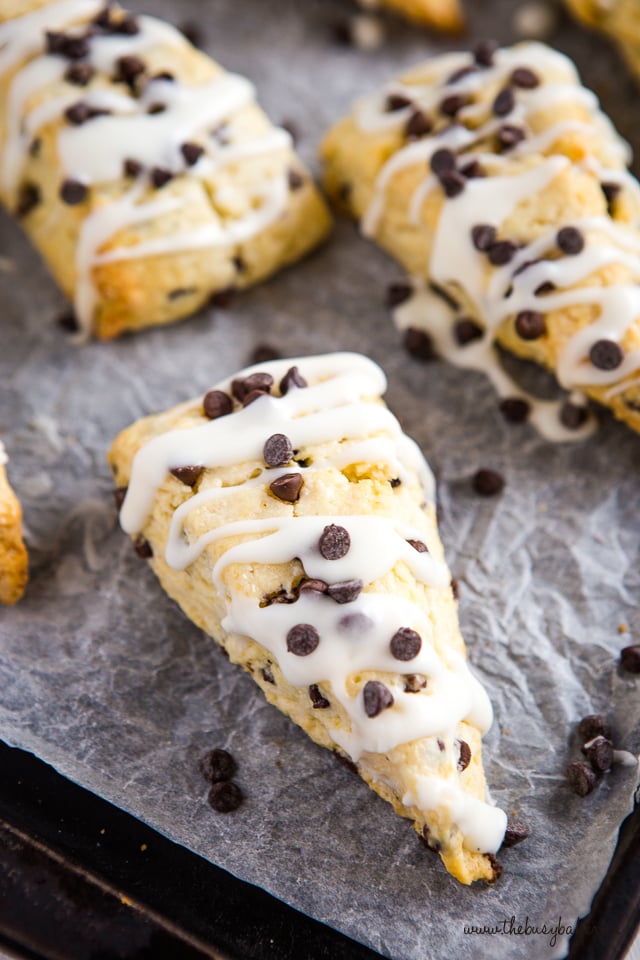 I hope you love these scones as much as we do! Let me know in the comments below, what other flavours of scones would you like to see here on The Busy Baker? I'd love to know!
Kitchen Products I recommend:
Looking for more homemade treats? You'll LOVE these recipes:
If you made this, share a photo!
Are you trying this recipe? Use the comment form below to share your take; now with support for image uploads and comment voting!
Share a photo
Chocolate Chip Scones
These Best Ever Chocolate Chip Scones are the perfect snack or dessert to enjoy with coffee or tea, and they're SO easy to make for beginning bakers! Packed with mini chocolate chips and topped with a simple sweet glaze!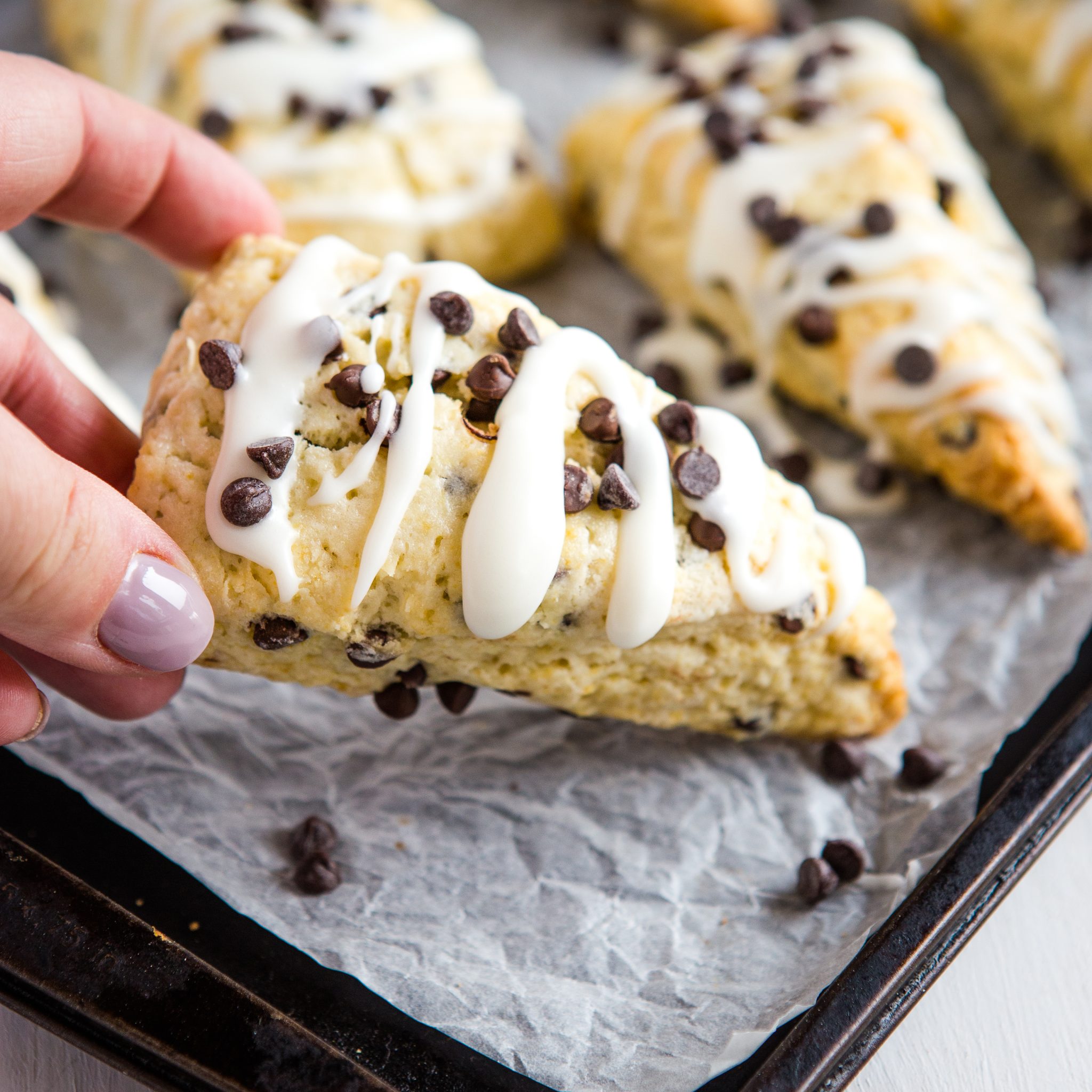 Recipe:

Ingredients
For the glaze:
3/4

cup

powdered sugar

1

tablespoon

whole milk

(add more 1/2 teaspoon at a time, if necessary)
Recipe:

Instructions
Preheat your oven to 375 degrees Fahrenheit and line a baking sheet with parchment paper.

Add the flour, sugar, baking powder and salt to a large bowl and whisk together with a fork or a whisk until combined.

Add the whole milk to a liquid measuring cup along with the egg and whisk with a fork to combine. Set aside.

The next few steps should be done quickly, as you're working with cold butter and you want the butter to be as cold as possible when it hits the heat of the oven. This will result in a flaky scone, rather than a heavy and dense one.

Cut up your butter, right from the fridge, into little pieces and dump it into the flour mixture. Using your hands (wash them well first and remove any rings), pick up handfuls of the butter and flour mixture, rubbing the pieces of butter and the flour between the heels of your hands to create "sheets" of butter. You should act quickly here, and don't allow the pieces of butter to sit in your hands for any length of time as the heat from your hands will cause it to soften. The goal is to create paper-thin pieces of butter, small and large throughout the mixture.

Once there are no thick chunks of butter remaining, only thin sheets, remove your hands from the mixture. Hands equal heat, so handle the mixture as little as possible.Pour in the wet ingredients and mix roughly with a fork. Do not over mix, or the result will be heavy and dense.

Once the wet ingredients have been incorporated but there are still several streaks of flour, turn the dough out onto a clean and floured counter surface. Press the dough down into the counter and add a handful of chocolate chips onto the surface of the dough. Then fold one half over the other half like you are folding a piece of paper. Add more chocolate chips, press down again and make another fold.

Repeat this 2 or 3 more times, adding all the chocolate chips as you go, gathering any outlying dough bits and flour into your folds. Don't knead the dough like you would if you were making bread, and don't stir or mix the dough like you would if you were making muffins. Scones are technically a pastry, so the goal is flaky layers that are created by the thin sheets of butter and all the folding.

Once your dough is formed after folding several times, shape it into a rectangle about 20-30 cm long.Again, be careful not to handle the dough too much, so a few little cracks here and there are fine.

Cut the rectangle into 10 triangles by making diagonal slices across the rectangle with a very sharp knife. Arrange the 10 triangles on the prepared parchment-lined baking sheet and brush the tops with a little bit of whole milk.

Bake for about 18-19 minutes at 375 degrees Fahrenheit. I usually set the timer and start watching them after about 14 minutes. You want them to stay nice and white and not get too brown, especially on the narrow end of the triangle.

Remove them from the oven when they're just barely golden brown on the bottom and the surface of the scones have lost their shine. Let them cool for 3-5 minutes on the baking sheet. Transfer them to a cooling rack to cool completely.
For the glaze:
Sift your icing sugar into a bowl and slowly add the whole milk, 1-2 tsp at a time, whisking constantly. You may need to add a little more or a little less than 1 tbsp, depending on the consistency of the mixture.

If you think you've got the right consistency of the icing, test it by dipping the back of a spoon into the glaze and turning it over. This will give you an idea of how the glaze will perform.

Once you have the right consistency and the scones have cooled completely, drizzle the glaze on to the tops of the scones in a back and forth motion.

Let the glaze set for about an hour before storing the scones in an airtight container, or serve immediately.
Recipe:

Notes

Store in an airtight container for up to 3 days at room temperature. These scones are best enjoyed the day they're made.
Recipe:

Nutrition

Nutrition Facts

Chocolate Chip Scones

Amount Per Serving (1 scone)

Calories 309

Calories from Fat 126

% Daily Value*

Fat 14g22%

Cholesterol 45mg15%

Sodium 223mg10%

Potassium 178mg5%

Carbohydrates 42g14%

Protein 5g10%

Vitamin A 367IU7%

Calcium 99mg10%

Iron 2mg11%

* Percent Daily Values are based on a 2000 calorie diet.

Notice: Nutrition is auto-calculated, using Spoonacular, for your convenience. Where relevant, we recommend using your own nutrition calculations.