This Best Ever Salted Caramel Pudding Cake is so moist and flavourful with the perfect balance of salty and sweet! A tender caramel-flavoured cake is topped with salted caramel frosting, caramel sauce, and flaked sea salt!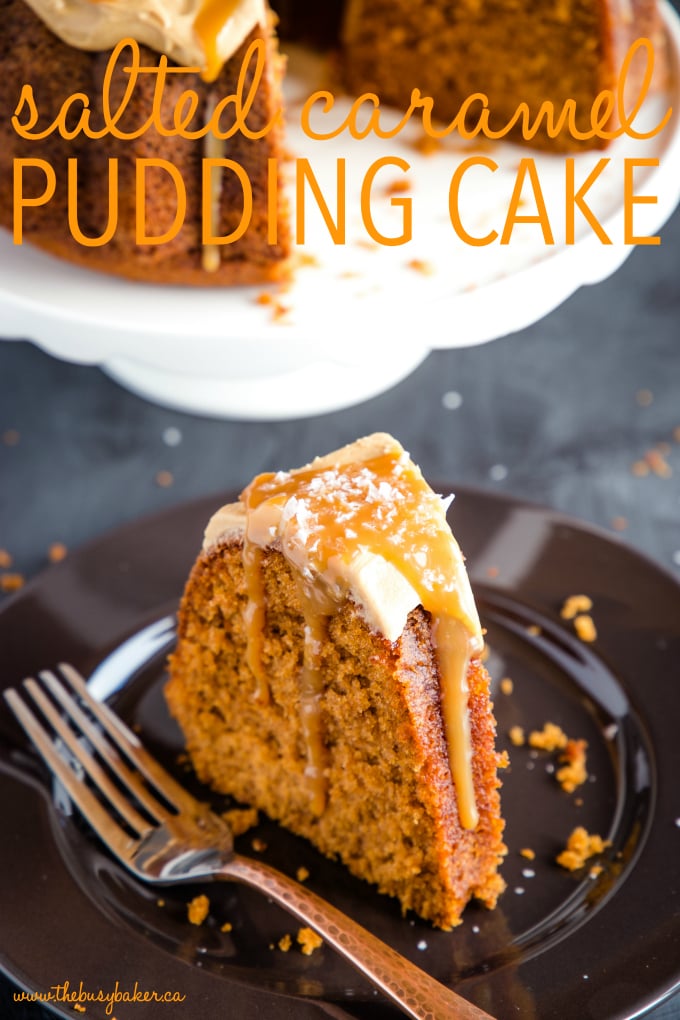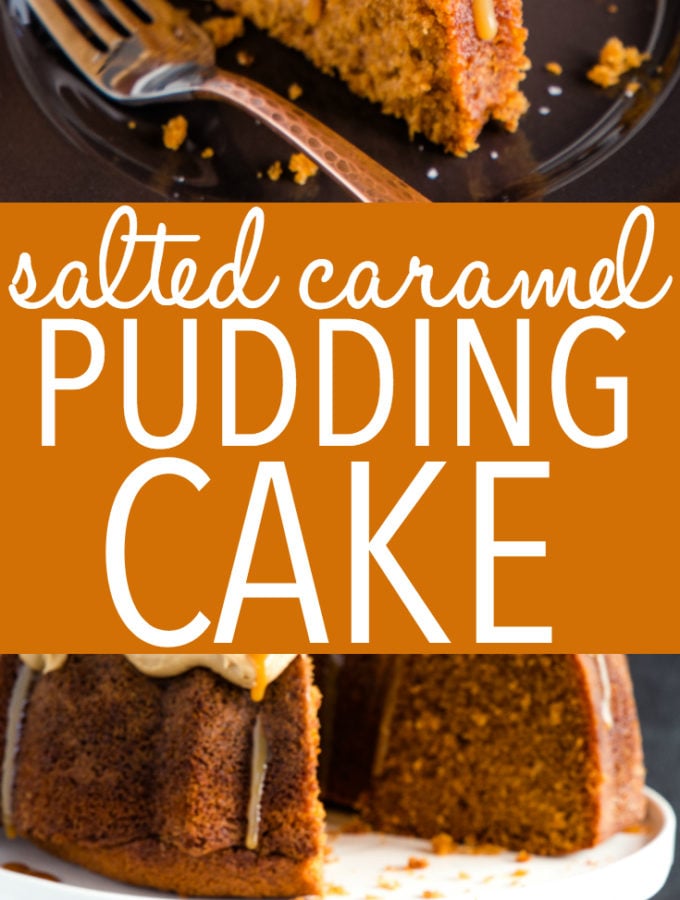 NEVER MISS A POST! FOLLOW ME ON: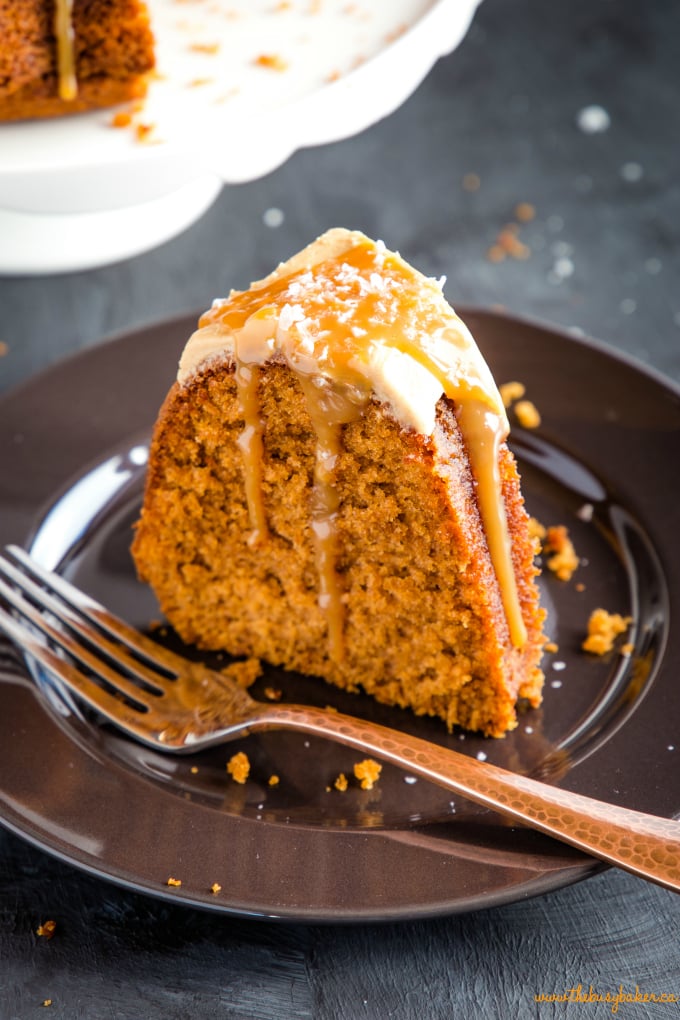 I don't know about you but I LOVE sweet and salty treats! I've told you before that if I had to choose between sweet and salty that I'd choose salty every time, but both at the same time? Now we're talkin'! This Best Ever Salted Caramel Pudding Cake is the perfect sweet and salty cake – I enjoy caramel, but I sometimes find it just a little bit too sweet for my tastes. Salted caramel, on the other hand, is perfect!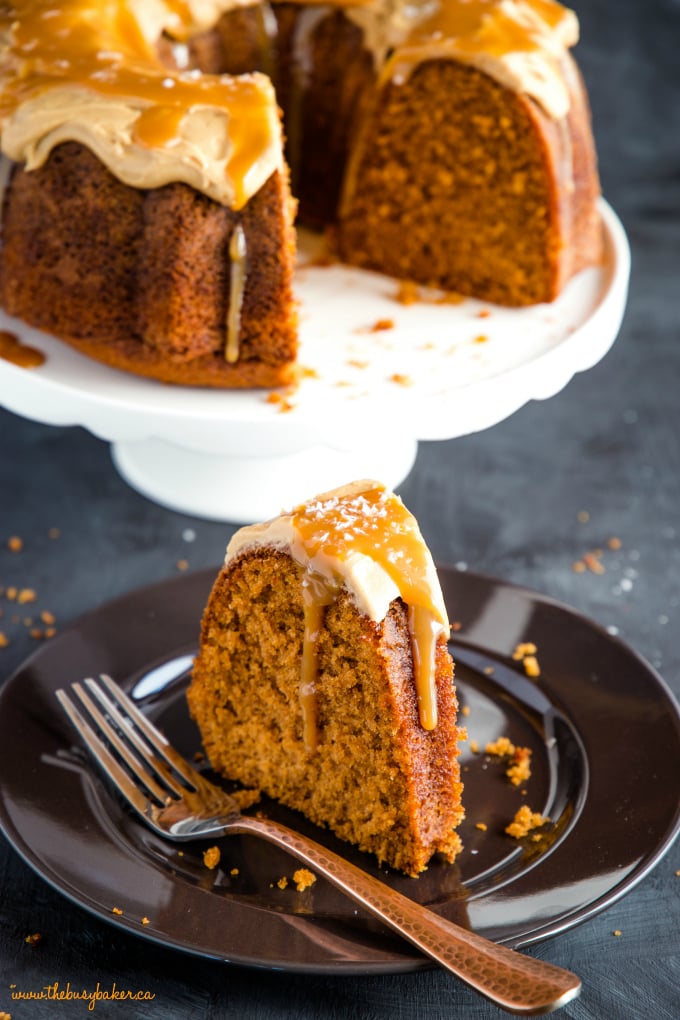 There's this ice cream parlour in the old town of the city nearest to us that we go to whenever we happen to be strolling down the old town cobblestone streets. It's our favourite place to go because it's the only ice cream shop that serves dairy-free ice cream in addition to the regular stuff (my husband is dairy-free), and they have an amazing Cream with Salted Caramel flavour that's always my first choice. It's SO delicious, and it reminds me so much of the flavours in this Best Ever Salted Caramel Pudding Cake!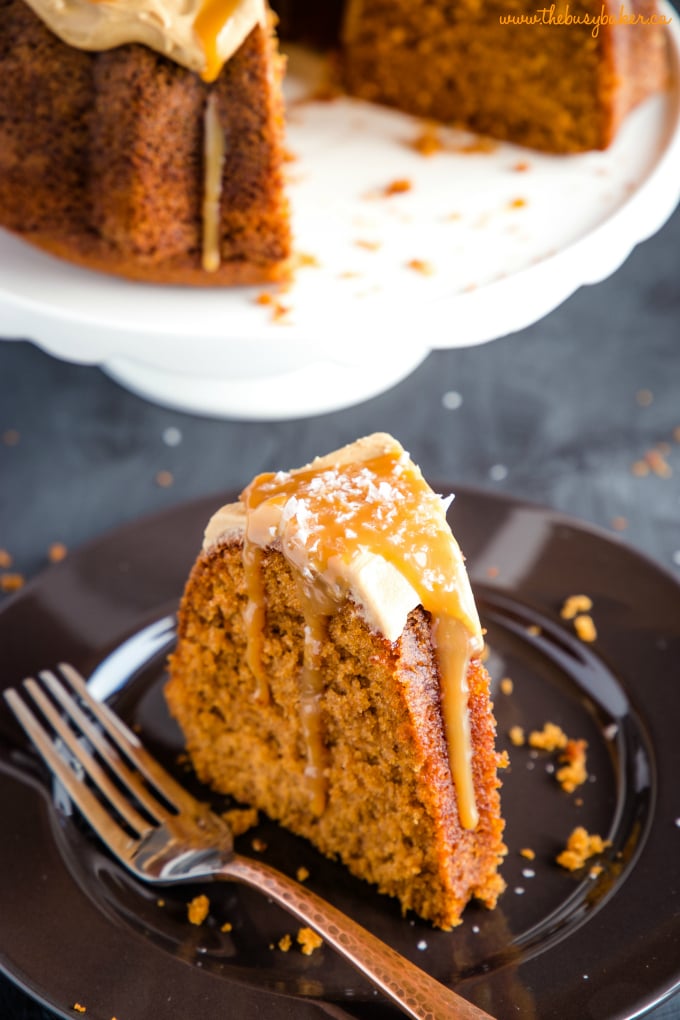 This Best Ever Salted Caramel Pudding Cake is one of the best no-fail cake recipes you'll ever come across – the cake is so easy to make and turns out perfectly every time, and the frosting is SO simple with a homemade caramel sauce hack that you HAVE to try! And flaked sea salt makes all the difference with this dessert, so try and find some if you can! This is the kind I use and I really like it (affiliate link).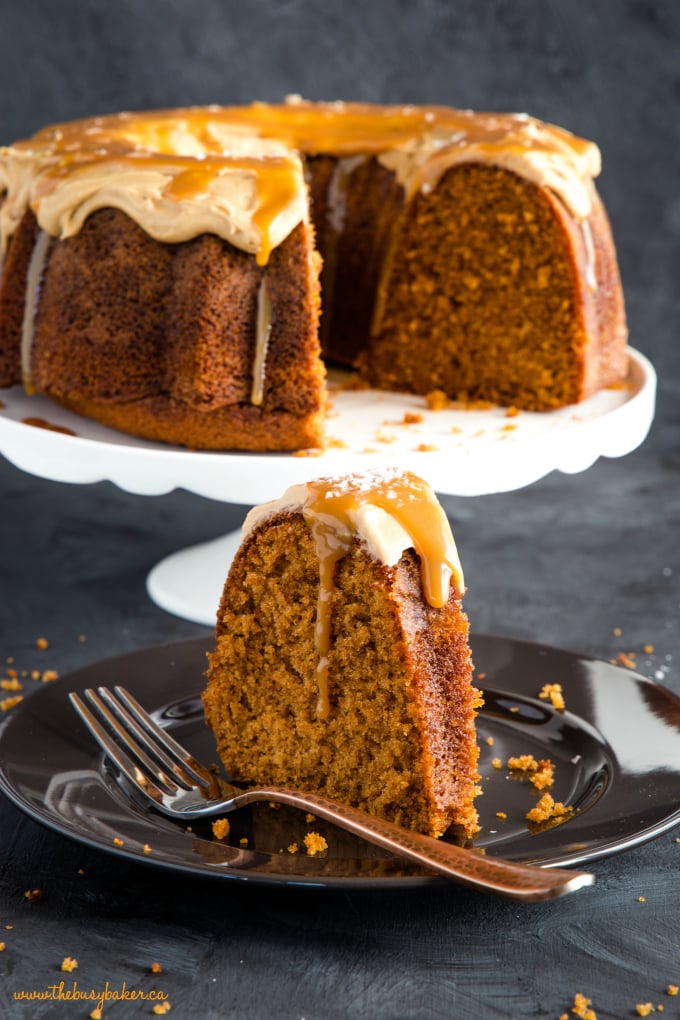 NEVER MISS A POST! FOLLOW ME ON: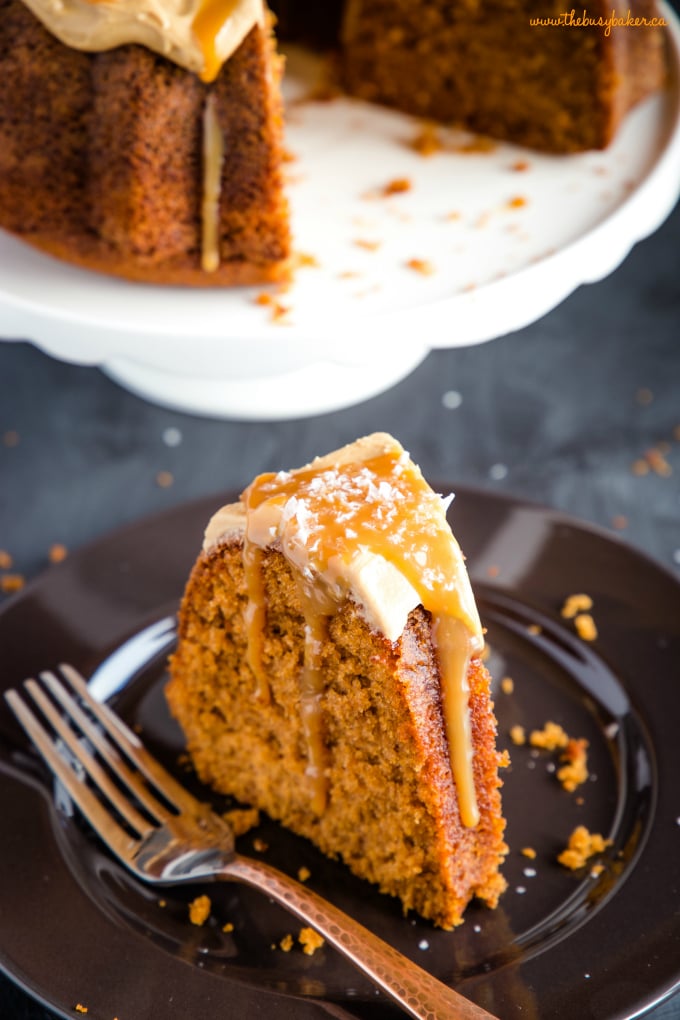 I hope you love this Best Ever Salted Caramel Pudding Cake as much as we do! Let me know in the comments below, what's your favourite sweet and salty treat? I'd love to know!
Kitchen Products I recommend:
Looking for more recipes like this one? You'll LOVE these!
Best Ever Salted Caramel Pudding Cake
This Best Ever Salted Caramel Pudding Cake is so moist and tender with salted caramel frosting, and caramel sauce - the perfect balance of salty and sweet!
Print
Pin
Rate
Ingredients
For the cake:
3/4

cup

unsalted butter, softened

1 1/2

cups

white sugar

100

grams

caramel pudding powder (approximately one 4-serving box, don't use low fat or low sugar variety)

4

eggs

1 1/4

cup

milk

1/3

cup

vegetable oil

1/2

teaspoon

vanilla extract

1 3/4

cup

all purpose flour

3

tablespoons

cornstarch

4

teaspoons

baking powder

1/2

teaspoon

sea salt

butter and flour for greasing the cake pan
For the frosting and caramel sauce:
1/2

cup

unsalted butter

1

cup

brown sugar, packed

2/3

cup

heavy cream (whipping cream)

1

cup

powdered sugar, sifted

1/2

teaspoon

sea salt

sea salt flakes for garnish
Instructions
For the cake:
Preheat your oven to 350 degrees Fahrenheit.

Prepare a 9-inch bundt pan by greasing it with butter and coating the inside of the pan evenly with a thin dusting of flour. Set aside.


In the bowl of your stand mixer fitted with the paddle attachment (or in a large bowl with a hand mixer), cream the butter and sugar until light and fluffy (about 4 minutes).


Add the pudding powder and whip on high speed until incorporated.


Add the eggs one at a time, mixing well after each addition.


Combine the milk, vegetable oil, and vanilla extract in a separate bowl or pyrex measuring cup and whisk with a fork to combine.


Add the milk mixture to the butter mixture slowly, mixing well until combined.


Add the flour, cornstarch, baking powder and salt, and mix on low speed just until the batter forms and no streaks of flour appear.


Finish mixing by hand with a rubber spatula to be sure the batter is well combined (mixing with the electric mixer at this stage can cause over-mixing, so it's best to finish it gently by hand).


Pour the batter into the prepared bundt pan and bake at 350 degrees Fahrenheit for about 60 minutes (sometimes it requires 65 or even 70 minutes), or until a toothpick inserted into the middle of the cake comes out clean.


Cool in the pan for about 15 minutes and then invert onto a cooling rack before removing the pan to let the cake cool completely. If the pan feels a little difficult to remove, let it cool inverted on a cooling rack for another 10 minutes before trying again to remove the pan. Greasing and flouring the pan well before baking will ensure the cake is easy to remove, and using a non-stick bundt pan is a great choice.


Let the cake cool completely on a cooling rack before adding the frosting.
For the frosting:
While the cake is baking or cooling, add the butter, brown sugar, and heavy cream to a medium saucepan over medium heat.

When the mixture has heated and begins to bubble, whisk gently but constantly for about 5-6 minutes or until the mixture turns dark in colour and thickens slightly.

Remove the mixture to a shallow bowl to cool for about 20-40 minutes.

When the caramel has cooled to room temperature, divide it in half reserving half for topping the cake at the end.

To the other half of the caramel sauce, add the powdered sugar and the salt, and whip them together on high speed until a thick, barely pourable glaze forms. You might have to add 1-3 teaspoons of heavy cream to the mixture (depending upon the texture of the powdered sugar you're using) to create this texture.

Pour and spread the frosting over the top of the cake and let it drip down the sides ever so slightly.

Drizzle the extra caramel sauce you set aside over top of the frosting (you might not need all of it) and top with sea salt flakes before serving.
Nutrition
Serving:
1
serving
|
Calories:
610
kcal
|
Carbohydrates:
79
g
|
Protein:
5
g
|
Fat:
32
g
|
Saturated Fat:
21
g
|
Cholesterol:
124
mg
|
Sodium:
293
mg
|
Potassium:
252
mg
|
Fiber:
1
g
|
Sugar:
61
g
|
Vitamin A:
917
IU
|
Vitamin C:
1
mg
|
Calcium:
129
mg
|
Iron:
1
mg