Is the pressure of trying to come up with a healthy breakfast every day getting you down? Today I'm sharing my favourite Breakfast Fruit and Granola Parfaits (Basic Homemade Granola Recipe) that make the perfect healthy breakfast every day of the week! Start with my recipe for Basic Homemade Granola and switch it up with your favourite fruits, nuts, and other mix-ins, or follow these 3 easy and delicious granola parfait recipes to add a spark to your healthy breakfast routine!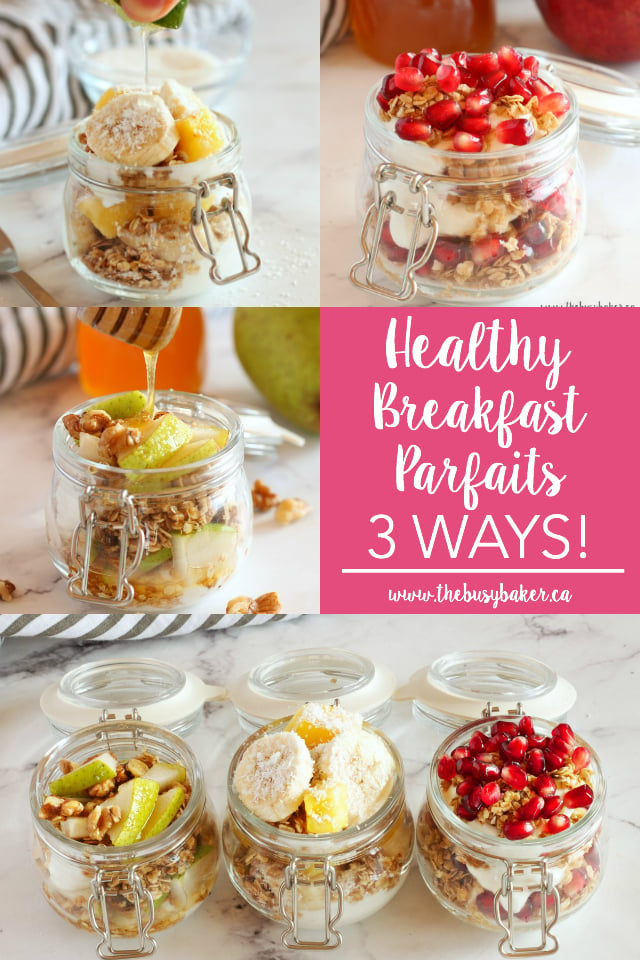 Looking for more delicious, healthy recipes?  
NEVER MISS A POST! FOLLOW ME ON: 

If you follow me on Instagram you'll know that I've shared my breakfast in my Instagram stories for the last few days. I've been obsessed with homemade granola for a long time and I've shared many of my favourite granola recipes with you over the years, like this Chocolate Coconut Granola, or this Blueberry Pumpkin Seed Granola. Since the new year began I've been rekindling my love for homemade granola and I just can't get enough. Seriously!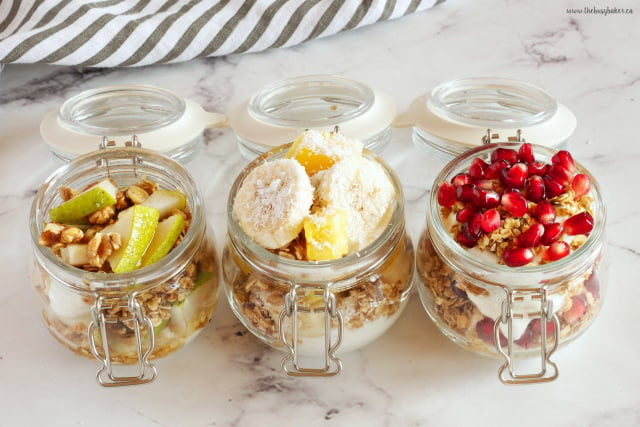 I've even gotten my kids hooked on it again, which is a great thing, because sometimes you just need a quick and easy breakfast on those busy school mornings and a quick little parfait of homemade granola, some low fat plain Greek yogurt, and some fresh fruit absolutely does the trick. In fact, I'm sharing 3 of our family's favourite Breakfast Fruit and Granola Parfaits (Basic Homemade Granola Recipe) with you today all in one post because we are just THAT obsessed and I couldn't decide which one to share with you first.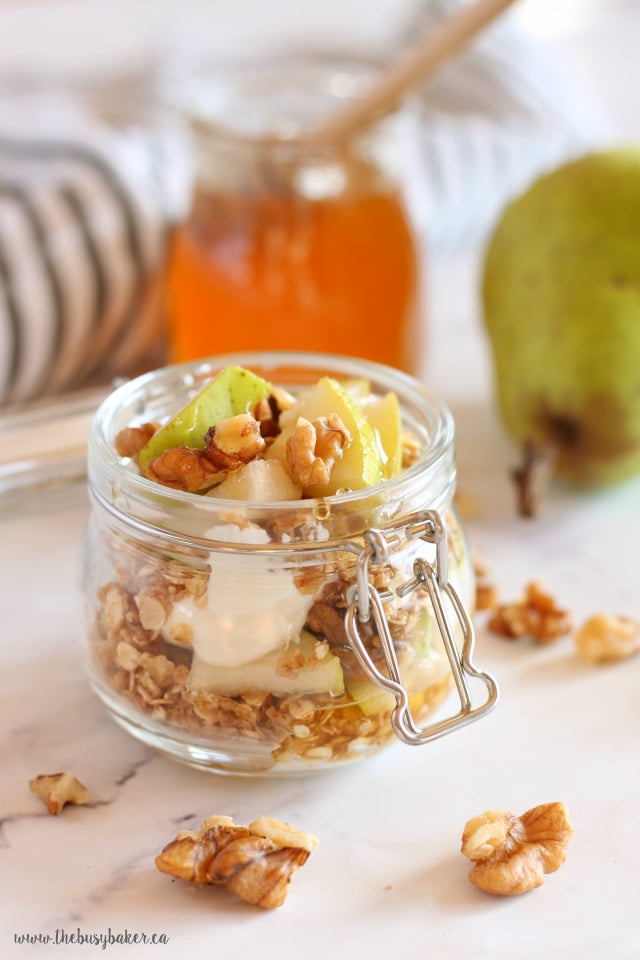 Because it's winter and we like to eat as seasonally as possible, the first parfait I'm sharing with you today is a delicious Pear, Walnut and Honey Breakfast Parfait. It's super simple: a few spoonfuls of my Basic Homemade Granola (find the recipe below!), some plain Greek yogurt (use vanilla flavoured if you prefer your yogurt to be sweet), a sliced pear, some chopped walnuts, and a drizzle of your favourite honey!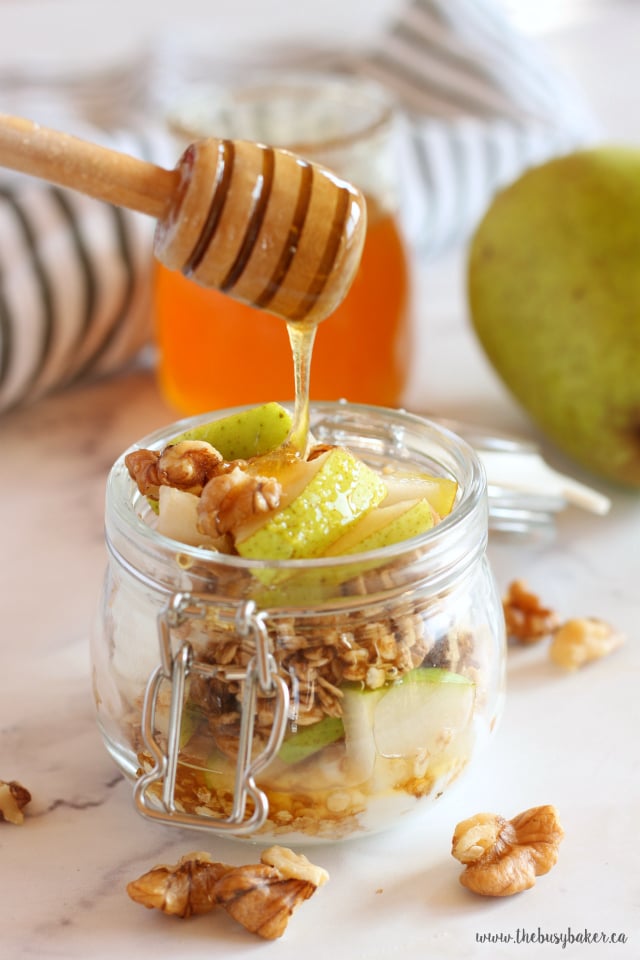 The second parfait is a delicious Tropical Fruit Breakfast Parfait. I love tropical flavours for breakfast and the combination of pineapple, banana and lime in this parfait is simply delicious. Just layer some of my Basic Homemade Granola (find the recipe below!) with some plain Greek yogurt, some sliced banana, fresh pineapple chunks, shaved coconut, and a drizzle of fresh lime juice for a tropical kick! I've actually shared another version of this Tropical Fruit Breakfast Parfait, which you can find HERE, but this recipe really keeps it simple for the perfect quick and easy tropical-inspired breakfast!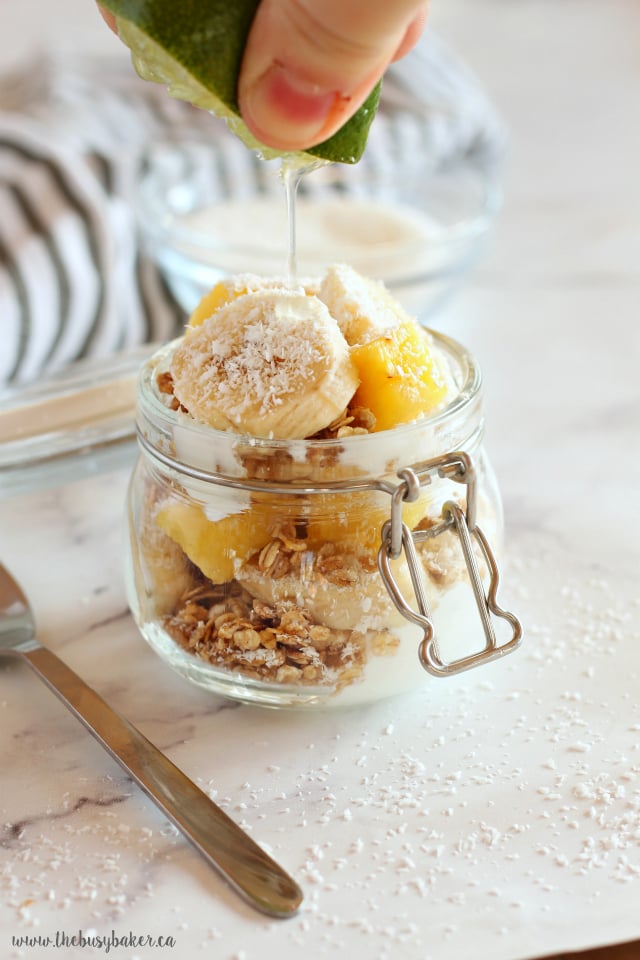 The third breakfast parfait I'm sharing with you today is this delicious Pomegranate Granola Parfait. I actually shared this one with you for the first time over a year ago, but it's still a favourite of ours! It's super simple: just layer some of my Basic Homemade Granola (recipe below) with some pomegranate seeds and some plain Greek yogurt (or whatever flavour you prefer), drizzle with some honey, and you're good to go! Feel free to check out the original recipe here!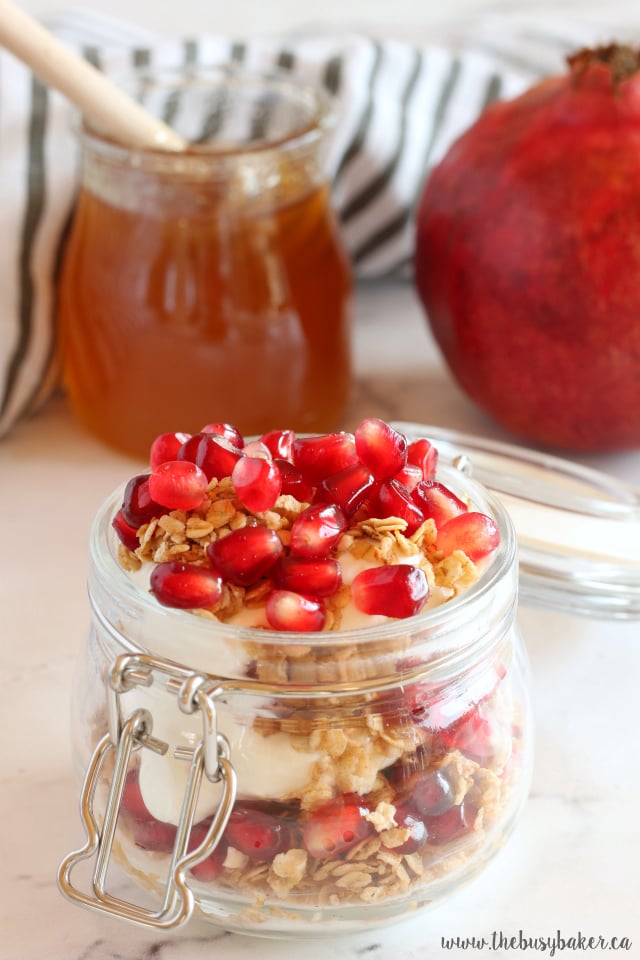 I hope you enjoyed these delicious Breakfast Fruit and Granola Parfaits (Basic Homemade Granola Recipe)! Let me know in the comments below, which one is YOUR favourite??
NEVER MISS A POST! FOLLOW ME ON: 
Don't forget to check out even MORE delicious healthy recipes I've linked below!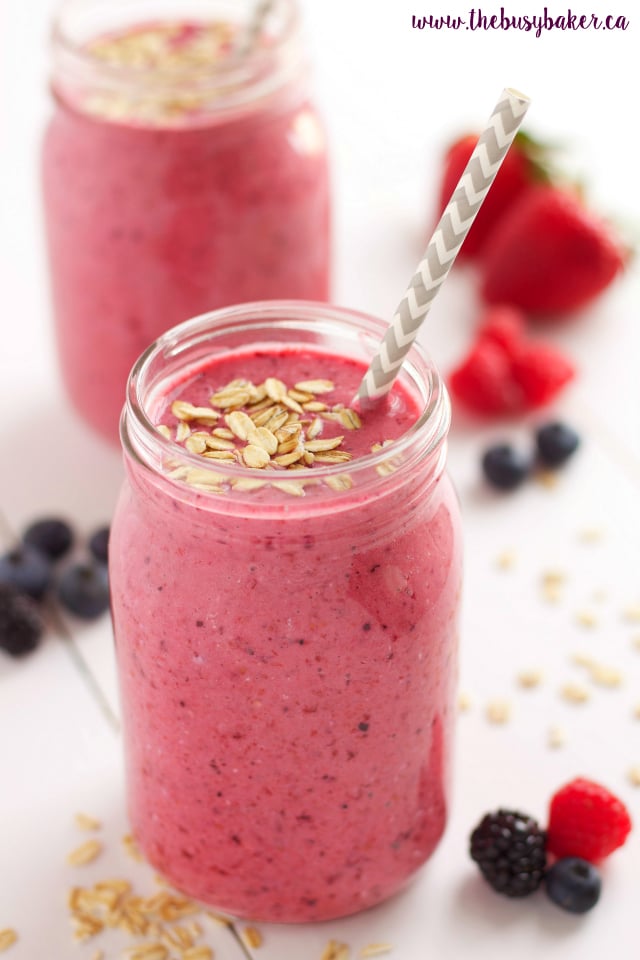 This Berry Banana Oat Smoothie is one of my favourite smoothies ever and it's packed with fibre!
Try this Chocolate Almond Overnight Oats recipe for a healthy breakfast that tastes like dessert!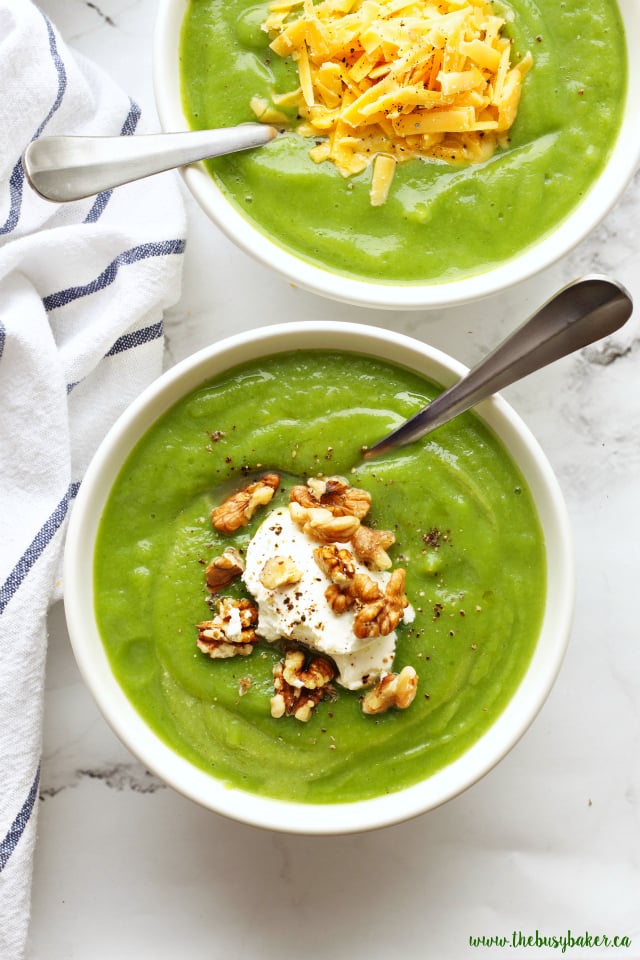 My 3-Ingredient Broccoli Soup is the healthiest lunch around!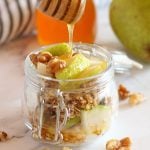 Basic Homemade Granola
This Basic Homemade Granola is made on the stove-top, so it's quick and easy to make and it can be customized to your tastes!
Ingredients
4

teaspoons

of coconut oil

2

cups

rolled oats

1

teaspoon

cinnamon

1/4

cup

liquid honey

or other vegan honey substitute

1/2

teaspoon

vanilla extract

any add-ins of your choice: nuts

seeds, dried fruit, etc.
Instructions
Heat a large skillet over medium heat.

Add the coconut oil to the skillet and let it melt.

Toss the rolled oats in the pan and stir them together with the oil until they're coated and the oil appears to have disappeared.

Turn the heat to low and toast the oats for about 5 minutes, moving them constantly so they don't burn.

Add the cinnamon, honey and vanilla extract and toss everything together well in the skillet, continuing to stir constantly.

After stirring for a few minutes, turn the granola out onto a parchment-lined baking sheet to cool to room temperature.

Serve the granola as soon as it's cooled, or store it in an airtight container for up to two weeks.
Recipe Notes
Be sure to wait for the granola to cool completely before storing. If you store it when it's warm, the honey will dry and the granola will become extremely hard. -
If you add dried fruit or nuts, add them right at the end before the granola begins to cool. This will prevent them from hardening too much and creating too-chewy texture.
I make a triple batch of this Basic Homemade Granola and it lasts our family for a week of breakfasts!
Nutrition Facts
Basic Homemade Granola
Amount Per Serving (1 serving)
Calories 128
Calories from Fat 27
% Daily Value*
Fat 3g5%
Sodium 2mg0%
Potassium 79mg2%
Carbohydrates 23g8%
Protein 3g6%
Calcium 13mg1%
Iron 1mg6%
* Percent Daily Values are based on a 2000 calorie diet.
Save