These perfect fluffy Cinnamon Buns are deliciously sweet and sticky thanks to a secret ingredient! And you can make perfect cinnamon buns at home every time with my Top 5 Pro-Tips!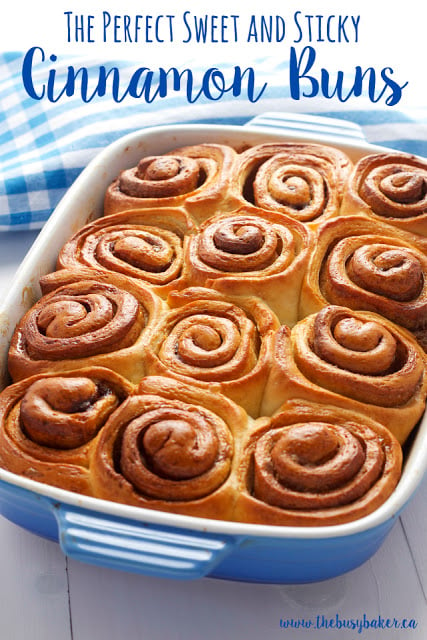 Hungry for more?
Pin this recipe on Pinterest!
Follow me! Like my page on Facebook!
Subscribe! Click here to get free recipes by email!

I grew up on the Canadian prairies and went to high school in a small town which meant weekly early-morning study sessions with my chemistry and biology classmates at our favourite local hole-in-the-wall diners. One of my favourites was this place that served some of the best poutine I've ever tried and the most amazing ooey gooey cinnamon buns toasted to perfection and slathered in butter. My friends and I ate breakfast there every week while we buried our noses in textbooks (or pretended to) and we consumed an embarrassing number of those toasted cinnamon buns.
Ever since then I've been on the hunt for a cinnamon bun recipe that would compare and believe me, I tried many! Then one day a few years ago I stumbled across Chef Anna Olson's Sticky Buns recipe and with a few minor adaptations, I had my recipe!
Seriously, this recipe is simply amazing. With a secret
ingredient that creates a sticky-sweet topping, and a soft, sweet
dough, these cinnamon buns turn out perfectly every single time! I originally posted this recipe about a year ago (April 2015) and I've updated it with new photos and my Top 5 Pro-Tips to help you make the perfect cinnamon buns too!
Looking for more pro tips? Check out my recipe for The Perfect Pavlova or this Cranberry Apple Pie and my top tips for the perfect homemade pie!
The Perfect Sweet and Sticky Cinnamon Buns (makes 12)
You'll need:
For the dough:
1 1/4 cups milk
1/3 cup sugar
1/3 cup butter
3/4 tsp salt
1 egg
3 1/2 cups all purpose flour
2 1/4 tsp instant dry yeast
For the filling:
1/3 cup butter, melted
1 cup brown sugar
1/2 – 1 tbsp cinnamon (to taste)
1/2 cup real maple syrup
1 egg beaten with 1 tbsp water (for brushing on before baking)
1-2 tsp vegetable oil (for rolling)
Butter for greasing the pan
To make:
Into the bowl of your stand mixer, measure out the 3 1/2 cups all purpose flour and the yeast. Mix these two together for a few seconds, just until they're combined.
Next, melt 1/3 cup butter in a saucepan on the stove over medium heat.
Once it's all melted and starts to bubble, remove it from the heat and stir in the 1/3 cup sugar and the salt until you can see and feel the grains beginning to dissolve in the hot butter. Add the milk slowly, stirring constantly.
Now, you're probably thinking about how you could cut a corner here and melt your butter in the microwave instead, but don't do it!
Pro Tip #1:
In order to achieve a fluffy dough that rises well, the temperature of the wet ingredients when they hit the yeast is critical: too cold, and the yeast won't be able to grow and too hot, and the liquid will kill the yeast. Both of these situations will cause your dough to be tough and dry, and you'll be lucky if it rises at all. The warmth of the butter and the pot will increase the temperature of the cool milk creating the perfect almost-body temperature that will allow the yeast to do its work. You're looking for the milk and butter mixture to be about 105 degrees Fahrenheit, but if it feels only slightly warm to the touch (slightly above room temperature) you're good to go.
When your wet ingredients have reached the ideal temperature, add in an egg and break it up with a fork into the mixture.
Pour the wet ingredients into the dry ingredients in the bowl of the stand mixer. Make sure your stand mixer is fitted with the dough hook attachment…it's about to do all the work for you.
Turn your mixer on low and watch the ingredients combine. After about a minute you should see a sticky dough starting to come together. If you need to turn the mixer off and scrape down the sides and bottom of the bowl, now's your chance.
Turn up the mixer slightly and allow the mixture to knead the dough for about 3 minutes.
Pro Tip #2:
The dough should be tacky to the touch, but not so sticky that it's very messy. It should pull away from the sides of the bowl easily and the bowl should appear fairly clean. If the dough appears too sticky, continue kneading and add flour one tablespoon at a time until the dough reaches that tacky texture. Too little flour and the dough will be too sticky and will result in dense buns. Too much flour and the dough will be tough, resulting in dry, crumbly buns.
If you don't have a stand mixer, you can knead the dough by hand on a lightly floured work surface for 5 minutes after the wet and dry ingredients are combined. If you're at all serious about cooking and baking, a stand mixer is a great investment. I have had my KitchenAid stand mixer for 10 years and it has paid for itself a few times over I'm sure!
Cover the bowl with some plastic wrap and move it to a warm place in your kitchen to rise for about 2 hours. It should have doubled in size after about 2 hours.
Once you notice your dough has risen fully, and before you do anything with it, grease a large rectangular pan (at least 9×13 in size) with some butter.
Pro Tip #3:
The maple syrup in this recipe is a fantastic secret ingredient that creates the beautiful golden, sticky bottom to these cinnamon buns. If you're looking for a diner-style cinnamon bun, this is exactly how to do it at home! Pour the maple syrup into the pan, tilting the pan if necessary to make sure the syrup coats the bottom completely. If you want to add a little extra syrup, go ahead. You'll get no judgment from me!
Pro Tip #4:
Turn the dough out onto a very lightly greased work surface rather than flouring the work surface. This makes it easy to roll out and it helps the surface of the dough to remain soft instead of drying it out like adding more flour would do. I like to spritz my counter top with a little bit of vegetable oil to make sure the dough doesn't stick and it works like a charm!
Using a rolling pin, roll out the dough evenly until you have a rectangle that's approximately 18 inches wide and 12 inches deep. Brush the dough with the melted butter.
In a separate bowl, combine the brown sugar and the cinnamon. I use 1 tbsp of cinnamon, but feel free to use a little less if you'd prefer a more subtle taste. Spread the brown sugar and cinnamon mixture evenly over the dough.
Roll up the dough from the long side until you've got one long roll. Cut the long roll in half, then in half again, and then each of those sections into 3 pieces until you have 12 cinnamon rolls. Try to cut the rolls to an even thickness as this promotes even baking. You don't want some rolls to be overdone and others to be raw in the middle.
Arrange the 12 pieces in the pan you've greased and nestle them into the maple syrup in the bottom. An arrangement of 3 rows of 4 works well in a rectangular pan.
Pro Tip #5:
You'll probably notice there is some space left between the rolls. This is exactly what you want to see because you're about to let the rolls rise again for about 20 minutes. For these rolls, a shorter second rise helps to maintain a super soft-textured dough that's fluffy but not too airy. The key here is not to over-rise; the heat of the oven will cause them
to puff up even more and if they've risen too much before going in the
oven they can actually lose their height and lose their beautiful
texture. When large air pockets develop in the dough it creates rolls that are
misshapen, which causes them to brown unevenly when baking. Over-rising is a recipe for disaster and if you want uniform cinnamon buns that stay in the pan while baking, only rise for 20 minutes the second time.
Cover the pan with a clean kitchen towel and set them aside to rise. It's a good idea to preheat your oven at this time, too (to 350 degrees Fahrenheit).
Once the rolls have risen for only 20 minutes, very lightly brush the tops with some egg wash (beat the egg and 1 tablespoon of water) and place them in the oven to bake for about 40 minutes, or until they're a nice even golden brown.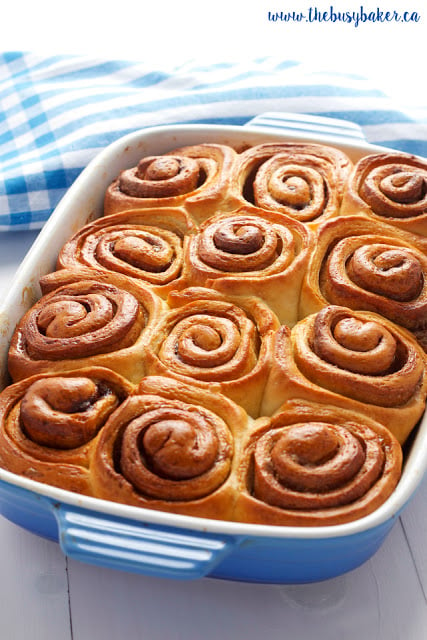 If you can resist the temptation, let them cool in their pan for about 15 minutes before cutting into them. As always, they'll continue baking on the inside even after they've been removed from the oven. Allowing them to cool slightly will allow the baking process to stop naturally and help the buns maintain their texture.
The best way to serve these buns is inverted (upside down). You can actually invert the whole pan onto a tray or platter if you're serving these at a brunch, for example. Or, you can cut into them and serve individually. It's up to you!
These cinnamon buns are best served on the day they're made but they store well in an airtight container for a few days and can be reheated for serving.
I hope you enjoy this recipe! Let me know in the comments below, do you make homemade cinnamon buns?
Hungry for more?
Pin this recipe on Pinterest!
Follow me! Like my page on Facebook!
Subscribe! Click here to get free recipes by email!