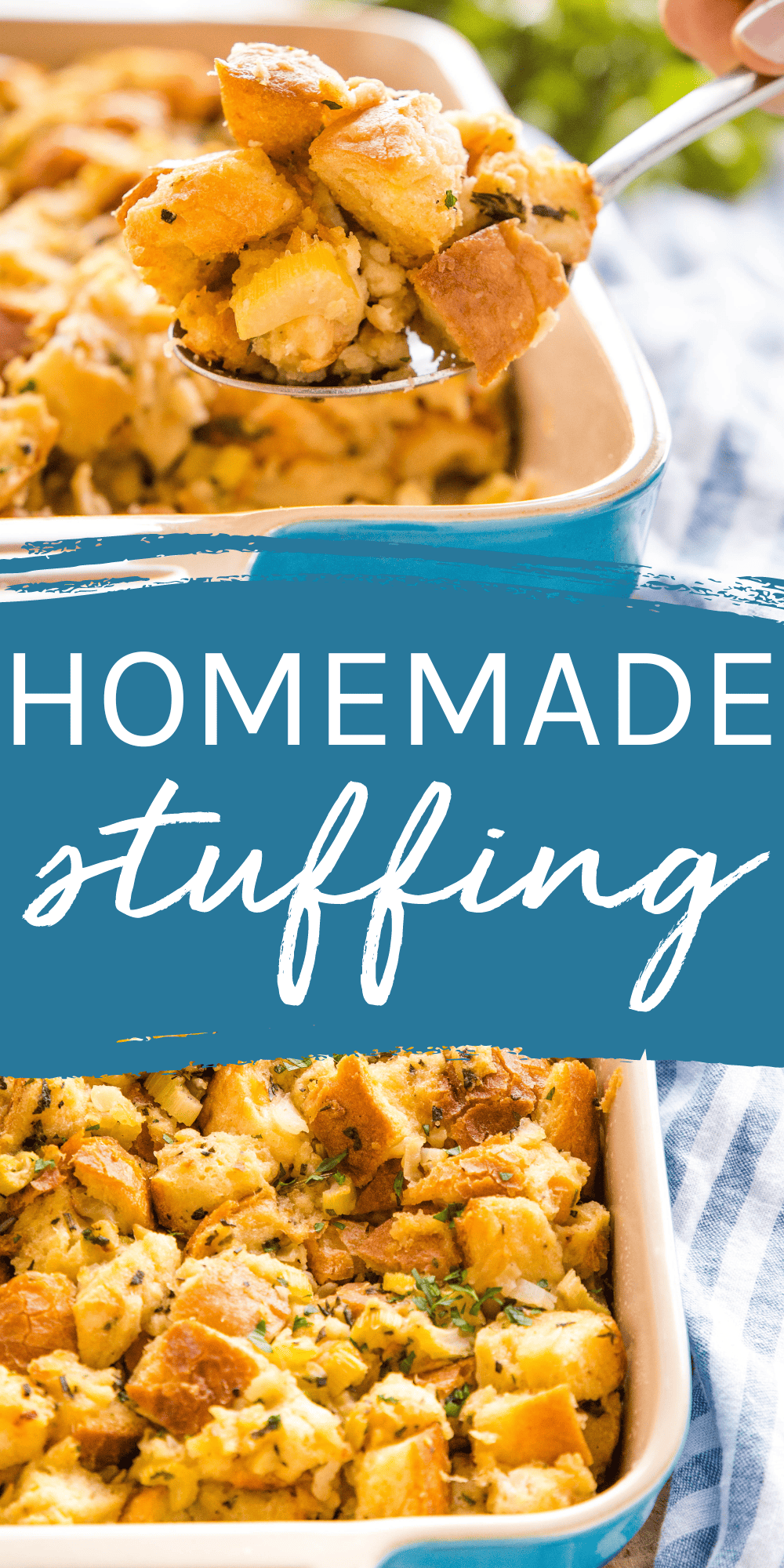 This Homemade Stuffing recipe is the BEST holiday side dish. Easy, classic stuffing made with basic ingredients that's perfect for Christmas and Thanksgiving!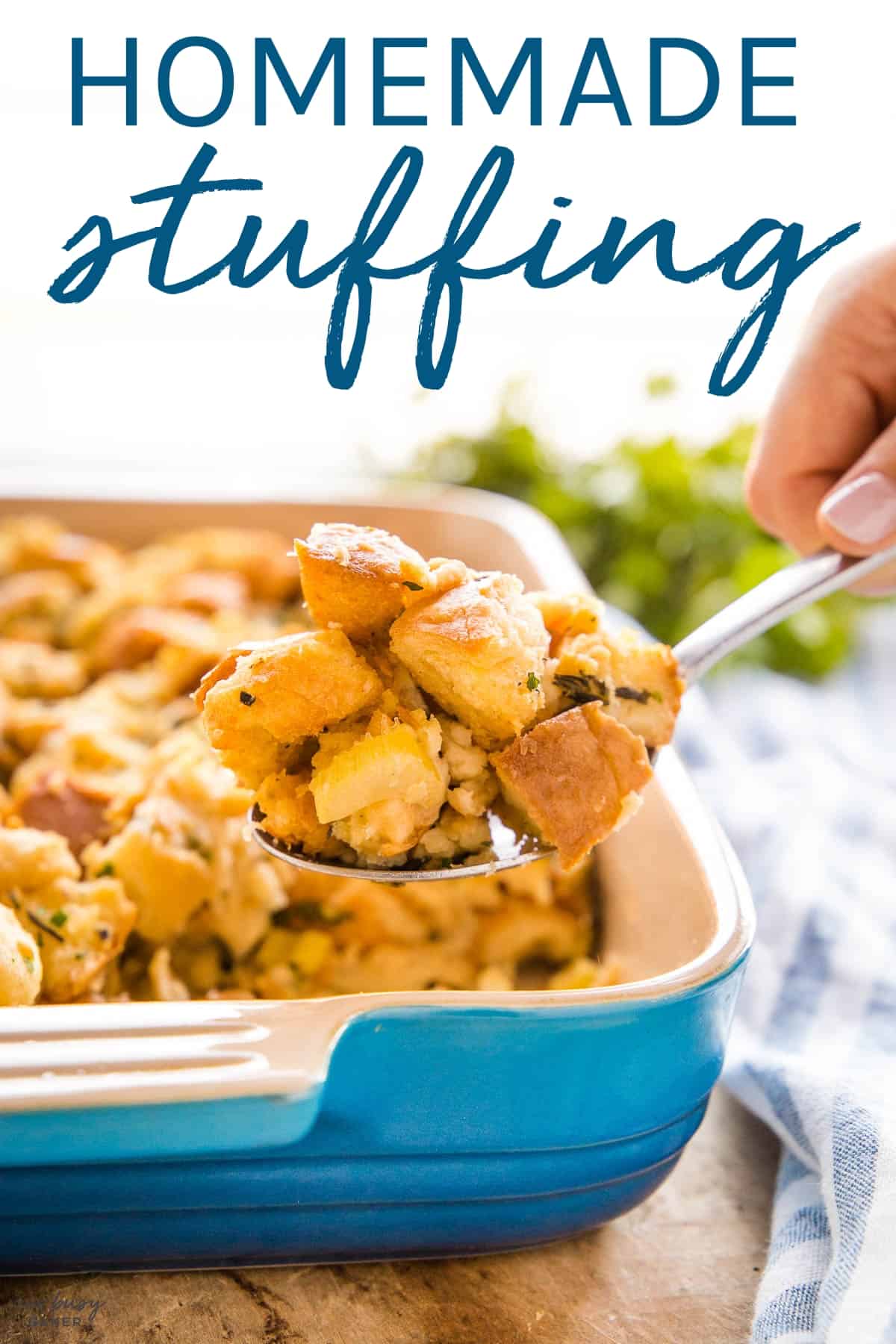 Estimated reading time: 11 minutes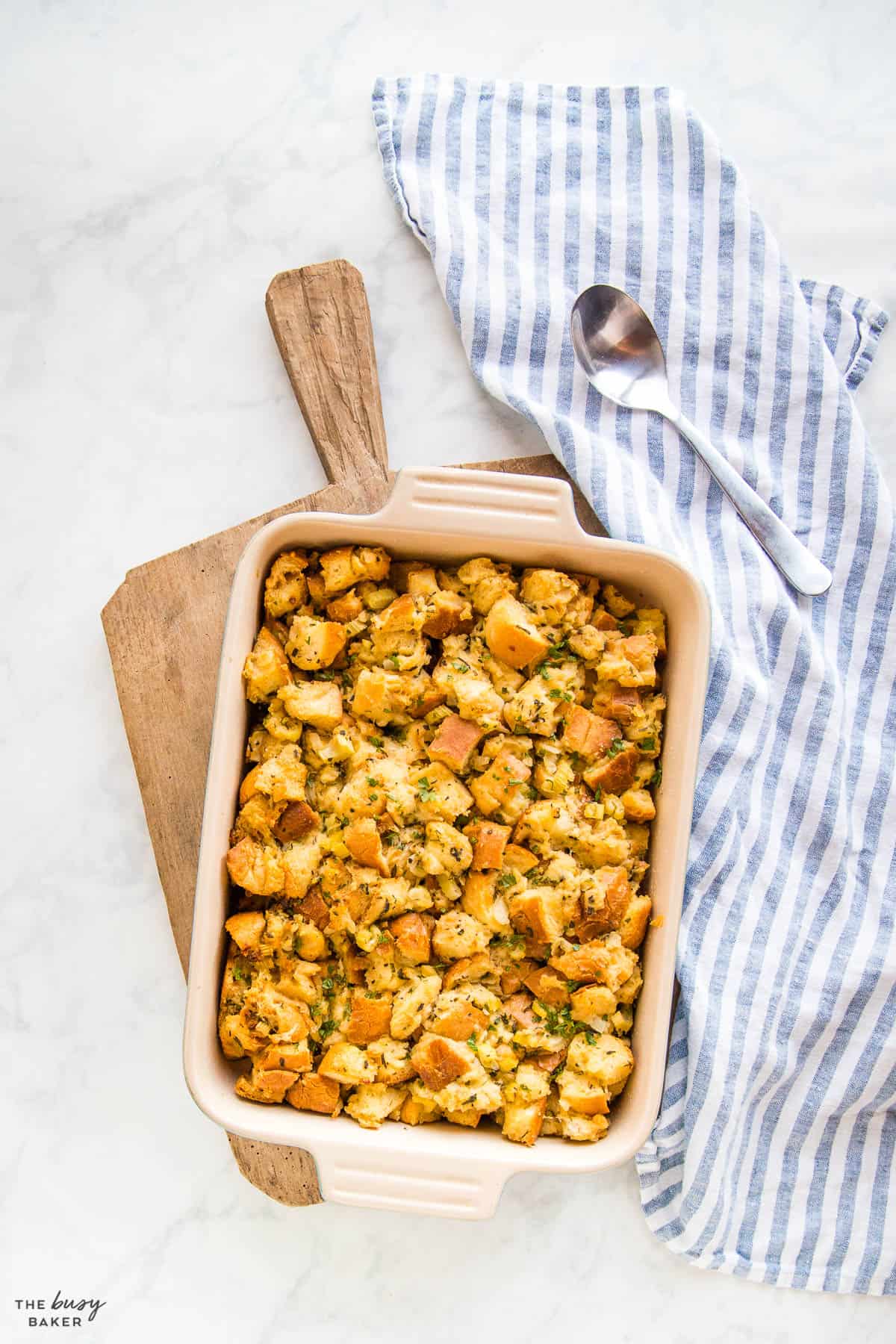 If you love the holidays as much as we do, you'll already know the importance of tried and true recipes when it comes to making holiday dinners extra delicious! We've shared SO many of our favourite holiday recipes with you already, but this Homemade Stuffing Recipe is one of the BEST!
Stuffing, also known as "dressing" in some areas of the world, is a seasoned side dish often served at holiday feasts like Thanksgiving and Christmas. It's usually made from a base of bread cubes that are seasoned with various herbs, spices, and sometimes meat. The bread absorbs flavours from aromatic vegetables, like onions and celery, and from the herbs, spices, and any added liquids, like broth or melted butter. It can be cooked either inside a roasting turkey or chicken (hence the term "stuffing") or baked separately in a dish (often then referred to as "dressing").
Stuffing as we know it today is a recipe that's been around for centuries. The concept of stuffing began as a practical cooking technique: early cooks realized that filling the cavity of meats with other ingredients would not only add flavour but also help the meat maintain its shape.
Over time, stuffing moved from being not just a practical culinary technique but to an essential part of holiday meals, turning it into a dish with emotional and cultural significance for many people. Christmas and Thanksgiving dinners in many parts of the world adopted this delicious side dish, making stuffing an integral part of two of the biggest holiday celebrations in many Western cultures.
Stuffing holds a special place at most holiday tables for several reasons:
Versatility: Stuffing can be adapted to suit a wide range of dietary preferences and traditions, making it perfect for a crowd.
Comfort Food: Its warm, hearty nature makes it the epitome of comfort food, perfect for gatherings centred around family and togetherness – especially those that take place around Thanksgiving and Christmas.
Tradition: For many, a holiday meal simply wouldn't be complete without stuffing as it's been a recipe made by families for decades.
Economical: Traditionally, stuffing has been a way to extend meals and use up stale bread, making it a cost-effective addition to a holiday meal.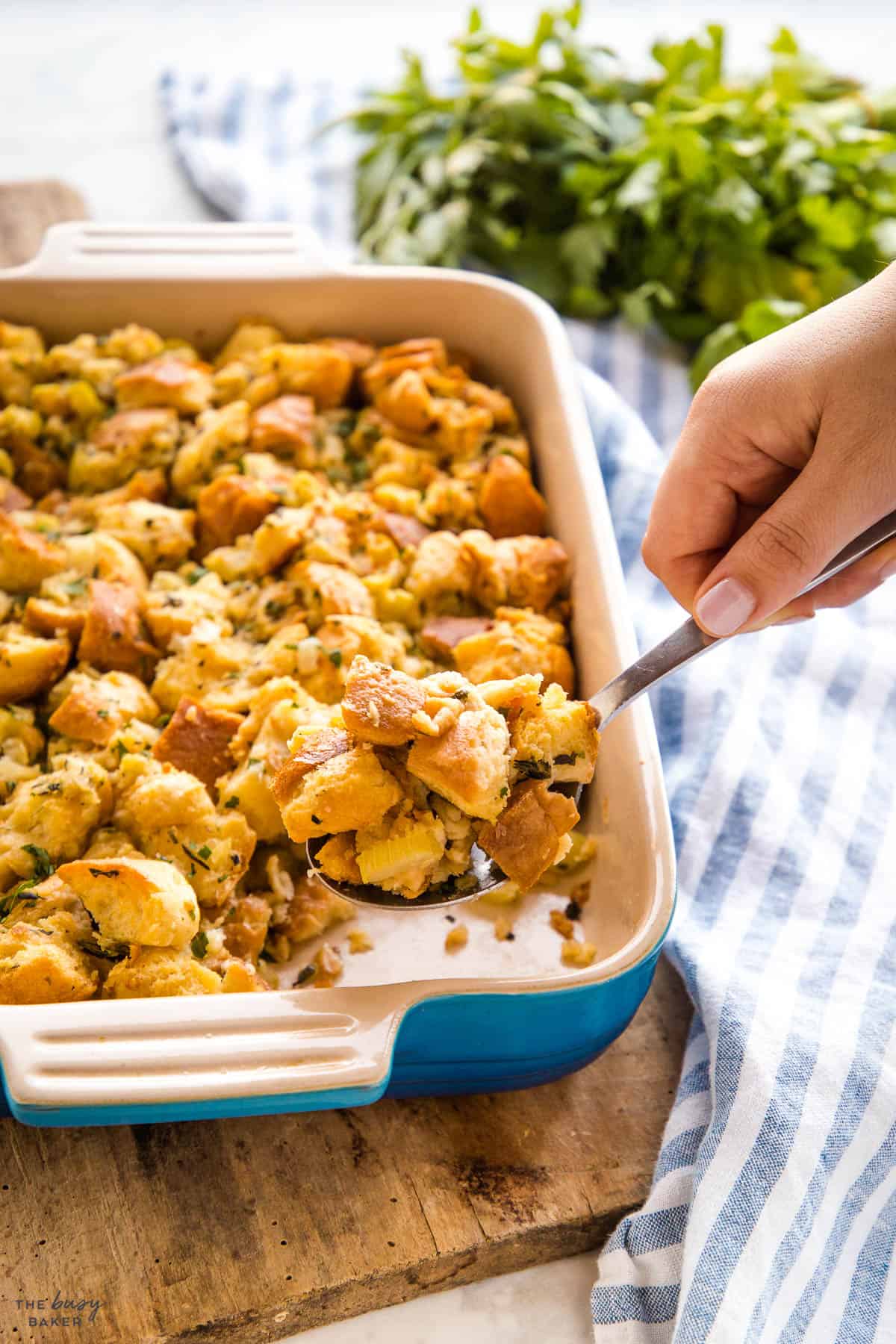 When it comes to making stuffing from scratch it's important to start at the beginning, which means with the bread, of course! There are so many different kinds of bread available these days, and some perform better than others in homemade stuffing. Here's a breakdown of different breads and how they'll perform in this recipe:
Brioche or other egg breads: Although soft egg-based breads are popular for baked bread dishes like french toast casserole or bread pudding, they're not exactly the best choice for stuffing because they're soft and deflate when they absorb a lot of liquid. If you choose to use a brioche-style bread for this recipe, be sure to use day-old or even two day-old bread that's dry and stale. Better yet, toast it in the oven first!
French bread: French bread is our top choice for this recipe because it's got a crispy exterior and a soft interior. It holds its shape well and ensures the stuffing is nice and soft on the inside.
Sourdough bread: Sourdough is another great option similar to french bread, although it's a little heartier and creates an even crispier top on the stuffing. If you love the flavour of sourdough, it's a great one to try.
Whole grain bread: Whole grain bread is another option, as long as it has a sturdy exterior that will hold its shape. If you like a softer stuffing, whole grain bread isn't the best option since it tends to be drier and chewier than french bread.
Sandwich bread: Plain old sandwich bread isn't the best choice as it tends to be softer and won't hold its shape well. If you choose to use sandwich bread, be sure to dry out the bread pieces for several hours (or overnight) before using. Toasting them in the oven is also a faster way to dry them out for use in this recipe.
Because homemade stuffing involves bread soaking up liquid, we recommend using day-old or even two-day-old bread that's been left out to turn stale and dry.
If you're short on time, simply use fresh bread, cutting it into cubes and toasting it in the oven at a low temperature (about 300 degrees Fahrenheit or so) for about 20 minutes until it's dry and stale.
When it comes to the size of the bread cubes, we recommend cutting or tearing the bread into about 1 to 1 1/2 inch cubes.
It may be tempting to skip sautéing the aromatic vegetables since they'll cook in the oven anyway, but this is a CRITICAL step for flavour! Cooking the veggies first adds so much flavour to homemade stuffing it's definitely not a step to skip!
Be sure to follow the recipe when it comes to the amount of liquid added to the bread – this will ensure the stuffing bakes perfectly with the right moisture level.
We love adding fresh herbs to our homemade stuffing because it adds SO much flavour. Of course, dried herbs work too, but fresh parsley, thyme, sage and rosemary take this homemade stuffing over the top!
Achieving the perfect texture when making homemade stuffing is dependent on the balance between a crispy, dry texture and a soft, moist texture. Our biggest tip for making stuffing with the PERFECT texture is to bake it for the first 30 minutes covered in aluminum foil and then remove the foil for the remainder of the baking time. This creates the best moist, soft interior with the perfect amount of caramelized, crispy bits on top!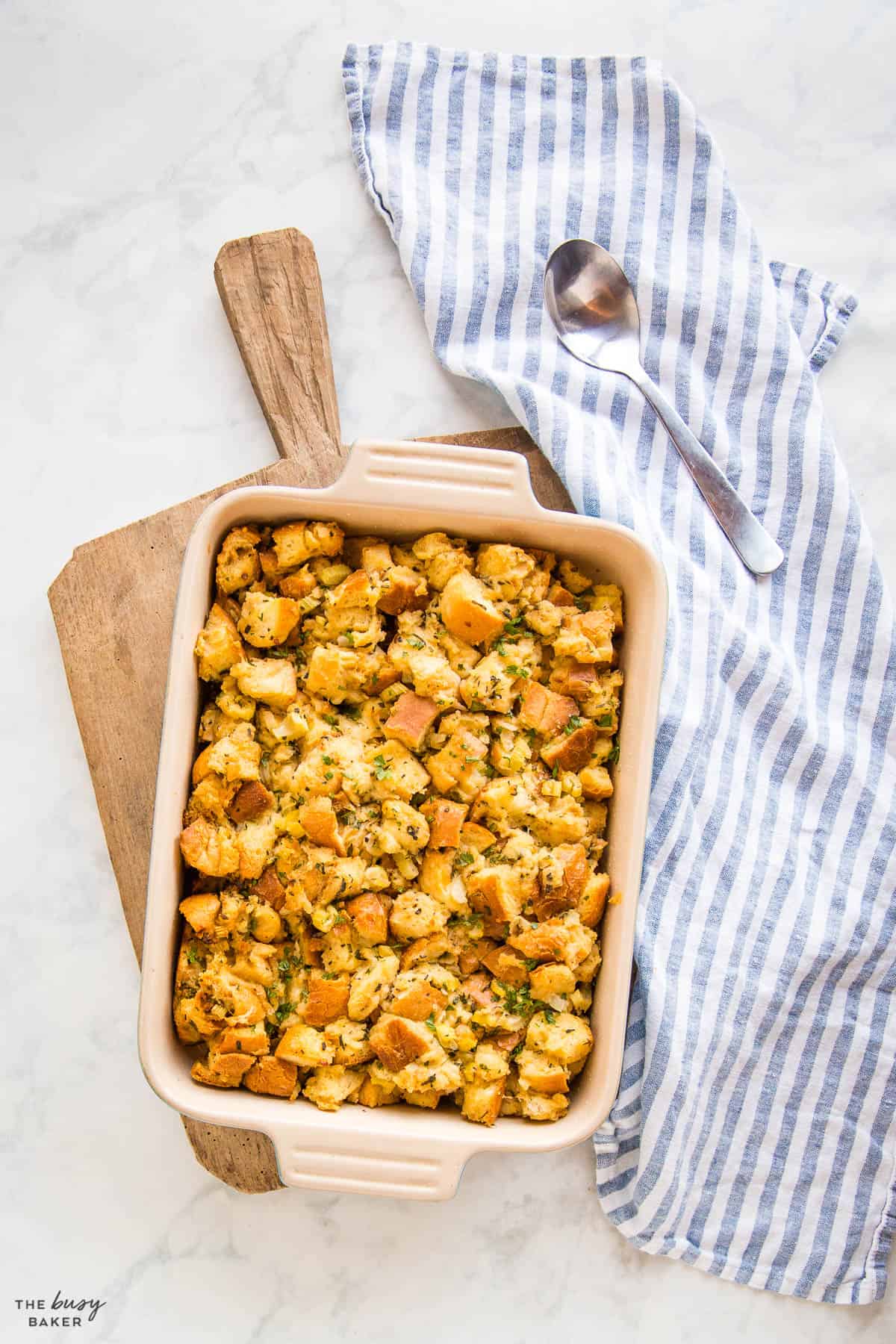 We love sharing our favourite holiday meal ideas with you, our dear readers. If you're looking for more where this came from, check out our FREE No Fail Holiday Meals Email Course where we share ALL our best tips, tricks, and recipes for simplifying your holiday meals! Did we mention it's FREE?! Sign up below:
And if you're looking for even MORE Holiday Entertaining ideas and recipes, check out our e-cookbook with even MORE holiday meal solutions you're going to LOVE – available NOW in The Busy Baker Shop!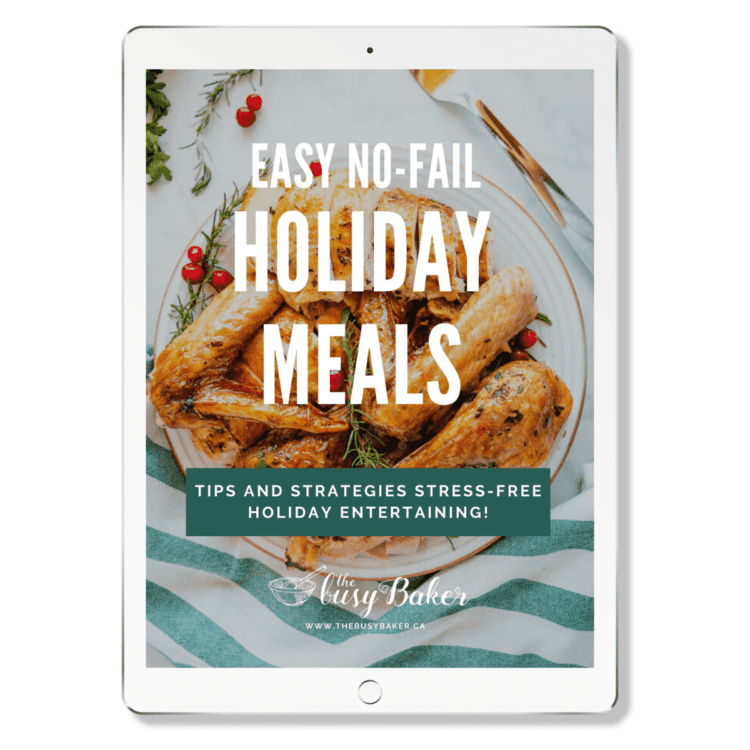 Looking for more?
EASY NO-FAIL HOLIDAY RECIPES AND COOKING & BAKING TIPS
Get my easy no-fail holiday meals e-cookbook!
Click here to learn more!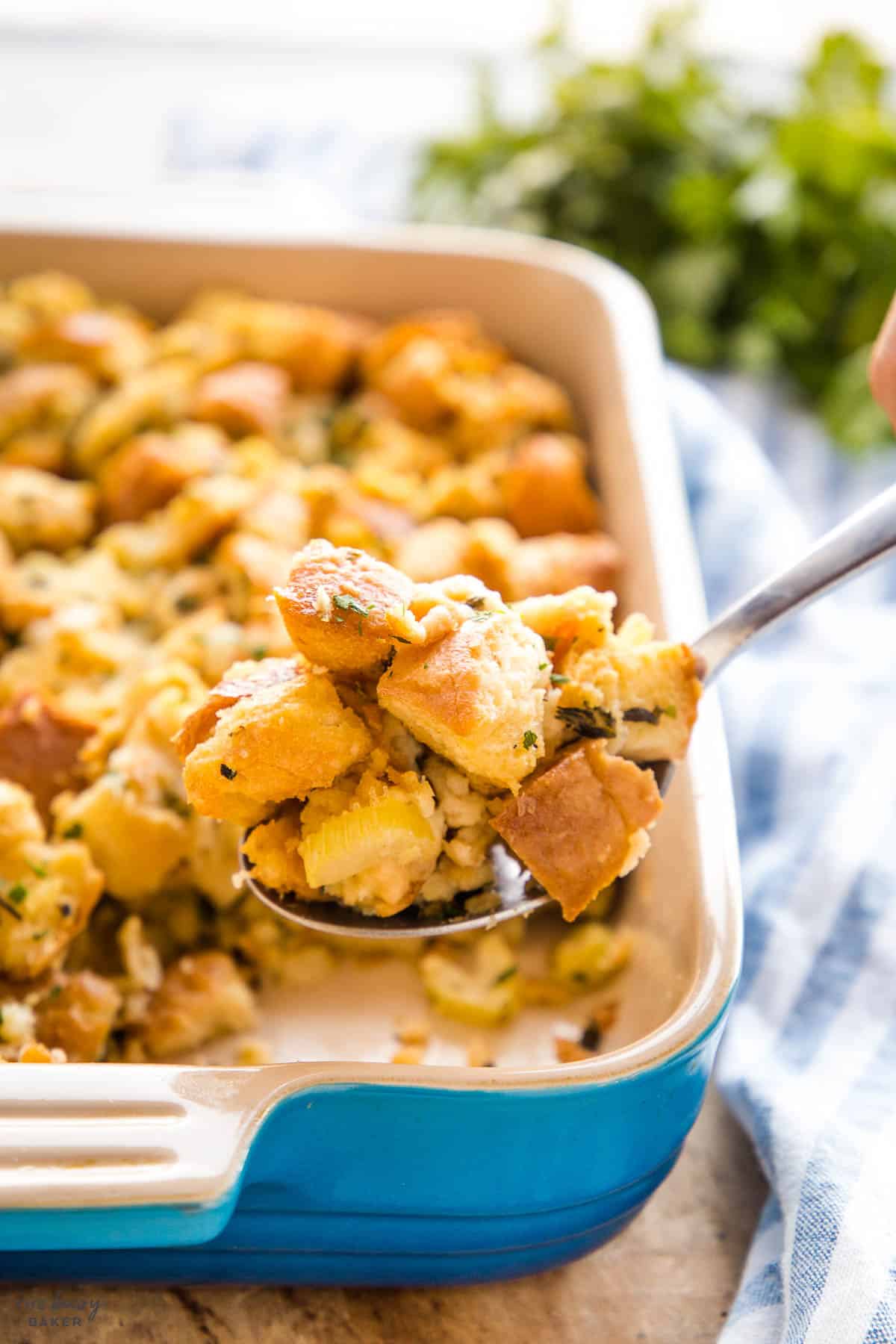 Here are the kitchen items you should have on hand to make this homemade stuffing recipe (paid links):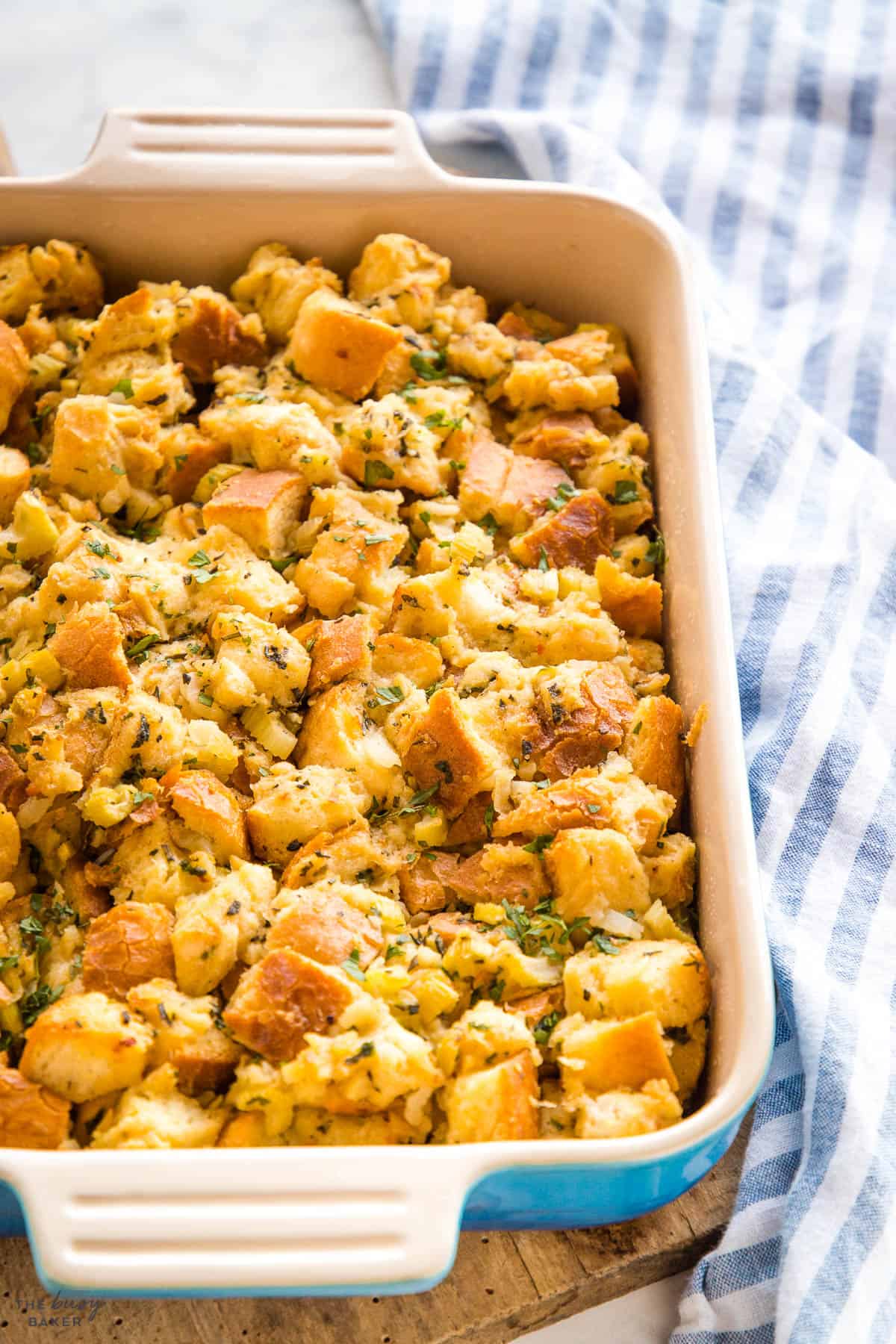 Here's a list of ingredients you'll need to make this homemade stuffing recipe (paid links):
french bread
onion
celery
salt and pepper
fresh parsley
fresh sage
fresh rosemary
fresh thyme
eggs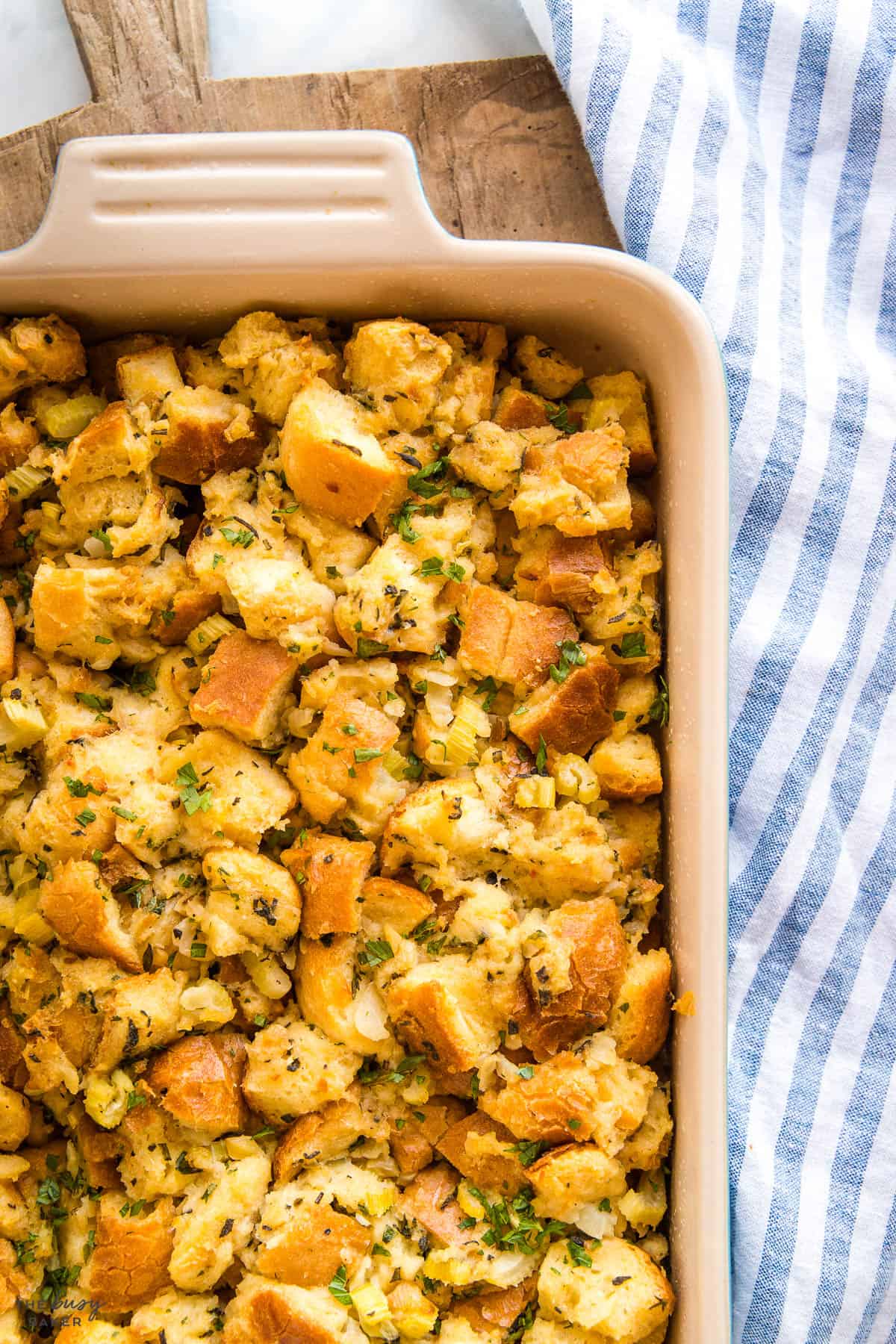 Time needed: 55 minutes
Follow these steps for the perfect homemade stuffing!
Prepare your ingredients.

Select a day-old bread that will keep its shape. We suggest french bread or sourdough bread for this recipe. Toast it if it's too moist and not dry enough, and chop your veggies and herbs.

Saute the veggies.

This step creates a TON of flavour in this dish, so don't skip it!

Make the egg mixture.

Whisk together the eggs and stock until well combined.

Add the bread to a large bowl.

Pour the sautéed veggie mixture over the bread and add the chopped fresh herbs.

Mix everything together.

Pour the liquid over the bread, herb, and onion mixture and toss to make sure it's completely moistened.

Refrigerate overnight or bake immediately.

Refrigerate if you're making it ahead of time, or cover in aluminum foil and bake for 30 minutes covered and about 25 minutes uncovered,

Serve and enjoy!

Serve with your favourite holiday dishes.
Do you want to save time and effort when preparing your holiday dinner? We've got your back! Here's how to make this homemade stuffing recipe up to 36 hours in advance:
Prepare the stuffing as directed in the recipe. Follow all the instructions right up until the point in the recipe where the stuffing goes into the oven (skip the oven preheating step!)
When it's ready to bake, cover it with plastic wrap or an airtight lid.
Refrigerate for up to 36 hours.
Remove the plastic wrap and replace the lid with aluminum foil. It's important to cover the stuffing for the first 30 minutes of baking.
Add the cold pan to a cold oven. This will allow the pan to heat up slowly as the oven preheats and prevent the pan from cracking, breaking or even shattering in the oven. NEVER add a cold pan to a hot oven!!
When the oven reaches temperature, bake as directed in the recipe.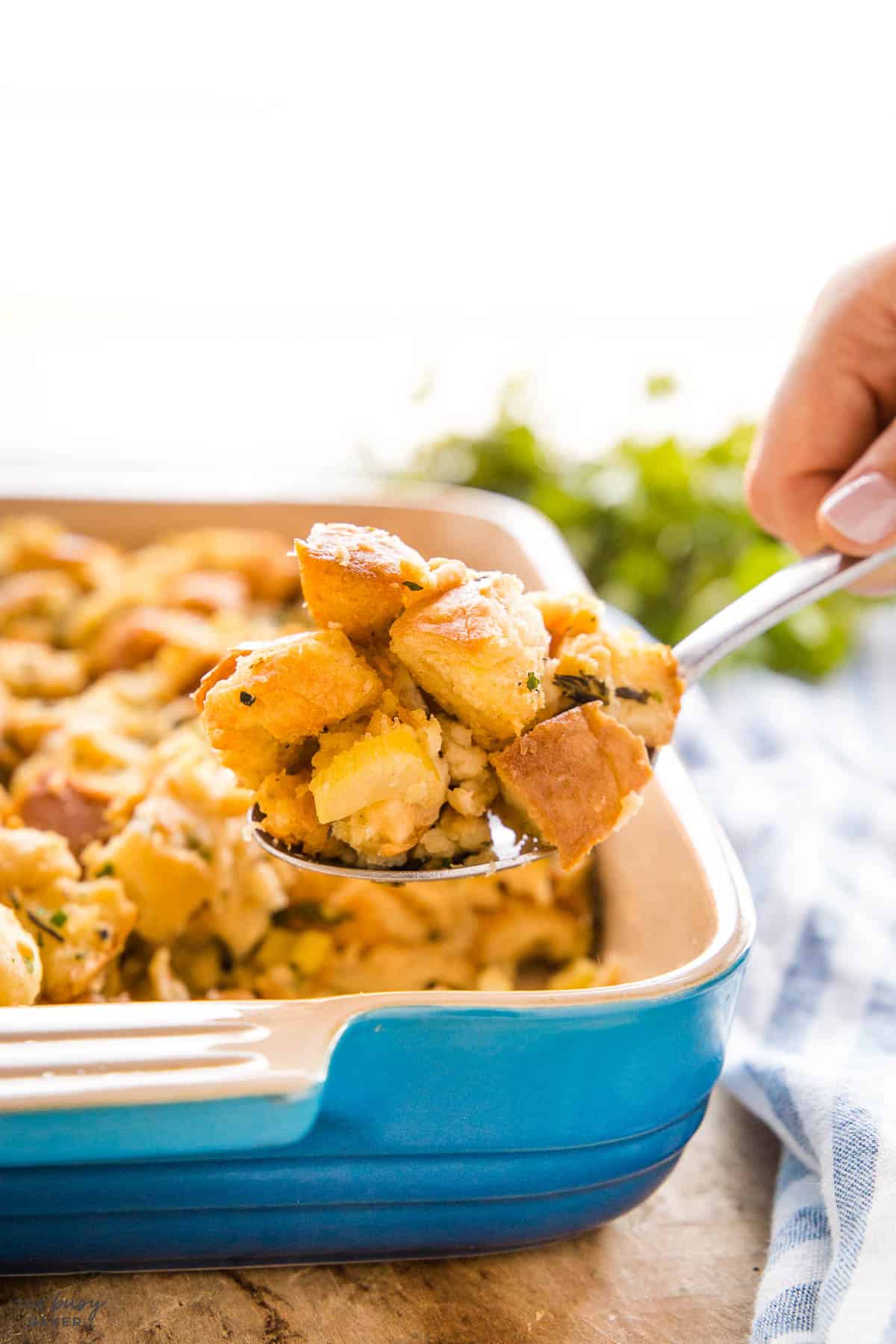 What is homemade stuffing made of?

It's made from cubes of often stale or day-old bread, sautéed aromatic vegetables, fresh herbs, and liquid mixture comprised of stock or broth and beaten eggs.
Should I stuff the turkey or bake the stuffing separately?

Stuffing the turkey will produce a very moist stuffing that's mushy and heavy in texture. Baking the stuffing separately gives a delicious texture that's crispy on the outside and fluffy and soft on the inside.
What's the difference between stuffing and dressing?

Traditionally, stuffing is placed inside the cavity of the turkey and cooked as the turkey roasts. Dressing is typically cooked in a baking pan in the oven. Nowadays, the terms are used interchangeably depending on region or culture.
How much stuffing do I need per person?

When cooking a holiday meal for a crowd we recommend about 3/4 cup of stuffing per person as a serving size.
Can I make stuffing ahead of time?

Yes! Simply prepare the stuffing as directed, cover and store in the fridge until ready to bake. Follow our make-ahead directions in this blog post for more information and steps to follow.
Can I freeze stuffing?

Yes, it can be frozen both before baking and after baking. Simply follow the freezer instructions in the recipe in this blog post.
How do I reheat leftover stuffing?

It's possible to reheat stuffing in the oven or in the microwave. Simply follow the reheating instructions in the recipe in this blog post.
Can I make gluten-free stuffing?

Yes, if you have a favourite gluten-free bread that performs similarly to traditional bread in your favourite recipes, feel free to use it to make this recipe.
Does stuffing need eggs?

Eggs help bind all the ingredients together in homemade stuffing recipes, so we don't recommend making stuffing without the eggs. They also add moisture and a fluffy texture.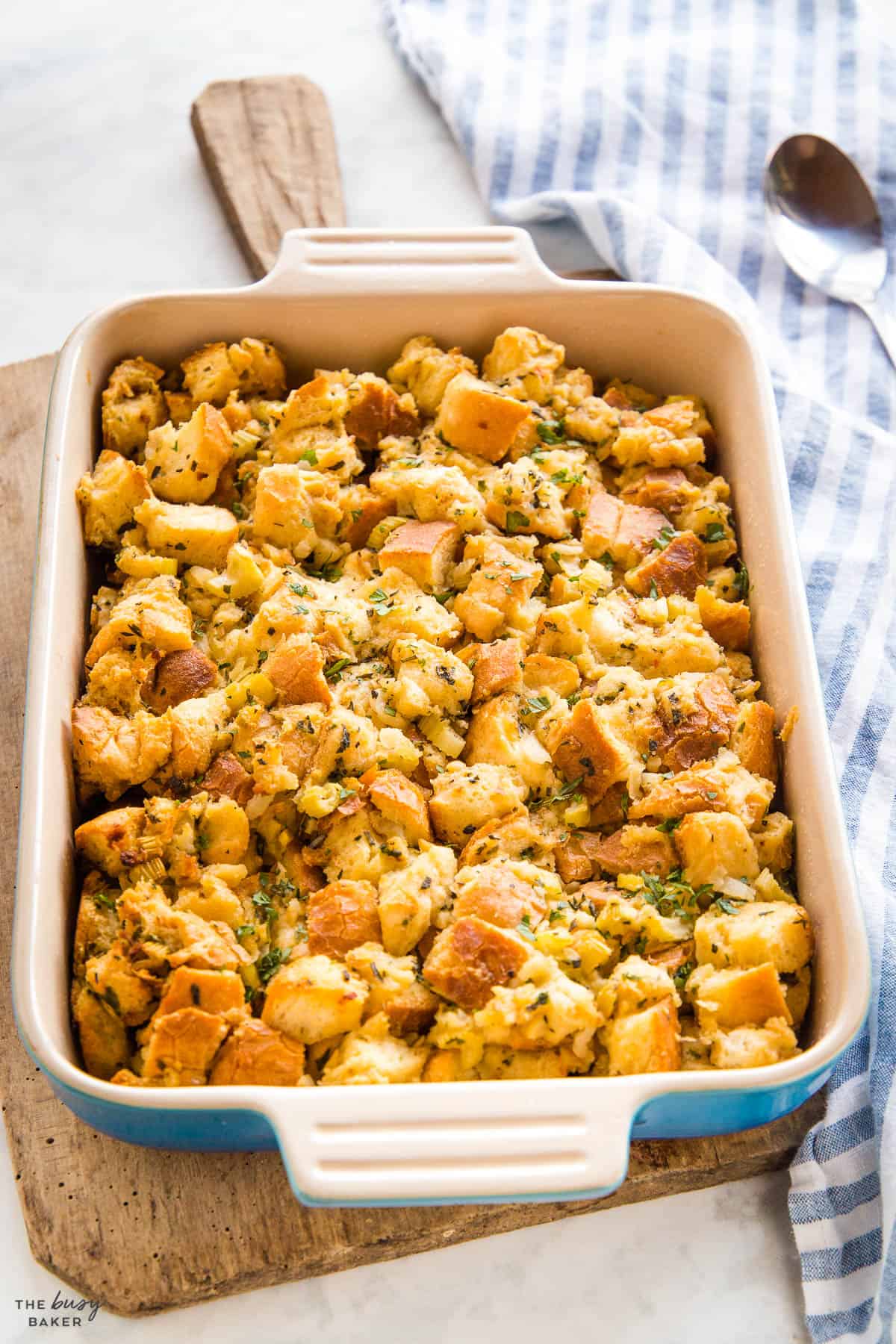 We hope you love this holiday recipe as much as we do! Let us know in the comments below, what's your favourite recipe for the holidays? We'd love to know!
Watch the video below to see exactly how we make this recipe. You can find many more deliciously simple recipe videos on our YouTube channel!
If you made this, share a photo!
Are you trying this recipe? Use the comment form below to share your take; now with support for image uploads and comment voting!
Share a photo
Homemade Stuffing
The ultimate stuffing for Christmas and Thanksgiving, this Homemade Stuffing recipe is the BEST easy-to-make holiday side dish!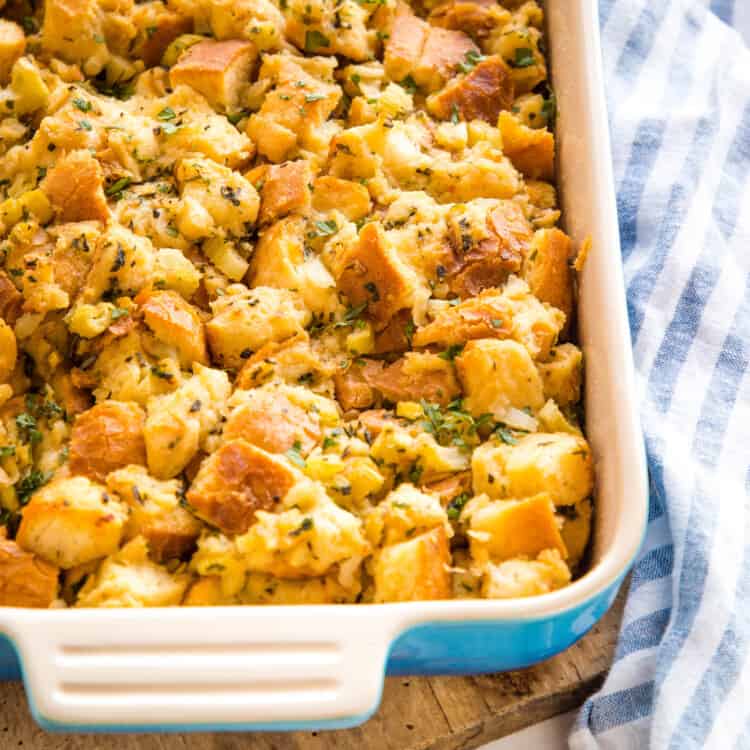 Recipe:

Ingredients
8

cups

day-old french bread

cubed in 1 to 1.5-inch pieces, (about one 1-lb loaf)

1/2

cup

butter

1

large

onion

diced

1

cup

diced celery

2

cloves

garlic

finely minced

a few pinches each of salt and pepper

2

tablespoons

fresh parsley

chopped (or use 2 teaspoons dried)

2

tablespoons

fresh sage

chopped (or use 2 teaspoons dried)

2

tablespoons

fresh rosemary

chopped (or use 2 teaspoons dried)

1

tablespoon

fresh thyme

chopped (or use 1 teaspoon dried)

2 1/2

cups

chicken stock

2

large

eggs
Recipe:

Instructions
Preheat your oven to 300 degrees Fahrenheit and arrange the cubed bread on a large baking sheet.

Roast for about 20 minutes, then remove the pan from the oven to cool.

Alternatively, use pre-toasted bread cubes available at most grocery stores (check the bakery section), or dry out the bread cubes yourself for 24 hours on a baking tray covered with a clean kitchen towel.

Set the oven temperature to 350 degrees Fahrenheit.

Heat a skillet on the stovetop over medium heat and add the butter.

When the butter melts, add the onion, celery and garlic and sauté just until the onion is soft and translucent.

Add the onion mixture to a large bowl, along with the roasted bread cubes.

Add the salt and pepper and fresh herbs and stir well.

Whisk the eggs into the vegetable stock and add the liquid to the bread mixture slowly, stirring well as you add the liquid so the bread re-hydrates evenly.

Once the mixture is well combined, pour it out into a greased 9-inch by 13-inch rectangular baking dish (or equivalent), smoothing out the top so it's as even as possible.

Cover the pan with foil and bake for 30 minutes at 350 degrees Fahrenheit, covered.

After the stuffing has cooked for 30 minutes, remove it from the oven and remove the foil.

Add the baking pan back to the oven bake for another 25-30 minutes, or until the top of the stuffing is crispy and golden brown.
Recipe:

Notes
Make Ahead Instructions
To make this stuffing ahead of time, simply follow the recipe as directed until just before baking. Cover the stuffing well and place the pan in the fridge. When you're ready to bake, make sure the stuffing is covered with foil and place the cold pan in a cold oven (to prevent the pan from breaking in the oven), letting the pan heat up with the oven. Bake as directed in the recipe.
Storage Instructions
Store any leftovers in the fridge in an airtight container for up to 3 days.
Freezer Instructions
It's possible to freeze this stuffing before baking: prepare the recipe as directed up until it's time to bake. Cover well with plastic wrap and freeze in the baking dish. Defrost in the fridge for 24 hours. When ready to bake, add the cold pan to a cold oven and let the pan slowly heat up as the oven preheats. Bake as directed once the oven reaches the correct temperature.
To freeze after baking, simply freeze in an airtight container or in a well-covered baking dish. Defrost in the fridge for 24 hours before reheating in the oven, covered, until heated through. Remember, if the pan is cold from the fridge, place it in a cold oven and let it heat up with the oven so the pan doesn't break or crack.
Reheating Instructions
Reheat this stuffing in a baking dish in the oven, covered, until heated through (about 5-10 minutes).
Recipe:

Nutrition

Nutrition Facts

Homemade Stuffing

Amount Per Serving (0.75 cup)

Calories 312

Calories from Fat 144

% Daily Value*

Fat 16g25%

Cholesterol 58mg19%

Sodium 12114mg527%

Potassium 261mg7%

Carbohydrates 28g9%

Protein 13g26%

Vitamin A 414IU8%

Vitamin C 4mg5%

Calcium 135mg14%

Iron 2mg11%

* Percent Daily Values are based on a 2000 calorie diet.

Notice: Nutrition is auto-calculated, using Spoonacular, for your convenience. Where relevant, we recommend using your own nutrition calculations.