This roasted turkey recipe is the perfect way to make it for Thanksgiving or Christmas. Use my no-fail tips for delicious juicy turkey every time!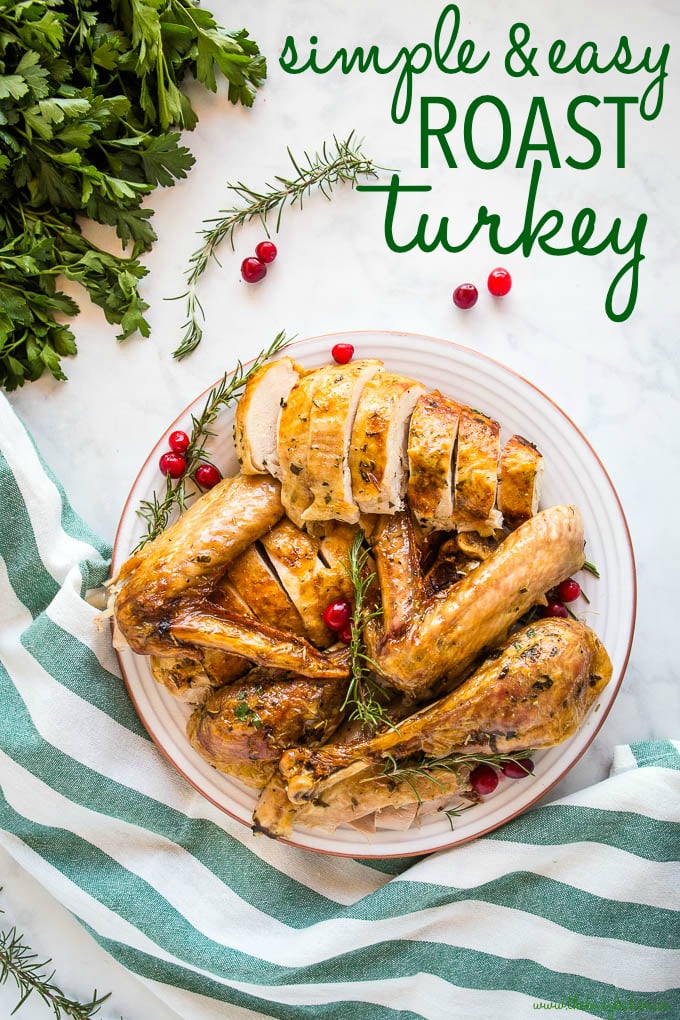 NEVER MISS A POST! FOLLOW ME ON:
FACEBOOK | PINTEREST | INSTAGRAM | TWITTER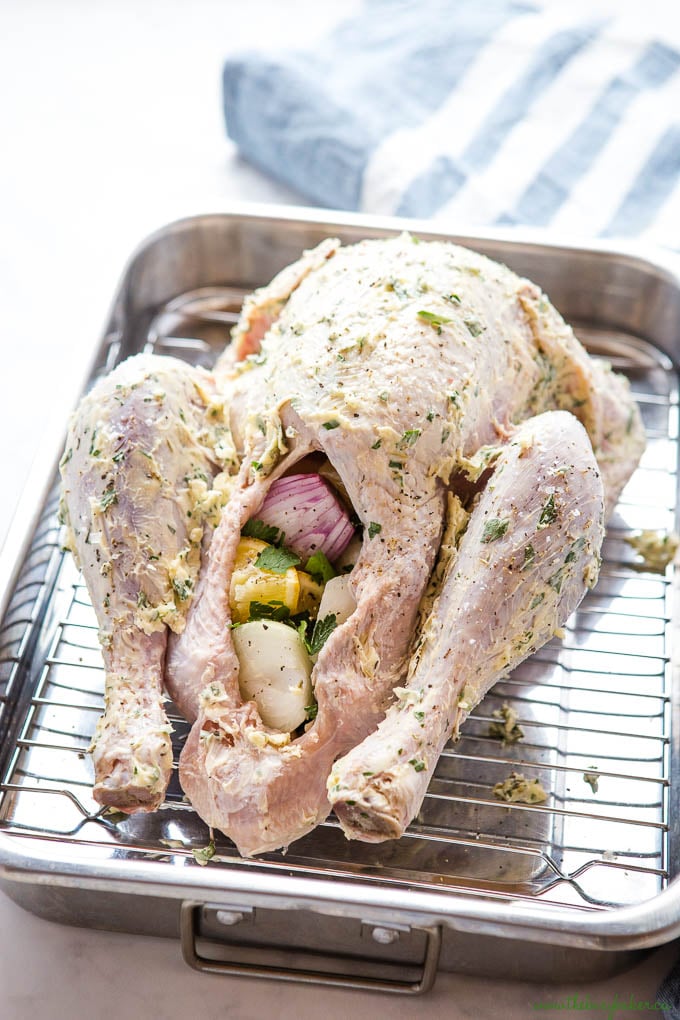 Have you ever felt intimidated by the idea of roasting a turkey for Thanksgiving or Christmas? Roasting a whole bird can seem like a daunting task but it's actually REALLY simple! I'm excited to be sharing this fuss-free roasted turkey recipe with you today. Hopefully with my tips and tricks you'll be well on your way to serving a delicious juicy turkey to your family and friends this holiday season.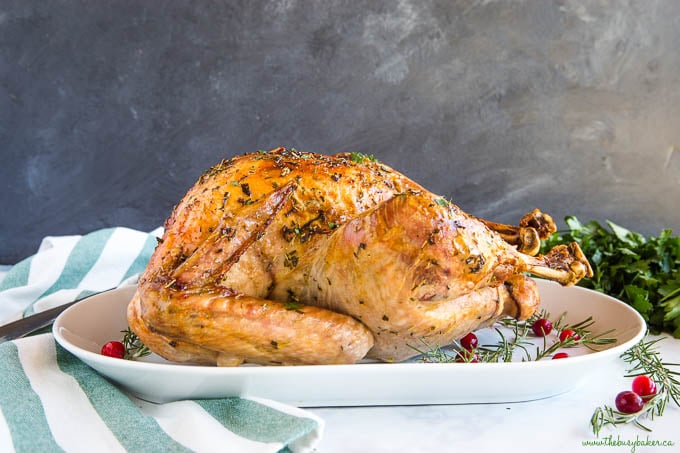 I've always said that the best tasting foods are the simplest ones and roast turkey is no exception. It takes about 15 minutes to get this bird ready for the oven and if you follow my guide to the perfect moist turkey (the tips are below!) you'll enjoy a holiday dinner that's not only deliciously impressive, but simple and stress-free too!!
Speaking of stress-free, did you know you can roast your turkey the DAY BEFORE your big holiday dinner??
That's right – when I'm hosting Thanksgiving or Christmas I simply roast the turkey the day before and reheat it the day of the big dinner to save myself a whole ton of time and stress, and to keep my sanity intact. All the reheating instructions are in the NOTES section of the recipe card below in case you want to use this holiday stress-saving hack too!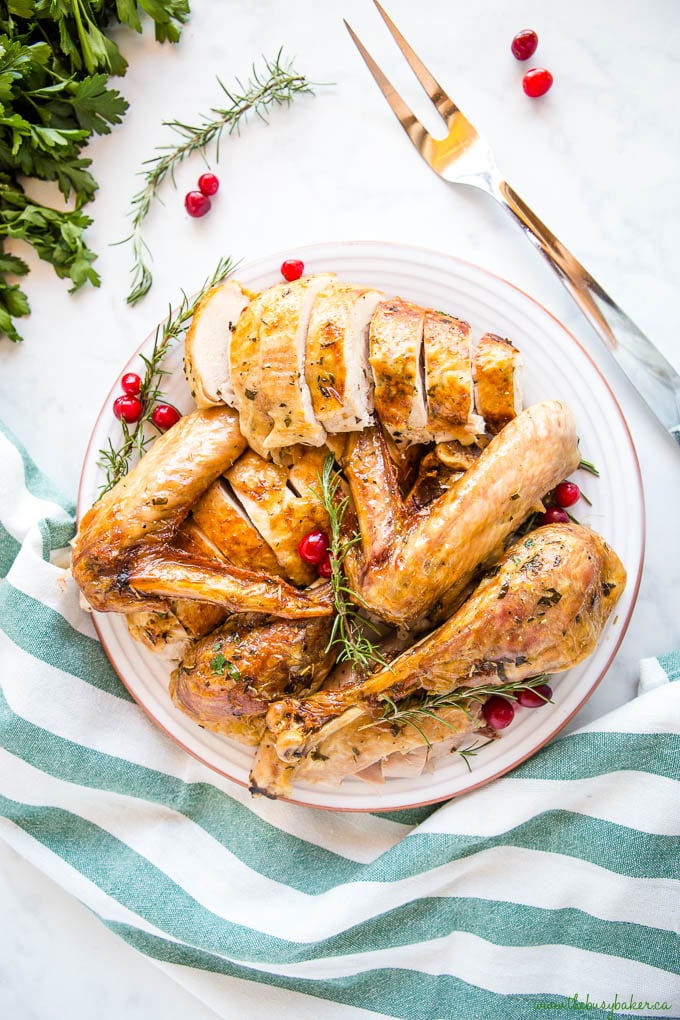 You might be wondering, "do I need any special tools to cook a holiday turkey?" and the answer is NO! Well, certainly not anything expensive or hard to find. I've listed my favourite holiday turkey-inspired kitchen tools for you and you might be surprised how short the list is!
Kitchen tools you need to make a juicy turkey:
1.) A simple roasting pan with a rack inside. Check out my favourite roasting pan with a rack here, or find your own at almost any store that sells kitchen tools.
2.) Some kitchen twine for tying up the legs is very helpful, and kitchen twine is very inexpensive.
3.) An instant read meat thermometer is a MUST for any roasted turkey. Check the doneness easily by measuring the temperature of the meat to ensure the turkey stays nice and juicy and doesn't dry out!
4.) A good knife for carving is important for those nice, clean slices!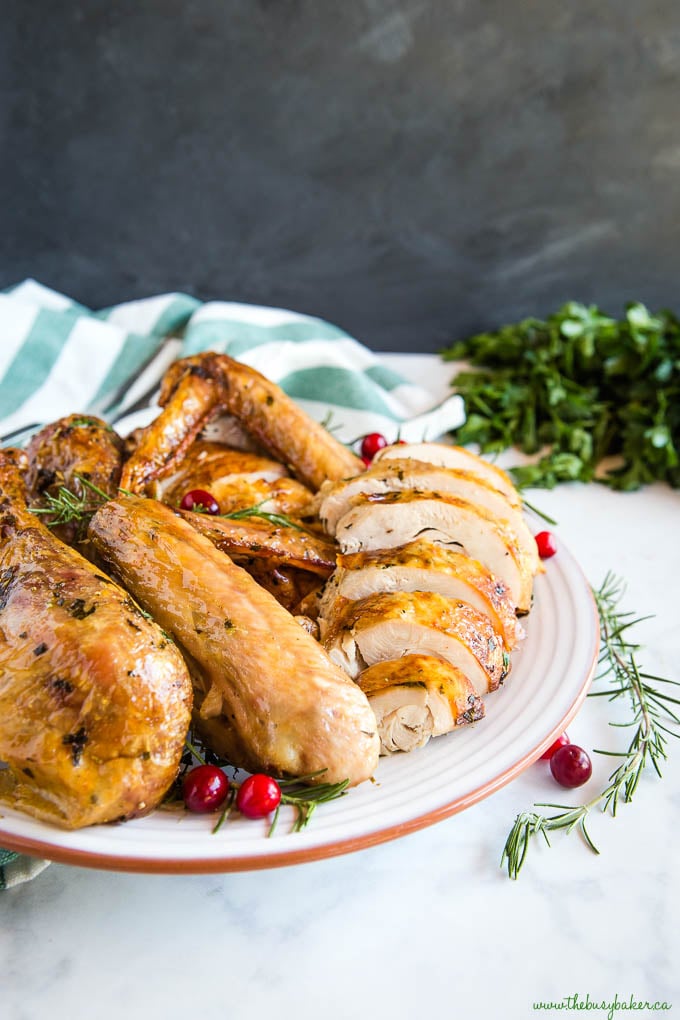 How to cook a roasted turkey
Here are all my best no-fail tips for roasting a juicy holiday turkey:
Use butter. Butter is the key ingredient to juicy turkey breasts and crispy turkey skin. This recipe shows you exactly how to make a simple herb and garlic butter to rub onto the turkey and under the skin.
Stuff it with flavour. Roasting a turkey is easier when you cook it without stuffing (because there's one less thing to prepare!), but I like to stuff mine with lemon wedges, onions and garlic for a burst of flavour (and then I discard them after cooking)!
Lower the oven temperature. One of the most common turkey-roasting mistakes people making is roasting at too high a temperature. This dries out your bird like nothing else – roasting at 325 degrees Fahrenheit is best!
Use a timer AND a thermometer. Roast your bird for about 20 minutes per pound, but be sure to test the doneness a little early to make sure you take it out of the oven when it reaches the correct internal temperature (165 degrees Fahrenheit) in the deepest part of the thigh, the wing, and the breast.
Let it rest. Once the bird comes out of the oven, let it sit for about 10 or 15 minutes before slicing into it. This will ensure the juices stay in the meat, making your turkey ultra moist and juicy.
Save the pan juices. Making your own turkey gravy from scratch is SO easy with the pan juices left over from your roast turkey. Learn how to make gravy from turkey drippings HERE.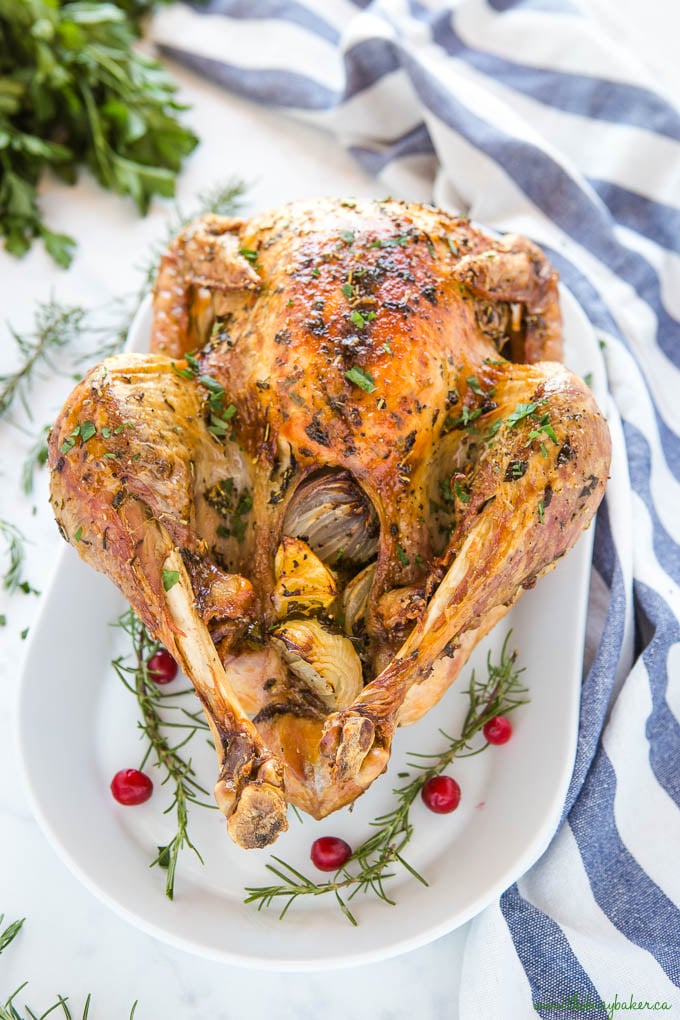 NEVER MISS A POST! FOLLOW ME ON:
FACEBOOK | PINTEREST | INSTAGRAM | TWITTER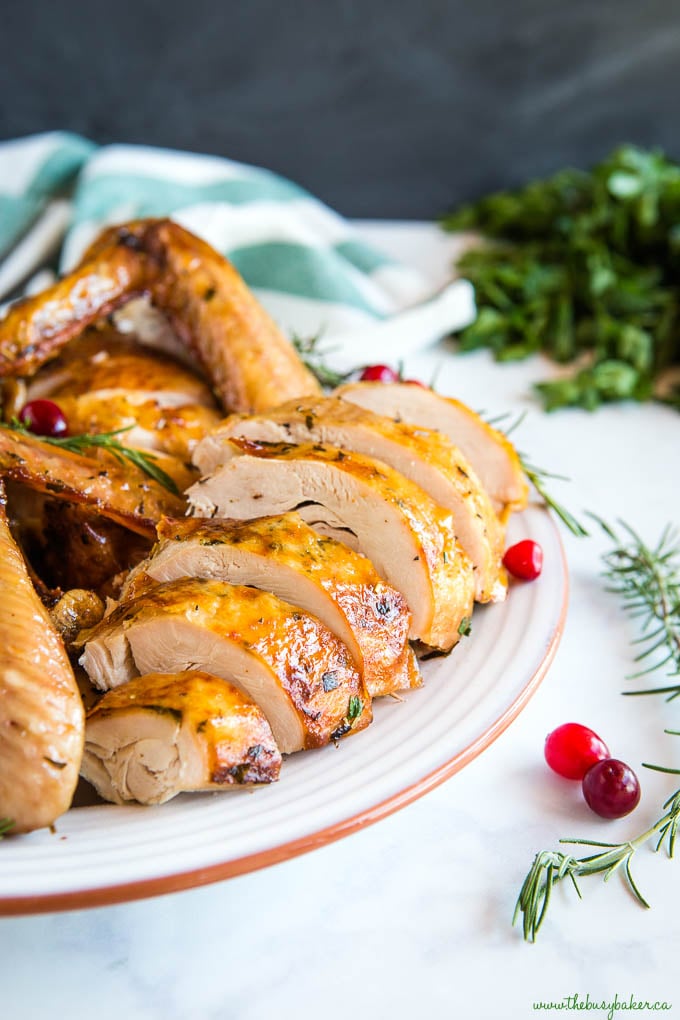 I hope you love this roasted turkey recipe as much as we do!
Let me know in the comments below, what's your favourite holiday dish to serve at Thanksgiving or Christmas? I'd love to know!
Looking for holiday side dishes? You'll LOVE these:
Kitchen tools I recommend:
Want the perfect homemade gravy for your turkey? Check out my post to learn how to make gravy from turkey drippings!
RECIPE VIDEO
Watch the video below to see exactly how I make this delicious recipe. You can find more delicious recipe videos on my YouTube channel.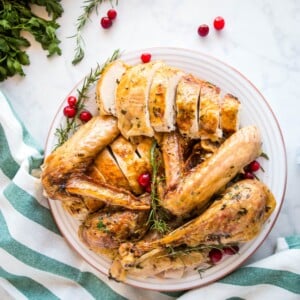 Easy Juicy Roasted Turkey
This roasted turkey recipe is the perfect way to make it for Thanksgiving or Christmas. Use my no-fail tips for delicious juicy turkey every time!
Print
Pin
Rate
Equipment
Roasting Pan

Instant Read Meat Thermometer
Ingredients
7

pound

whole turkey

about 3.2 kilograms

1/2

cup

unsalted butter

2

cloves

garlic

pressed or finely minced

1

teaspoon

chopped rosemary

fresh or dried

1

teaspoon

chopped thyme

fresh or dried

2

teaspoons

chopped parsley

fresh is best, but dried also works

1/4

teaspoon

freshly cracked black pepper

(or more if desired)

1/2

teaspoon

salt

1

large

red onion

1

large

white or yellow onion

1

lemon

3

cloves

garlic

2

handfuls

fresh parsley
Instructions
If your turkey is frozen, be sure to defrost it completely before beginning. The day before I'm going to roast the turkey, I take the turkey out of the freezer (about 24 hours in advance) and defrost it in a sink of cold water all day, changing the water as necessary (to keep it cool). Then, I place the turkey in a large bowl (to catch any drips) in the fridge overnight.

Preheat your oven to 325 degrees Fahrenheit when your turkey is defrosted.

Remove the neck, the giblets or any bag that is inside the turkey and rinse it well with cold water. Pat it dry with paper towel on the outside.

Place the turkey in a roasting pan on a rack. If you don't have a rack for your roasting pan, simply place a few halved onions, carrots and celery stalks under the turkey to raise it off the bottom of the pan (discard these vegetables after roasting).

Roughly chop the onions, lemon, garlic and parsley and stuff them into the empty inside of the turkey.

In a small bowl, stir together the butter, garlic, rosemary, thyme, parsley, pepper and salt.

Very carefully, pull the skin of the turkey breasts away from the breast meat, sliding your hand under the skin. Using your hands, smear some of the butter mixture under the breast skin as far as you can without breaking the skin.

Rub the rest of the butter mixture all over the outside of the turkey, making sure to coat it well.

Using kitchen twine, tie the ends of the turkey legs together and cut off any excess twine.

Place the turkey in the oven and let roast for about 20 minutes per pound at 325 degrees Fahrenheit (just over 2 hours for a 7-pound turkey).

Use a meat thermometer to check the doneness after 2 hours by inserting it into the thickest part of the thigh, wing and breast, being sure not to touch any bones (for an accurate reading).

Once the turkey reads 165 degrees Fahrenheit (74 degrees Celsius), remove it from the oven and let it rest for 10-15 minutes before carving.

Discard the onions, lemon, etc. that you used to stuff the turkey.

Carve the turkey after it has finished resting by removing the drumsticks and wings, slicing the breast meat and the dark meat on the underside of the turkey.

Serve immediately (for best results) or store in an airtight container in the fridge for serving later (reheating instructions in the notes section of this recipe).

Save the pan juices from the roast turkey to make my delicious homemade gravy RECIPE HERE.
Notes
After roasting and carving, this turkey meat will stay fresh in an airtight container in the refrigerator for up to 3 days. 
To reheat simply microwave, or splash a few tablespoons of chicken broth or water in the bottom of an oven-safe dish, place all the sliced turkey in on top, cover with aluminum foil and reheat until warm.
Be sure to pay attention to the size of the turkey in this recipe (7 pounds) - if you're roasting a bigger bird (14 pounds), simply double the recipe and follow the same 20-minutes-per-pound roasting rule, and don't forget to check the doneness by using an instant read thermometer!
Looking for a delicious gravy recipe for this roast turkey? Try my delicious homemade gravy recipe HERE.
Nutrition
Serving:
1
serving
|
Calories:
346
kcal
|
Carbohydrates:
3
g
|
Protein:
41
g
|
Fat:
18
g
|
Saturated Fat:
8
g
|
Cholesterol:
156
mg
|
Sodium:
310
mg
|
Potassium:
472
mg
|
Fiber:
1
g
|
Sugar:
1
g
|
Vitamin A:
398
IU
|
Vitamin C:
8
mg
|
Calcium:
33
mg
|
Iron:
2
mg