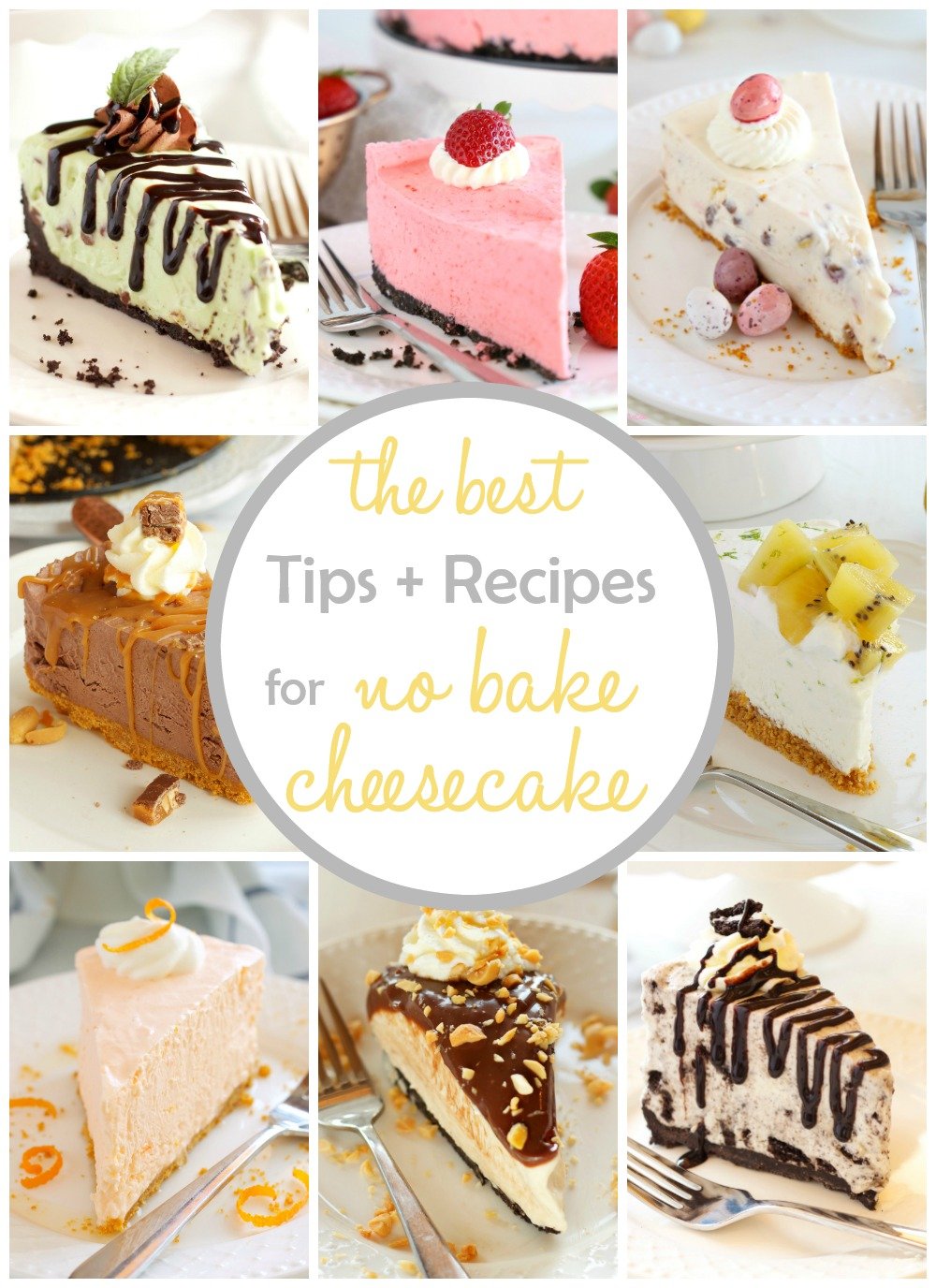 This no bake cheesecake guide is full of the best tips for creating creamy cheesecake without turning on an oven! We'll also share our favorite cheesecake no bake recipes.
What is no bake cheesecake?
A no bake cheesecake is everything you love about baked cheesecake, but no baking is required. The rich, creamy cheesecake filling isn't baked, and in most cases, the cheesecake crust isn't baked either. It's truly the ultimate no bake dessert!
Is no bake cheesecake better than baked cheesecake?
One big benefit of unbaked cheesecakes is that they take less time to make. They're also pretty fantastic when it's the middle of the summer and you're craving a slice of creamy cheesecake. No oven will be heating up your kitchen. Those facts aside, one type of cheesecake isn't necessarily better than the other because each type of cheesecake has a different textures.
Both baked and unbaked cheesecakes are creamy and delicious. The difference is, the texture of an unbaked cheesecake is light and fluffy, almost like mousse. Baked cheesecakes have a firm texture, similar to custard.
Cheesecake ingredients
The primary ingredients needed to make many cheesecake recipes, whether unbaked or baked, are cream cheese, white sugar, and heavy whipping cream.
Regardless of type, cheesecakes usually have a graham cracker crust, made from plain graham cracker crumbs and melted butter. Occasionally, a little bit of sugar will be added for sweetness.
To add more flavor, a cheesecake crust can also be made from chocolate graham cracker crumbs or cookie crumbs.
Most classic recipes for baked cheesecake call for the use of eggs. Due to the risk of food poisoning associated with eating raw eggs, the no bake recipes won't call for them.
To create a fluffy cheesecake filling with good structure, some, but not all, no bake recipes call for sweetened condensed milk. In a pinch, some people will use Cool Whip in place of heavy whipping cream.
Can I put a cheesecake in the freezer to set?
To get cheesecake filling to firm up completely, it needs to be refrigerated for a minimum of 6 to 8 hours. If you skip this step, the texture of the cheesecake will be more like mousse. Obviously, the goal is to create a firm cheesecake filling, similar to a baked cheesecake filling.
After the chill time, if your cheesecake still isn't firm enough, you can freeze it to help it set up. Be careful not to freeze it too long unwrapped though; it can cause the texture to become gritty.
How long does homemade cheesecake last?
If it's well covered and stored in a refrigerator, a cheesecake will stay fresh for 5 to 6 days. If you wrap the cheesecake tightly in plastic wrap and freeze it, it should keep well for 3-4 months.
Now that you have some tips on making the best no bake cheesecake, here are a few of our favorite cheesecake no bake recipes for you to try!
---
Cheesecake No Bake Recipes
These easy cheesecake recipes are broken out into categories based on type. Please keep in mind that some of the recipes may fall into more than one category, but they'll only be shown once. If you don't see a recipe you're looking for, keep scrolling – it may be in a different category.
Recipe Notes:
I thought you may want to know that every one of these recipes is for a no bake cheesecake without condensed milk! I prefer to use heavy whipping cream or whipped topping in my cheesecakes.
When you find a dessert you want the recipe for, simply click on the hyperlinked recipe title underneath the image and you'll be taken to the recipe post.
I hope these recipes will give you the inspiration to create a cheesecake for your next party or family get-together!
Recipes for No Bake Cheesecake Oreo Crust
When you make a cheesecake crust from Oreo cookies or any other chocolate cookies, it gives the cheesecake a nice contrast in color. Feel free to swap out the Oreos for any type of cookie crumbs you like the most.
Jello No Bake Cheesecake Recipes
Cheesecakes with gelatin have a nice firm texture that sets up quickly. Using flavored gelatin (Jello) adds a nice pop of color and flavor to your cheesecake.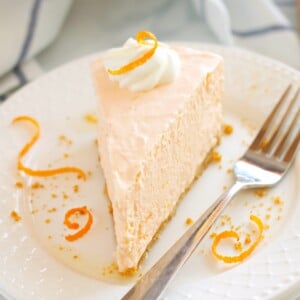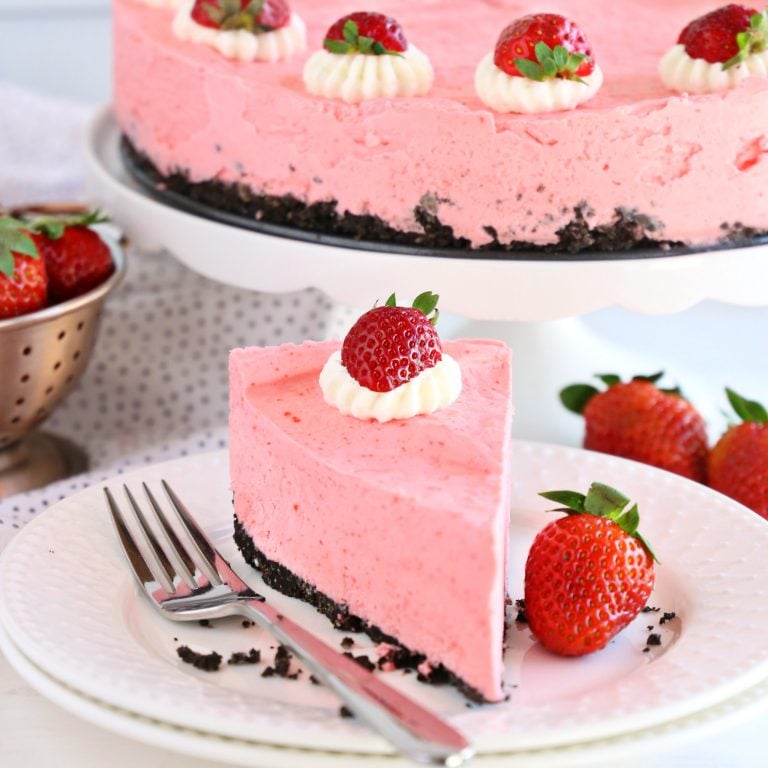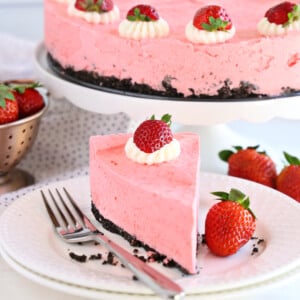 No Bake Fruit Cheesecake Recipes
Fresh fruit looks so beautiful on top of a cheesecake! To prevent fruit juices from bleeding into the cheesecake filling, use paper toweling or a clean kitchen towel to remove excess moisture from the fruit.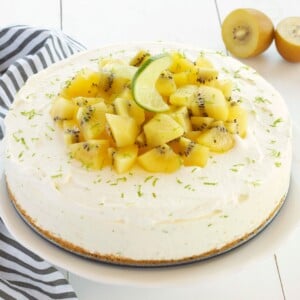 No Bake Strawberry Swirl Cheesecake
Chocolate Cheesecake No Bake Recipes
Chocolate cheesecake is a decadent dessert that everyone will swoon over! Chocolate cheesecake no bake recipes typically call for the chocolate to be melted. Some recipes call for cocoa powder instead. You can use any type or variety of chocolate that you like. Dark chocolate cheesecake is what I usually make.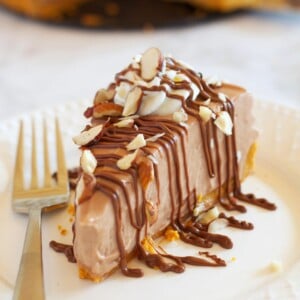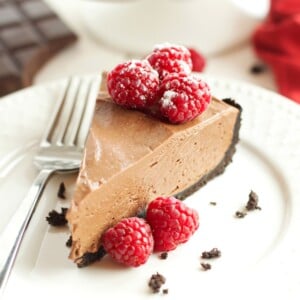 Dairy-Free and Vegan No Bake Chocolate Mousse Cheesecake
Cheesecakes with Candy
From Snickers candy bars to dinner mints, and even malted milk Easter eggs, these cheesecakes are loaded with delicious sweet treats!