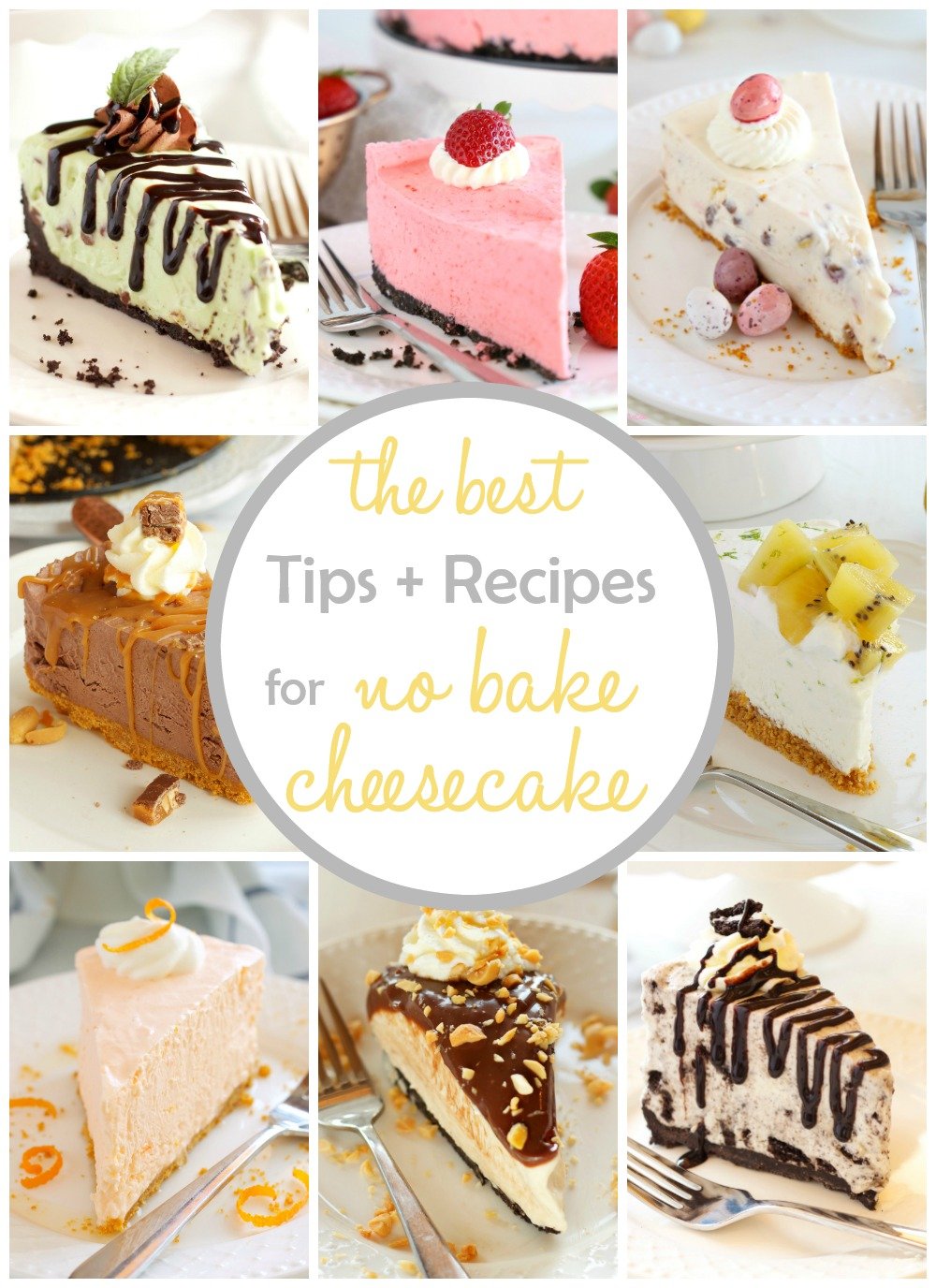 This no bake cheesecake guide is full of the best tips for creating creamy cheesecake without turning on an oven! We'll also share our favourite cheesecake no bake recipes.
What is no bake cheesecake?
A no bake cheesecake is everything you love about baked cheesecake, but no baking is required. The rich, creamy cheesecake filling isn't baked, and in most cases, the cheesecake crust isn't baked either. It's truly the ultimate no bake dessert!
Is no bake cheesecake better than baked cheesecake?
One big benefit of unbaked cheesecakes is that they take less time to make. They're also pretty fantastic when it's the middle of the summer and you're craving a slice of creamy cheesecake. No oven will be heating up your kitchen. Those facts aside, one type of cheesecake isn't necessarily better than the other because each type of cheesecake has a different textures.
Both baked and unbaked cheesecakes are creamy and delicious. The difference is, the texture of an unbaked cheesecake is light and fluffy, almost like mousse. Baked cheesecakes have a firm texture, similar to custard.
Cheesecake ingredients
The primary ingredients needed to make many cheesecake recipes, whether unbaked or baked, are cream cheese, white sugar, and heavy whipping cream.
Regardless of type, cheesecakes usually have a graham cracker crust, made from plain graham cracker crumbs and melted butter. Occasionally, a little bit of sugar will be added for sweetness.
To add more flavour, a cheesecake crust can also be made from chocolate graham cracker crumbs or cookie crumbs.
Most classic recipes for baked cheesecake call for the use of eggs. Due to the risk of food poisoning associated with eating raw eggs, the no bake recipes won't call for them.
To create a fluffy cheesecake filling with good structure, some, but not all, no bake recipes call for sweetened condensed milk. In a pinch, some people will use Cool Whip in place of heavy whipping cream.
Can I put a cheesecake in the freezer to set?
To get cheesecake filling to firm up completely, it needs to be refrigerated for a minimum of 6 to 8 hours. If you skip this step, the texture of the cheesecake will be more like mousse. Obviously, the goal is to create a firm cheesecake filling, similar to a baked cheesecake filling.
After the chill time, if your cheesecake still isn't firm enough, you can freeze it to help it set up. Be careful not to freeze it too long unwrapped though; it can cause the texture to become gritty.
How long does homemade cheesecake last?
If it's well covered and stored in a refrigerator, a cheesecake will stay fresh for 5 to 6 days. If you wrap the cheesecake tightly in plastic wrap and freeze it, it should keep well for 3-4 months.
No Bake Cheesecakes are easy to make and don't require any specialized kitchen equipment! Here's a list of our favourite kitchen products for making no bake cheesecakes (affiliate links):
Check out our e-books, now on sale in The Busy Baker Shop!