This Pear Cake Recipe with Streusel Topping is the perfect fall and winter treat – make it with fresh or canned pears for an easy dessert!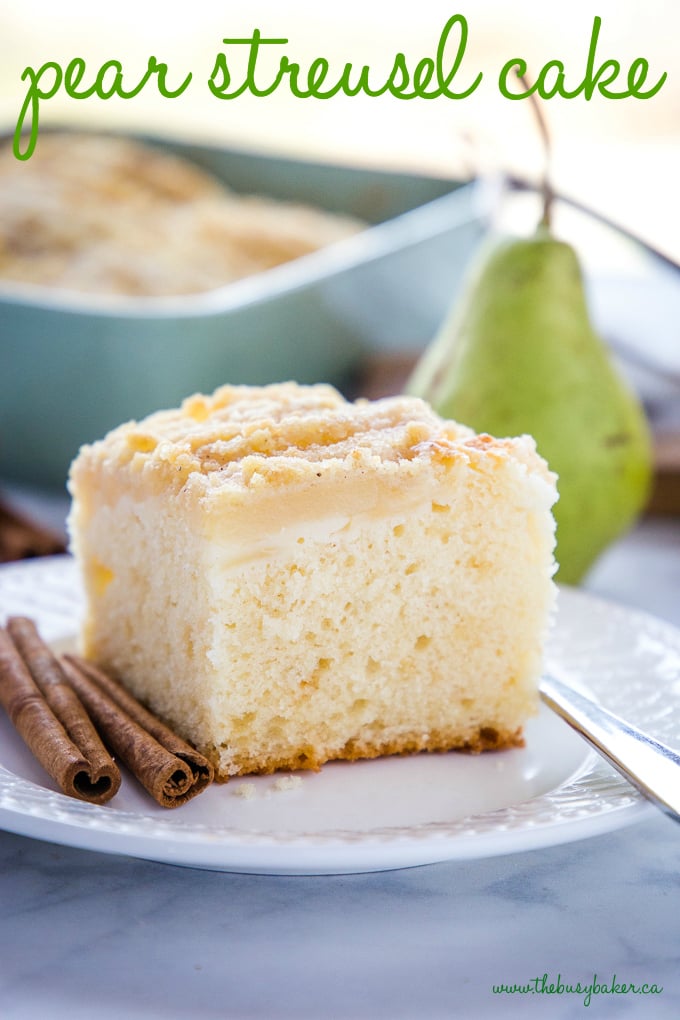 ---
We are so glad to be sharing this delicious Pear Cake recipe with you today!! You all have LOVED our other streusel-style cake recipes we've posted in the past, like this Rhubarb Streusel Cake and this Peach Streusel Cake, so we just knew this Pear Cake with Streusel Topping recipe would be a big hit for this fall and winter season! In case you're as big a fan of streusel-anything as we are, We've also shared these Rhubarb Streusel Muffins, these Blueberry Streusel Muffins, and these Peach Cobbler Muffins too!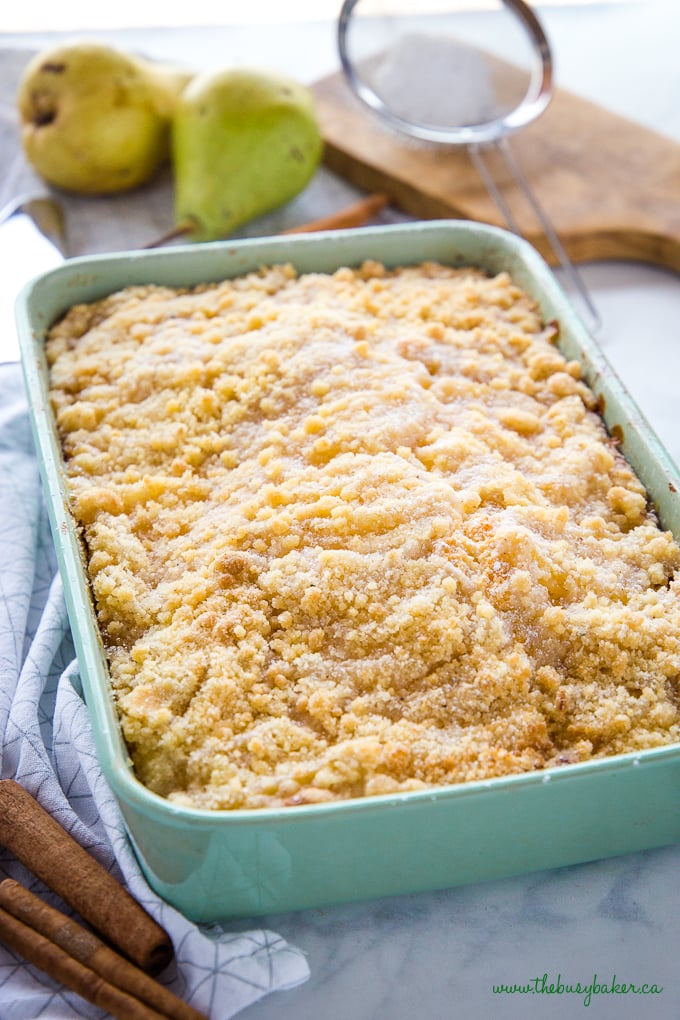 There's just something special about this Pear Cake – we've been living in Europe for a number of years now and many Europeans have no time for traditional North American cakes made with mountains of frosting. That's just not a thing here, and if we had a dollar for every time someone said "it's too sweet!" after trying one of our North American-style cakes here, we'd be rich. But our baking style is slowly evolving and we are embracing less sugary desserts like this cake that are just as rich and tender and delicious as anything from our home continent.
Pears are the perfect fruit for fall and winter, and this cake recipe is versatile enough that you can use fresh or canned pears! It's such a simple dessert that you are going to LOVE!
You will need these items on hand for making this Pear Cake recipe (affiliate links):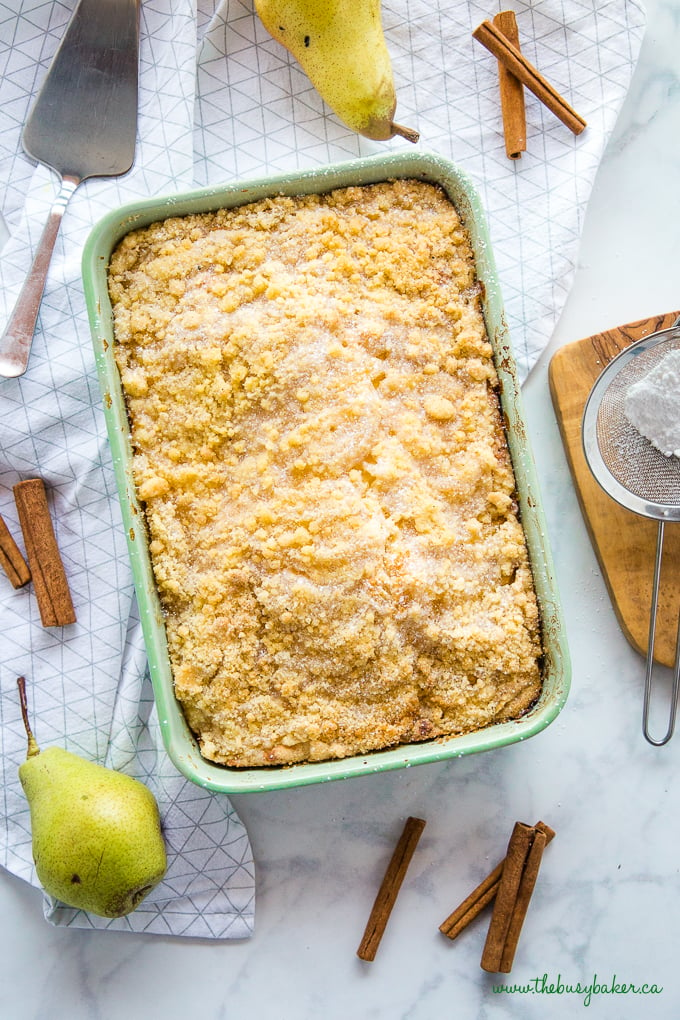 You need these ingredients on hand to make this Pear Cake with Streusel Topping:
unsalted butter
white sugar
eggs
vanilla extract
full fat sour cream
baking powder
all purpose flour
salt
fresh or canned pears
cinnamon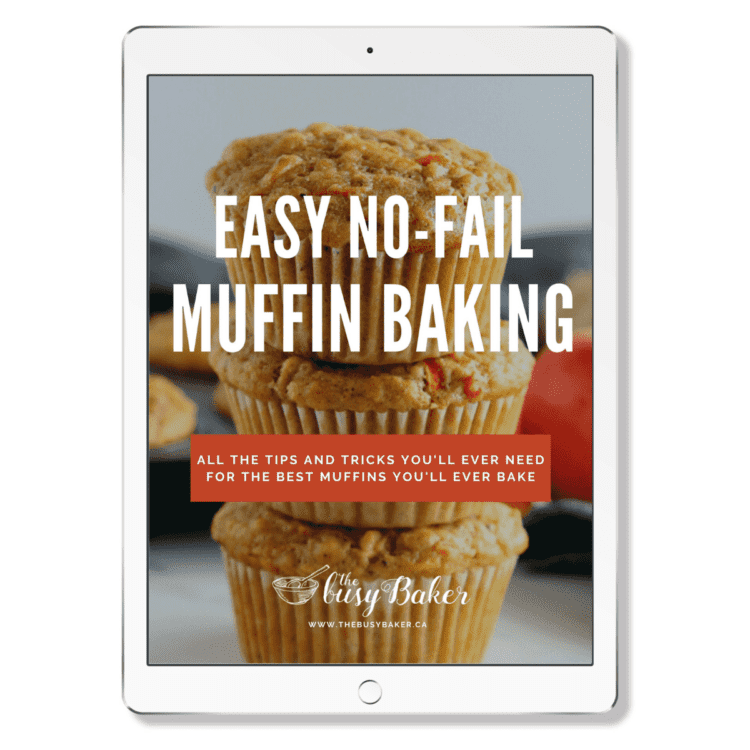 Looking for more?
EASY NO FAIL MUFFIN RECIPES AND BAKING TIPS
Get my easy no-fail muffin baking e-cookbook!
Click here to learn more!
Time needed: 1 hour and 2 minutes
Follow these tips to make this delicious Pear Cake with Streusel Topping!
Room temperature butter.

Combine the sugar and butter in the bowl of your stand mixer. Beat until fluffy and pale in colour. The butter needs to be at room temperature so it integrates well with the other wet ingredients.

Scrape down the bowl.

It's important to scrape down the bowl as new ingredients get added to ensure everything is mixed thoroughly.

Whisk dry ingredients.

In a separate bowl combine the dry ingredients and whisk together to make sure all ingredients are incorporated.

Do not over-mix!

Pour the dry mixture into the wet mixture and beat on a low speed until there are streaks of flour. Then fold in the rest with a spatula until the flour has disappeared. Over-mixing will make the cake is dry and dense.

Into the corners.

Pour the batter into a greased 9 x 13 cake pan and use a spatula to level it out and to push it into the corners of the pan.

Toppings.

On top of the batter place sliced pears and sprinkle the streusel mixture.

Bake until golden brown.

Bake the cake until the topping is slightly browned and a toothpick inserted comes out clean.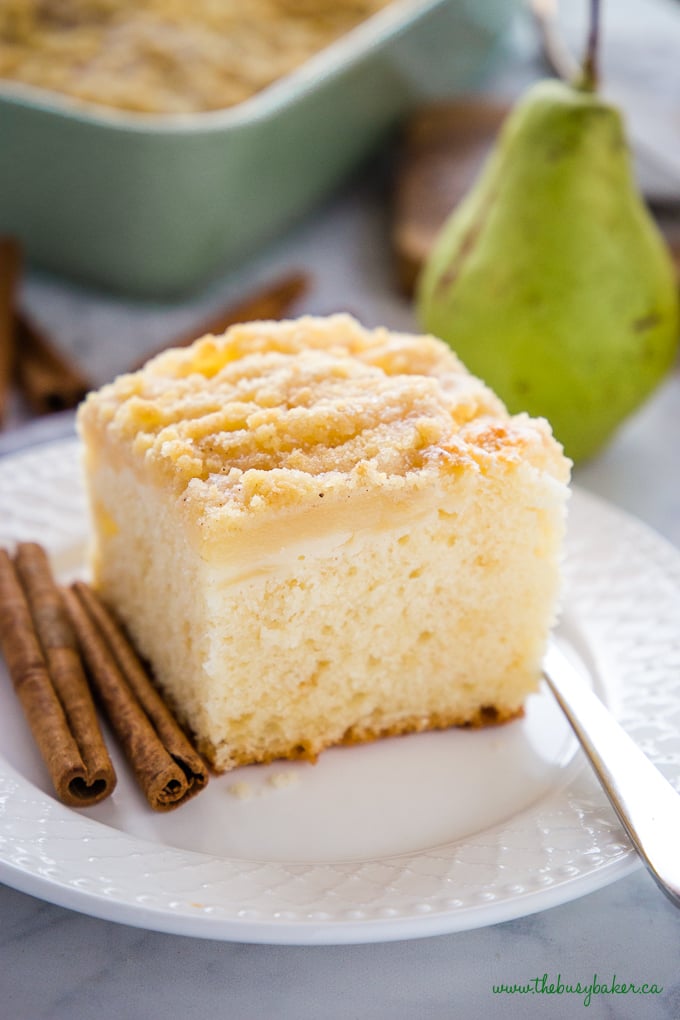 What is Streusel?

Streusel is a crumbly topping sprinkled on top of the batter. It adds a sweet flavour to the cake.
Can I make this Pear Cake recipe ahead of time?

This cake is best the day it is made but it can store well at room temperature for up to two days if it is in an airtight container.
Why is it important to have room temperature ingredients?

Room temperature milk, eggs, sour cream, and butter allows the ingredients to better integrate with each other. It creates a smooth cake batter.
Can I use low fat sour cream instead?

No, low fat sour cream has a higher water content and thickening agents that will throw off the recipe. Full fat sour cream gives flavour and helps the cake keep its shape.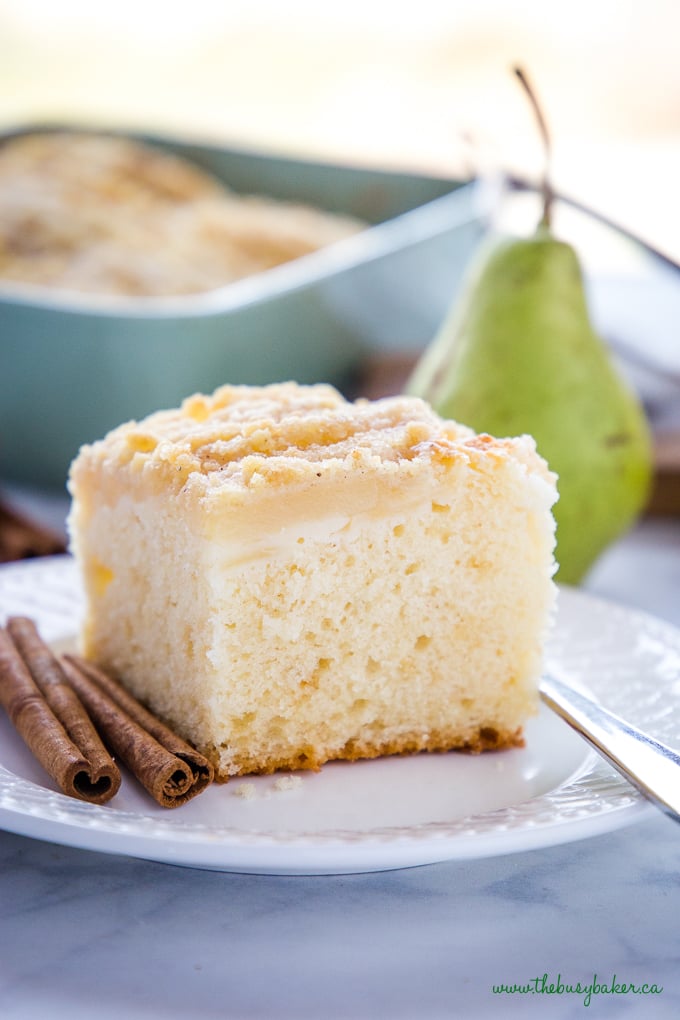 ---
We hope you love this Pear Cake as much as we do! Let us know in the comments below, what's your favourite way to enjoy pears? We'd love to know!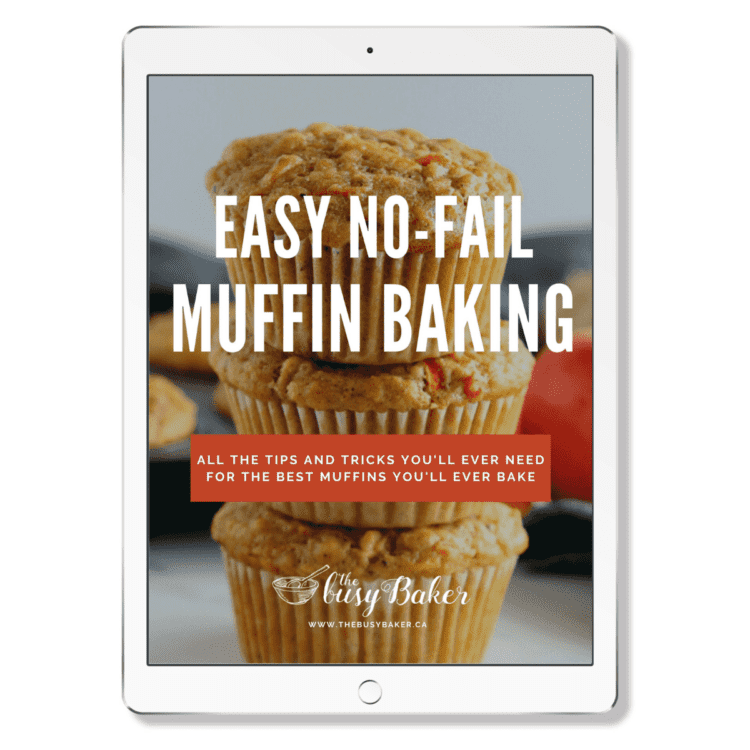 Looking for more?
EASY NO FAIL MUFFIN RECIPES AND BAKING TIPS
Get my easy no-fail muffin baking e-cookbook!
Click here to learn more!
If you made this, share a photo!
Are you trying this recipe? Use the comment form below to share your take; now with support for image uploads and comment voting!
Share a photo
Pear Streusel Cake
This Pear Streusel Cake is the perfect fall and winter dessert with an easy-to make tender cake base and a delicious streusel topping – make it with fresh or canned pears for an easy dessert!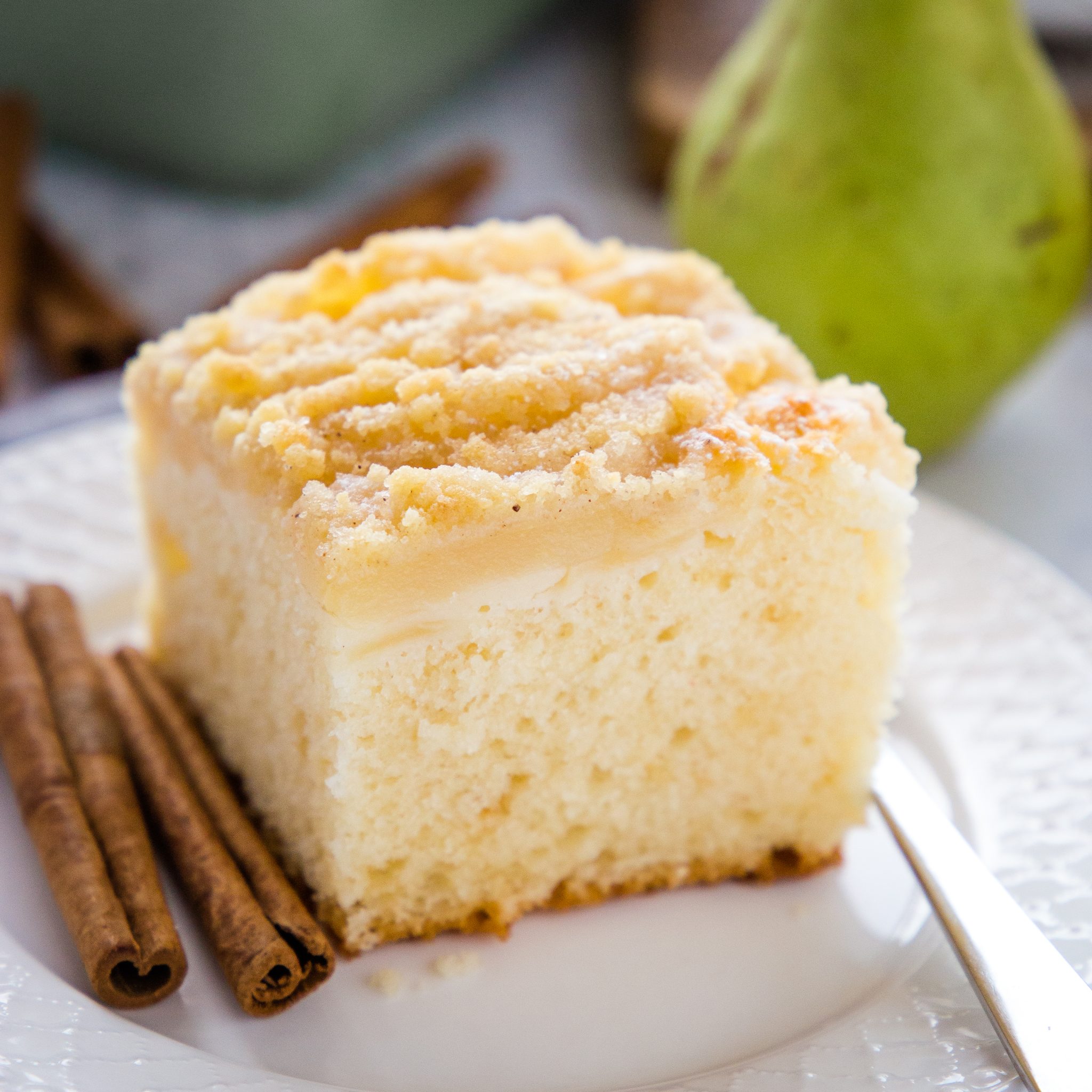 Recipe:

Ingredients
For the cake:
1/2

cup

unsalted butter at room temperature

3/4

cup

white sugar

2

eggs, at room temperature

1

tsp

vanilla extract

1/2

cup

milk, at room temperature

1/2

cup

sour cream, at room temperature (full fat is best)

2

cups

all purpose flour

2

tsp

baking powder

1/4

tsp

salt

1

tbsp

unsalted butter for greasing the cake pan

3-4

fresh pears, peeled and thinly sliced (alternatively, use an 850 ml large can of canned pears)
For the streusel topping:
Recipe:

Instructions
Preheat your oven to 350 degrees Fahrenheit.

Add the butter and the sugar to the bowl of your stand mixer and beat them together until the mixture is fluffy and becomes a pale colour (about 4-5 minutes). It's important that the butter is at room temperature before you begin. This will allow it to integrate properly with the other wet ingredients.

Feel free to use a hand mixer and large mixing bowl if you prefer.

Add the eggs and the vanilla and beat them in on medium speed until the mixture is smooth. It's a good idea to scrape down the bowl periodically to make sure everything is incorporated evenly.

Add the milk and sour cream and beat in these ingredients on low speed until they're combined.

To a separate bowl add the flour, the baking powder and the salt and mix these ingredients together with a fork or a wire whisk. Once they're all incorporated, dump the flour mixture into the bowl of the stand mixer with the wet ingredients. Turn the mixer on low and watch the batter come together. As soon as you see the batter form with streaks of flour throughout, turn off the mixer and remove the bowl.

Over-mixing at this stage can cause an overly dense and dry cake with large air bubbles, which you definitely don't want. Using a rubber spatula, scrape down the sides of the bowl by hand and gently fold in the remaining flour. Be sure to stop folding as soon as everything is combined.

Grease a 9×13 rectangular glass cake pan with some butter and pour the batter into the pan, using the spatula to push the batter into the corners and even out the surface. Don't worry, the batter will seem thick but it's supposed to be like that.

Spread the sliced pears over the top of the batter.

In a clean bowl mix together the flour, sugar and cinnamon for the streusel topping. Add in the melted butter and mix everything together with a fork until the mixture becomes crumbly.

Sprinkle the streusel mixture over the cake and the pears, making sure to spread it at evenly as possible and into all the corners.

Bake the cake at 350 degrees Fahrenheit for 47-50 minutes. When it's finished baking the topping will be slightly browned on top and when you insert a toothpick into the centre of the cake it will come out clean.

Try to let the cake cool in the pan for at least 20 minutes before cutting into it…if you can wait that long!
Recipe:

Notes

This cake is best the day it's made, but it stores well at room temperature for up to 2 days in an airtight container.
Recipe:

Nutrition

Nutrition Facts

Pear Streusel Cake

Amount Per Serving (1 serving)

Calories 365

Calories from Fat 144

% Daily Value*

Fat 16g25%

Cholesterol 56mg19%

Sodium 118mg5%

Potassium 186mg5%

Carbohydrates 53g18%

Protein 5g10%

Vitamin A 559IU11%

Vitamin C 2mg2%

Calcium 67mg7%

Iron 2mg11%

* Percent Daily Values are based on a 2000 calorie diet.

Notice: Nutrition is auto-calculated, using Spoonacular, for your convenience. Where relevant, we recommend using your own nutrition calculations.