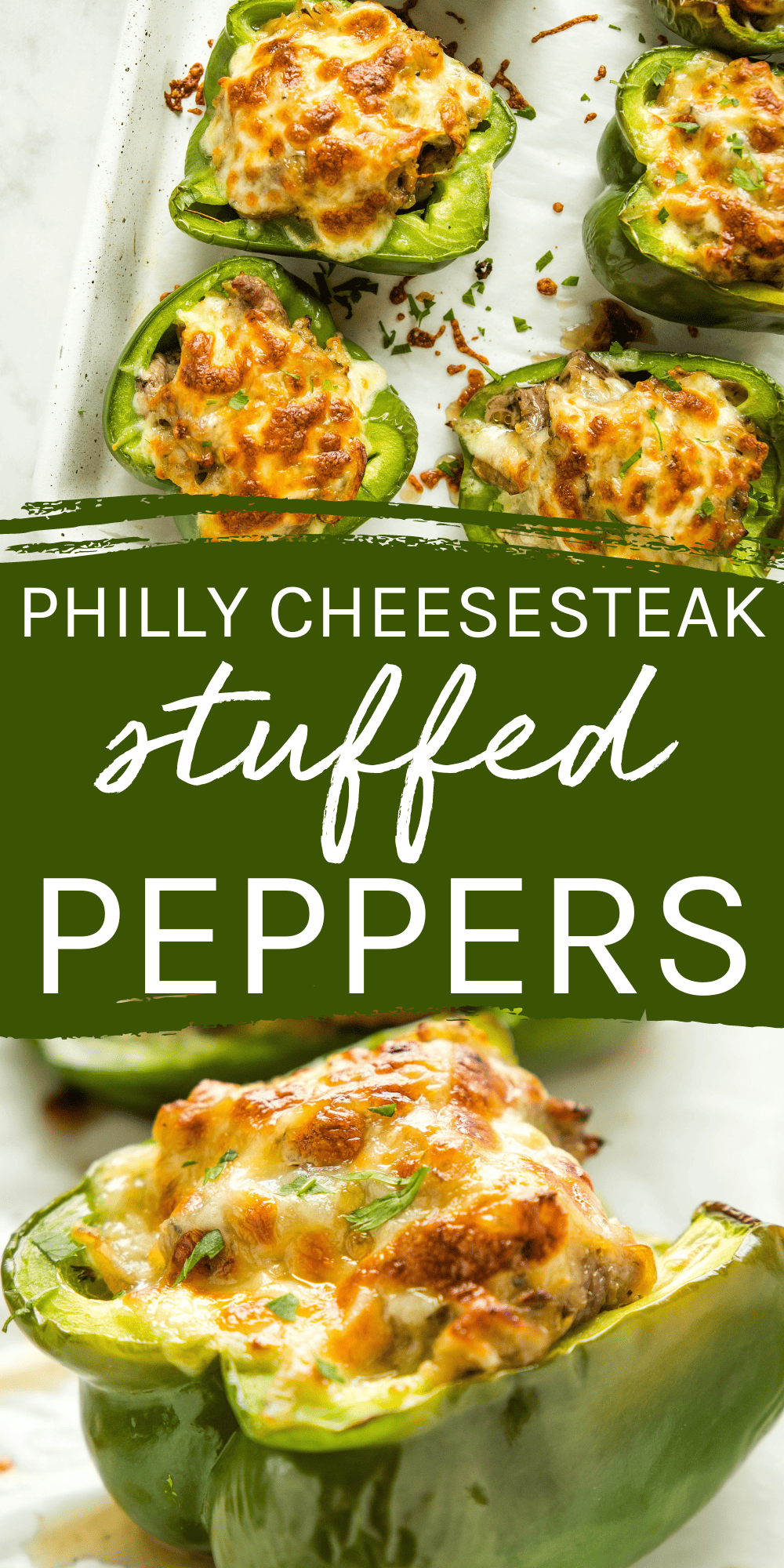 This Philly Cheesesteak Stuffed Peppers recipe is an easy healthy meal idea that's high in protein, low carb and keto-friendly with only 14 net carbs per serving. Stuffed bell peppers made with steak, mushrooms, onions, and cheese, it's the perfect low carb way to enjoy the flavour of Philly Cheesesteak!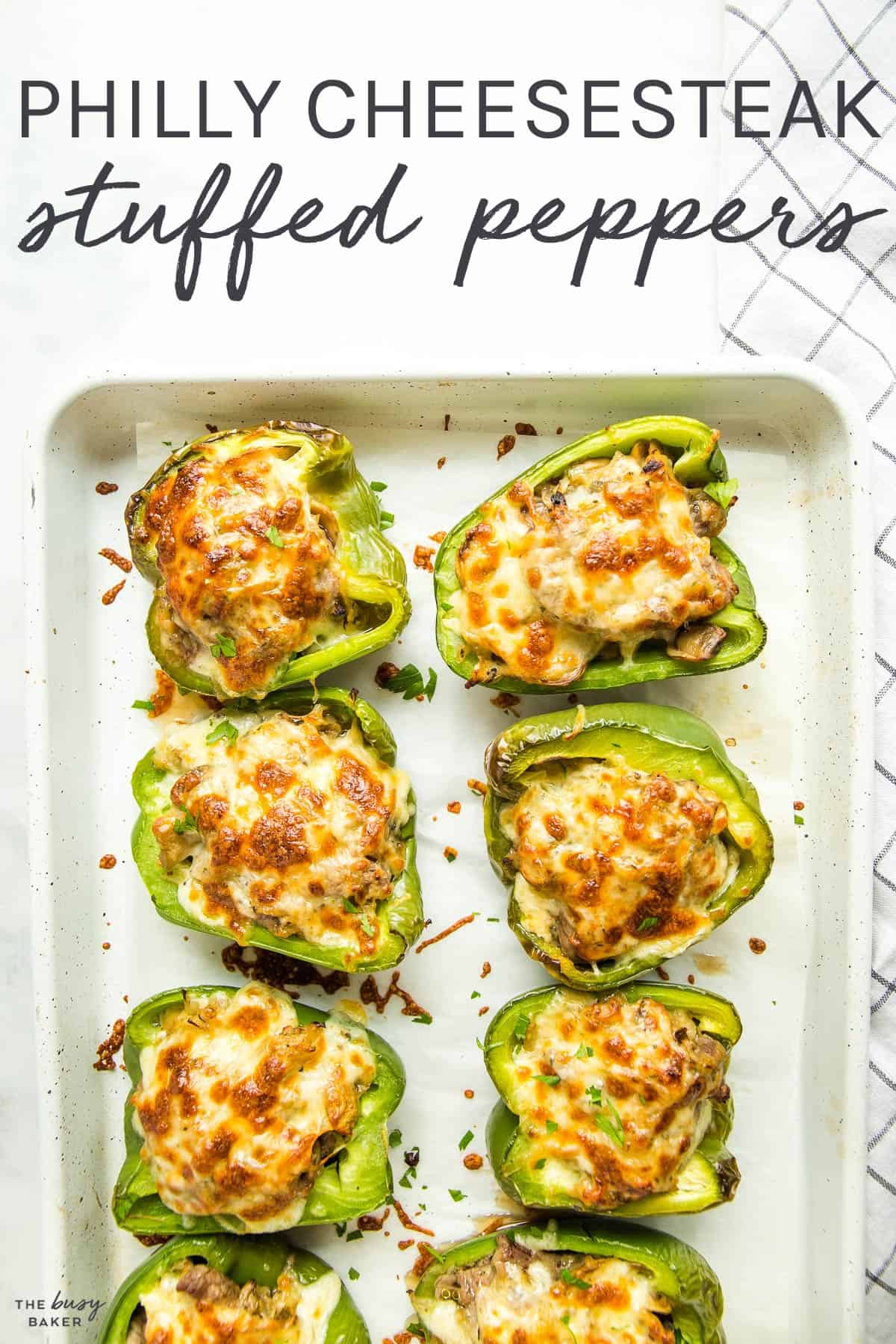 Estimated reading time: 8 minutes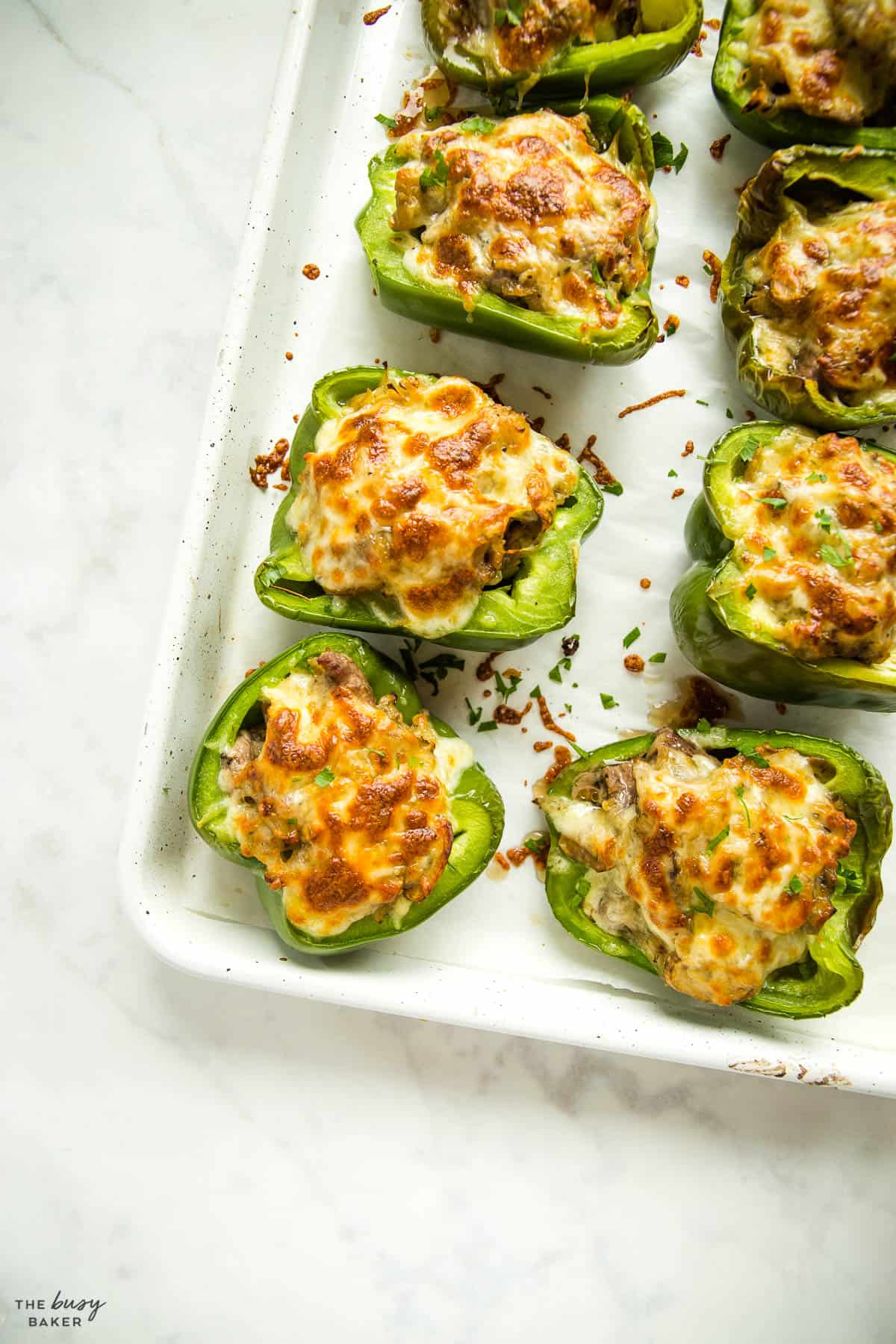 Making your own stuffed peppers at home can be easy and simple and this Philly Cheesesteak Stuffed Peppers recipe is one of our favourite easy low-carb main dishes. We love making a pan of these for meal prep and enjoying them on busy weeknights – they're so meaty, delicious and flavourful! Trust us – if you're a fan of Philly Cheesesteak you're going to love these!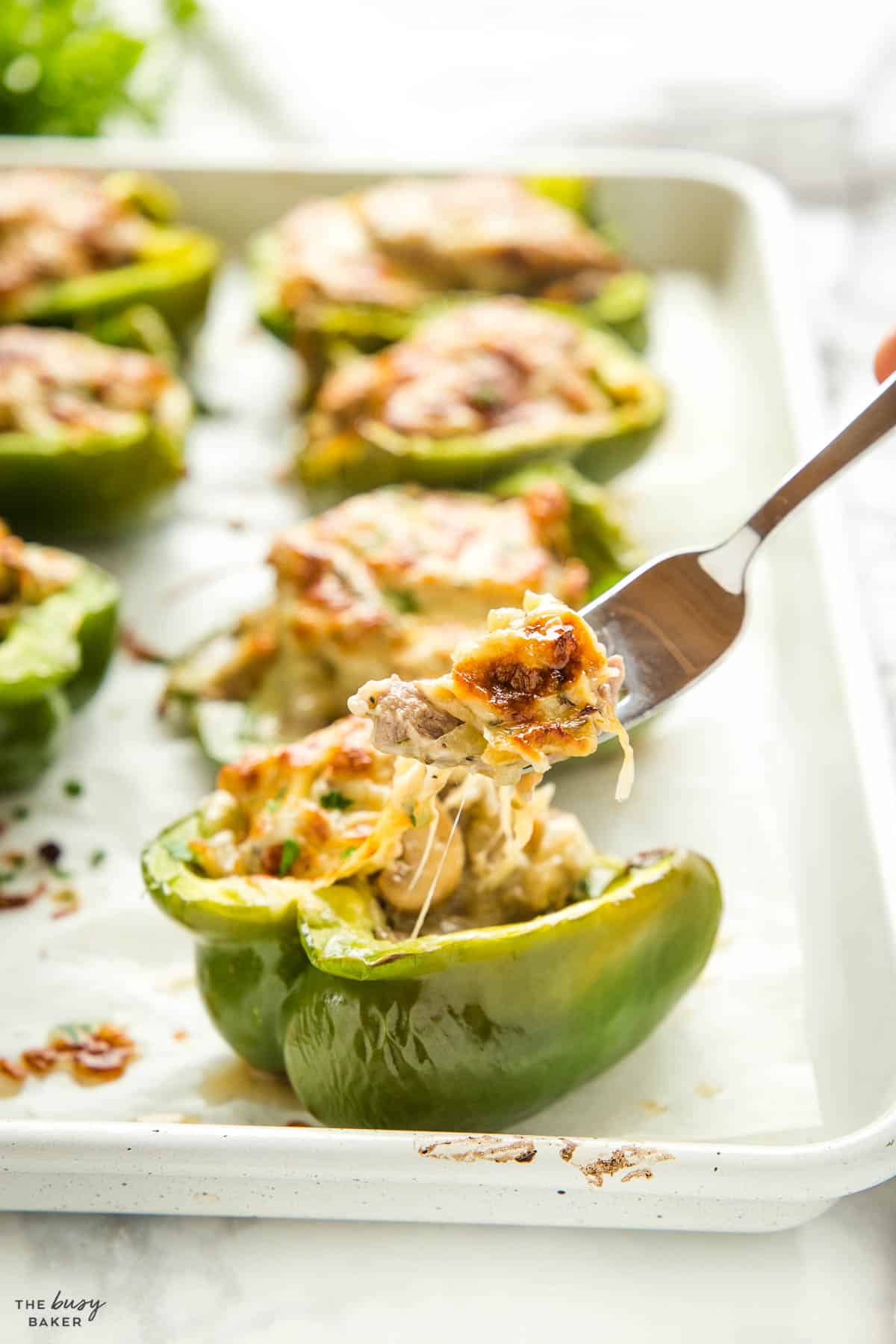 If you've chosen to enjoy a diet that's lower in carbs it can be a challenge to come up with meal ideas that are as delicious as they are nutritious. If you love Philly Cheesesteak as much as we do, this Philly Cheesesteak Stuffed Peppers recipe is the perfect way to enjoy all the BEST flavours of Philly Cheesesteak minus the carbs.
Keto stuffed peppers like these are one of our favourite ways to enjoy all the best flavours without all the carbs. We love a good Tex-Mex keto stuffed pepper, peppers stuffed with pulled chicken or pork, and even Italian sausage keto stuffed peppers – all topped with melted cheese, of course!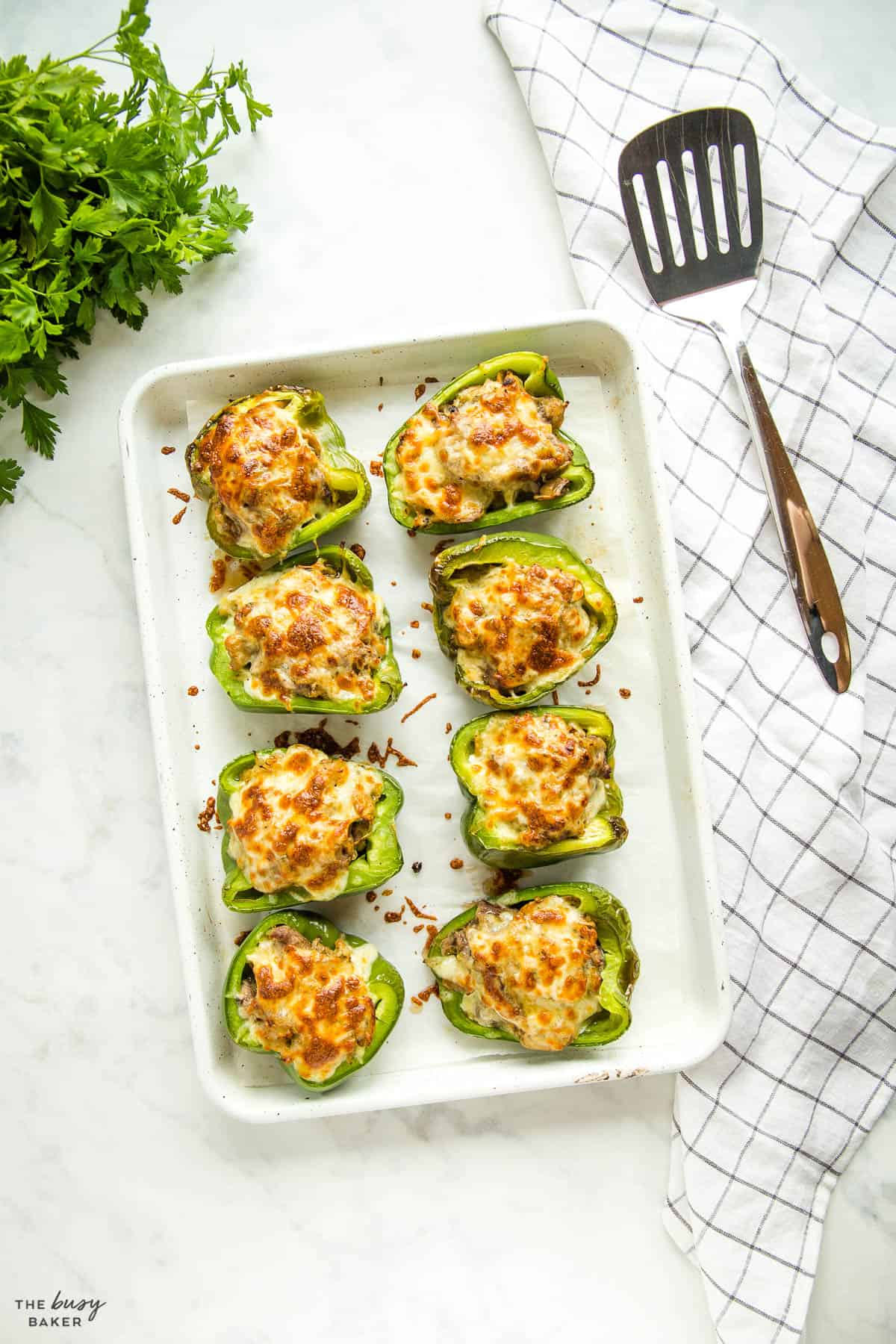 Great cooking often comes down to the details, and when it comes to crafting the perfect Philly Cheesesteak Stuffed Peppers, a few simple tips can make all the difference. Here's a list of our dos and don'ts for making this Philly Cheesesteak Stuffed Peppers recipe!
Choose the best peppers: peppers that are medium to large in size, fresh and firm, and that are shaped in such a way that when sliced in half will sit nicely on a baking sheet or in a baking dish.
Be sure to bake the halved peppers for about 10 minutes before stuffing them with the filling. Baking the peppers first will prevent them from becoming soggy; it begins the cooking process and dehydrates them enough that they won't release excess water into the filling as they cook.
Whether or not you should cook the filling before baking the peppers depends on the filling ingredients:

Grains: if you're adding grains like rice or quinoa to your stuffed bell peppers be sure to cook the grains ahead of time before incorporating them in the filling.
Chicken: Be sure to cook chicken ahead of time when adding it to stuffed peppers. We suggest using chicken thighs instead of chicken breasts, simply because cooked chicken breasts can more easily dry out when included in a stuffed pepper filling.
Steak: If you're making stuffed bell peppers like this Philly Cheesesteak variety, including the steak uncooked is a way to prevent it from becoming tough and overcooked when baked in the peppers. Be sure to slice it extra thinly and test it with an instant read thermometer (paid link) to be sure it reaches a food safe temperature (about 130 degrees Fahrenheit or 57 degrees Celsius) before enjoying.
Ground Meats: Always cook ground beef, pork, chicken, turkey, or sausage before including it in a stuffed pepper filling.
Vegetables: If you're including caramelized mushrooms, onions, zucchini, cooked tomatoes, or any other vegetable like this, it's a good idea to cook it on the stovetop first to achieve the right flavour and texture. If you're including an ingredient like canned tomato sauce there's no need to cook it first before including it in the filling as it will heat up sufficiently in the oven as the peppers bake.

Avoid over-stuffing the peppers. Fill the peppers just to the rim and avoid over-stuffing. This will help them stay together and keep their shape.
Don't forget the cheese. We like adding half the cheese into the filling itself as it helps hold the filling together as it cooks. Topping the peppers with cheese also creates a delicious flavour and texture.
Be sure your filling isn't too liquid-y. Peppers release liquid when cooked and if your filling is too watery you'll end up with a soggy mess.
Bake, then broil. We suggest baking the stuffed bell peppers at a lower heat to cook them through and then increase the heat to broil just to brown the cheese on top.
Let them rest after cooking for about 5 minutes. This will help them keep their shape when they're served.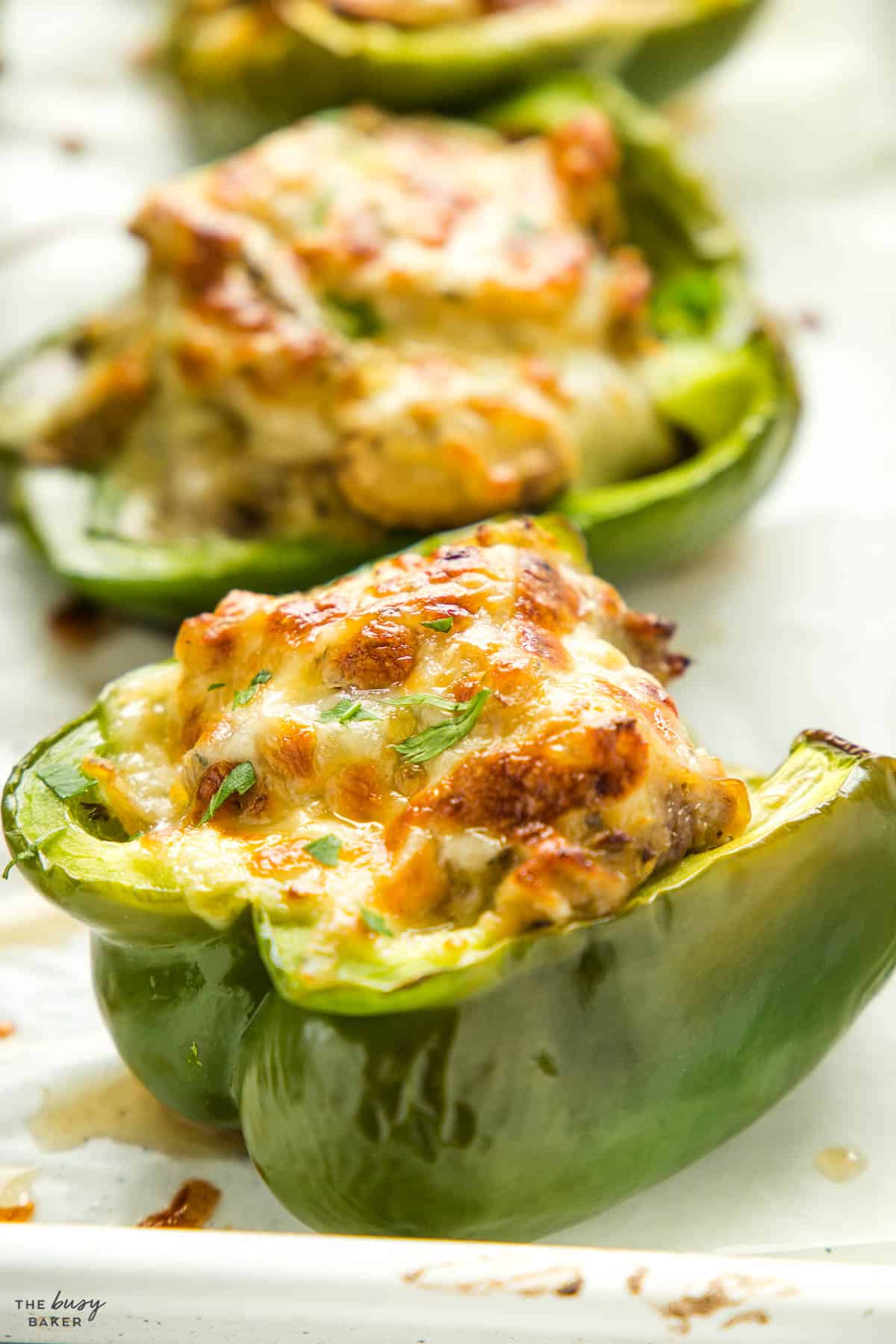 In order to make this stuffed bell peppers recipe you'll need these kitchen items (paid links):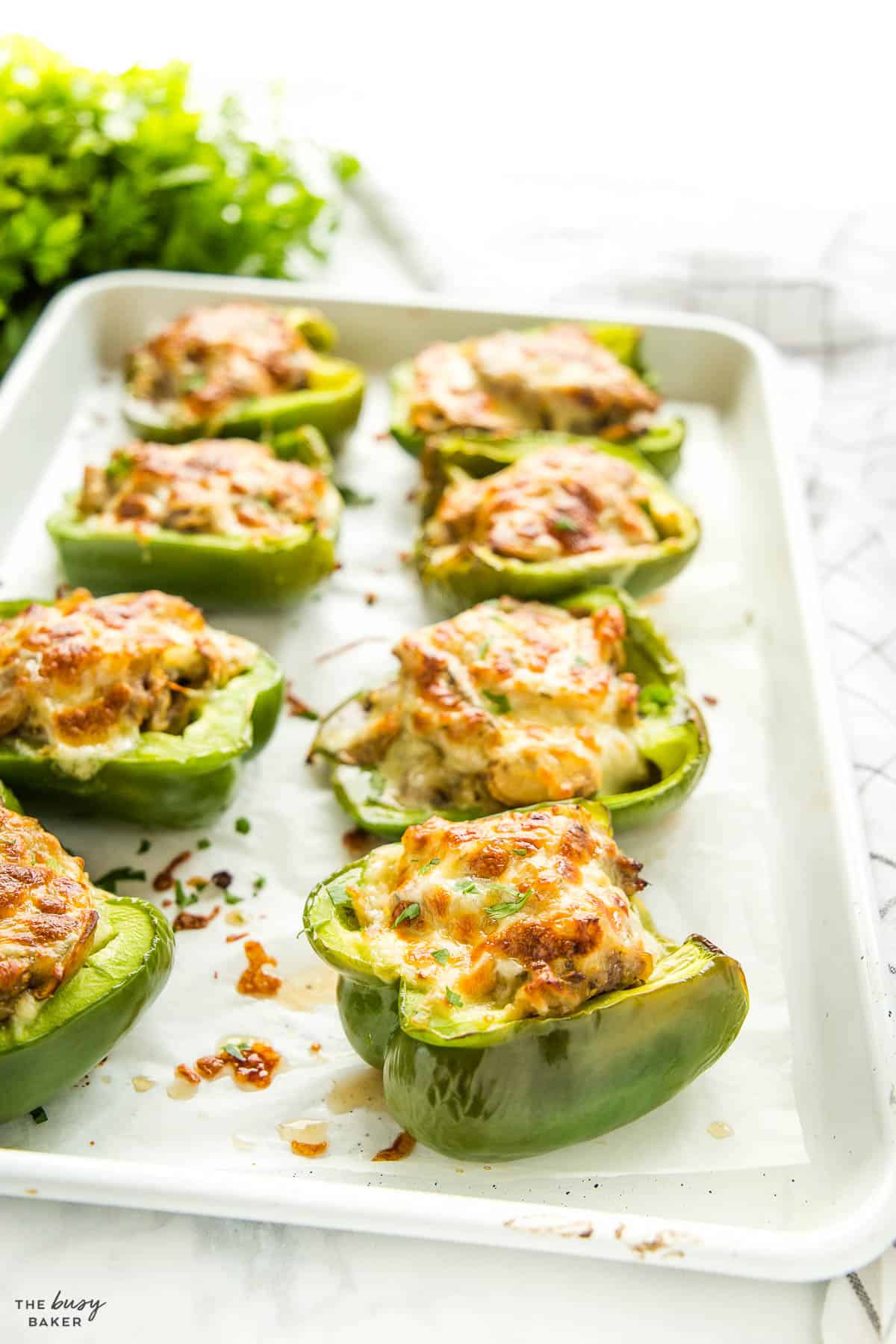 Here's a list of ingredients you'll need to make this recipe:
butter
olive oil
green peppers
onions
salt and pepper
dried thyme
beef stock or red wine
white mushrooms
top sirloin or ribeye steak
shredded provolone, Swiss or mozzarella cheese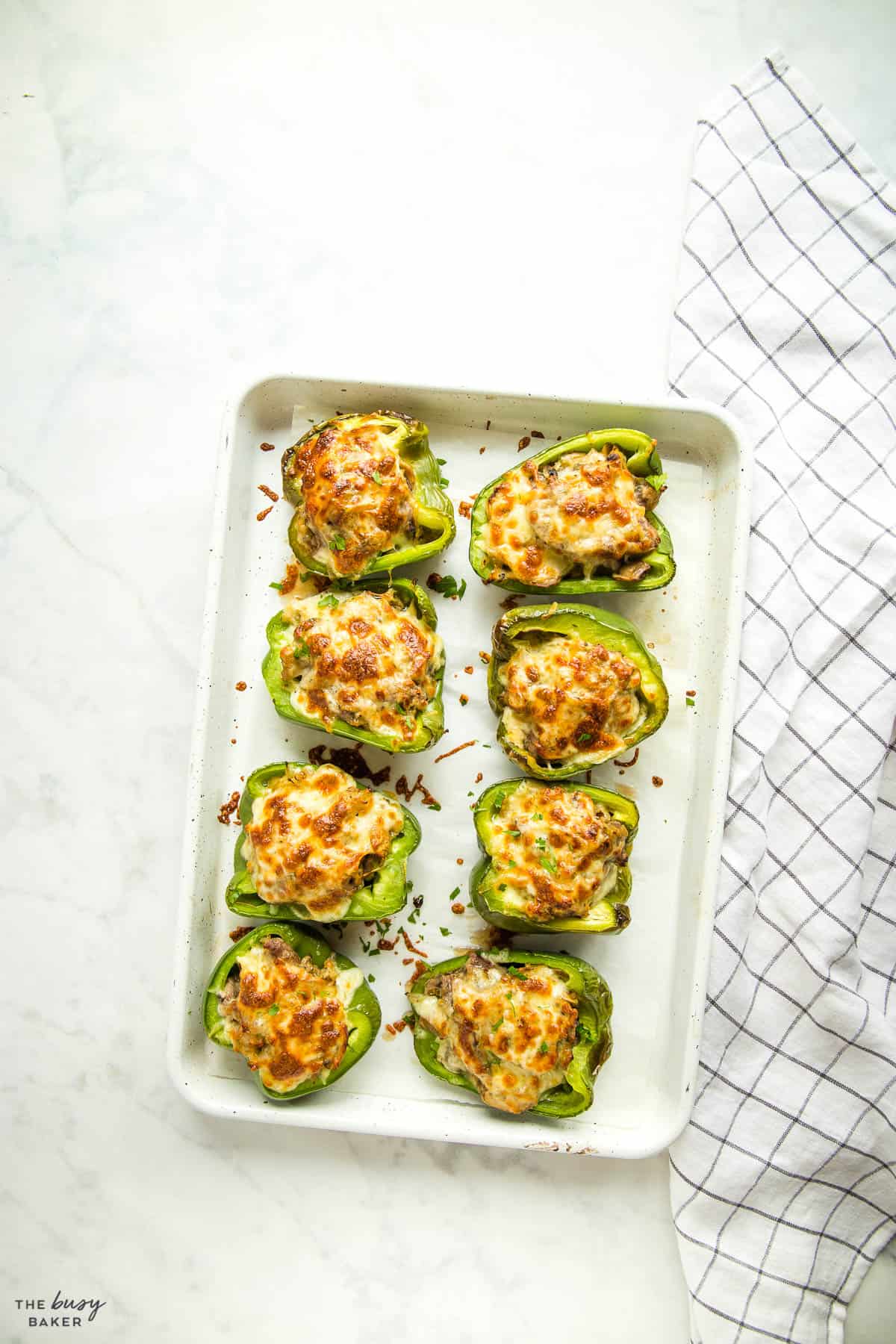 Time needed: 50 minutes
Follow these steps for the best stuffed bell peppers!
Bake the peppers first.

Pre-bake the peppers first to dehydrate them a little bit. This will prevent your stuffed peppers from becoming soggy.

Prepare the filling.

Caramelize the onions and mushrooms to create a delicious flavour.

Don't pre-cook the steak.

Slice the steak and add it to the filling mixture raw. This will prevent it from overcooking and becoming tough as the peppers bake in the oven.

Don't forget the cheese!

Add some cheese into the filling to help hold it together, and top the peppers with the rest of the cheese.

Bake to perfection.

Bake for 15-20 minutes and broil for a minute or two to brown the cheese before serving.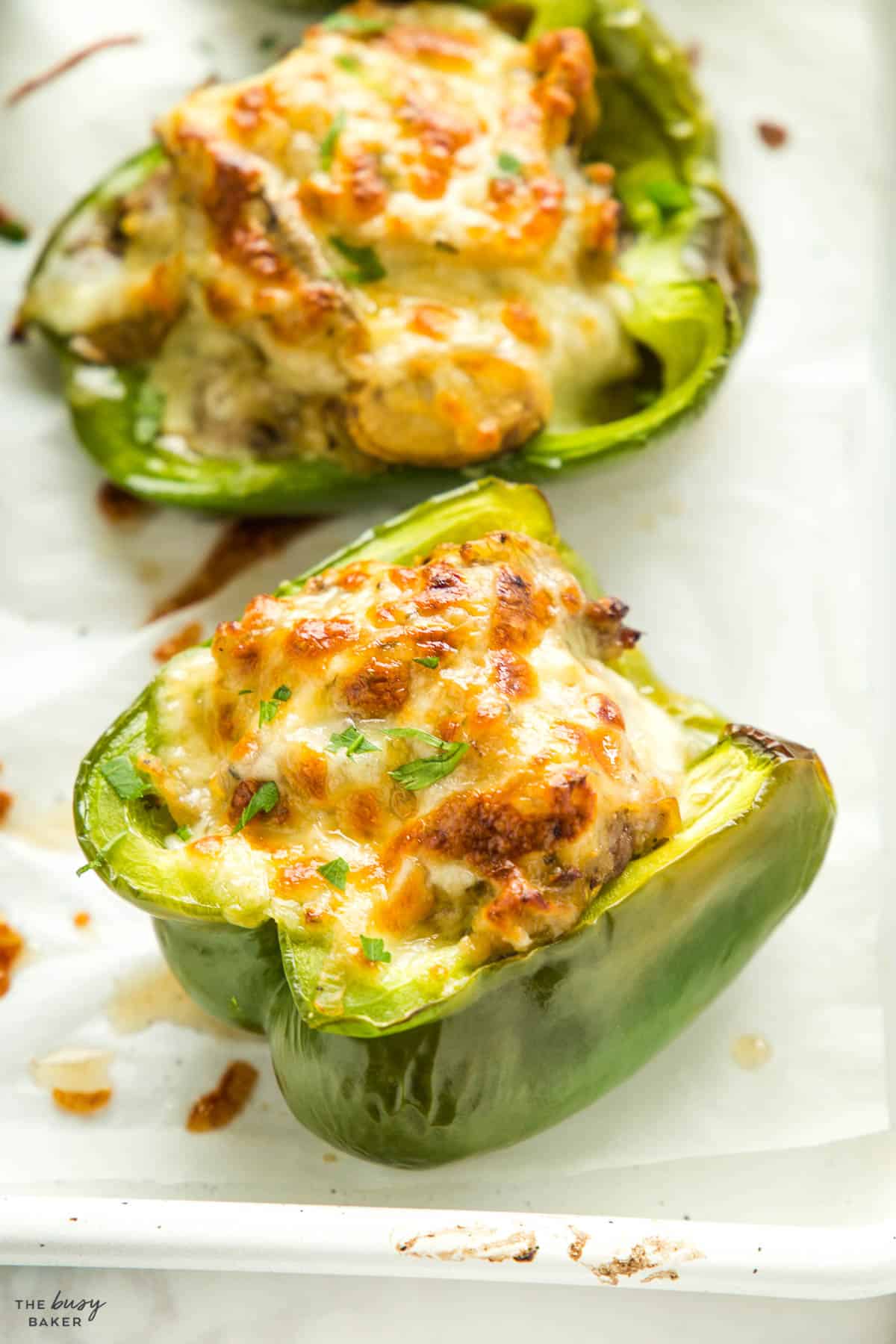 Can I make stuffed peppers ahead of time?

Yes! Prepare the stuffed peppers until they're ready to bake and then store them in the fridge, covered, until ready to bake. We recommend baking them within 24 hours for best results.
Can I freeze stuffed peppers?

Yes, freeze stuffed peppers after baking in an airtight container or freezer bag. Thaw and reheat.
How do I store leftover stuffed peppers?

Store leftover stuffed peppers in an airtight container in the fridge for up to 3 days.
Why are my stuffed peppers watery?

Pre-baking the peppers before stuffing them helps the peppers to be less watery. Be sure to pre-cook the peppers at least part way before stuffing and baking.
Why are my stuffed peppers bland?

If your stuffed peppers are bland, you likely didn't add enough seasoning. Be sure to add salt, pepper, and other spices for flavour.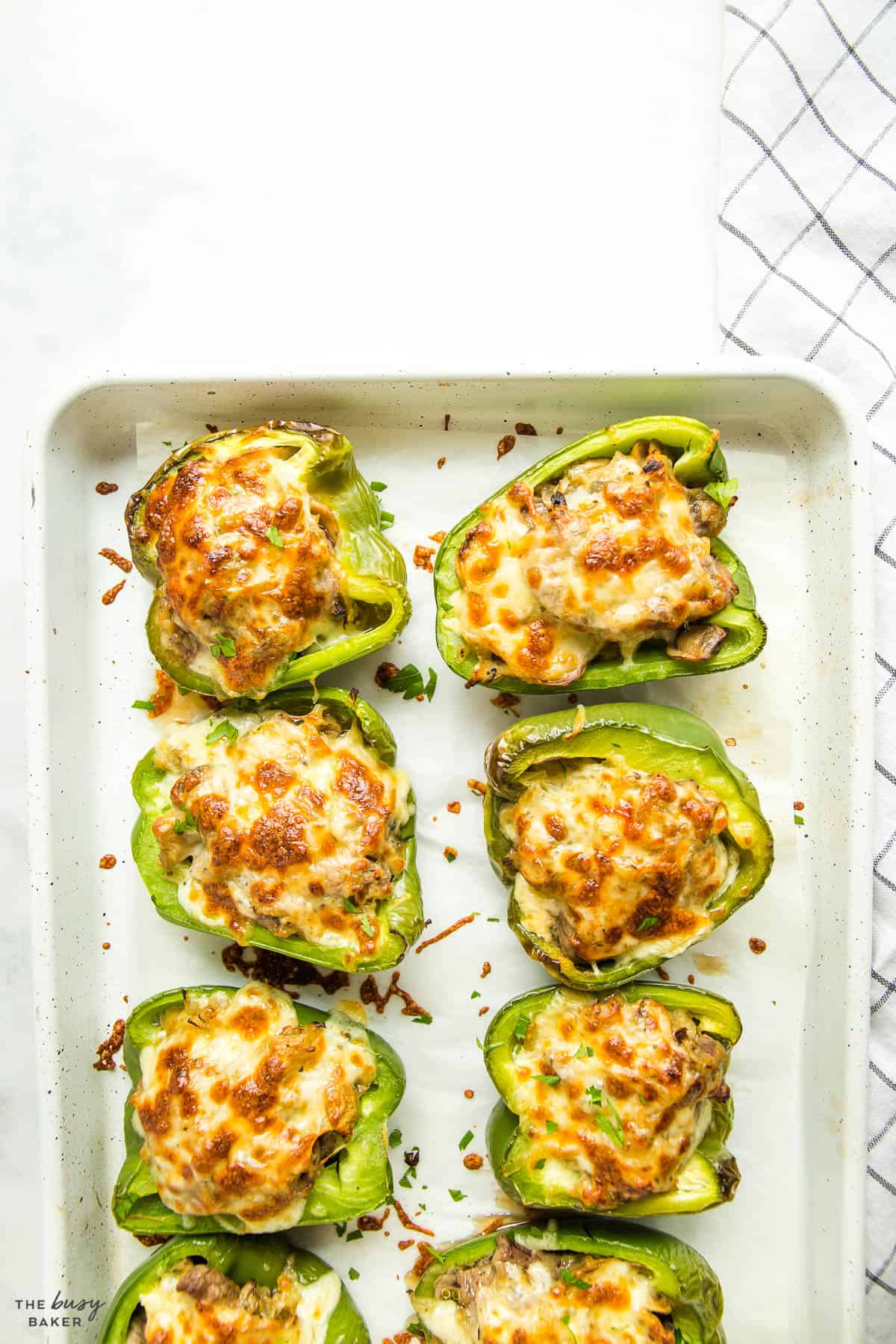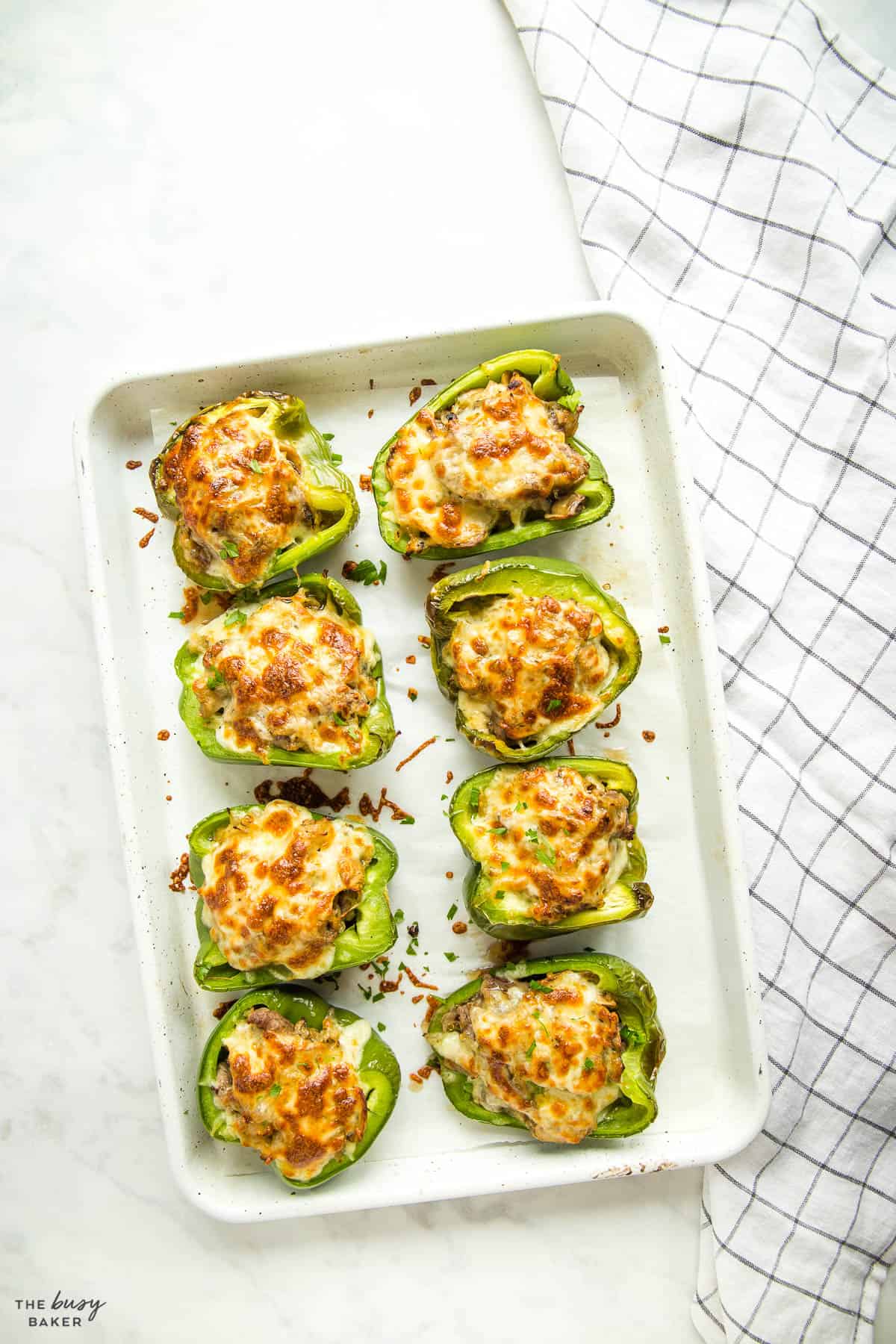 We hope you love this low carb recipe as much as we do! Let us know in the comments below, what's your favourite low carb dinner idea? We'd love to know!
If you made this, share a photo!
Are you trying this recipe? Use the comment form below to share your take; now with support for image uploads and comment voting!
Share a photo
Philly Cheesesteak Stuffed Peppers
Everybody's favourite Philly Cheesesteak flavours in low carb and high protein stuffed peppers. This Philly Cheesesteak Stuffed Peppers recipe is a healthy and easy meal idea made with steak, mushrooms, onions, and cheese!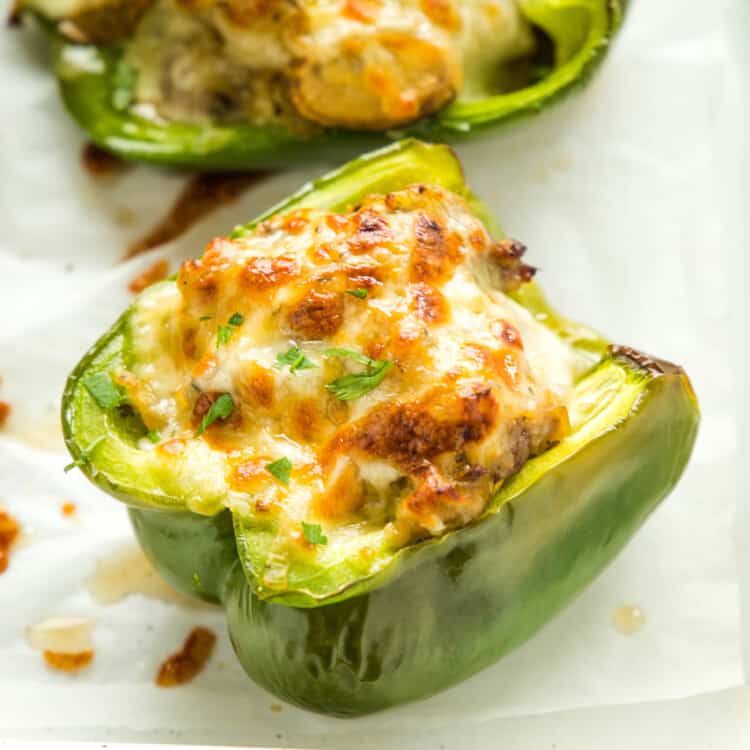 Recipe:

Ingredients
1

tablespoon

olive oil

1

tablespoon

butter

4

medium

onions

thinly sliced

1

teaspoon

salt

1/2

teaspoon

pepper

1

teaspoon

dried thyme

1/3

cup

beef stock

or use red wine, if desired

3

cups

sliced white mushrooms

12

ounces

steak

we recommend top sirloin or ribeye

1 1/3

cup

shredded cheese

we recommend provolone, Emmentaler (Swiss cheese), or mozzarella

4

large

green peppers
Recipe:

Instructions
Preheat your oven to 375 degrees Fahrenheit and prepare a baking sheet or large baking dish by lining it with parchment paper.

Wash and dry the green peppers. Slice them in half from top to bottom and discard the seeds inside. Place the pepper halves open-side up on the baking sheet.

Once the oven reaches 375 degrees Fahrenheit, add the empty peppers to the oven for 10 minutes.

Heat a large skillet over medium heat and add the olive oil and butter.

When the butter has melted, add the sliced onions and cook for about 7-10 minutes, until the onions are very soft and have begun to caramelize.

Add the salt, pepper, thyme, sliced mushrooms and beef stock (or red wine, if using), and stir well.

Continue to cook for another 7-10 minutes until the mushrooms are soft and cooked through and the liquid has evaporated.

While the mushrooms and onions are cooking, slice the steak into thin strips (about 1/3 inch thick) and add them to a bowl.

Remove the baking sheet with the pepper halves from the oven after 10 minutes and set the baking sheet aside while you finish preparing the filling.

Once the mushrooms and onions are cooked and soft, add the mixture to the bowl with the steak, and 2/3 cup of the shredded cheese. Mix very well.

Divide the mixture evenly between the 8 pepper halves on the baking sheet and stuff the peppers with the steak mixture.

Top each one with the remaining cheese.

Bake for 15-20 minutes at 375 degrees Fahrenheit and then broil for about 1-2 minutes (depending on the strength of your broiler) to brown the cheese on top.
Recipe:

Notes
Storage Instruction
Cool completely after baking and store in an airtight container in the fridge for up to 3 days.
Reheating Instructions
Reheat in the oven until heated through or microwave to reheat.
Freezer Instructions
Freeze these stuffed peppers in an airtight container or freezer bag after baking. Thaw in the fridge for 24 hours and reheat in the oven or microwave until heated through.
Make Ahead Instructions
Follow the recipe as directed until the peppers are stuffed and ready to bake. Store them in the fridge, covered, or in an airtight container, and bake within 24 hours.
Recipe:

Nutrition

Nutrition Facts

Philly Cheesesteak Stuffed Peppers

Amount Per Serving (2 pepper halves)

Calories 441

Calories from Fat 243

% Daily Value*

Fat 27g42%

Cholesterol 89mg30%

Sodium 935mg41%

Potassium 976mg28%

Carbohydrates 20g7%

Protein 31g62%

Vitamin A 972IU19%

Vitamin C 142mg172%

Calcium 247mg25%

Iron 3mg17%

* Percent Daily Values are based on a 2000 calorie diet.

Notice: Nutrition is auto-calculated, using Spoonacular, for your convenience. Where relevant, we recommend using your own nutrition calculations.