I don't know about you, but I love anything sweet and salty. And popcorn has always been a weakness of mine because it's easy to make at home, it's a relatively healthy snack, and it's just plain delicious. After coming to the realization that I'd spent $5 on a bag of sweet and salty kettle corn one too many times, I went hunting for a recipe I could try at home and I found a great one! It's easy to make on the stove, and it contains only 4 ingredients that you probably have in your pantry right now. And it's perfect for movie nights, parties, and snacks, but we'll be enjoying it this New Year's Eve while we curl up on the couch after the kids are in bed. Glamorous, I know, but when you're the parents of preschoolers, kettle corn and sparking apple cider is pretty much as exciting as it gets (who am I kidding? I'll definitely be enjoying an Earl Grey Tea Latte, too!)! But that's okay, because this Kettle-Cooked Popcorn is so tasty I'm sure we'll be glad for the excuse to stay home and devour it just the two of us!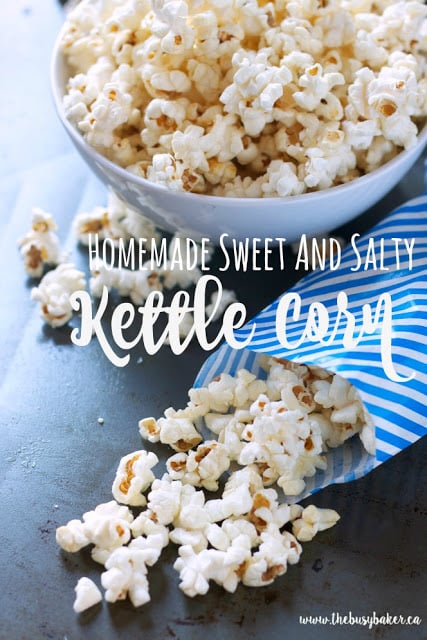 Looking for more fun snacks? Try this Greek Yogurt Chocolate "Pudding" or my Skinny Baked Old-Fashioned Cake Donuts!
This recipe is adapted from Rachael Ray's recipe for Sweet & Salty Kettle Corn.
You'll need:
MY LATEST VIDEOS
2 tbsp canola oil
2 tbsp white sugar
1/3 cup popping corn
a pinch or two of sea salt
A hand-crank popcorn maker for the stove-top or a large dutch oven pot.
To make:
Add the oil to your stove-top popcorn maker or a large dutch oven pot and heat it on medium-high heat.
Once the oil is hot, add the popcorn kernels and listen for them to sizzle and begin to pop.
Add the sugar over top of the kernels and if you're using a popcorn maker with a hand crank, be sure to crank continuously until the popping stops.
If you're using a dutch oven pot, simply shake the pot back and forth slightly over the heat while the kernels pop so the sugar doesn't burn.
Remove the pot from the heat as soon as the popping slows to a stop and immediately pour the popped kernels into a large bowl.
Sprinkle the popcorn with a pinch or two of salt, toss well, and serve warm!
The sweet sugary coating on this popcorn is so subtle, but it's creates a beautiful crunch and it's just so perfect with the sea salt! Did I mention I love anything sweet and salty??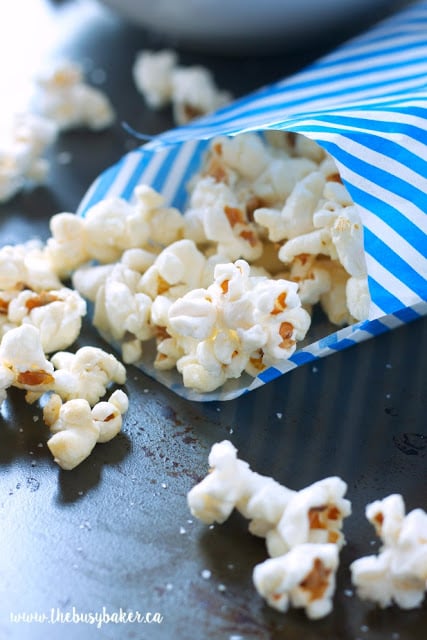 This recipe makes about 9 cups of popcorn, and a 3-cup serving is only 7 Weight Watchers SmartPoints, making it a great choice for a sweet and salty treat!
I hope you enjoyed this recipe! Let me know in the comments below, what's your favorite sweet and salty treat?
Looking for even more healthy snacks? Try these Homemade Apple Chips or these No-Bake Cranberry Cashew Energy Bites!