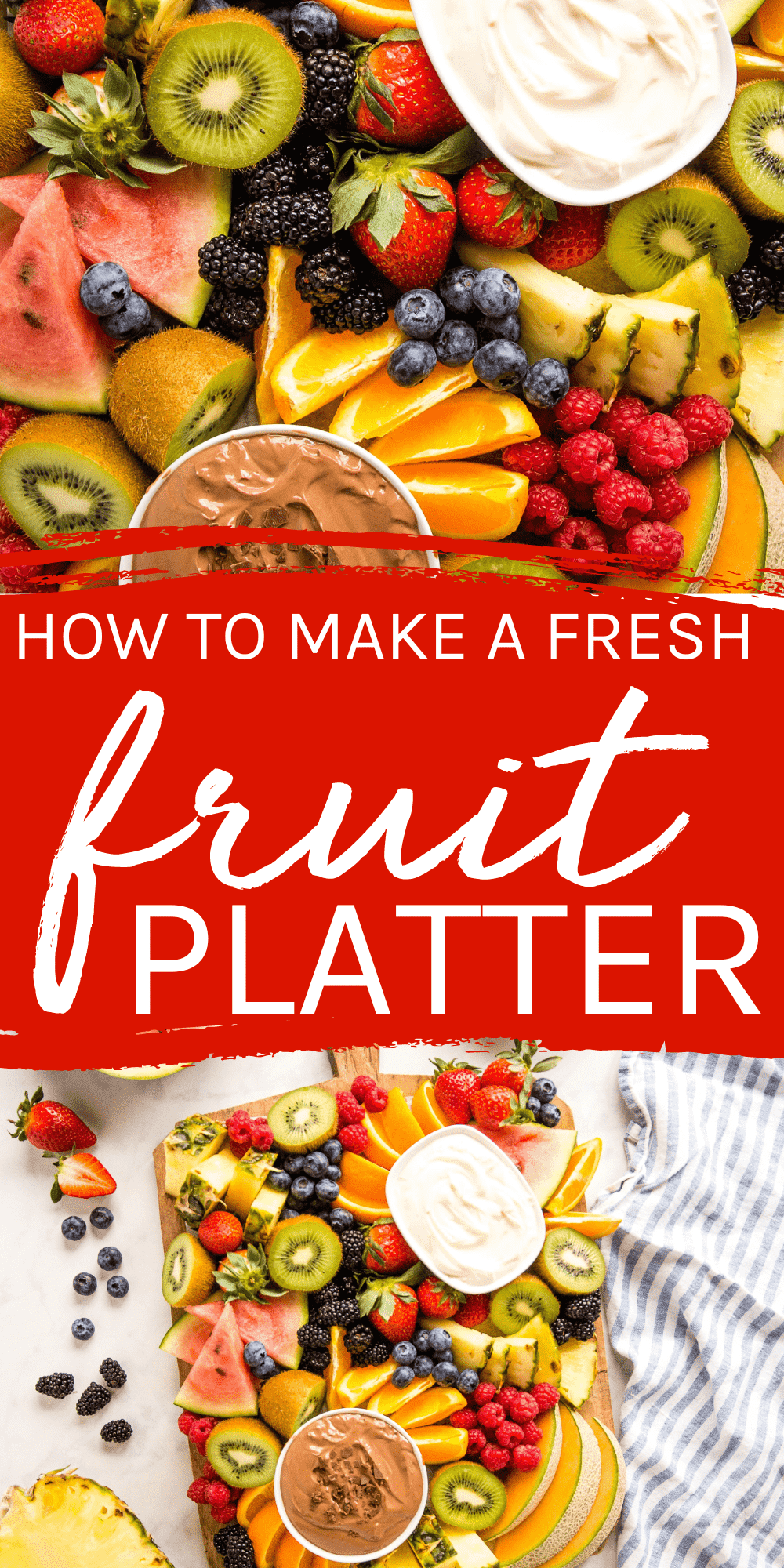 This Fruit Platter recipe is a healthy and colourful addition to any breakfast, brunch or dessert buffet. An easy-to-make fruit tray recipe with a variety of fresh fruits and fruit dip!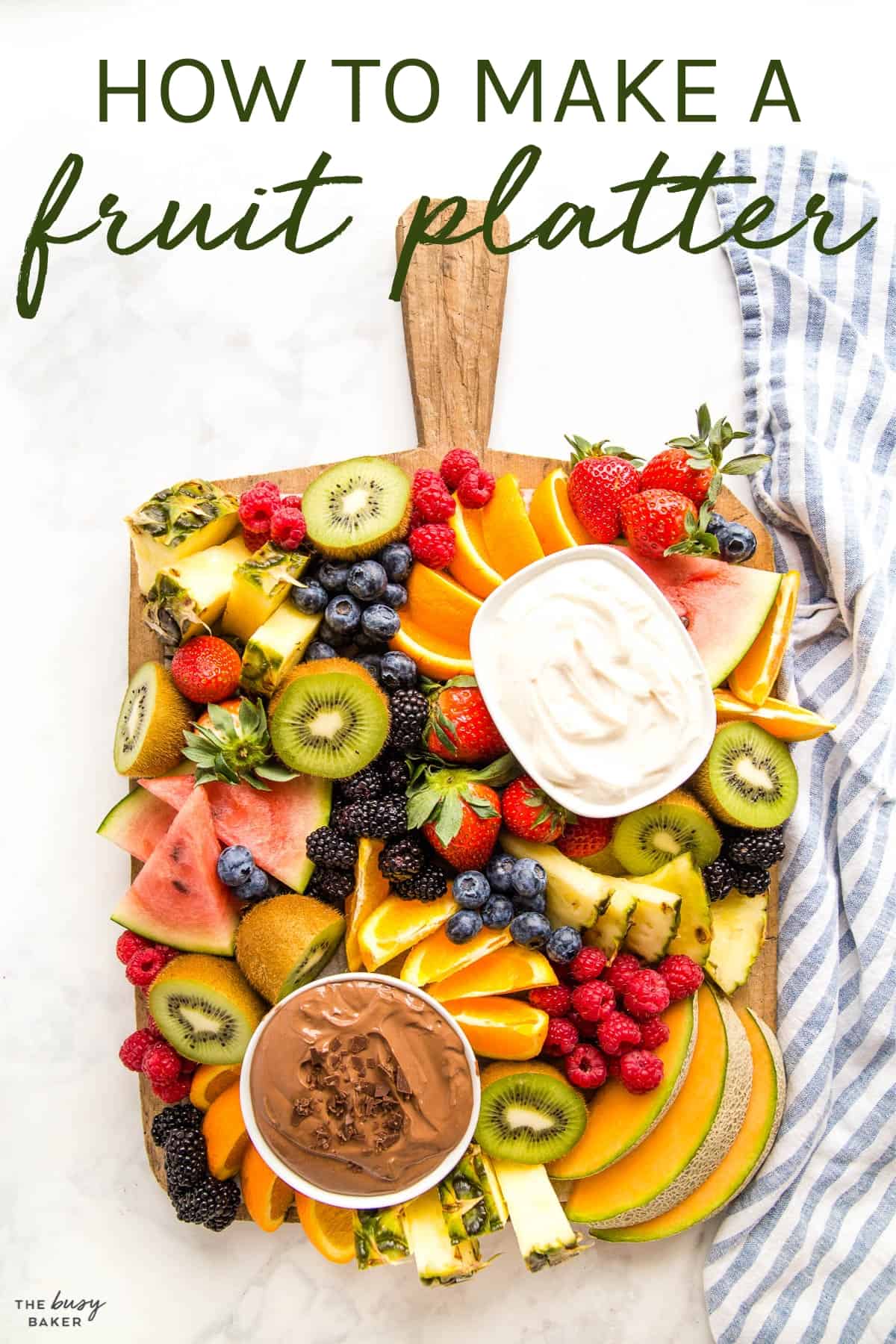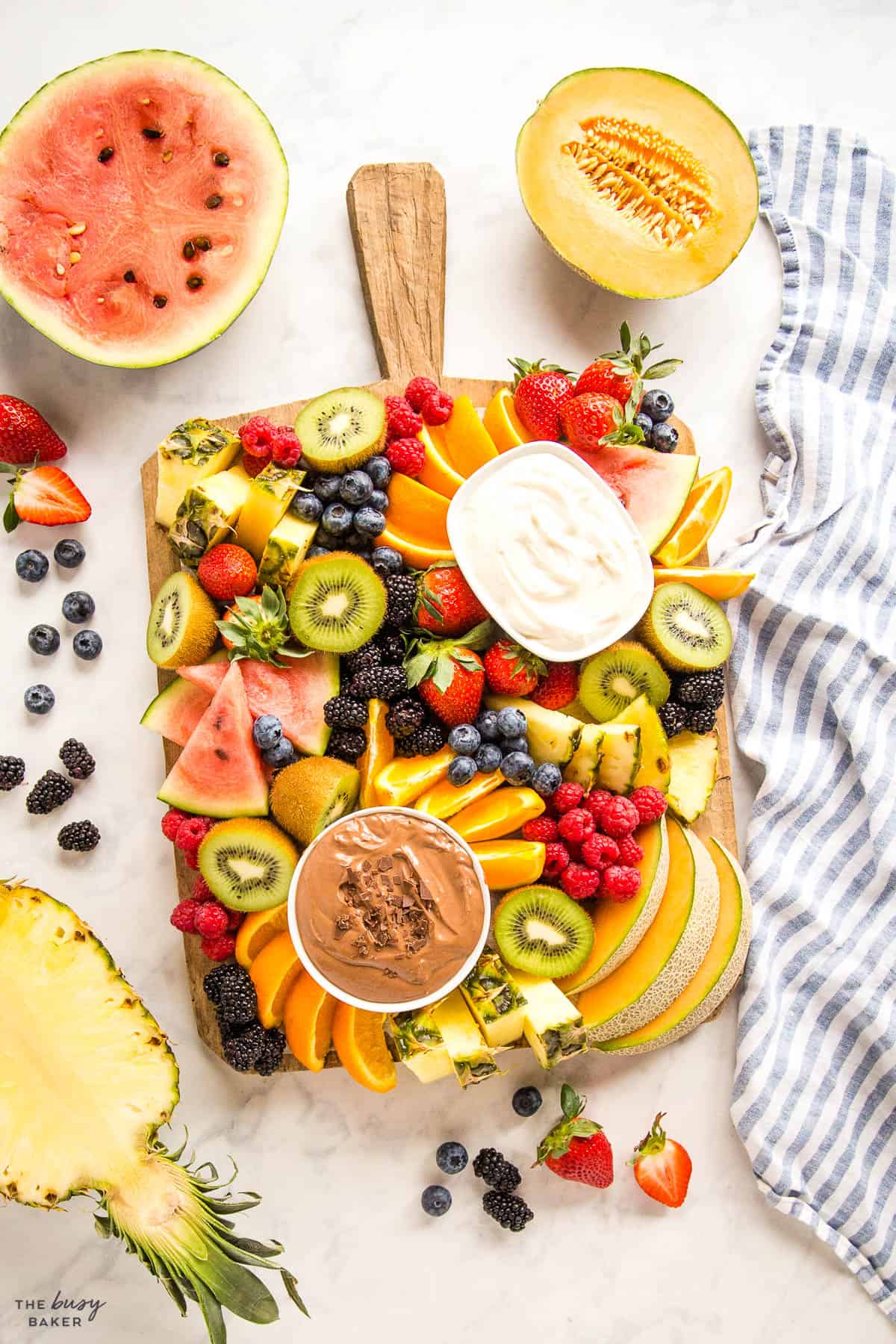 Making your own fruit platter at home is a beautiful and impressive way to enjoy fresh fruit. And since fresh fruit is a staple in our diet, this fruit platter recipe is one we find ourselves making again and again for various events, dinner parties, or even just a dinner at home.
If you've ever paid for an over-priced fruit platter or fruit tray from your local grocery store, or if you're a big fan of fresh fruit (like we are!), you're going to love making this delicious fruit tray recipe!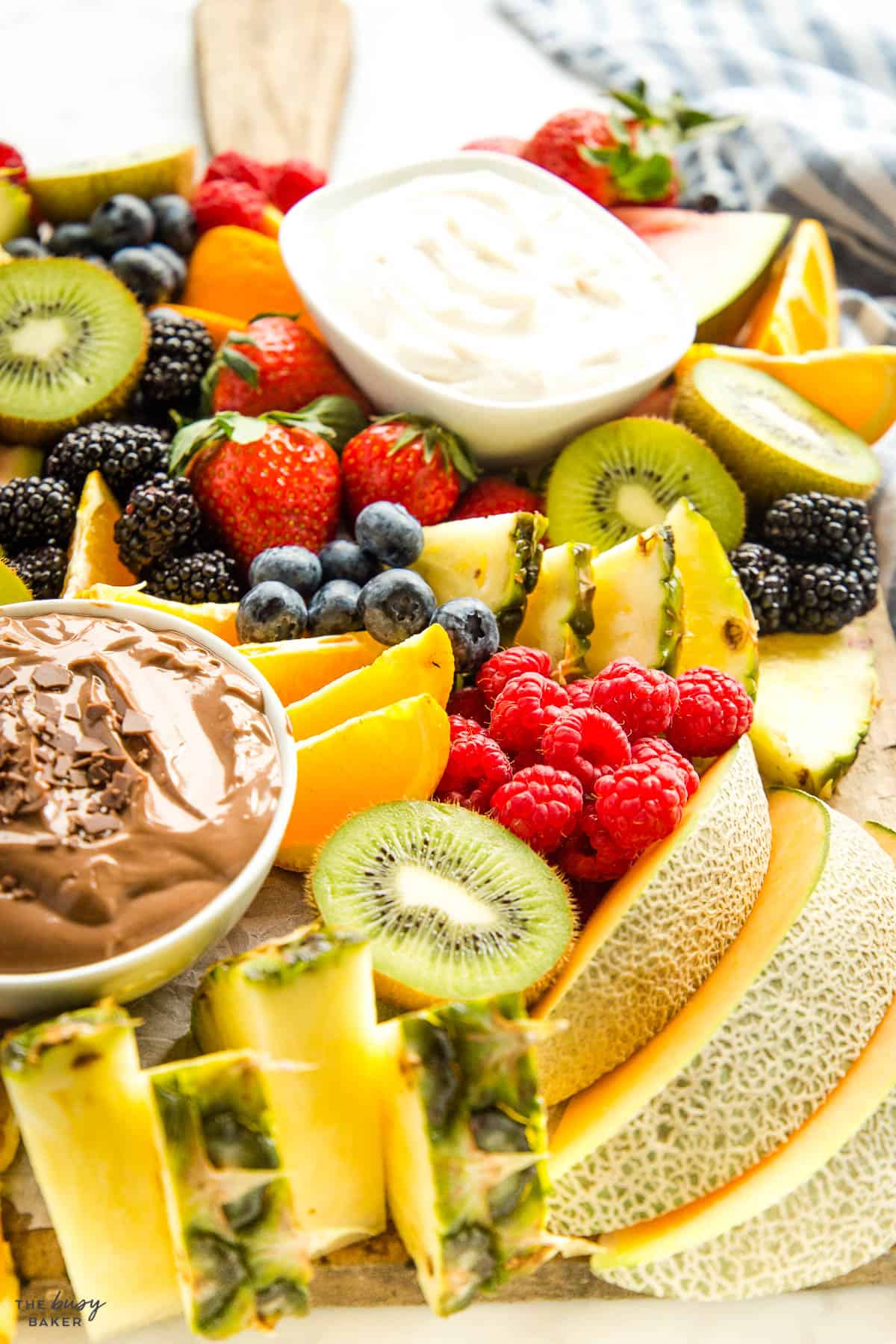 A fruit platter is a delicious dish usually served at parties. A fruit platter or fruit tray, as it's sometimes called, is a visually appealing arrangement of a variety of fresh fruits that are sliced or cut into bite-sized pieces and arranged on a platter or tray.
The fruits can be arranged in a specific decorative pattern, grouped by colour to create a rainbow display, or arranged randomly as you wish. A fruit platter or fruit tray can be served on its own or accompanied by other items such as cheese, crackers, nuts, or fruit dips, and it's a very popular and easy-to-make option for brunches or breakfast buffets, or even a dessert buffet. It can be a healthy and refreshing option for anyone who follows a gluten-free or refined sugar-free diet.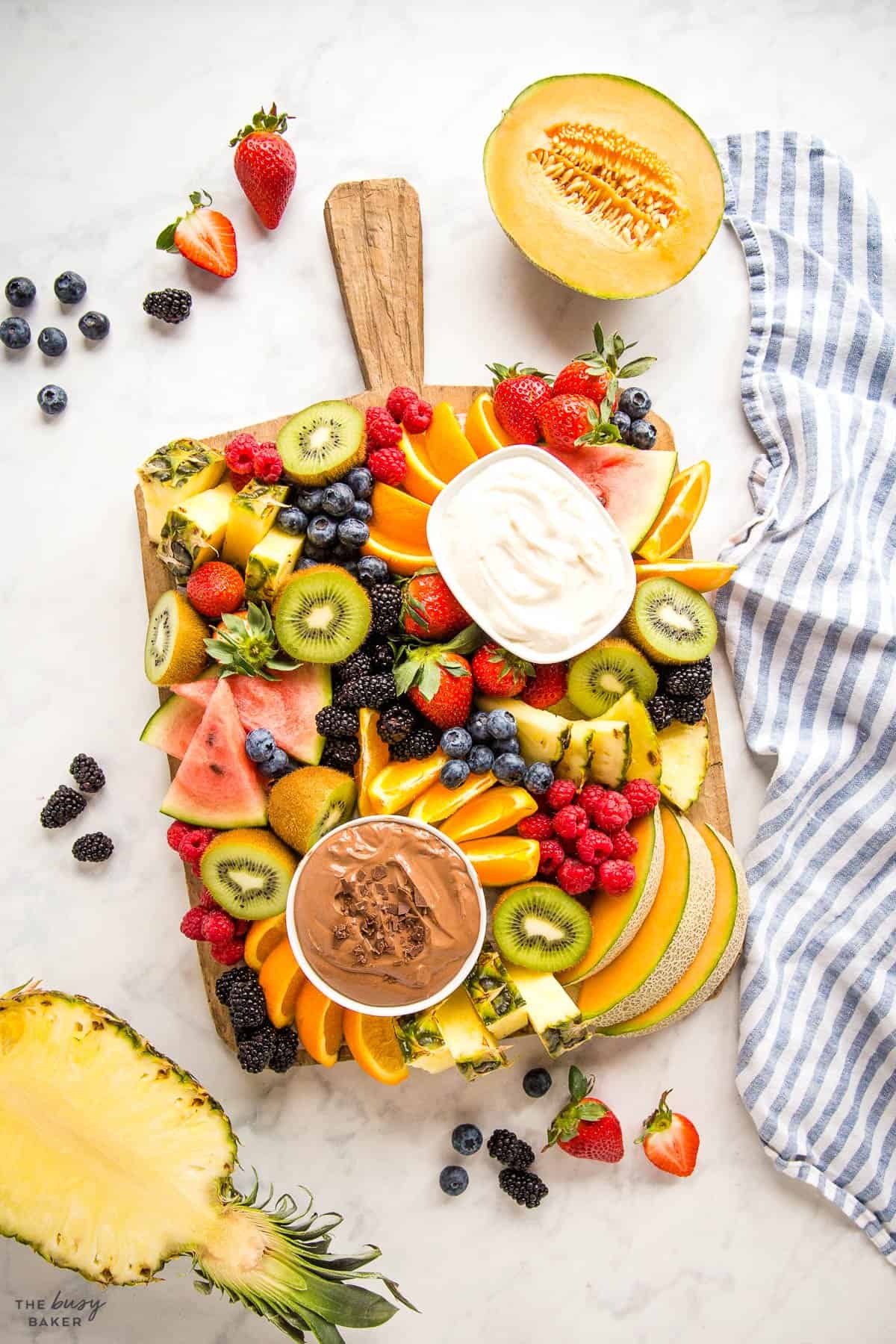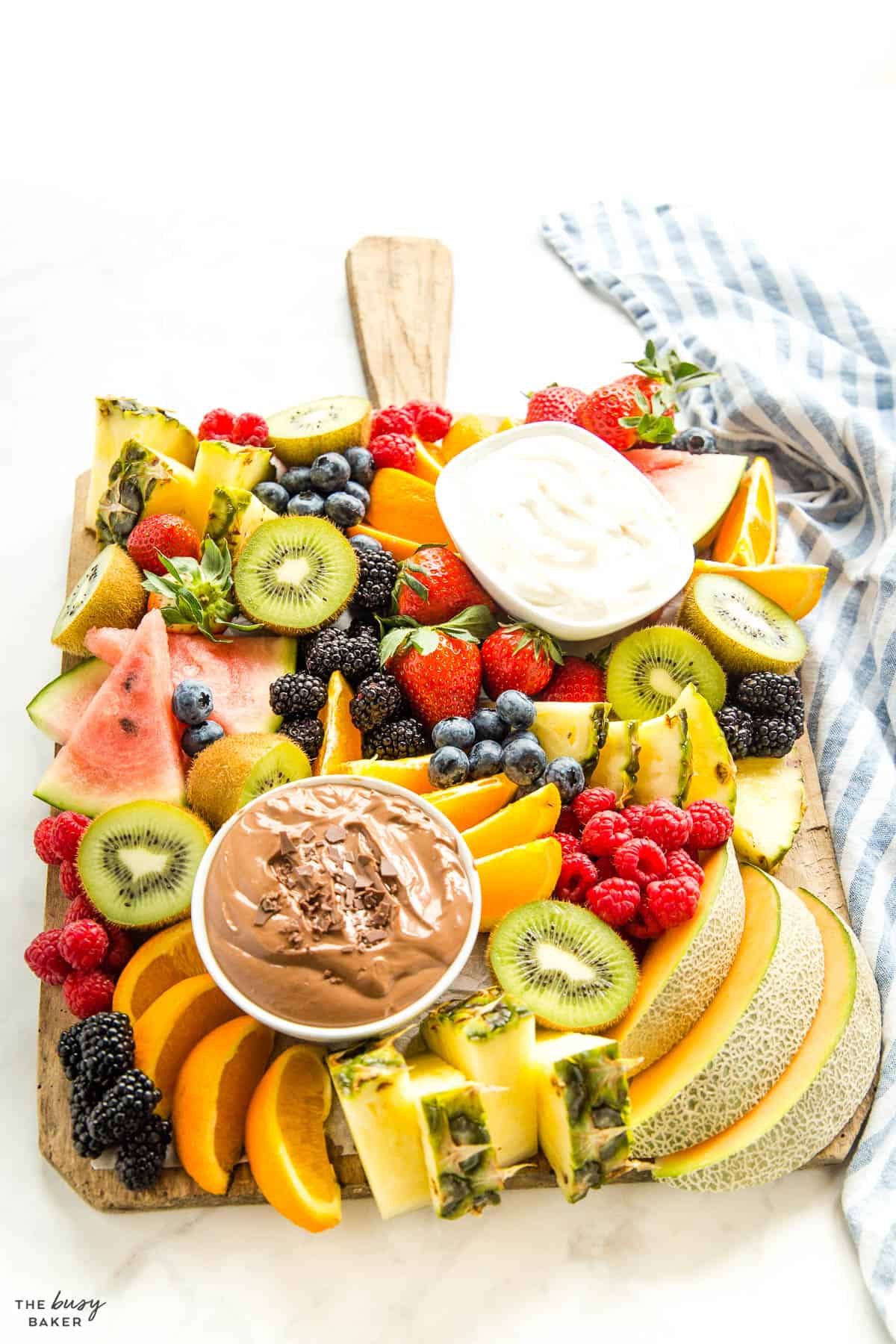 To make a fruit platter at home you'll need (affiliate links):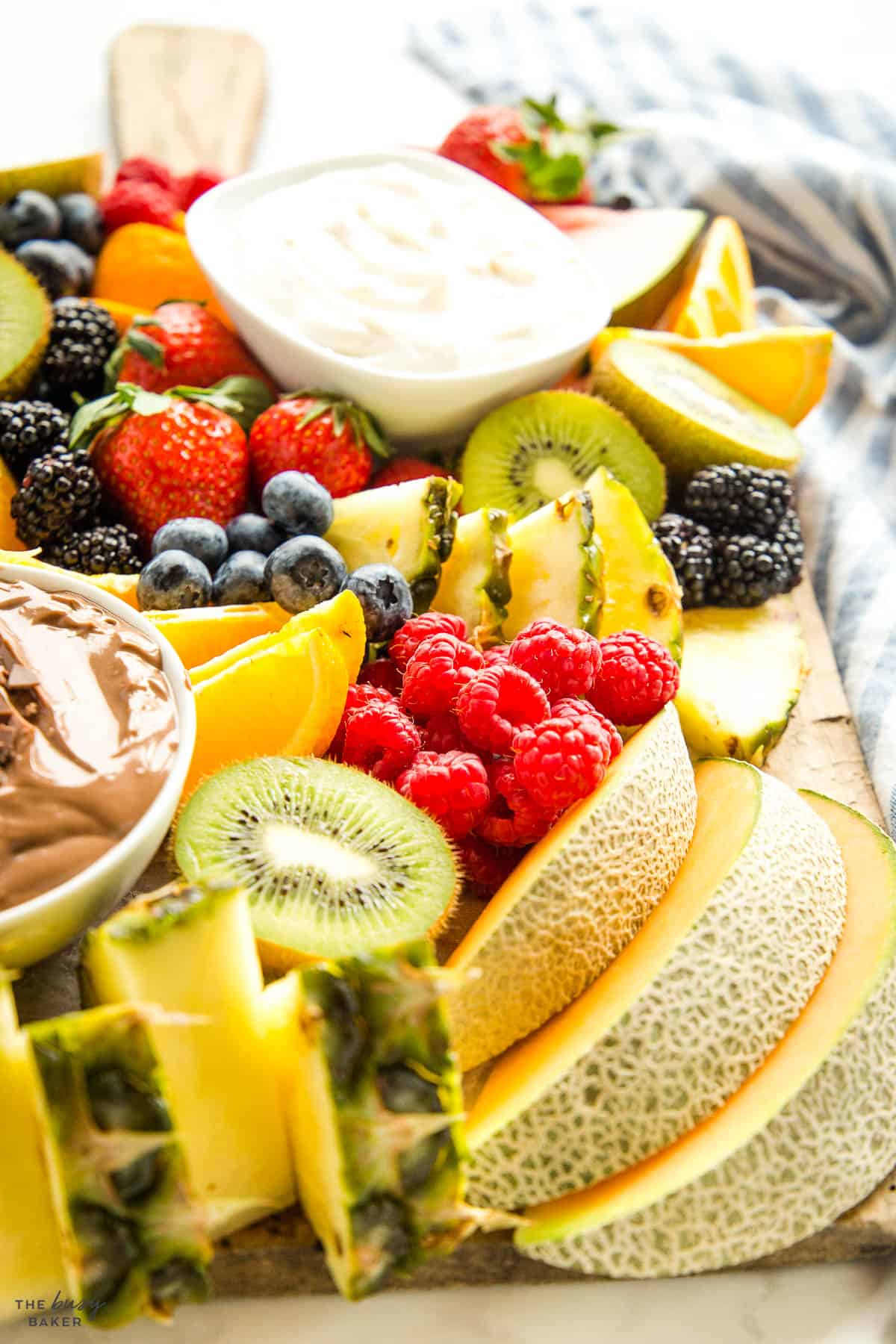 Making a fruit platter doesn't have to be complicated. Here are some common components of a fruit tray:
Berries: Strawberries, blueberries, raspberries, and blackberries are our favourites.
Melon: Popular options include watermelon, cantaloupe, and honeydew.
Citrus fruits: Oranges, grapefruits, mandarins and tangerines are great choices.
Tropical fruits: pineapples, mangoes, papayas, kiwis, and guavas
Grapes: Both red and green grapes look beautiful and taste delicious.
Apples and pears: These fruits can be sliced and added to the platter.
Stone fruits: Peaches, plums, nectarines, and apricots are gorgeous additions to any fruit platter.
Bananas: These can be sliced and added to the platter, but be sure to wait until the last minute to prevent them from turning brown.
To make an EASY fresh fruit platter with our recipe, you'll need these fresh fruits:
pineapple
strawberries
blackberries
raspberries
blueberries
oranges
kiwis
watermelon
cantaloupe
Try one of these fruit tray presentation ideas!
Seasonal: Use only fruits that are in season to create a colourful and fresh fruit platter that suits the season.
Tropical: Choose only tropical fruits like pineapple, mango, papaya, and kiwi, and add some coconut to create an exotic fruit platter.
Citrus: Make your fruit platter with a variety of citrus fruits like oranges, grapefruits, mandarins, and tangerines.
Fruit and Cheese: Combine a variety of fruits with hard and soft cheeses like Brie, cheddar, Emmental, or goat cheese for a savoury twist.
Fruit and Nuts: Combine a variety of fruits with nuts such as almonds, walnuts, or pistachios for a crunchy and satisfying platter.
Chocolate-Dipped: Dip some of the fruits in melted chocolate for a decadent and sweet addition to a fruit platter, or serve the fruit platter with a chocolate fondue for the ultimate decadent dessert!
Rainbow: Arrange the fruits by colour to create a rainbow fruit platter.
Skewered Fruit Platter: Place the fruit pieces on skewers to make them more convenient for guests to grab and eat.
Time needed: 30 minutes
Follow these steps for the perfect platter!
Choose the fruits.

Pick a variety of fruits that are in season and look fresh. We recommend using fruit that's easy to eat with your hands or without a fork.

Wash and prepare the fruits.

Rinse the fruits in cool or room-temperature water and pat them dry with paper towels or a clean kitchen towel. Cut the fruits into bite-sized pieces or slices, creating a variety of sizes and shapes. Remove any seeds, stems, or peels as needed, but we recommend leaving some peels or stems on to make the fruit easy to pick up.

Choose a platter, board or container.

It's a good idea to use a platter or tray that's very large large. You could also use a platter with a lip or an edge to prevent the fruits from rolling off, but if you'll assemble the platter right before serving this isn't totally necessary.

Arrange the fruits.

Start by placing the larger pieces of fruit, such as melons or pineapples, in the centre of the platter. Then, add the smaller fruits around them, making sure to spread out the colours and textures to create visual interest.

Add extras.

If desired, add some cheese, nuts, or crackers. We like to add a sweet fruit dip or two for dipping the fruits.

Brush with lemon juice, if needed.

If you'll be refrigerating the fruit platter for a few hours before serving, brush any of the fruits that are prone to oxidation (browning) with some lemon juice. This will keep them looking fresh.

Refrigerate until ready to serve.

Cover the fruit platter with plastic wrap or a lid and refrigerate it until you're ready to serve. It's best to serve the fruit platter within a few hours of preparation to keep the fruits fresh.
What fruits are best for a fruit platter?

When making a fruit platter it is best to use a variety of fruits with different shapes, sizes, colours, and levels of sweetness.
How far in advance can I prepare a fruit platter?

We recommend preparing a fruit platter immediately before serving, but if you have to prepare it in advance we recommend storing it in the fridge for no more than 2 to 6 hours.
What do you put on fruit platters?

It's best to include a variety of fresh fruits, fruit dips, and even other snacks like cheese, pretzels, and nuts.
Is it cheaper to make your own fruit tray?

Making your own fruit tray is much cheaper than buying one ready-made because you're able to choose cost-effective ingredients, in-season fruits, and fruits sold in bulk to save money.
Can I make a fruit platter the night before?

It's possible to make a fruit platter the night before. We recommend brushing any fruits prone to oxidation (browning) with some lemon juice, and saving any very delicate fruits (raspberries, bananas, etc.) to add right before serving.
How much fruit do I need for a fruit platter?

We recommend 3/4 to 1 cup of fruit per person, so decide how many people your platter will serve and create an appropriately sized fruit platter accordingly.
What fruit can you cut the night before?

We recommend cutting melons the night before, as well as pineapple, kiwi, mango and even strawberries. Citrus and more delicate fruits like banana or other berries should be prepared right before serving.
---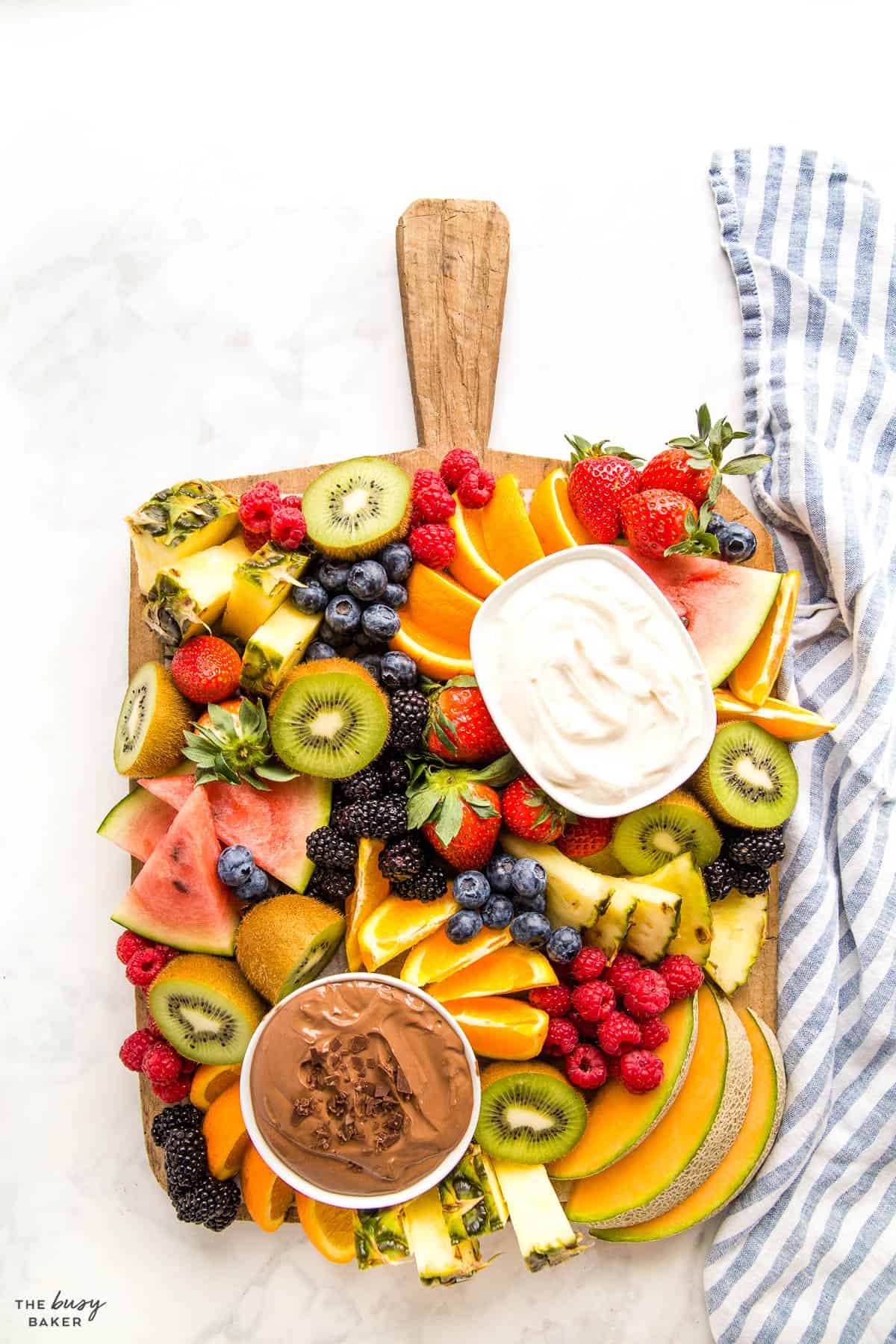 We hope you love this recipe as much as we do! Let us know in the comments below, what's your favourite way to enjoy fresh fruit? We'd love to know!
If you made this, share a photo!
Are you trying this recipe? Use the comment form below to share your take; now with support for image uploads and comment voting!
Share a photo
Fruit Platter
Looking to add a healthy and colourful option to your breakfast, brunch, or dessert buffet? This Fruit Platter recipe is a breeze to put together with a range of fresh fruits and fruit dips.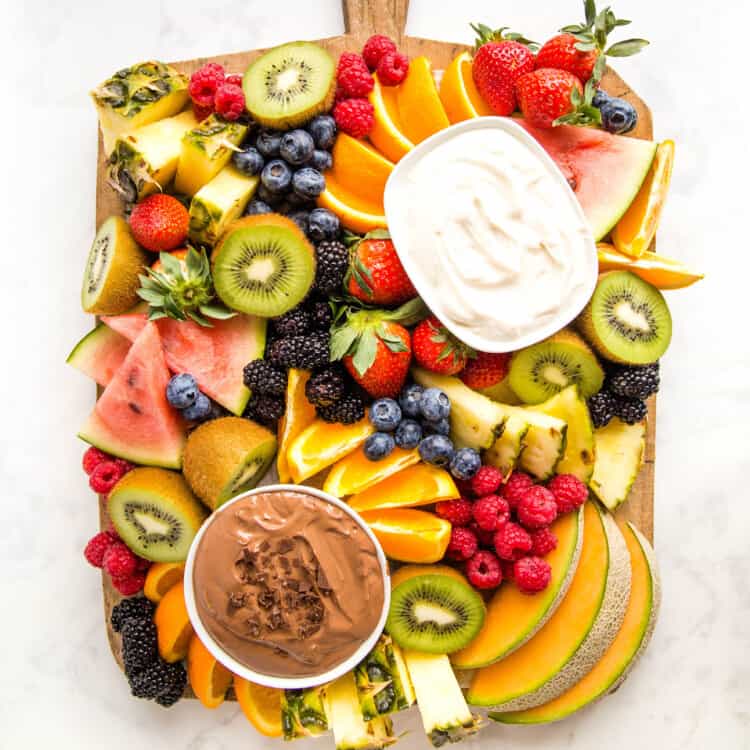 Recipe:

Ingredients
For the fruit
1

small

cantaloupe or honeydew melon

washed and dried

1/4

small

watermelon

washed and dried

2

oranges

washed and dried

1

cup

blueberries

washed and dried

2

cups

strawberries

washed and dried

4

medium

kiwis

washed and dried

1

cup

raspberries

washed and dried

1

cup

blackberries

washed and dried

1/2

medium

pineapple

washed and dried
Recipe:

Instructions
Slice and arrange the fruits on the platter as you wish.

Serve and enjoy immediately!
Recipe:

Notes
Using frozen fruit
We don't suggest making this recipe with frozen fruit as frozen fruit releases a lot of liquid as it thaws.
Storage Instructions
We don't suggest assembling your fruit tray too far ahead of time (maximum 2-6 hours). For optimum freshness, allow the fruit to tray to sit covered in the fridge for no more than 2 hours before serving.
Recipe:

Nutrition

Nutrition Facts

Fruit Platter

Amount Per Serving (1 cup)

Calories 135

Calories from Fat 9

% Daily Value*

Fat 1g2%

Sodium 17mg1%

Potassium 461mg13%

Carbohydrates 33g11%

Protein 3g6%

Vitamin A 2295IU46%

Vitamin C 101mg122%

Calcium 54mg5%

Iron 1mg6%

* Percent Daily Values are based on a 2000 calorie diet.

Notice: Nutrition is auto-calculated, using Spoonacular, for your convenience. Where relevant, we recommend using your own nutrition calculations.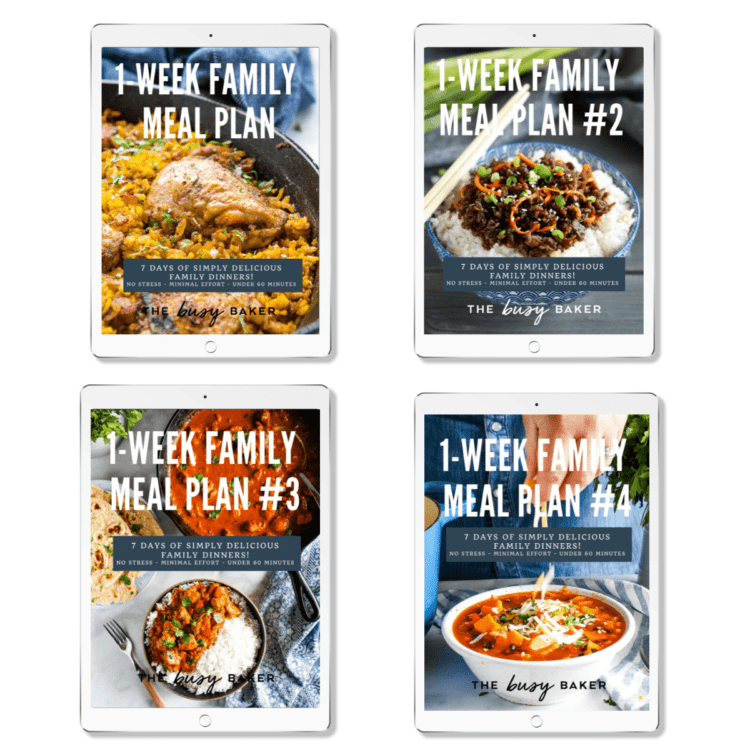 Looking for more?
TRY OUR MEAL PLANS!
Let us do the work for you with 7 days of deliciously easy family dinners, grocery lists, meal prep guides and MORE!
Buy 2, save 20%!
Buy 3, save 30%!
Buy 4 or more, save 40%!
Click here to learn more!