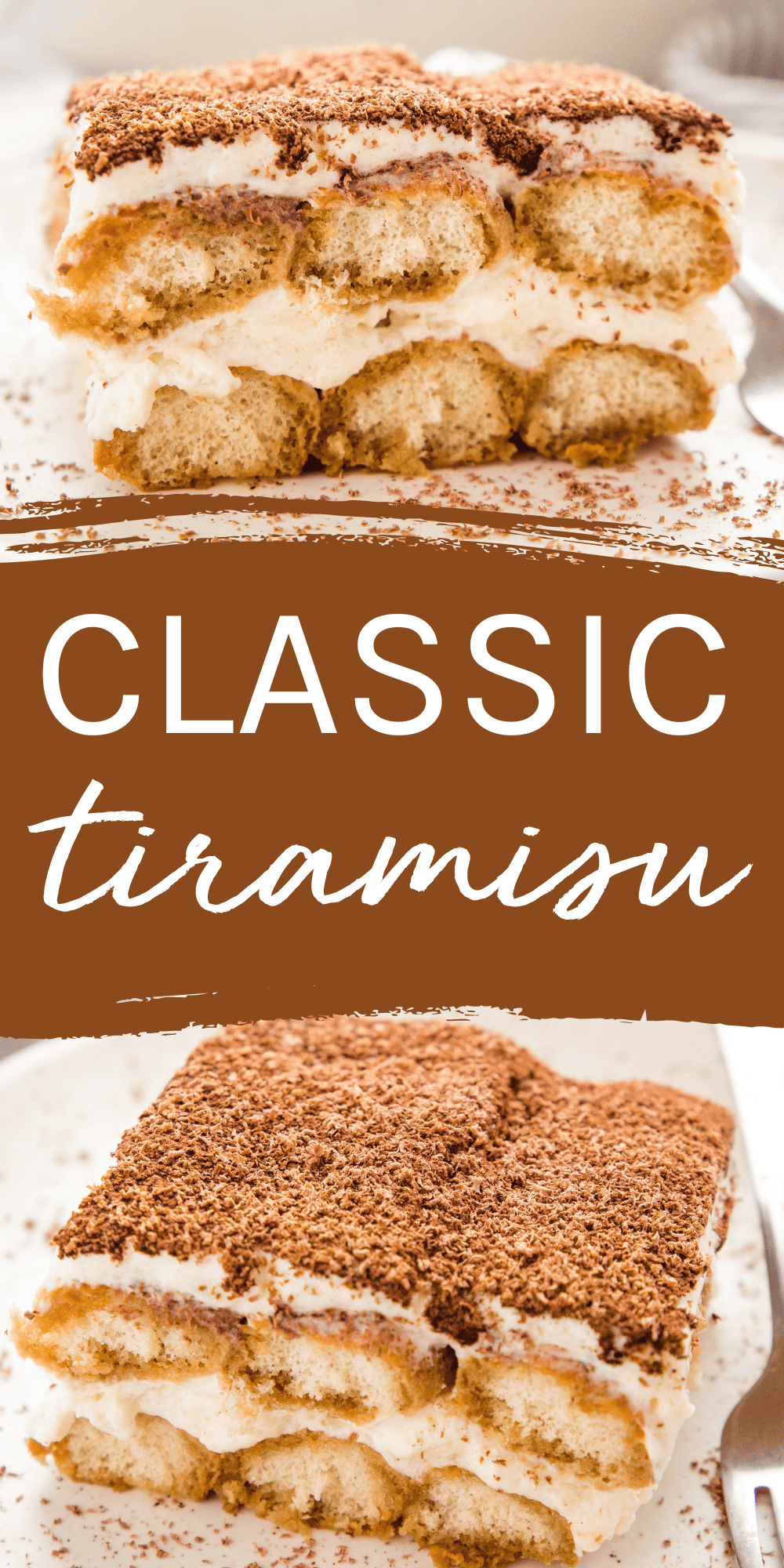 This tiramisu recipe is a classic Italian dessert that's simple to make with coffee-soaked ladyfingers and a rich-tasting, light and fluffy mascarpone cream. An easy-to-make traditional dessert everyone will love!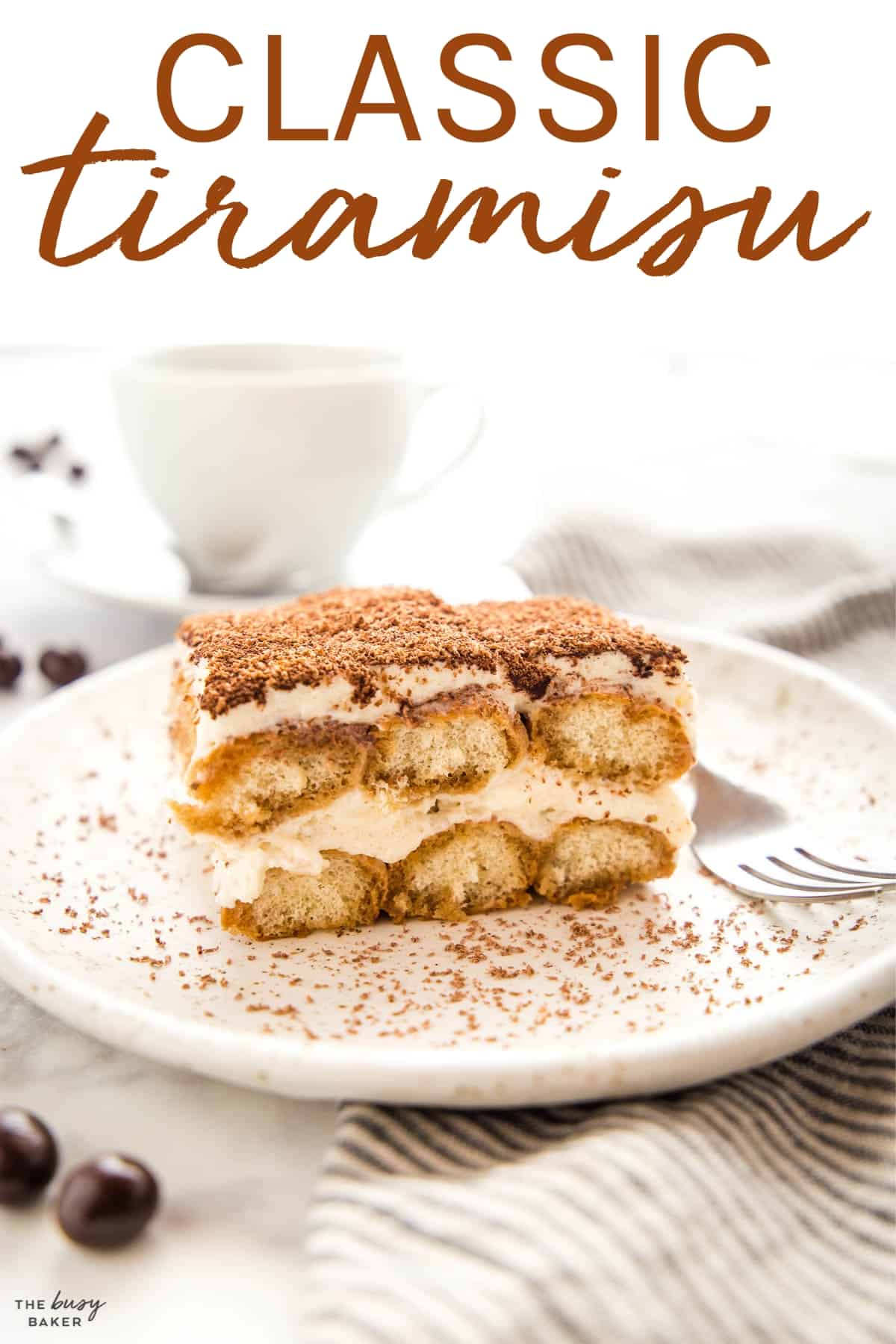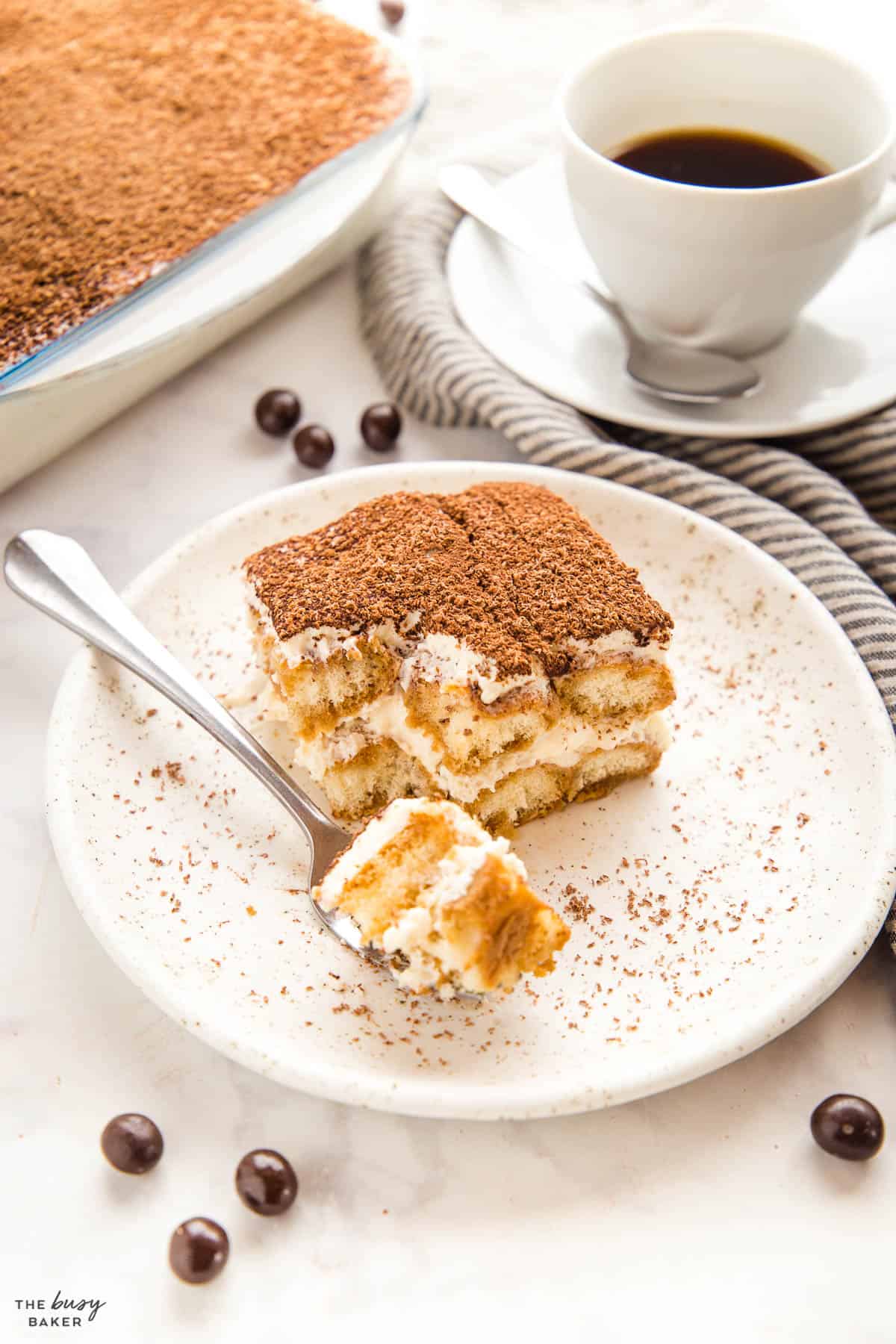 Of all the classic Italian desserts, tiramisu is our favourite! It's unbelievably creamy and delicious, it's sweet but not too sweet, it's rich and packed with coffee, and it's a restaurant-quality dessert that's easy enough to make at home with just a few basic ingredients – even for beginners!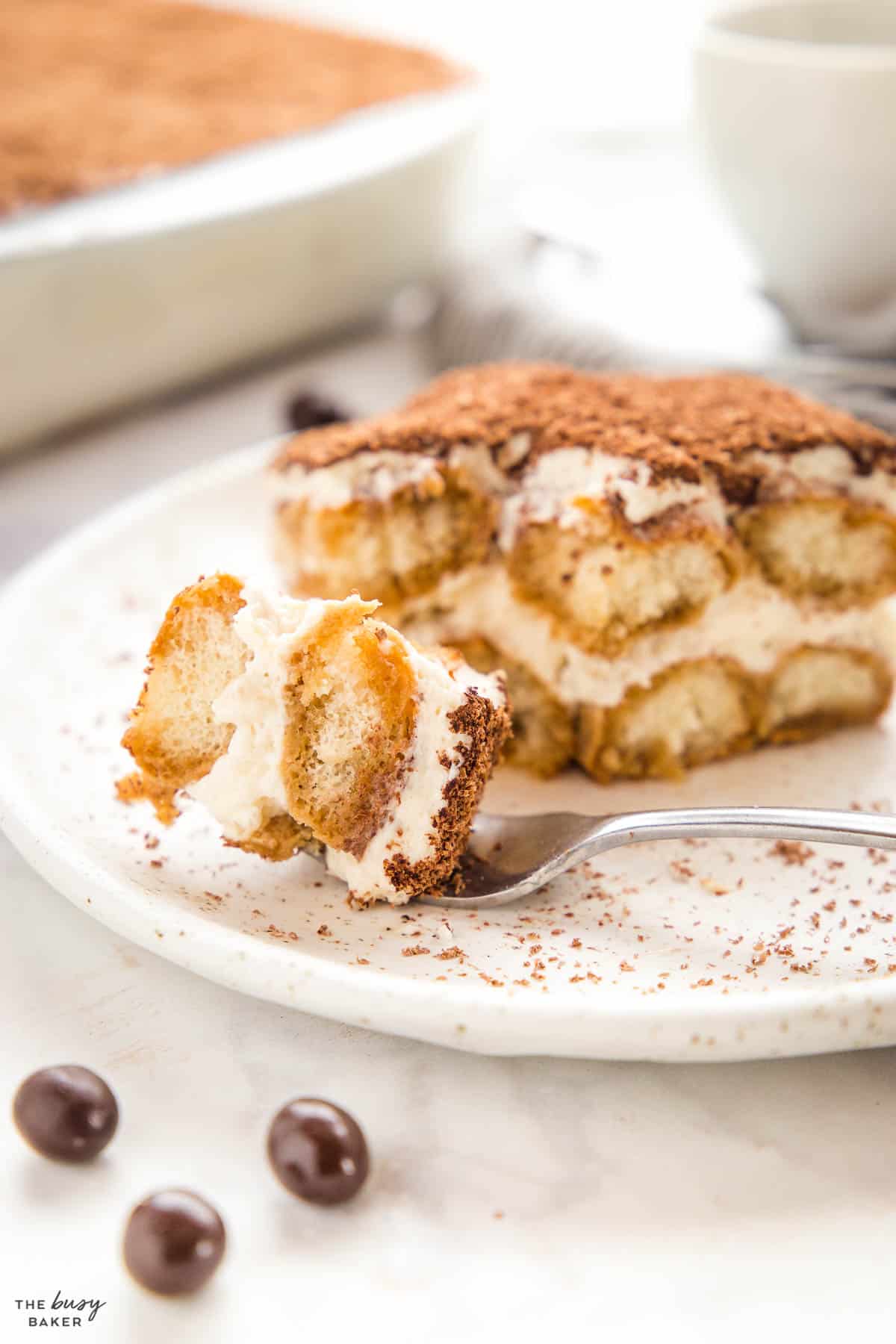 Tiramisu originated in the city of Treviso, Italy, and it gets its name from the phrase "tira mi su," which means "pick me up" in Italian.
Traditional Italian tiramisu is made of ladyfinger biscuits (also called Savoiardi) dipped in coffee or espresso and layered in a baking dish with a creamy mixture of mascarpone cheese, eggs, sugar, and sometimes alcohol such as Marsala wine or brandy. Cocoa powder and/or finely grated chocolate is often sprinkled on top for added flavour and a gorgeous presentation.
After the tiramisu is assembled (no baking required!) it's refrigerated so the flavours can blend and the mascarpone mixture can set. It's served chilled, and can be made in a large serving dish and then sliced and served, or in individual servings in smaller dishes.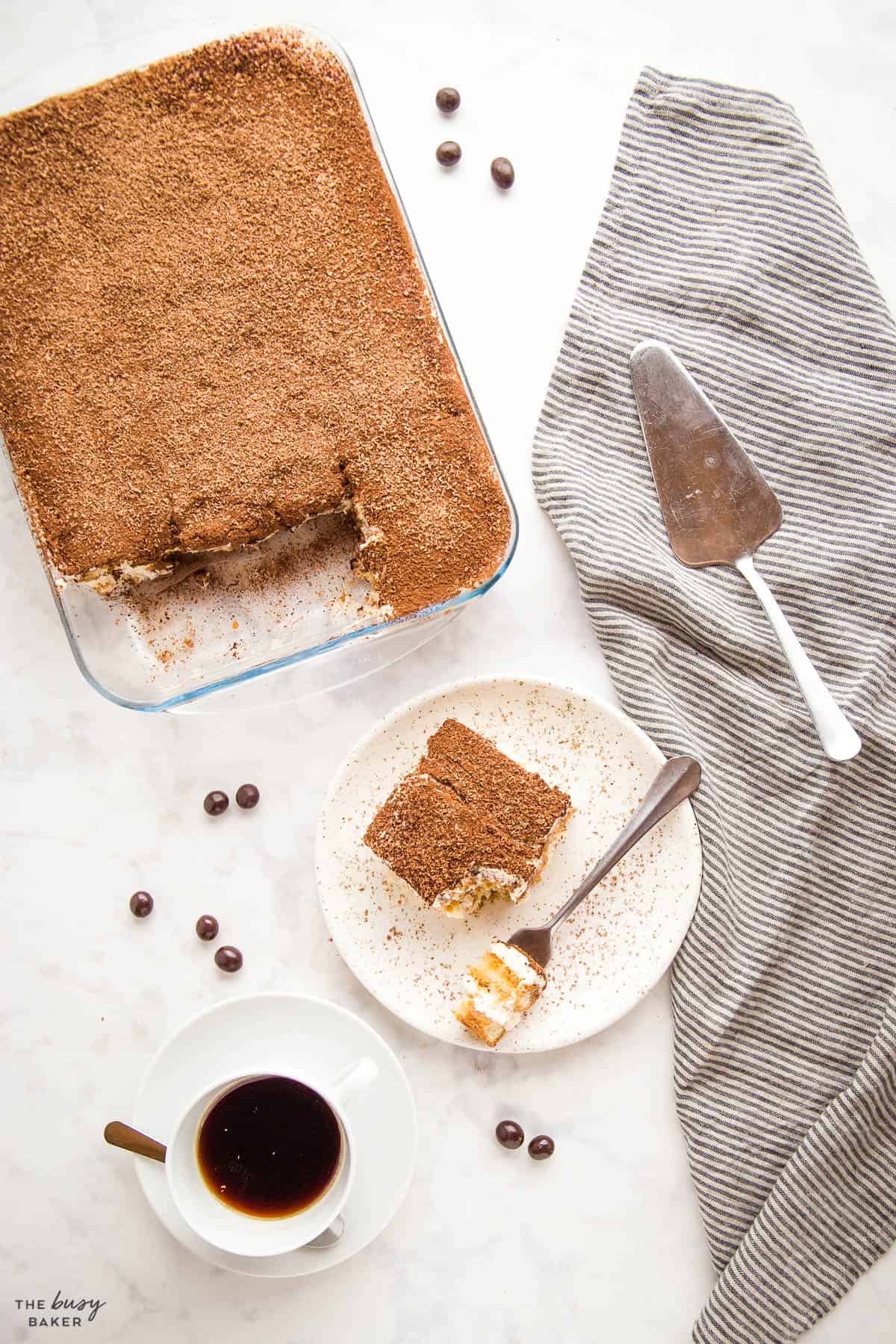 To make this recipe you'll need:
coffee or espresso
ladyfinger cookies
mascarpone cheese
eggs
cream of tartar
sugar
vanilla extract
marsala wine, dark rum or brandy (optional)
cocoa powder
dark chocolate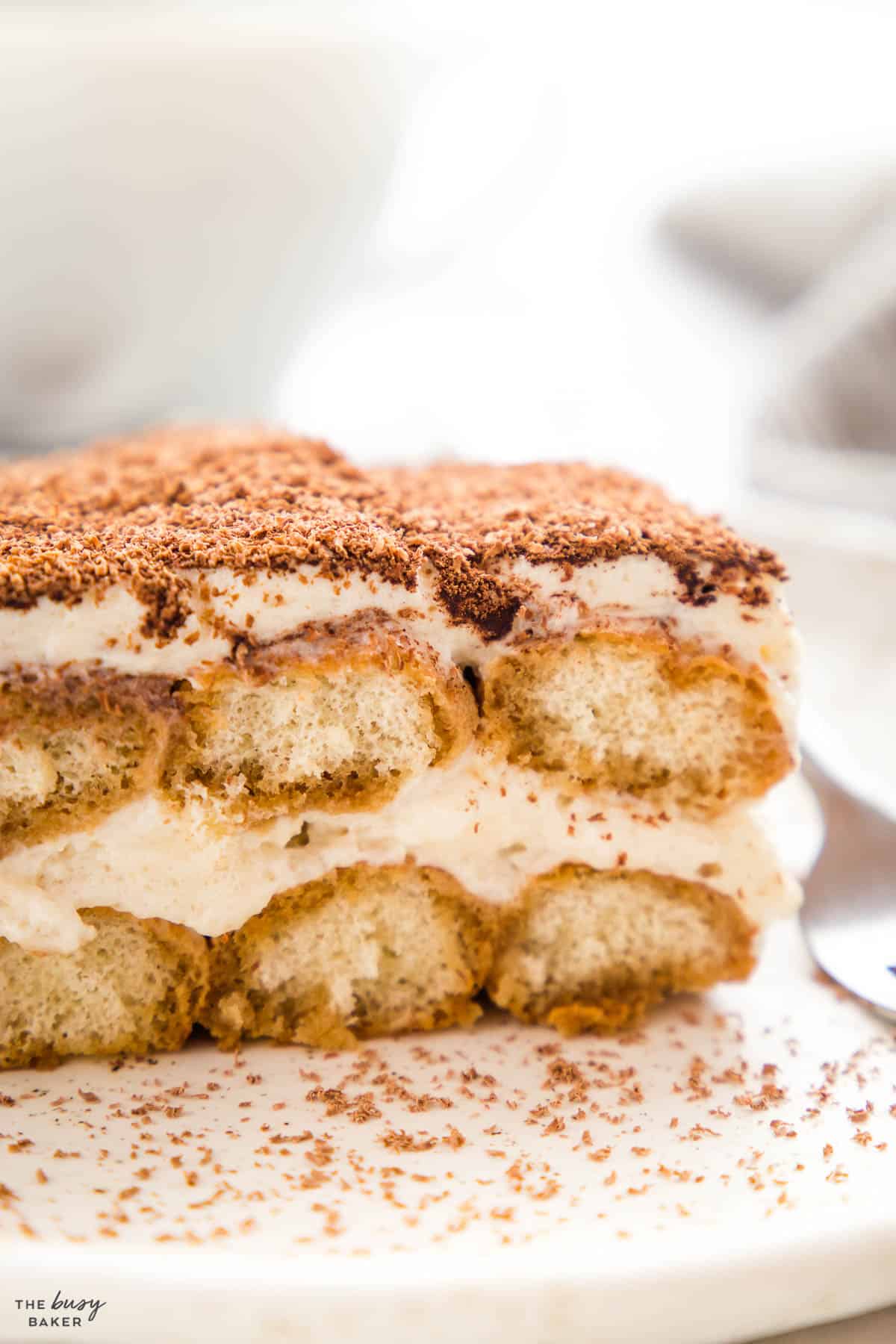 Egg-free: If you're looking for a tiramisu made without raw eggs, check out our Tiramisu Icebox Cake recipe (great for kids!).
Chocolate: Add a few tablespoons of melted chocolate into the mascarpone filling for a delicious mocha twist. You can try this recipe for our version of chocolate tiramisu.
Strawberry: Add fresh strawberries to the layers of traditional tiramisu for a fruity twist.
Nutella: Incorporate some Nutella into the mascarpone filling to give the tiramisu a rich and nutty flavour.
Raspberry: Similar to strawberry tiramisu, this variation uses fresh raspberries instead. The tartness of the raspberries complements the sweet mascarpone filling.
Lemon: Lemon zest or lemon juice is added to the mascarpone filling, creating a tangy and citrusy tiramisu.
Matcha: Add some matcha powder, a finely ground green tea powder, to the mascarpone filling and dust some more on top of the dessert.
Pumpkin: Try our Pumpkin Tiramisu recipe for a delicious pumpkin spice twist on the original.
Coconut: Add some shredded coconut to the mascarpone filling and sprinkle more on top of the dessert, giving it a tropical and exotic twist.
Oreo: Layer crushed Oreo cookies with the mascarpone filling for a cookies and cream twist.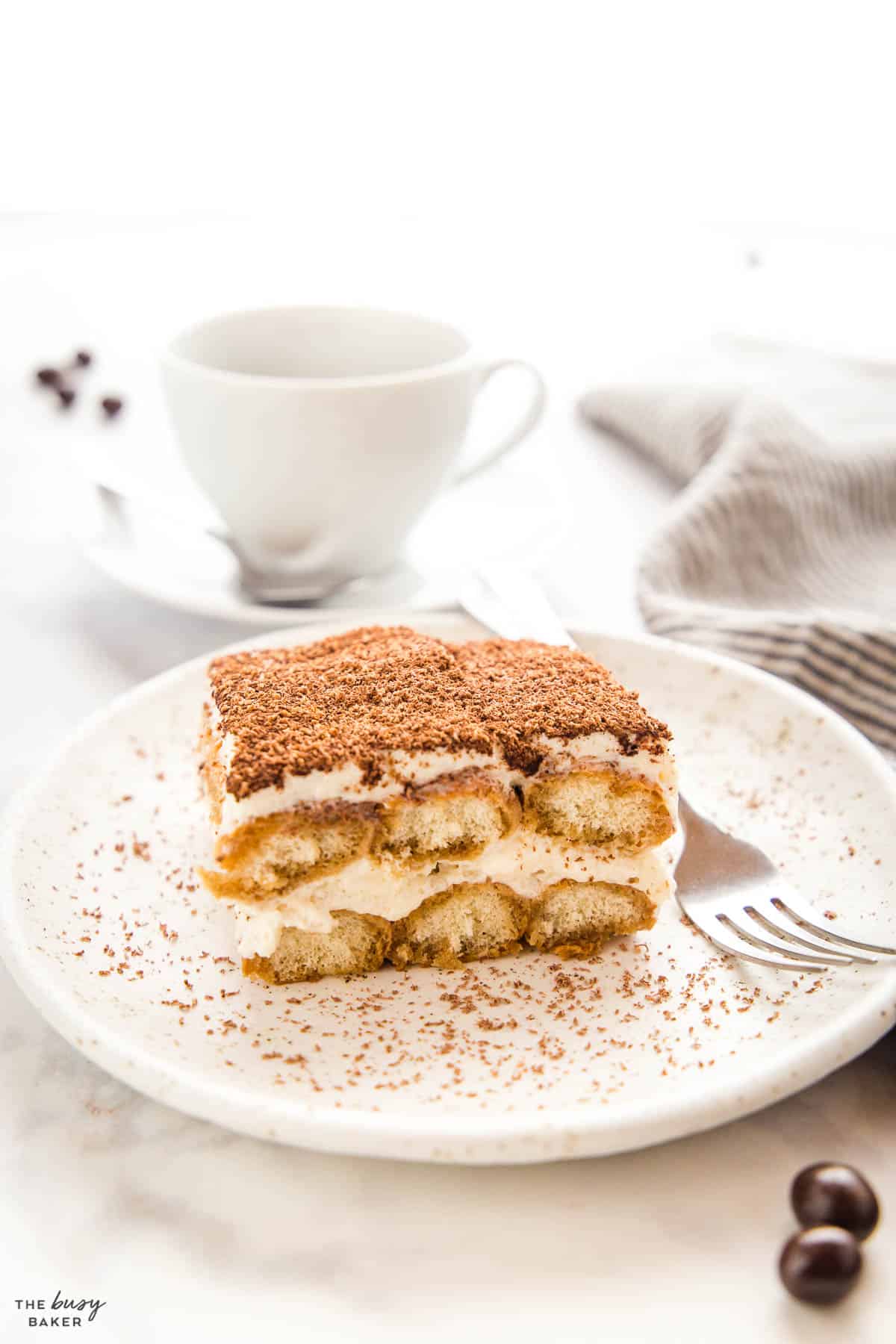 To make this recipe, you'll need (affiliate links):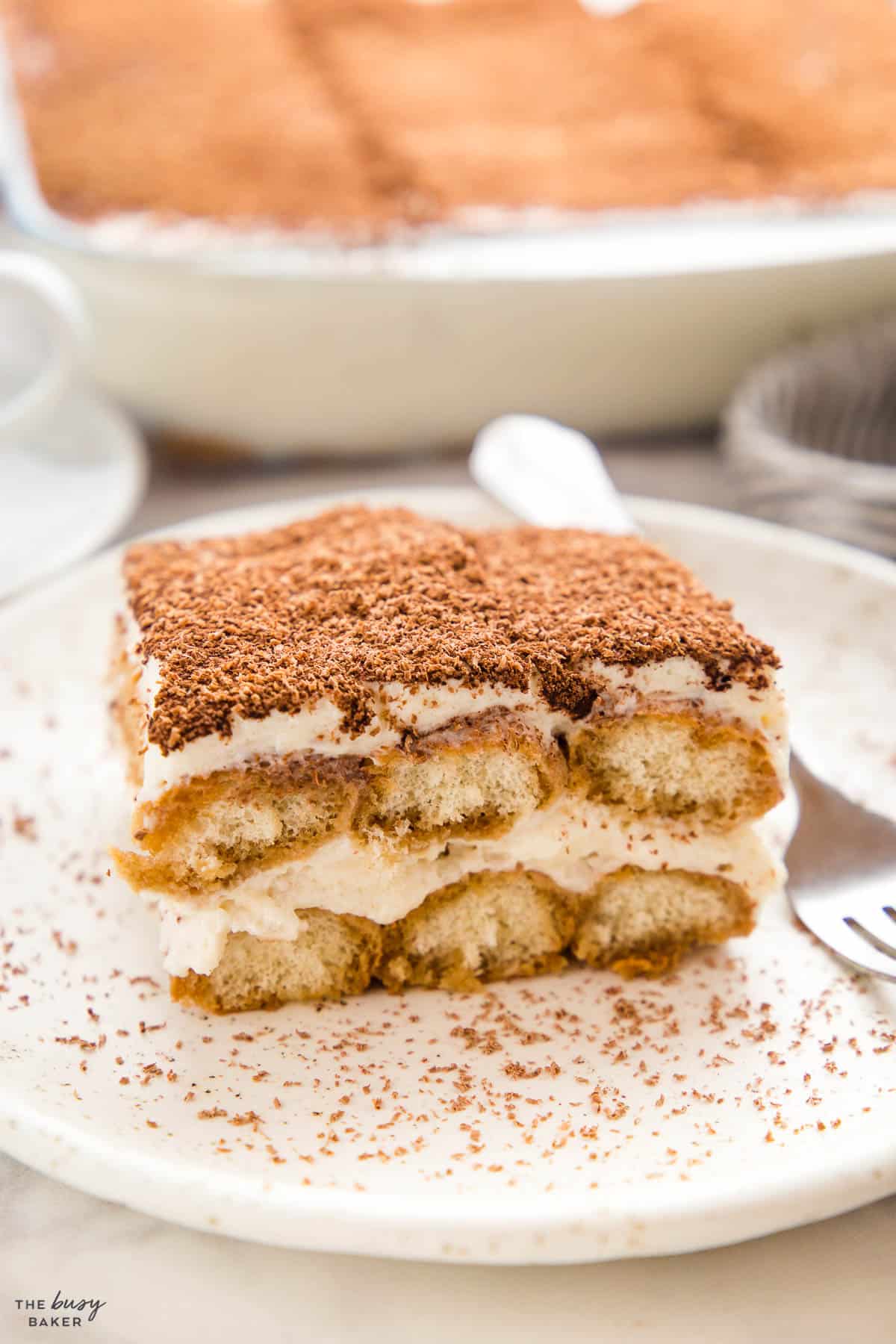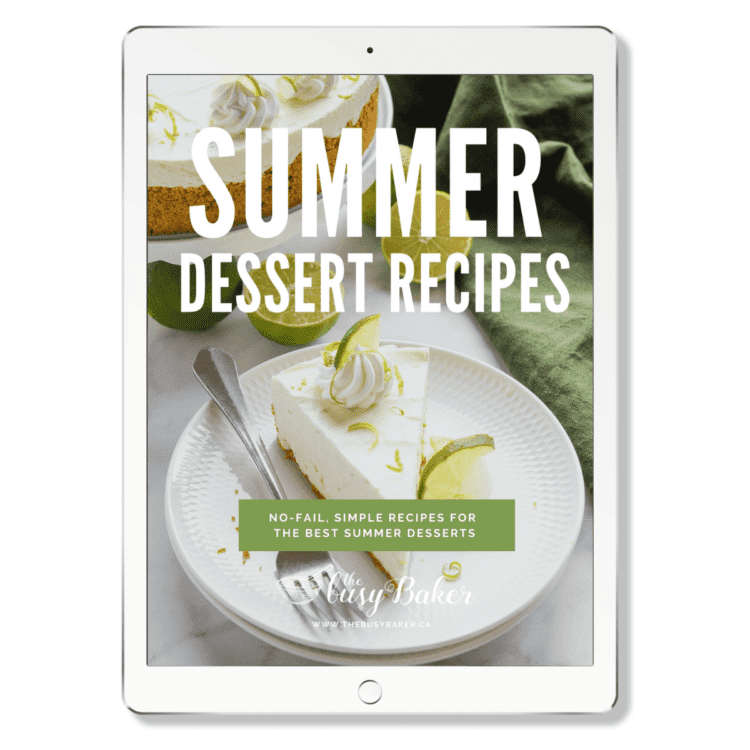 Looking for more?
EASY AND DELICIOUS SUMMER DESSERT RECIPES YOU'LL LOVE!
Get my no-fail summer dessert recipes e-cookbook!
Click here to learn more!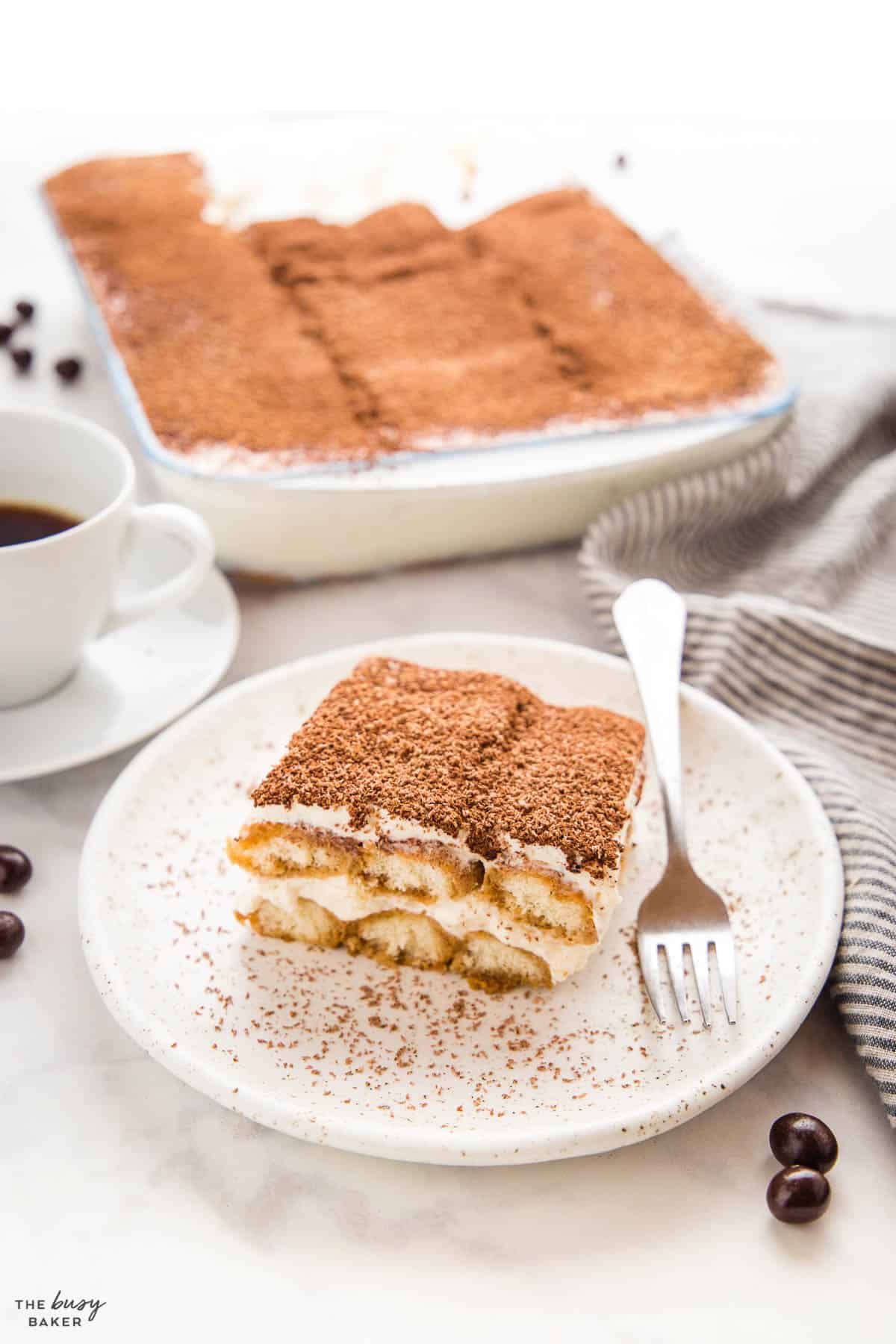 Time needed: 2 hours and 20 minutes
Follow these steps to make this perfect and classic Italian dessert!
Start with room temperature ingredients.

Room temperature eggs and mascarpone create the creamiest filling. When the ingredients are at room temperature, they blend together so much more easily.

Brew the coffee and let it cool.

Be sure to cool the coffee before dipping the ladyfingers or they'll disintegrate.

Separate the eggs.

Whip the egg whites separately and whisk the yolks into the sugar.

Make the mascarpone mixture.

Slowly mix the mascarpone cheese into the egg yolk mixture until it's creamy and smooth.

Dip the ladyfingers quickly.

Briefly dip the ladyfingers so they absorb the coffee but don't become soggy.

Assemble.

Start with one layer of coffee-soaked ladyfingers, top with half the mascarpone cream mixture, dust with cocoa powder and grated chocolate, and repeat with another layer of coffee-soaked ladyfingers and then another layer of mascarpone mixture.

Refrigerate to set.

Cover with plastic wrap and refrigerate for 2 hours or overnight.

Dust with cocoa and chocolate.

Dust with the remaining cocoa powder and grate some dark chocolate right before slicing and serving.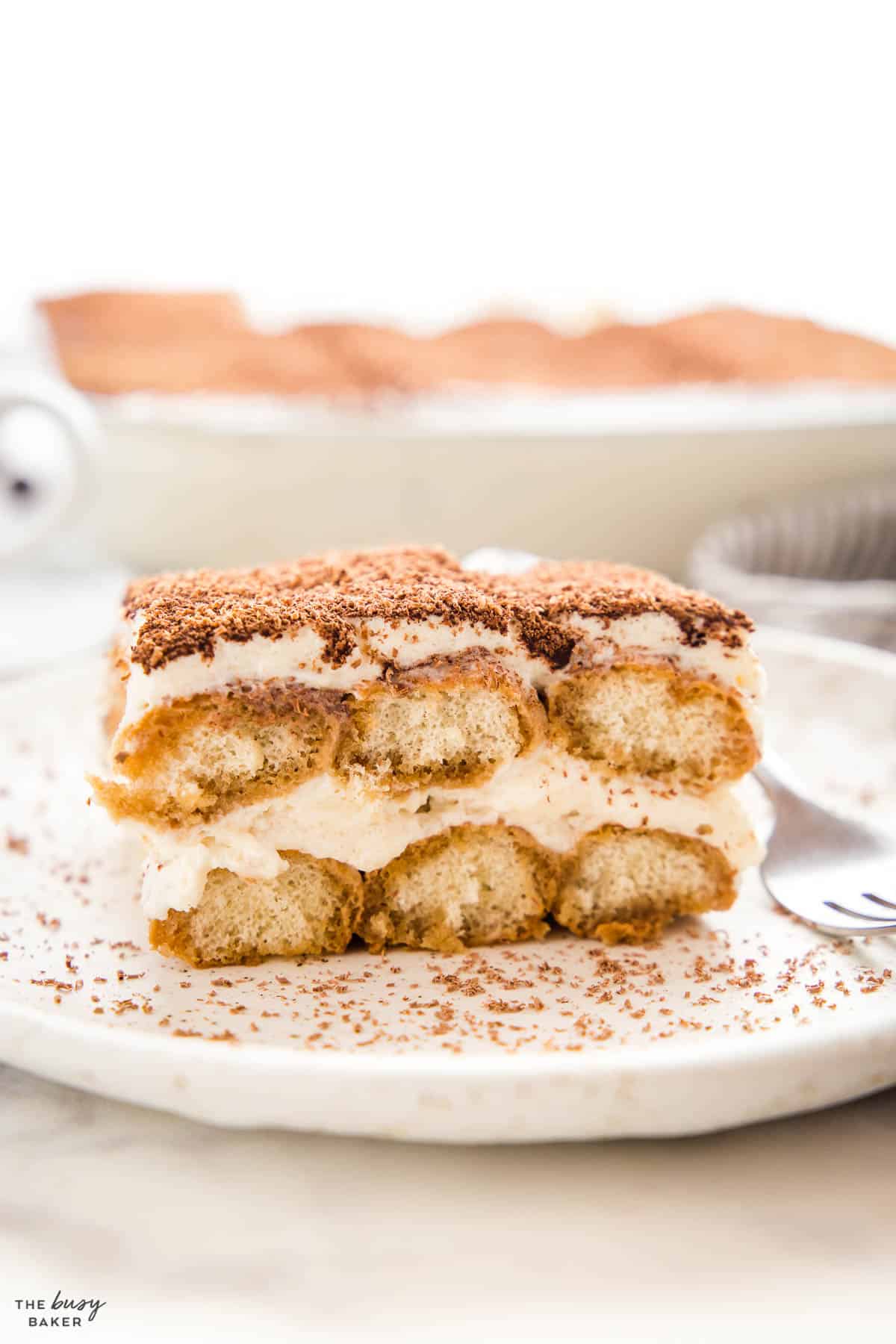 Can I make Tiramisu without alcohol?

Yes, you can make tiramisu without alcohol. Simply omit the alcohol or replace it with a non-alcoholic substitute like rum extract or coffee liqueur flavouring.
Can I use something else instead of ladyfingers?

Ladyfingers are the traditional choice, but you can use sponge cake or other similar types of cookies as a substitute. Make sure they have a similar texture and ability to absorb the coffee.
How long does Tiramisu need to set in the refrigerator?

Tiramisu needs to set in the refrigerator for at least 2 hours, but overnight is even better. This allows the flavours to blend and the dessert to achieve its desired texture.
Can I make Tiramisu in advance?

Yes, tiramisu can be made in advance. In fact, it often tastes better when allowed to sit in the refrigerator overnight, as this allows the flavours to develop.
Can I freeze Tiramisu?

Tiramisu can be frozen, but it may alter the texture of the mascarpone cream slightly. We recommend freezing it without the cocoa powder topping and thaw it in the refrigerator before serving.
Can I substitute mascarpone cheese in Tiramisu?

Mascarpone cheese is a key component of tiramisu, and we don't recommend making Tiramisu without it. If mascarpone cheese is unavailable you can use a mixture of cream cheese and heavy cream as a substitute. The taste and texture will be different.
How strong should the coffee be for soaking the ladyfingers?

The coffee should be strong enough to provide flavour but not too overpowering. It is recommended to brew a strong coffee or use espresso. Adjust the strength to your personal preference.
Can I use instant coffee instead of brewed coffee?

Yes, you can use instant coffee as a substitute for brewed coffee. Dissolve the desired amount of instant coffee in hot water according to the package instructions and let it cool before using it for soaking the ladyfingers.
Can I use decaffeinated coffee for Tiramisu?

Yes, you can use decaffeinated coffee if you prefer to make a tiramisu without caffeine. The flavour might differ slightly, but it won't have any impact on the recipe.
How do I prevent my Tiramisu from becoming too soggy?

To prevent your tiramisu from becoming too soggy, dip the ladyfingers quickly into the coffee rather than soaking them for too long. They should be moist but not overly saturated. Additionally, ensure that the mascarpone cream is thick and stable to maintain the structure of the dessert.
Is it safe to eat Tiramisu with raw eggs?

Traditional tiramisu contains raw eggs in the mascarpone cream. While the risk of food-borne illness is relatively low, it is recommended to use eggs that are very fresh, or even pasteurized eggs to minimize any potential health concerns.
Can I make Tiramisu without eggs?

Yes! Try our Tiramisu Icebox Cake recipe that contains no eggs.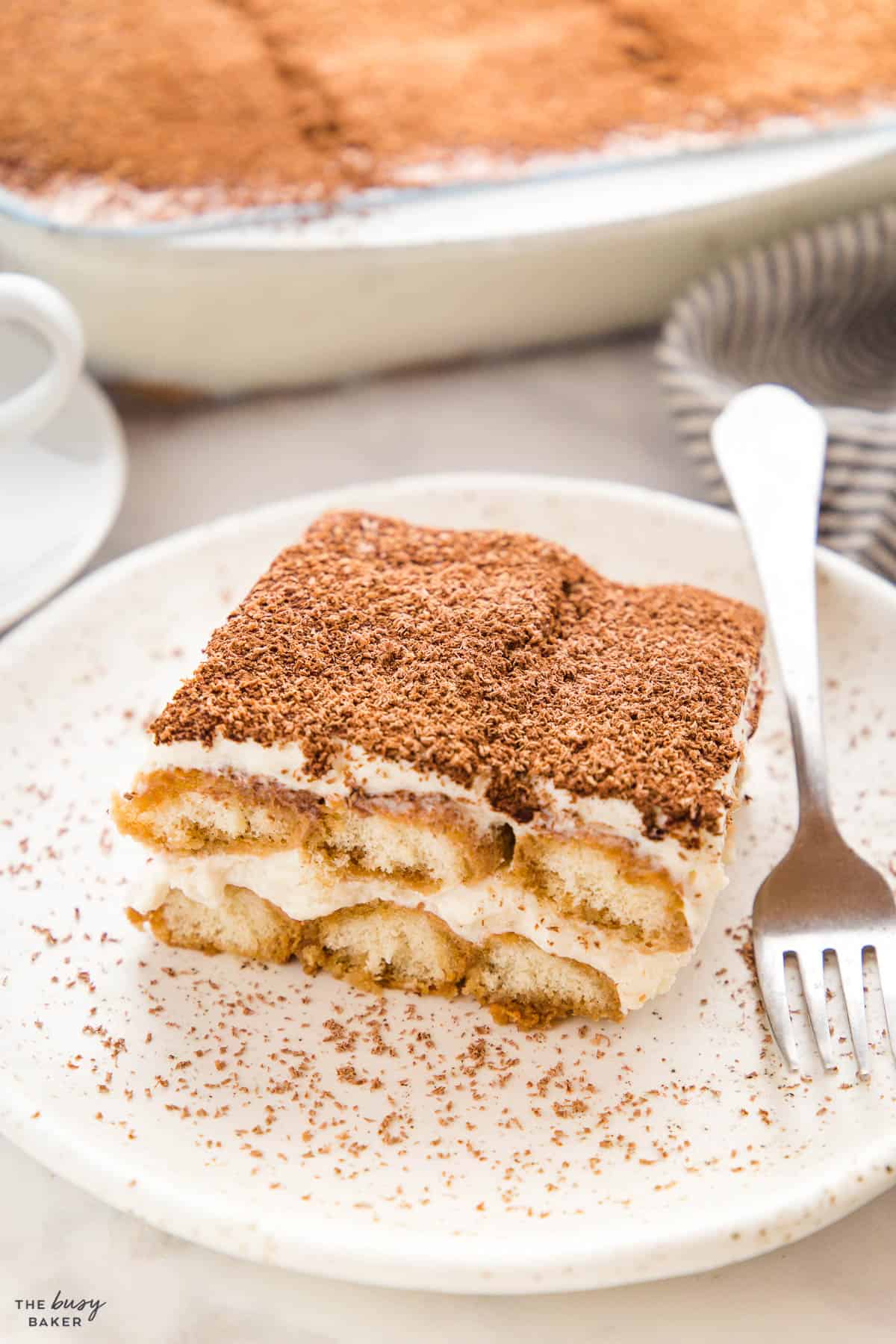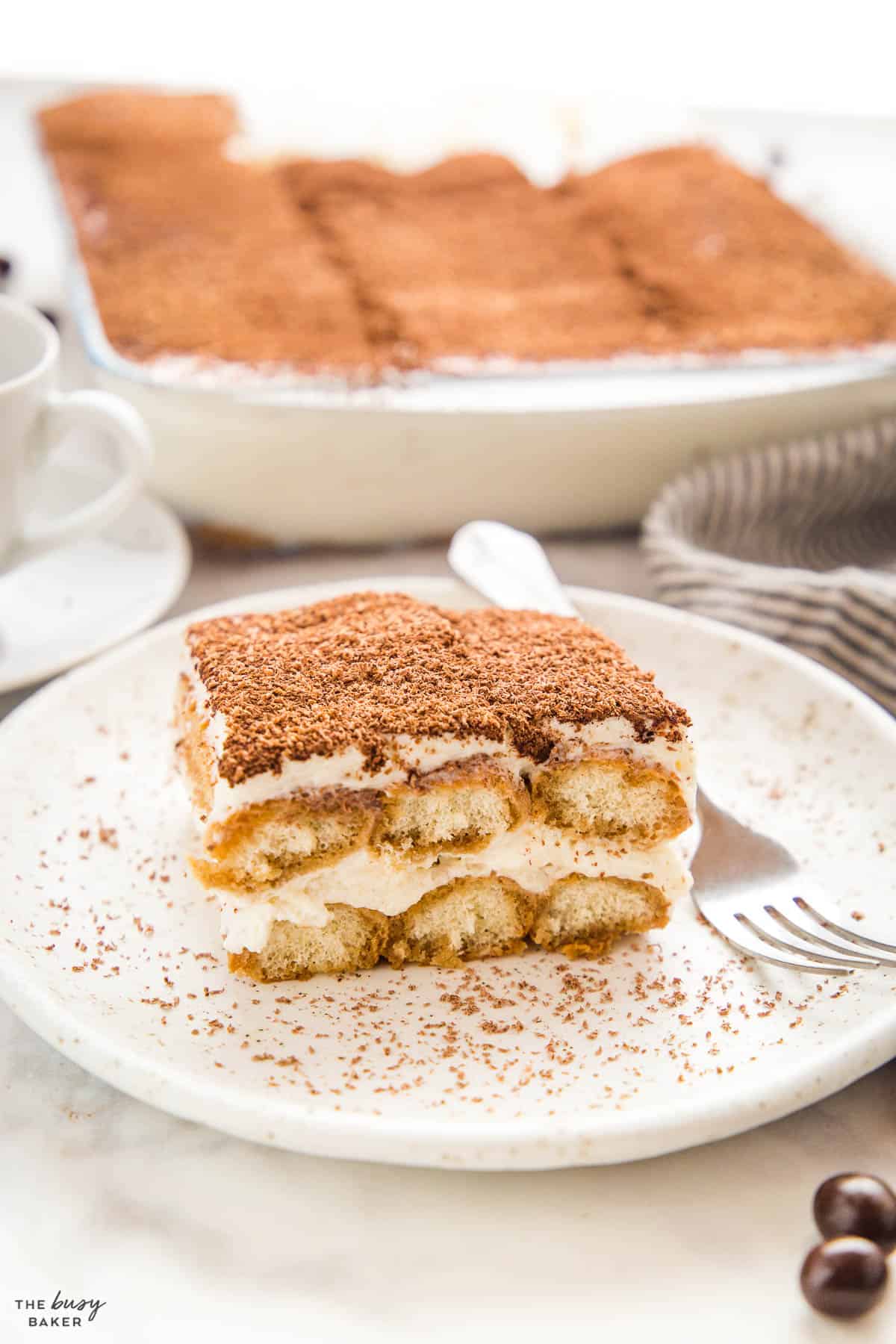 We hope you love this recipe as much as we do! Let us know in the comments below, what's your favourite Italian-style recipe? We'd love to know!
Watch the video below to see exactly how we make this recipe. You can find many more deliciously simple recipe videos on our YouTube channel!
If you made this, share a photo!
Are you trying this recipe? Use the comment form below to share your take; now with support for image uploads and comment voting!
Share a photo
Tiramisu
This tiramisu recipe is made with coffee-soaked ladyfingers and the creamiest mascarpone filling. An easy-to-make Italian classic dessert!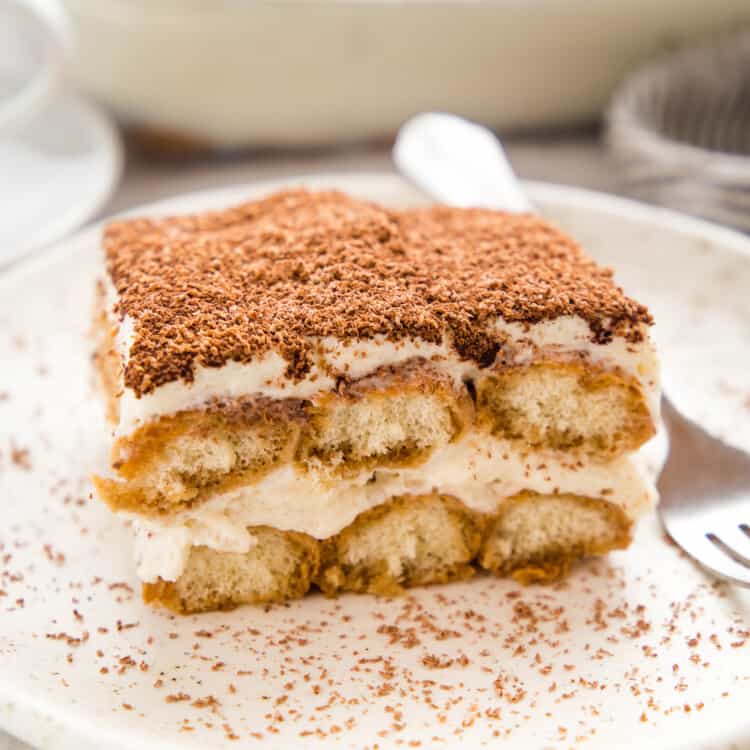 Recipe:

Ingredients
500

grams

mascarpone cheese

at room temperature

3

large

eggs

1/2

teaspoon

cream of tartar

6

tbsp

sugar

divided

2

cups

strong brewed coffee

cooled to room temperature

1/2

teaspoon

vanilla extract

2

tablespoons

Marsala wine , dark rum, or brandy

optional

350

grams

ladyfinger cookies

1/4

cup

cocoa powder

for dusting

4

ounces

dark chocolate
Recipe:

Instructions
Take the mascarpone out of the fridge and brew 2 cups of strong coffee.

Separate the eggs and add 4 tablespoons of sugar to the yolks, saving the other 2 for the whites.

Whip the egg yolks and sugar until they turn pale in color. Add the mascarpone cheese gradually and mix well. Set aside.

Add the vanilla and the Marsala wine, rum or rum extract to the coffee (if using) and dip the ladyfingers in the coffee mixture for one second per side. Place them in your 9-inch by 13-inch pan one by one until you've lined the bottom.

Clean your beaters well and start whipping your egg whites with the cream of tartar. When they reach soft peaks add the remaining 2 tablespoons of sugar, one at a time.

Gently fold the mascarpone mixture into the egg whites with a spatula.

Smooth half of the mascarpone and egg white mixture over the bottom layer of coffee-soaked ladyfingers and dust the top of the mascarpone layer with cocoa powder. Finely grate some dark chocolate on top as well.

Add another layer of coffee-soaked ladyfingers over the cocoa-dusted mascarpone layer and then top with the remaining mascarpone mixture, smoothing it out as much as possible.

Cover with plastic wrap and refrigerate for 2 hours or overnight.

Dust with the remaining cocoa powder and grate some dark chocolate right before slicing and serving.
Recipe:

Notes
Storage Instructions
This tiramisu will keep well in the fridge for up to 3 days in an airtight container or wrapped well in plastic wrap.
Freezer Instructions
We don't recommend freezing it, although if you do be sure to freeze it without dusting the top with cocoa and chocolate. If frozen and thawed, it's possible the mascarpone cream filling could separate and release liquid, making the tiramisu soggy.
Recipe:

Nutrition

Nutrition Facts

Tiramisu

Amount Per Serving (1 serving)

Calories 379

Calories from Fat 234

% Daily Value*

Fat 26g40%

Cholesterol 106mg35%

Sodium 69mg3%

Potassium 168mg5%

Carbohydrates 30g10%

Protein 7g14%

Vitamin A 749IU15%

Calcium 82mg8%

Iron 2mg11%

* Percent Daily Values are based on a 2000 calorie diet.

Notice: Nutrition is auto-calculated, using Spoonacular, for your convenience. Where relevant, we recommend using your own nutrition calculations.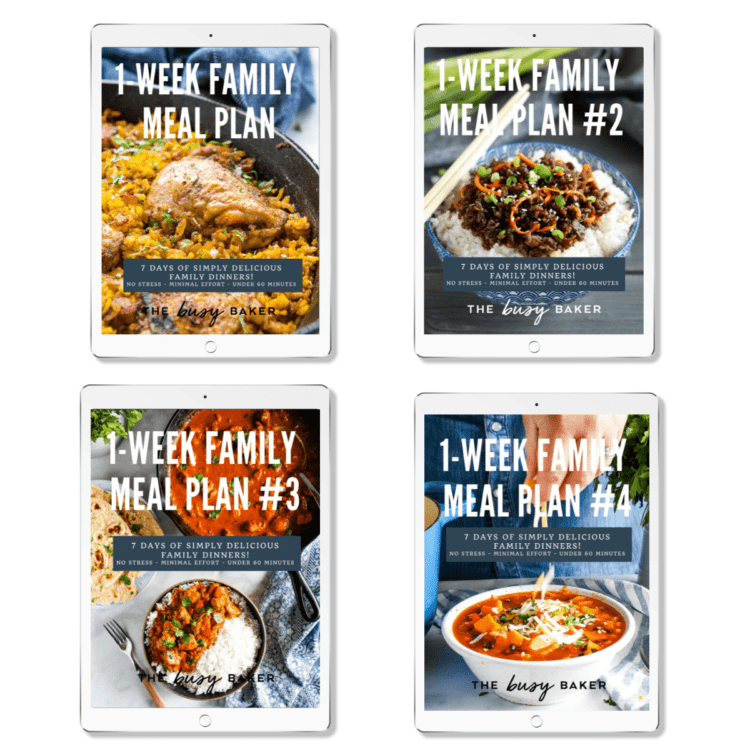 Looking for more?
TRY OUR MEAL PLANS!
Let us do the work for you with 7 days of deliciously easy family dinners, grocery lists, meal prep guides and MORE!
Buy 2, save 20%!
Buy 3, save 30%!
Buy 4 or more, save 40%!
Click here to learn more!