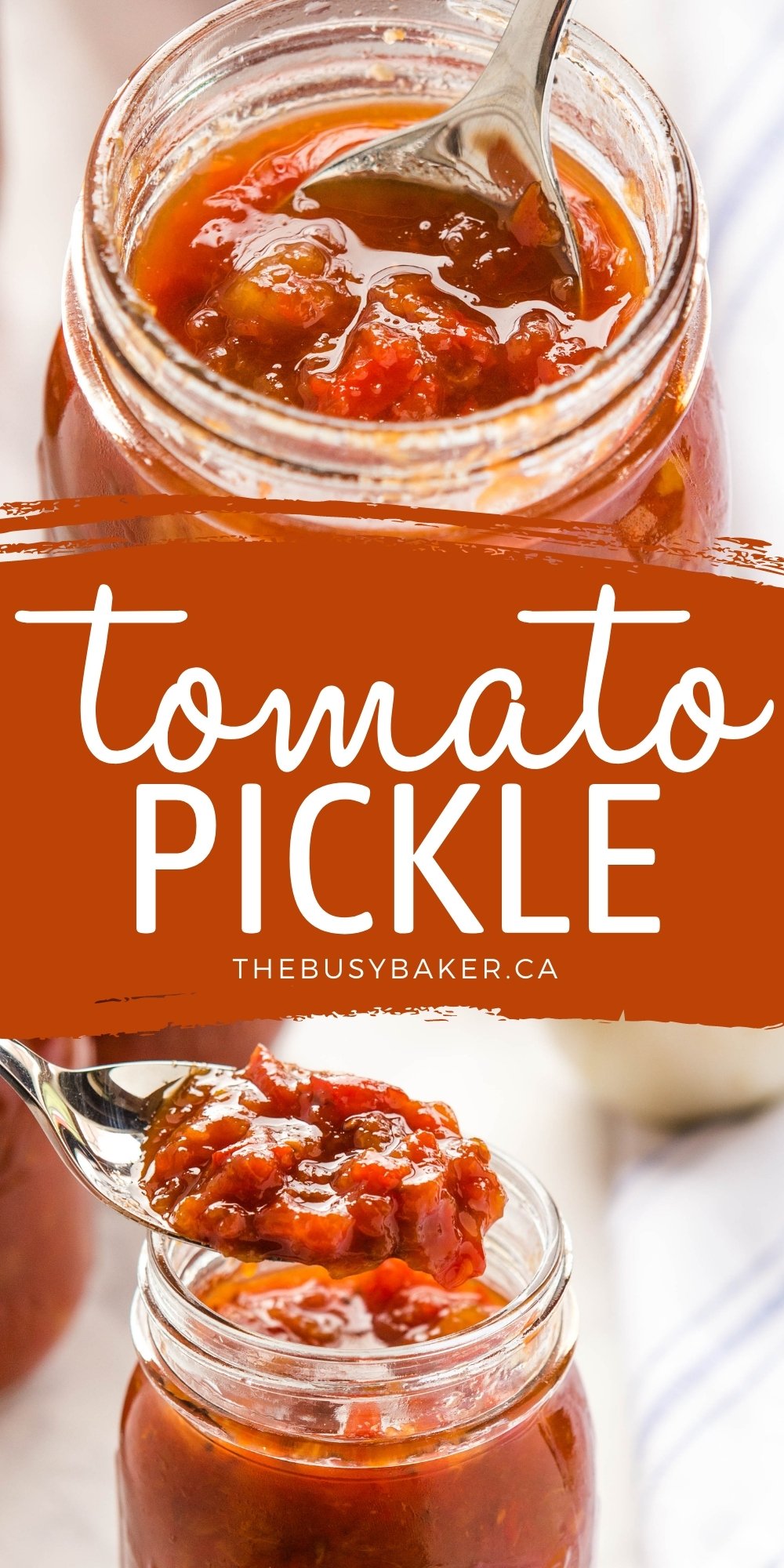 This Tomato Pickle is a classic sweet fruit relish or chutney made from fresh tomatoes, onions, bell peppers, peaches and pears – the perfect condiment for your favourite savoury dishes!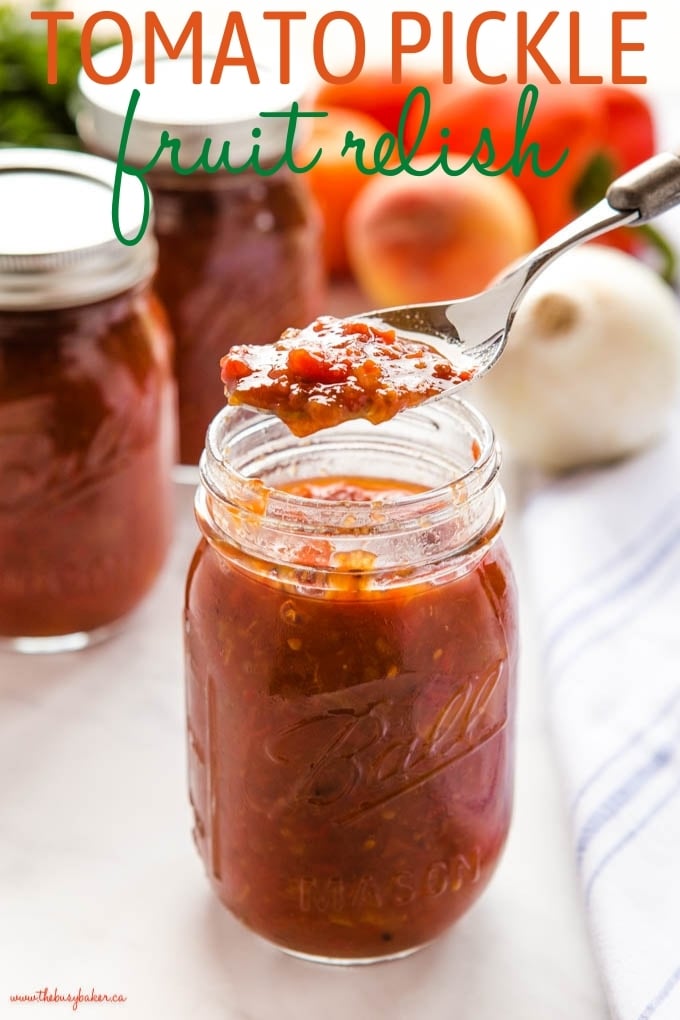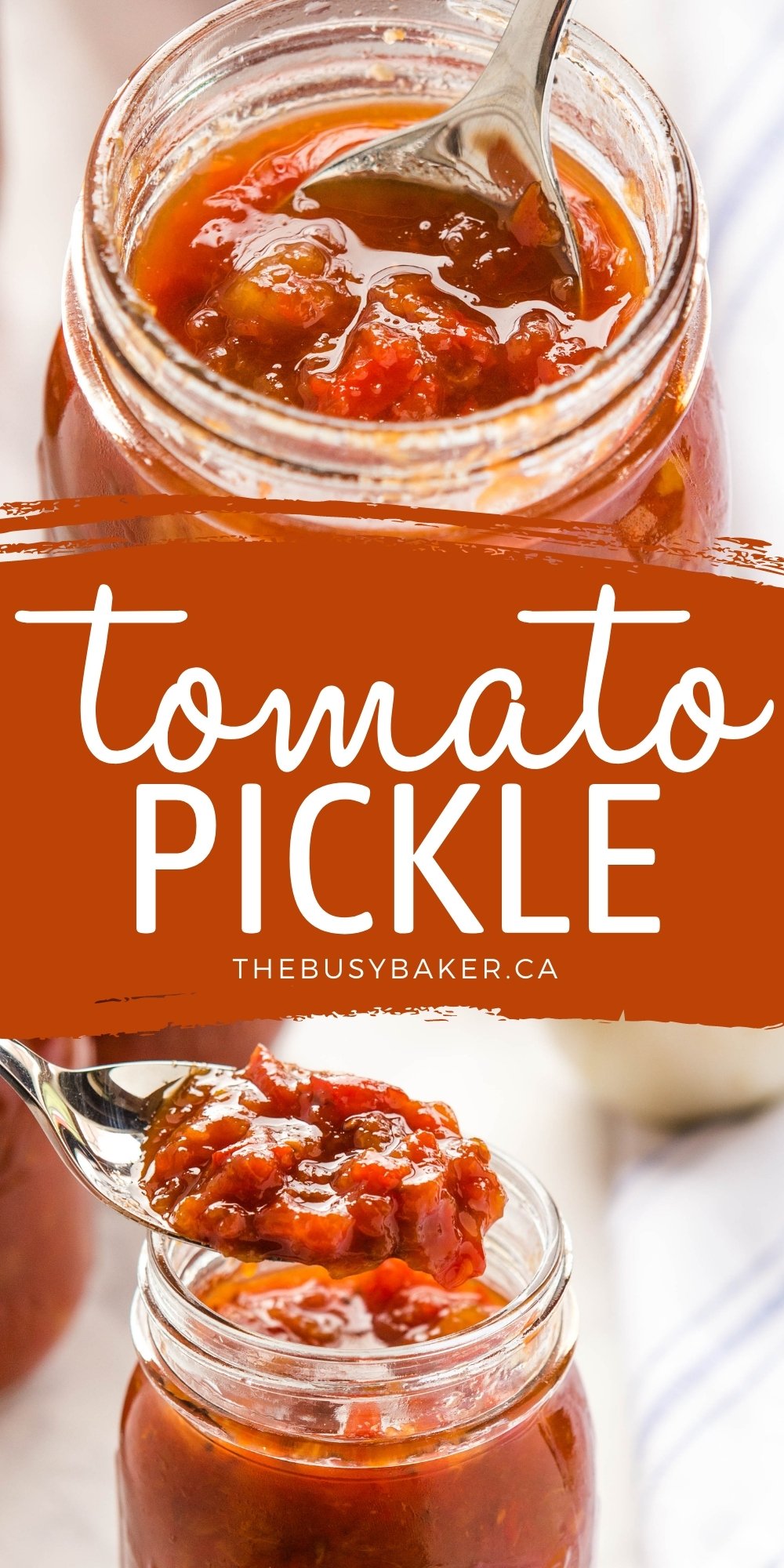 NEVER MISS A POST! FOLLOW ME ON:
If you've been following The Busy Baker for awhile now you'll know how much my love for cooking has been passed down to me from my mom and my grandmothers. Most families have traditional recipes passed down through the generations and our family is no different. I've already shared so many delicious family recipes with you, like this Chocolate Caramel Shortbread Bars recipe, these Ginger Molasses Cookies, my Grandma's Fudge Brownies recipe, and so many more. This Tomato Pickle recipe is just another one of our famous family recipes that I know you're going to LOVE!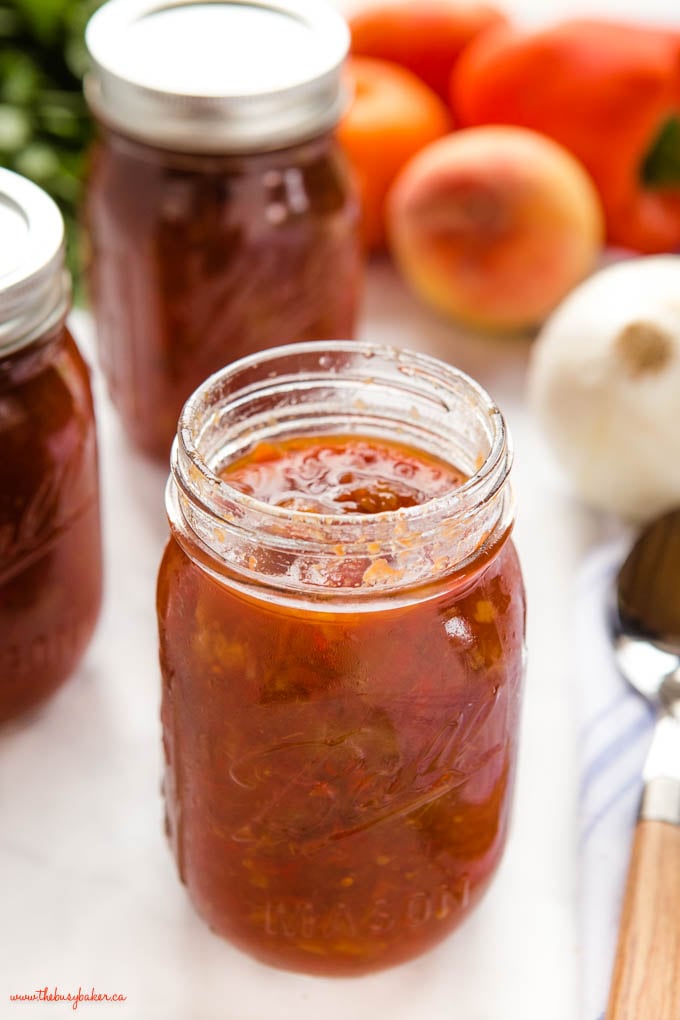 I grew up eating my grandma's famous Tomato Pickle with roasted meats and veggies, with turkey, and most of all with her homemade macaroni and cheese. In fact, I have a hunch this Tomato Pickle is one of the reasons my husband married me! He fell in love with it immediately and he's enjoyed it on pretty much everything he's eaten since!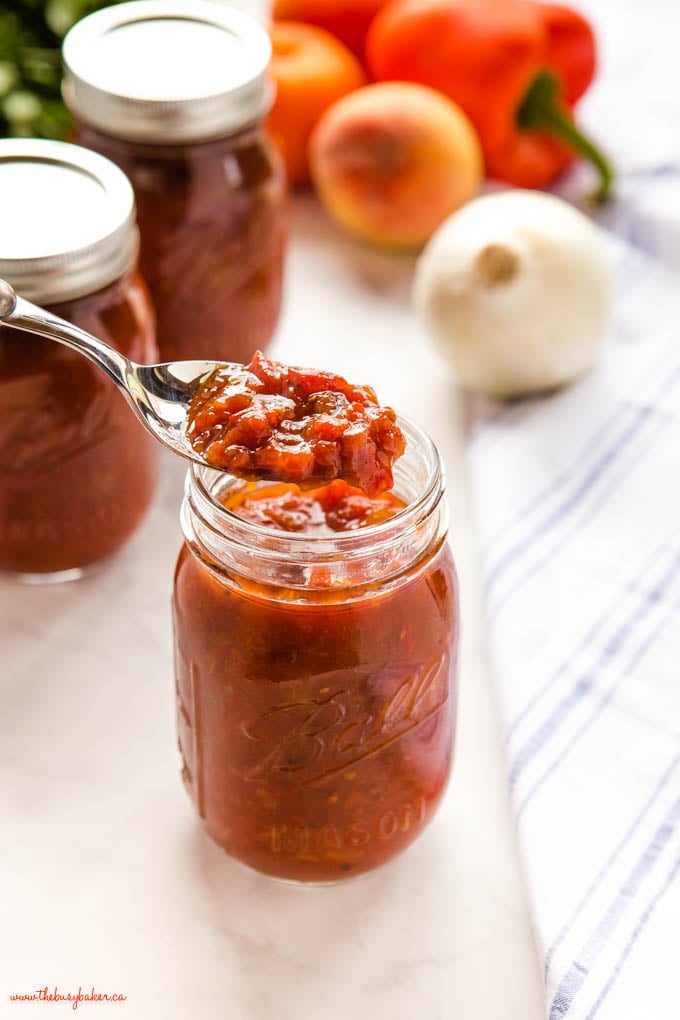 What is Tomato Pickle?
Tomato Pickle, otherwise known as fruit relish, is a sweet and sour tomato chutney condiment made from fresh tomatoes, pears, peaches, onions and bell peppers, and flavoured with sugar, vinegar, cinnamon and allspice. Tomato Pickle is best served with savoury or spicy dishes such as roasted turkey, chicken or pork, curries, or even baked rice dishes or macaroni and cheese.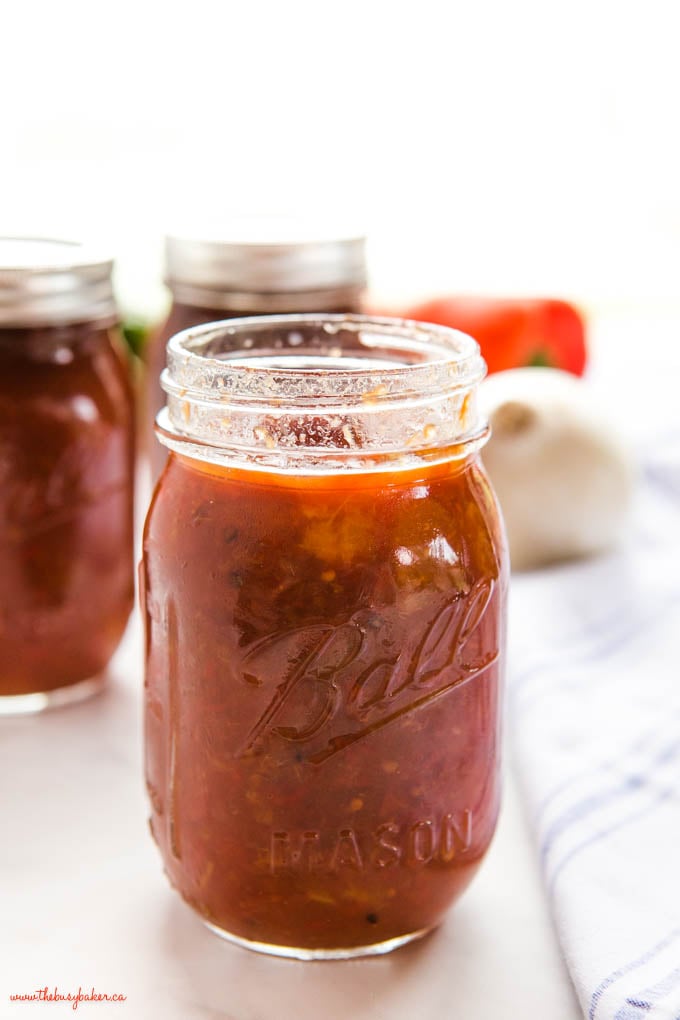 Ingredients for Tomato Pickle
Tomatoes
Onions
Red Bell Peppers
Pears
Peaches
Sugar
Vinegar
Cinnamon
Salt
Allspice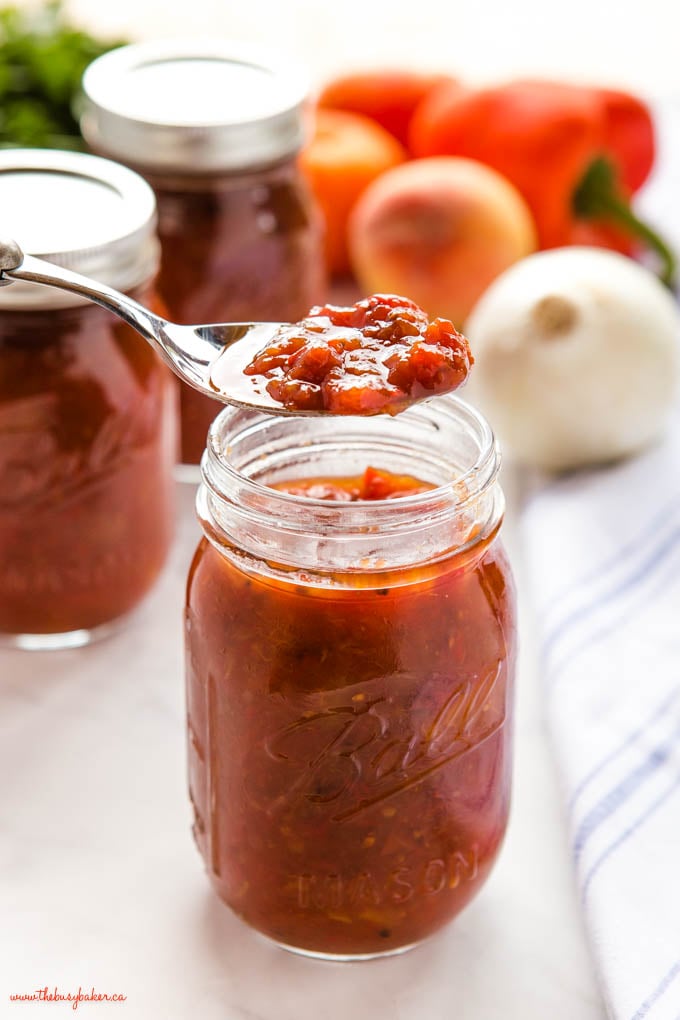 How to Make Tomato Pickle
Start with fresh fruits and vegetables. Using high-quality, fresh, in-season tomatoes, peaches, and pears makes all the difference in this recipe because fresh fruits and vegetables add tons of flavour!
Blanch the tomatoes, peaches and pears first. Blanching means soaking the fruit briefly in hot water and then cool water. This helps loosen the skin so it can be easily removed.
Remove the skins. The texture is SO much better if you remove the skins of the tomatoes, peaches and pears before cooking so you won't be left with tough skins in the pickle.
Boil with vinegar and spices first. Add all the ingredients except the sugar to the pot and boil for 2 hours, stirring regularly.
Add the sugar last. Add the sugar after boiling for 2 hours and boil for one more hour to thicken.
Add to jars. Add the Tomato Pickle to sterilized jars and can according to proper canning procedures, or store in the fridge or freezer.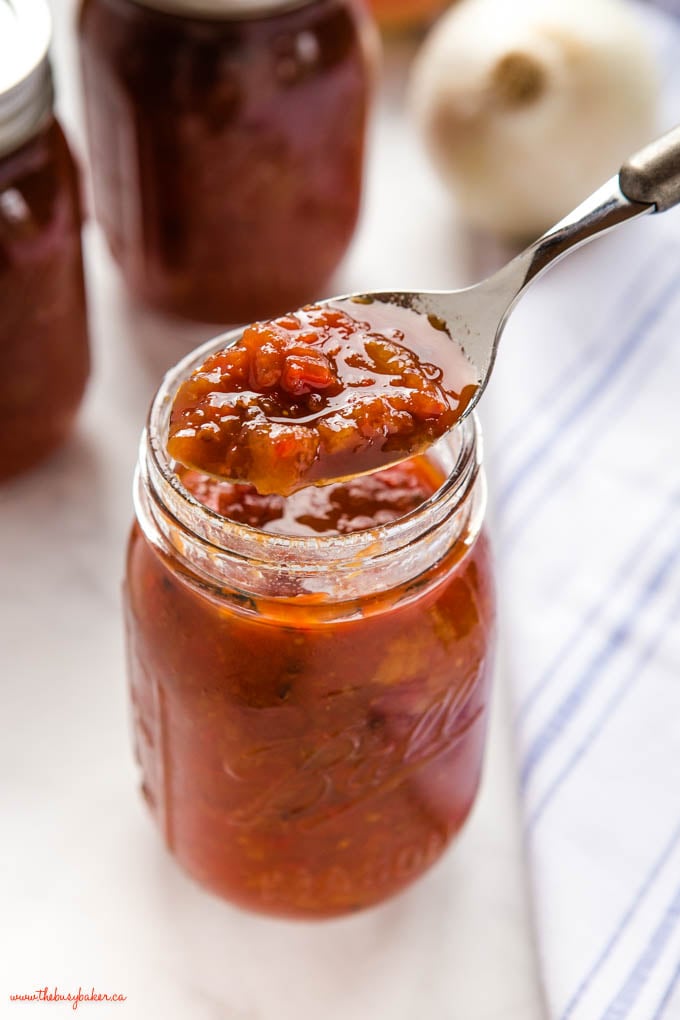 Is Tomato Pickle shelf-stable?
Yes, if processed properly according to proper canning procedures (use sterilized jars and boil the sealed jars for 5 minutes).
What should I serve with Tomato Pickle?
We love to enjoy it with roasted meats and vegetables, kebabs, with curries, and on our favourite homemade macaroni and cheese!
Is Tomato Pickle a chutney or relish?
It's is very similar to a chutney or relish, and it's almost like a savoury-sweet jam.
How long does Tomato Pickle last?
In the fridge an unsealed jar lasts up to 1.5 months, but if canned according to proper canning procedures in sterile jars it lasts up to one year on the shelf in a cool, dark place.
NEVER MISS A POST! FOLLOW ME ON:
I hope you enjoy this recipe! Let me know in the comments below, what's your favourite canning recipe to make in the late summer or fall? I'd love to know!
Kitchen Products I recommend:
Looking for more delicious tomato recipes? You'll love these:
If you made this, share a photo!
Are you trying this recipe? Use the comment form below to share your take; now with support for image uploads and comment voting!
Share a photo
Tomato Pickle
This Tomato Pickle is a classic sweet fruit relish chutney made with fresh tomatoes, onions, bell peppers, peaches and pears!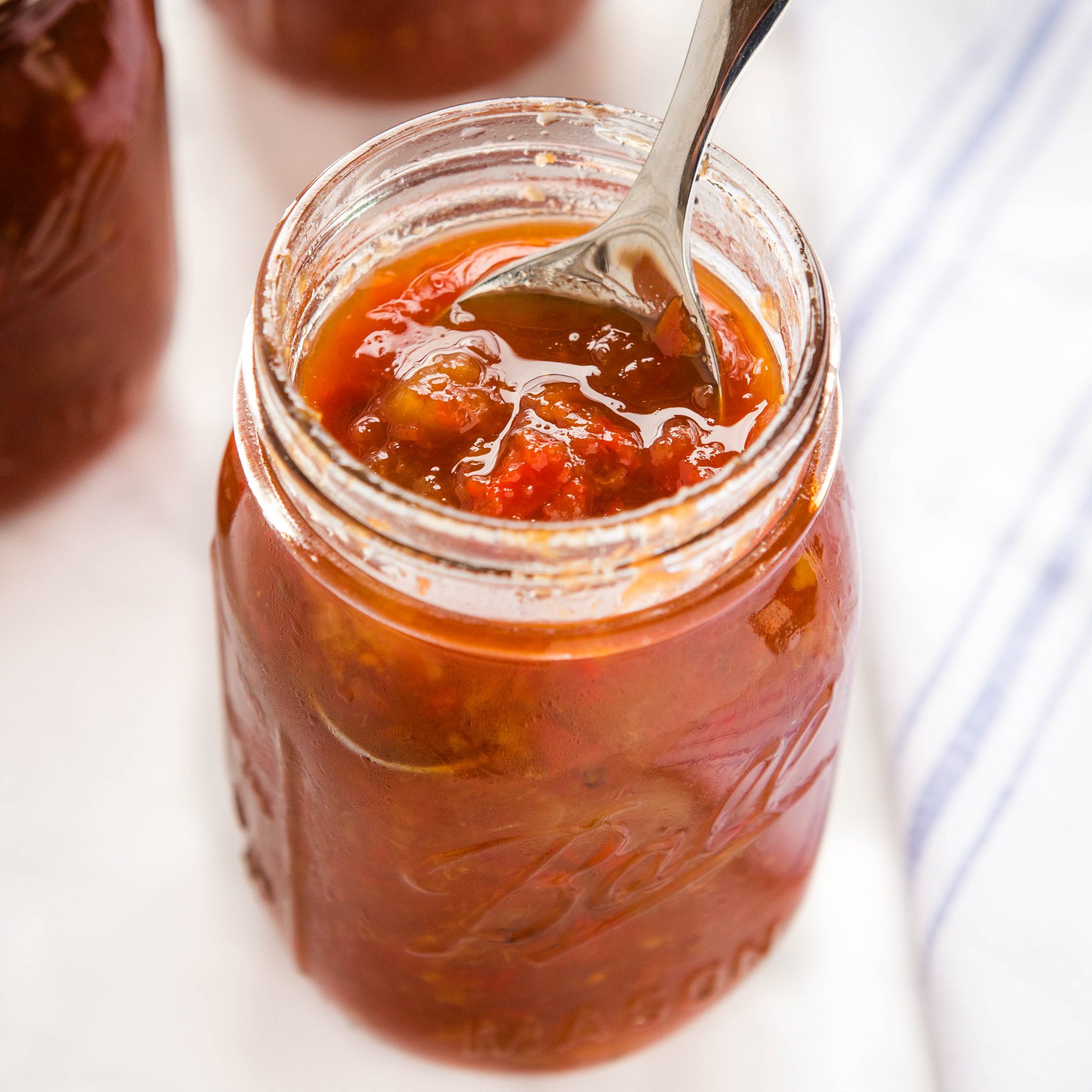 Recipe:

Equipment
2 large pots

1 canning rack

canning jars and lids for sealing
Recipe:

Instructions
Boil a large pot of water over high heat and once it's boiling remove it from the heat.

Add the whole tomatoes one by one and after about 30 seconds remove the tomatoes and plunge them into a bowl of cold water.

Peel the skin from the tomatoes (this should be easy to do after blanching them as directed above).

Repeat this blanching process with the peaches and pears.

Chop the tomatoes, peaches and pears (removing the pits and cores from the fruit) into 3/4-inch pieces and add them to a very large pot.

Chop the onions finely, along with the red peppers, and add them both to the pot as well.

Pour the vinegar into the pot and add the cinnamon, salt and allspice to a piece of cheesecloth and tie it up into a little sachet with a piece of string. Add the sachet to the pot.

Stir everything together well and set the pot on the stove over medium heat.

Let the mixture boil gently for about 2 hours, uncovered, stirring regularly and reducing the heat as necessary.

After 2 hours, add the sugar and stir well.

Continue boiling for one more hour until the mixture thickens. Stir regularly and keep the heat as low as possible to prevent burning (but be sure the mixture continues to boil slowly). Remove the sachet of spices and discard.

Sterilize your jars and lids according to proper canning procedures.

Add the mixture to the jars leaving about 1/2 inch of room at the top of each jar. Add the lids.

Process the filled jars in a pot of boiling water for at least 5 minutes (you may need a rack at the bottom of the pot to prevent the jars from sitting on the bottom of the pot where they may crack or break).

When the jars have finished processing, remove them to a wooden board to cool completely. Any lids that have not popped down (indicating a proper seal) should be stored in the fridge and consumed within 1.5 months.

Properly sealed jars can be stored at room temperature in a cool, dark place for up to one year.
Recipe:

Notes

This recipe makes between six and eight 1-pint jars of tomato pickle, or 128 2-tablespoon servings.

Be sure to follow proper canning procedures to ensure shelf-stability and food safety. 
Recipe:

Nutrition

Nutrition Facts

Tomato Pickle

Amount Per Serving (2 tablespoons)

Calories 54

Calories from Fat 9

% Daily Value*

Fat 1g2%

Sodium 111mg5%

Potassium 133mg4%

Carbohydrates 13g4%

Protein 1g2%

Vitamin A 518IU10%

Vitamin C 16mg19%

Calcium 8mg1%

Iron 1mg6%

* Percent Daily Values are based on a 2000 calorie diet.

Notice: Nutrition is auto-calculated, using Spoonacular, for your convenience. Where relevant, we recommend using your own nutrition calculations.