These Best Ever Classic Scones are the perfect tender, flaky scones just like grandma used to make! Made by hand with real butter – use my pro tips for the perfect scones every time!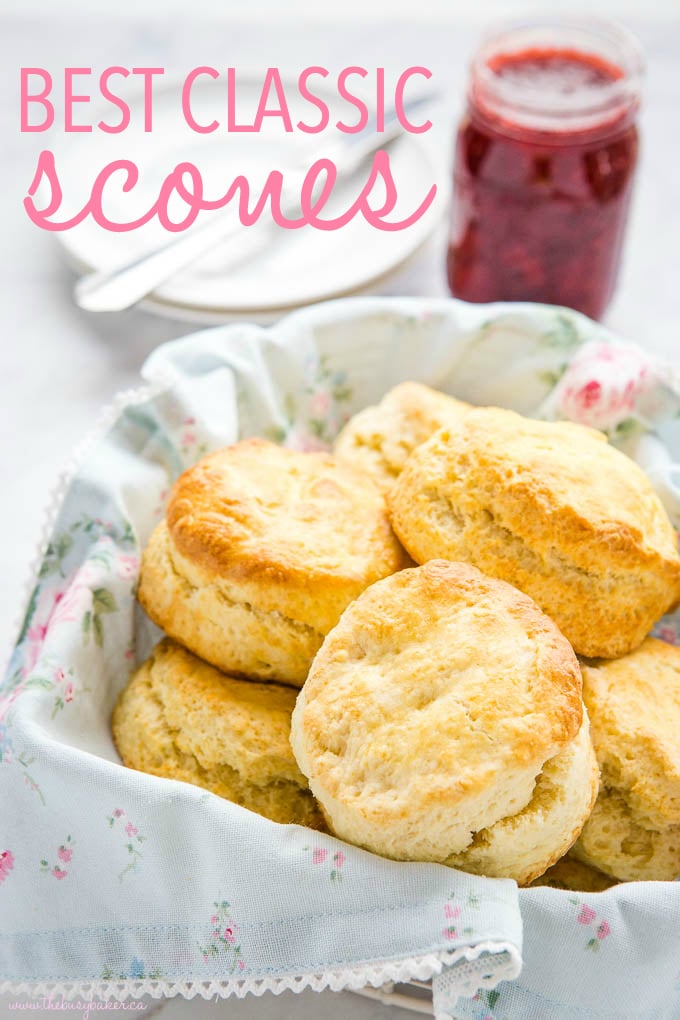 NEVER MISS A POST! FOLLOW ME ON: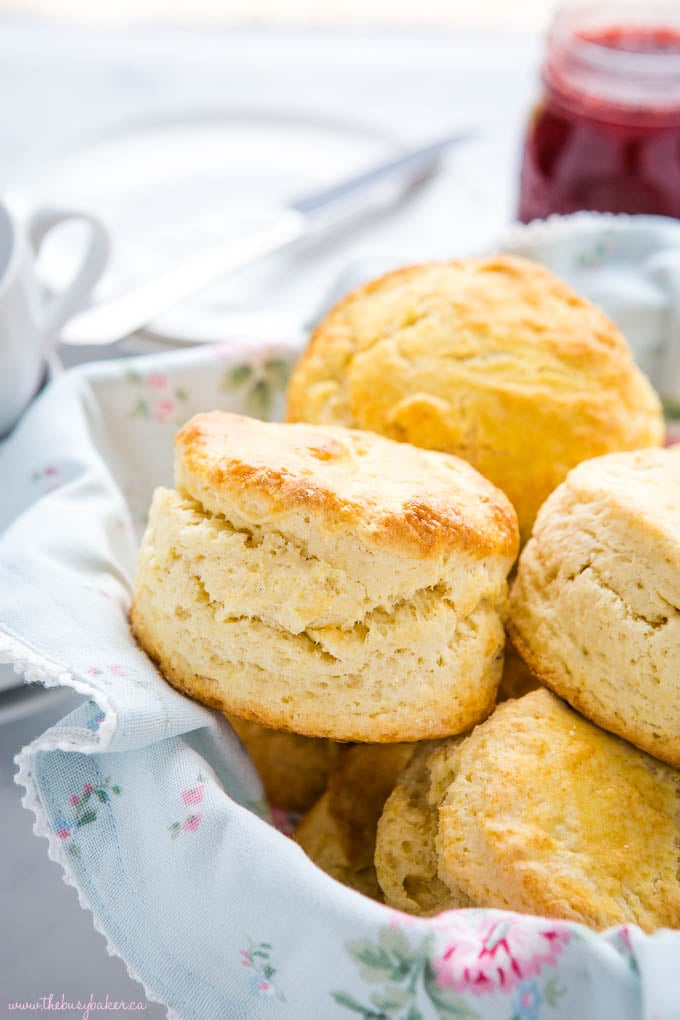 If you've been a reader of The Busy Baker for awhile you'll already know how much my cooking and baking has been influenced by the women in my life. I spent hours in the kitchen with my grandma as a child and she taught me how to make so many of her family's classic recipes, like these brownies and this honey garlic chicken recipe. These Best Ever Classic Scones remind me of my grandma every time I make them, and I'm thrilled to be sharing this recipe with you today!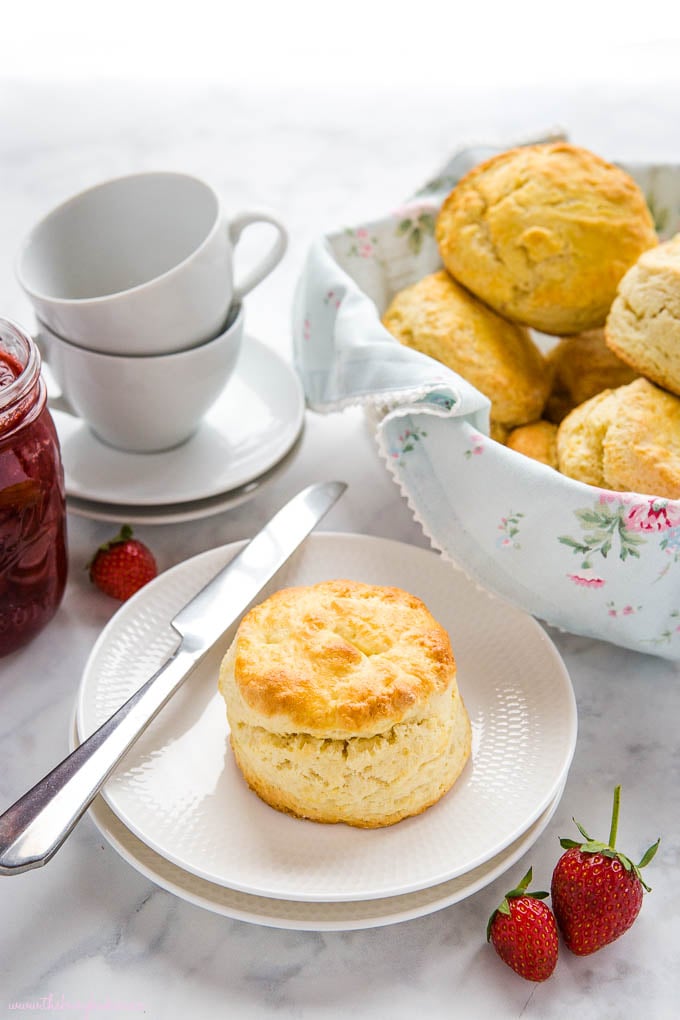 In America scones are called biscuits and although this recipe originates in Scotland (my grandparents' ancestors were British and Scottish) it's similar to homemade biscuit recipes from America, although it's a little lighter, fluffier, and a lot more flaky! Since I've been making this recipe for years and years, I've adapted it from the original one my grandma used to make these scones even better! They're delicious as a snack with some homemade jam and a cup of tea, but they're also delicious alongside our favourite Best Ever Beef Stew recipe or any delicious soup in the fall and winter.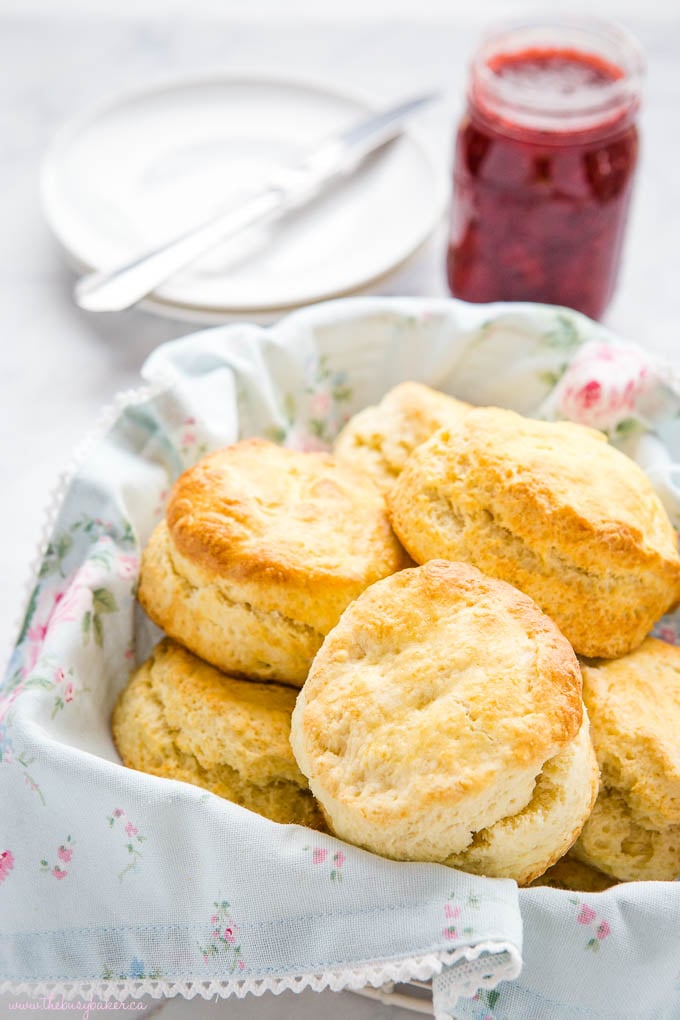 How to make the BEST flaky scones – the easy way!
Use COLD butter! – Cold butter straight from the fridge is what helps create those flaky layers you see in bakery scones. Using warm or room temperature butter will cause your scone dough to be too liquid-y and you'll end up with a mushy mess and dense, heavy scones.
Use your HANDS! – The best way to combine the dry ingredients and the butter is with your hands, using quick rubbing motions. Pick up a handful and rub it once between your hands to create small sheets of butter instead of tiny clumps. This will help create those flaky layers!
FOLD, don't knead! – When the dough is just about mixed (when you still see flour!), pour it out onto a work surface and fold it in half, and in half again (and again…) until everything is combined. This will also create those delicious layers and prevent the dough from becoming dry.
Don't over-mix! – Nobody likes a tough, dry scone. Mix just until the flour almost disappears and you'll be left with flaky layers and a nice, tender scone!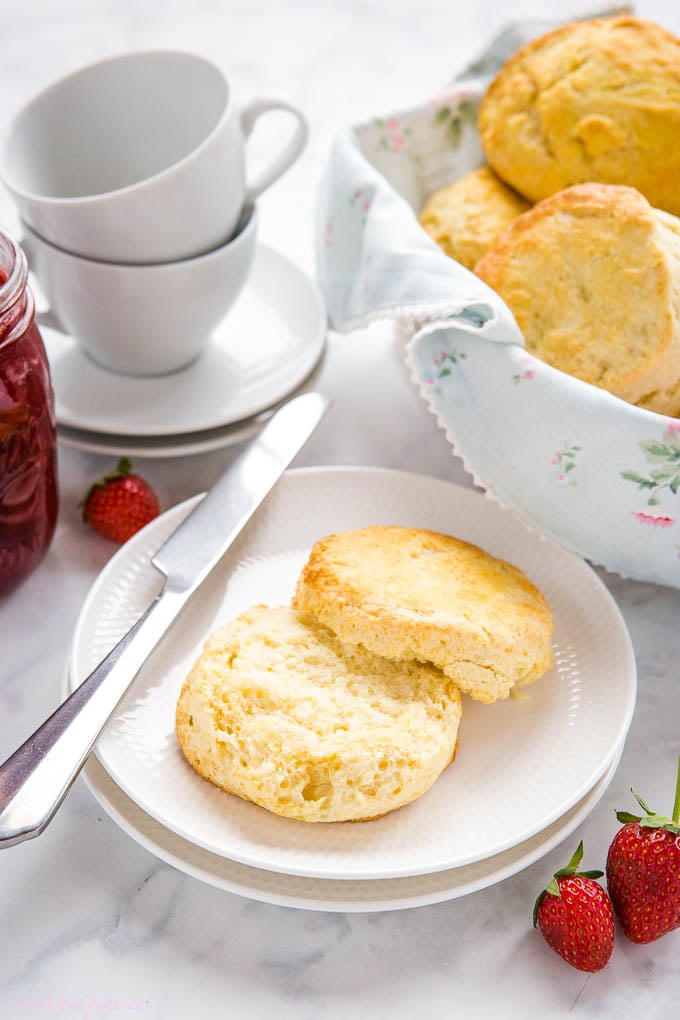 Looking for some delicious homemade jam to serve with your scones? You'll LOVE this Easy Homemade Strawberry Fridge/Freezer Jam, this Easy Homemade Peach Jam, or this delicious Homemade Black Currant Jam!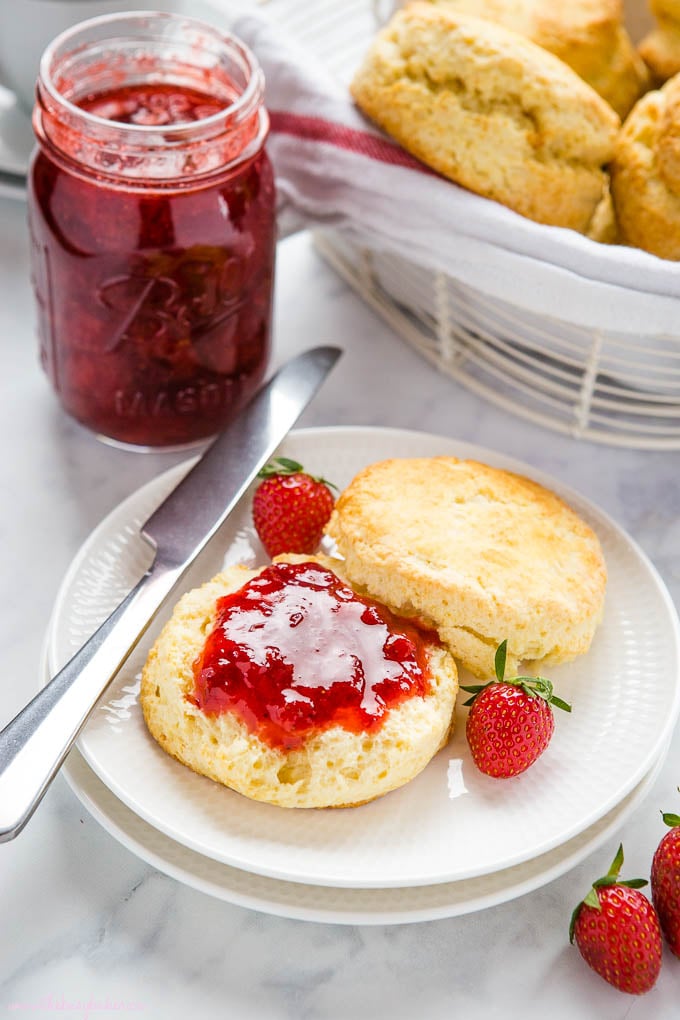 NEVER MISS A POST! FOLLOW ME ON: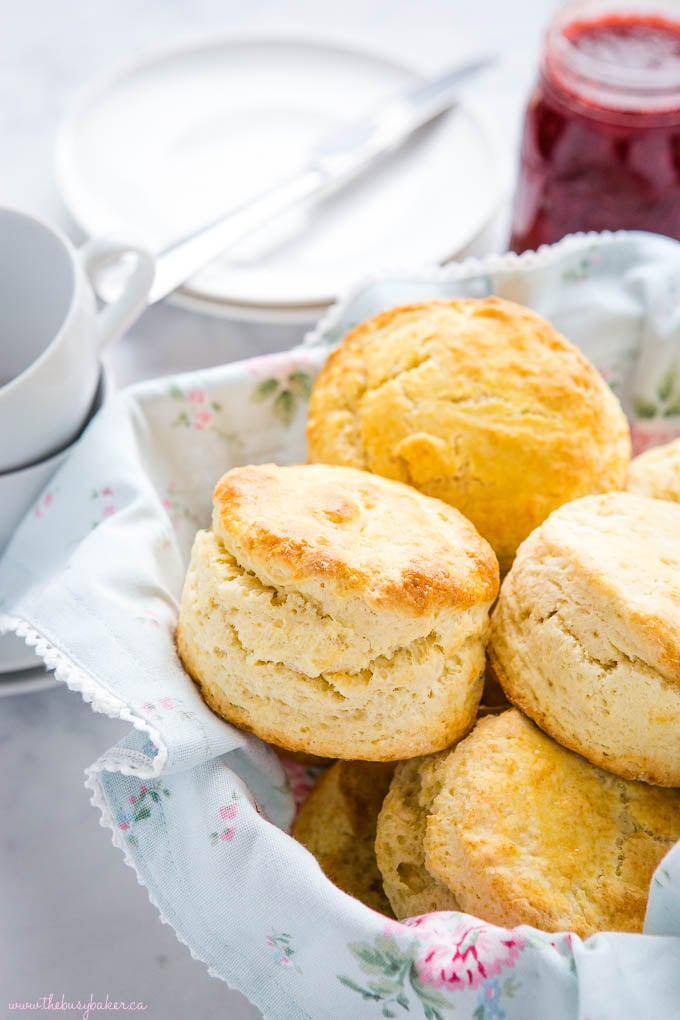 I hope you love these scones as much as we do! Let me know in the comments below, what's your favourite classic treat to make at home? I'd love to know!!
Kitchen Products I recommend:
Looking for more homemade treats? You'll LOVE these recipes:
If you made this, share a photo!
Are you trying this recipe? Use the comment form below to share your take; now with support for image uploads and comment voting!
Share a photo
Best Ever Classic Scones
These Best Ever Classic Scones are the perfect tender, flaky scones made with real butter - with pro tips for the perfect homemade scones!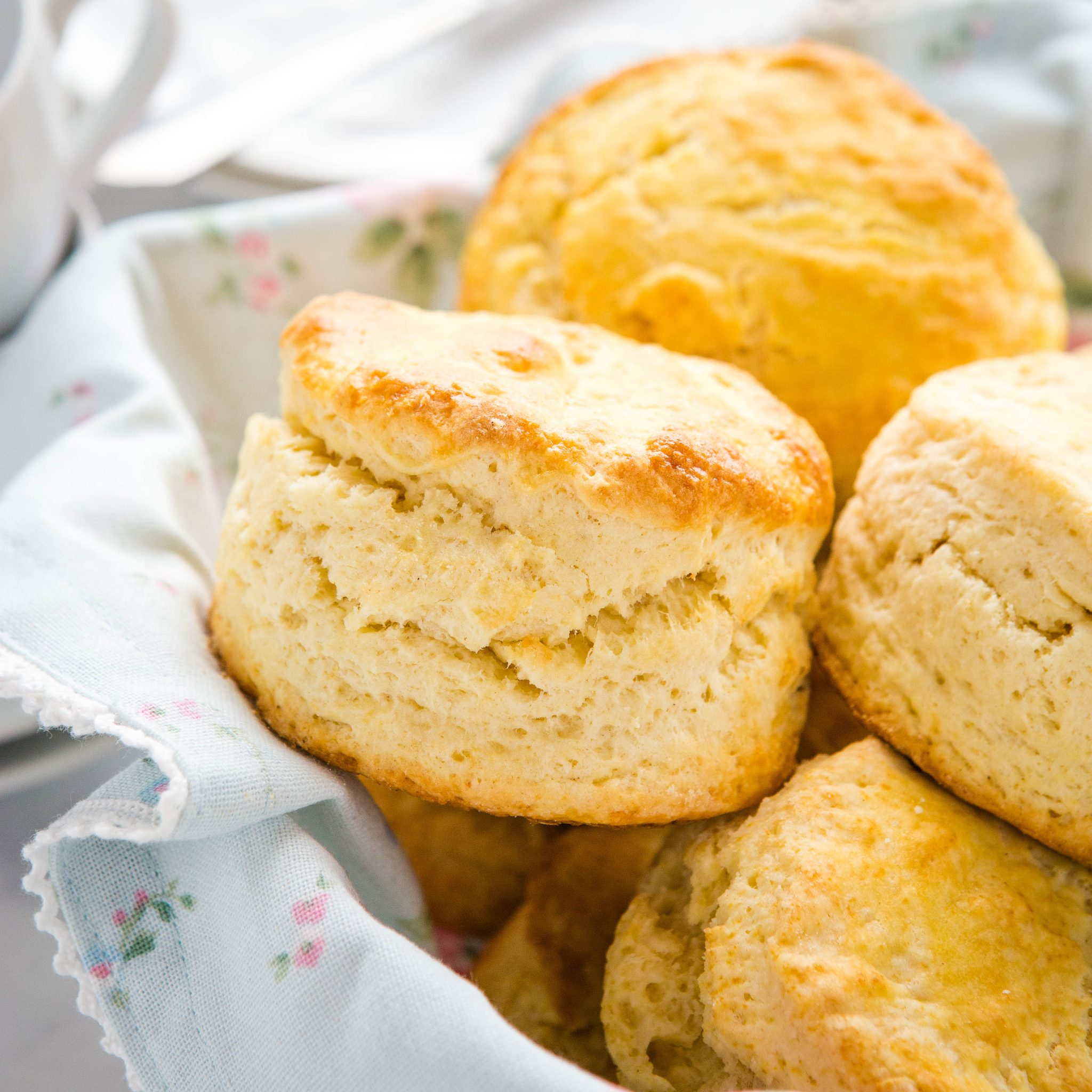 Recipe:

Instructions
Preheat your oven to 375 degrees Fahrenheit and prepare a baking sheet or two (depending on how large your baking sheets are) by lining them with parchment paper. Set aside.

In a large bowl combine the flour, sugar, baking powder and salt. Mix well with a fork or a whisk.

In a liquid measuring cup, measure the cream and add the eggs. Whisk together using a fork and set aside.

The next few steps should be done quickly, as you're working with cold butter and you want the butter to be as cold as possible when it hits the heat of the oven. This will result in a flaky scone, rather than a heavy and dense one.

Cut up your butter, right from the fridge, into little pieces and dump it into the flour mixture. Using your hands (wash them well first and remove any rings), pick up handfuls of the butter and flour mixture, rubbing the pieces of butter and the flour between the heels of your hands to create "sheets" of butter. You should act quickly here, and don't allow the pieces of butter to sit in your hands for any length of time as the heat from your hands will cause it to soften. The goal is to create paper-thin pieces of butter, small and large throughout the mixture. Once there are no thick chunks of butter remaining, only thin sheets, remove your hands from the mixture. Hands equal heat, so handle the mixture as little as possible.

Pour in the wet ingredients and mix roughly with a fork. Do not over mix, or the result will be heavy and dense.

Once the wet ingredients have been incorporated but there are still several streaks of flour, turn the dough out onto a clean and floured counter surface. Press the dough down into the counter and then fold one half over the other half like you are folding a piece of paper. Press down again and make another fold. Repeat this 2 or 3 more times, gathering any outlying dough bits and flour into your folds. Don't knead the dough like you would if you were making bread, and don't stir or mix the dough like you would if you were making muffins. Scones are technically a pastry, so the goal is flaky layers that are created by the thin sheets of butter and all the folding.

Once your dough is formed after folding several times, shape it into a rectangle about 1 3/4 to 2 inches thick (approximately). Again, be careful not to handle the dough too much, so a few little cracks here and there are fine.

Cut out circles of dough using a biscuit cutter or the rim of a class or jar. Arrange the circles of dough on the parchment-lined baking sheet and brush the tops with the egg wash (whisk together the egg and water).

You'll need to re-shape the leftover dough to form another rectangle - do this carefully and gently, without adding much extra flour if possible. The less you handle the dough, the more tender and flaky the scones will be. Cut out the remainder of the scones until you have about 10-12 in total.

Bake for about 15-18 minutes just until barely golden brown and the surface of the scones lose their shine. Let them cool for 3-5 minutes on the baking sheet. Transfer them to a cooling rack to cool completely.
Recipe:

Nutrition

Nutrition Facts

Best Ever Classic Scones

Amount Per Serving (1 scone)

Calories 372

Calories from Fat 180

% Daily Value*

Fat 20g31%

Cholesterol 92mg31%

Sodium 128mg6%

Potassium 301mg9%

Carbohydrates 42g14%

Protein 7g14%

Vitamin A 627IU13%

Vitamin C 1mg1%

Calcium 132mg13%

Iron 2mg11%

* Percent Daily Values are based on a 2000 calorie diet.

Notice: Nutrition is auto-calculated, using Spoonacular, for your convenience. Where relevant, we recommend using your own nutrition calculations.