These Cinnamon Sugar Twist Buns are the perfect sweet treat for brunch or coffee break. A soft sweet dough rolled in butter and cinnamon sugar and baked to perfection in an easy twist!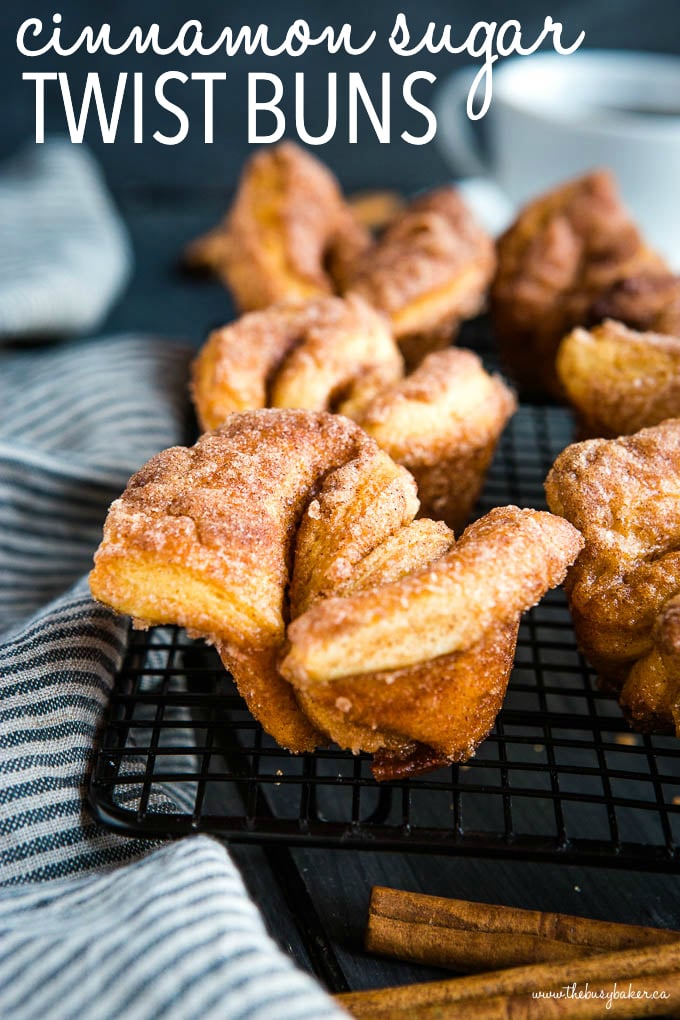 NEVER MISS A POST! FOLLOW ME ON: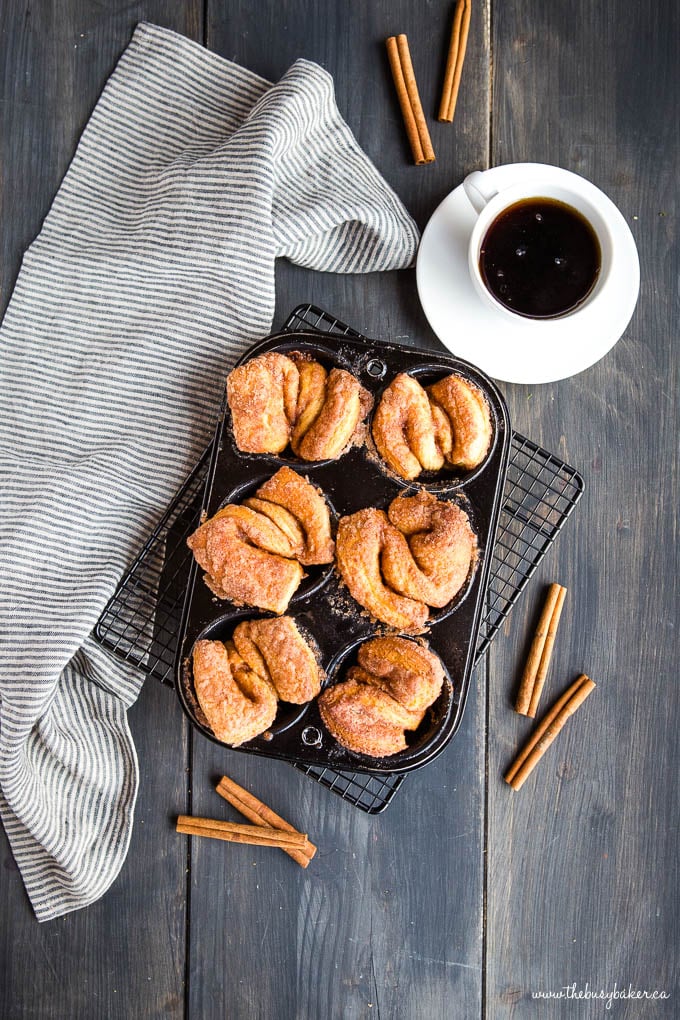 If you've been a reader of The Busy Baker for awhile you'll know how much I love to bake. It's one of my favourite things to do on a quiet afternoon and I find it to be so cathartic – there's just something so special about working with your hands in the kitchen and making something delicious from scratch for your family and friends. These Cinnamon Sugar Twist Buns are one of my favourite things to bake lately and I'm excited to be sharing this recipe with you today!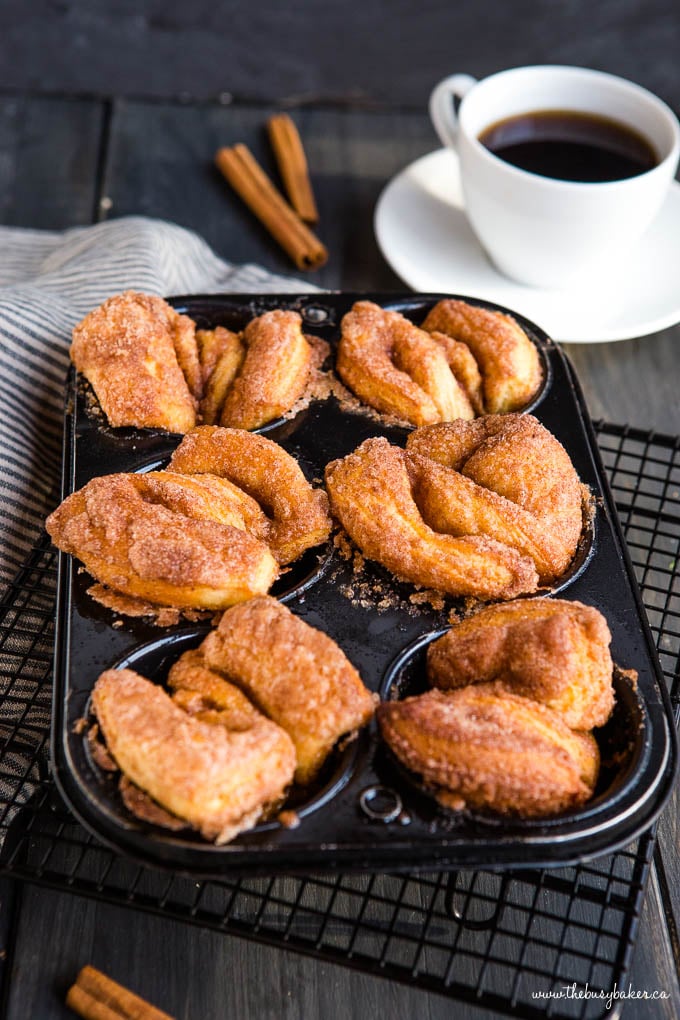 These Cinnamon Sugar Twist Buns are made with a deliciously simple sweet bread dough made with yeast, dipped in butter and cinnamon sugar and twisted to create a perfect flaky roll that's as cute as it is tasty.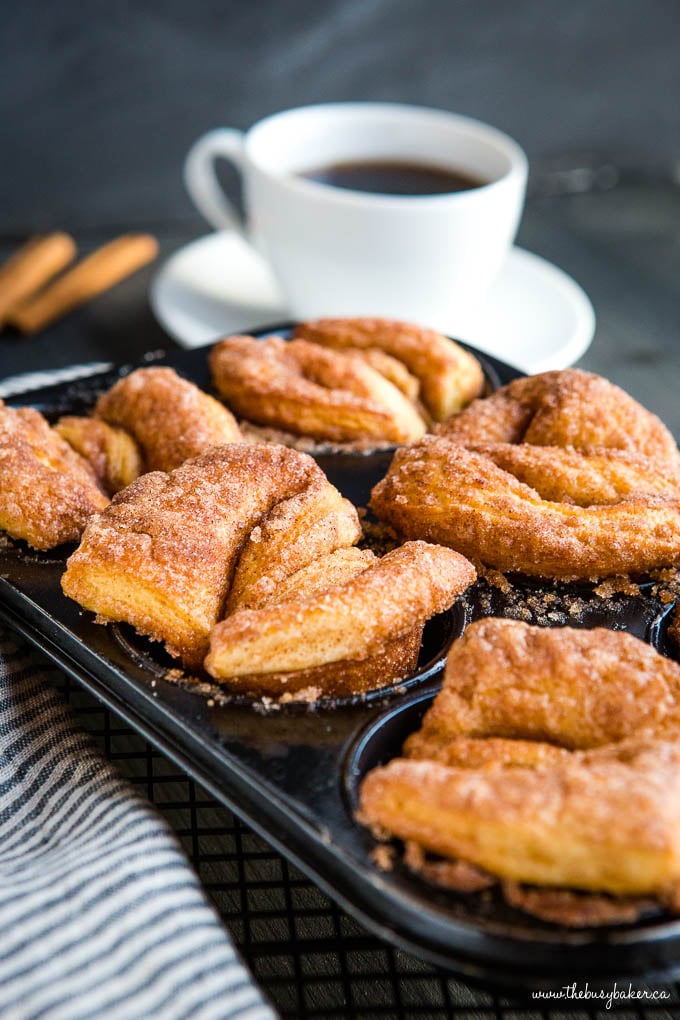 How do I make my bread rise
Making a yeast dough from scratch is easy as long as you follow a few simple rules:
Make sure the liquid isn't too hot or too cold. If the milk or water your recipe calls for is too hot when you mix it with the yeast, the yeast will die and your dough won't rise. If the liquid is too cold the yeast will take much longer to rise. The best liquid temperature for optimum yeast growth is just above room temperature – it should feel like a lukewarm bath.
Let it rise in a warm, draft-free place. If you rise your dough in a cool room or beside a window in the winter time it will slow the rise. Cover your dough with plastic wrap (because it traps the heat and moisture) and place it in a warm corner of your kitchen or inside your oven (with the oven off).
Be careful with the salt! If you add the salt straight to the yeast mixture it will slow the rise of your dough and it can even kill the yeast. Add the salt to the flour and mix the salt into the flour before mixing everything together. This will minimize the effect of the salt on the yeast.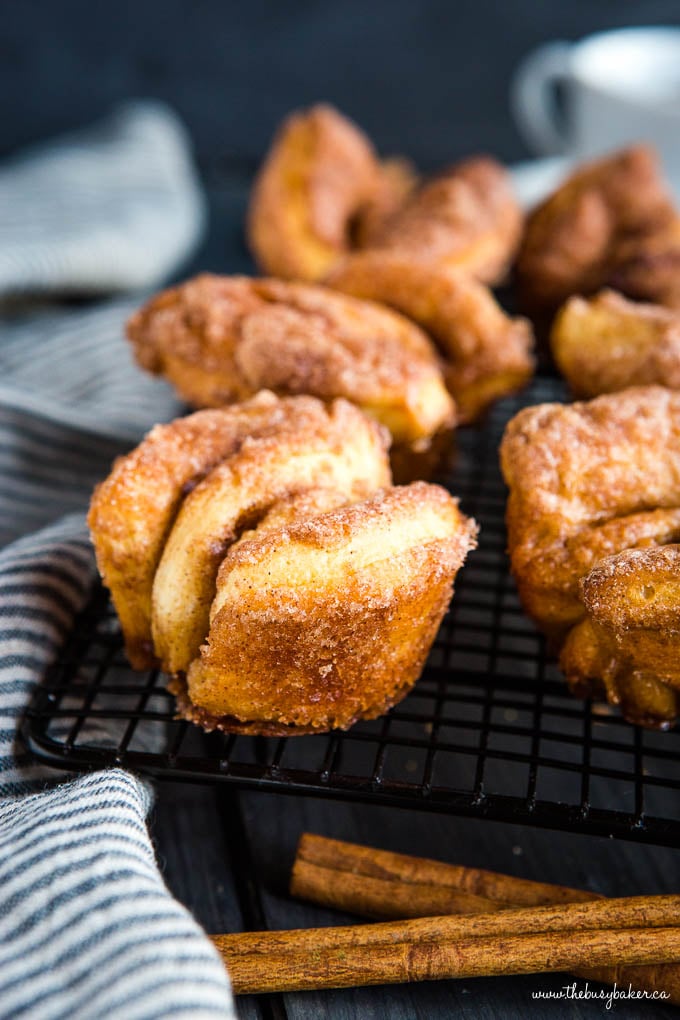 How do I know if my dough has risen enough?
Once the dough has doubled in size and appears fluffy and full of air, it's ready to be shaped into buns or loaves. You should be able to see the strings of gluten developed in the dough once it has doubled in size. And don't forget to punch down the dough after the first rise before shaping the dough into buns or loaves – this will help create a softer bread because it removes air bubbles and relaxes the gluten.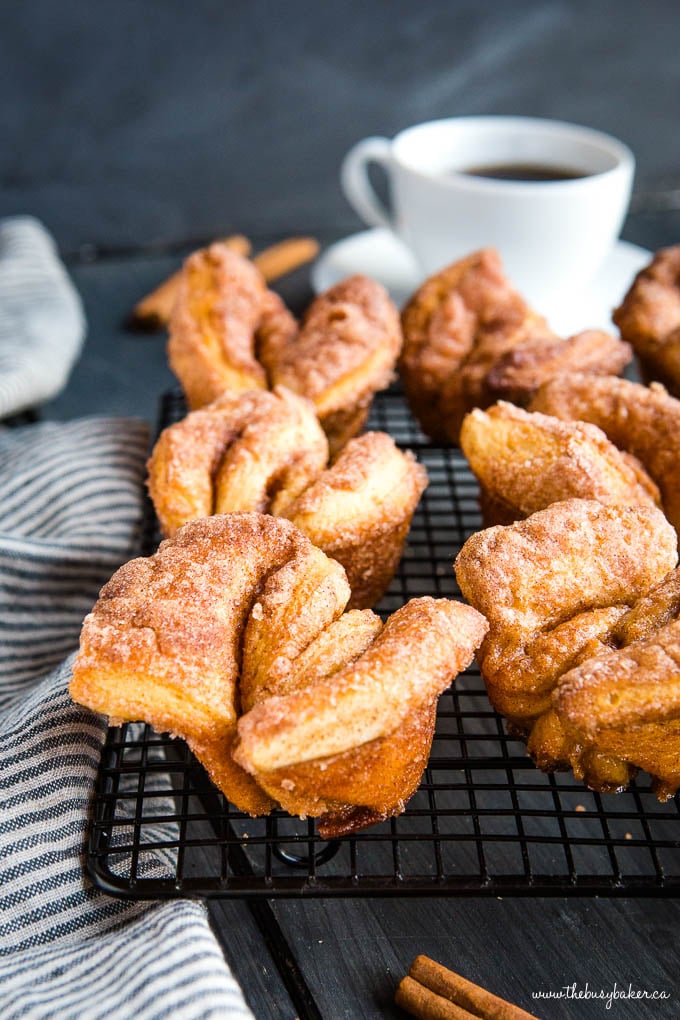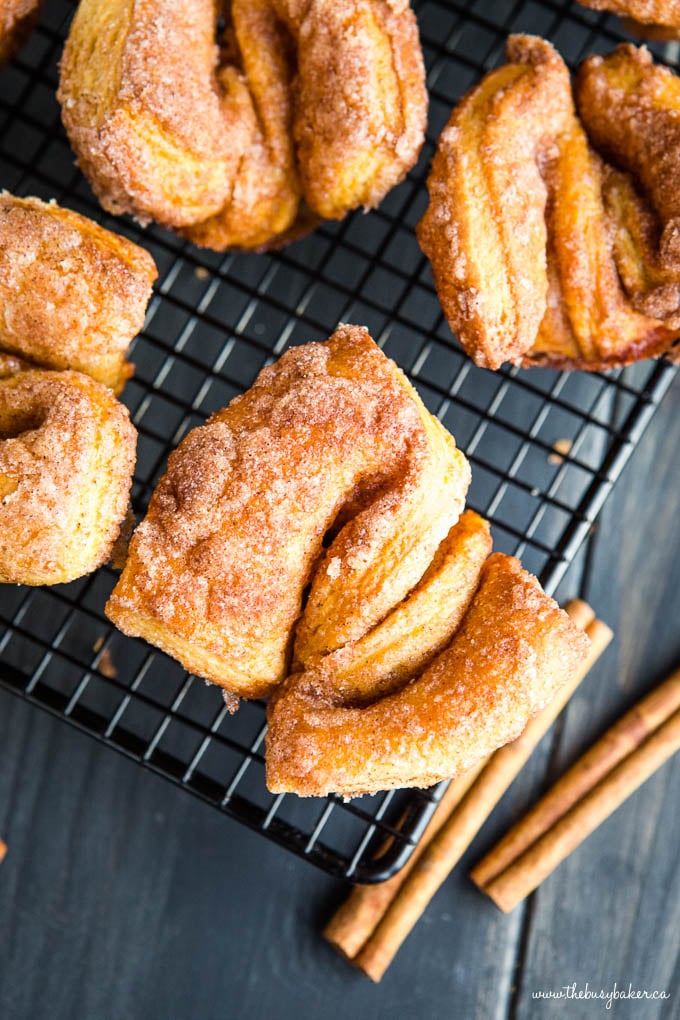 NEVER MISS A POST! FOLLOW ME ON: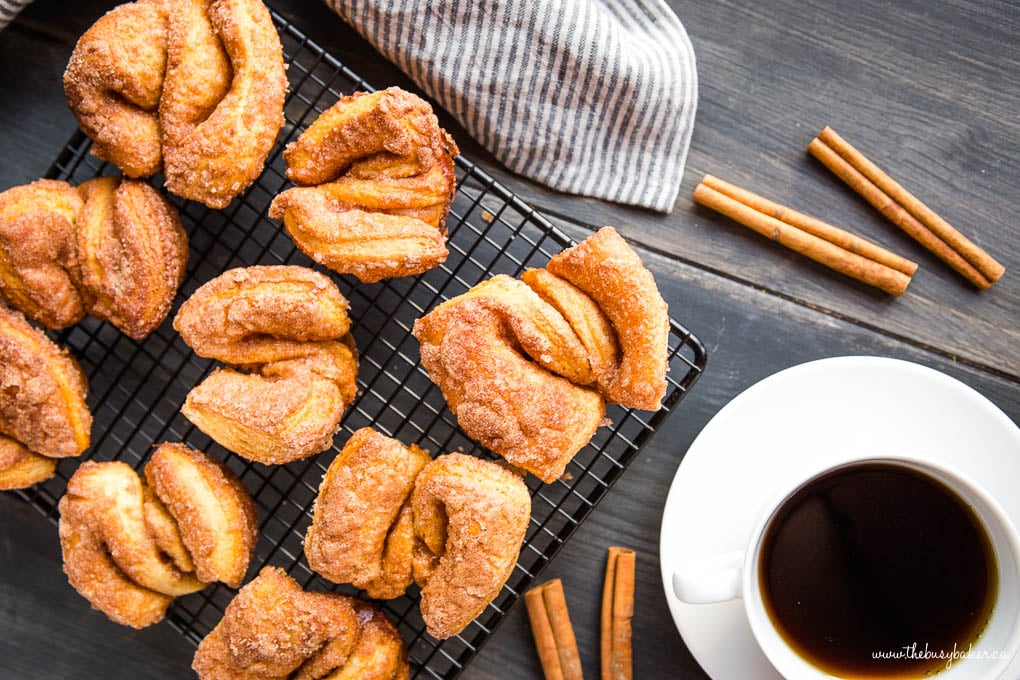 I hope you love this recipe as much as we do! Let me know in the comments below, what's your favourite sweet snack to make for coffee break? I'd love to know!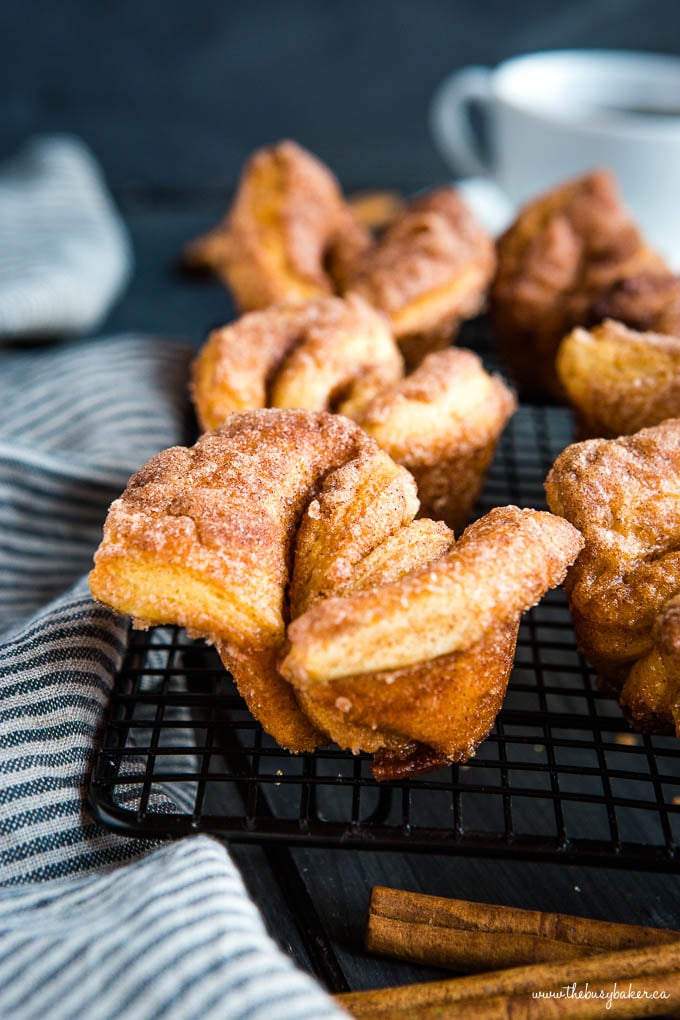 KITCHEN TOOLS I RECOMMEND:
Looking for more delicious brunch recipes? Here are my favourites:
Cinnamon Sugar Twist Buns
These Cinnamon Sugar Twist Buns are the perfect sweet treat for brunch or coffee break. A simple homemade sweet dough rolled in butter and cinnamon sugar!
Ingredients
1 1/4

cup

milk

1/4

cup

butter

1/3

cup

granulated sugar

2 1/4

teaspoon

active dry yeast

1

egg

3 1/2

cup

all purpose flour

3/4

teaspoon

sea salt
For topping:
3/4

cup

butter

melted

1

cup

granulated sugar

1

tablespoon

ground cinnamon
Instructions
Add the milk, butter and sugar to a large glass or pyrex measuring cup and heat in the microwave just until the butter melts and the milk is slightly warm to the touch. (You can also heat the mixture in a pot on the stove over low heat if desired).

Add the milk mixture to the bowl of your stand mixer (or a large mixing bowl if you plan to make the buns by hand).

Add the yeast to the milk mixture that's just above room temperature (as long as the milk isn't too hot...let it cool for a few minutes if it got too hot).

Stir the yeast into the milk slightly and let sit for about 5 minutes.

Add the egg, flour and salt to the bowl of the stand mixer and mix on low speed until a soft dough forms. The dough will be quite sticky - this is ok. Flour your hands and form it into a ball, placing it back into the bowl to rise.

Cover the bowl with plastic wrap and let rise in a warm place for 1 hour.

Once the dough has risen punch it down and roll it out on a well floured surface into the shape of a rectangle, until the dough is about 1/2 inch thick.

Slice the rectangle in half, into two squares using a pizza cutter or pastry cutter. Slice each square into 12 small rectangles (make 3 vertical slices and 2 horizontal slices).

Lightly grease two 12-cup muffin tins with butter or cooking spray.

Mix together the granulated sugar and cinnamon in a bowl. Dip each dough rectangle in the melted butter and then in the cinnamon sugar mixture until they're completely coated.

Twist each dough rectangle once in the middle and then press them into the prepared muffin cups, with the ends facing up.

Preheat your oven to 350 degrees Fahrenheit and let the buns rise (covered with a clean kitchen towel) while the oven preheats (about 20 minutes).

Bake at 350 degrees Fahrenheit for about 15-18 minutes until the buns are golden brown and the edges are slightly crispy.

Let cool in the muffin tins for several minutes before serving warm, or removing them to a wire rack to cool completely.
Notes
These buns can be stored at room temperature in an airtight container for up to 3 days. For best results, serve on the day they're made.
To make ahead of time, simply make the dough the night before at let it rise in the fridge overnight. In the morning, remove the dough from the fridge, cut and roll the buns as directed and bake as normal. 
Nutrition
Serving:
1
bun
|
Calories:
189
kcal
|
Carbohydrates:
26
g
|
Protein:
3
g
|
Fat:
8
g
|
Saturated Fat:
5
g
|
Cholesterol:
27
mg
|
Sodium:
149
mg
|
Potassium:
54
mg
|
Fiber:
1
g
|
Sugar:
12
g
|
Vitamin A:
272
IU
|
Calcium:
25
mg
|
Iron:
1
mg