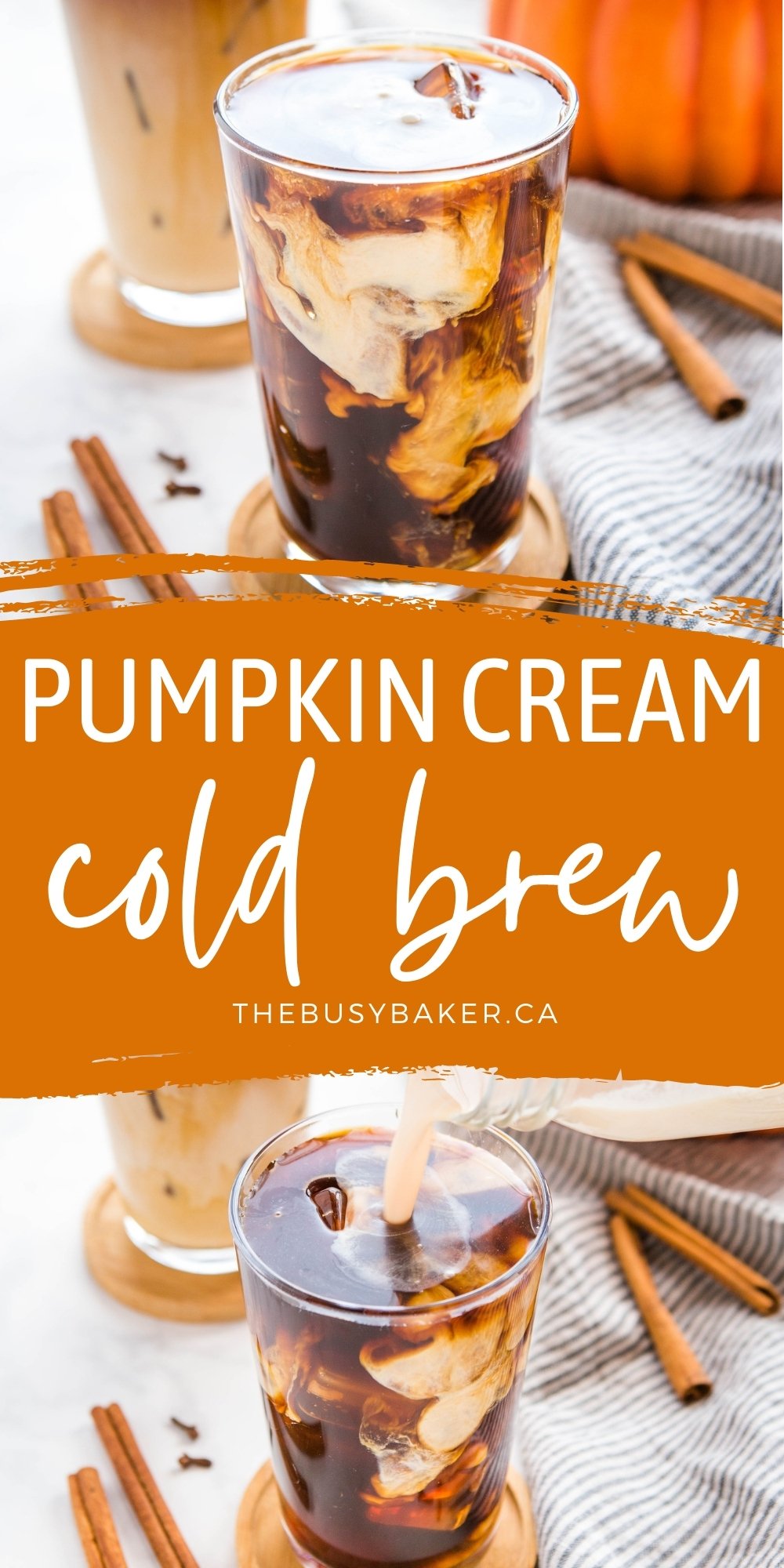 This Starbucks Pumpkin Cream Cold Brew recipe is the perfect pumpkin spice iced coffee drink – easy-to-make cold brew coffee sweetened with a simple pumpkin cold foam made in a mason jar! Skip the coffee shop and make your favourite pumpkin cream coffee drink at home!
---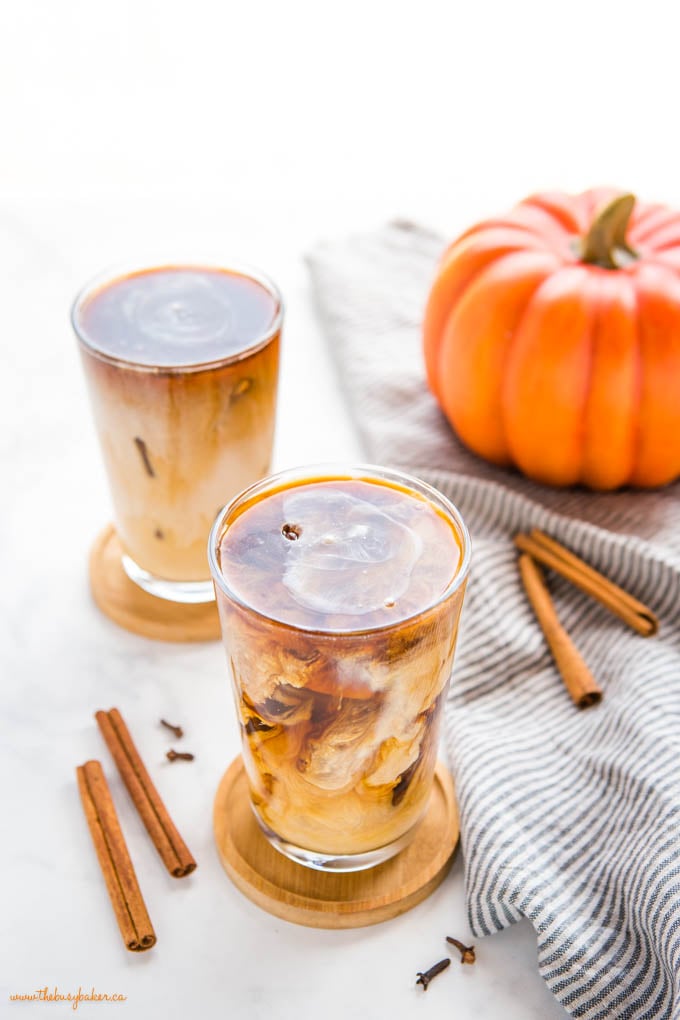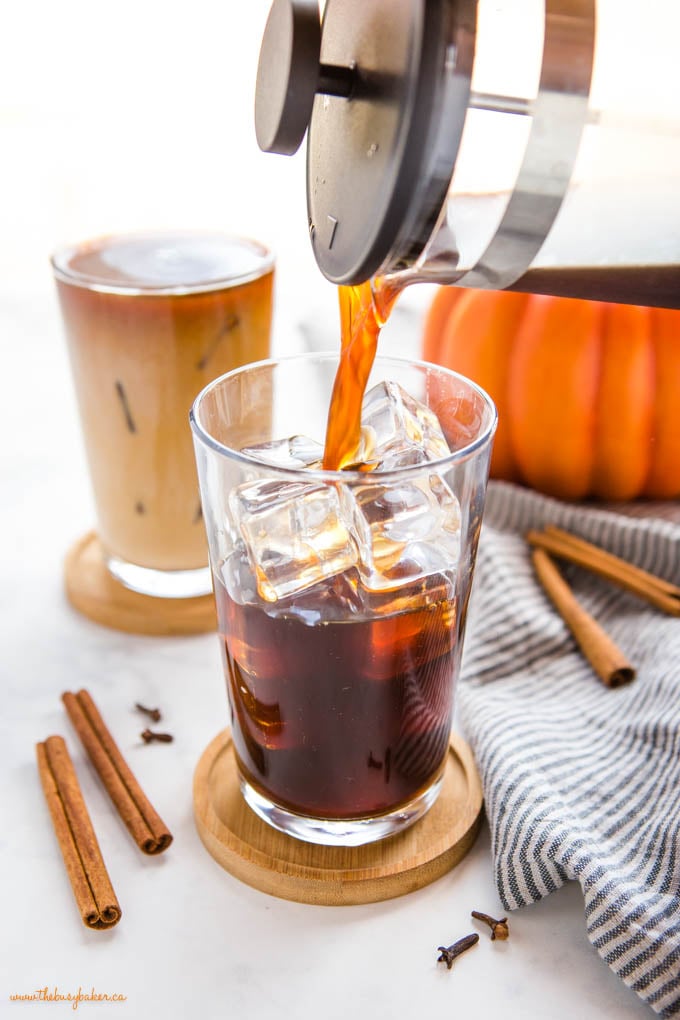 Pumpkin Cream Cold Brew is a coffee drink made popular by the coffee shop chain Starbucks that combines cold brew coffee with a sweet cream mixture flavoured with pumpkin and spice. It's a delicious and cool coffee drink that's perfect for those early fall days!
If you're a fan of this Starbucks pumpkin spice cold brew drink like we are and you want to know how to make it at home for a fraction of the cost of the coffee shop, you're going to absolutely LOVE this recipe!
This recipe contains a few simple components that are easy to make at home. Here they are:
Cold Brew Coffee: This recipe uses a coffee brewing method that involves steeping coarsely ground coffee beans in cool or room temperature water for an extended period of time, usually 12-24 hours. This brewing method results in coffee that tastes smooth, less bitter and less acidic.
Pumpkin Cream Cold Foam: The sweet cream mixture is made by combining heavy cream, simple syrup, pumpkin puree and a small amount of milk. The mixture is then shaken very well until it becomes extra frothy and creamy.
Cinnamon Spice Simple Syrup: Making your own syrup at home is so easy, or you can purchase a store-bought pumpkin spice or cinnamon syrup used for making coffee drinks.
Prepare it: To make this drink, add the sweet cream mixture to the cold brew coffee and ice. Stir it well and you'll have a creamy and delicious coffee drink!
Customize it: This drink can be customized to your personal preference. Add extra syrup to make the drink sweeter, go for a sugar-free syrup if you're cutting carbs or calories, or make it dairy-free with non-dairy milk and cream, or even free of caffeine with decaf coffee beans.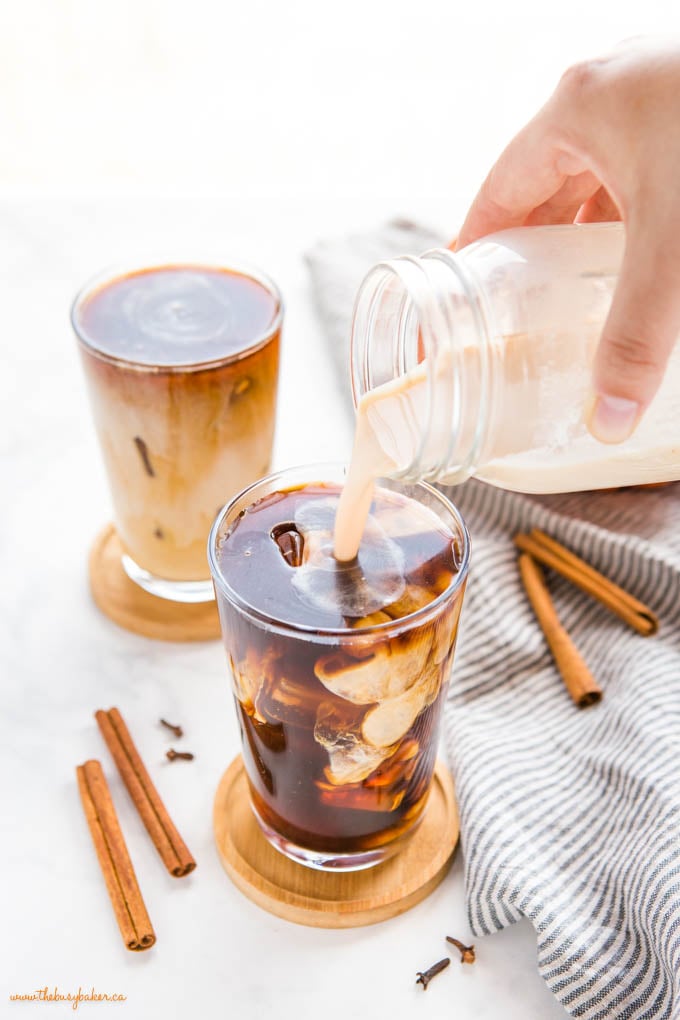 You'll only need a few basic kitchen items to make this recipe (affiliate links):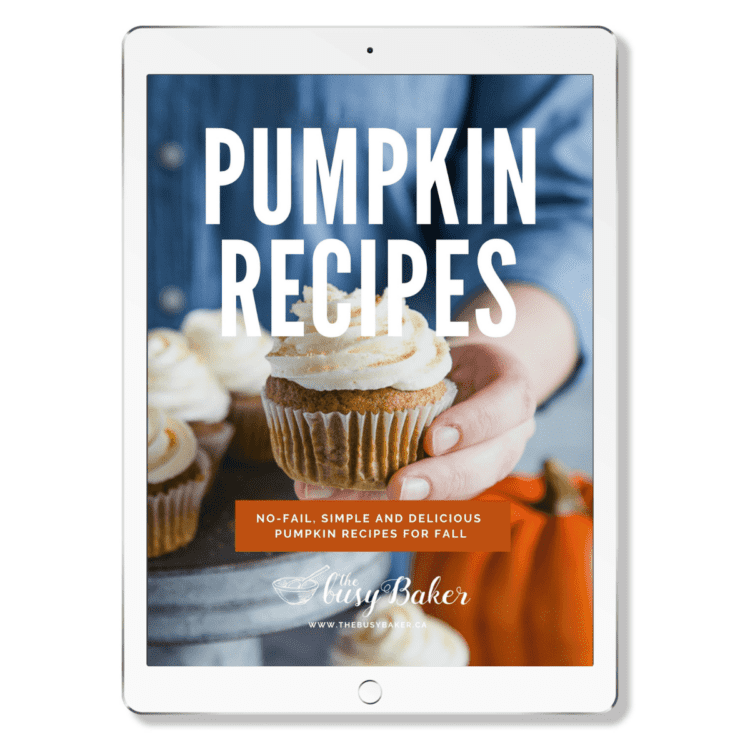 Looking for more?
PERFECT PUMPKIN RECIPES & COOKING AND BAKING TIPS
Get my perfect pumpkin recipes e-cookbook!
Click here to learn more!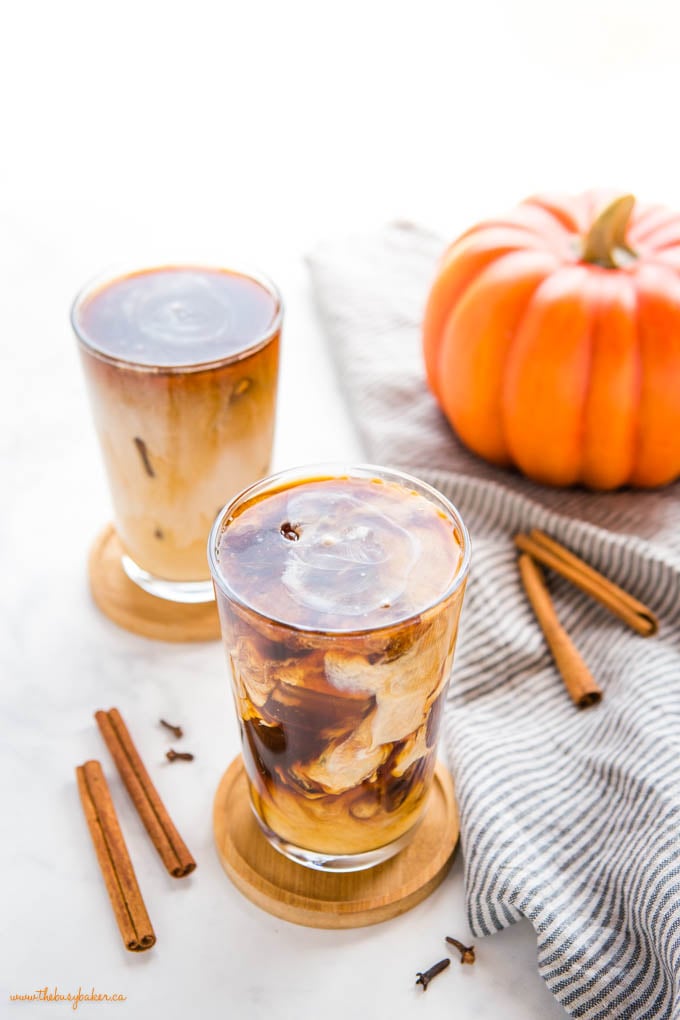 coarsely ground coffee beans
water
sugar
cinnamon sticks, whole cloves and whole allspice (optional – you can use ground pumpkin pie spice instead)
heavy cream
milk
canned pumpkin puree (not pumpkin pie filling)
Try adding one of these additional flavours to switch things up!
Maple Spice Pumpkin Cream: Add a tablespoon or two of maple syrup to the pumpkin cold foam mixture.
Cinnamon Roll Pumpkin Cream: Add some extra cinnamon to the cold foam, or make your coffee with a teaspoon of cinnamon added.
Gingerbread Pumpkin Cream: Add some gingerbread syrup to the pumpkin cream mixture, or a dash or two of powdered ginger, cloves and allspice for a festive flavour.
White Chocolate Pumpkin Cream: Add a tablespoon of white chocolate syrup to the pumpkin cold foam mixture for a flavour that's extra creamy and oh so indulgent!
Salted Caramel Pumpkin Cream: Add a drizzle of caramel sauce and a pinch of sea salt to the pumpkin cold foam mixture for a sweet and salty twist.
Apple Cider Pumpkin Cream: Add a splash of apple cider to the pumpkin cream mixture for the best pumpkin apple fall flavours.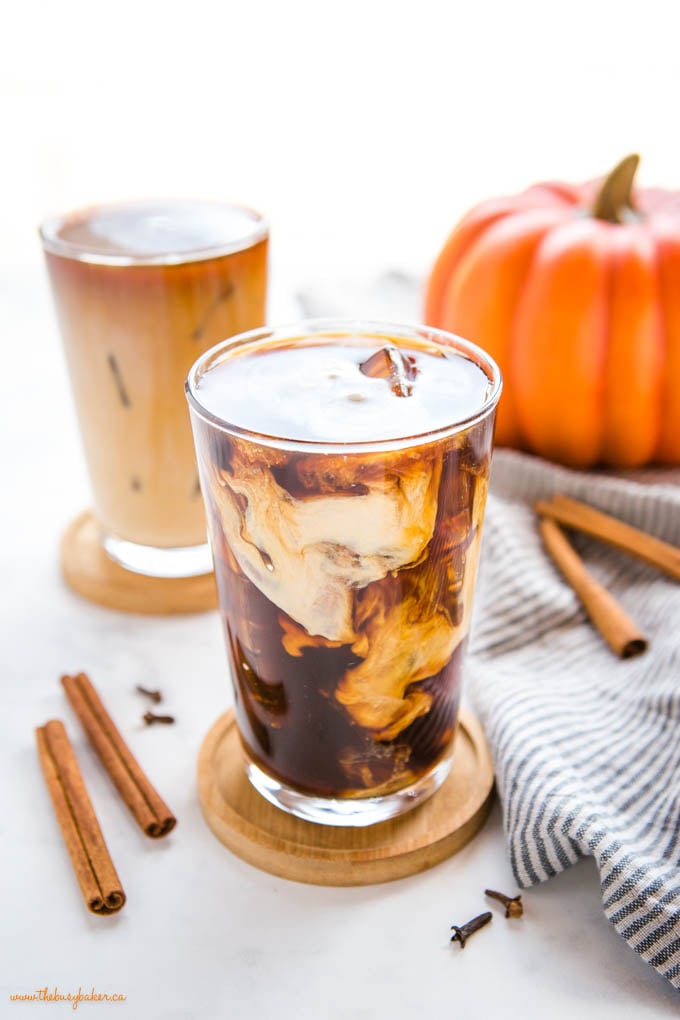 Time needed: 12 hours
Follow these steps to make your own cold brew coffee at home!
Start with high-quality coffee.

Choosing a high-quality coffee for cold brew is essential because the flavour in cold brew is much stronger than in regular coffee. Trust me, you'll taste the difference!

Use coarsely ground coffee.

Cold brew is made with a higher ratio of coffee beans to water. We like 3/4 cup of coarsely ground beans to 4 cups of water.

Use cold water.

Pour cold water over the beans and stir well until all the beans are moistened.

Let it sit overnight

Cover and let sit in the fridge for 12-18 hours.

Filter and serve.

Pour the coffee through a filter to filter out all the grinds. Dispose of the grinds and enjoy over ice!
Start with simple syrup. Follow the recipe directions to make your own pumpkin spice-infused simple syrup to use in all your favourite homemade coffee shop drinks.
Make it in a mason jar. The easiest way to make pumpkin cold foam is to add all the ingredients to a mason jar and shake to combine.
Use heavy cream and milk together. This makes the cold foam nice and creamy. You can also use half and half in place of the cream and milk.
Don't forget the flavour. Add some pumpkin puree and use our flavour-infused syrup!
Shake to foam. Shake well to create a nice thick and foamy cream.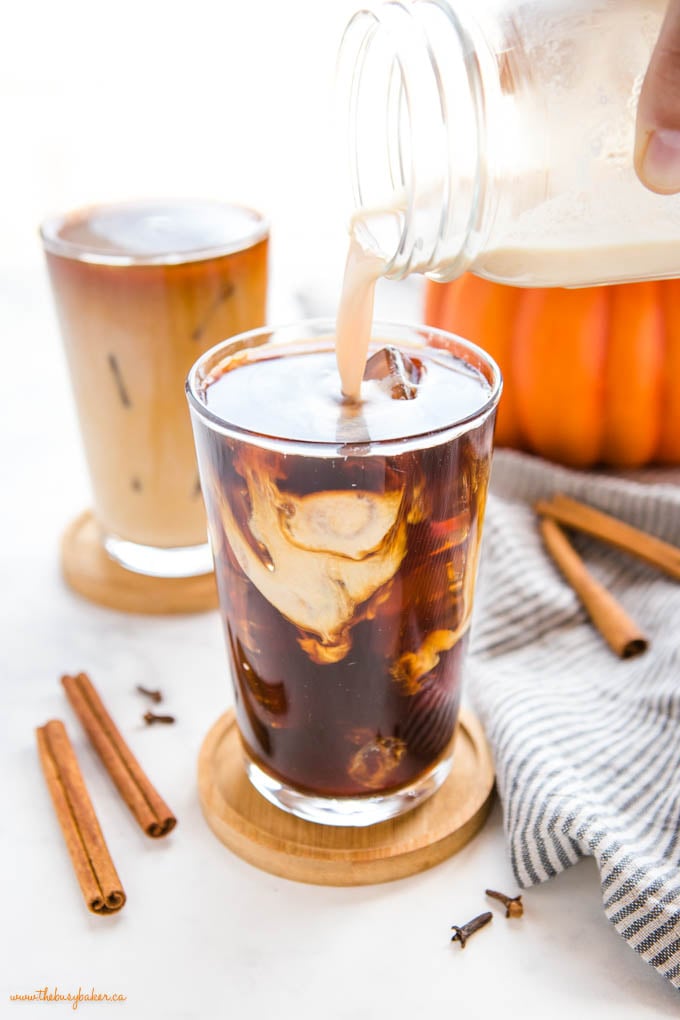 What's the difference between iced coffee and cold brew?

Iced coffee is coffee made with hot water, then poured over ice. Cold brew is coffee made with cold water and brewed slowly over several hours to create a strong brew (usually 12-18 hours or so). Then it's poured over ice and served.
What kitchen equipment do I need to make cold brew?

A french press is a helpful tool for making cold brew at home. You can also use a large pitcher or a large mason jar.
Can I make decaffeinated cold brew?

Yes! Simply prepare the cold brew coffee according to the recipe directions using your favourite decaf coarse grind coffee.
Can I sweeten my cold brew coffee drink with sugar instead of syrup?

No. Since cold brew coffee is cold sugar doesn't dissolve in it easily. To sweeten your cold brew, use an easy homemade simple syrup (in the recipe directions below), or sweeten it with a touch of honey, some maple syrup, or a few drops of liquid stevia.
Can you make cold brew coffee without special equipment?

Yes! All you need for this recipe is a jug or pitcher with a coffee filter OR a french press, something for shaking the cold foam, and glasses for serving.
Is cold brew coffee stronger than regular coffee?


Cold brew is much stronger than regular coffee as it contains almost double the coffee to water ratio when compared to regular coffee.
How many calories are in a serving of cold brew coffee?


There are no calories in cold brew coffee, however adding cold foam, cream or milk to your cold brew will add calories.
How long does it take to make cold brew coffee?


Brewing cold brew coffee takes about 12 hours (overnight is best).
How long can you store cold brew coffee in the fridge?


We recommend enjoying your cold brew coffee in 2-3 days after brewing. Be sure to store it in the fridge in an airtight jug, pitcher or container of some kind (mason jars work well too).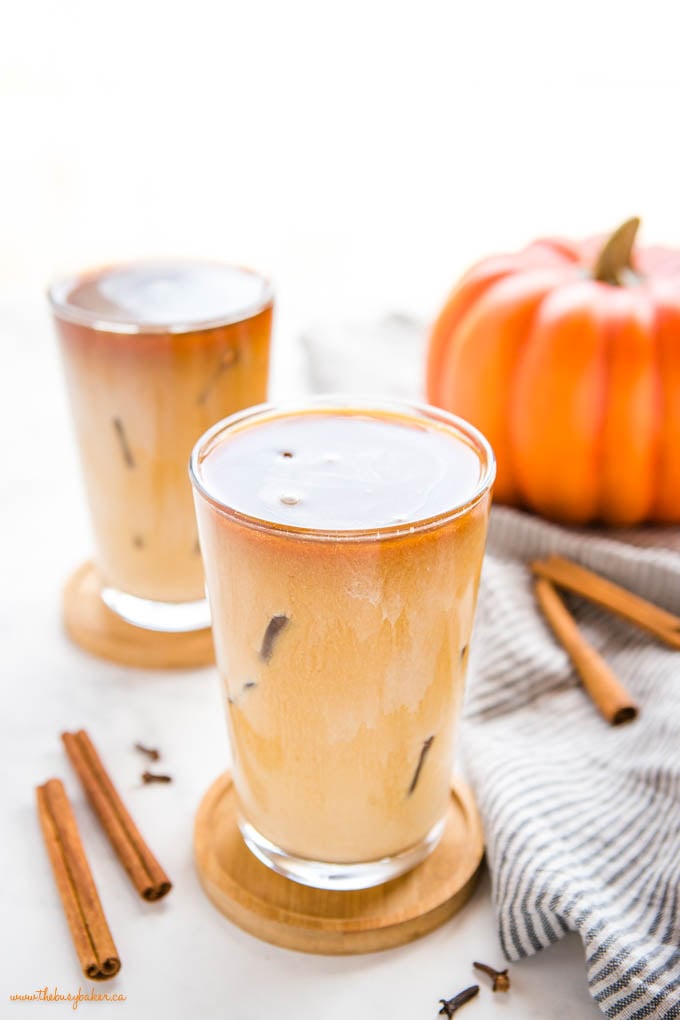 ---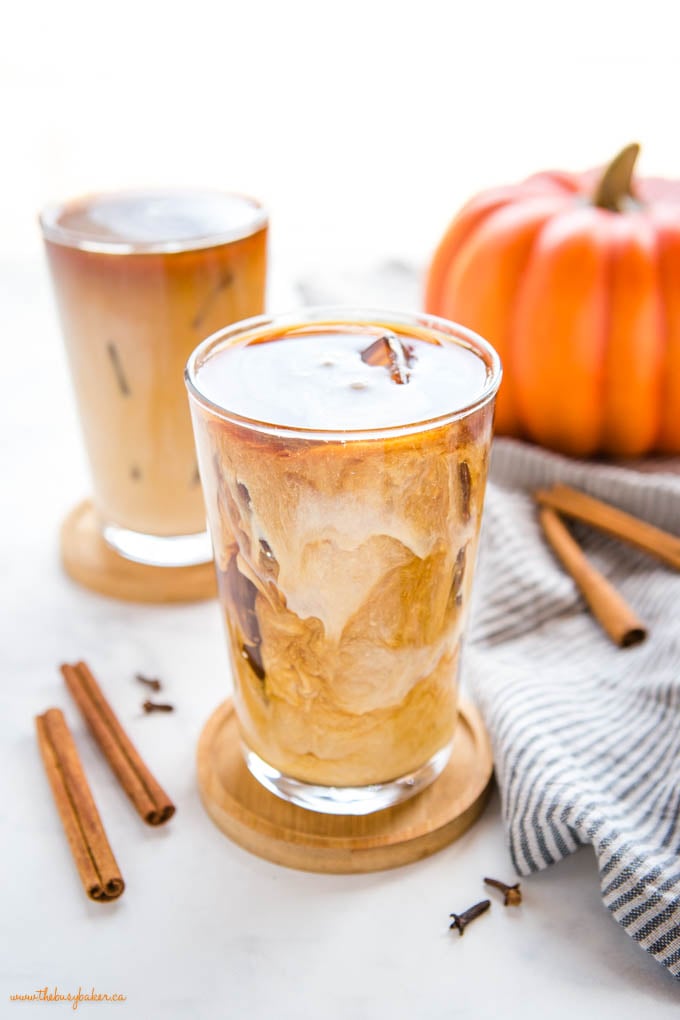 We hope you love this coffee recipe as much as we do! Let us know in the comments below, what's your favourite coffee shop drink to make at home? We'd love to know!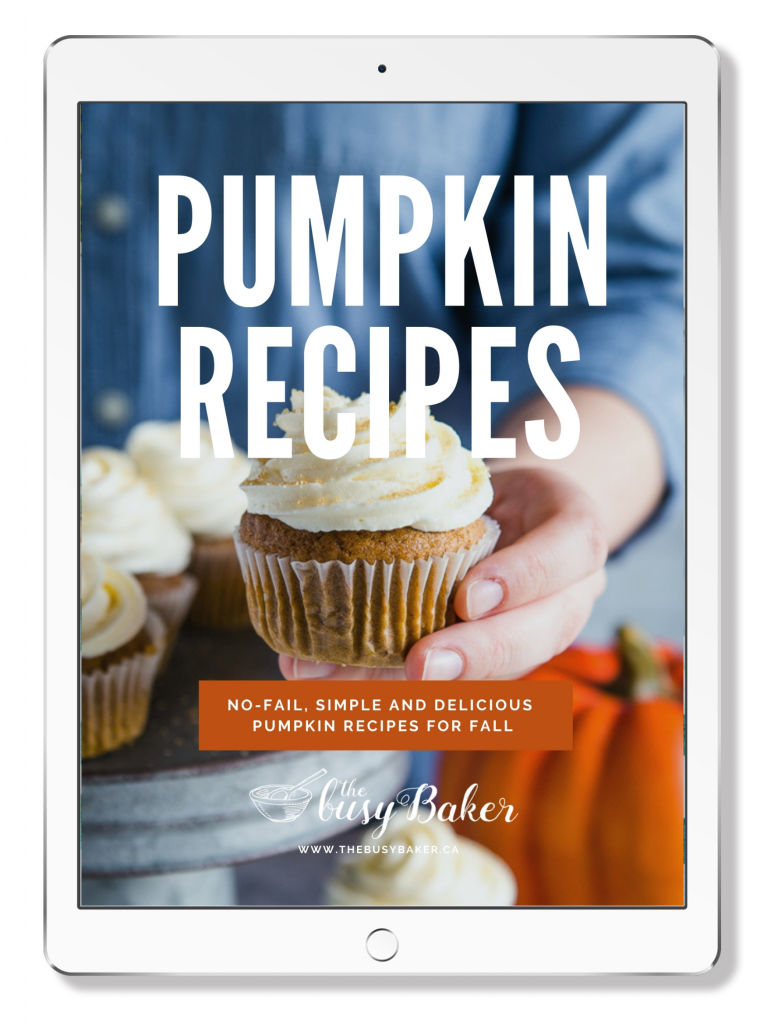 LOOKING FOR MORE DELICIOUS PUMPKIN RECIPES, PLUS FALL BAKING TIPS AND TRICKS?
Get my Pumpkin Recipes E-Cookbook!
Watch the video below to see exactly how I make this delicious and easy recipe. You can find more delicious recipe videos on my YouTube channel.
If you made this, share a photo!
Are you trying this recipe? Use the comment form below to share your take; now with support for image uploads and comment voting!
Share a photo
Starbucks Pumpkin Cream Cold Brew
This Starbucks Pumpkin Cream Cold Brew is the perfect pumpkin spice iced coffee drink – cold brew coffee with an easy sweet pumpkin cold foam!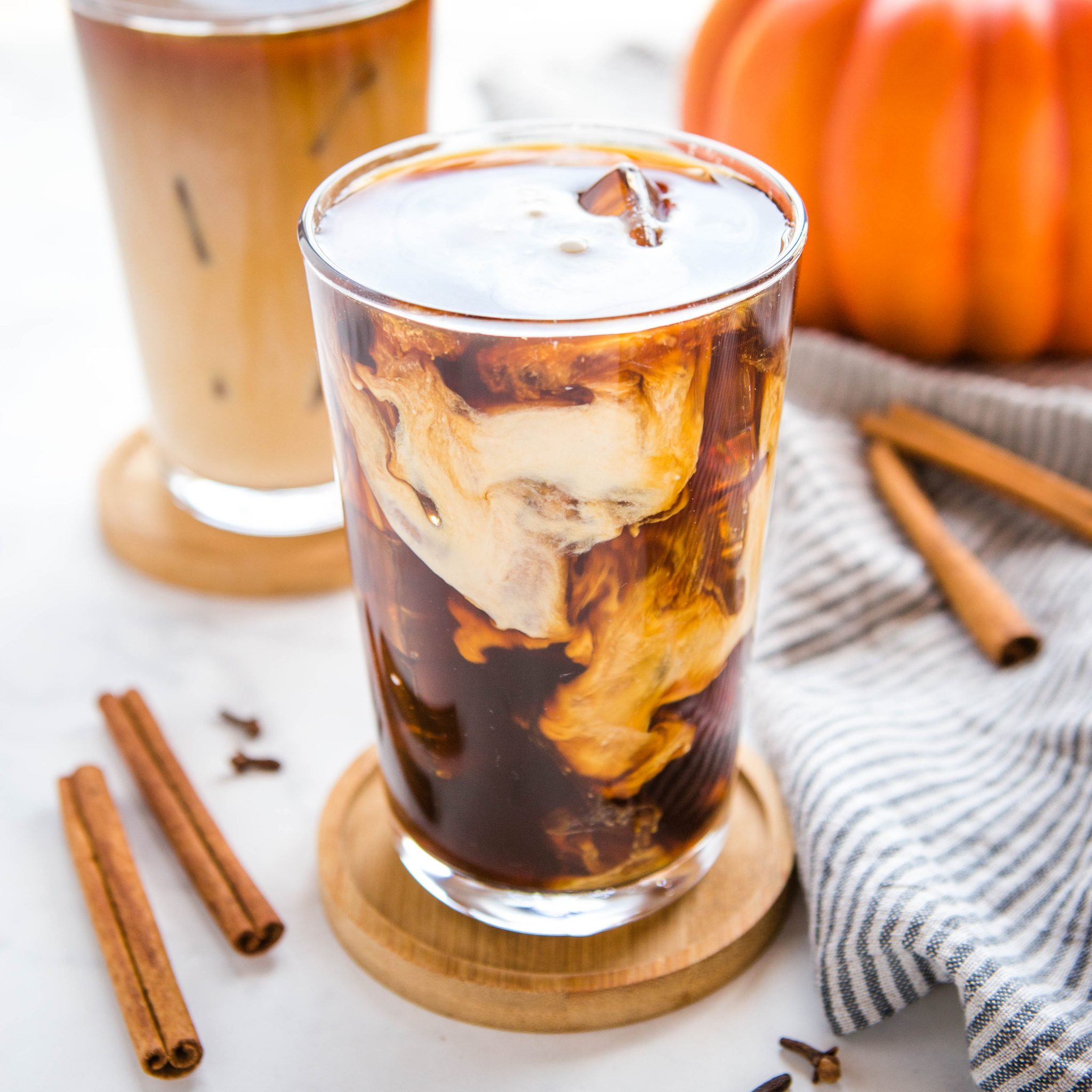 Recipe:

Equipment
French Press or Pitcher & Coffee Filters
Recipe:

Ingredients
For the syrup (makes 1/2 cup syrup):
1/3

cup

water

1/3

cup

granulated sugar

1

cinnamon stick

3-4

whole cloves

3-4

whole allspice
For the cold brew:
4

cups

cold water

3/4

cup

coarsely ground coffee
For the sweet cream cold foam:
1/2

cup

heavy cream

1/4

cup

milk

4

tablespoons

simple syrup (recipe above)

2

tablespoons

pumpkin puree (canned)

a dash or two of pumpkin pie spice (optional)
Recipe:

Instructions
For the simple syrup:
Add the water, sugar, cinnamon stick, cloves and allspice to a pot over medium-high heat and cook until the sugar dissolves.

Let the mixture sit and cool to room temperature, and remove the whole spices before adding the syrup to a jar or bottle.
For the cold brew coffee:
Add the coarsely ground beans to a french press, pitcher or large mason jar.

Pour the cold water over the beans and stir well to moisten all the beans.

Cover and let it brew in the fridge for 12 to 18 hours.
For the sweet cream cold foam:
Add the cream, milk, syrup and pumpkin puree to a mason jar and shake well to combine.
To serve:
Pour the cold brew over ice into large glasses.

Top with the pumpkin cream mixture and serve.
Recipe:

Notes

This recipe makes 4 servings (1 cup cold brew coffee each, plus 1/4 cup of the pumpkin cream mixture each).

The simple syrup recipe makes 8 tablespoons of simple syrup (or 1/2 cup), so feel free to add a little extra simple syrup to each serving depending on your tastes.

To make this recipe low carb/keto, simply replace the simple syrup with a few drops of liquid stevia and add some pumpkin pie spice to the cream mixture for added flavour.
Recipe:

Nutrition

Nutrition Facts

Starbucks Pumpkin Cream Cold Brew

Amount Per Serving (1.25 cups)

Calories 178

Calories from Fat 99

% Daily Value*

Fat 11g17%

Cholesterol 41mg14%

Sodium 32mg1%

Potassium 68mg2%

Carbohydrates 20g7%

Protein 1g2%

Vitamin A 1639IU33%

Vitamin C 1mg1%

Calcium 58mg6%

Iron 1mg6%

* Percent Daily Values are based on a 2000 calorie diet.

Notice: Nutrition is auto-calculated, using Spoonacular, for your convenience. Where relevant, we recommend using your own nutrition calculations.