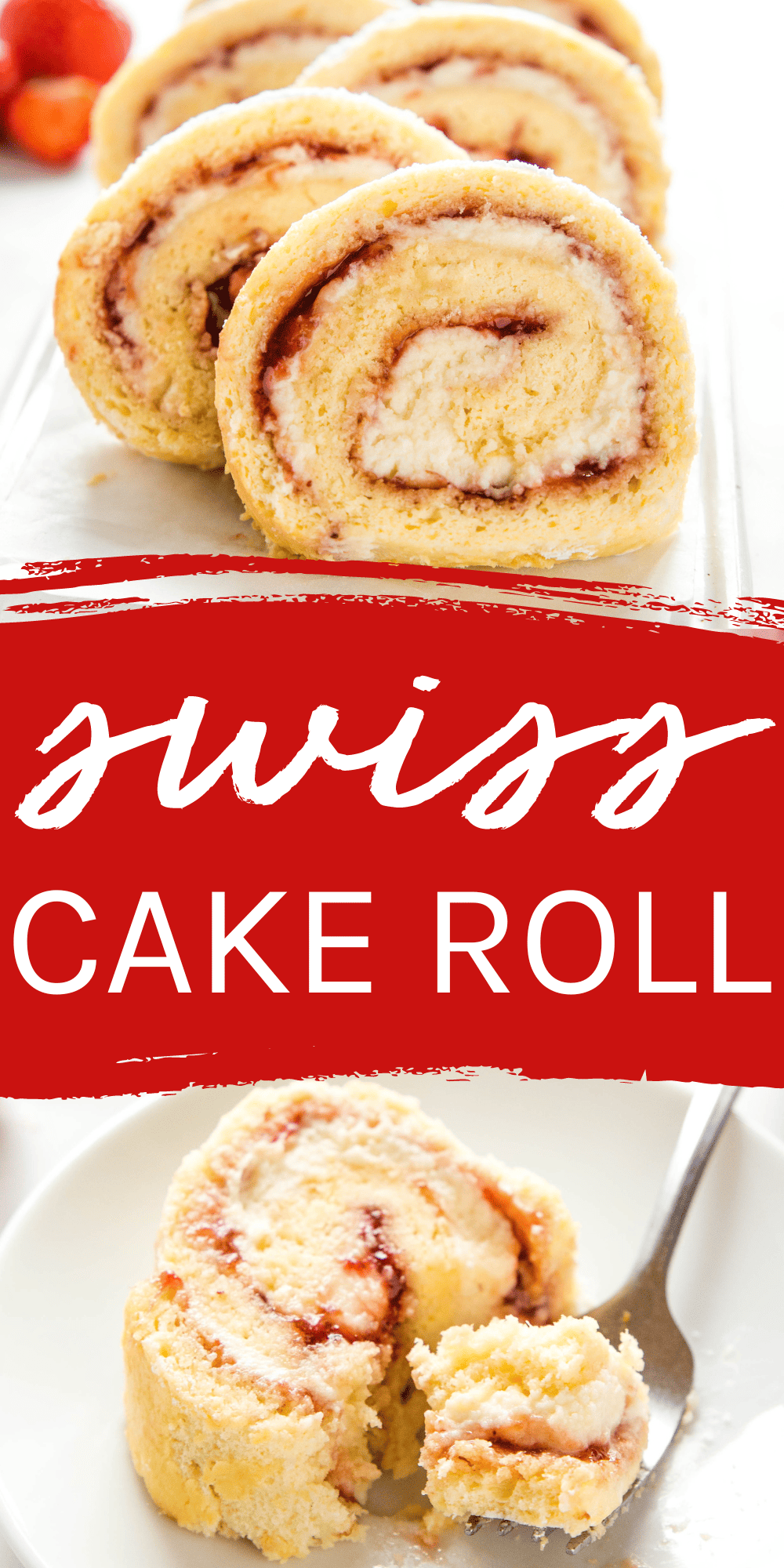 This Swiss Roll Cake recipe is the perfect spring or summer dessert – a moist and tender vanilla sponge cake with a layer of strawberry jam & filled with a light and fluffy mascarpone cream. A homemade Swiss Roll made easy with pro tips and tricks!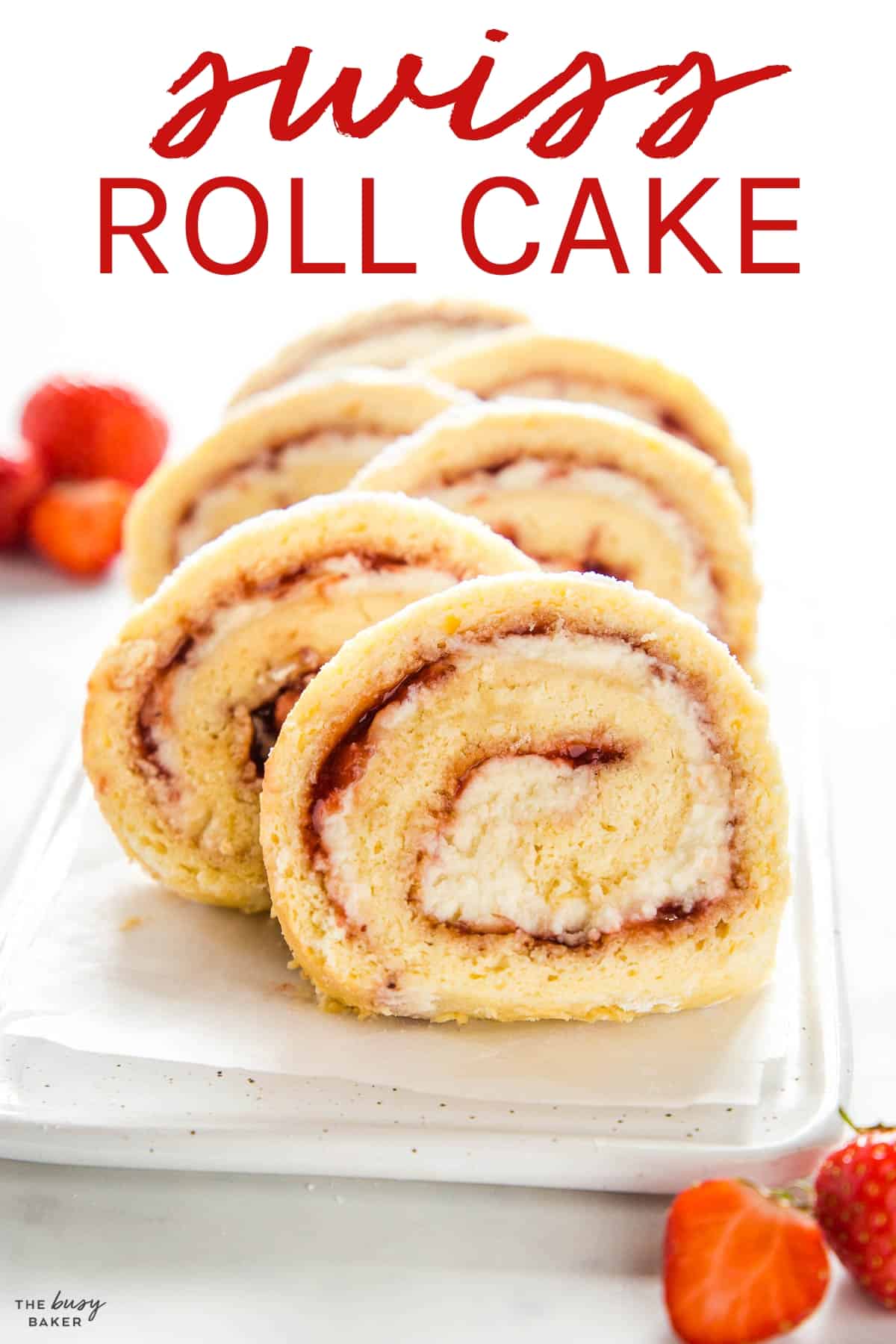 Estimated reading time: 8 minutes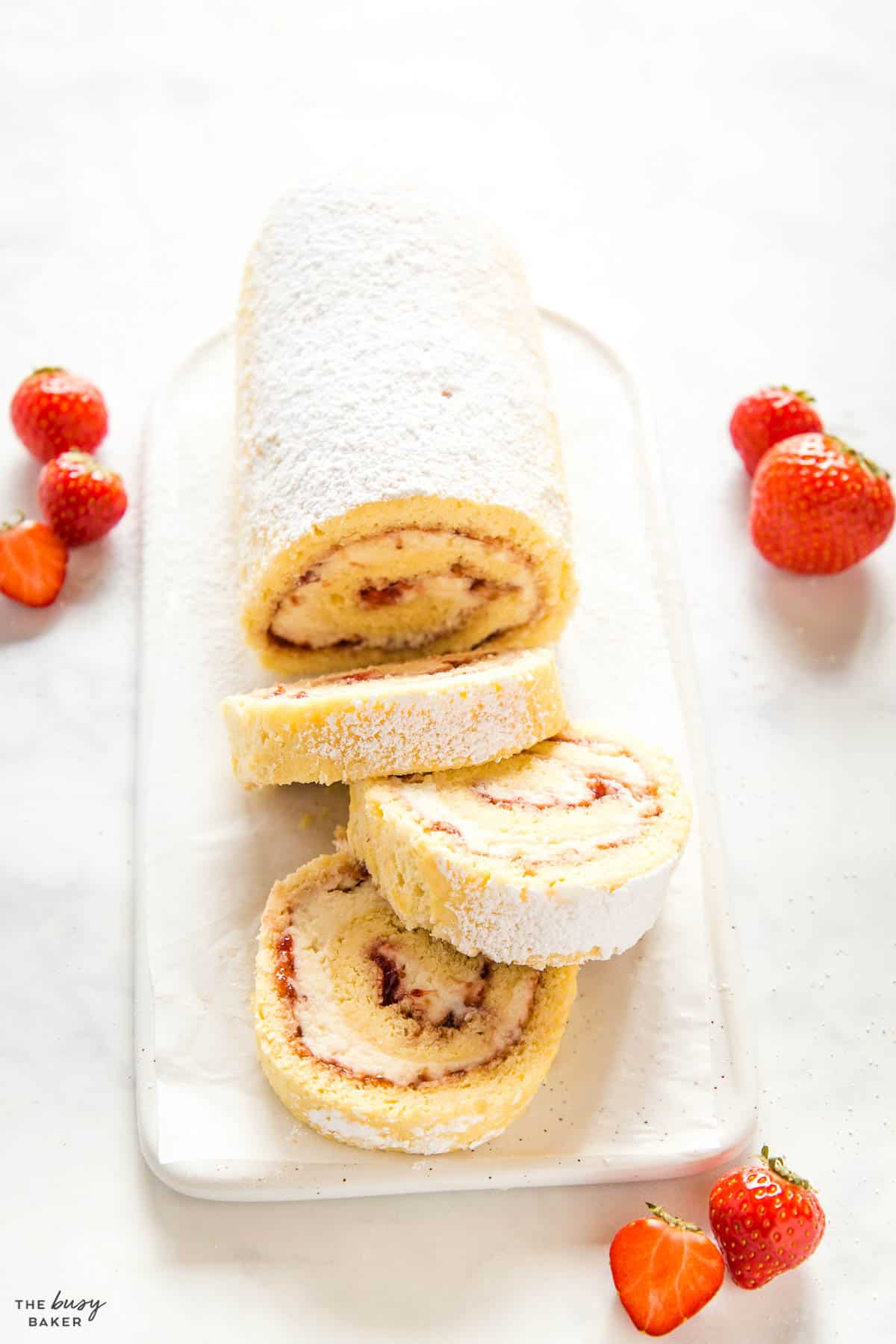 Here at The Busy Baker we love to simplify your life in the kitchen, whether that's by providing delicious and easy meal ideas for busy evenings after work or school, or simplifying and demystifying desserts and baking recipes that seem too difficult to try in your own kitchen.
This Swiss Roll recipe is one of our favourite easy "complicated" recipes – it's a simple vanilla sponge that, when made and rolled with just a few simple no-fail tips, makes the perfect cake roll with some strawberry jam and an easy mascarpone cream filling.
Trust us – if you've never made a Swiss Roll before, you're definitely going to want to try this recipe!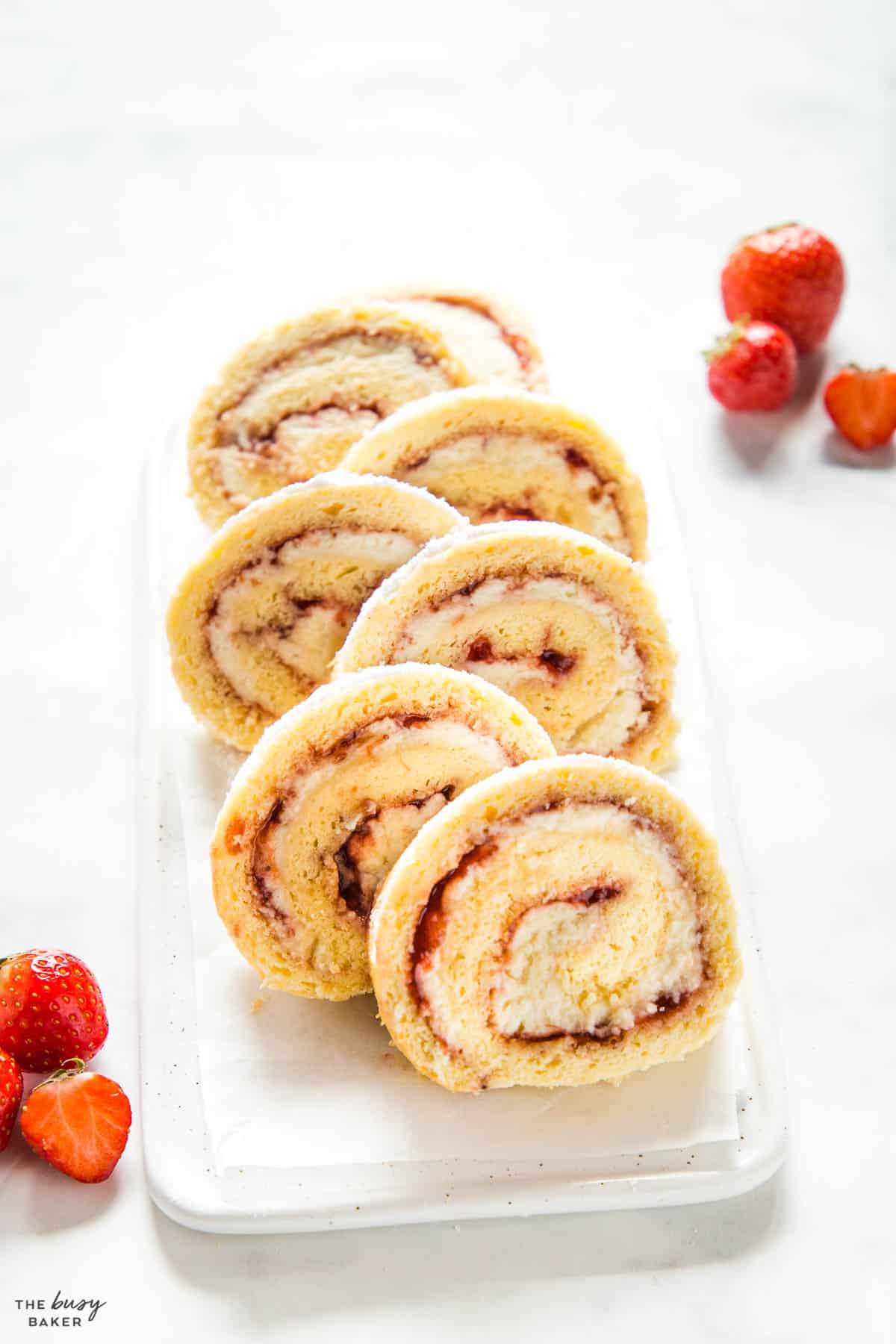 A Swiss roll, also known as a jelly roll, cake roll, roll cake or cream roll, is a flexible sponge cake filled with jam and cream and rolled into a tight spiral shape. The cake's light, airy, and spongy texture, coupled with the rich and decadent filling, makes for a delicious and well-balanced dessert for any occasion.
The Swiss Roll cake originated in Europe and gained its popularity in Switzerland (hence the name "Swiss roll"). Some more traditional Swiss Roll cakes are made with only sponge cake and jam, but different variations that include a whipped cream filling or a mascarpone filling are also popular.
Swiss Roll cakes make a gorgeous addition to a dessert table or special occasion. They are perfect for dessert after a meal and they're a delicious treat enjoyed with a cup of tea or coffee in the afternoon. We love to serve this Swiss Roll with a dusting of powdered sugar on top with some fresh strawberries!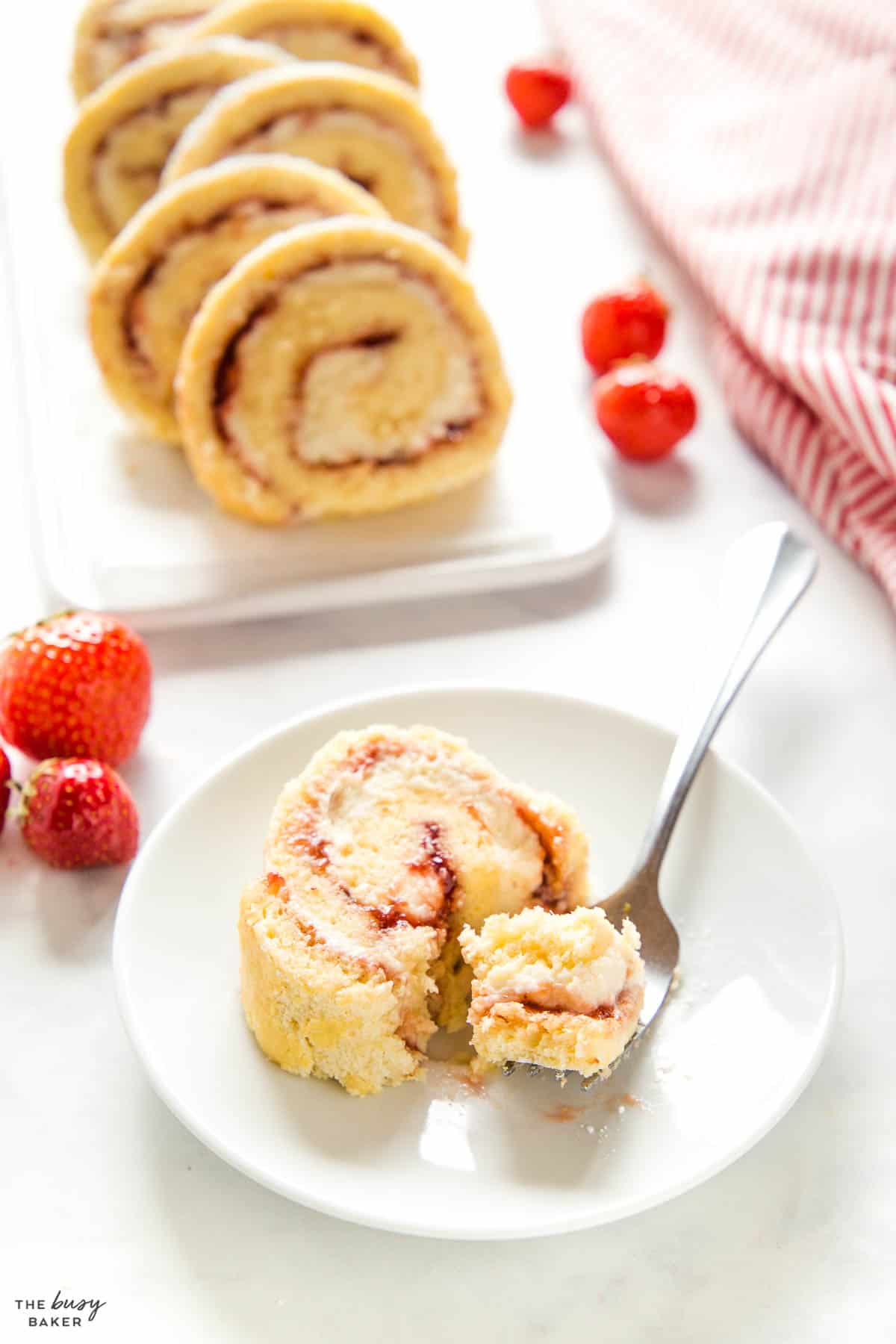 Here at The Busy Baker we love a good summer dessert. In fact, we've shared SO many of our favourite summer desserts recipes with you in the past – here is a list of our favourites!
We've also developed a FREE email course all about summer entertaining tips and recipes! Feel free to sign up below!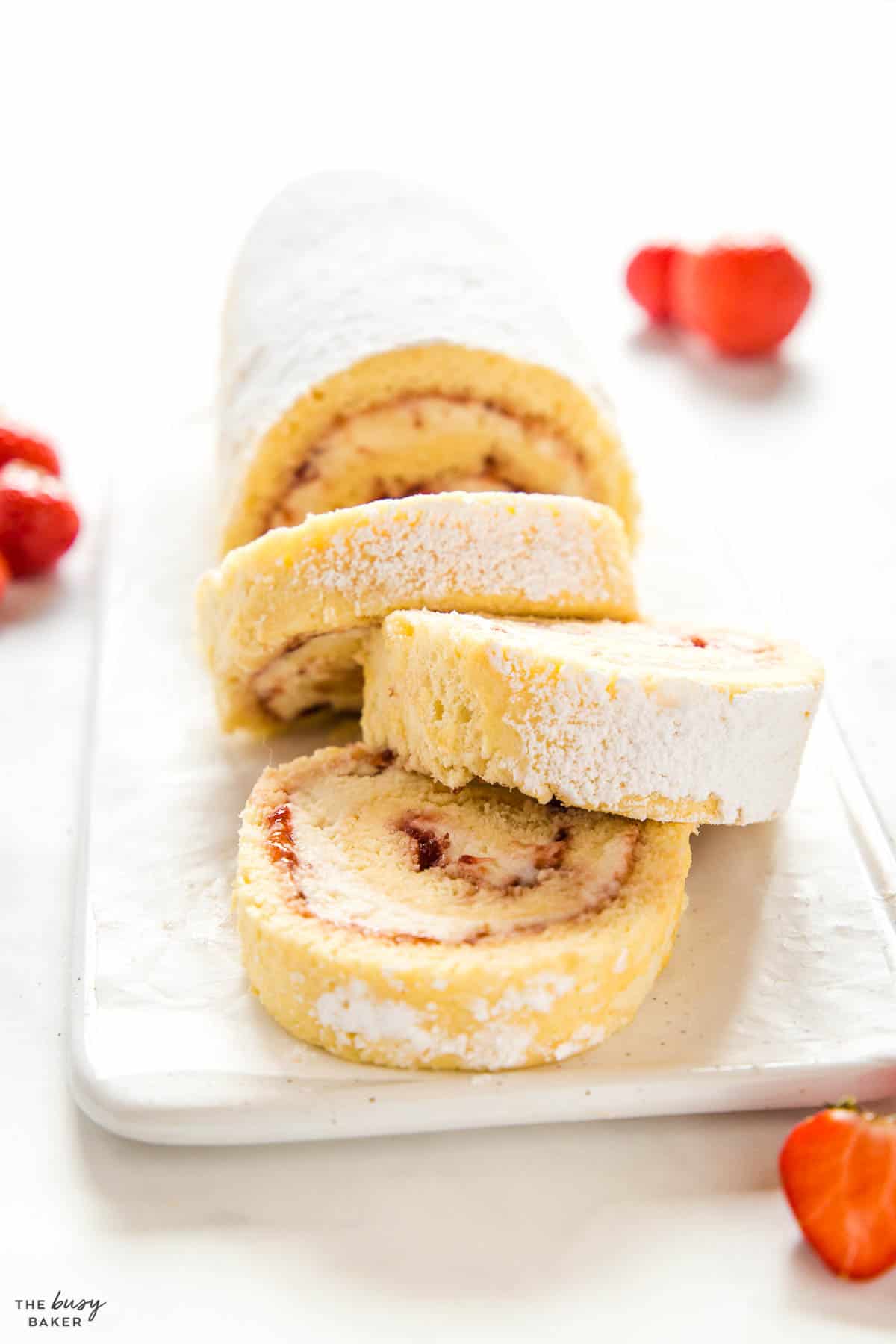 And if you're looking for more where that came from, check out our Summer Desserts Recipes e-cookbook, available NOW in The Busy Baker shop!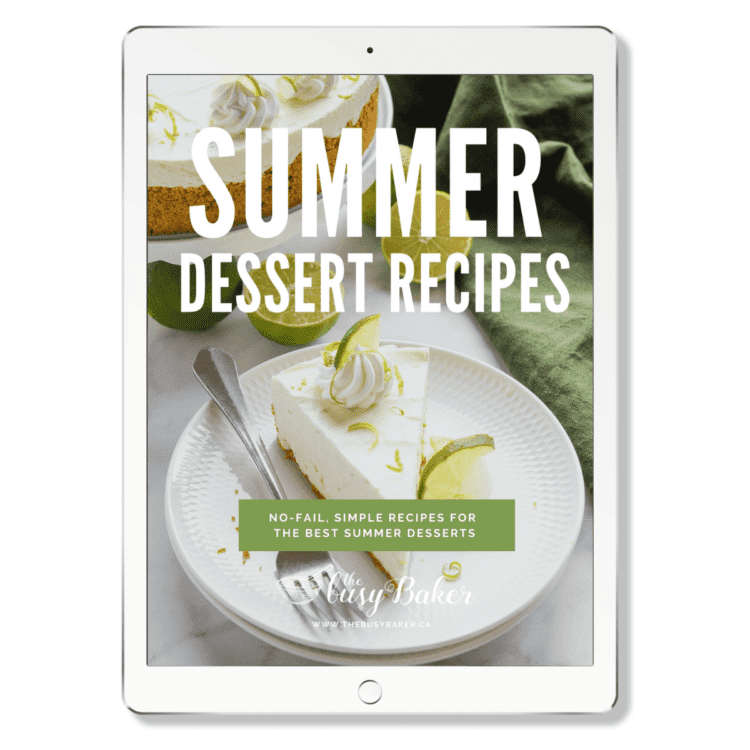 Looking for more?
EASY AND DELICIOUS SUMMER DESSERT RECIPES YOU'LL LOVE!
Get my no-fail summer dessert recipes e-cookbook!
Click here to learn more!
Making a Swiss Roll or Cake Roll at home doesn't have to be complicated! Here are some issues you might encounter when making a homemade Swiss Roll Cake and how to prevent or solve them:
Why did my cake roll crack? It's likely one of three issues: the flour wasn't measured properly and you added too much flour, the cake was over-baked, or you didn't roll it right away while it was hot from the oven.
Why is my cake roll gummy? If your cake is gummy, it could be that the flour hasn't been measured properly (it contains less flour than it should), the cake was taken out of the oven too soon or the cake was over-mixed.
If there's a blob of frosting in front as you roll, or the frosting is oozing out the sides, you're likely rolling too tightly.
If the cake roll has a flat side or isn't round, it probably wasn't rotated as it cooled.
Do not cool the rolled cake after baking in the fridge to save time – this will cause it to be rubbery and fall apart. Cool it at room temperature and chill it in the fridge only after the cake has been cooled, unrolled, filled with frosting, and rolled up again.
Don't use baking paper to roll the cake as it cools – this will cause lines in the cake and trap moisture inside, creating a gummy cake. Using a kitchen towel is ideal because it allows moisture and heat to escape.
Use a cutting board or cooling rack to help flip the cake after baking. Line it with parchment paper, add it on top of the cake upside down, and then invert onto the prepared kitchen towel dusted with powdered sugar. It's easy to break or crack the cake when tipping it out of the pan, so take care!
Why is my cake too thin? Using the wrong size pan, or a pan that's too large will cause the cake to be too thin. We suggest using a 10-inch by 15-inch jelly roll pan.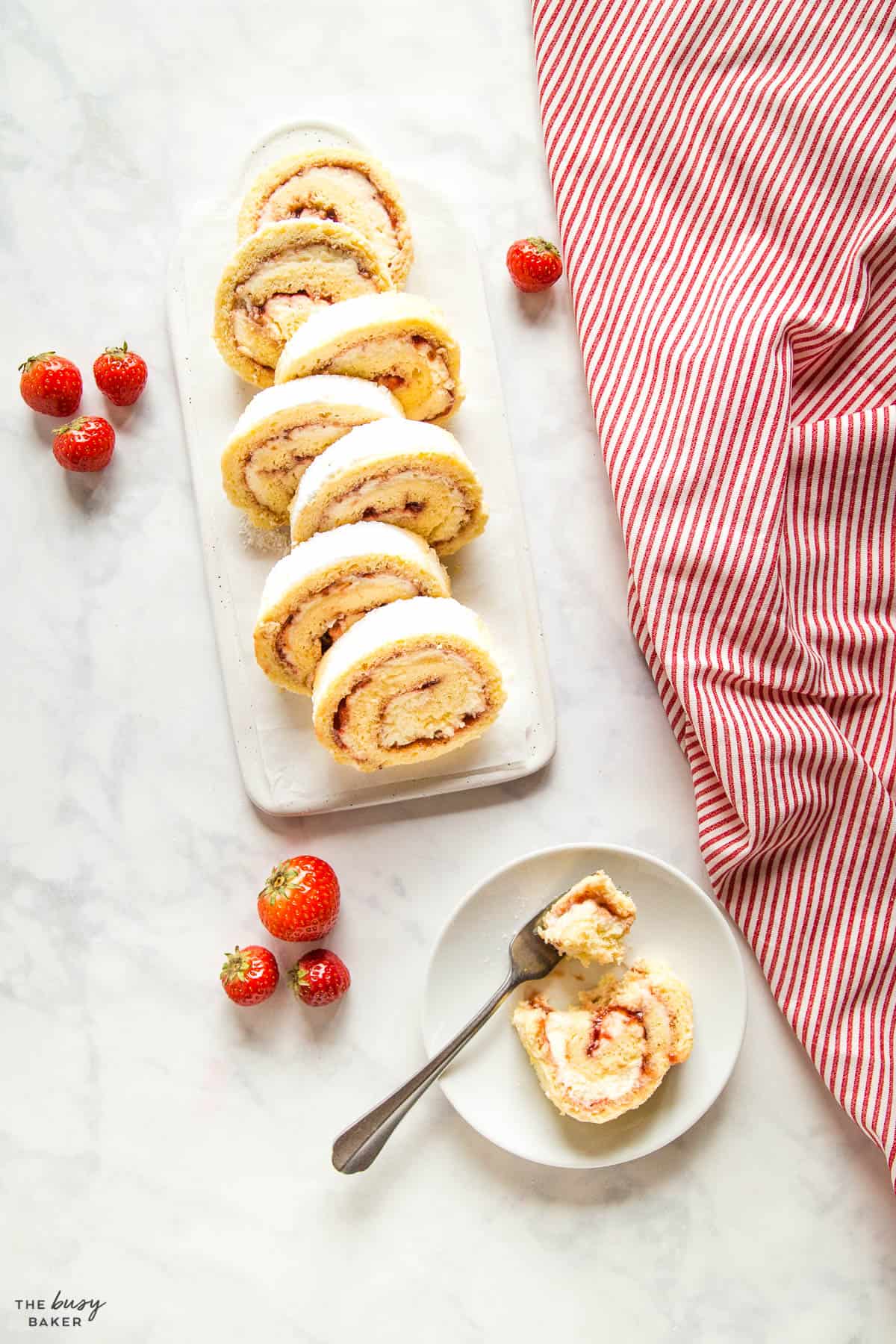 Here's a list of kitchen items you'll need to make this Swiss Roll Recipe or any Cake Roll at home (affiliate links):
a jelly roll pan that's approximately 10 inches wide by 15 inches long with sides high enough to contain the cake batter (about 1 inch high).
a clean kitchen towel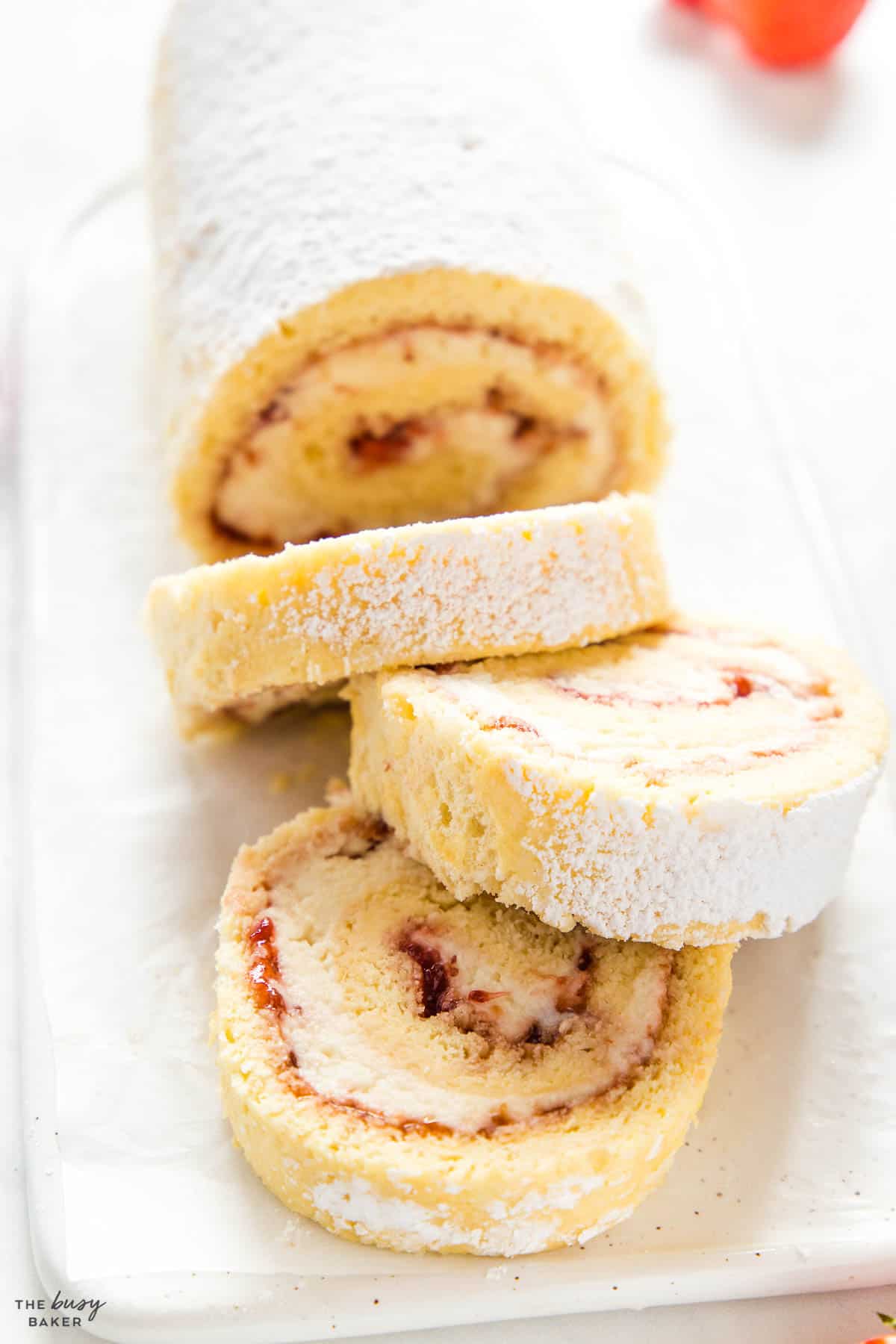 eggs
granulated sugar
vegetable oil
milk
vanilla extract
all purpose flour
cornstarch
baking powder
cream of tartar
salt
mascarpone cheese
cream cheese
butter
powdered sugar
whipped cream
strawberry jam
Try one of these delicious twists on the classic Swiss Roll recipe!
Coffee: Add 1-2 tablespoons of instant coffee granules or espresso powder to the cake batter to infuse it with a delightful coffee flavour. Add some instant espresso to the cream filling and skip the strawberry jam.
Matcha: Add some matcha powder to the cream filling for a vanilla matcha twist on the classic!
Lemon: Add the zest of one lemon to the cake batter for a refreshing citrus flavour. You can also include a thin layer of lemon curd along with the cream filling (instead of the strawberry jam) for an extra burst of lemon flavour.
Orange: Replace the vanilla extract with orange extract, and add the zest of one orange to the cake batter for a fragrant and tangy twist. You can also substitute the strawberry jam for orange marmalade.
Almond: Add almond extract in addition to the vanilla extract in the cake batter, and add some almond extract to the cream filling too. You can also sprinkle some toasted almond slices on top of the filling for added crunch.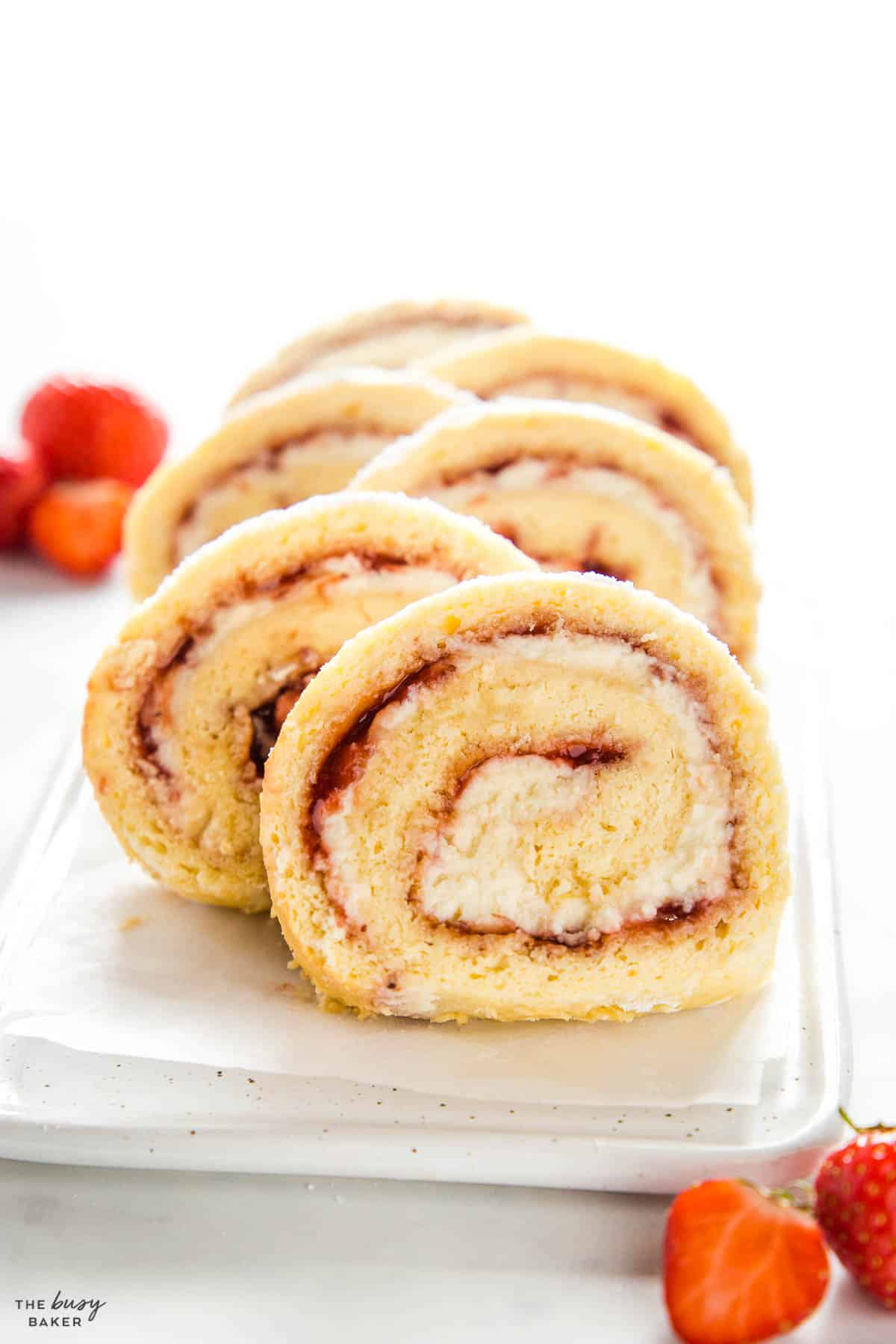 Time needed: 2 hours
Follow our No-Fail Tips for the PERFECT Cake Roll or Swiss Roll Cake!
Use room temperature ingredients.

Ingredients at room temperature create a smooth cake batter because ingredients that are the same temperature mix together better. This is the key to cakes that turn out perfectly.

Don't over-mix the batter.

Cream the butter and sugar together well, but once you add the dry ingredients be sure you mix only until no streaks of flour appear. This will help the cake become spongy and soft instead of dense and rubbery.

Bake the cake immediately.

Be sure to preheat your oven and bake the cake immediately after mixing. This will help the cake rise properly.

Smooth out the cake batter well in the pan before baking.

For a cake with a flat top, smooth out the cake batter evenly in the pan before baking.

Roll the cake while it's hot.

Roll it up from the narrow end while hot from the oven in a clean kitchen towel dusted with powdered sugar. The cloth absorbs the moisture from the steam of the cake as it cools and prevents it from sticking to each other. Never roll the cake without a kitchen towel inside the roll.

Dust the towel with powdered sugar to prevent sticking before rolling.

The powdered sugar helps the cake release from the cloth easily.

Turn the cake while cooling.

In order to keep the round shape, turn the cake several times while it cools to prevent it from getting flat on one side.

Be gentle.

As you unroll the cake after it has cooled, be gentle, making sure you don't force the curled end.

Spread the frosting evenly.

Spread the frosting about 1/3 inch thick over the whole cake, making sure it's spread as evenly as possible to avoid air pockets.

Add extra frosting to the curled end.

Fill the curled end with a little extra frosting. It will get pushed out to the end of the roll as you roll the cake.

Leave 1/2 inch un-frosted.

Leave the final 1/2 inch of the cake (on the narrow end) unfrosted because some frosting will get pushed to that edge as you roll the cake.

Roll gently.

Roll the cake very gently and don't press on it while you roll it – let it roll naturally and don't tighten it aggressively or the frosting will ooze out. There should be no blob of frosting in front as you roll.

Chill before slicing.

Wrap the cake in plastic wrap, cool it in fridge for 2 hours or freezer for 30 minutes, turning regularly to keep it round as it chills.

Slice the ends before serving.

Create clean ends by slicing off about 1/4-inch on both ends. Dust with powdered sugar on top, slice and serve.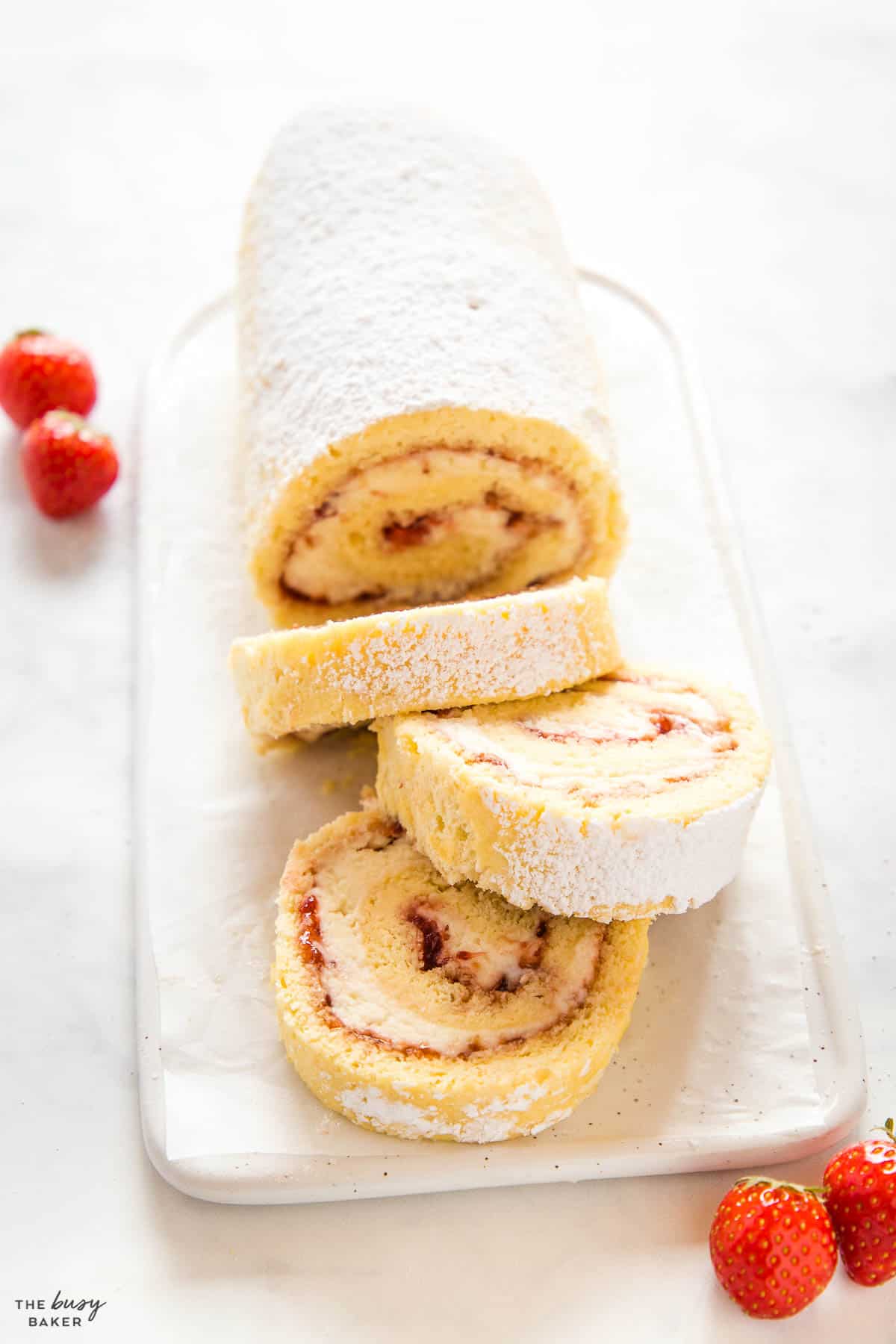 What is a Swiss roll or cake roll?

A Swiss roll or cake roll is a thin cake that's covered on one side in cream or jam (or both) and then rolled up into a cylinder shape.
How do you eat a cake roll?

The best way to eat a cake roll is to slice it in thin slices to display the roll.
How long do roll cakes last?

Store your cake roll in the fridge for up to 3 days or in the freezer for up to 6 months, in an airtight container.
Why is my Swiss roll dry?

Swiss roll cakes can become dry if they're over-baked or if they contain too much flour.
Why is my Swiss roll gummy?

Swiss roll cakes can become too moist or gummy if they don't contain enough flour or if they're under-baked.
Why should you roll the cake while it is still warm and not later?

Rolling the cake while it's hot from the oven will prevent it from cracking and it will allow it to cool in the correct shape.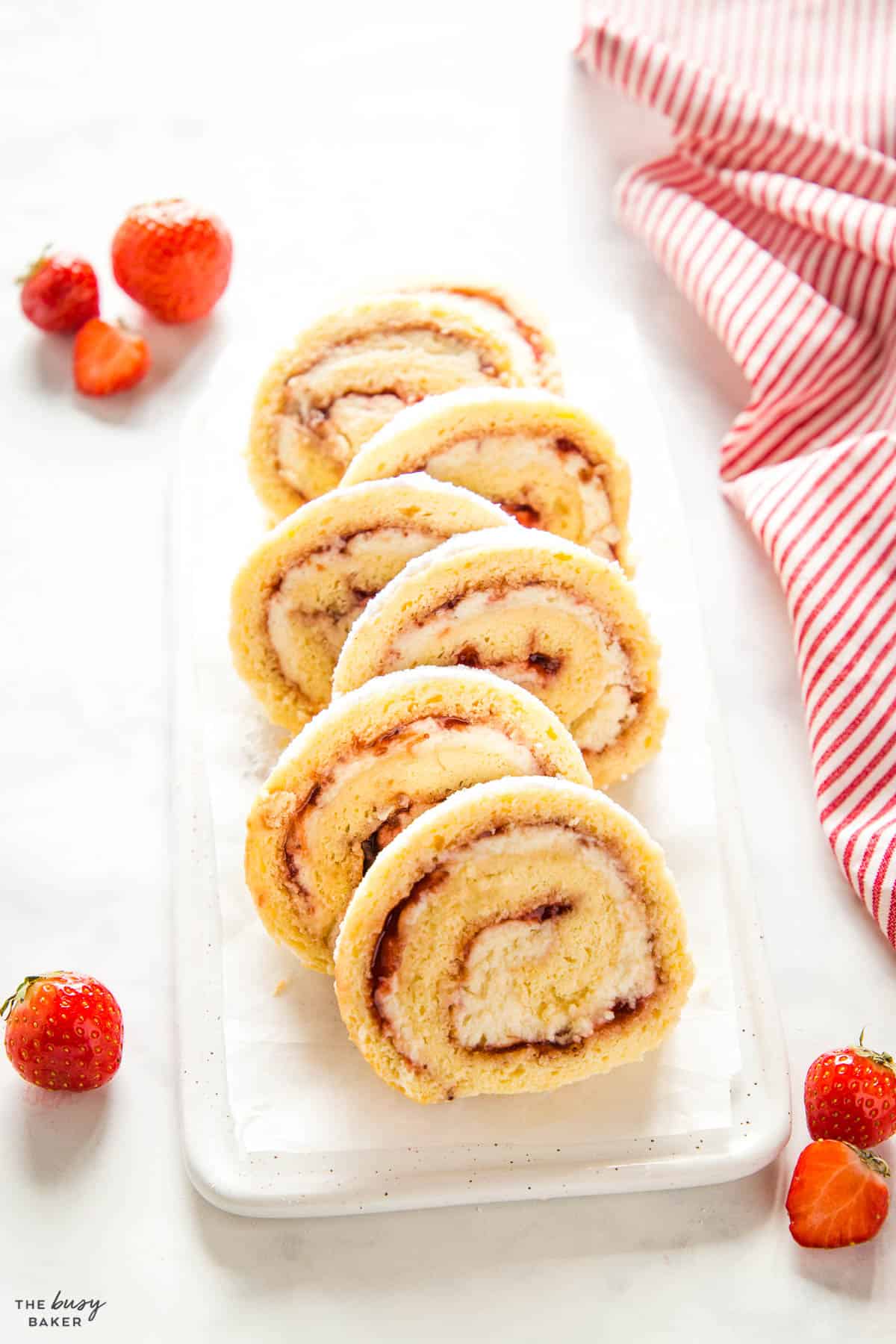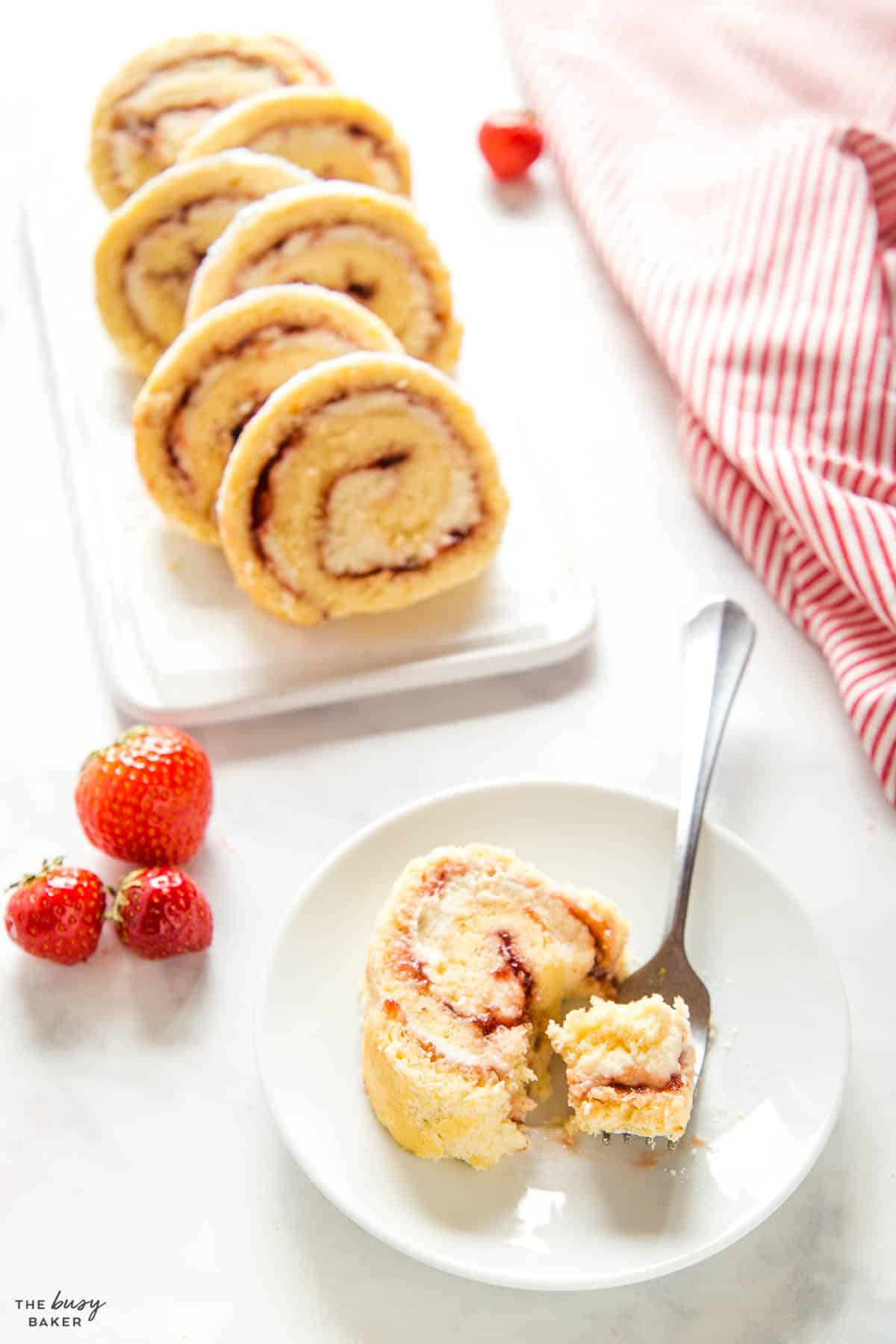 We hope you love this Swiss roll recipe as much as we do! Let us know in the comments below, what's your favourite classic dessert to make at home? We'd love to know!
Watch the video below to see exactly how we make this recipe. You can find many more deliciously simple recipe videos on our YouTube channel!
If you made this, share a photo!
Are you trying this recipe? Use the comment form below to share your take; now with support for image uploads and comment voting!
Share a photo
Swiss Roll
This Swiss Roll Cake recipe is the perfect sponge cake rolled with mascarpone cream and strawberry jam. Easy to make with pro tips and tricks!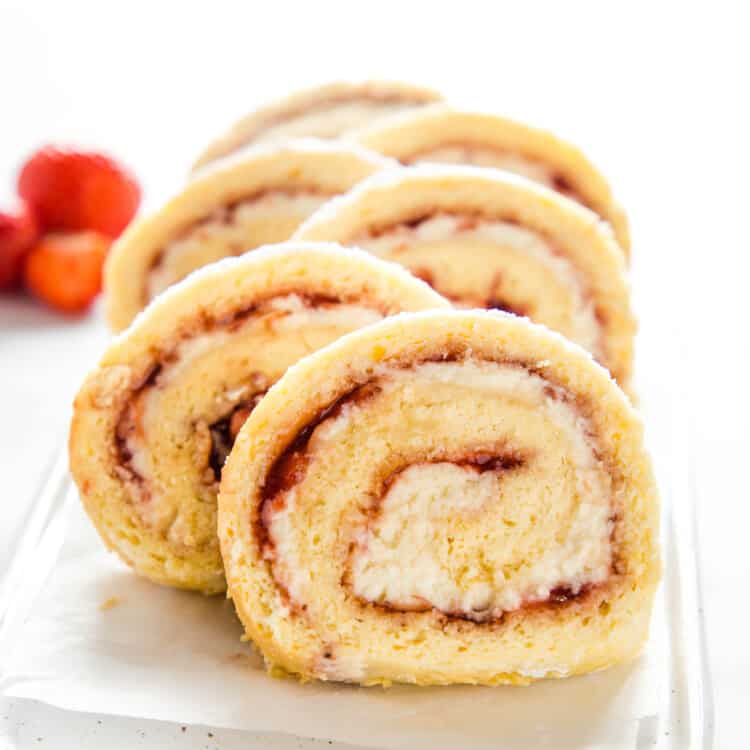 Recipe:

Ingredients
Filling
1/2

cup

mascarpone cheese

at room temperature

1/4

cup

cream cheese

at room temperature

1/4

cup

butter

at room temperature

1

cup

powdered sugar

1/4

teaspoon

salt

1

cup

whipped cream

1

cup

strawberry jam
Recipe:

Instructions
Preheat your oven to

325

°F

(165℃) and prepare a jelly roll pan by greasing it well and lining the bottom with a piece of parchment paper. It's also a good idea to grease the top of the parchment paper.

Add the egg yolks and sugar and whisk them with a hand mixer until the mixture is light and creamy and the sugar grains have disappeared.

Add the oil, milk and vanilla extract and incorporate them well. Set the bowl to a side.

Sift the flour, cornstarch and baking powder in another bowl and mix them well with a fork.

To another clean and dry bowl, add the egg whites with the salt and whisk them until soft peaks form. Add the cream of tartar and whisk very well until you get strong and sturdy hard peaks.

Over the egg whites add 1/2 of your egg yolks mixture and 1/2 of your flour mixture and fold them in gently. Repeat the process with the rest of the egg yolk mixture, folding them as gently as possible to not deflate the egg whites.

Pour the batter into the prepared jelly roll pan and spread it out to the edges being careful to spread the batter as evenly as possible. Bake at 325℉ (165℃ ) for about 13-15 minutes or until a toothpick inserted into the middle of the cake comes out clean.

As the cake bakes, dust powdered sugar generously over a clean kitchen towel creating a rectangle shape, slightly larger than your jelly roll pan.

Immediately after taking the cake out of the oven, drag a butter knife along the edges of the cake to make sure all the edges come loose from the pan. Line a cooling rack with parchment paper and place it upside down on top of the hot cake before inverting. Invert it again so the cake is face down on top the kitchen towel over the powder sugar. Peel off the parchment paper from the bottom of the cake.

Roll the cake with the towel inside the roll as well, from the narrow end, while it's hot from the oven. Don't roll it too tightly or aggressively, but the cake should be firmly rolled with no spaces on the inside of the roll.

Let the cake roll cool, rolled, turning it several times throughout the cooling process so that it keeps a round shape and doesn't flatten on one side. This should take about one hour to one hour and a half.
For the frosting:
Add the room temperature cream cheese, butter and mascarpone to the bowl of your stand mixer fitted with the paddle attachment (or in a bowl with your hand mixer). Whip them on medium high speed until they're creamy and smooth.

Sift the powdered sugar and slowly add it, one cup at a time, mixing after each addition. Add the salt and mix until incorporated.

In another bowl, whip 1/2 cup of heavy cream (this will yield 1 cup of whipped cream). Add it to your mixture and fold it in gently.
Assembly:
Once the frosting has reached the right consistency and the cake has cooled completely, gently unroll the cake (you don't need to flatten it completely – one end will have a small curl). With an offset spatula gently spread a thin layer of strawberry jam on the whole cake. Add a couple of dollops of frosting and spread it out evenly to a thickness of about 1/3-1/2 inch, leaving the last 1/2 inch of the cake on the narrow end (the flat end) free of frosting. Add a little bit of extra frosting under the curled up end.

Gently roll your cake back up without the towel. Wrap it tightly in plastic wrap and put it in the fridge for an hour or pop it in the freezer for 20 minutes to set.
Serving:
After the frosting has firmed up in the fridge or freezer, remove the plastic wrap, cut 1/4-inch slices from each raw end of the Swiss roll and dust the top with powdered sugar.
Recipe:

Notes
How to store the Swiss Cake Roll
You can keep it in the fridge in an airtight container for 3-5 days.
How to freeze the Swiss Cake Roll
You can freeze this cake roll for up to 3 months wrapped well in plastic wrap and placed in a freezer bag. Make sure you thaw the cake roll in the fridge before serving. After it's thawed, remove any excess moisture with paper towel (if there's any) and dust it with powder sugar. Slice and enjoy!
Recipe Substitutions
If you'd prefer, substitute the strawberry jam for your favourite flavour of jam (we like blueberry or raspberry). You can also skip the mascarpone cream filling and simply fill the Swiss roll with whipped cream sweetened with a little bit of sugar.
Recipe:

Nutrition

Nutrition Facts

Swiss Roll

Amount Per Serving (1 serving)

Calories 289

Calories from Fat 108

% Daily Value*

Fat 12g18%

Cholesterol 83mg28%

Sodium 186mg8%

Potassium 108mg3%

Carbohydrates 40g13%

Protein 4g8%

Vitamin A 433IU9%

Vitamin C 2mg2%

Calcium 50mg5%

Iron 1mg6%

* Percent Daily Values are based on a 2000 calorie diet.

Notice: Nutrition is auto-calculated, using Spoonacular, for your convenience. Where relevant, we recommend using your own nutrition calculations.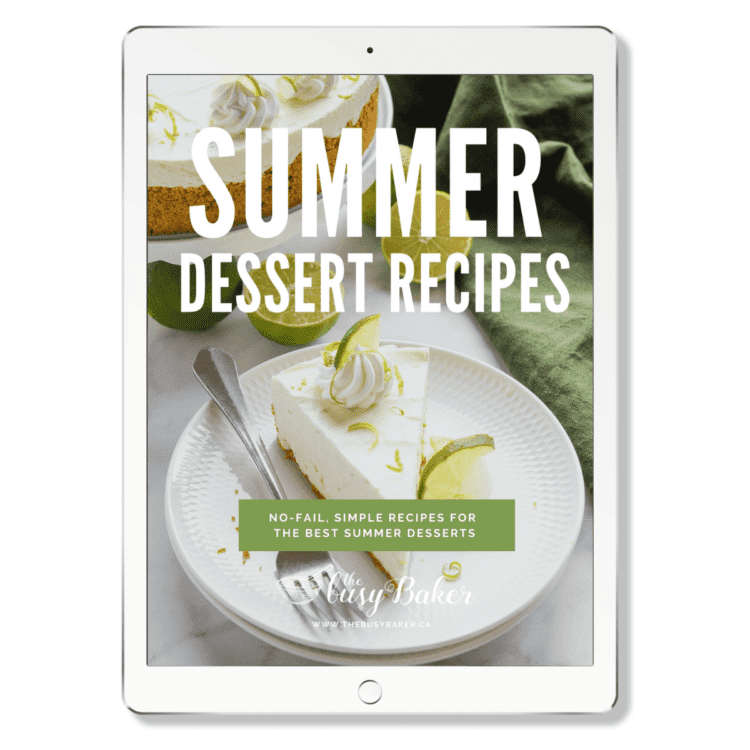 Looking for more?
EASY AND DELICIOUS SUMMER DESSERT RECIPES YOU'LL LOVE!
Get my no-fail summer dessert recipes e-cookbook!
Click here to learn more!