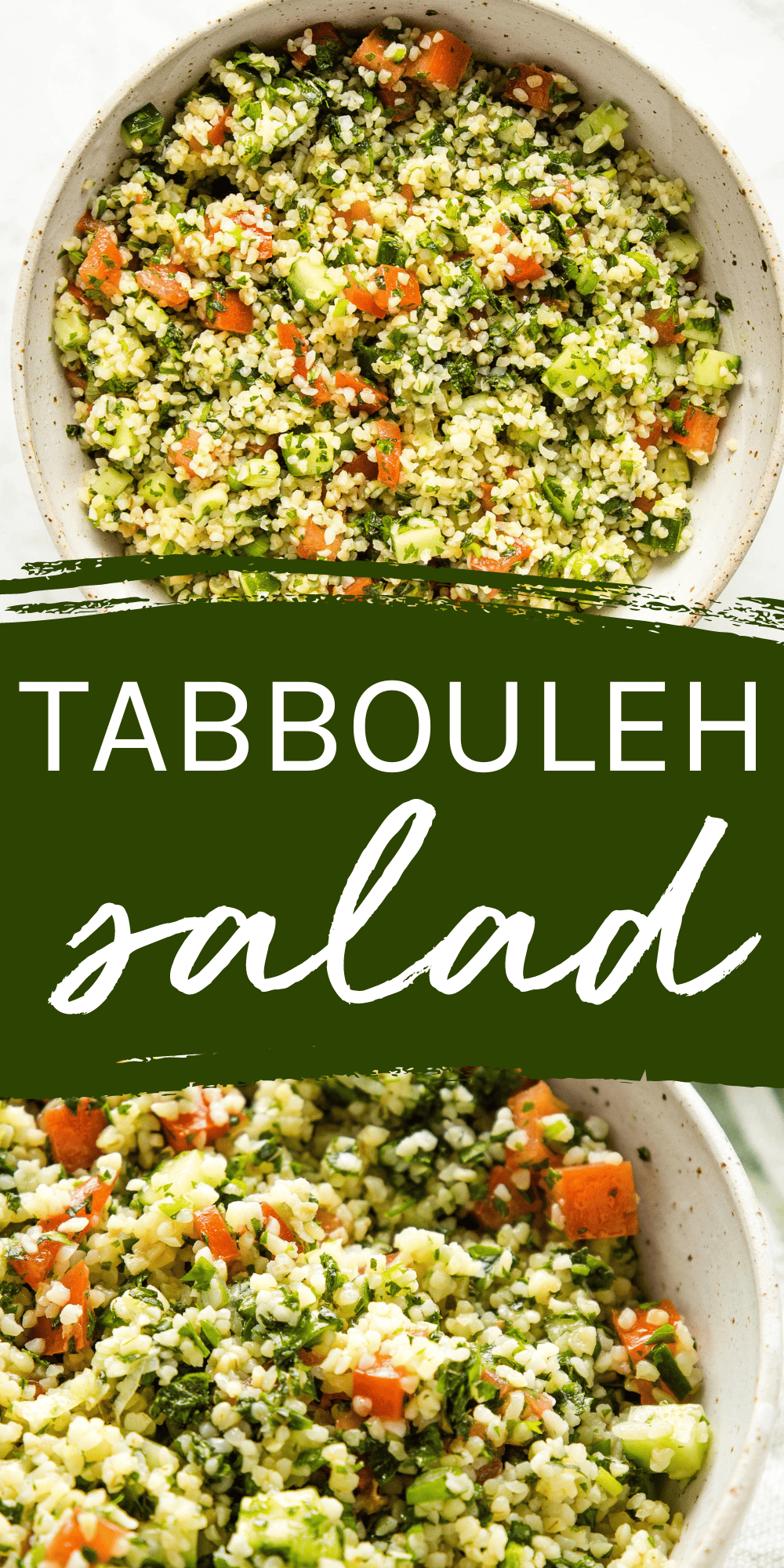 This Tabbouleh Salad recipe (also called Tabouli) is a classic middle-eastern style salad made with finely chopped fresh vegetables, fresh herbs, and bulgur wheat, tossed with a simple dressing made from olive oil, lemon juice, and garlic. It's the ultimate fresh and healthy side dish!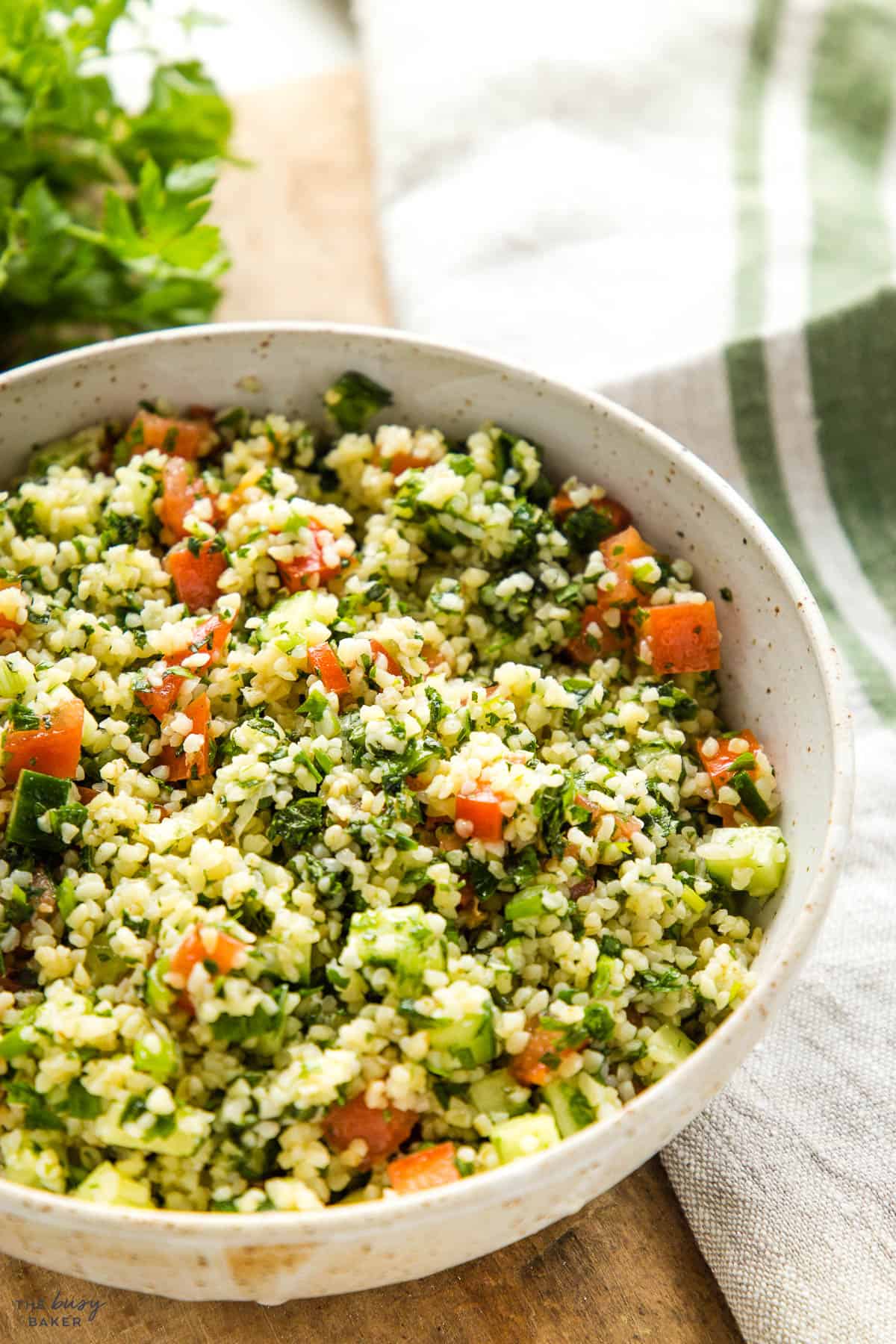 Mediterranean food is our favourite and dishes like this Tabbouleh Salad recipe are a staple in the Busy Baker kitchen for so many reasons. We love a good salad every day of the week, especially one that packs such a HUGE flavour punch, thanks to the fresh veggies and fresh herbs.
This Tabbouleh Salad recipe is great for a weeknight meal because of how quick and easy it is to make. It's also great for meal prep and make-ahead lunches or dinners because it can be easily made ahead of time and stored in the fridge for several days – the flavours actually get better after a day or two!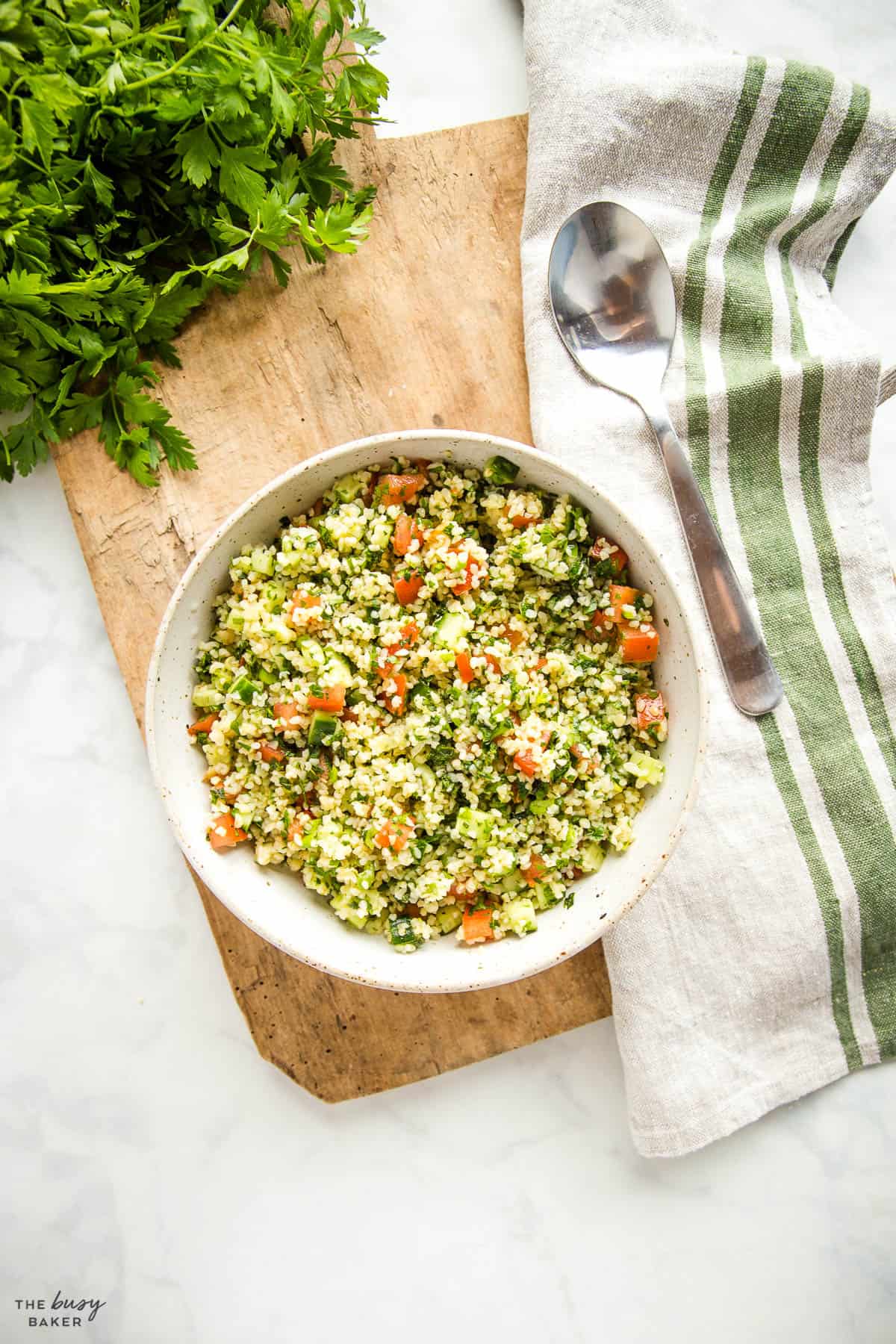 Tabbouleh salad is a traditionally Middle Eastern dish that's made from finely chopped tomatoes, cucumbers, fresh parsley, fresh mint, and soaked or cooked bulgur wheat. It's often tossed in a simple dressing made from olive oil, lemon and sometimes garlic, and it's a salad that's bursting with fresh, simple flavours. It's one of our absolute favourite summer salads and it makes the perfect side dish to serve with grilled meats, fish, seafood, fresh pitas, flatbreads, or naan, and hummus.
You might have noticed that Tabbouleh salad can also be spelled Tabouli. This variation in spelling is because of regional and cultural influences in different parts of the Middle East. Tabbouleh is the more commonly used spelling in Lebanon, while Tabouli is often preferred in other parts of the Middle East and Western countries. Regardless of spelling, both versions of the word refer to the same fresh and delicious salad we hope you'll love as much as we do!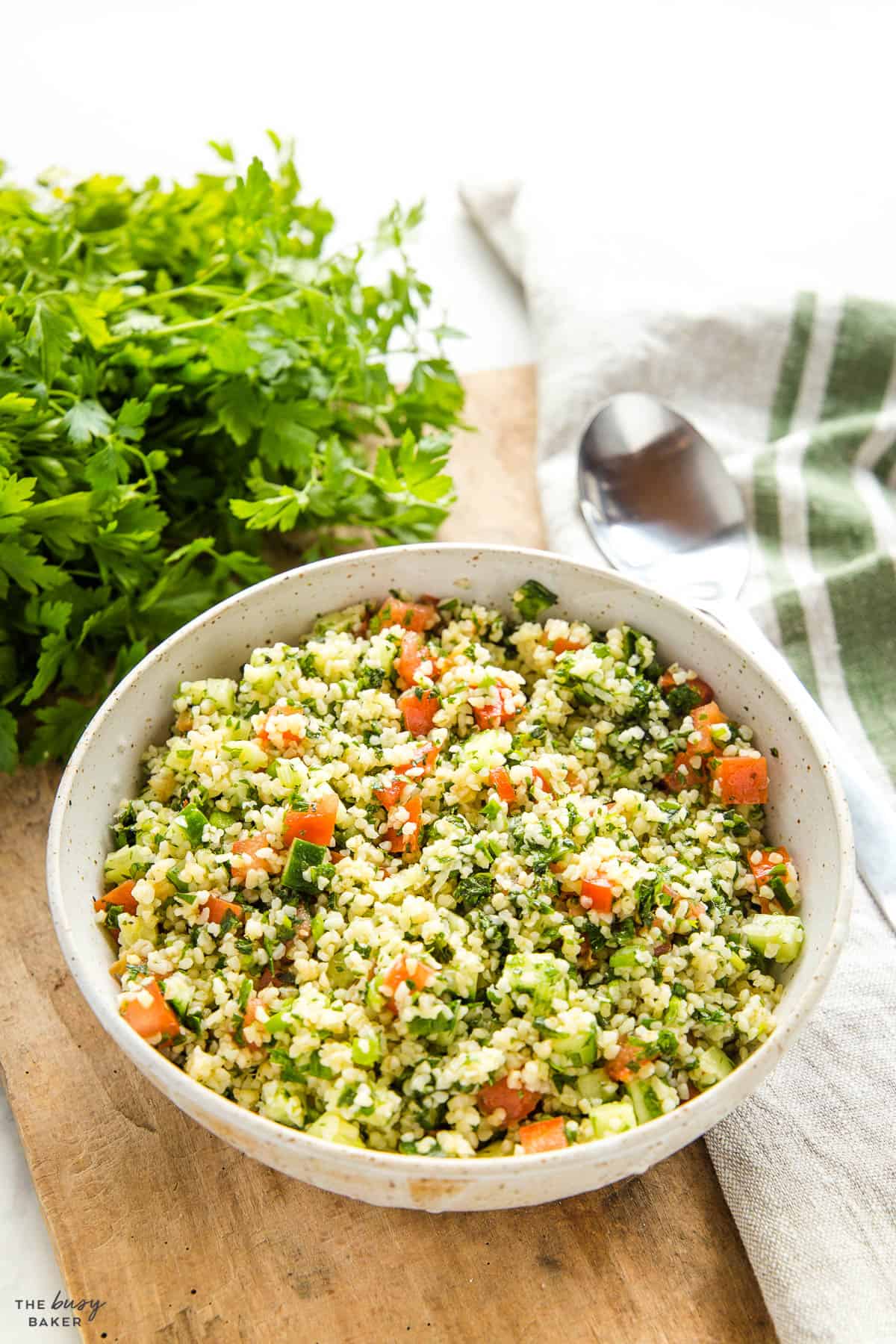 Here's what you'll need to make this recipe (affiliate links):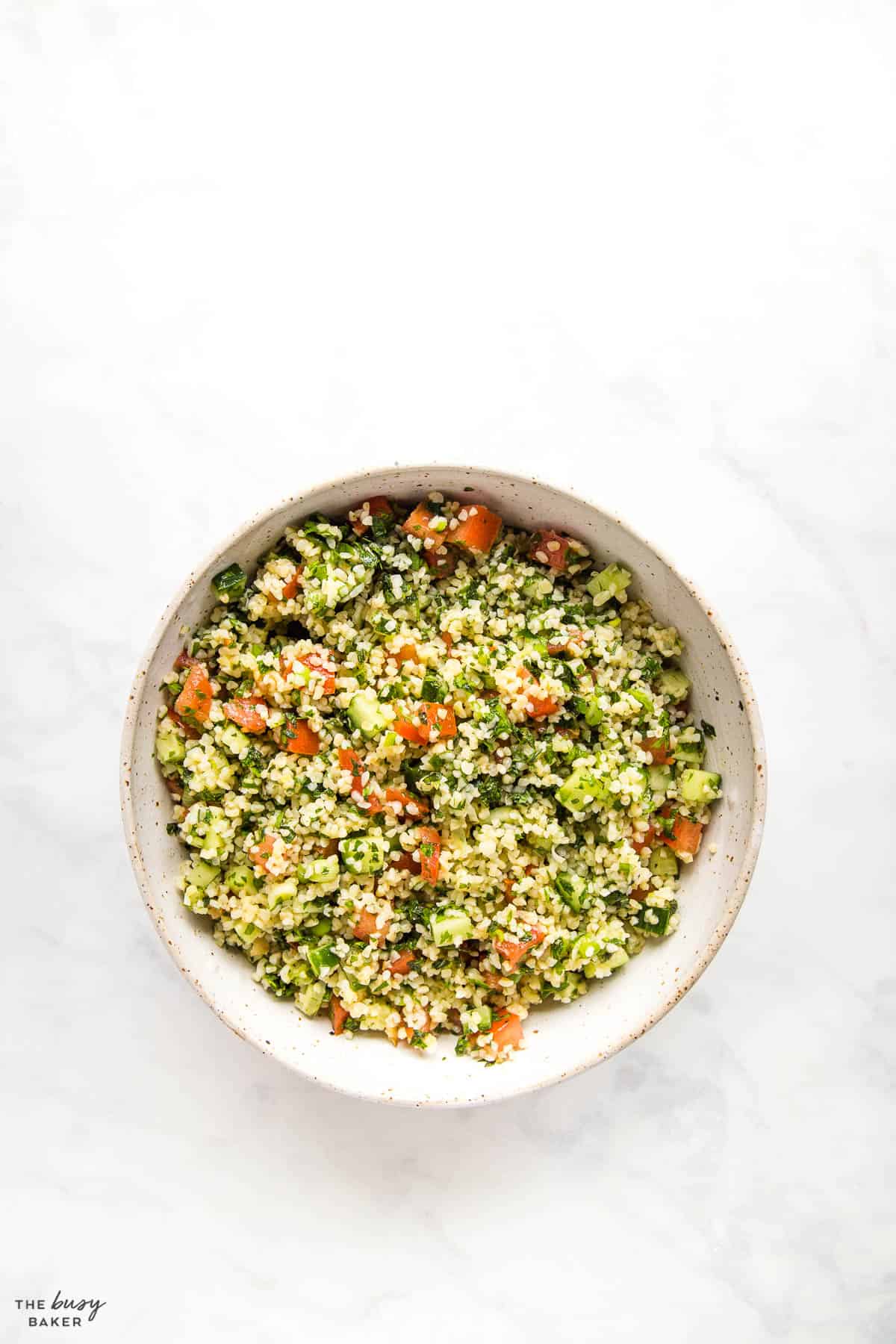 To make this Tabouli salad recipe you'll need:
bulgur wheat
cucumber
Roma tomatoes
fresh parsley
fresh mint
spring onions
extra virgin olive oil
lemon juice
garlic
salt and pepper (optional)
Consider these variations on the traditional Tabbouleh salad recipe to add your own unique twist!
Quinoa: Swap the bulgur wheat for some protein-packed quinoa for a gluten-free alternative.
Pomegranate: Add some pomegranate seeds instead of the tomato for a sweeter version with vibrant colour.
Avocado: Add some chopped avocado for a creamy texture.
Veggies: Add some finely chopped bell peppers and double the amount of fresh veggies and fresh herbs, leaving the amount of bulgur the same. This will create a veggie-heavy dish with tons of flavour and texture.
Feta: Although not traditional, adding some crumbled feta cheese or goat cheese adds a deliciously savoury flavour and creamy texture to this salad.
Time needed: 20 minutes
Follow these steps for the perfect Tabbouleh salad recipe!
Cook the bulgur and let it cool.

Cook the bulgur according to the package instructions. You'll need about 2 cups cooked bulgur for this recipe (cook about 1/2 cup dry bulgur in about 1 cup of water the same way you cook rice). Drain it and let the cooked bulgur cool to room temperature before using.

Finely chop the veggies.

Chop the cucumbers and tomatoes into small pieces.

Finely chop the herbs.

Chop the herbs, making sure they're chopped very finely. This will give tons of flavour.

Mix the dressing first.

Add the dressing ingredients to the bowl first and mix.

Toss everything together.

Add the salad ingredients, toss in the dressing, and serve!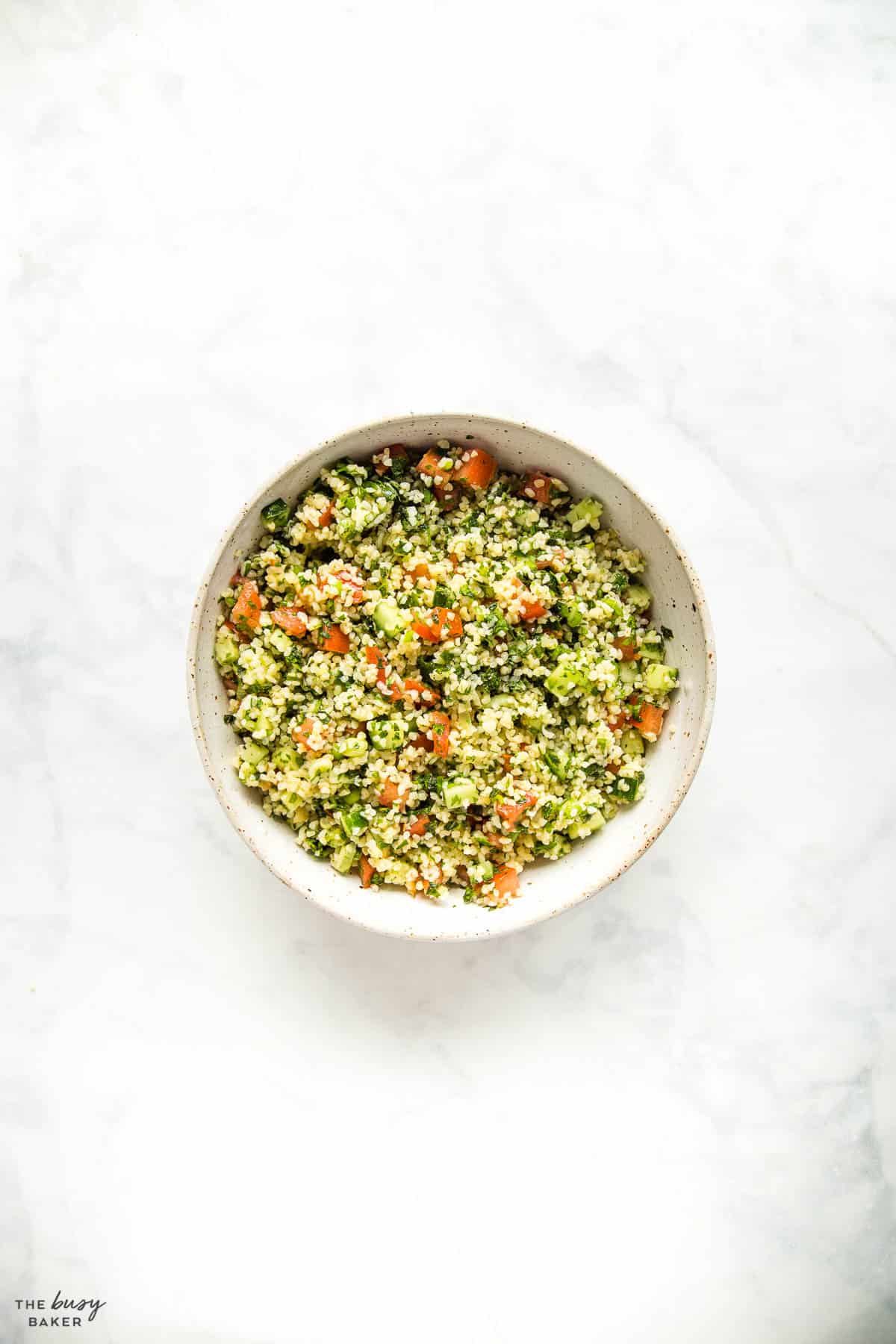 What is a tabouli salad traditionally made from?

It's traditionally made from bulgur wheat that's been soaked or cooked, fresh tomatoes, cucumbers, and fresh parsley. Some traditional recipes also include fresh mint and fresh garlic.
How do you pronounce Tabbouleh/Tabouli?

Tabbouleh/Tabouli is pronounced tah-boo-lee.
Is tabouli a healthy salad?

Yes, Tabouli is a healthy salad that can be made even healthier by increasing the ratio of vegetables to the amount of bulgur wheat.
Does tabbouleh contain garlic?

It can contain garlic, but traditional Tabouli recipe don't always contain garlic. We add garlic to our Tabouli salad because it adds a lot of flavour.
What does Tabbouleh taste like?

Tabbouleh tastes like a greek salad, but with a nutty flavour that comes from the bulgur and a fresh herb flavour that comes from the fresh parsley and mint.
Is Tabbouleh gluten-free?

No, because it contains bulgur wheat it's not gluten free. Feel free to substitute quinoa for the bulgur in this recipe to make it gluten free.
Can I use a different grain in this Tabbouleh recipe if I can't find bulgur wheat?

Yes, quinoa is a good substitute for bulgur wheat in Tabbouleh recipes.
Why does my Tabbouleh taste bitter?

If you don't chop the parsley finely enough, it can give a slight bitter flavour to the Tabbouleh. Be sure to chop it very finely so it releases its oils.
Can I make Tabbouleh Salad ahead of time?

Yes, feel free to make this salad up to 2 days ahead of time and store it in the fridge in an airtight container. For best results, serve within 12 hours of preparing.
Can I freeze Tabbouleh Salad?

We don't recommend freezing Tabbouleh salad since fresh herbs and cucumbers don't freeze very well and will release a lot of liquid once thawed. You'll be left with a soggy Tabbouleh salad.
Can I add lime juice instead of lemon juice in Tabbouleh salad?

Yes, feel free to substitute the lemon juice for lime juice if you prefer.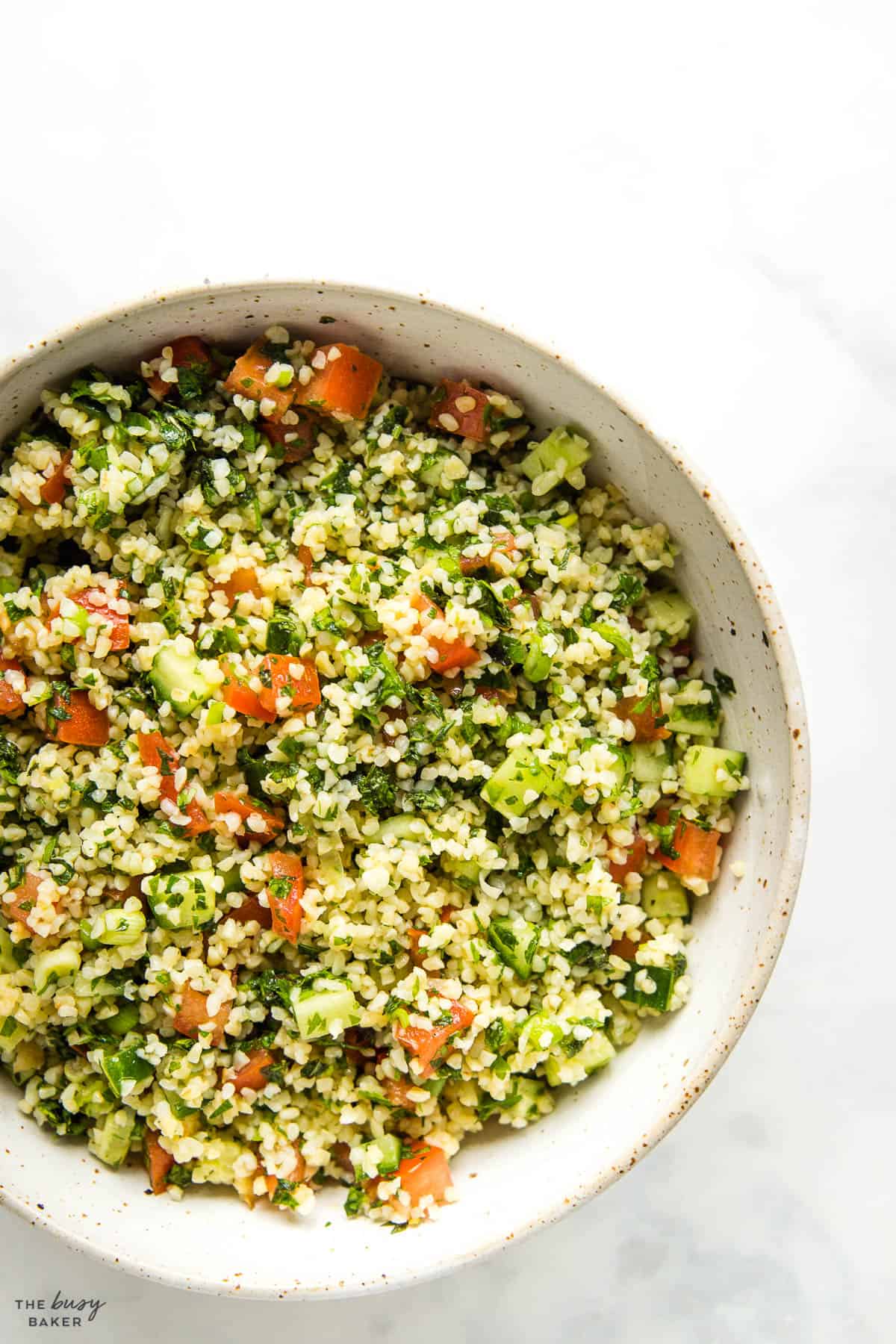 We hope you love this recipe as much as we do! Let us know in the comments below, what's your favourite fresh summer salad recipe? We'd love to know!
Watch the video below to see exactly how we make this recipe. You can find many more deliciously simple recipe videos on our YouTube channel!
If you made this, share a photo!
Are you trying this recipe? Use the comment form below to share your take; now with support for image uploads and comment voting!
Share a photo
Tabbouleh Salad
A fresh, healthy Middle Eastern-style Tabbouleh (Tabouli) Salad made with fresh herbs, bulgur wheat, and finely chopped veggies, tossed with a simple lemon, garlic, and olive oil dressing.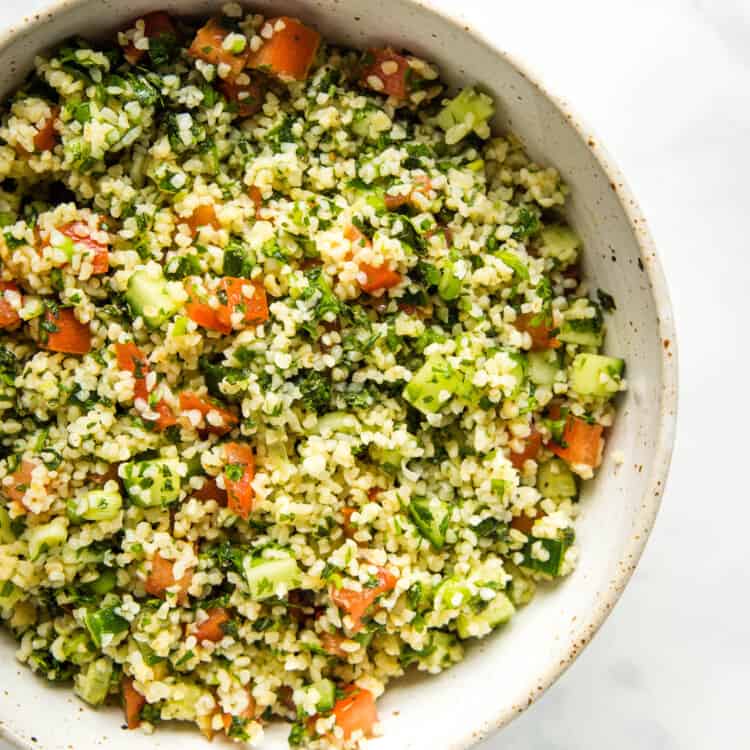 Recipe:

Ingredients
½

cup

dry bulgur

cooked in 1 cup water according to the package instructions or in the same way you cook rice (you'll need 2 cups cooked bulgur)

1

english cucumber

about 1 cup finely chopped

3

roma tomatoes seeded

about 1 cup finely chopped

½

cup

parsley

finely chopped

⅓

cup

mint

finely chopped

⅓

cup

spring onions

finely sliced

⅓

cup

extra virgin olive oil

4

tablespoons

lemon juice

1

large clove of garlic

optional

salt and pepper

(optional, to taste)
Recipe:

Instructions
Add the olive oil, lemon juice, garlic (if using) and chopped herbs to a big bowl and whisk until combined.

Add the veggies and bulgur to the bowl and toss very well to coat.

Serve immediately, or store in the fridge until ready to serve.
Recipe:

Notes
Make Ahead Instructions
To make this recipe ahead, simply make as directed and store in the fridge for up to 24 hours before serving. Toss well before serving.
Storage Instructions
Store this in an airtight container in the fridge for 2-3 days.
Recipe:

Nutrition

Nutrition Facts

Tabbouleh Salad

Amount Per Serving (1 cup)

Calories 250

Calories from Fat 171

% Daily Value*

Fat 19g29%

Sodium 14mg1%

Potassium 396mg11%

Carbohydrates 21g7%

Protein 4g8%

Vitamin A 1349IU27%

Vitamin C 26mg32%

Calcium 51mg5%

Iron 2mg11%

* Percent Daily Values are based on a 2000 calorie diet.

Notice: Nutrition is auto-calculated, using Spoonacular, for your convenience. Where relevant, we recommend using your own nutrition calculations.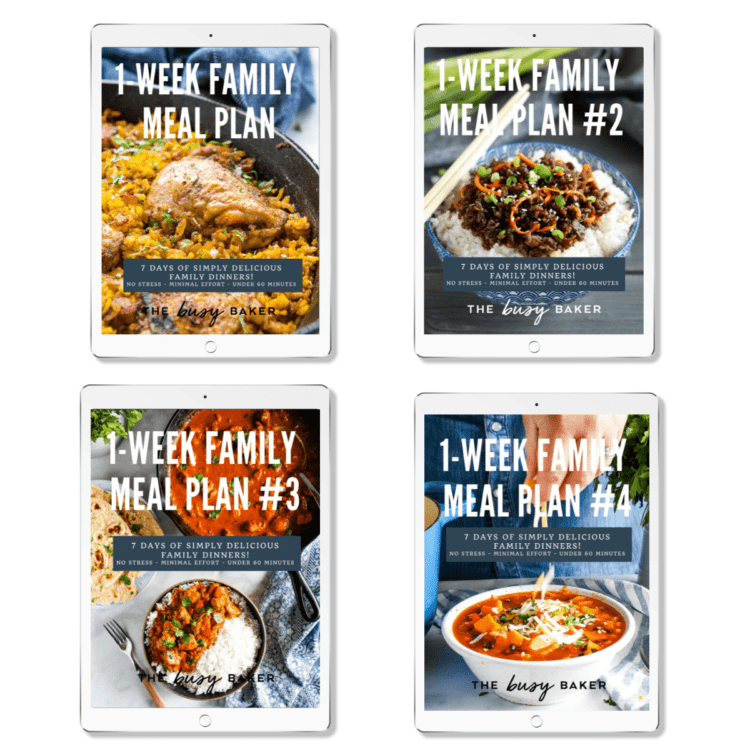 Looking for more?
TRY OUR MEAL PLANS!
Let us do the work for you with 7 days of deliciously easy family dinners, grocery lists, meal prep guides and MORE!
Buy 2, save 20%!
Buy 3, save 30%!
Buy 4 or more, save 40%!
Click here to learn more!