These Chocolate Crinkle Cookies are an easy-to-make holiday cookie recipe that's perfect for Christmas! Made with real chocolate and coated in sugar for the perfect holiday treat!
NEVER MISS A POST! FOLLOW ME ON:
FACEBOOK | PINTEREST | INSTAGRAM | TWITTER
Have you started your holiday baking yet? I'll be honest, it's the second week of December and I haven't started baking yet! But it's on the agenda for this week and the kids and I are so excited to get started with these Chocolate Crinkle Cookies! I just know you're going to love them as much as we do!
How to Make Chocolate Crinkle Cookies
Unlike most chocolate crinkle cookie recipes this recipe includes real melted chocolate in the dough instead of just cocoa powder, and that gives these cookies such an intense chocolate flavour and a tender, fudgy texture. To make these cookies:
Measure and sift the dry ingredients.
Melt the butter and chocolate together.
Mix the eggs and sugar until light and fluffy, then add the vanilla and chocolate mixture.
Fold in the flour mixture just until it disappears.
Chill the dough for about an hour or two.
Make into balls, roll in granulated sugar and then powdered sugar.
Bake, cool, and enjoy!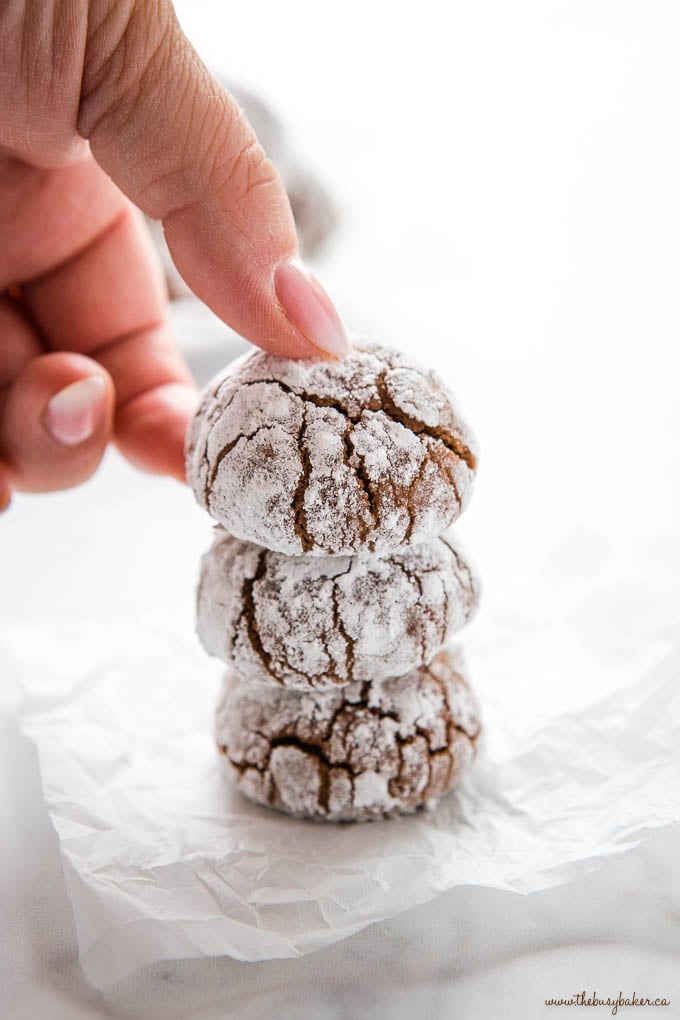 NEVER MISS A POST! FOLLOW ME ON:
FACEBOOK | PINTEREST | INSTAGRAM | TWITTER
I hope you love this holiday recipe as much as we do! Let me know in the comments below, what's your favourite holiday cookie recipe to make for friends and family? I'd love to know!
Kitchen Tools I Recommend: