This Easy Blueberry Galette is the perfect simple summer dessert made with an easy homemade pie crust and fresh juicy blueberries!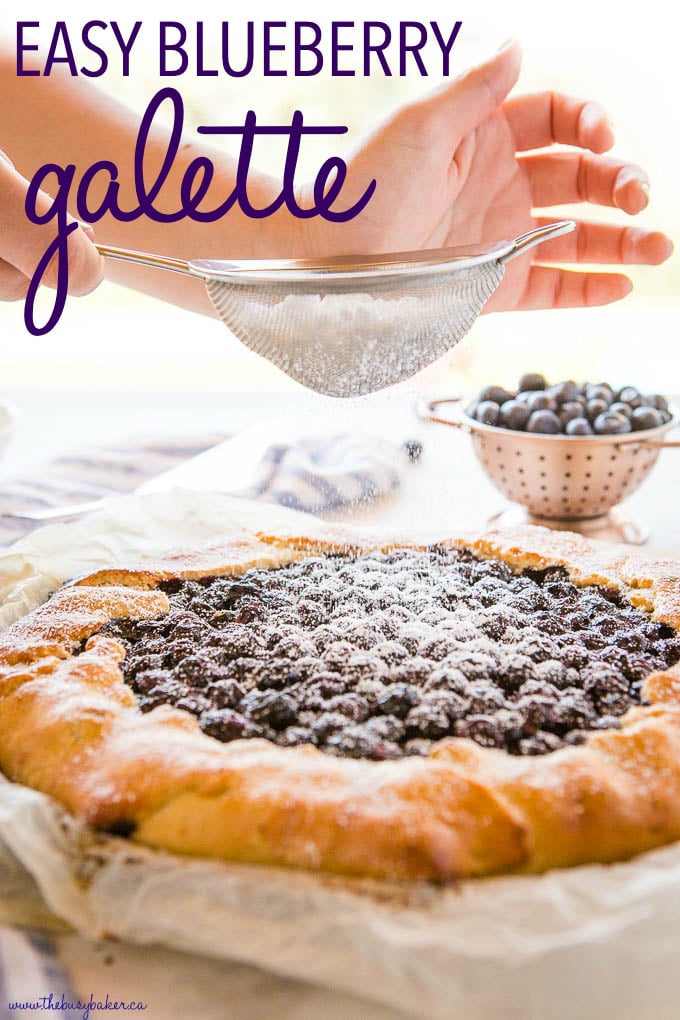 NEVER MISS A POST! FOLLOW ME ON: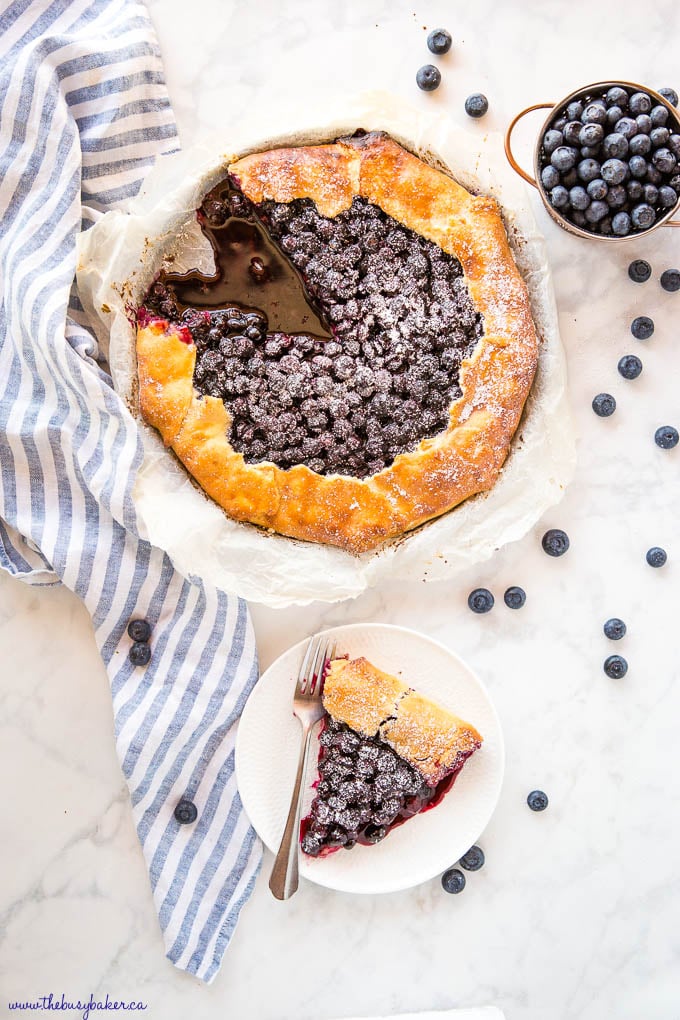 I love a good homemade dessert in the summertime when the gardens are overflowing and the Farmer's Markets are full of fresh berries and ripe fruit straight from the orchards. This Easy Blueberry Galette is one of my favourite ways to enjoy fresh juicy blueberries when they're in season, and it's really the perfect easy rustic dessert to make when you're short on time and energy but still want to bake something special. Trust me, you're going to LOVE it!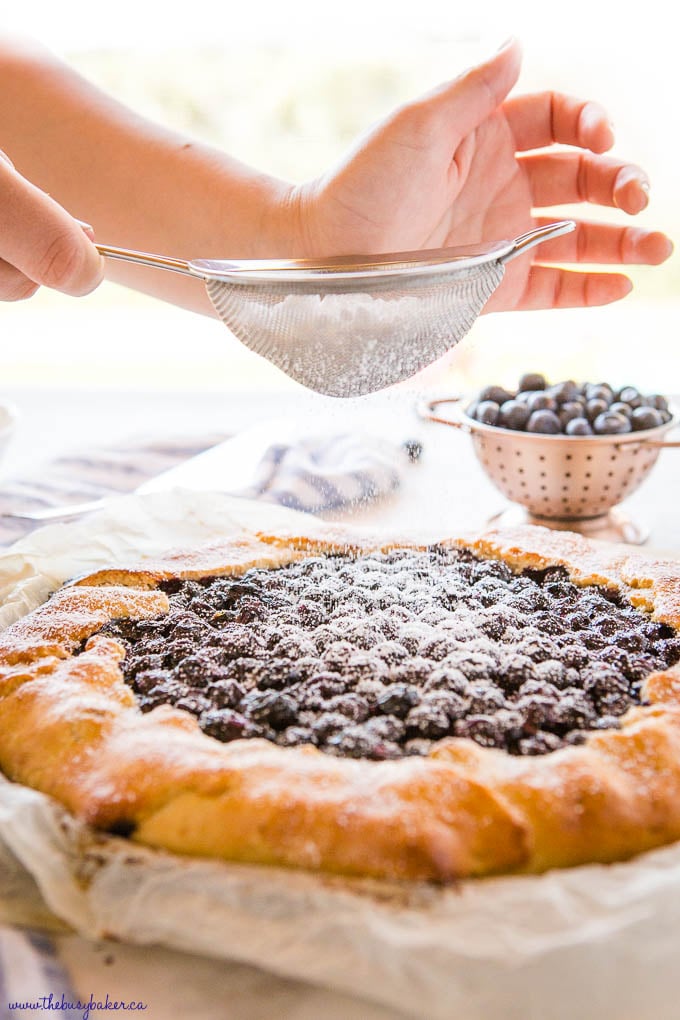 How to Make the BEST Homemade Blueberry Galette from Scratch
TIP #1: Use your food processor and COLD butter.
Use COLD butter. And COLD water. This will help the butter stay in small, solid pieces as you mix which will create a flaky crust (and who doesn't love a flaky pie crust??). Using your food processor to make the crust helps the butter stay cold and creates a nice tender dough, plus it makes making your own pie crust from scratch super easy and low maintenance!
TIP #2: Work quickly and gently when you handle the dough.
If you do work the butter into the flour mixture using your hands, make sure you use quick motions, flattening the pieces of butter between your hands as you slide your hands apart (one toward you, one away from you). The goal here should be to handle the butter as little as possible because the heat from your hands will cause it to soften and even melt. It's ideal for the butter to remain cold and hard but be distributed throughout the flour mixture in small pieces.
TIP #3: Shape the dough into a disc shape.
Once the dough comes together gently form it into 2 round disc shapes. This makes it easy to roll out later in a round shape!
TIP #4: Use a thickening agent in the filling.
Adding cornstarch to your galette filling will create a deliciously thick and silky sauce around the fruit and it will help the filling stay together a little better when you cut into the galette. You'll still have that gorgeous juiciness oozing out of each slice, but it won't look like soup on your dessert plate (see the photo below).
TIP #5: Use fresh blueberries.
Using fresh blueberries instead of frozen ones helps keep the filling from becoming too liquid-y, and it really enhances the flavour.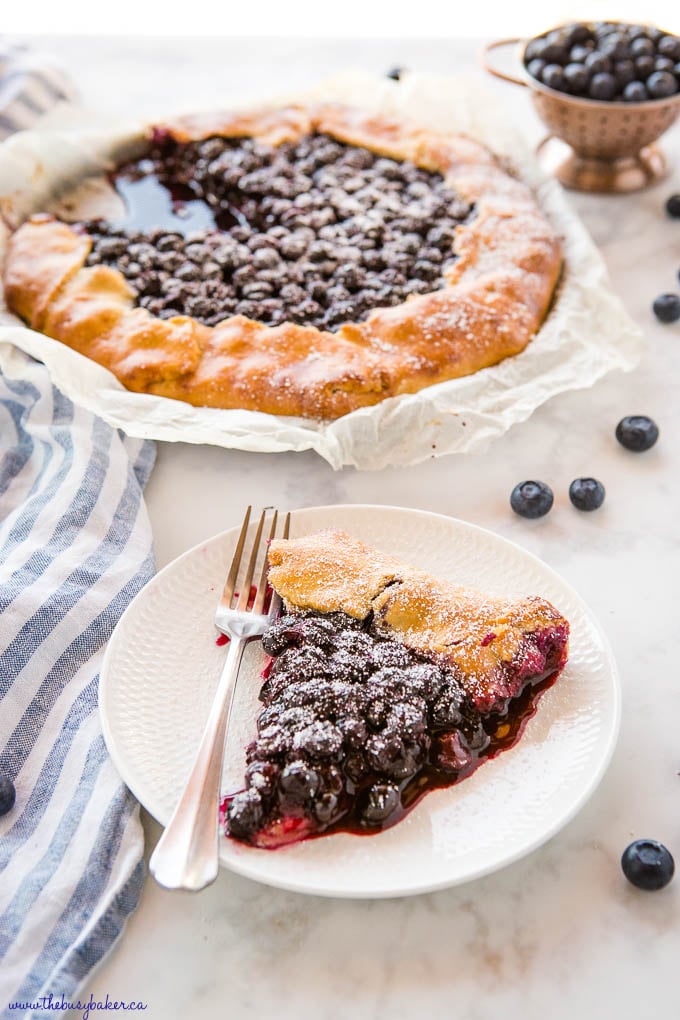 TIP #6: Use parchment paper.
Baking your galette on parchment paper ensures it won't stick to the baking pan, even if a little bit of the filling leaks out!
TIP #7: Think rustic beauty.
Galettes are rustic in nature and they are supposed to look handmade, so don't stress if your edges aren't exactly even or if your circle is a little lopsided.
TIP #8: Brush the crust with an egg wash.
Combine an egg and 1 tablespoon of water in a small dish and whisk them together. Using a pastry brush, brush on a SMALL amount of egg wash onto the edges of the galette. Don't overdo it! Cooked egg on pastry is never tasty. The idea is to brush a very light coating of the egg wash over every surface of the crust before it bakes. This will create a shiny finish and it will help the crust to brown perfectly and evenly in the oven.
TIP #9: Sugar the crust.
Sprinkle a little bit of turbinado sugar or other coarse sugar onto the crust of the galette after you've brushed on the egg wash. This will create a beautiful finish on the crust, but it will also add a nice crunch and a beautiful texture to the pastry.
TIP #10: Let it cool before slicing!
Cutting into a hot galette may seem like a good idea, but all it will leave you with is a steamy hot soupy mess. Be sure to let it cool to room temperature before slicing – this will make sure your slices are juicy but keep their shape.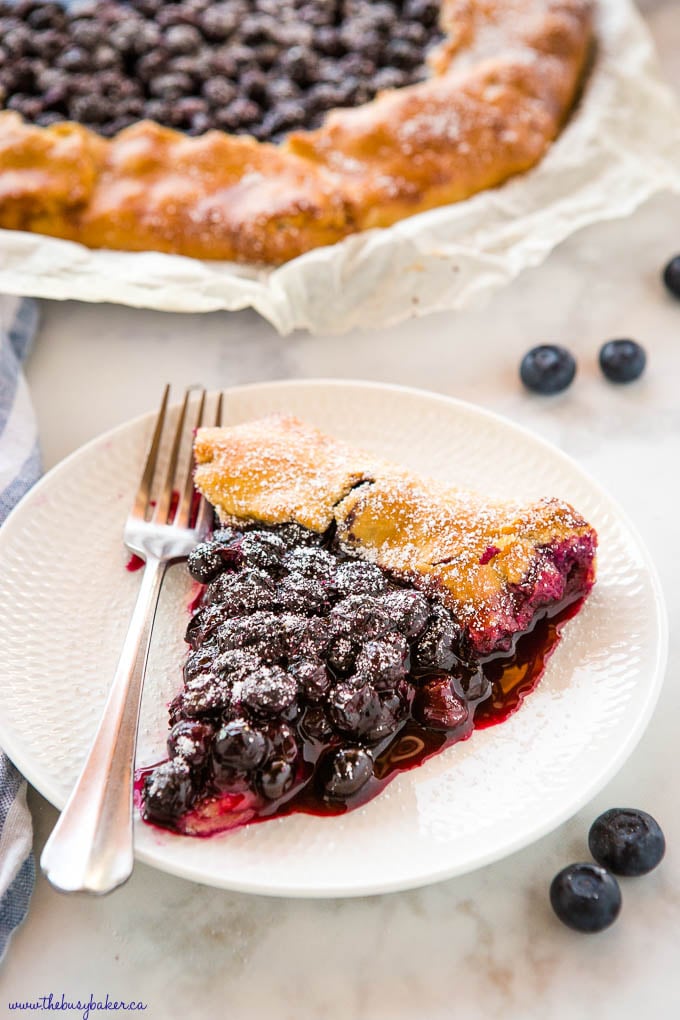 Looking for more blueberry desserts? You'll love these Blueberry Hand Pies or these Lemon Blueberry Sweet Rolls.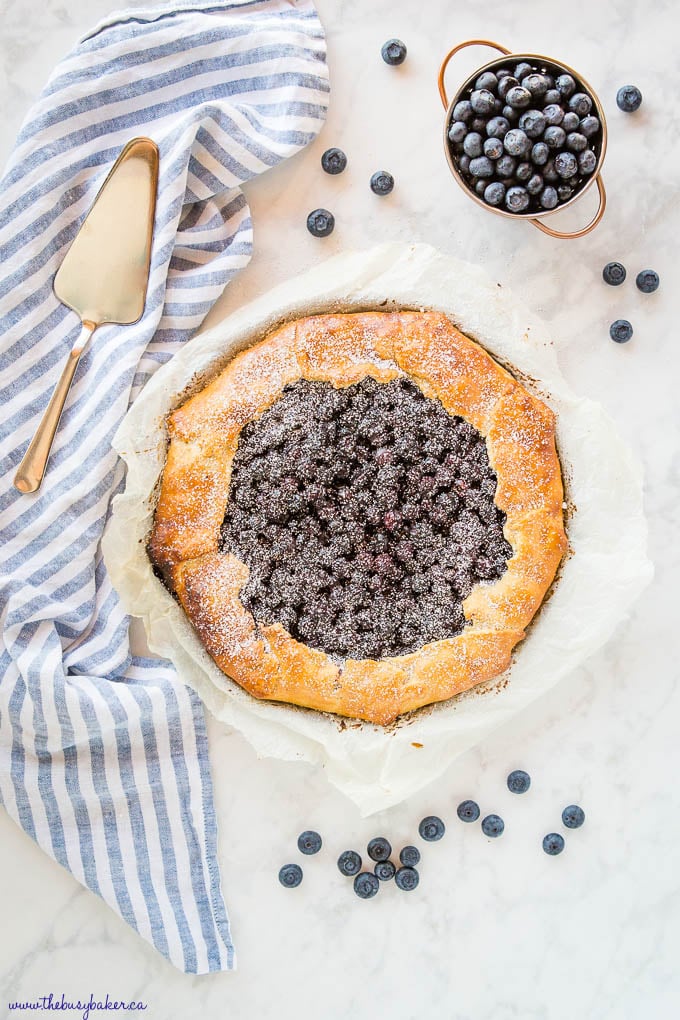 NEVER MISS A POST! FOLLOW ME ON: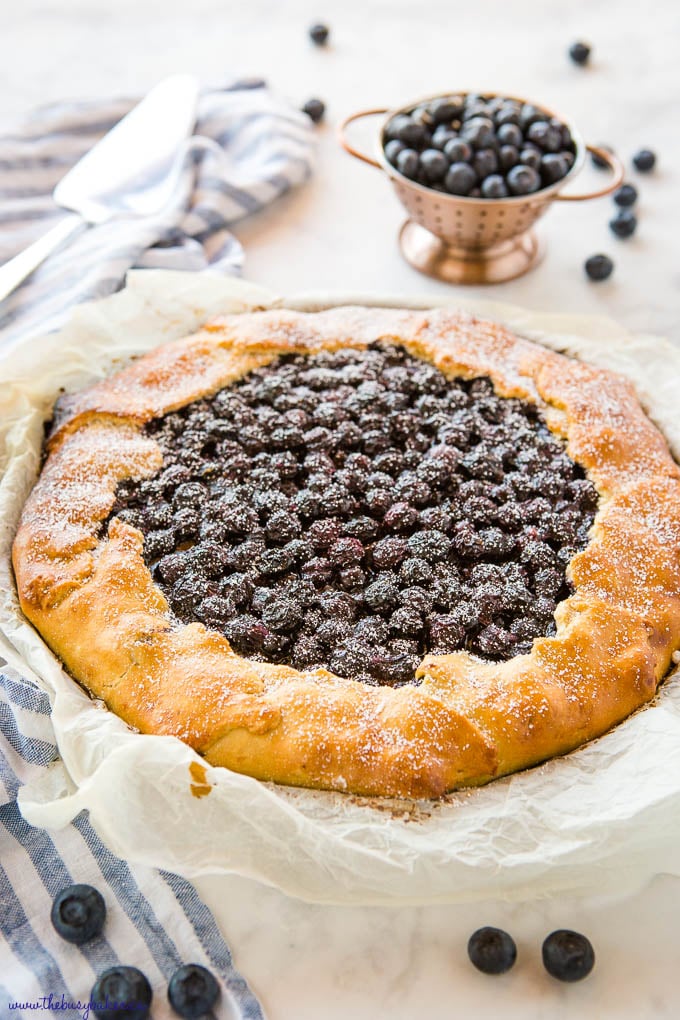 I hope you love this recipe as much as we do! Let me know in the comments below, what's your favourite summer dessert featuring fresh berries? I'd love to know!
Kitchen Products I Recommend:
Looking for more recipes featuring fresh summer fruit? You'll love these:
If you made this, share a photo!
Are you trying this recipe? Use the comment form below to share your take; now with support for image uploads and comment voting!
Share a photo
Easy Blueberry Galette
This Easy Blueberry Galette is the perfect simple summer dessert made with an easy homemade pie crust and fresh juicy blueberries!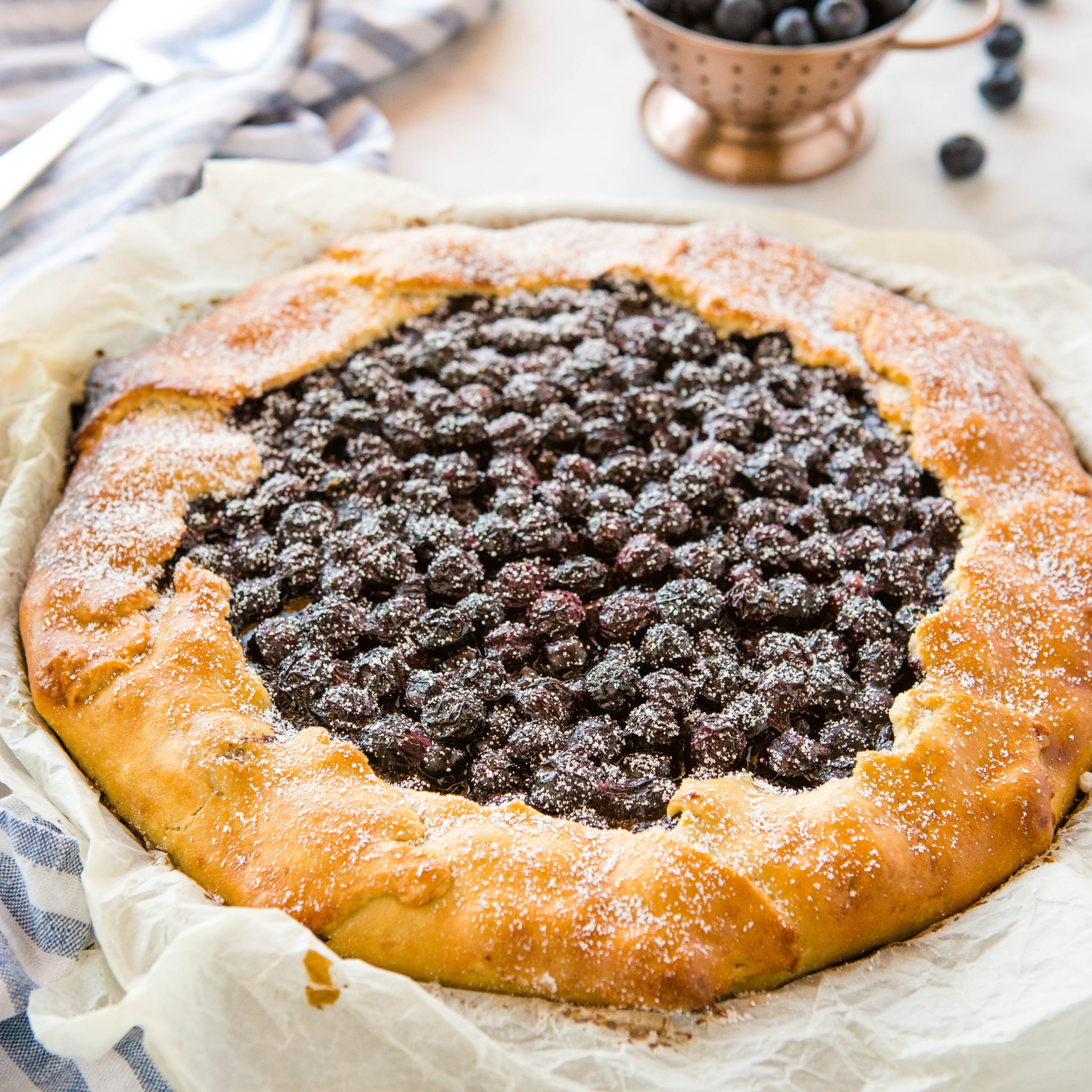 Recipe:

Ingredients
For finishing:
1

egg

1

tablespoon

water

1-2

tablespoons

coarse sugar
Recipe:

Instructions
For the crust:
Add the flour, sugar and salt to the bowl of your food processor (or a large bowl if your making the dough by hand).

Turn the food processor on low speed and add the chunks of cold butter one at a time while the food processor runs until all the butter is added and the mixture resembles coarse crumbs.

If making by hand, use a pastry blender or your hands to work the butter into the dough until the mixture is crumbly. Try not to handle the butter too much (the heat from your hands will soften it) - use quick movements and don't worry if some larger chunks of butter still remain.

Add the lemon juice and the water slowly as the food processor runs on low, just until the dough comes together and pulls away from the sides of the bowl. Depending on the weather and even on the brand of flour, I use anywhere between 5 and 8 tablespoons of water.

If making by hand, use your hands to form the dough gently and quickly using just enough water for the dough to come together.

Dump the rough dough onto the counter and form it into two disc shapes and wrap it in plastic, placing it in the fridge to chill for 30 minutes or overnight.
For the filling:
Add the blueberries to a bowl, along with the cornstarch, sugar, salt and lemon juice and zest. Toss just until combined.

Set the filling aside while you prepare the crust for baking.
Assembly:
Preheat your oven to 400 degrees Fahrenheit. If your oven runs hot, set it to 375 degrees Fahrenheit. (Use an oven thermometer to ensure the correct temperature)

Remove the chilled pie dough from the fridge and let it sit for about 10 minutes before rolling.

Roll out the ball of dough into a large circle using a rolling pin. Add a generous amount of flour to the rolling surface and to the rolling pin, to prevent sticking and cracking.

Peel the rolled out dough off the counter surface gently by rolling it backwards onto the rolling pin.


Transfer it to baking sheet lined with parchment paper

Add the blueberry filling and pile it into the middle of the dough, leaving a large edge.

Fold the edges of the dough up onto the pile of blueberry filling, creating the edge crust. pinch the pieces you fold up into each other to seal them shut (so the filling can't escape).

Beat the egg and 1 tablespoon of water and brush it lightly onto the unbaked crust. Use a light hand while brushing - too much egg wash creates an eggy texture after baking.


Dust the crust with the coarse sugar and bake at 400 degrees Fahrenheit for about 40 to 45 minutes or until the filling is bubbly and the crust is golden brown.

Let the galette cool to room temperature before slicing and serving with whipped cream or ice cream.
Recipe:

Notes

Watch the galette closely as it bakes to ensure it bakes and browns evenly. Feel free to turn the it around halfway through baking so it browns evenly in your oven.

 
Recipe:

Nutrition

Nutrition Facts

Easy Blueberry Galette

Amount Per Serving (1 slice)

Calories 219

Calories from Fat 72

% Daily Value*

Fat 8g12%

Cholesterol 34mg11%

Sodium 108mg5%

Potassium 69mg2%

Carbohydrates 35g12%

Protein 3g6%

Vitamin A 289IU6%

Vitamin C 7mg8%

Calcium 10mg1%

Iron 1mg6%

* Percent Daily Values are based on a 2000 calorie diet.

Notice: Nutrition is auto-calculated, using Spoonacular, for your convenience. Where relevant, we recommend using your own nutrition calculations.