This Easy Homemade Rotisserie Chicken is the perfect simple alternative to supermarket rotisserie chicken with crispy skin and juicy meat – make it in under an hour with just a few pantry ingredients and use it in all your favourite chicken recipes, OR enjoy it as a delicious main dish!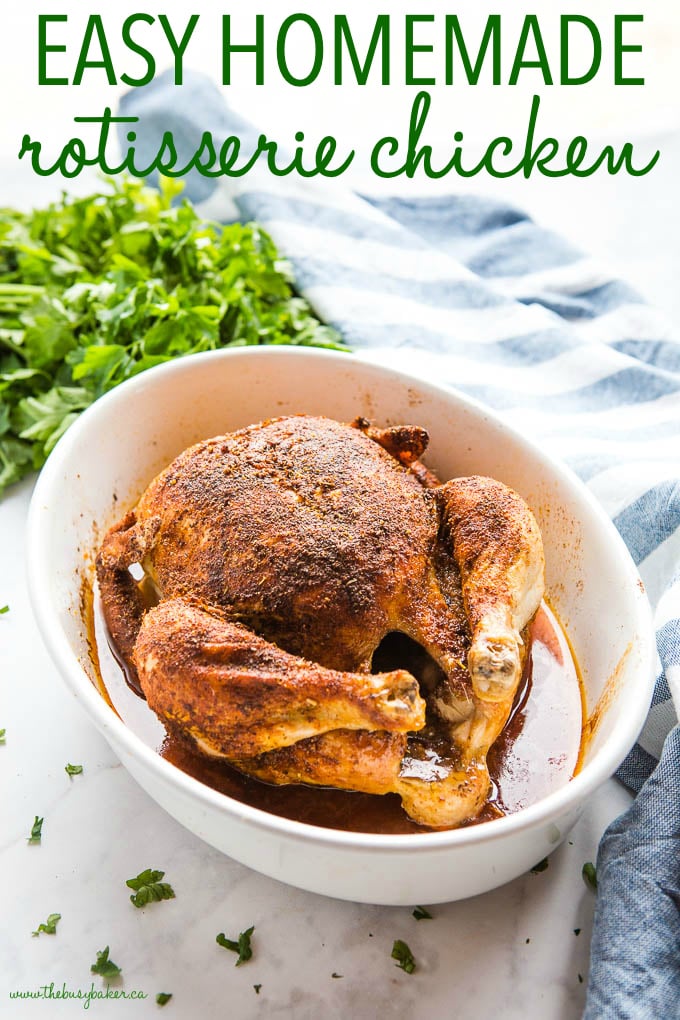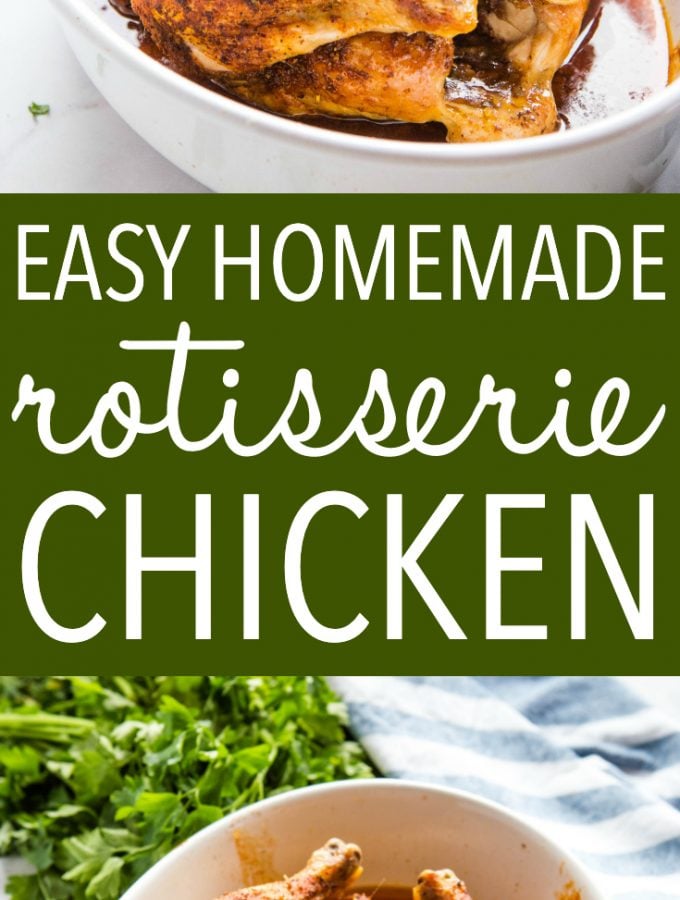 NEVER MISS A POST! FOLLOW ME ON: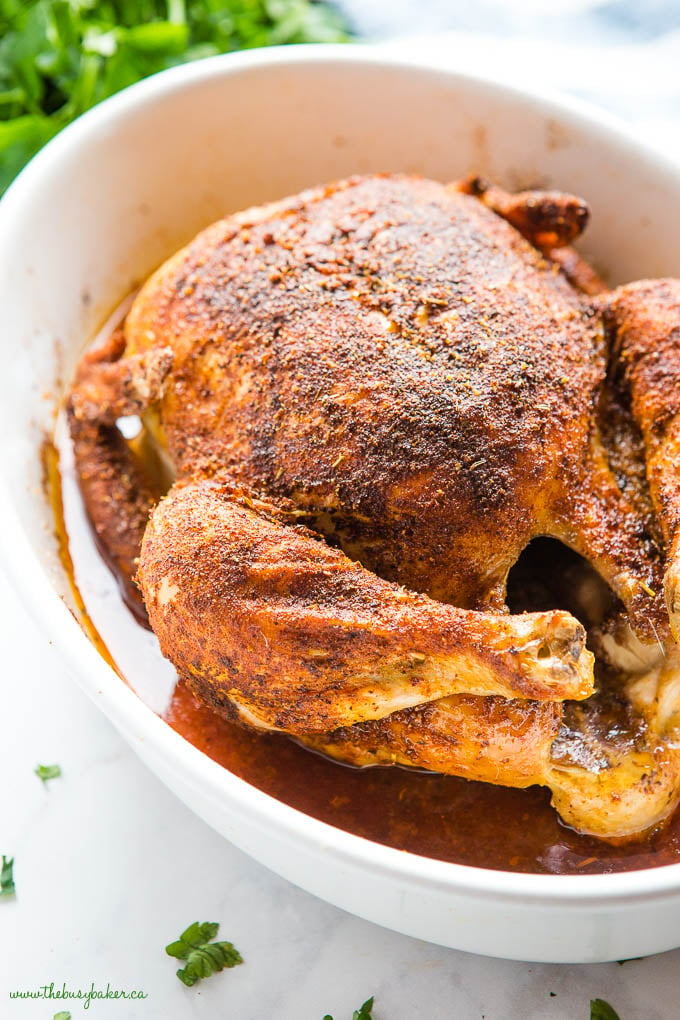 This Easy Homemade Rotisserie Chicken is one of the recipes I make most frequently in my own home kitchen. It's a staple in our weekly meal plan all year round – I use it in soups in the fall and winter, over salads in the spring and summer, and in easy weeknight meals all the time!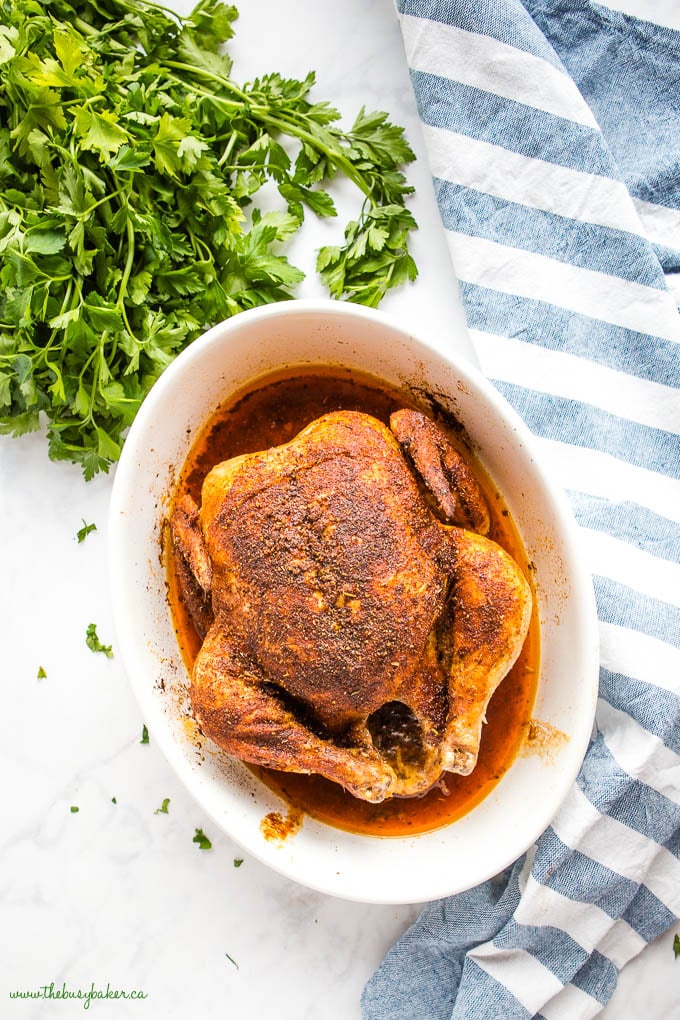 Because we live in the country and about 45 minutes to an hour away from large grocery stores supermarket rotisserie chicken isn't something I can pick up on my way home from work like I used to when we lived in a big city…and I also work from home now, so there's that. But because rotisserie chicken is such a great thing to have on hand for last minute meals, to use in sandwiches or wraps for school lunches, or just as protein over a healthy salad, I started making it myself at home years ago and I've never looked back.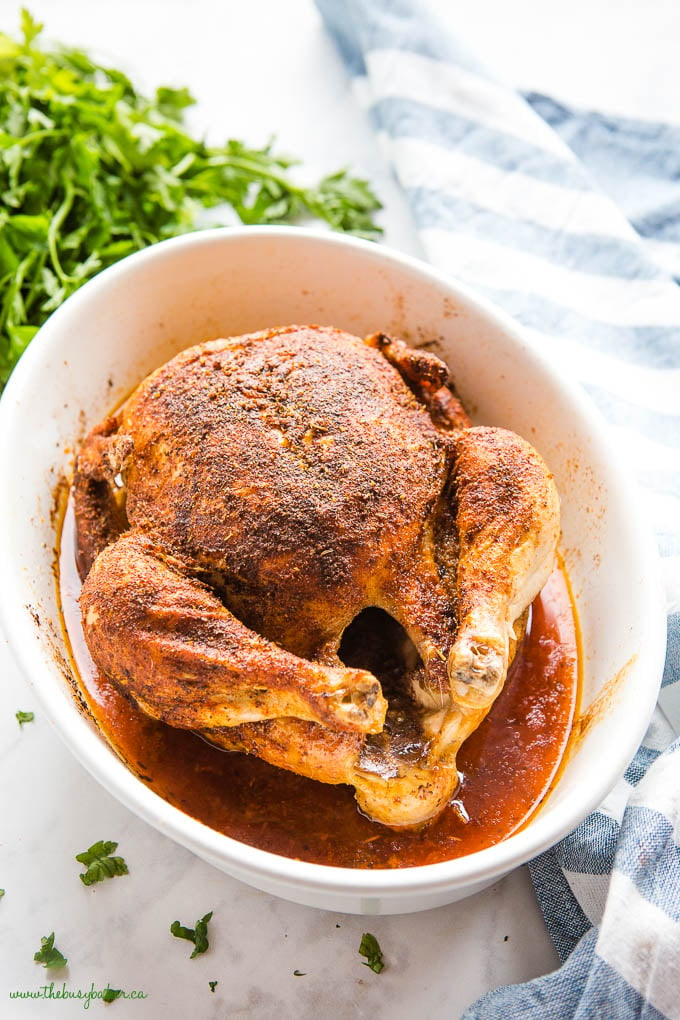 There's just something so comforting and delicious about a roast chicken, whether on a slow weekend for a Sunday dinner or for a mid-week quick and easy meal. Truth be told, making your own rotisserie-style chicken at home means you're getting a LOT more flavour  – you can use a high-quality organic chicken, natural spices, and real sea salt and pepper – no additives or MSG or any other unhealthy ingredients that can be found in supermarket rotisserie chicken (depending on the supermarket, of course).
How to Make Rotisserie Chicken at Home
Blend your spices. I like to use a combination of paprika, seasoning salt (or sea salt), black pepper, garlic and onion powder, and a little bit of Italian seasoning. Mix them up in a bowl all together.
Pat your chicken dry. Drying the skin of the chicken all over with some disposable kitchen paper towel will ensure the skin turns out nice and crispy.
Rub on the spices. Rub the spices on with your hands, ensuring you get those spices in every nook and cranny of the chicken and on both the top and bottom.
Use a meat thermometer. Using a meat thermometer to cook just until the chicken reaches 74 degrees Celsius (165 Fahrenheit) in the deepest part of the breast or thigh will ensure the chicken stays perfectly moist and juicy. If you don't have a meat thermometer, it's a worthwhile investment that won't break the bank (one of my favourites for this recipe is about $7 from Ikea)
Let it rest. Let the chicken rest for at least 10 minutes before slicing into it. Tent some aluminum foil over it while it rests, but leave some room for a vent on the sides. If you let some moisture escape while the chicken rests it'll keep the skin pretty crispy.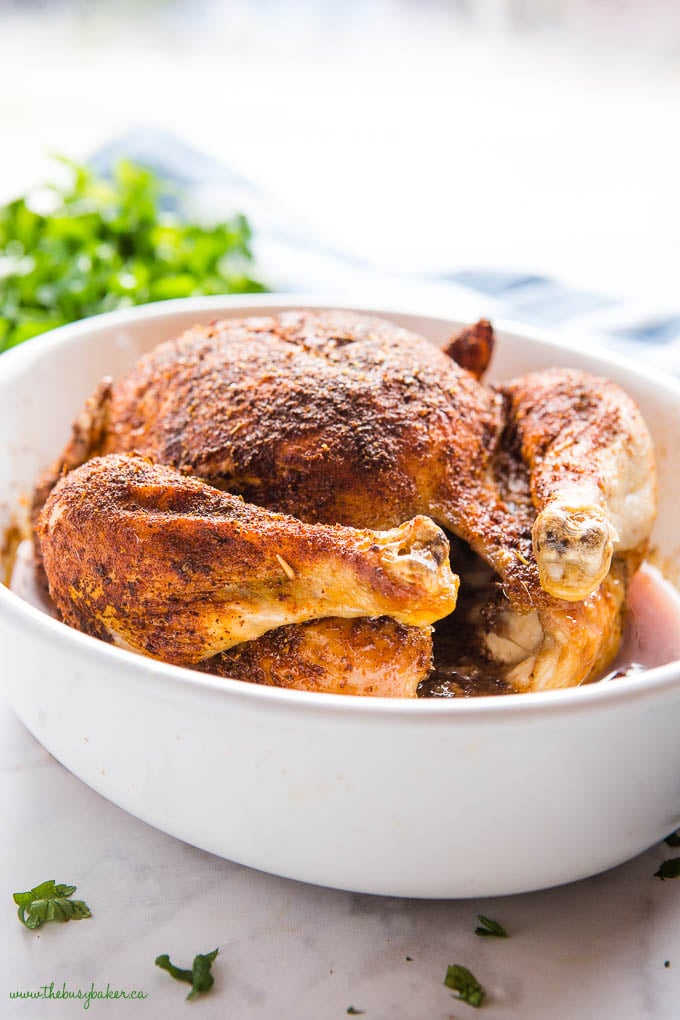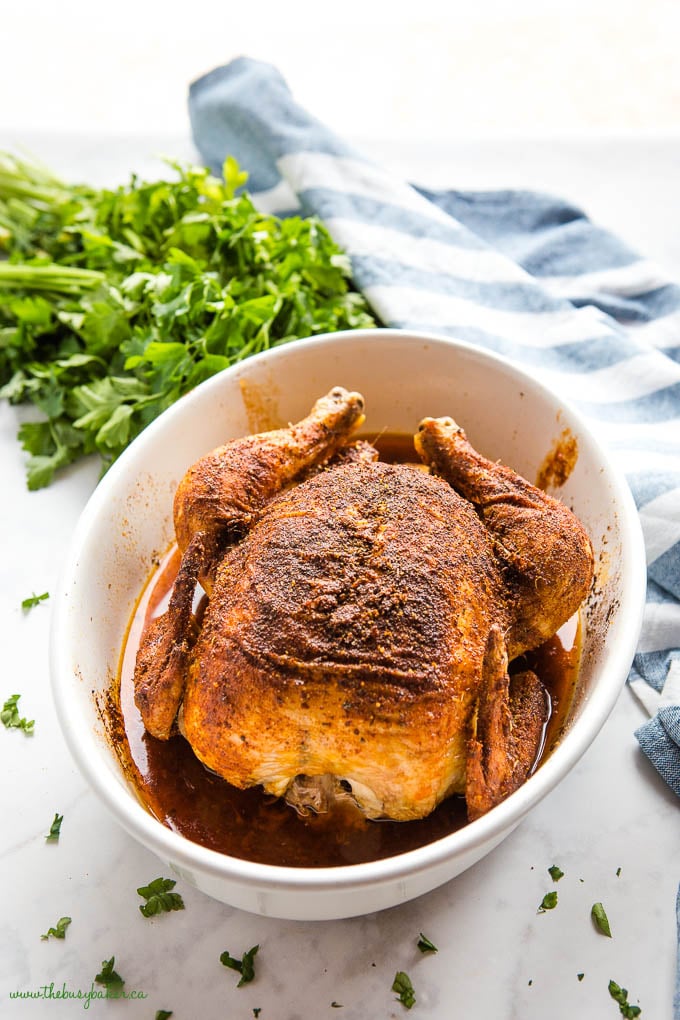 NEVER MISS A POST! FOLLOW ME ON: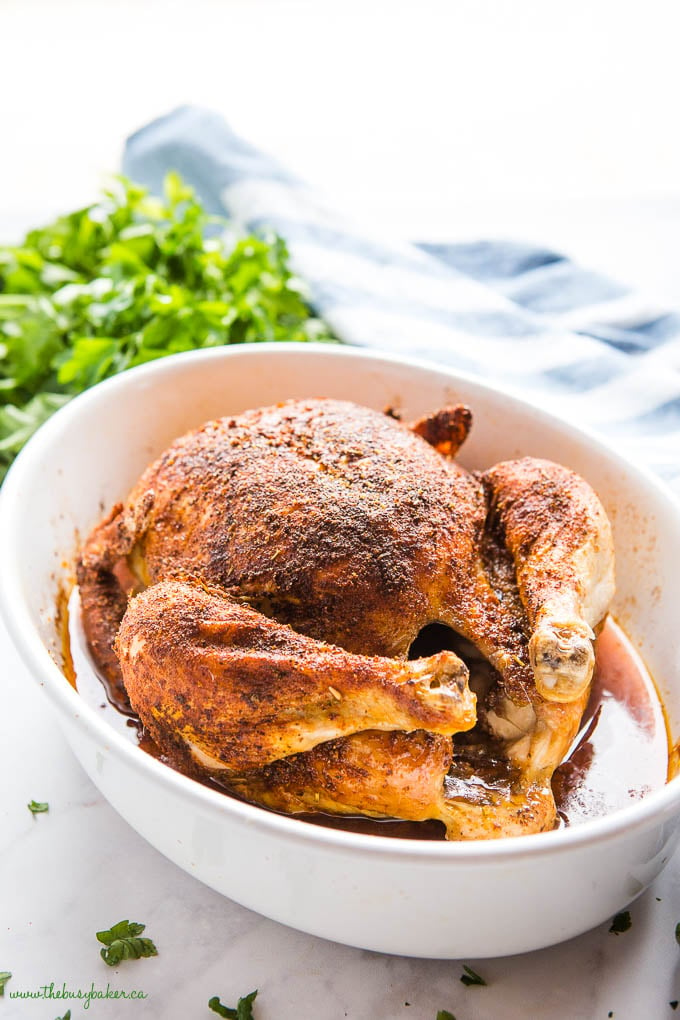 I hope you enjoy this recipe as much as we do! Let me know in the comments below, what's your favourite way to use rotisserie chicken for an easy weeknight meal? I'd love to know!
Kitchen Products I recommend:
Looking for even more weeknight main dishes? You'll LOVE these:
Easy Homemade Rotisserie Chicken
This Easy Homemade Rotisserie Chicken is an easy to make alternative to a supermarket favourite! Easy juicy roast chicken with crispy skin in under an hour!
Total Time
1
hour
5
minutes
Ingredients
3.5

pound

roasting chicken

(neck and giblets removed)

1

tablespoon

smoked paprika

1

teaspoon

garlic powder

1/2

teaspoon

onion powder

1/2

teaspoon

Italian seasoning

1

teaspoon

seasoning salt

(substitute 3/4 teaspoon sea salt, if desired)

1/2

teaspoon

cracked black pepper

3

tablespoons

olive oil
Instructions
Preheat your oven to 350 degrees Fahrenheit and spray a baking dish with cooking spray.

Pat the chicken dry with paper towels and place it in the baking dish breast-side up.

Combine the spices, salt and pepper in a bowl and stir them together.

Drizzle the olive oil over the chicken and rub it over the chicken (top side and bottom side) with your hands.

Rub the spice mixture all over the chicken (top side and bottom side) with your hands, making sure the spice mixture is evenly distributed and gets into all the nooks and crannies.

Bake until a meat thermometer inserted into the deepest part of the thigh or breast reads 74 degrees Celsius (165 Fahrenheit), or about 55 minutes.

Let the chicken rest in the baking dish, very loosely covered in foil (tented, so it doesn't touch the chicken skin) for about 10 minutes.

Serve hot, or cool to room temperature and cut off the bones to use later in your favourite recipes.
Notes
For best results, use a chicken between 3.5 and 4 pounds.
This chicken keeps in the fridge (for later use) for up to 3 days and in the freezer for 1 month. Store it in a freezer-safe bag or airtight container.
Save the chicken bones and carcass to make my Easy Homemade Chicken Stock. 
Nutrition
Serving:
1
serving
|
Calories:
359
kcal
|
Carbohydrates:
1
g
|
Protein:
25
g
|
Fat:
28
g
|
Saturated Fat:
7
g
|
Cholesterol:
125
mg
|
Sodium:
392
mg
|
Potassium:
308
mg
|
Fiber:
1
g
|
Sugar:
1
g
|
Vitamin A:
1652
IU
|
Vitamin C:
3
mg
|
Calcium:
18
mg
|
Iron:
2
mg