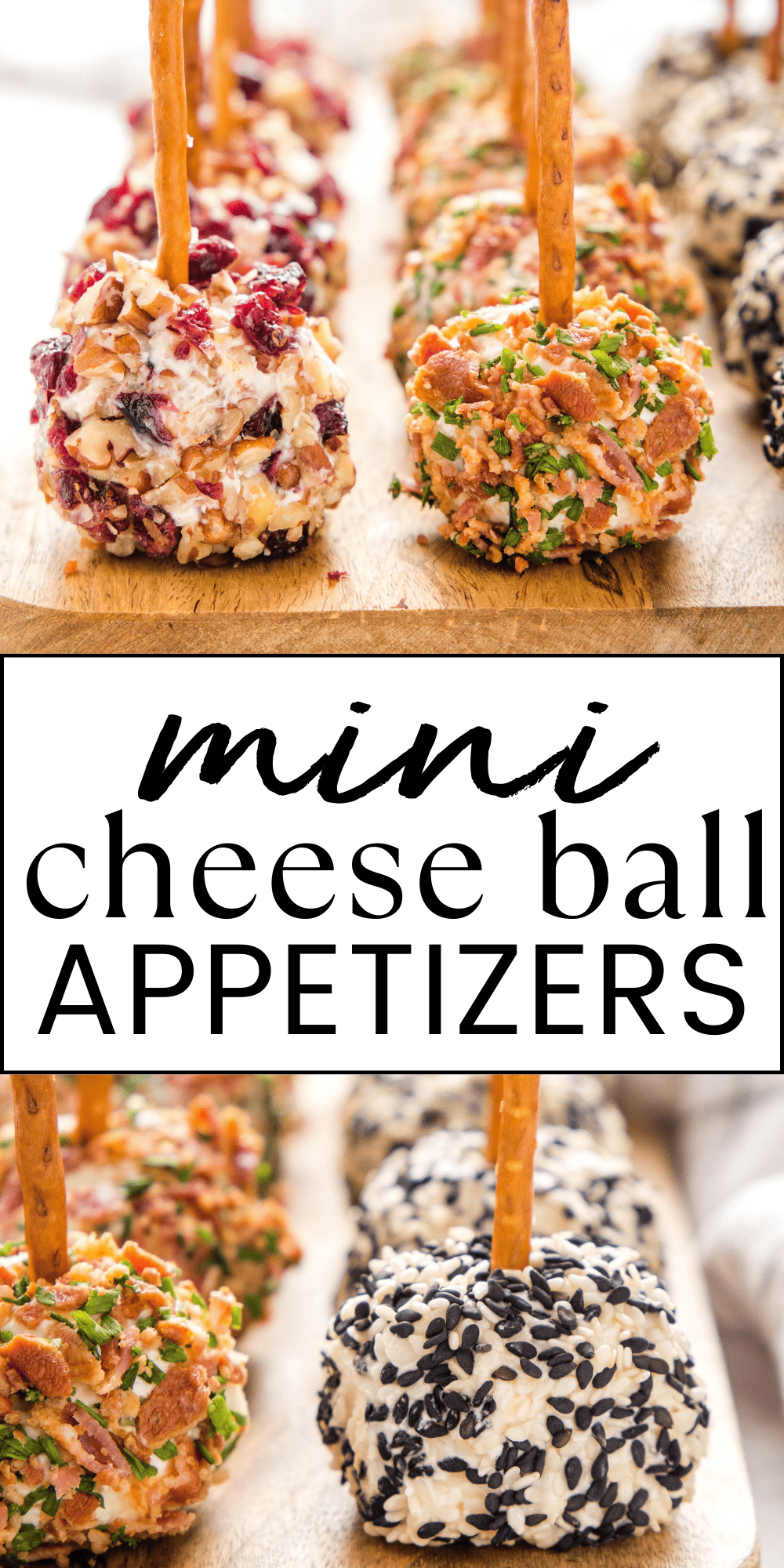 This Mini Cheese Ball Bites recipe is the perfect appetizer for cheese lovers! One basic cheese ball recipe made 3 ways: Cranberry & Pecan, Bacon & Ranch, and Honey Sesame. These mini cheeseballs make an easy make-ahead appetizer or snack!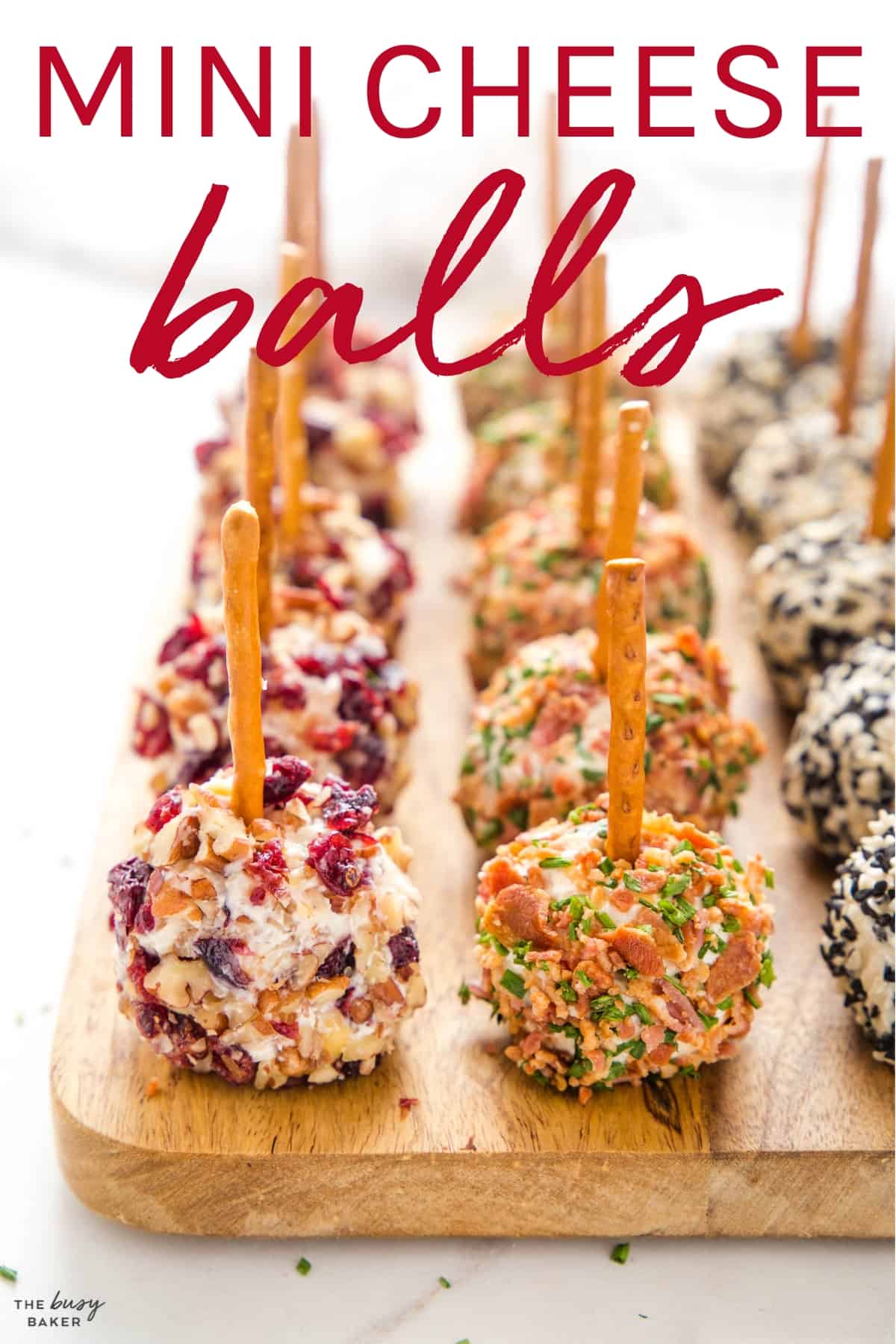 Estimated reading time: 10 minutes
If you've been a reader of The Busy Baker for any length of time you'll already know that cheese is basically our love language. Truly, there's almost nothing better than cheese, which is why we also LOVE a good cheese ball any time of year, but especially around the holidays! And since we're always looking for new ways to enjoy our favourite foods and get our creative juices flowing, these Mini Cheese Ball Bites are the PERFECT recipe for us! And for you too!
We've shared some of our favourite large cheese ball recipes with you before, like this Cranberry Pecan Cheese Ball, this Bacon Jalapeno Ranch Cheese Ball, this Pumpkin Cheese Ball, and this Holiday Christmas Cheese Ball, but these Mini Cheese Ball Bites are our new favourite way to enjoy delicious cheese during the holiday season or anytime there's a party.
They're easy to make in advance to save time on the day of your big holiday party, they're easy to customize to your favourite flavours, and they're the cutest, most perfect little one (or two) bite appetizers that all your guests will LOVE!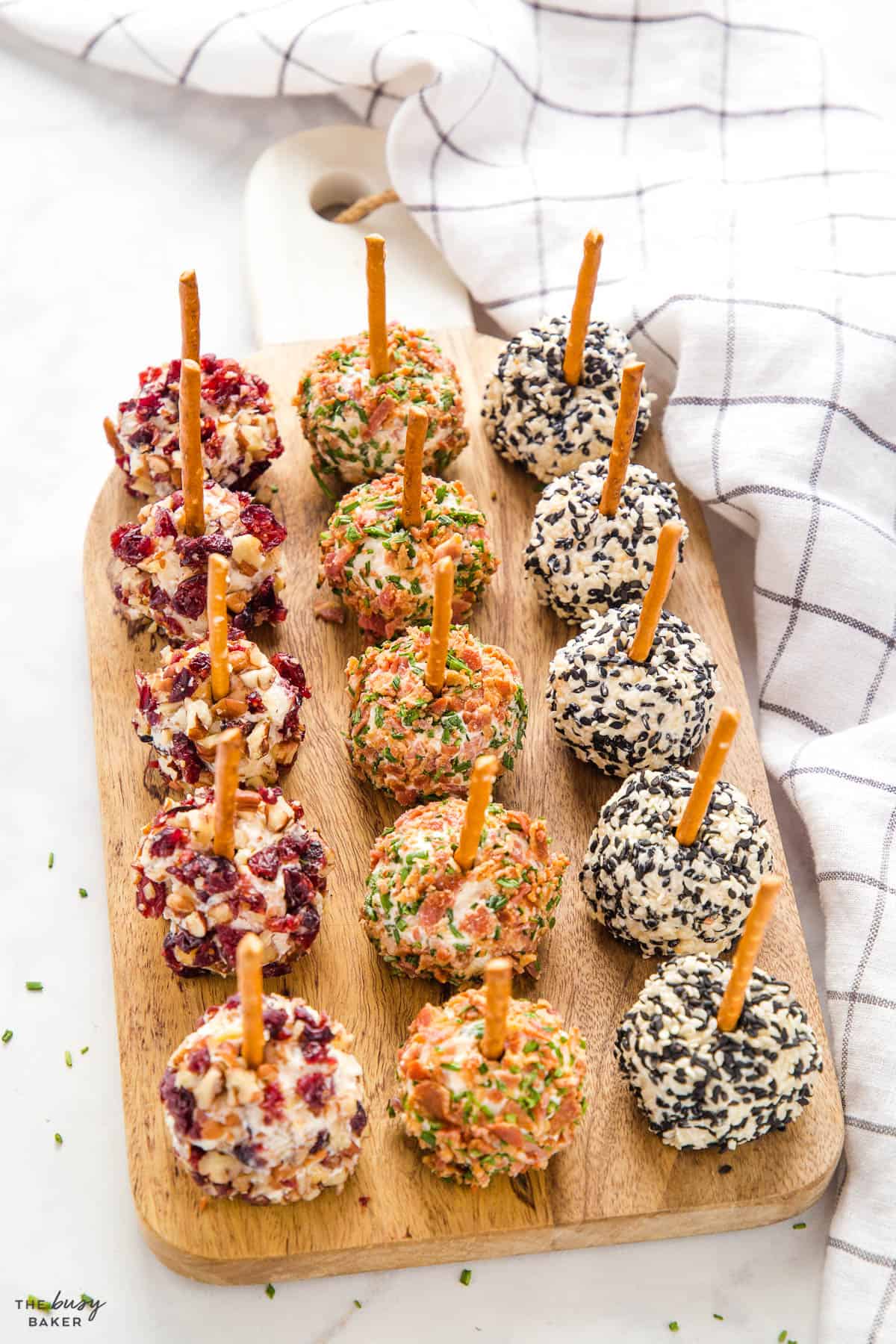 A cheese ball is truly the perfect appetizer for cheese-lovers. It's made from a base of cream cheese paired with different kinds of crumbled or shredded cheese (depending on the flavour you're going for) – anything from Parmesan, blue cheese, Swiss cheese, aged cheddar… the list goes on. Other flavours are often added to a base cheese ball mixture, like spices, herbs, nuts, dried fruit, etc.
The interior is creamy while the outside is rolled in anything flavourful from chopped nuts to dried fruits or fresh herbs.
Serving usually requires an assortment of crackers, veggies, or bread so everyone can dive right in. It's a casual appetizer that's perfect for sharing. Whether you stick to the classic flavours or throw in your own flavour twist, a cheese ball is your ticket to an easy-to-make homemade appetizer that everyone will love!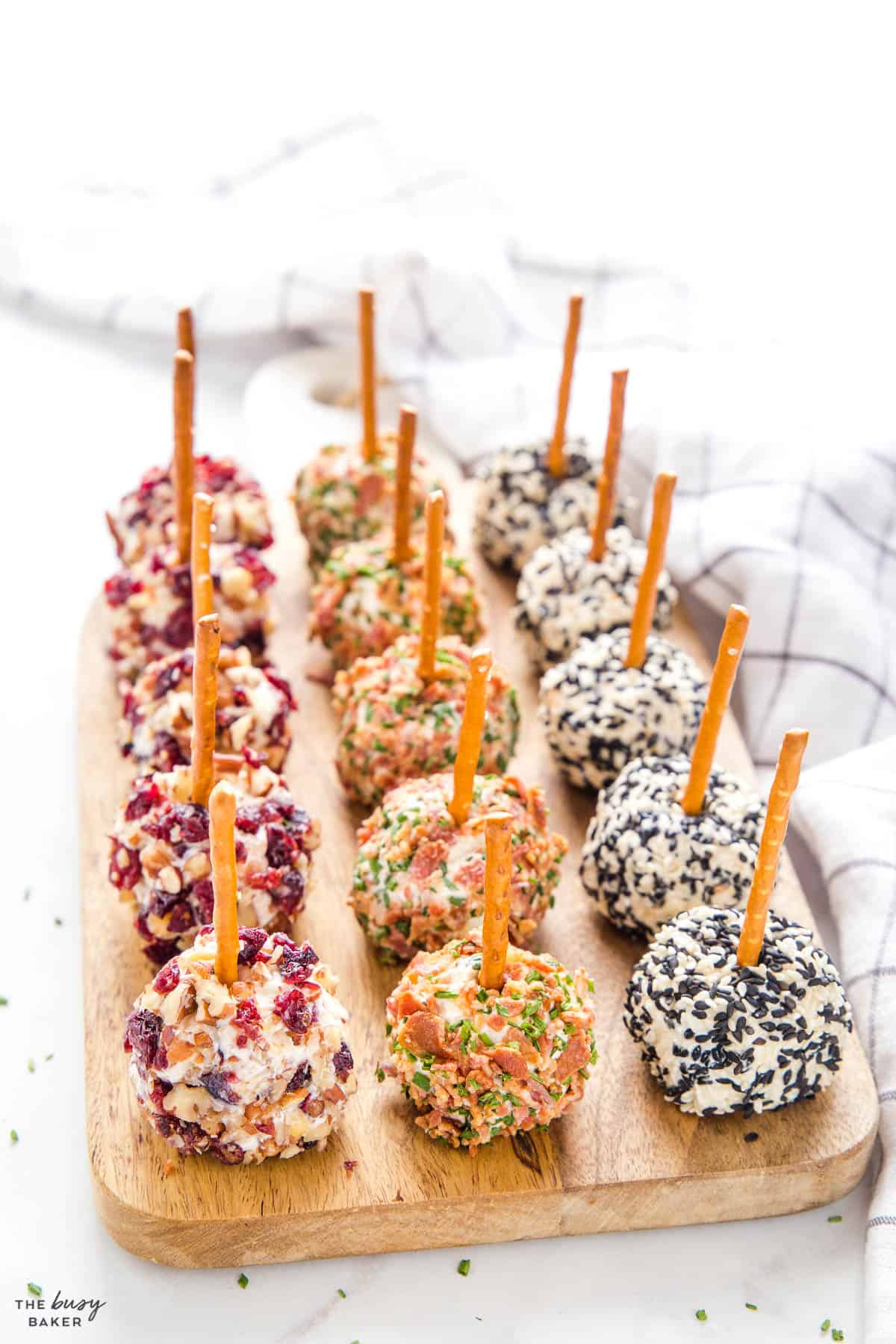 Creating the perfect cheese ball for your appetizer spread is not just about mixing cheese with your favourite ingredients—it's an art that requires a bit of understanding… and science! Here are some expert tips and advice to ensure that your mini cheese ball appetizers are the hit of any gathering!
Begin with high-quality full-fat cheese. Full-fat cheese will not only taste better, but it will also give your cheese balls a creamier texture because it contains more fat that's solid at room temperature and less water. For the best flavour, grate your cheese fresh off the block rather than buying pre-shredded varieties, which often contain anti-caking agents that can affect texture and flavour.
Ensure your ingredients, especially cream cheese, are at room temperature or almost room temperature before you start. This makes the mixing process smoother and helps avoid lumps.
You might be thinking, "Lemon juice??! In a cheese ball?!" But yes, lemon juice is an important ingredient because it helps the cream cheese stay solid and firm up in the fridge. And don't worry, you won't be able to taste the lemon juice in the end result!
For mini cheeseballs, use a cookie scoop (paid link) to ensure uniform sizes. This not only makes for an attractive presentation but also ensures that they all chill and set in the same amount of time.
Refrigerating the cheese ball mixture before rolling the balls is critical to them maintaining a round shape. You can even pop the mixture in the freezer for 30 minutes instead of 2 hours in the fridge to save some time.
If you're not serving your cheeseballs immediately, cover them tightly with plastic wrap and keep them refrigerated. They can usually be made a day or two in advance, which helps the flavours to meld beautifully.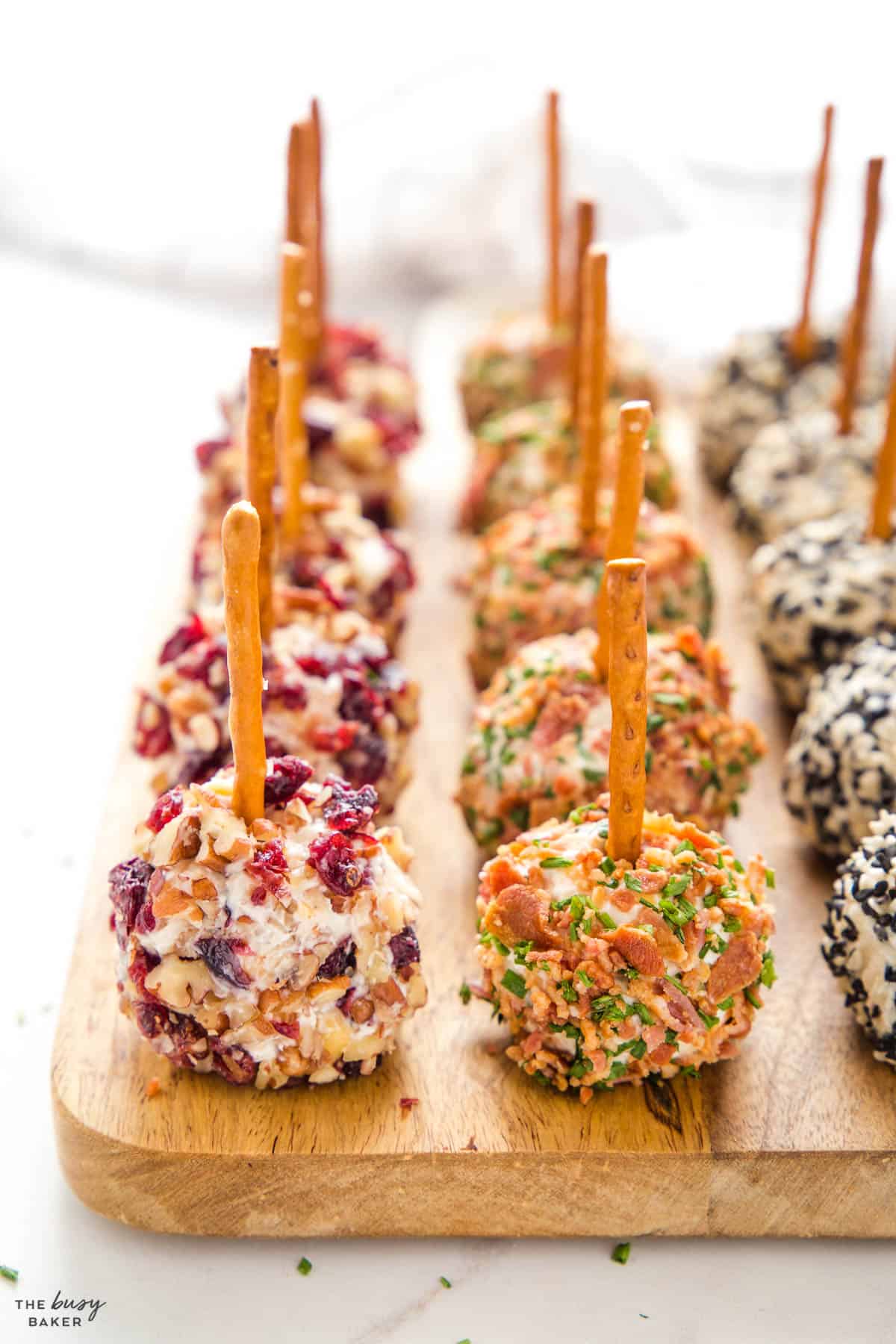 If you're new to making homemade cheeseballs, here are some possible issues you might encounter, how to prevent them, and how to fix them!
If your mixture is too soft to shape, this is often due to the cheese not being cold enough. Chill the mixture in the refrigerator for an hour before attempting to shape it again. For a quicker fix, pop it in the freezer for 15-20 minutes.
If your cheese balls are cracking, they might be too cold or too dry. Allow them to sit at room temperature briefly. If they are still cracking, work in a bit of cream cheese to moisten the mixture.
To ensure that every bite is as good as the last, mix your ingredients thoroughly. If you're adding chunkier ingredients like pecans or bacon bits, chop them very finely to ensure they're evenly distributed throughout the cheese ball mixture.
When rolling your cheese balls, dampen your hands with cold water or use gloves to prevent sticking. If you're coating your cheese balls with nuts or seeds, roll them gently in the coating instead of pressing them on. You can also chill your cheese ball mixture for some extra time before rolling.
Some cream cheese is sticker than others because it contains additives and extra ingredients to make it soft and spreadable. Be sure to choose block cream cheese or pure cream cheese that's meant for baking, not the spreadable kind that's meant for enjoying spread on a bagel.
While it's tempting to pack in as many delicious ingredients as possible, balance is key. Too many add-ins can overwhelm the cheese. Aim for a harmonious blend where no single flavour dominates. Be sure to follow the recipe as written and only substitute ingredients that perform similarly (ex: replacing dried cranberries with a chopped dried apricots, or replacing pecans with walnuts).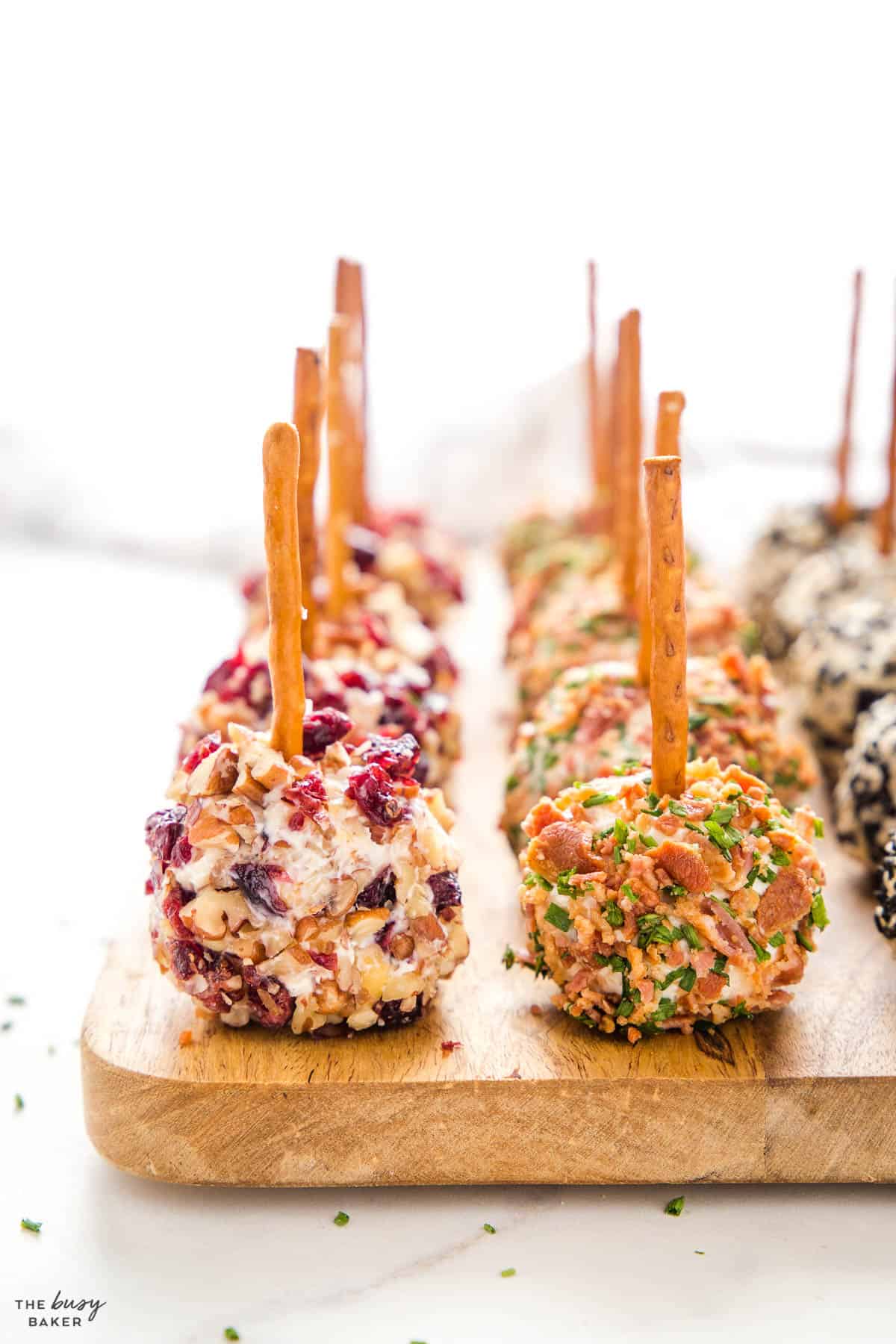 Here's a list of the kitchen equipment you'll need to make these mini cheese balls (paid links):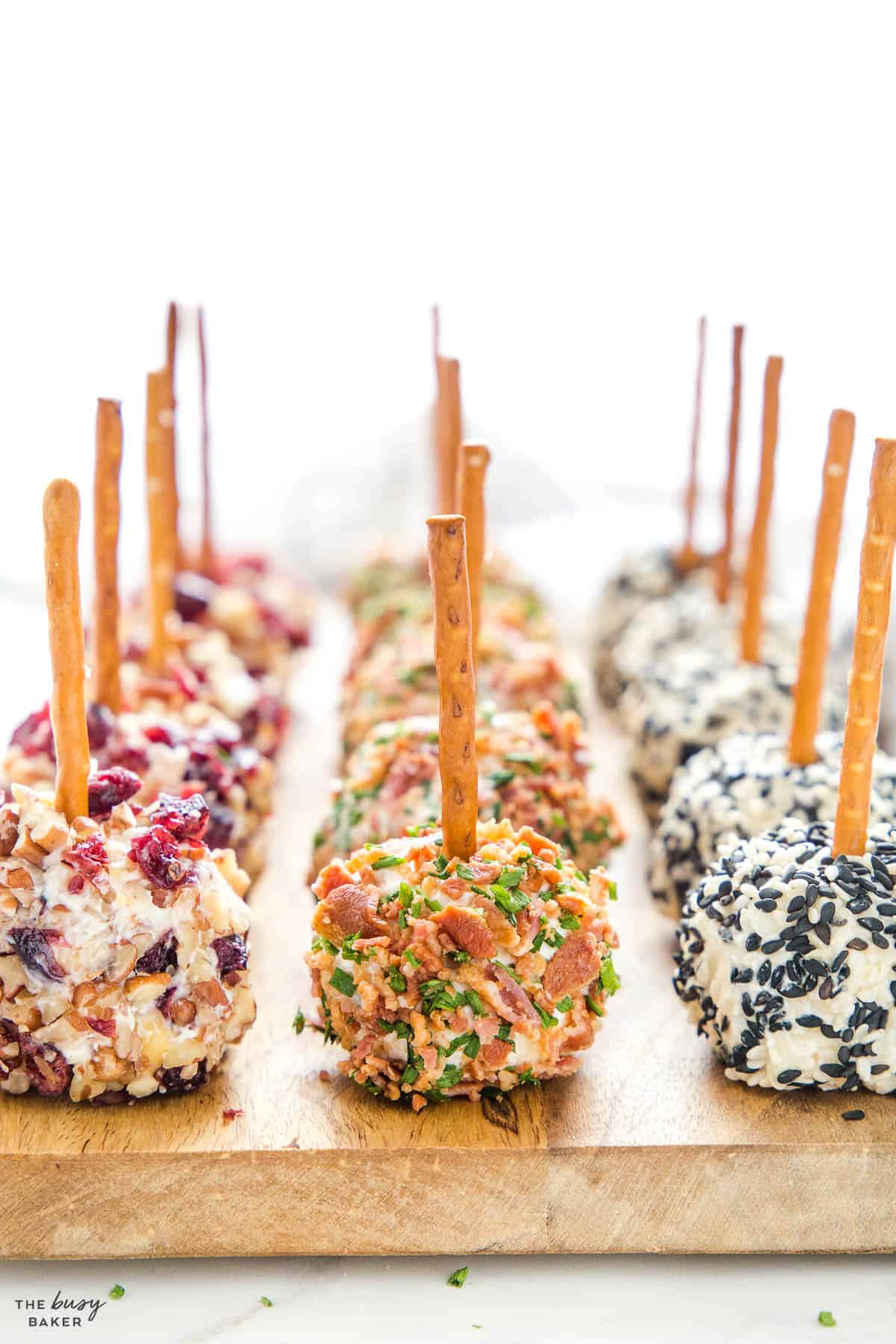 Here's a list of the ingredients you'll need to make these mini cheese ball recipe (paid links):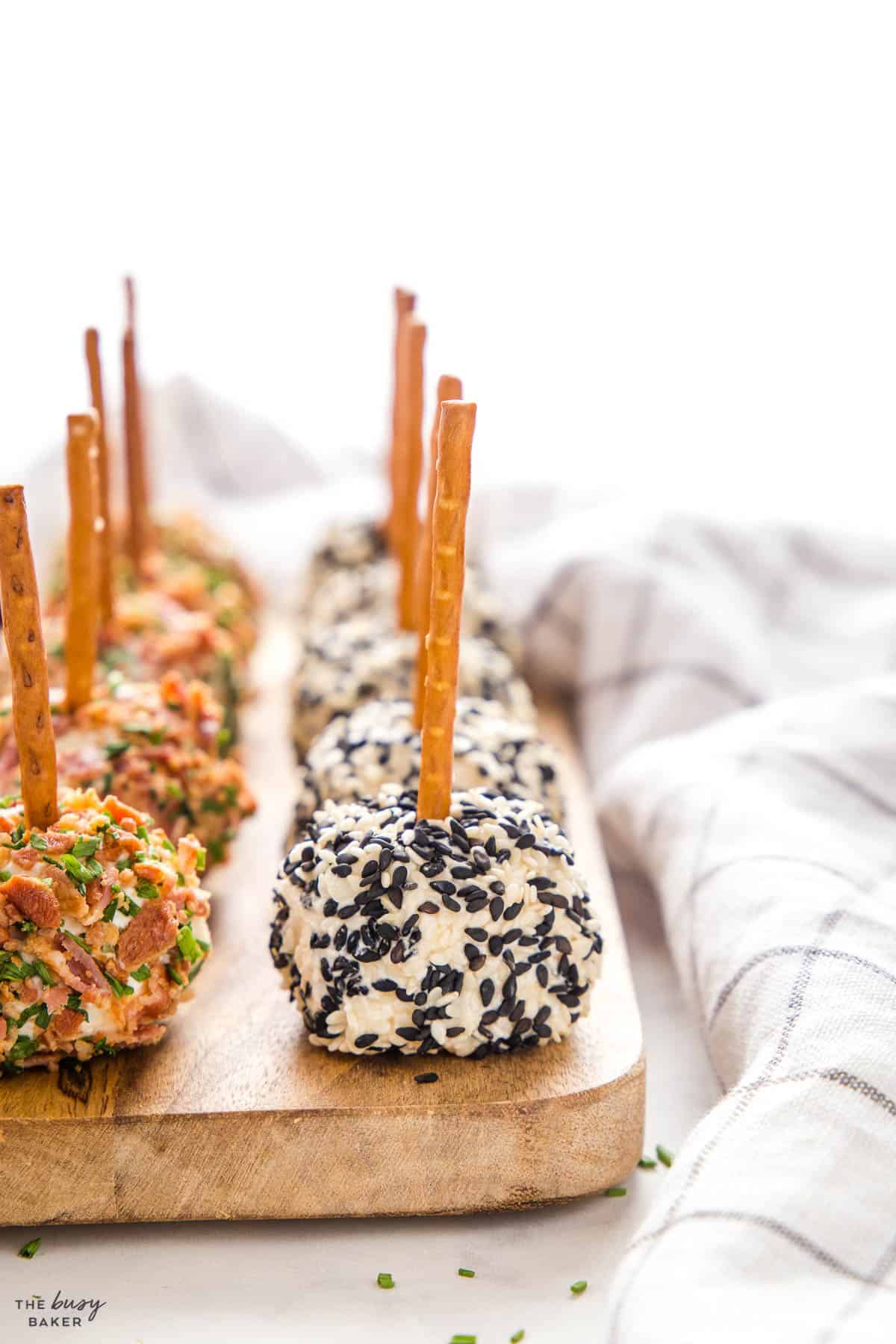 Time needed: 2 hours and 15 minutes
Follow these steps for the perfect mini cheeseballs!
Start with room temperature cream cheese.

Starting with cream cheese at room temperature will make the cheese ball mixture smoother and will help you avoid lumps.

Make the cheeseball mixture.

Add in the sour cream, shredded cheese and other ingredients and mix well.

Separate into 3 bowls and make the three flavours.

Divide the mixture between 3 bowls and add the add-ins for the 3 flavours. Mix well.

Chill the cheeseball mixtures.

Cover each bowl with a lid or plastic wrap and refrigerate until solid enough to roll.

Form into mini cheeseballs and roll in the coatings.

Use a cookie scoop to form uniformly sized cheese balls and roll them in your hands. Roll each one in the associated coatings.

Chill, add a pretzel stick, then serve.

Refrigerate again, add a pretzel stick for easy serving, and enjoy!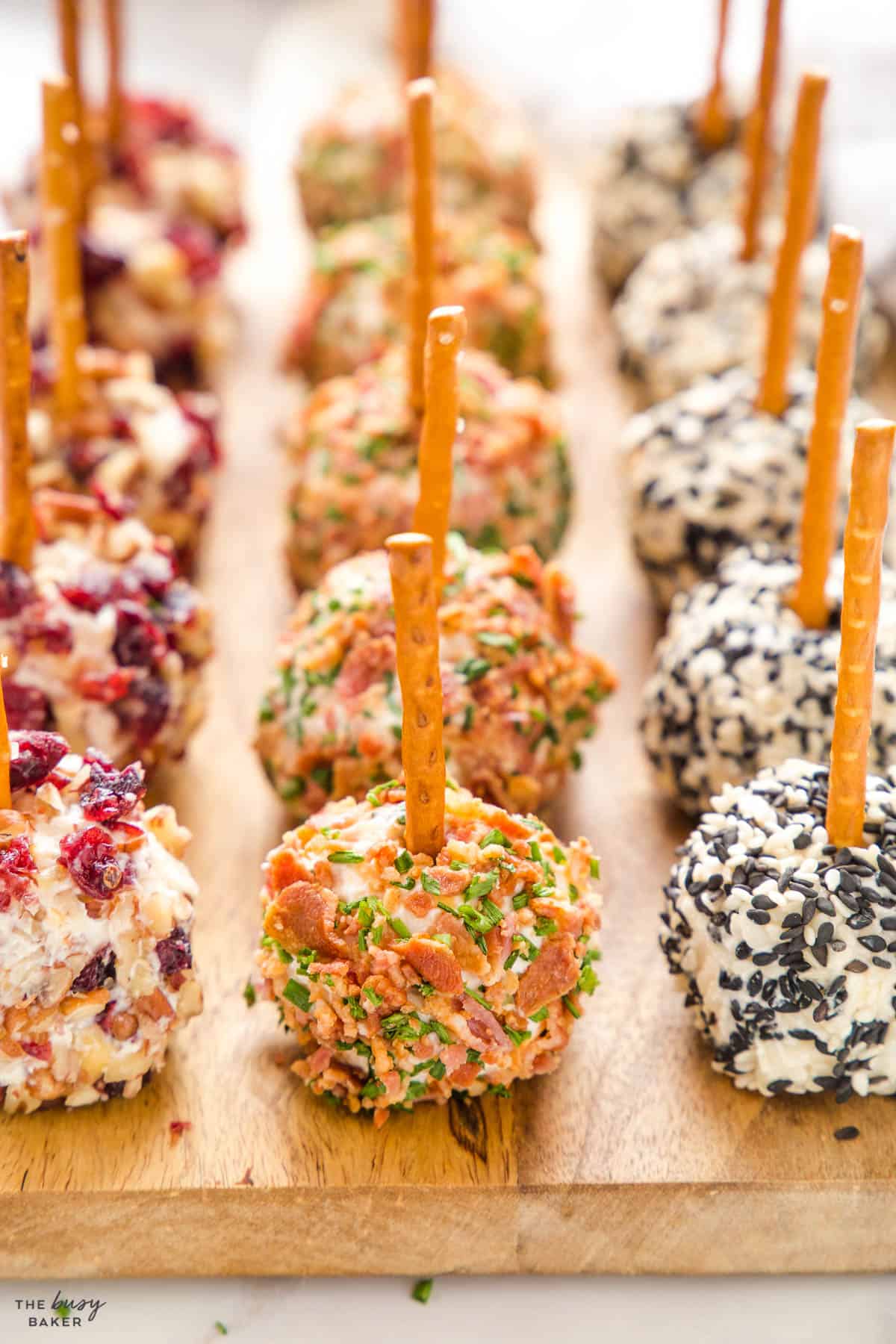 What kind of cheese should I use for a cheese ball?

Be sure to use a mixture of cream cheese and either shredded or crumbled cheeses. We suggest cheddar, Swiss cheese or Emmentaler cheese, gouda, Gruyere cheese, or even Parmesan or crumbled feta.
Can cheese balls be frozen?

Yes, most cheese balls can be frozen without the coating for up to 1 month. Thaw in the refrigerator overnight and roll in the coating before serving.
How far in advance can I make a cheese ball?

You can make this cheese ball recipe up to 2-3 days in advance. Wrap it tightly in plastic wrap and store it in the refrigerator.

How can I prevent the cheese ball from being too soft?

Ensure your cream cheese is full fat and not too warm. Increase the chilling time in the refrigerator to help it firm up well.

Why is my cheese ball too hard?

If it's too hard, it may be over-chilled. Let it sit at room temperature for 10-15 minutes before serving. The sour cream in the recipe helps it to be soft enough to be spreadable, so don't skip this ingredient!

How do I shape the cheese ball without it sticking to my hands?

Dampen your hands with cold water, use disposable gloves, and most importantly chill the mixture well before shaping.

Can I use low-fat cream cheese to make a cheese ball?

We don't recommend using low fat cream cheese because it contains a high water content. This will cause it to have difficult keeping its shape as the extra fat in full-fat cream cheese is solid when chilled or at room temperature.
How do I get my cheese ball to hold its shape?

Chill it thoroughly before and after shaping. If it's still not holding, add more shredded cheese to thicken the mixture.
What's the best way to store a cheese ball?

Store it wrapped in plastic wrap in the refrigerator until ready to serve.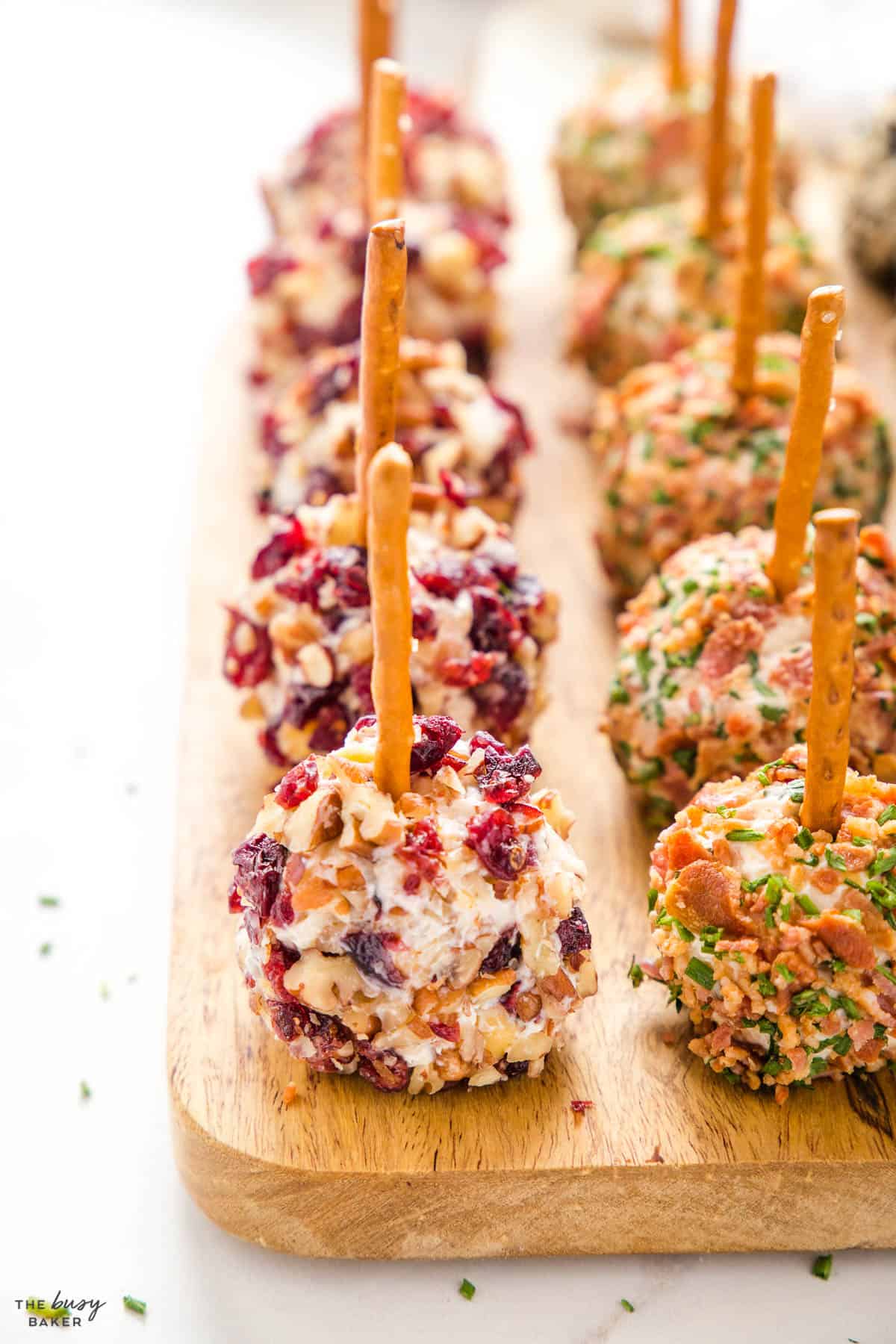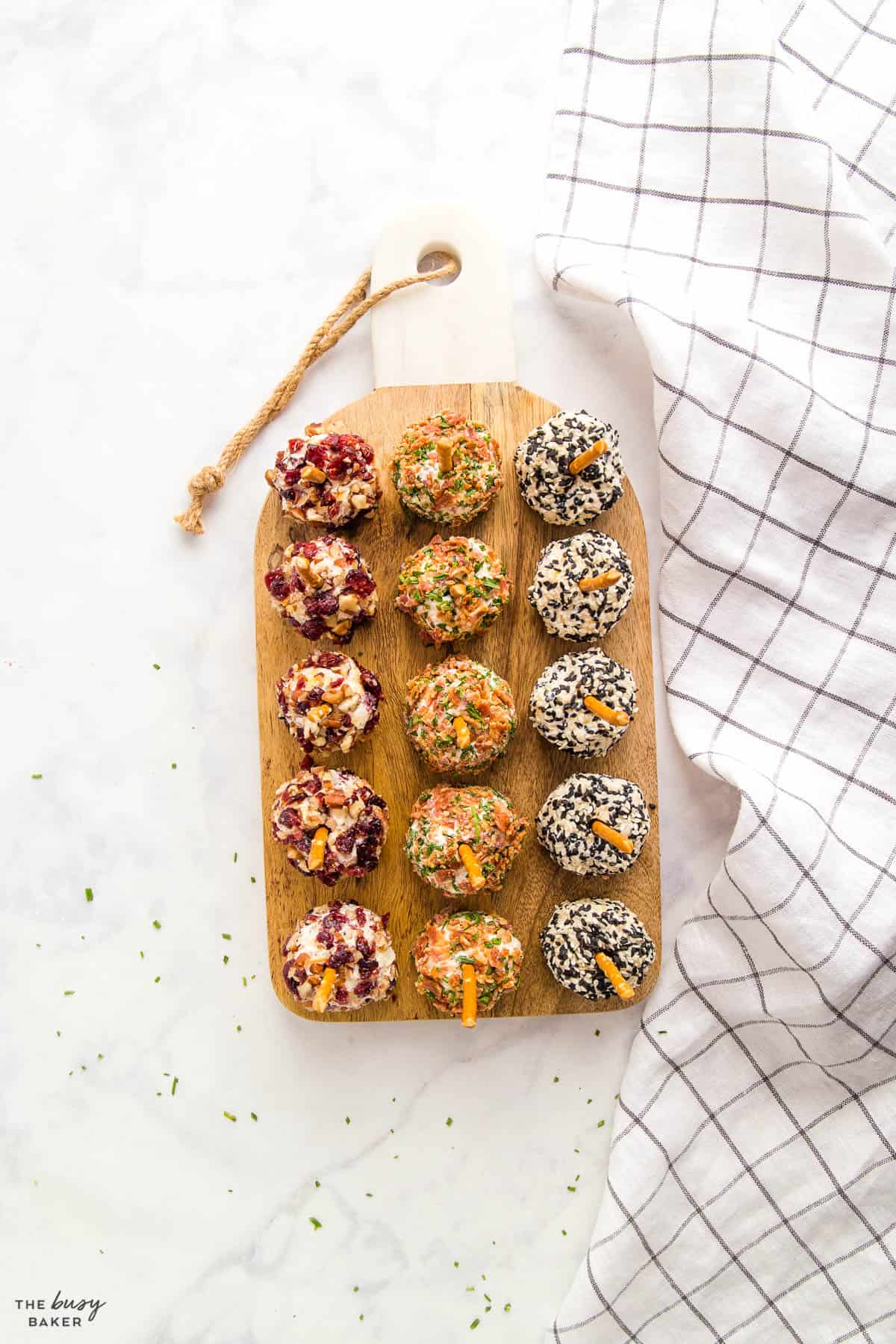 We hope you love this Mini Cheeseballs recipe as much as we do! Let us know in the comments below, what's your favourite cheese ball recipe flavour? We'd love to know!
Watch the video below to see exactly how we make this recipe. You can find many more deliciously simple recipe videos on our YouTube channel!
If you made this, share a photo!
Are you trying this recipe? Use the comment form below to share your take; now with support for image uploads and comment voting!
Share a photo
Mini Cheese Ball Bites
An easy make-ahead appetizer or snack recipe, this Mini Cheese Ball Bites recipe is the perfect appetizer for cheese lovers made 3 ways: Cranberry & Pecan, Bacon & Ranch, and Honey Sesame!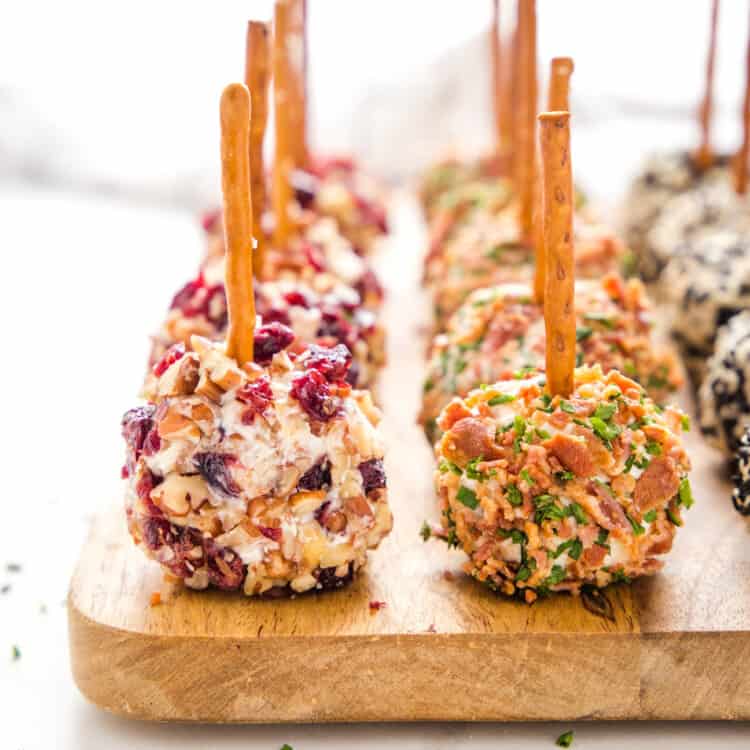 Recipe:

Instructions
In a medium bowl, combine the cream cheese, sour cream, shredded cheese, and lemon juice with a rubber spatula or with a hand mixer (if desired).

Divide this mixture evenly between 3 bowls: one bowl will be for the cranberry pecan cheese balls, one will be for the bacon ranch cheese balls, and the other will be for the honey sesame cheese balls.

Into the first bowl, add the chopped dried cranberries, chopped pecans, pepper, garlic powder, onion powder, and salt.

Into the second bowl, add the ranch seasoning, parmesan cheese, bacon, and chives.

Into the third bowl, add the Worcestershire sauce, honey, feta cheese, pepper, garlic powder, onion powder, and salt.

Stir each mixture well to combine. Cover each mixture and refrigerate for about 2-3 hours or until the mixtures become firm enough to roll.

Prepare a baking sheet or cutting board lined with parchment paper.

Prepare the ingredients for rolling on the outside of the cheese balls in three more small bowls. Combine the dried cranberries and pecans in one, the bacon and chives in another, and the everything bagel seasoning in the last. Set these aside.

Using a cookie scoop or a tablespoon, scoop out about one tablespoon of the chilled cranberry pecan cheese ball mixture and roll it in your hands to form a ball. Roll the mini cheese ball in the chopped cranberries and pecans, and set the mini cheese ball on the prepared pan or board. Repeat with the other mini cheese balls until the mixture is gone (you should get about 10 mini cheese balls for each flavour).

Repeat this process with the other flavours, rolling the balls and dipping them in the correct coating for that flavour.

Chill the cheese balls in the fridge for about 2 more hours or overnight. If chilling for more than 2 hours, we recommend covering the cheese balls with plastic wrap to keep them fresh.

Before serving, place a pretzel stick into each mini cheese ball and serve on your favourite serving platter or cheese board.
Recipe:

Notes
Make- Ahead Instructions
These cheese balls keep in the fridge wrapped in plastic wrap for about 1 week or in the freezer for about 1 month (defrost in the fridge before serving).
Storage Instructions
Once assembled, store in the fridge for up to one week before serving (3 days for best results).
Freezer Instructions
If you're planning to freeze them, we recommend rolling them in the coating right before serving, once the cheese balls have thawed for ideal texture.
Recipe:

Nutrition

Nutrition Facts

Mini Cheese Ball Bites

Amount Per Serving (1 serving)

Calories 162

Calories from Fat 117

% Daily Value*

Fat 13g20%

Cholesterol 34mg11%

Sodium 545mg24%

Potassium 57mg2%

Carbohydrates 6g2%

Protein 6g12%

Vitamin A 368IU7%

Vitamin C 1mg1%

Calcium 128mg13%

Iron 0.2mg1%

* Percent Daily Values are based on a 2000 calorie diet.

Notice: Nutrition is auto-calculated, using Spoonacular, for your convenience. Where relevant, we recommend using your own nutrition calculations.