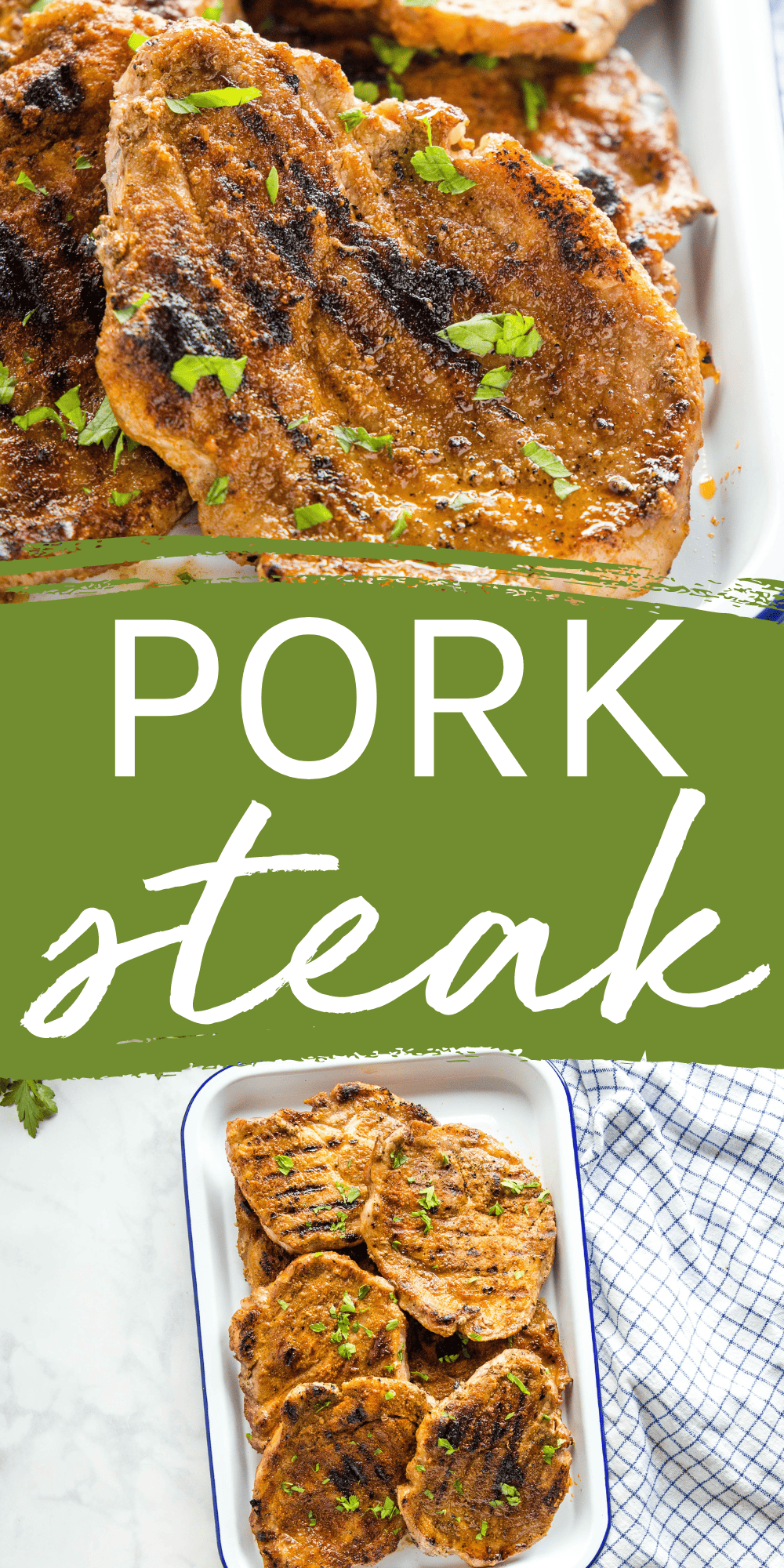 This Pork Steak recipe (also called Boston Butt Steak) is a juicy, tender and meaty main dish. Pork shoulder steaks seasoned and grilled or pan-fried – better than pork chops and so easy to make!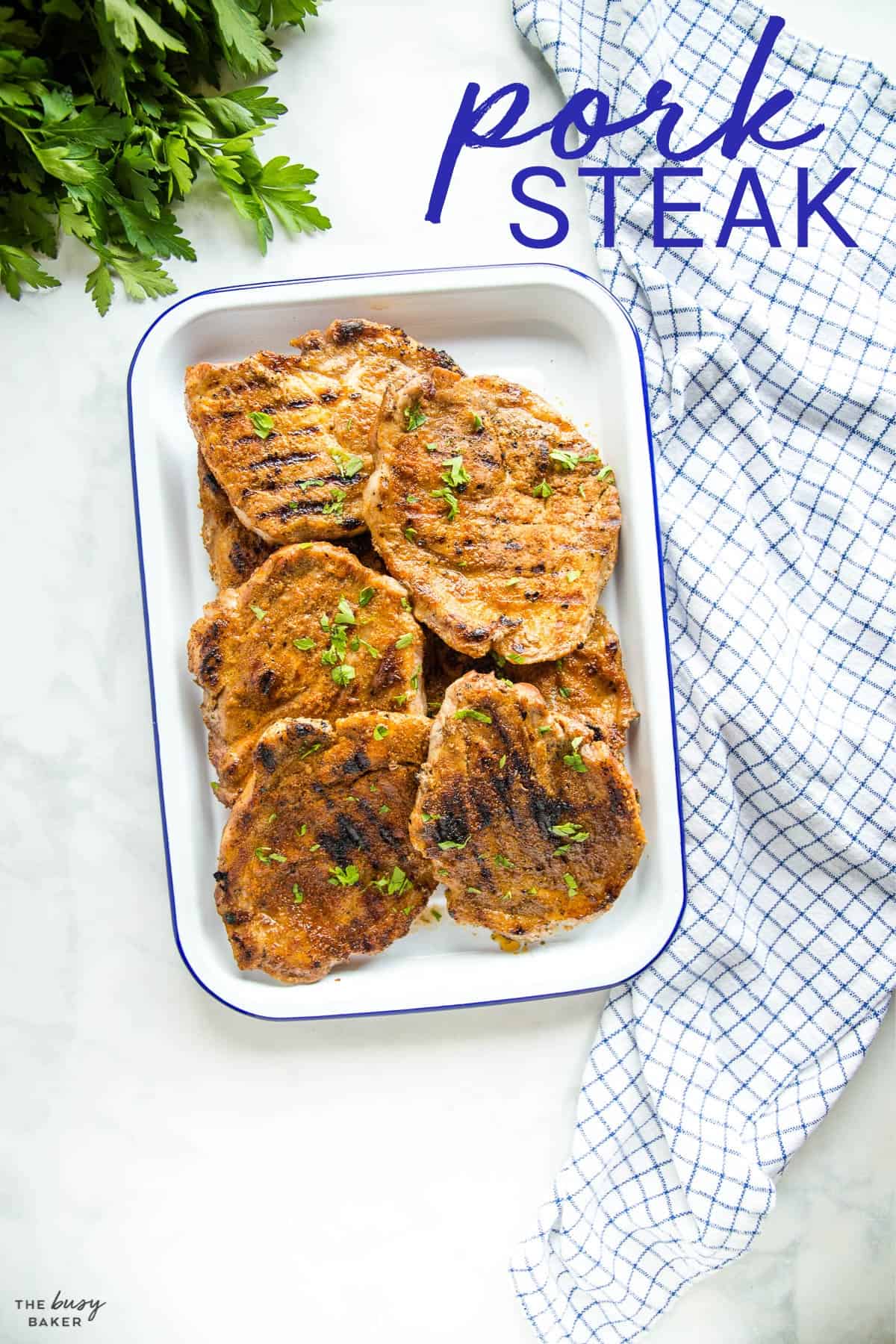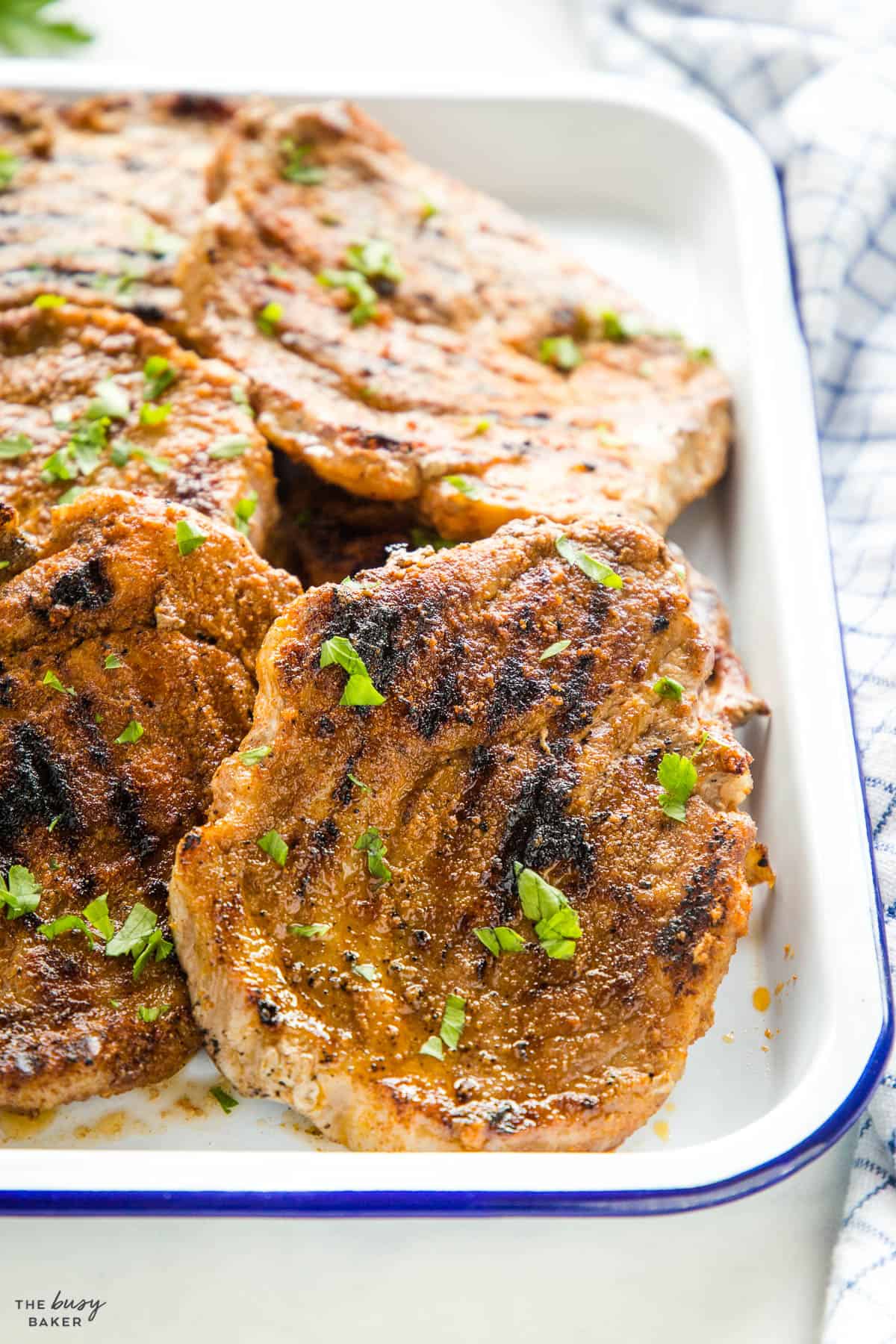 Move over pork chops! This Grilled Pork Steak recipe is the best way to enjoy grilled pork that's oh so tender and juicy and packed with flavour!
Pork chops can be challenging to make (especially for beginners in the kitchen) because they so often turn out dry and tough and flavourless, and it's really easy to overcook them. But Pork Steaks? They cook to juicy perfection in minutes on the grill or in a hot pan on the stove and they're perfect served alongside all your favourite side dishes.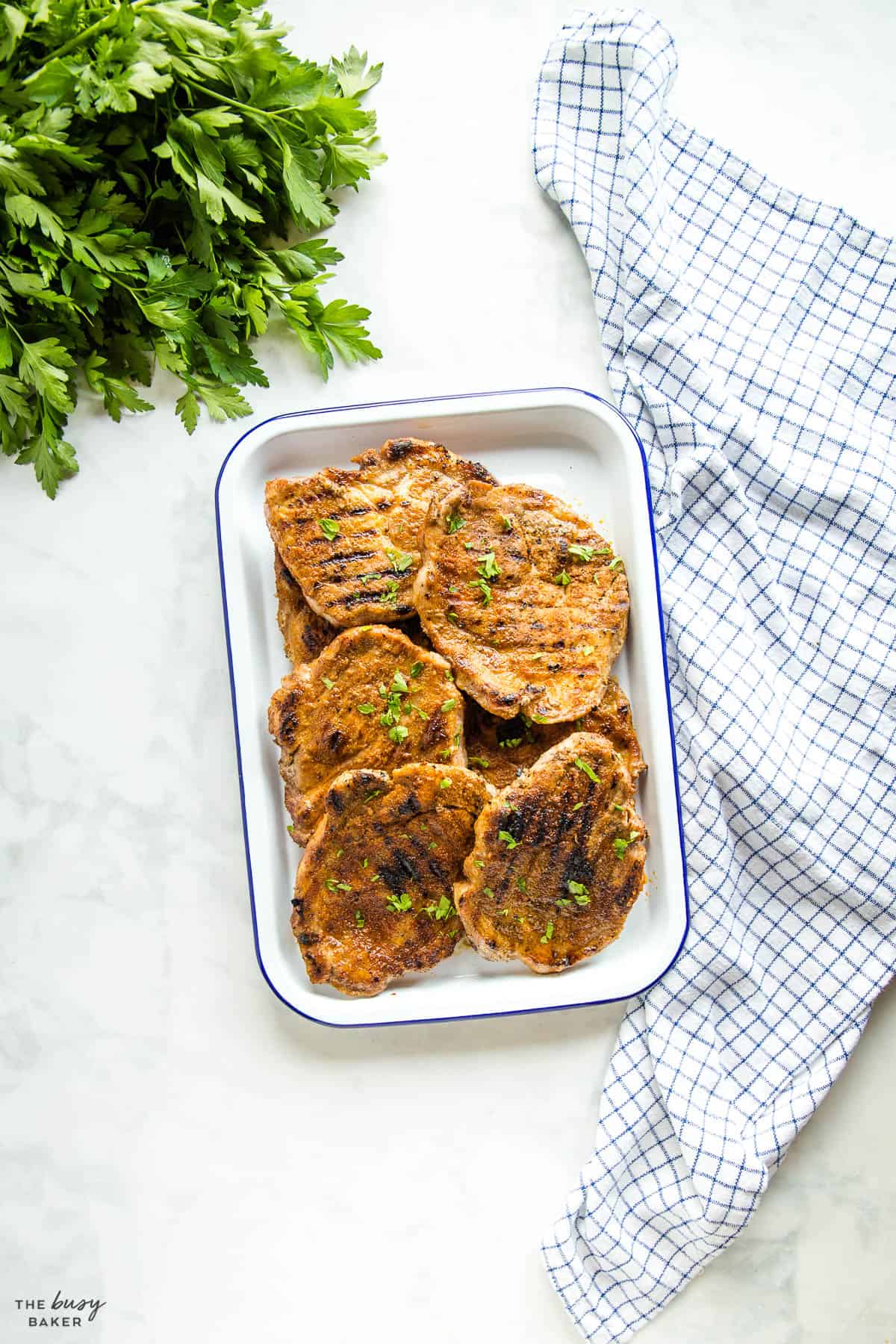 Pork steak is a less common cut of meat in North America, even though it's a super popular cut commonly enjoyed in some Asian and Eastern European countries. It's usually prepared baked with onions and a homemade sauce, or grilled over a charcoal grill and served with a creamy garlic sauce for dipping, alongside grilled veggies, mashed potatoes, french fries, potato wedges, or roasted potatoes.
In North America it's is sometimes called Boston Butt, Boston Butt Steak, pork shoulder blade steak, or pork shoulder steak. But no matter what you call it, it's one of the most juicy and tender cuts of pork (in our humble opinion), it's super simple to prepare, and it has tons of flavour!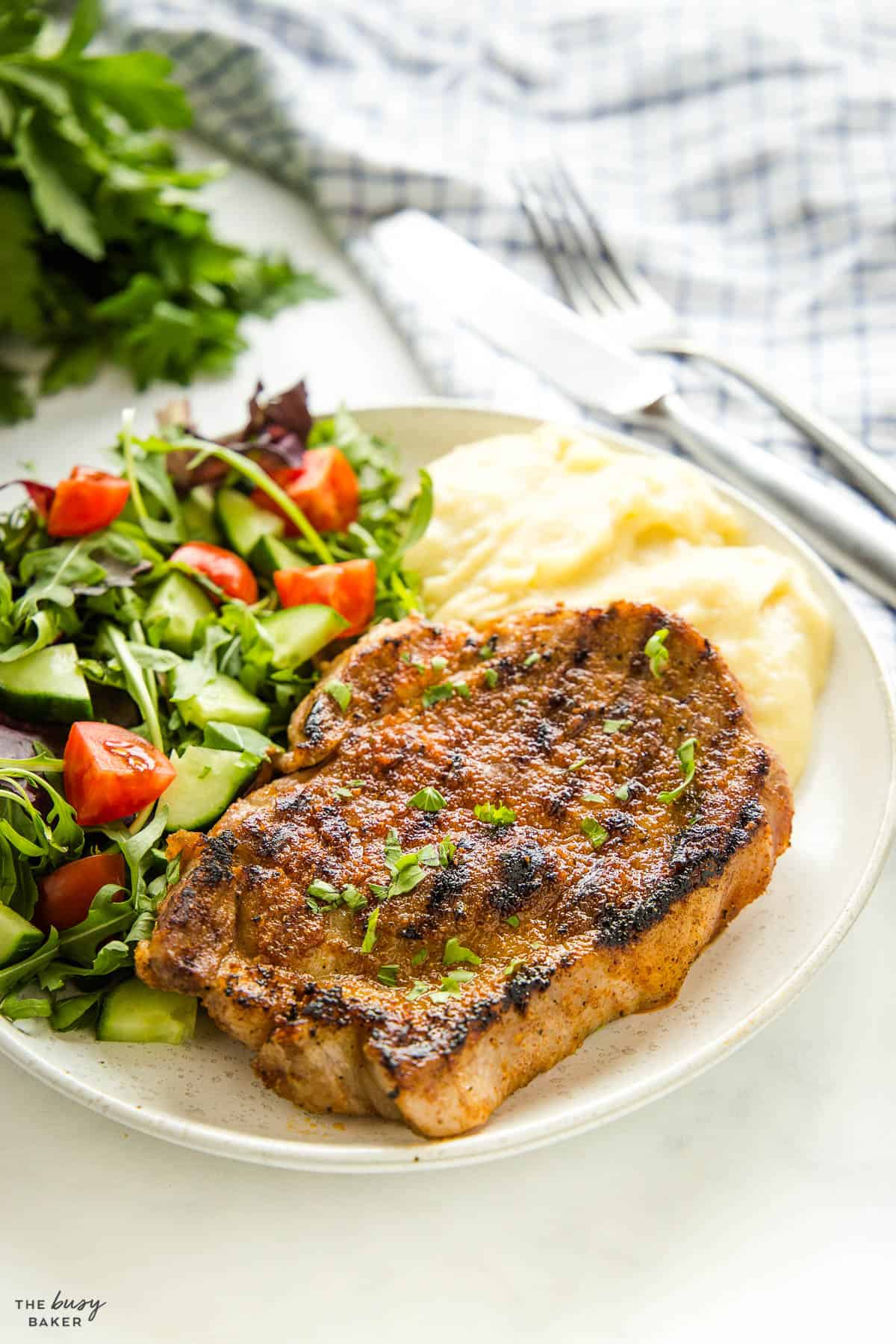 Choosing the perfect pork steak can be a challenge, and it isn't always available at every grocery store or meat counter. It's known for its rich, flavourful meat that practically melts in your mouth. When it comes to selecting the perfect cut, keep an eye out for marbling. Those delicate streaks of fat throughout the meat are like tiny flavour bombs. Trust us, you'll want that marbling!
Colour is always a good indicator of freshness. Look for a vibrant pinkish hue in the meat, steering clear of any greyish tones. As for thickness, aim for cuts that are around 1 to 1.5 inches thick. This ensures even cooking and a juicy interior.
To guarantee top-notch quality, we highly recommend paying a visit to a trusted butcher. The butcher will guide you through their selection, offering expert advice and ensuring you get the best cut. And remember, always check the freshness of the meat by examining the texture and smell. Fresh meat should have a clean, slightly sweet aroma.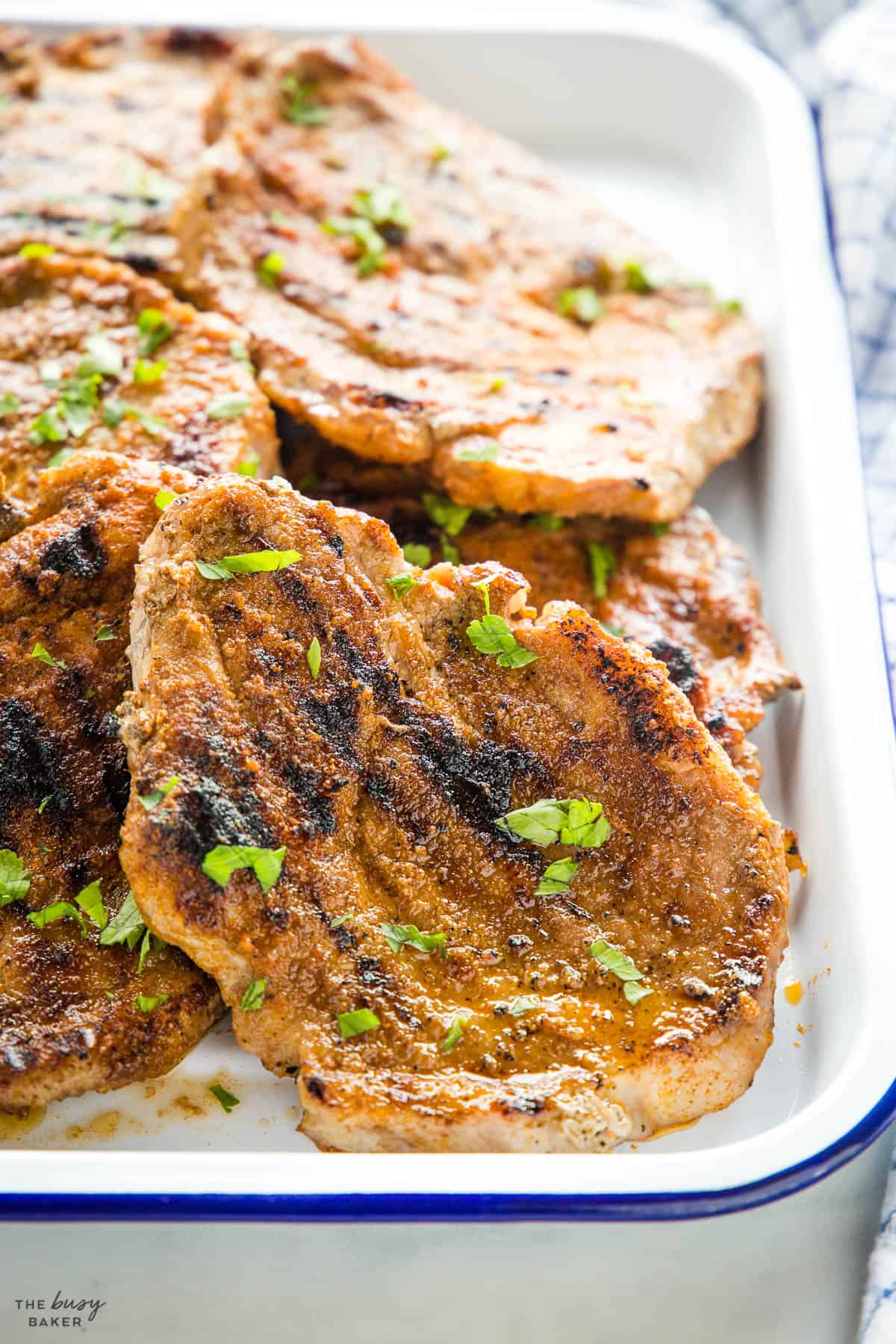 To make this recipe you'll need (affiliate links):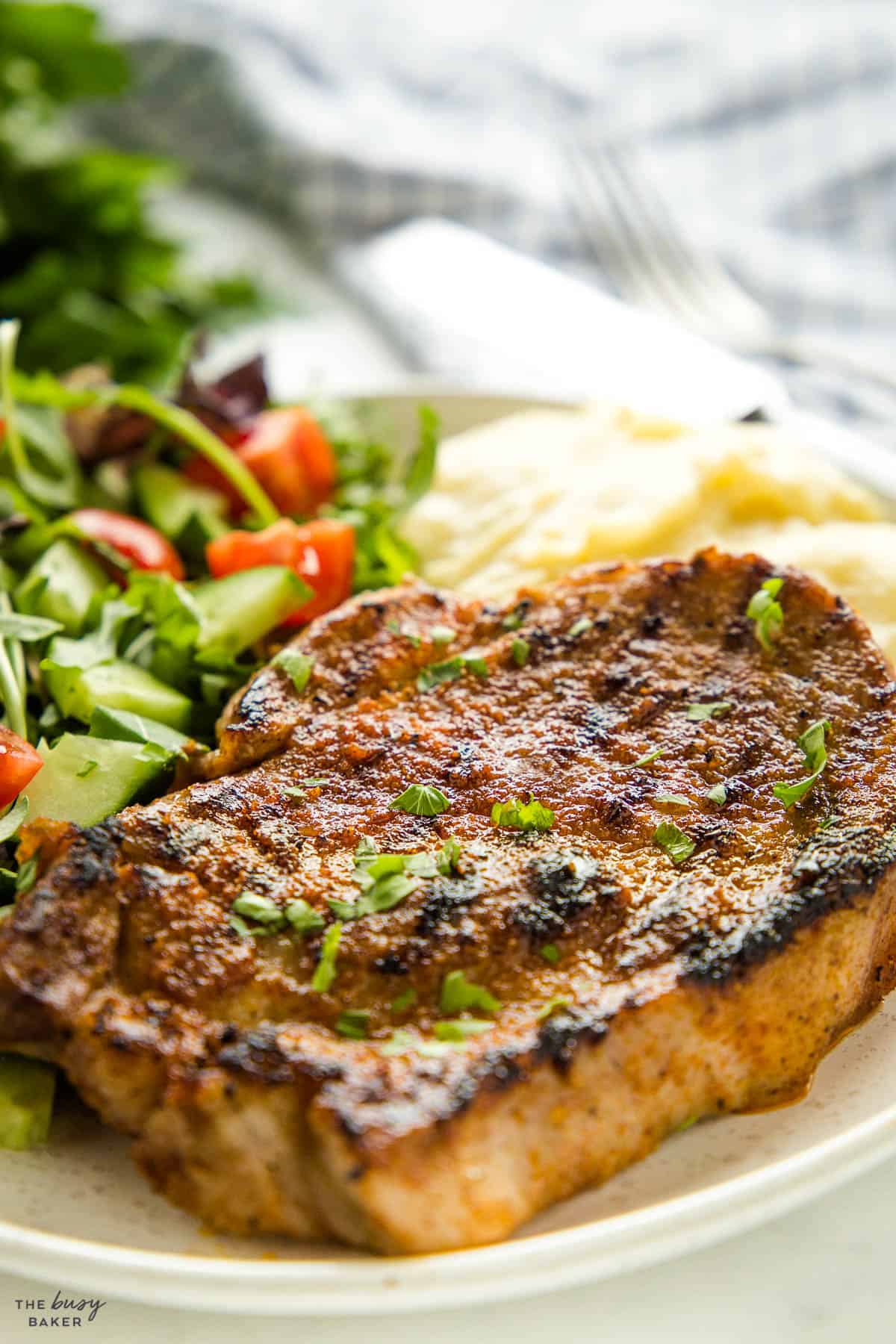 Here's a list of the ingredients you'll need to make this pork steak recipe:
pork steaks (also called pork shoulder blade steak or pork shoulder steak)
smoked paprika optional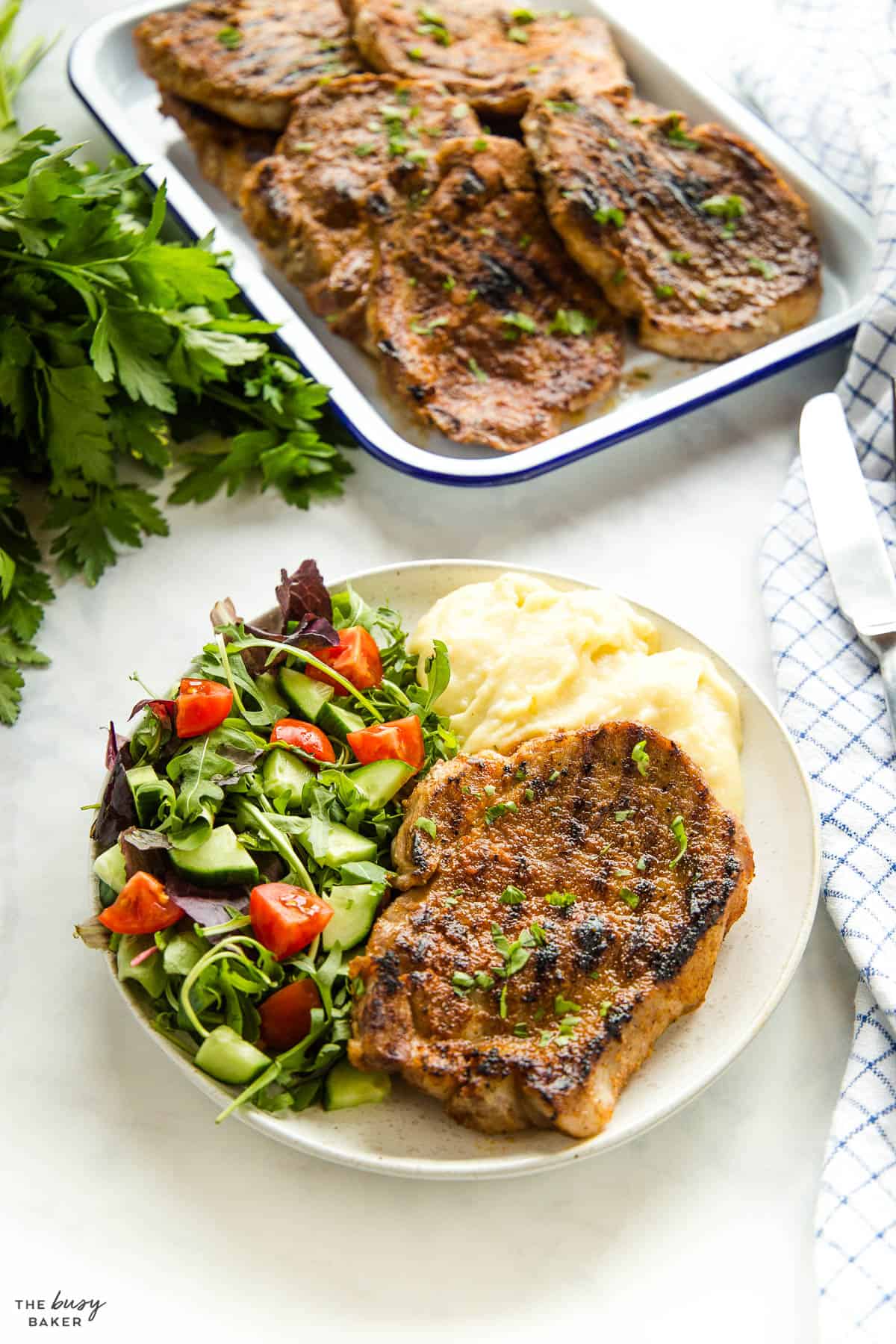 Experiment with one of these delicious variations on the basic pork steak recipe:
Teriyaki Glazed: Brush your pork with a flavourful teriyaki sauce before grilling. The sweet and savoury glaze caramelizes beautifully, adding an irresistible tang to your juicy steak.
Herb-Crusted: Create a herb crust by mixing fresh herbs like rosemary, thyme, and parsley with breadcrumbs. Press the mixture onto the pork before grilling, creating a fragrant and crispy coating.
Spicy Cajun: Kick up the heat with a Cajun-inspired spice rub. Make our EASY basic Cajun Spice Blend recipe and generously coat the pork before grilling.
Korean BBQ: Indulge in a burst of Korean flavours by marinating your pork in a mixture of soy sauce, garlic, ginger, sesame oil, and brown sugar. Grill to perfection.
Pineapple-Glazed: Brush your pork with a tangy pineapple glaze made from soy sauce, pineapple juice, and brown sugar.
Honey Mustard: Combine the classic flavours of honey and mustard to create a delicious glaze for your pork. Drizzle the mixture over the steak before grilling and let the flavours caramelize to perfection as it grills.
Mediterranean: Infuse the pork with the vibrant flavours of the Mediterranean. Marinate the steak in a mixture of olive oil, lemon juice, garlic, oregano, and a pinch of red pepper flakes before grilling.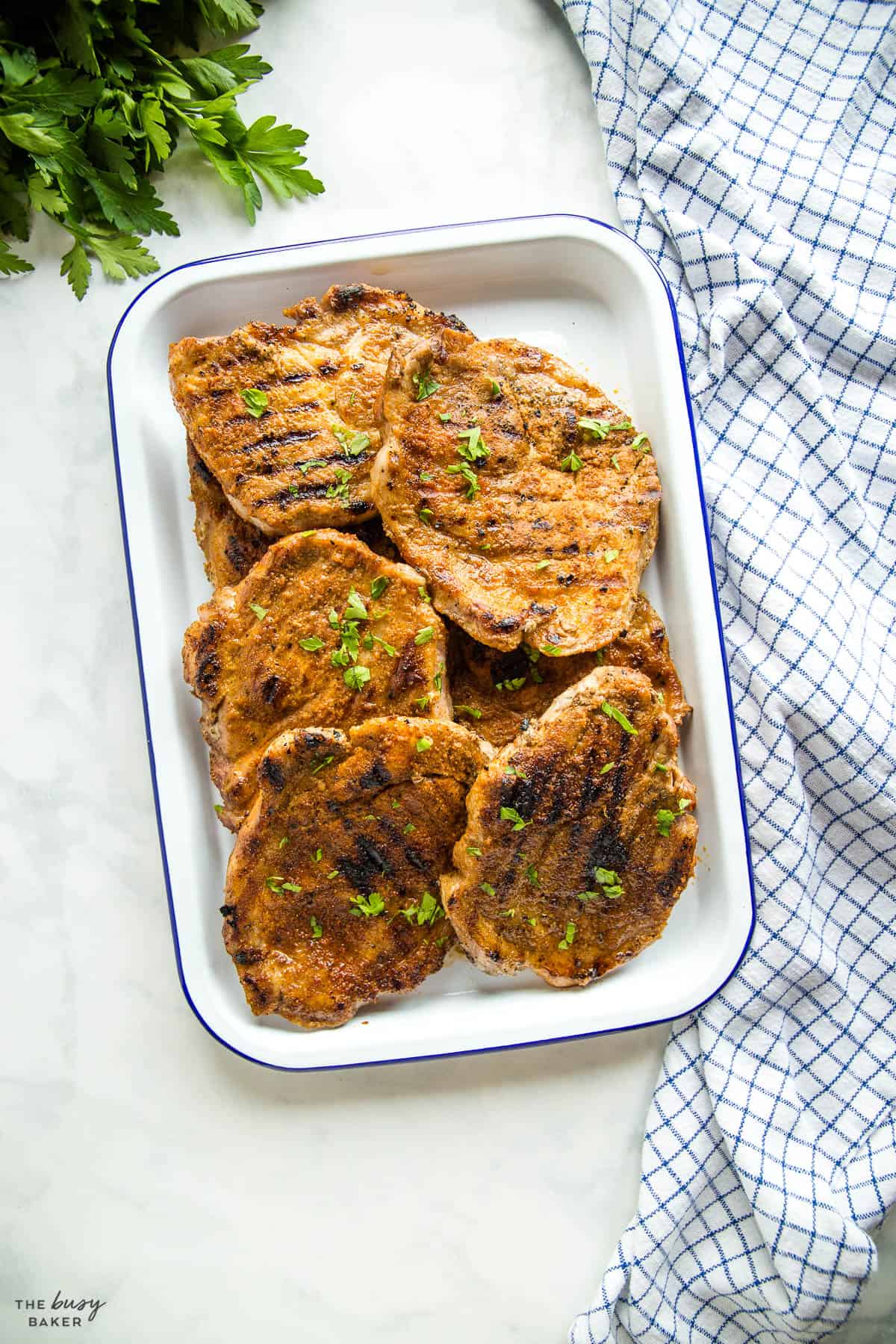 Time needed: 30 minutes
Follow these steps and tips for the perfect pork steak recipe every time!
Choose the right cut.

Be sure to choose a pork steak cut from the shoulder, also called pork shoulder blade steak or pork shoulder steak.

Trim the fat.

Trim off any excess fat that's hanging off the steaks, but don't trim it all. Fat equals flavour.

Rub on the flavour.

Mix the spices, salt and pepper and rub them onto the steaks on all sides.

Grill to perfection.

Grill on medium heat for about 6-8 minutes per side until they're cooked through and caramelized on both sides.

Test for doneness.

Use an instant-read thermometer to ensure the internal temperature reaches 150 ℉ -158℉ (65℃-70℃).

Let them rest.

Rest your pork steaks before serving so they stay nice and juicy!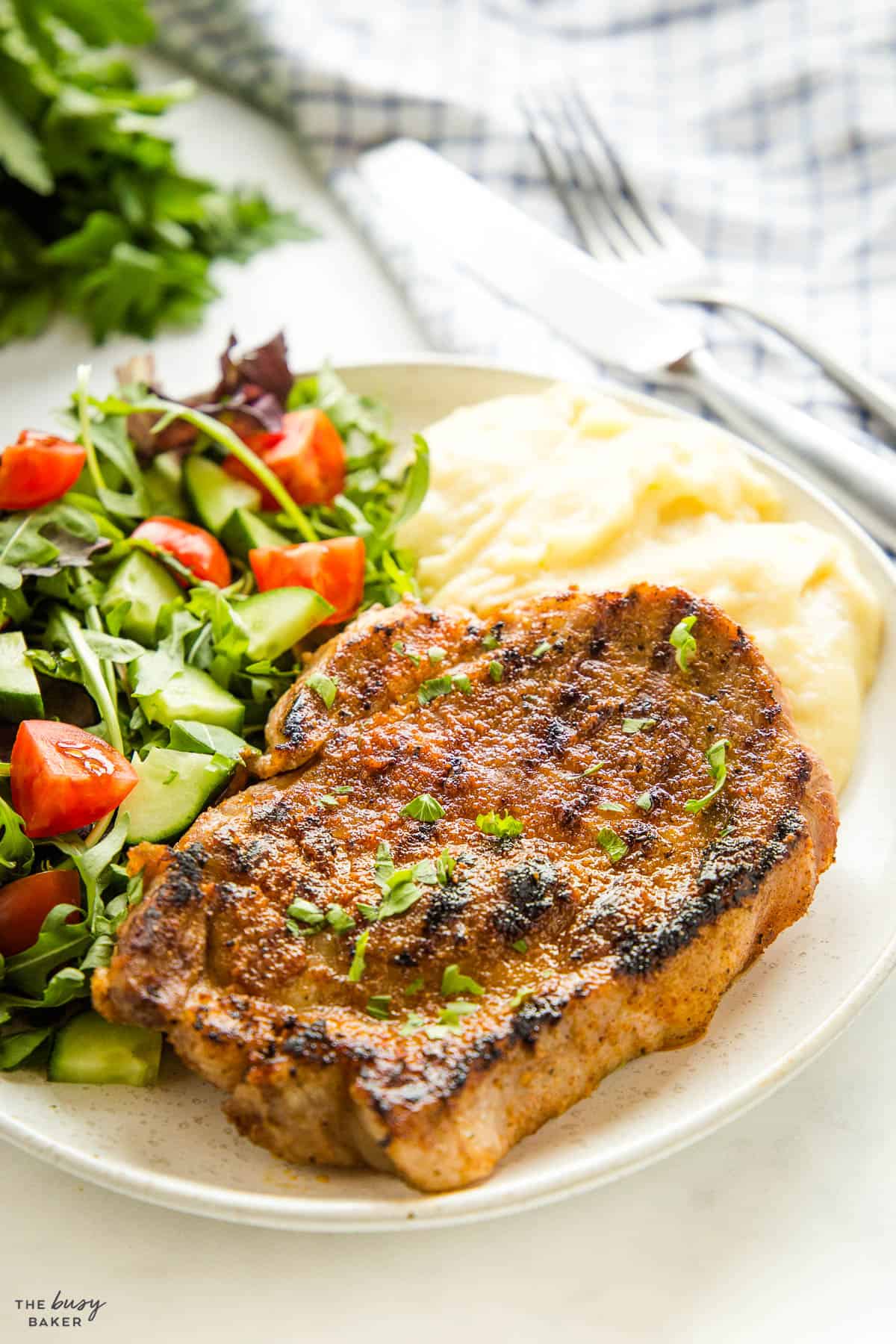 Is a pork chop the same as a pork steak?

No, a pork chop is cut from the loin of the pig, the area along the centre of its back. The steak is cut from the pig's shoulder.
Is pork steak good?

Yes! Pork steak is a delicious and flavourful cut that's tender and juicy because it contains a little bit more fat than pork chops.
What's another name for pork steak?

Pork steak can also be called Boston Butt, Boston Butt Steak, Pork Shoulder Steak or Pork Shoulder Blade Steak.
Why are my pork steaks tough?

If your pork steaks are tough you've definitely overcooked them. Be sure to use an instant-read thermometer to check for doneness so you don't overcook them. The internal temperature should reach 150 ℉ -158℉ (65℃-70℃).
How long should I grill pork steaks?

On average, grill your pork steak for about 6-8 minutes per side over medium-high heat. However, cooking time may vary depending on the thickness of the steak and your desired level of doneness. Use an instant-read thermometer to ensure the internal temperature reaches 150 ℉ -158℉ (65℃-70℃).
Can I freeze pork steak?

Absolutely! Wrap the steak tightly in plastic wrap or place it in an airtight container, then label and date it. When you're ready to use it, thaw the steak in the refrigerator overnight before cooking.
Should I trim the fat from pork steak before cooking?

Trimming fat is personal preference – it can help reduce flare-ups on the grill and result in a leaner final dish. However, leaving a bit of fat can add moisture and flavour to the meat. If you decide to trim, leave a thin layer of fat so the meat stays tender and juicy.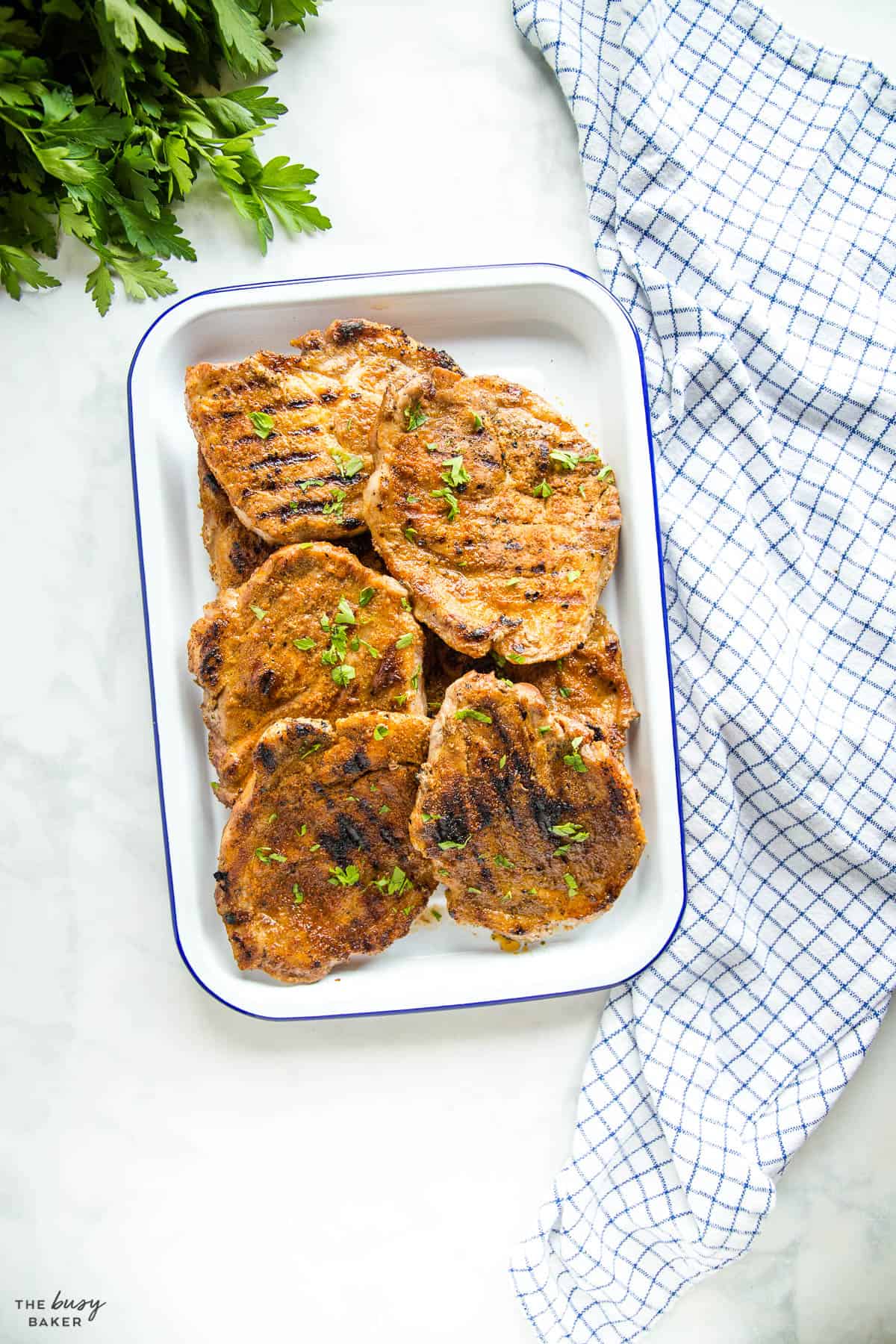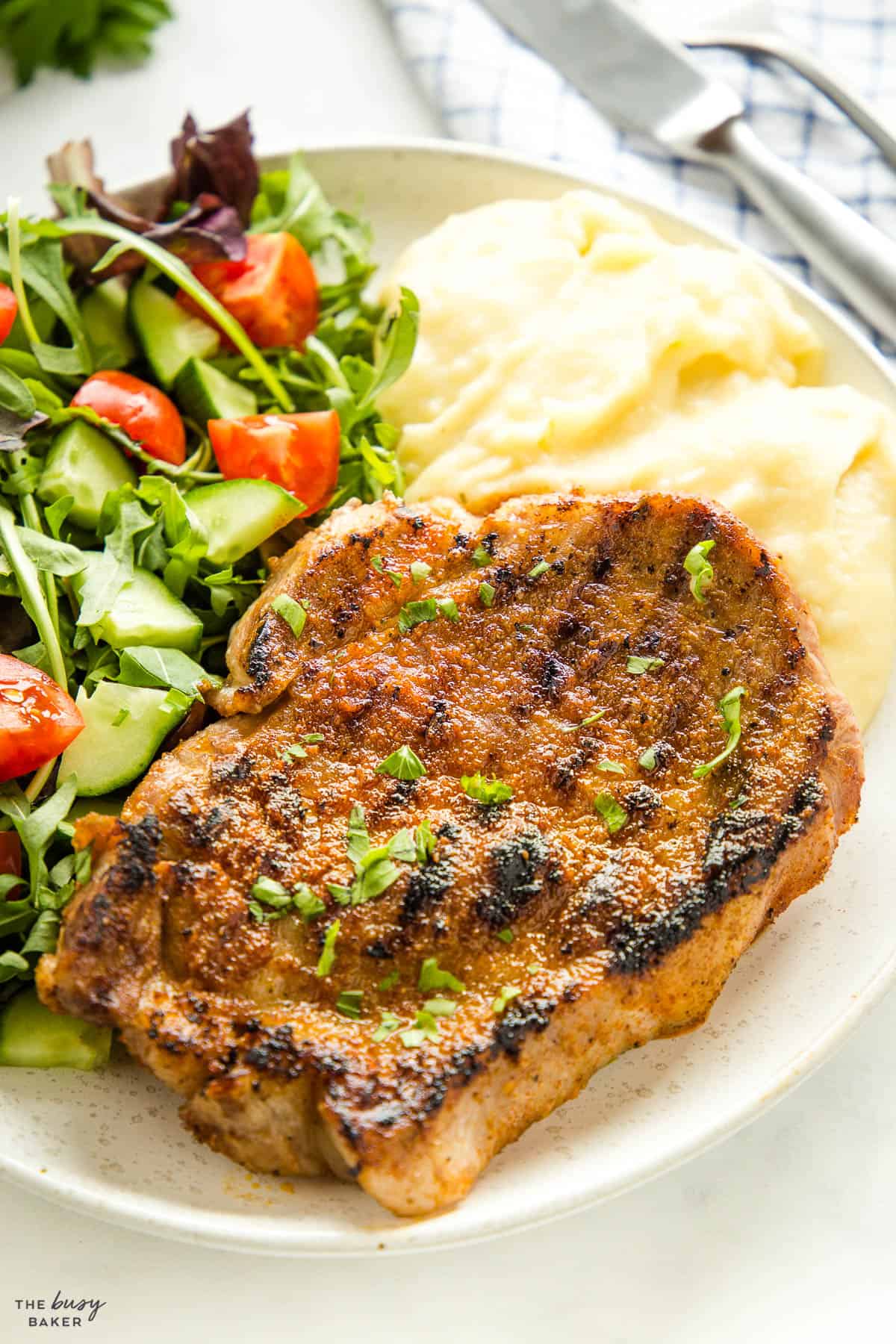 We hope you love this recipe as much as we do! Let us know in the comments below, what's your favourite grilling recipe for summer? We'd love to know!
If you made this, share a photo!
Are you trying this recipe? Use the comment form below to share your take; now with support for image uploads and comment voting!
Share a photo
Pork Steak
Grill or pan-fry this seasoned Pork Steak for a juicy, tender and meaty main dish!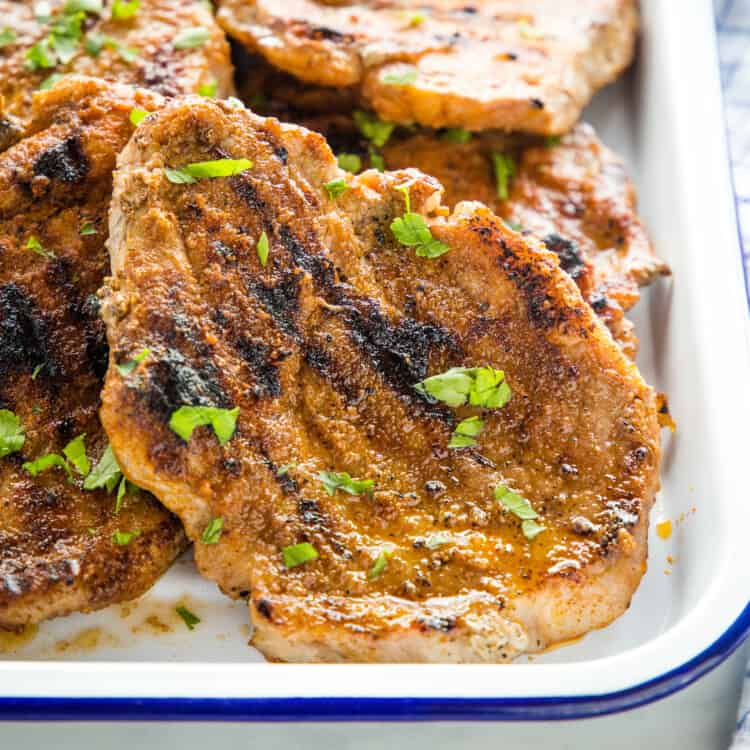 Recipe:

Instructions
Mix all the spices, salt and pepper together in a small bowl to create a dry rub.

Trim any excess fat from the edges of the pork steaks using a sharp knife, if desired.

Pat your pork steaks dry with paper towels and rub your spice mixture well on all sides. Set them to the side while you heat up your grill.

When your grill is ready, turn the heat down to medium-low and place the pork steaks on the grill.

Leave them for about 6-8 minutes, making sure you allow the bottom side to caramelize before turning. Flip them when they've achieved a nice brown colour on the bottom side and let them grill on the other side on medium-low (or low) for another 6-8 minutes, or until they reach an internal temperature of 150 ℉ -158℉ (65℃-70℃).

Remove them from the grill and let them rest on a plate for 5 minutes under aluminum foil for extra juiciness.

Garnish with some chopped parsley and serve!
Recipe:

Notes
Storage instructions
You can store these pork steaks in the fridge in an airtight container for up to 3 days.
Reheating Instructions
Reheat leftovers in a skillet on the stove with a splash of water until heated through, in the microwave, or on a sheet pan in the oven.
Make-Ahead Instructions
For extra flavour, rub the spice mixture onto the steaks the night before and let the steaks marinate in the spice rub in the fridge in an airtight container. As you heat up the grill the next day, remove the steaks from the fridge and allow them to come to room temperature before grilling.
Recipe:

Nutrition

Nutrition Facts

Pork Steak

Amount Per Serving (1 steak)

Calories 505

Calories from Fat 234

% Daily Value*

Fat 26g40%

Cholesterol 270mg90%

Sodium 681mg30%

Potassium 1547mg44%

Carbohydrates 1g0%

Protein 84g168%

Vitamin A 166IU3%

Vitamin C 0.1mg0%

Calcium 67mg7%

Iron 6mg33%

* Percent Daily Values are based on a 2000 calorie diet.

Notice: Nutrition is auto-calculated, using Spoonacular, for your convenience. Where relevant, we recommend using your own nutrition calculations.