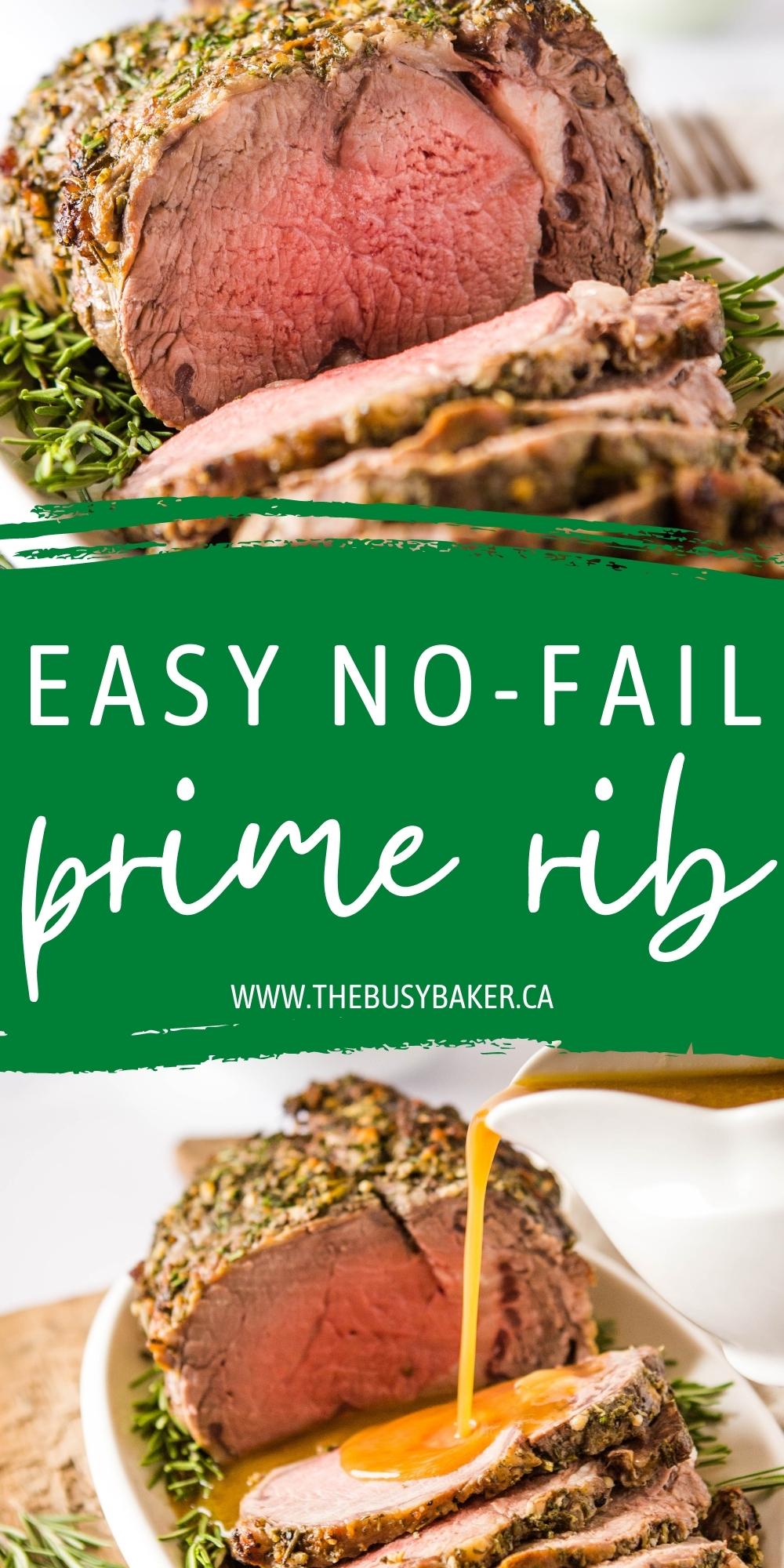 This Beef Ribeye Roast recipe is a super easy way to prepare everybody's holiday favourite – Prime Rib! Juicy and perfectly tender, served with a simple no-fail Au Jus gravy on the side!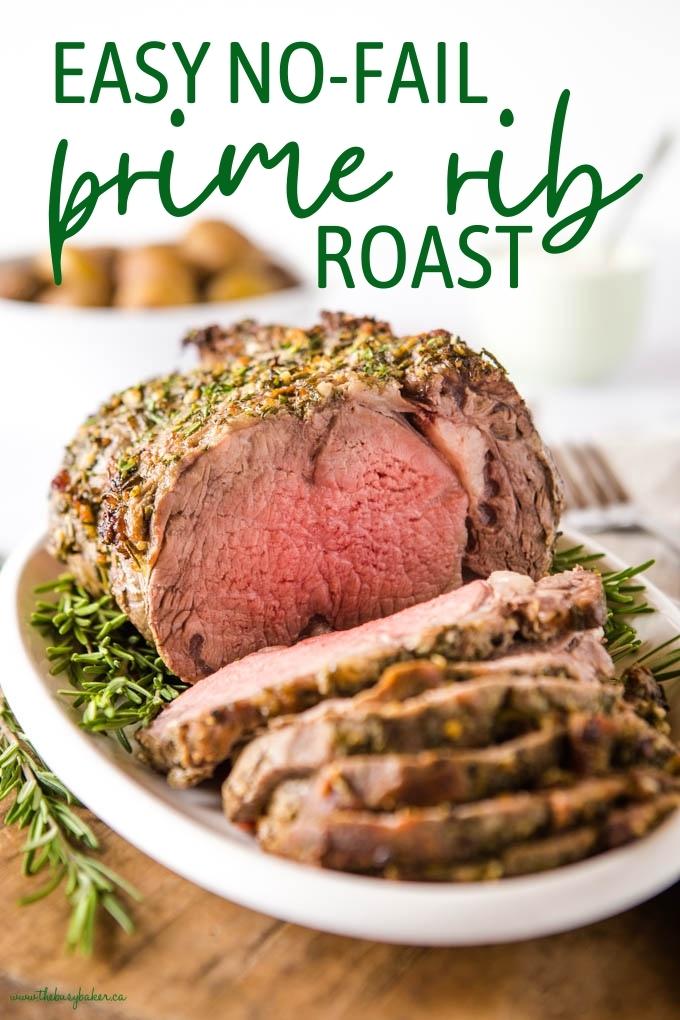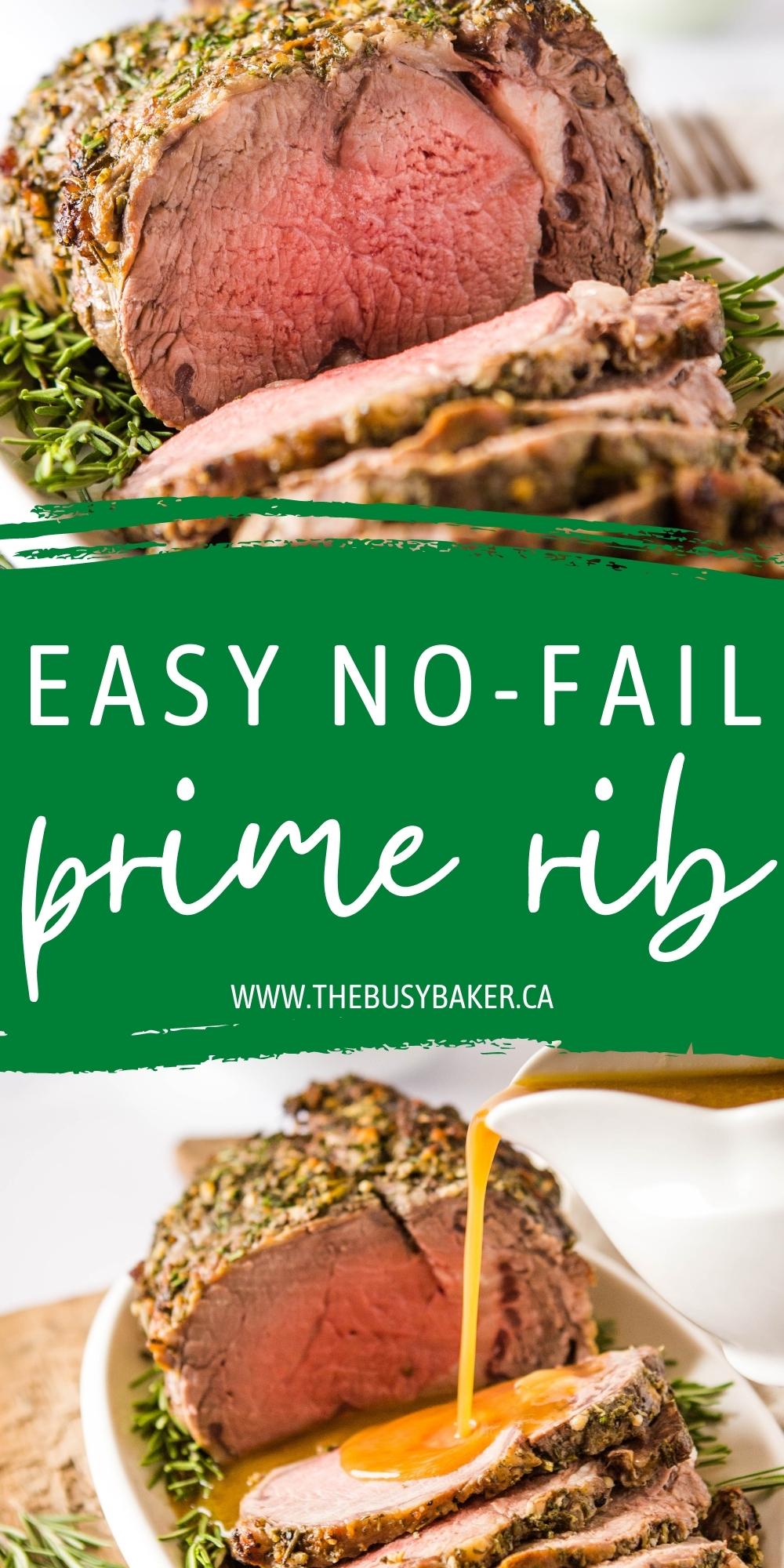 NEVER MISS A POST! FOLLOW ME ON:
FACEBOOK | PINTEREST | INSTAGRAM | TWITTER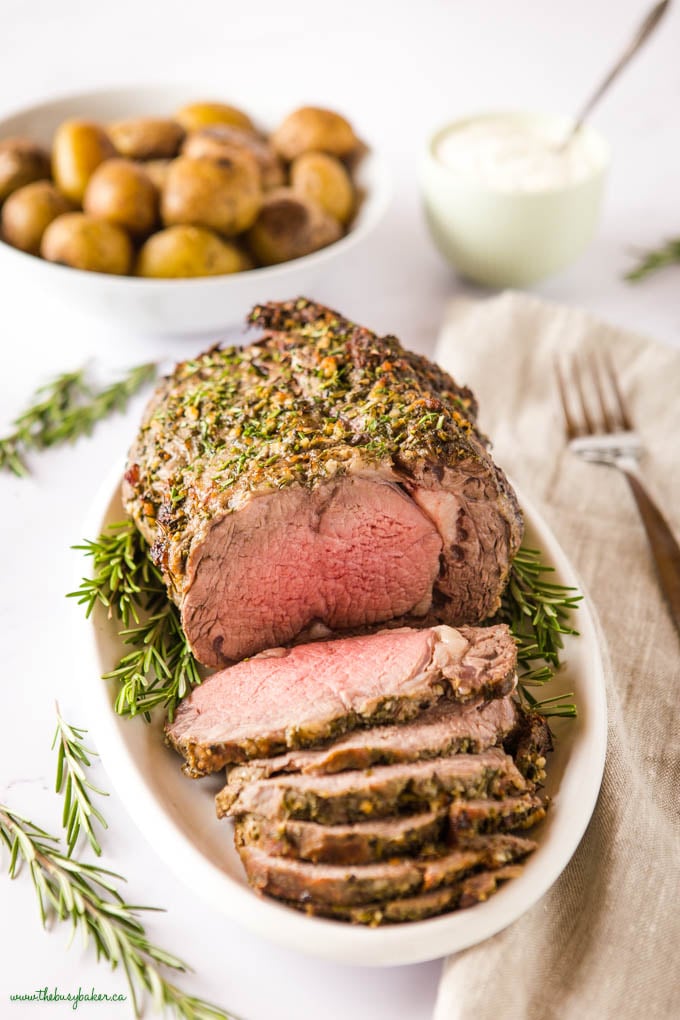 I don't know about you, but there's no homemade meal fancier than Prime Rib. This Beef Ribeye Roast recipe is the easiest, juiciest Prime Rib you'll ever serve. It's perfect for a fancy dinner, a holiday dinner party or even a Christmas feast!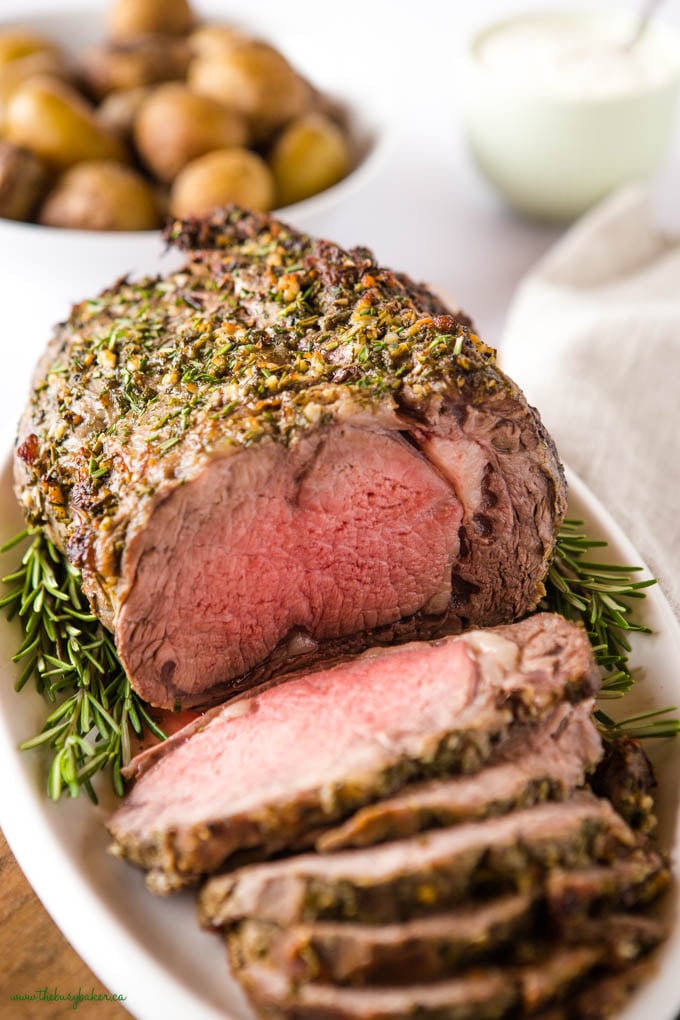 Recipes like Prime Rib (Beef Ribeye Roast) can seem really intimidating at first, but roasted meats are some of the easiest recipes to master with just a few simple tips.
The most important tip when preparing a beef ribeye roast at home is to choose a boneless roast instead of a bone-in roast. Tying off the bones and carving a bone-in roast can be extra challenging, and a boneless roast is so much easier and just as flavourful. Also, boneless roasts are more readily available in supermarkets and at your local butcher shop, and they can even be cheaper too. Boneless beef ribeye roasts are the way to go for a main dish that's super impressive AND no-fuss.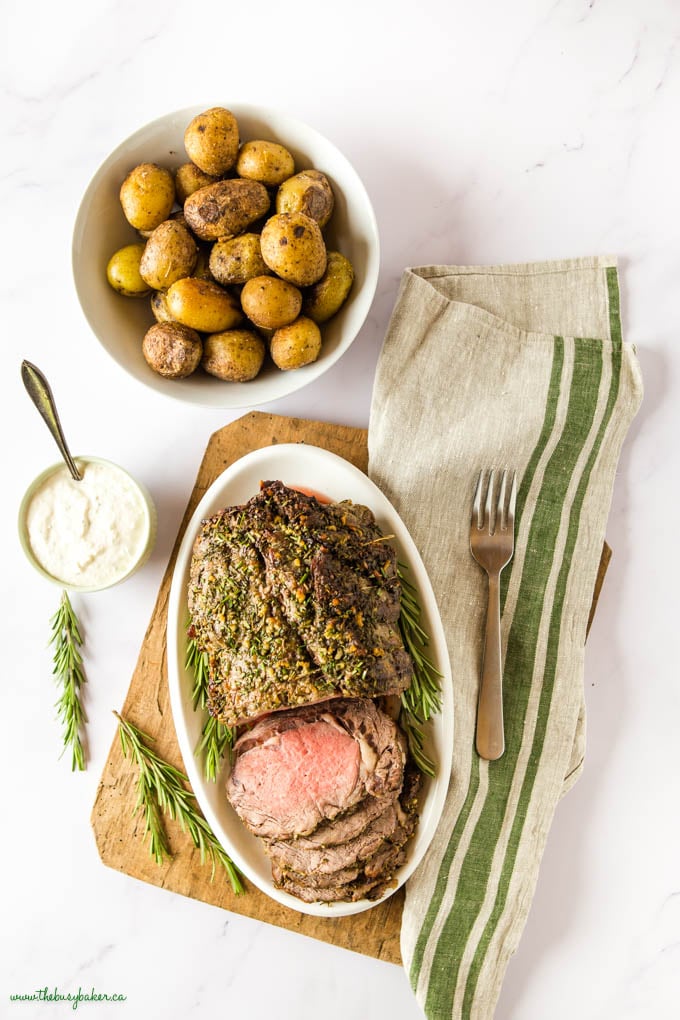 What is boneless Prime Rib called?
Both Prime Rib and Beef Ribeye Roast are the same cut of meat (also called a standing rib roast, boneless prime rib, or boneless rib roast). The only difference is that Prime Rib is typically roasted bone-in, but boneless Prime Rib often called a Beef Ribeye Roast.
Want the perfect horseradish sauce to serve with this Beef Ribeye Roast? Check out my Best Ever Horseradish Sauce Recipe!
Kitchen tools for Roasted Prime Rib
This Boneless Ribeye Roast recipe requires only a few simple kitchen tools:
A simple roasting pan or casserole dish, with a rack if possible.
Butcher's twine for tying up the meat before roasting.
Kitchen paper towel, and a small bowl and spoon
An instant read meat thermometer (affiliate link) is a MUST for any roasted meat dish. Check the doneness easily by measuring the temperature of the meat to ensure the beef stays nice and juicy and doesn't dry out or overcook!
A good knife for carving (affiliate link) is important for those nice, clean slices!
If you're looking for an inexpensive but effective meat thermometer for roasted meats like this that doesn't require you to open the oven door, try THIS ONE (affiliate link). I also really like THIS ONE from IKEA called the FANTAST (not an affiliate link).
Ingredients for Beef Ribeye Roast
To make this Easy Boneless Prime Rib Recipe you'll need:
boneless beef ribeye roast (approximately 6 pounds)
unsalted butter
garlic
fresh sage
fresh rosemary
fresh thyme
fresh parsley
salt and freshly cracked black pepper
For the Au Jus gravy you'll need:
beef drippings
red wine
all purpose flour
beef stock
salt and pepper
Worcestershire sauce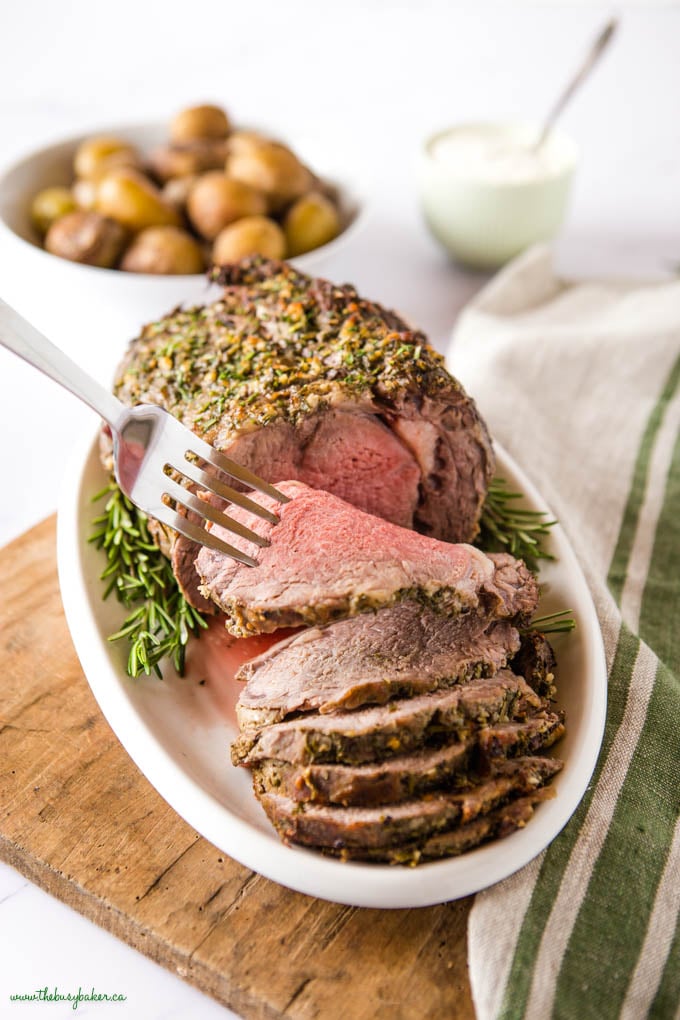 How to Roast the Perfect Prime Rib
Here are all my best no-fail tips for preparing a beef ribeye roast so it's juicy and delicious every time!
Begin at room temperature. This will help the beef ribeye roast to cook evenly so the inside stays nice and juicy. Let the roast sit out at room temperature for an hour or two before roasting.
Dry it off. Patting the roast dry before adding the herb butter mixture will help the butter mixture stick to the roast, adding flavour.
Use fresh herbs. Fresh herbs contain SO much flavour and make the herb crust on this prime rib extra flavourful.
Tie it up. Using butcher's twine to tie the roast in several places will help it roast evenly and keep it together as it roasts.
Increase the oven temperature to start. One of the most common mistakes home cooks make when roasting beef is roasting at too low a temperature for too long. A higher temperature (like 425 degrees Fahrenheit) to start ensures the outside of the roast will be caramelized with beautiful texture and the inside will be juicy and tender. After 15 minutes, turn the oven down and roast it low and slow.
Use a thermometer. Since every beef roast is a slightly different size and shape, using a meat thermometer will ensure it's cooked to the correct temperature and doneness. We like our beef ribeye roast cooked to medium rare, which means we remove it from the oven when the internal temperature reaches 120 degrees Fahrenheit.
Let it rest. Once the roast comes out of the oven, let it sit for about 15 or 20 minutes before slicing into it. This will ensure your beef roast is ultra moist and juicy.
Save the pan juices. Pan juices from beef ribeye roasts can be used to make a delicious Au Jus gravy, or you can serve the beef tenderloin with my famous Best Ever Horseradish Sauce!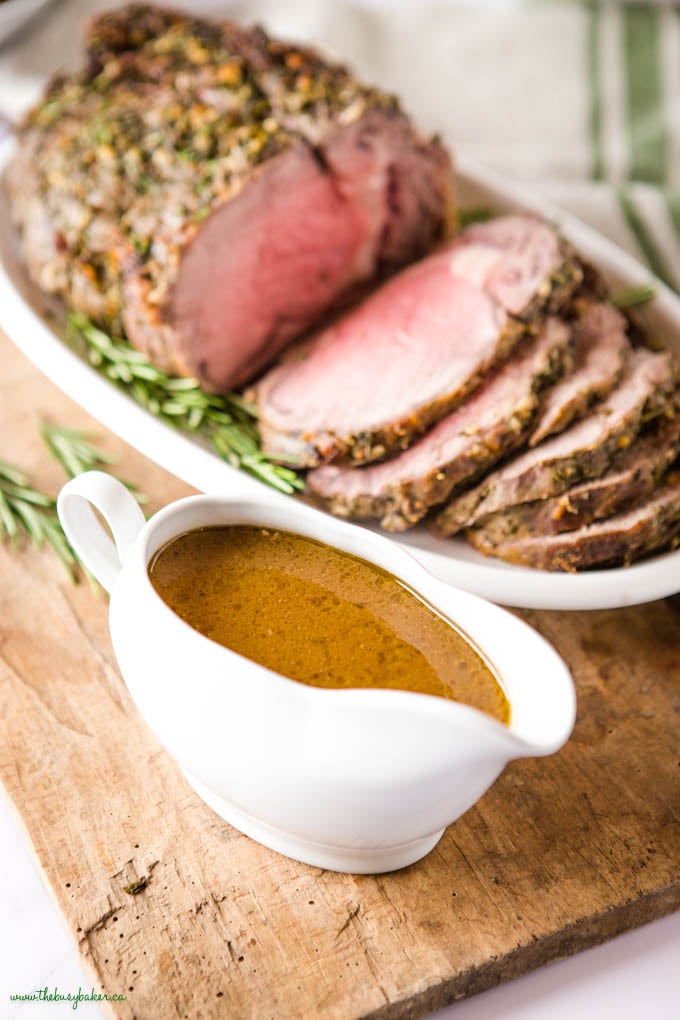 Looking for delicious dishes to serve alongside this Beef Ribeye Roast (Prime Rib)? You'll LOVE these Best Ever Creamy Mashed Potatoes, these Garlic Butter Roasted Carrots, these Roasted Green Beans with Cherry Tomatoes, or these Crispy Rosemary Garlic Roasted Potatoes!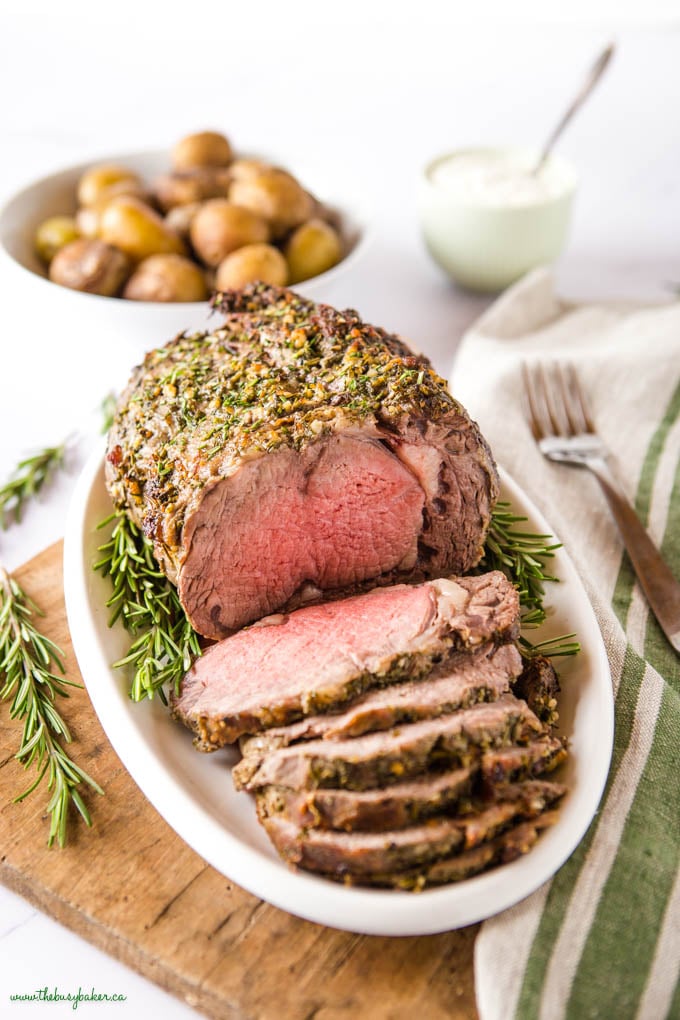 Prime Rib Au Jus Ingredients
beef drippings
red wine
all purpose flour
beef stock
salt and pepper
Worcestershire sauce
Au Jus vs. Gravy – What's the difference?
Au Jus is French for "with juice". Typically Au Jus sauce contains no (or very little) flour or other thickening agent, making it a smoother, more liquid sauce. Au Jus is typically deeper in flavour and darker in colour than traditional North American gravy.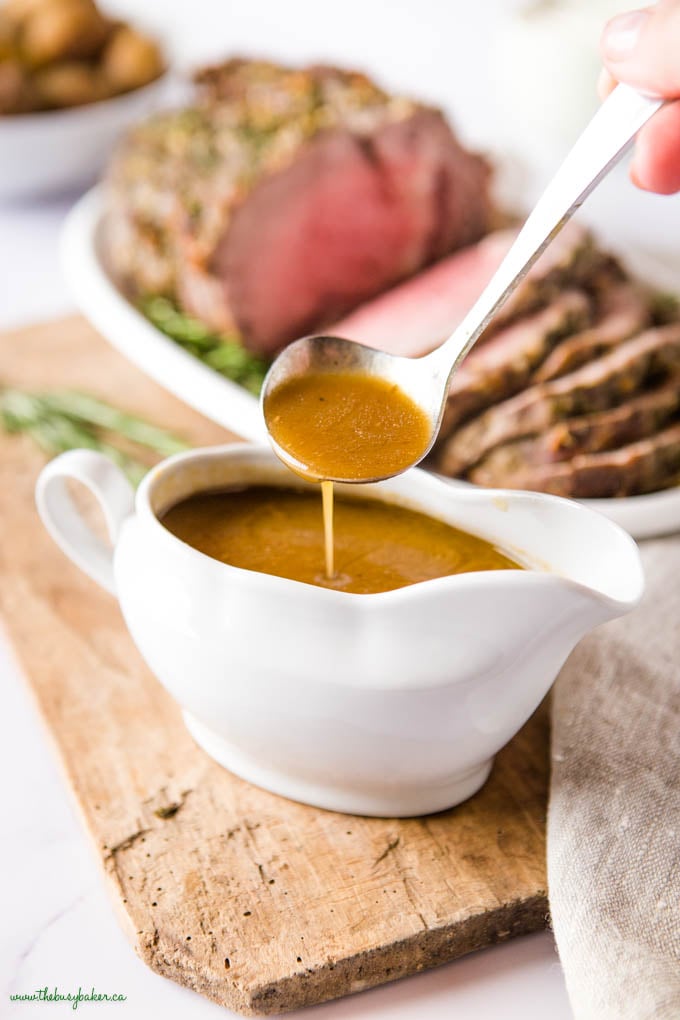 How to make Au Jus
Here are all my best no-fail tips for making the BEST Au Jus from scratch:
Save the pan juices. Making a sauce from beef drippings is SO easy with the pan juices left over from your roast beef prime rib. It truly gives the au jus the most flavour.
Use low heat. The temptation might be to crank up the heat to get your au jus on the table faster but let me assure you, low and slow is best.
Give it your full attention. Unfortunately, this is just one of those things that's going to require a little bit of attention, but it will be SO worth it. Whisking pretty much constantly is the key to the perfection emulsion. It helps the au jus stay nice and smooth.
Add some wine. We love the full-bodied flavour that adding just a splash of wine gives to the sauce.
Use low sodium beef stock. Choosing low sodium stock will allow you to control the flavour and add salt to your taste.
Strain it. Those lumps don't disappear by themselves! Professional chefs almost always strain their sauces and it's truly the only way to ensure a nice smooth sauce every single time.
Add some butter. This is an optional step, and I don't do this every time, but adding a teaspoon or two (or three!) of butter to your strained au jus gives it the perfect sheen and shine, making it nice and glossy. For a special holiday dinner, it's a lovely touch that gives a restaurant-quality touch.
Kitchen tools for Au Jus Gravy: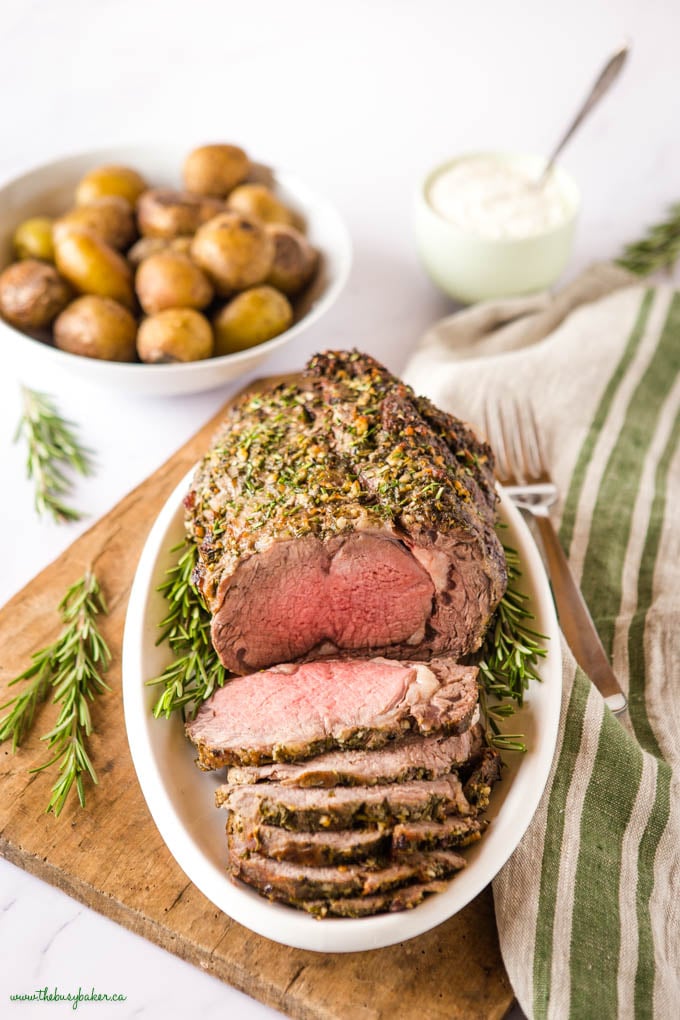 NEVER MISS A POST! FOLLOW ME ON:
FACEBOOK | PINTEREST | INSTAGRAM | TWITTER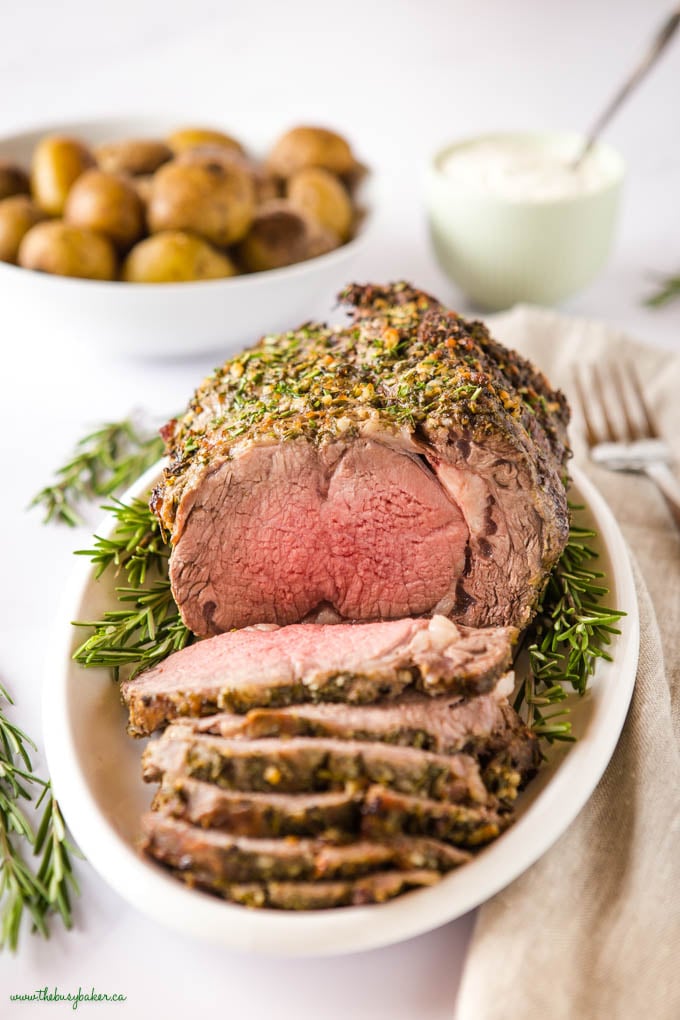 I hope you love this Christmas Dinner recipe as much as we do! Let me know in the comments below, what's your favourite Christmas Dinner main dish? I'd love to know! Looking for holiday side dishes? You'll LOVE these:
Kitchen tools I recommend: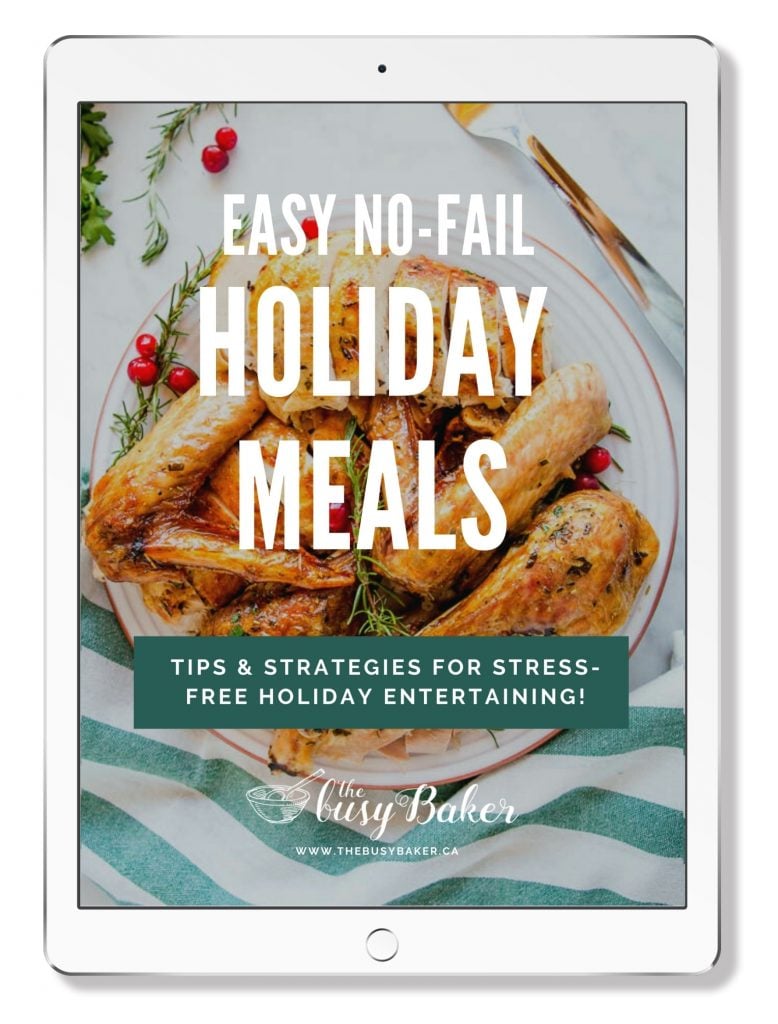 LOOKING FOR MORE EASY STRESS-FREE HOLIDAY MEAL IDEAS AND RECIPES?
GET MY EASY NO-FAIL HOLIDAY MEALS E-COOKBOOK!
Recipe Video
Watch the video below to see exactly how I make this delicious recipe. You can find more delicious recipe videos on my YouTube channel.
If you made this, share a photo!
Are you trying this recipe? Use the comment form below to share your take; now with support for image uploads and comment voting!
Share a photo
Beef Ribeye Roast (Boneless Prime Rib)
This Beef Ribeye Roast recipe is a super easy-to-make Holiday Prime Rib! Juicy & perfectly tender, with a simple no-fail Au Jus gravy!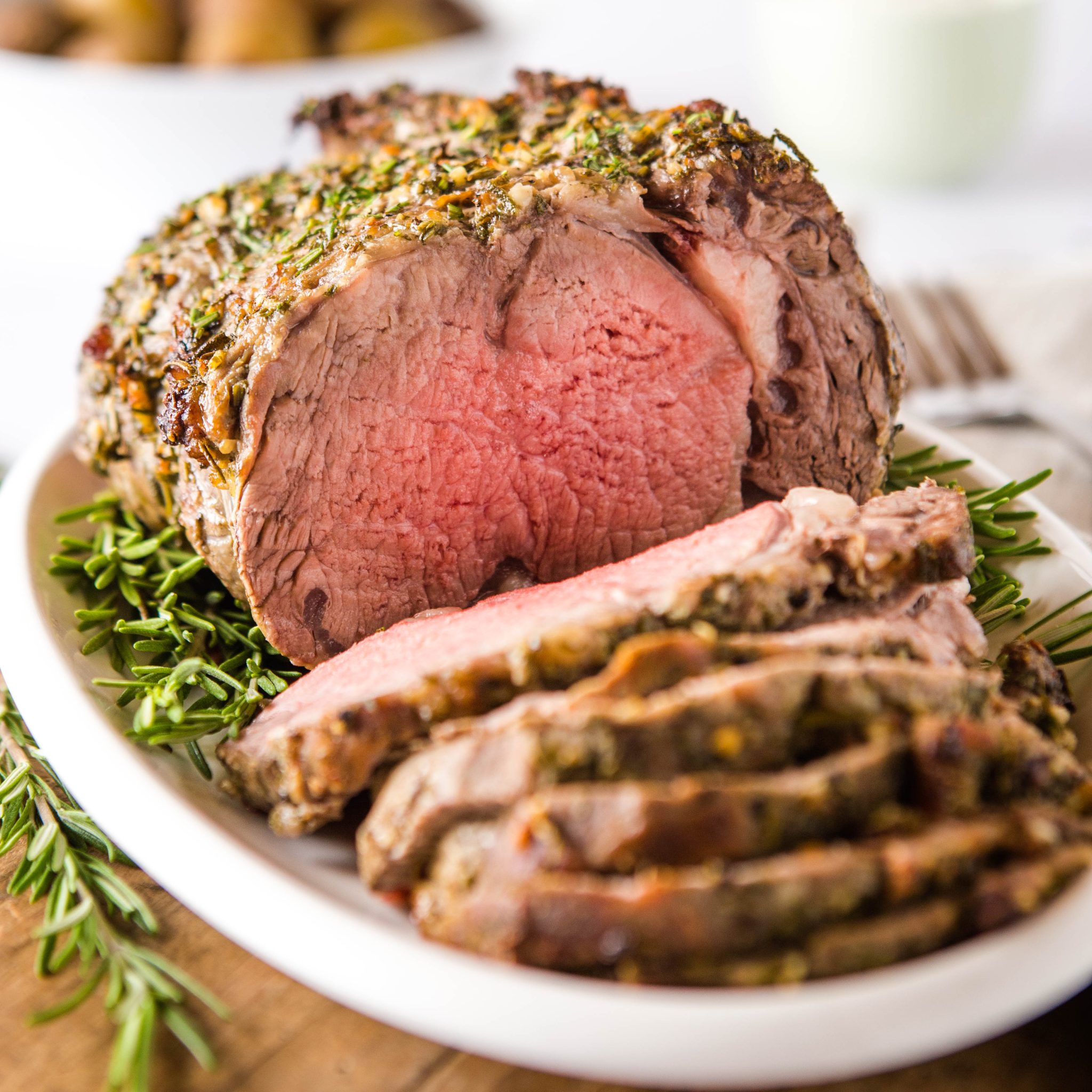 Recipe:

Ingredients
For the Beef Ribeye Roast:
6

pound

boneless beef ribeye roast

1/2

cup

unsalted butter

at room temperature

1

teaspoon

salt

1

teaspoon

freshly cracked black pepper

2

teaspoons

fresh sage

finely chopped

2

teaspoons

fresh thyme

finely chopped

1

teaspoons

fresh parsley

finely chopped

1

teaspoons

fresh rosemary

finely chopped

5

cloves

garlic

finely minced
Recipe:

Instructions
For the Beef Ribeye Roast:
Preheat your oven to 425 degrees Fahrenheit.

Place your beef ribeye roast in a large roasting pan on a rack. Using a rack makes for even cooking. If you don't have one, use a regular baking dish or cast iron pan. Be sure your roast is at room temperature (let it sit out at room temperature for about 1-2 hours before cooking).

Combine the unsalted butter, salt, pepper, herbs and garlic in a small bowl until well combined.

Pat the beef roast dry on all sides with some kitchen paper towel and rub the butter mixture all over the roast, making sure to coat all sides.

Place the roast in the oven at 425 degrees and set the timer for 15 minutes.

After 15 minutes, turn the oven temperature down to 350 degrees Fahrenheit and roast for about 50 minutes to 1 hour and 20 minutes. Check the internal temperature after about 50 minutes. Remove the roast as soon as the internal temperature reaches 120 degrees Fahrenheit (48 Celsius) for medium rare.

Once you remove the roast from the oven, use the rack to remove the roast from the roasting pan and let it sit on a cutting board for about 15 minutes before slicing. Loosely tent some foil over the top to keep it warm.
For the Au Jus:
Place the roasting pan on the stovetop over medium heat and use a whisk to scrape any bits off the bottom of the pan. Feel free to skim the fat off the top of the beef drippings before placing it over the heat, but if you're making this recipe for a holiday dinner leaving the fat in the drippings will make the au jus nice and rich.

Add the wine and Worcestershire sauce to the drippings and whisk them together.

Add the flour to the beef stock and whisk to combine. Pour the stock mixture into the pan with the drippings and continue whisking the mixture, until it thickens just slightly.

Taste, and season with salt and pepper to your tastes.

Place a fine mesh strainer over a bowl and strain the au jus to remove any impurities.

If you wish, add a tablespoon of butter to the strained au jus and stir it in to the sauce as it melts.

Slice the beef ribeye roast into thick slices (a 6-pound roast should serve 6-8 people generously) and serve with the au jus gravy and your favourite side dishes.
Recipe:

Notes

Removing the roast when it reaches 120 degrees Fahrenheit ensures that the roast will stay nice and juicy on the inside and not overcook. The roast will increase in temperature slightly as it rests.

Cooking past medium rare is not recommended as it will result in a tough texture.

Use a probe thermometer instead of an instant-read thermometer is a good way to avoid opening your oven repeatedly. Simply place the probe into the centre of the roast, set it to the desired temperature, and the thermometer will let you know when the roast reaches the desired temperature. 

 
Recipe:

Nutrition

Nutrition Facts

Beef Ribeye Roast (Boneless Prime Rib)

Amount Per Serving (2 slices)

Calories 836

Calories from Fat 540

% Daily Value*

Fat 60g92%

Cholesterol 238mg79%

Sodium 596mg26%

Potassium 1060mg30%

Carbohydrates 3g1%

Protein 70g140%

Vitamin A 433IU9%

Vitamin C 2mg2%

Calcium 44mg4%

Iron 6mg33%

* Percent Daily Values are based on a 2000 calorie diet.

Notice: Nutrition is auto-calculated, using Spoonacular, for your convenience. Where relevant, we recommend using your own nutrition calculations.