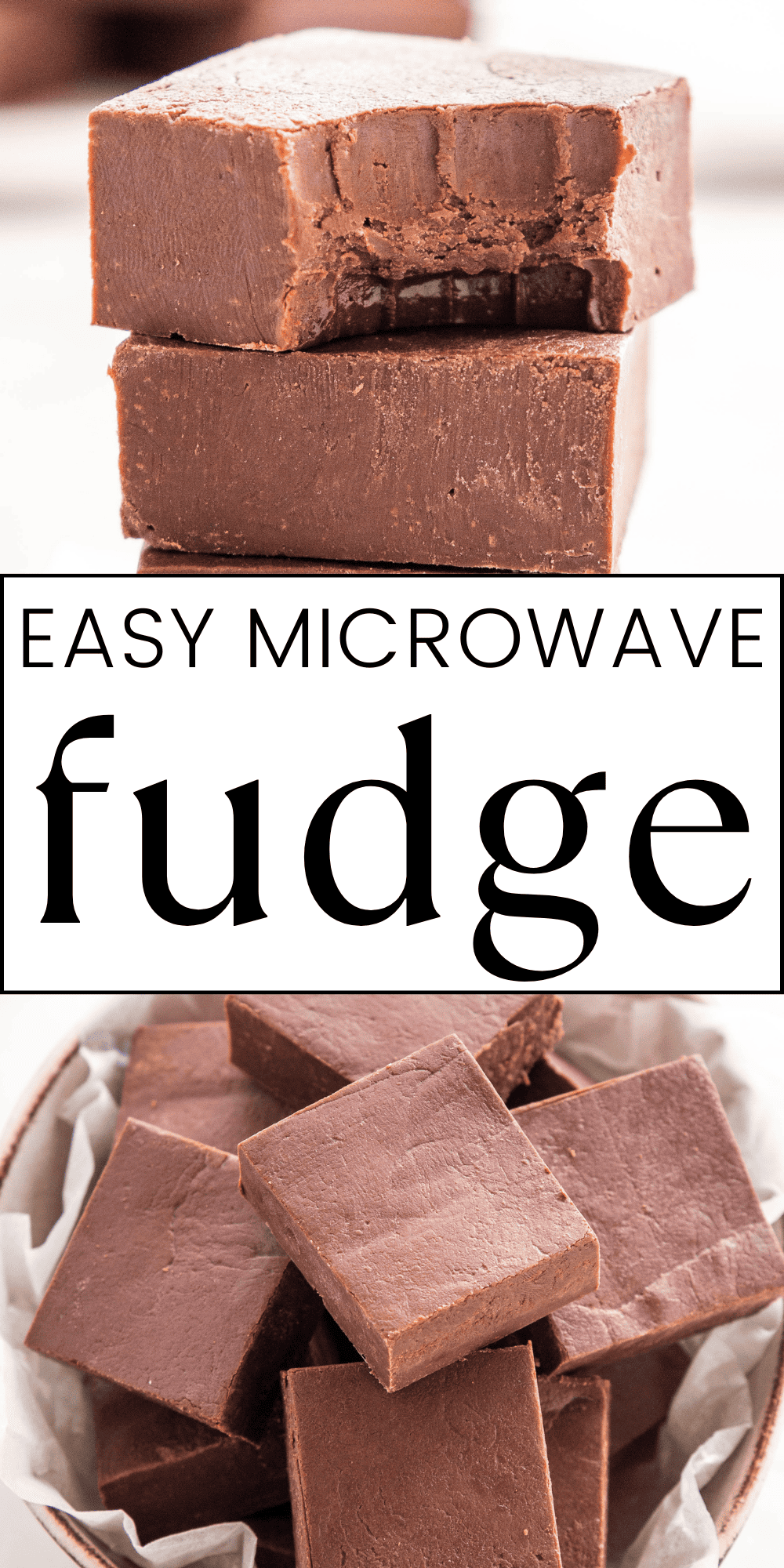 This Easy Fudge recipe is the perfect easy-to-make treat that's ready in minutes and made with only 2 simple ingredients! A quick stove-top or microwave chocolate fudge recipe – no candy thermometer required!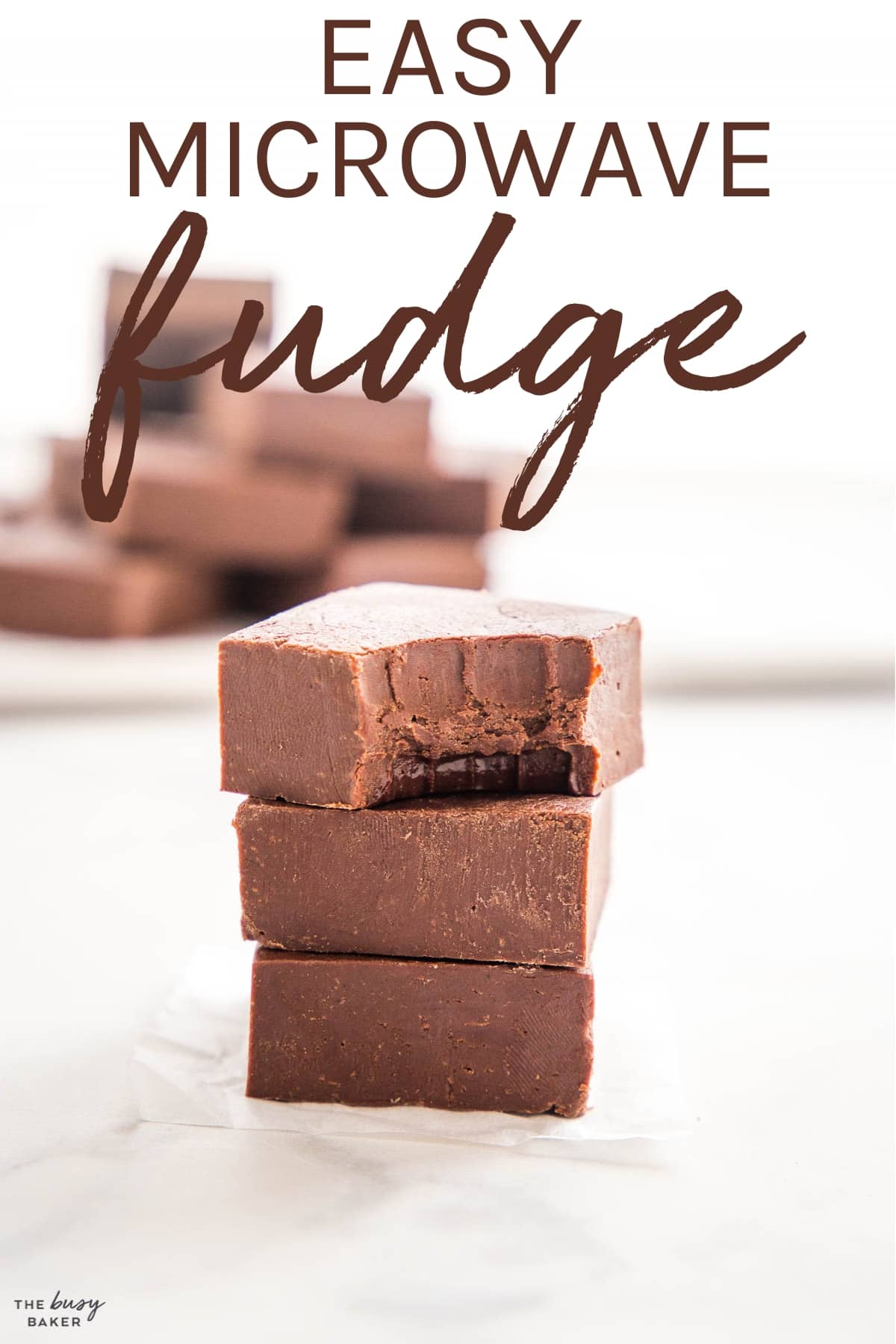 Estimated reading time: 7 minutes
Fudge is one of the most classic and iconic homemade candy recipes, and it's a been a staple on our holiday baking list for years and years! This Easy Chocolate Fudge recipe is one of our favourite simple recipes to make for holiday baking trays and cookie swaps.
It makes the perfect edible gift at Christmas for friends, neighbours and teachers, it's one of the easiest holiday treats you'll ever make! It's made with only 2 ingredients (yes, you read that right!) and can be made on the stove-top or even in the microwave. It's truly the most simple of holiday recipes and we know you're going to love it!
Unlike most complicated fudge recipes that need to be boiled and measured with a candy thermometer, making chocolate fudge with sweetened condensed milk lets you cut through all the complicated steps and make delicious fudge in minutes with almost no effort at all! It's truly the secret ingredient for easy holiday treats.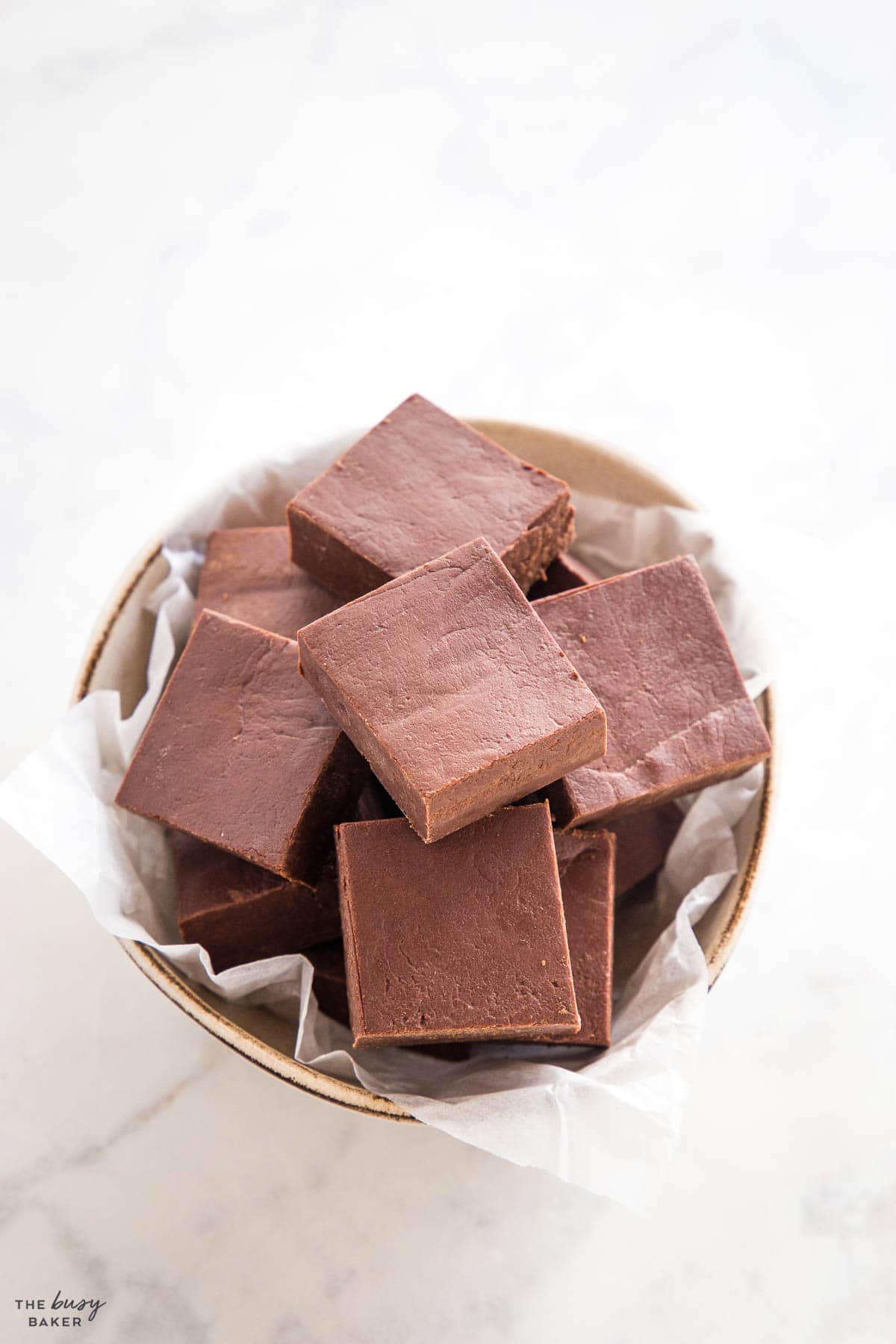 Start with high-quality chocolate and real canned sweetened condensed milk. The better the ingredients, the tastier your fudge will be and the more easily it will come together. Avoid chocolate or sweetened condensed milk with a lot of additives and a long ingredients list. These added ingredients can cause the fudge to separate and can prevent it from having the perfect texture.
Finely chopping the chocolate allows for quicker and more even melting, whether you're using the microwave or stovetop. Be sure to use baking chocolate that you chop yourself or baking chocolate discs meant for baking and melting. Avoid using chocolate chips.
Consistent heat is key. If you're using a microwave, heat the mixture in short bursts at medium to low temperature and stir frequently to prevent overheating or hot spots. On the stovetop, a low and steady heat and using a non-stick saucepan will prevent the bottom from scorching.
Patience pays off! When mixing the hot sweetened condensed milk with your chocolate, do it gently with a silicone spatula, not a whisk, and mix patiently until the mixture is smooth and all the chocolate is melted.
Line your pan with parchment paper for easy removal. Leave an overhang to lift the fudge out once it's set for easy slicing.
Setting time is crucial. Refrigerate your fudge until it's completely set, which can take a couple of hours. Rushing this process can result in a fudgy, sticky mess and pieces of fudge that don't keep their shape.
Here's a trick for cutting cleanly: Dip your knife in hot water and wipe it clean between cuts for the neatest, cleanest squares.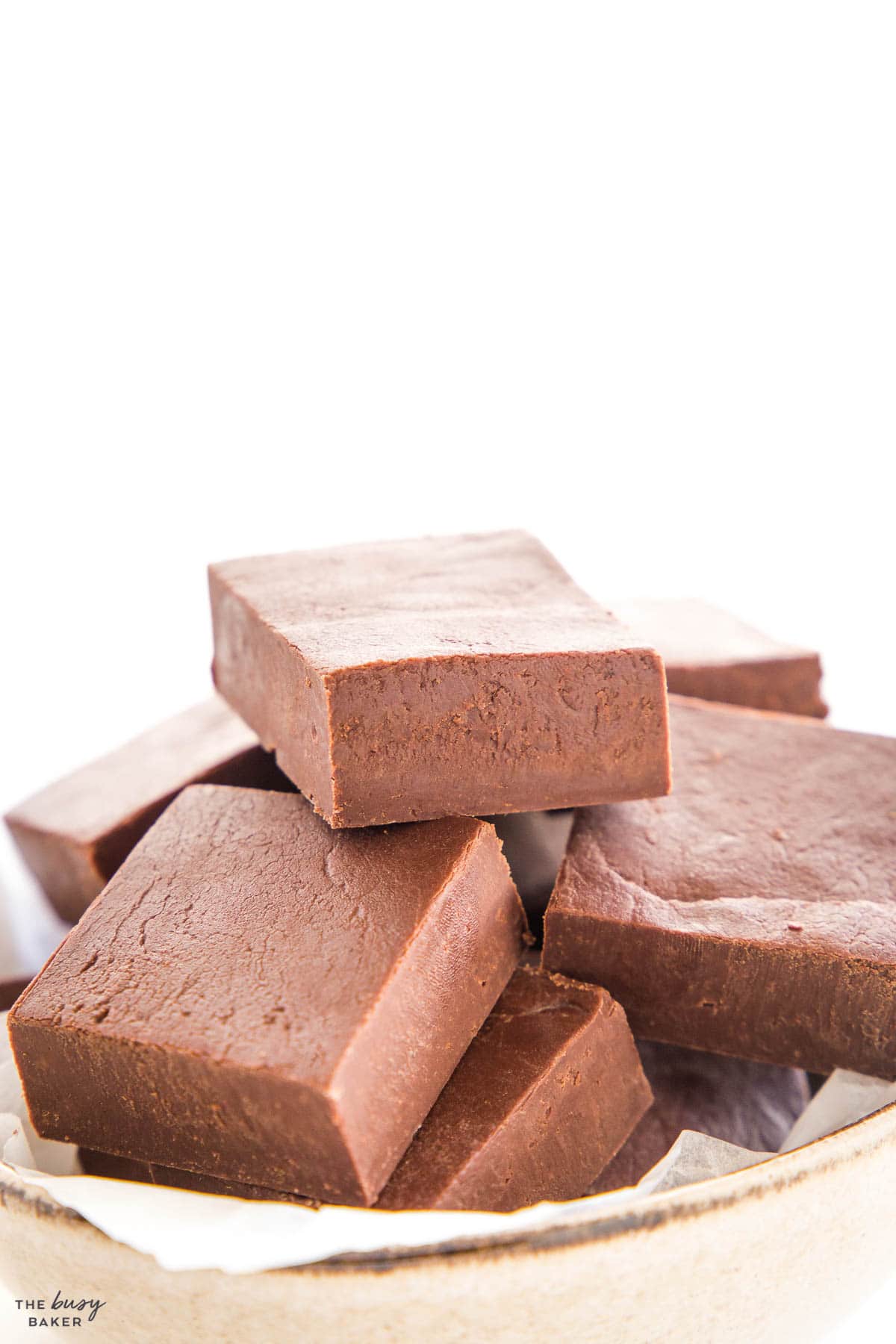 This often happens if the sugar in the condensed milk recrystallizes. To avoid this, make sure to stir the mixture just enough to blend the ingredients, but not too much as to introduce excess sugar crystals.
If your fudge hasn't set properly, it might need more time in the fridge. However, if it's still soft after adequate chilling, it may be due to under-measured chocolate or over-measured condensed milk.
This can be the result of overcooking the chocolate and condensed milk mixture or using too much chocolate. Remember, gentle heat and accurate measurements are your friends.
If the fats seem to separate from the mixture, it can be due to overheating, overmixing, or using poor quality ingredients. Next time, reduce the heat and heat slowly. Be sure to mix until just combined.
Be sure your condensed milk is not past its expiry date as it can affect how the fudge sets. Also, check that you've used the correct ratio of ingredients.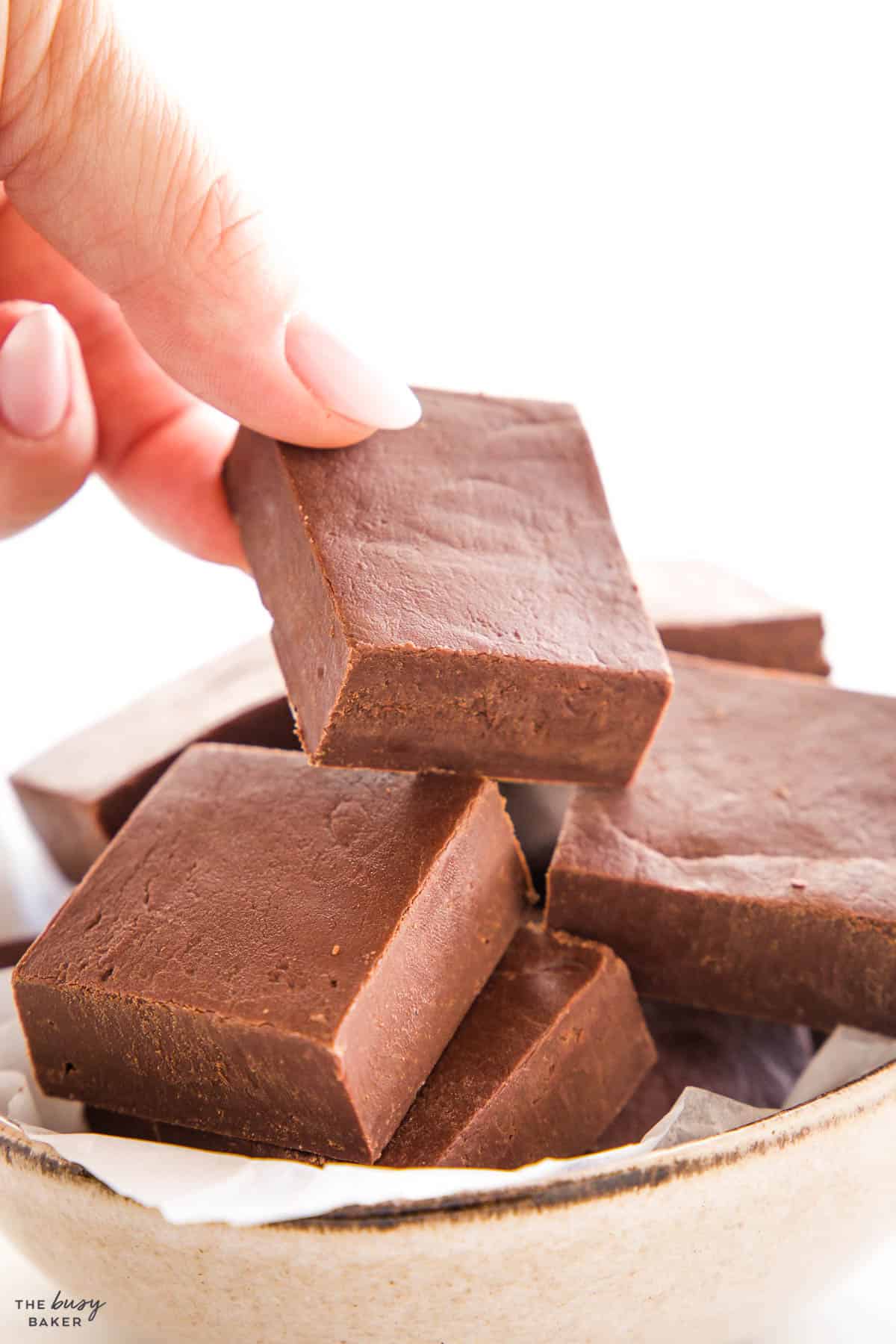 When it comes to holiday baking fudge is a classic treat! We've shared so many holiday sweets and treats with you here on The Busy Baker – here are our readers' favourites:
And if you're looking for more delicious holiday treats, we have a FREE Guide to surviving the holidays with all the best tips, tricks and recipes for simple holiday sweets. Sign up for FREE below:
And there's more where that came from! Our Easy No Fail Holiday Meals Guide is available now in The Busy Baker Shop!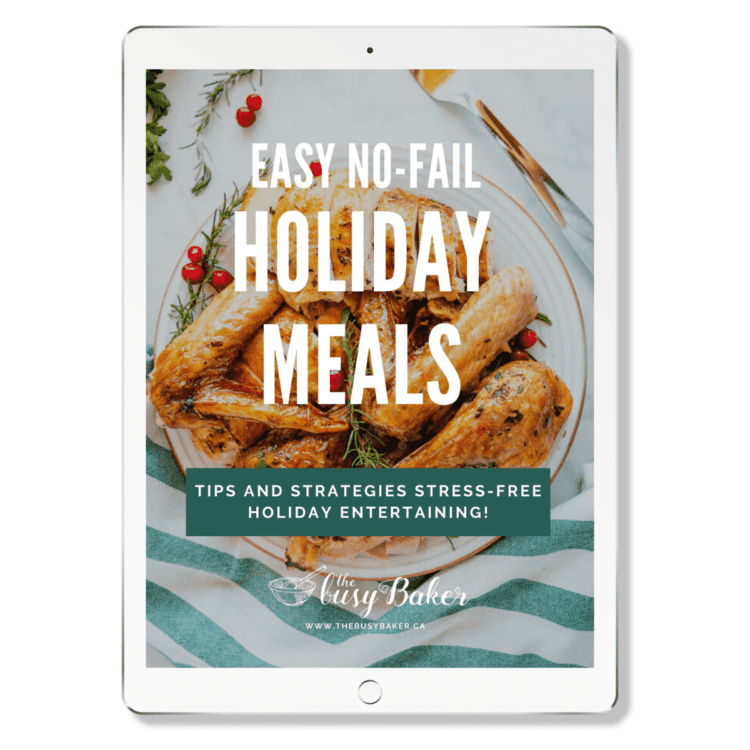 Looking for more?
EASY NO-FAIL HOLIDAY RECIPES AND COOKING & BAKING TIPS
Get my easy no-fail holiday meals e-cookbook!
Click here to learn more!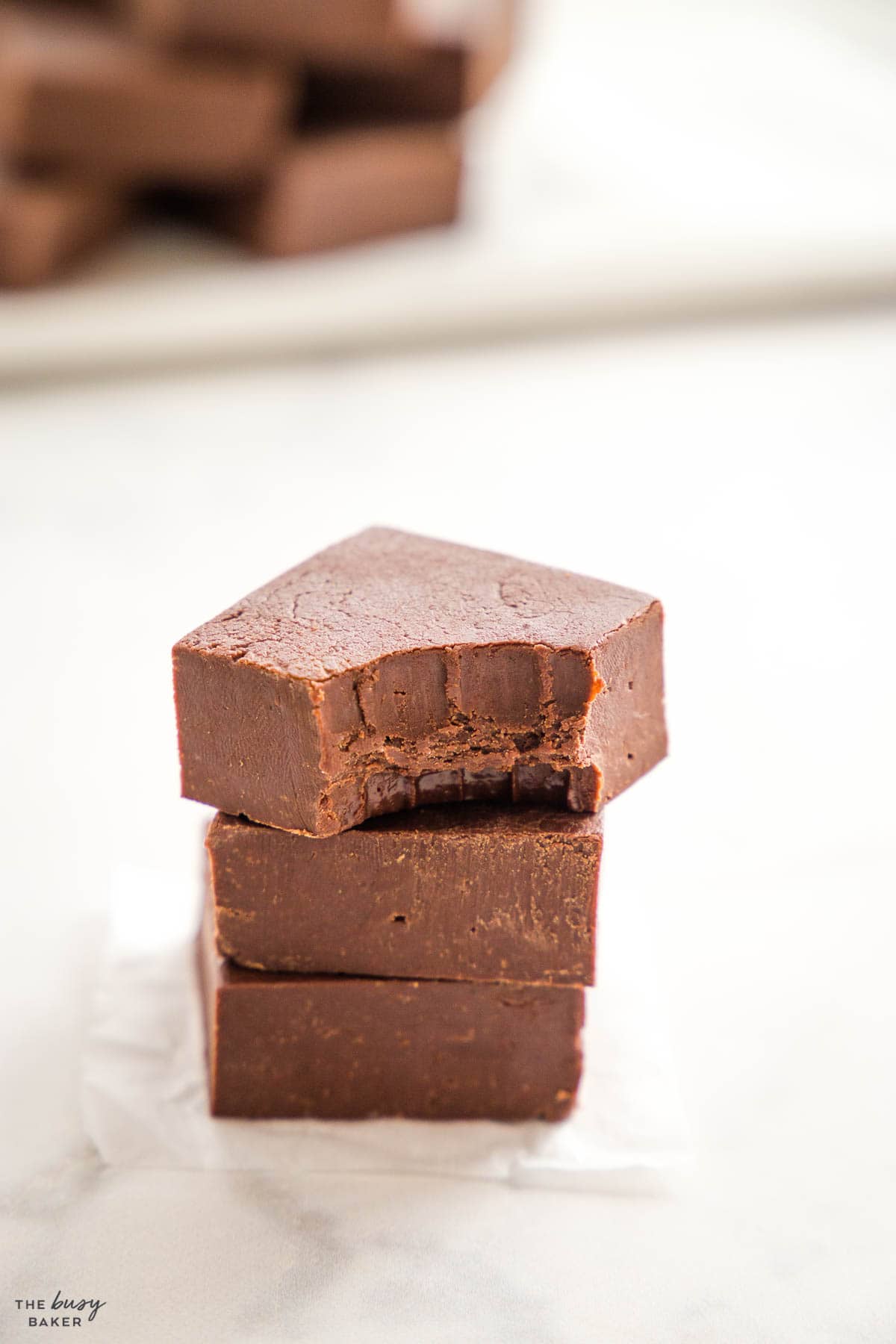 Here's a list of the basic kitchen equipment you'll need to make this delicious stovetop or microwave easy fudge recipe (paid links):
Holiday baking requires that you have some basic kitchen equipment on hand. Here's a list of our favourite kitchen items for baking during the holiday season (paid links):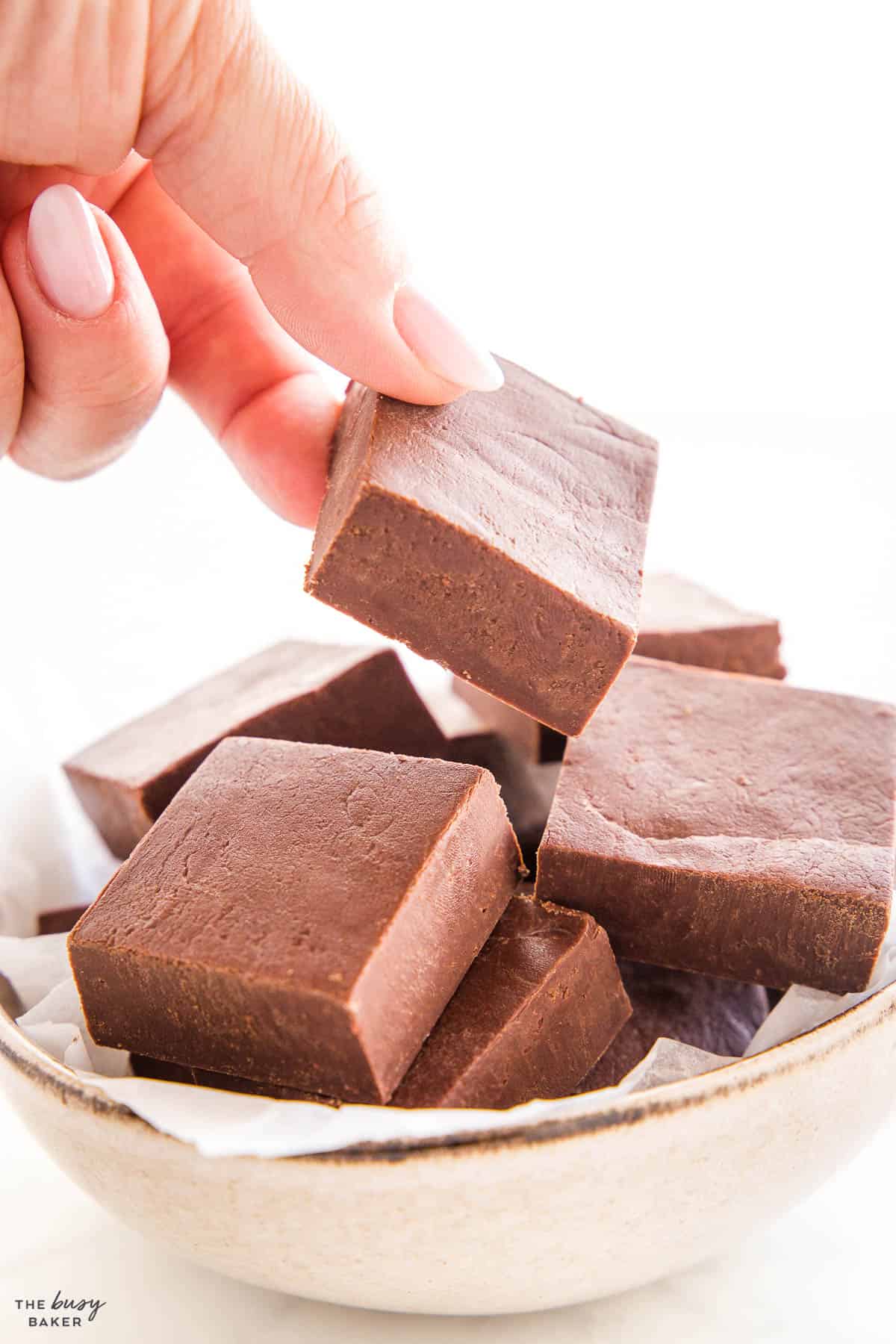 To make this super easy fudge recipe, you'll only need these two basic ingredients you probably already have in your kitchen (paid links):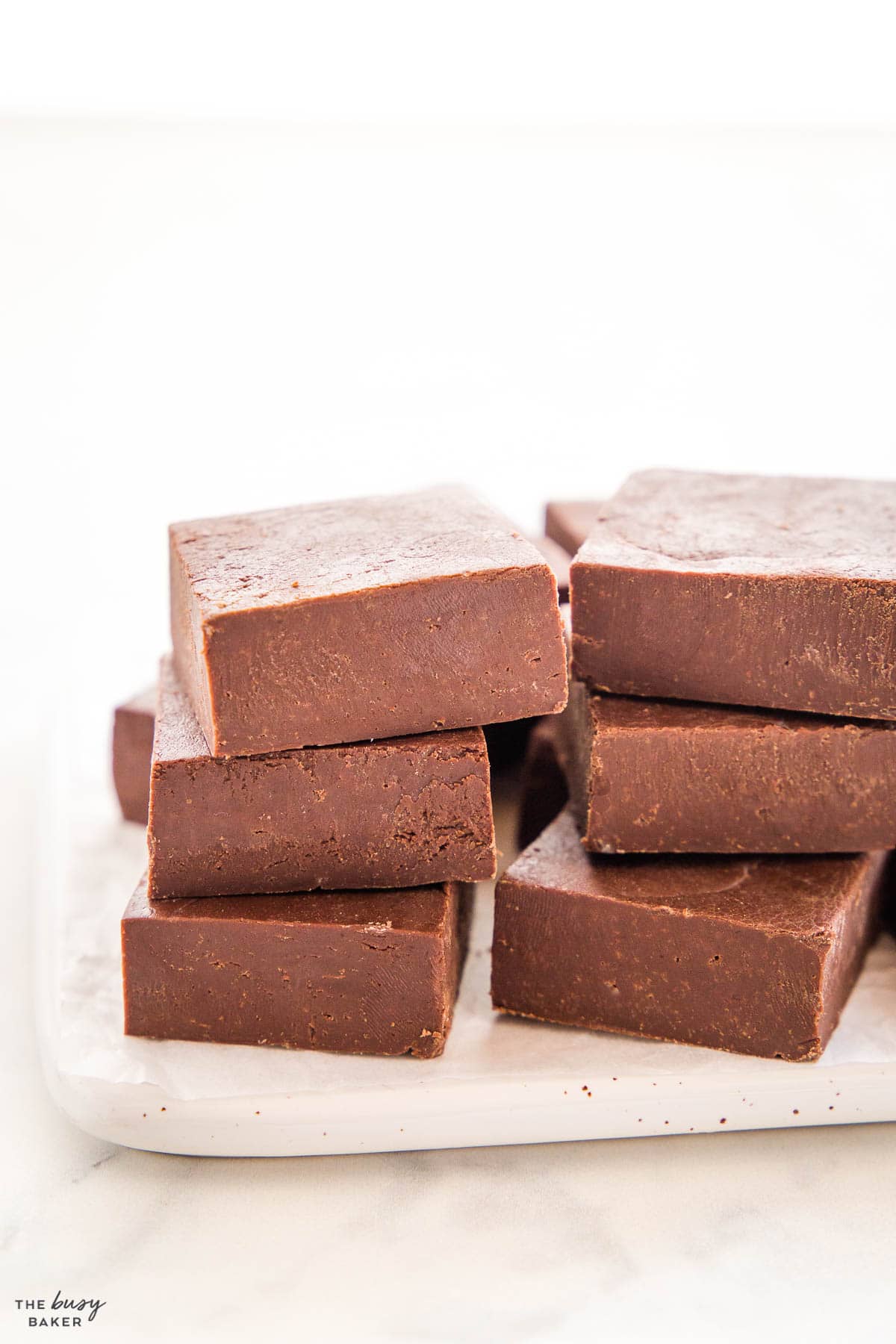 Time needed: 2 hours and 10 minutes
Follow these steps to make this easy chocolate fudge recipe!
Prepare your pan.

Spray your square pan lightly and line it with parchment paper for easy removal.

Use medium-low heat.

In order to achieve the right texture, be sure to use medium-low or low heat.

Stir gently.

Whisking the mixture will create air bubbles inside the fudge which will appear when you slice it. To avoid this, stir gently with a silicone spatula.

Use high-quality chocolate.

The quality of your fudge largely depends on the quality of the chocolate you use. Choose a high-quality chocolate meant for baking, like baking chocolate or couverture chocolate, for best results.

Refrigerate to set.

Set your fudge in the refrigerator for about 2 hours or until set.

Slice it into small pieces.

Fudge is a rich and indulgent treat so slice it into very small slices (a small square pan will give you 16 slices or more). Store the fudge in the fridge until ready to serve.
To make this recipe even easier, here's how to make this Chocolate Fudge recipe in the microwave:
Add the sweetened condensed milk to a microwave-safe bowl. Chop the chocolate into very small pieces and set it aside.
Microwave the sweetened condensed milk in 30 to 45 second increments at 50% power until it's hot and very liquid. It should become very fluid.
Add the chopped chocolate to the hot sweetened condensed milk and stir gently with a silicone spatula. Try not to incorporate any air into the mixture – you simply want the chocolate to melt in the warm liquid.
Once the chocolate has melted completely, pour it into the prepared pan and refrigerate to set.
What is in homemade fudge?

This recipe contains only 2 ingredients: sweetened condensed milk and chocolate.
What is the secret to good fudge?

The secret to good chocolate fudge is high-quality chocolate. Be sure to use chocolate meant for melting and baking for best results.
Can I make fudge without using a candy thermometer?

Yes! Our 2-ingredients recipe doesn't require one. Just be sure to follow the cooking times and instructions closely.
Can I make fudge with milk chocolate?

We recommend making easy fudge with semi-sweet chocolate, not milk chocolate. The second ingredient in this recipe is sweetened condensed milk, so using a stronger chocolate with a lower milk content is recommended.
How long does homemade fudge last?

Homemade fudge can last up to 2-3 weeks when stored in an airtight container in the refrigerator. It can be stored longer if frozen.
Why did my homemade fudge separate?

If it separated, it's likely because the mixture cooled too quickly, probably because the sweetened condensed milk wasn't hot enough. It could also be that the chocolate used had additives or preservatives that prevent it from mixing well. Be sure to use high-quality chocolate so your fudge is smooth.
Should I add salt to homemade fudge?

Adding salt to homemade fudge is optional but adding a pinch or two of salt can enhance the flavour.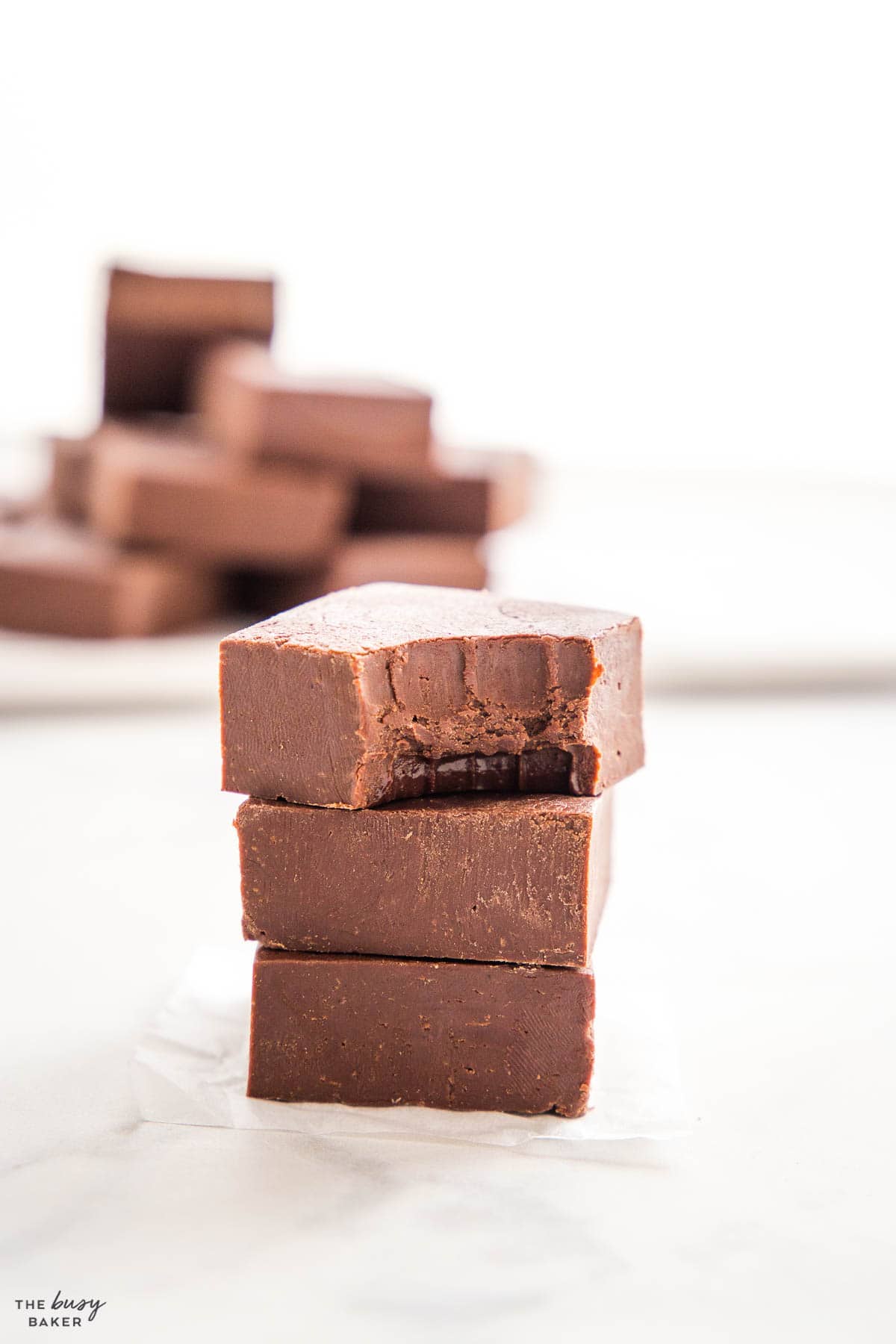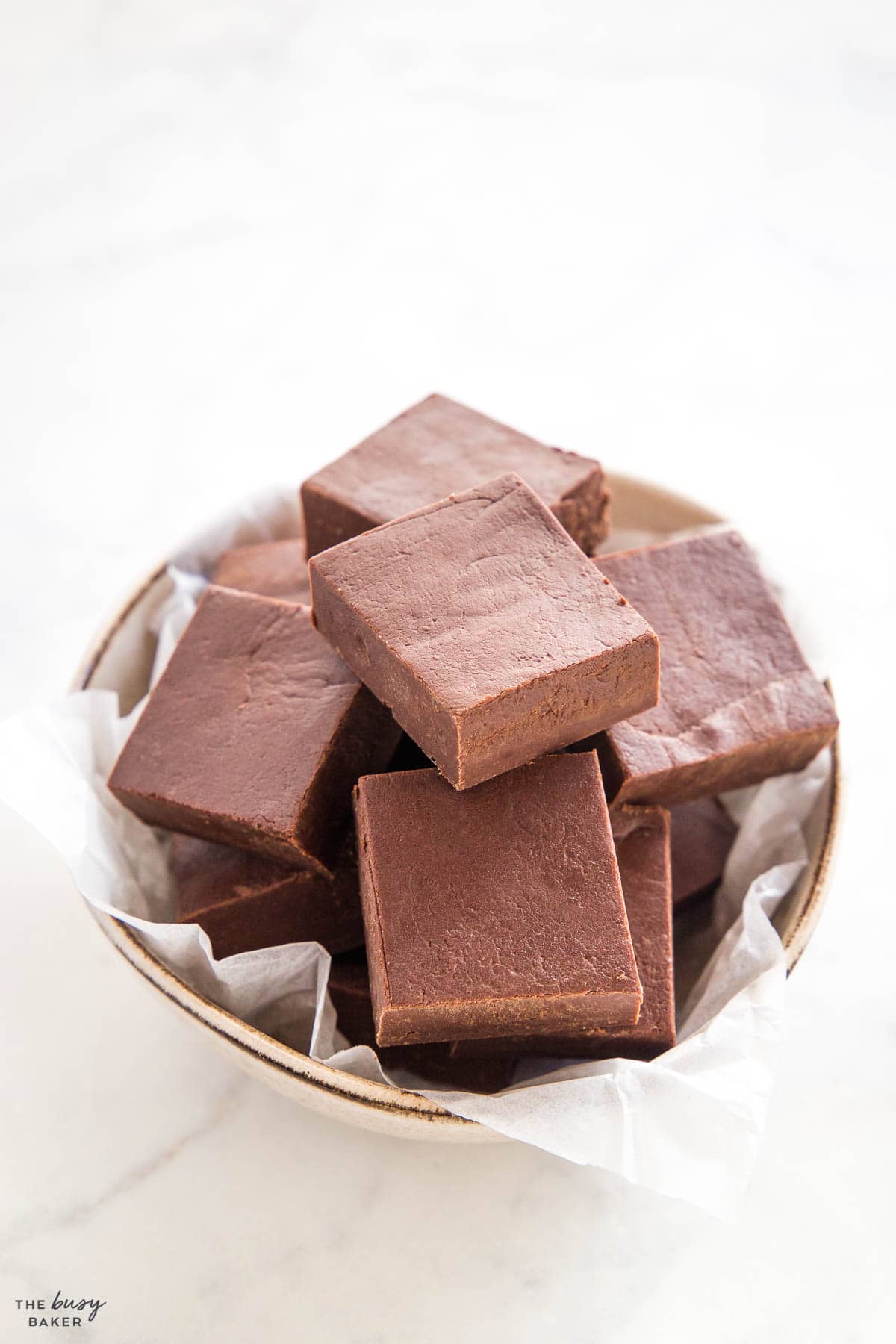 We hope you love this deliciously easy chocolate fudge recipe! Let us know in the comments below, what's your favourite easy holiday treat to make? We'd love to know!
If you made this, share a photo!
Are you trying this recipe? Use the comment form below to share your take; now with support for image uploads and comment voting!
Share a photo
Easy Fudge
A quick and simple fudge recipe made on the stovetop or in the microwave, this Easy Fudge is the perfect sweet holiday treat made with only 2 simple ingredients! No candy thermometer required!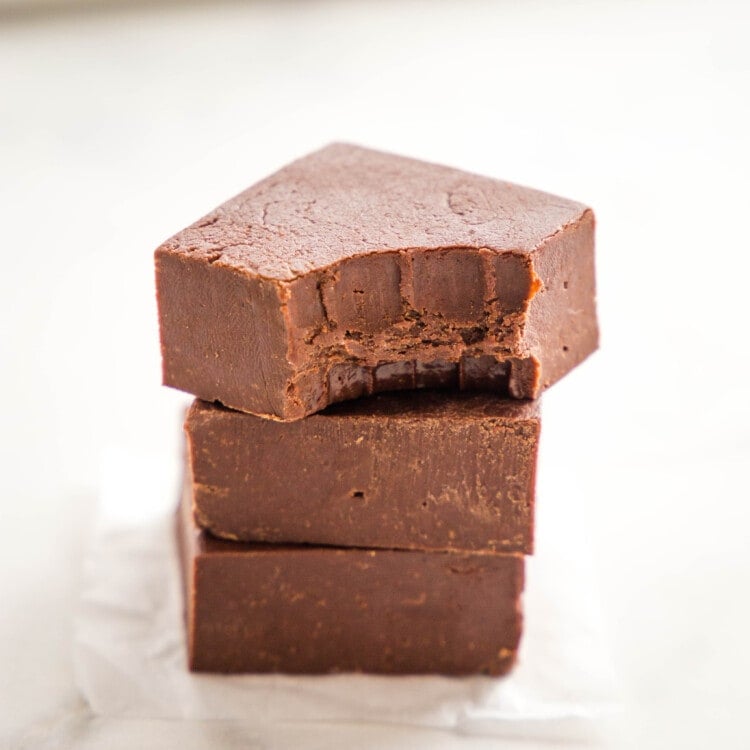 Recipe:

Instructions
Chop the chocolate finely and set it aside. Line an 8-inch x 8-inch square baking pan with parchment paper.

Add the sweetened condensed milk to a microwave-safe bowl and heat it in the microwave on 30-50% power for 30-45 second increments until heated through and very hot.

Alternatively, add the sweetened condensed milk to a saucepan (non-stick is best to prevent burning) and heat it over medium-low heat until very warm (not boiling).

Remove the condensed milk from the heat and add the chocolate pieces, stirring very gently as the chocolate melts. Use a silicone spatula to stir, not a whisk, so that you don't incorporate any air bubbles into the mixture.

Pour the fudge mixture into the lined pan, smoothing out the top.

Chill the fudge in the refrigerator for about 2 hours or until completely set.
Recipe:

Notes
Storage Instructions
This fudge can be stored in the fridge for 2 – 3 weeks in an airtight container. For optimal freshness, consume within 1 week.
Freezer Instructions
Freeze the pieces of fudge in an airtight container for up to 3 months with layers of parchment paper between them to prevent sticking.
Recipe:

Nutrition

Nutrition Facts

Easy Fudge

Amount Per Serving (1 serving)

Calories 260

Calories from Fat 126

% Daily Value*

Fat 14g22%

Cholesterol 10mg3%

Sodium 35mg2%

Potassium 269mg8%

Carbohydrates 30g10%

Protein 4g8%

Vitamin A 82IU2%

Vitamin C 1mg1%

Calcium 90mg9%

Iron 2mg11%

* Percent Daily Values are based on a 2000 calorie diet.

Notice: Nutrition is auto-calculated, using Spoonacular, for your convenience. Where relevant, we recommend using your own nutrition calculations.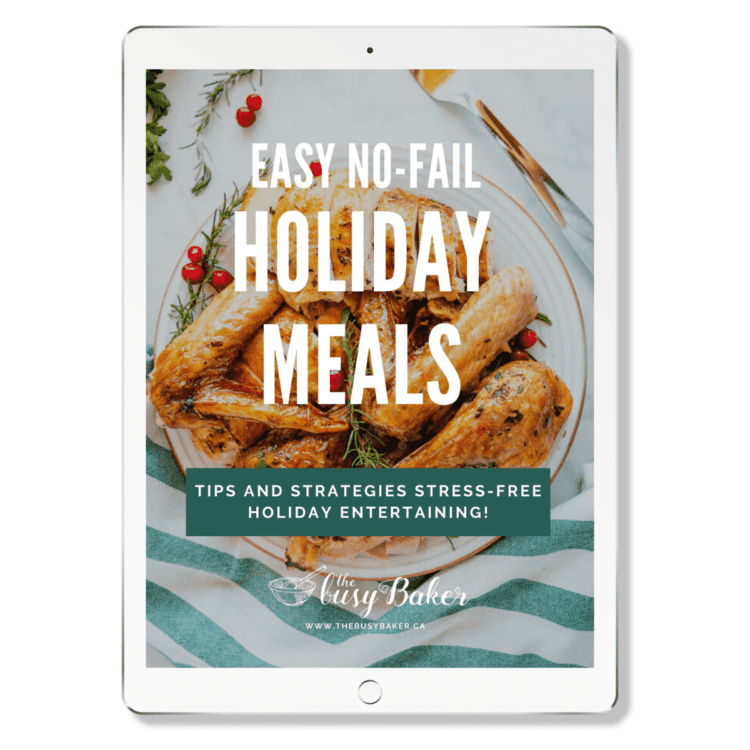 Looking for more?
EASY NO-FAIL HOLIDAY RECIPES AND COOKING & BAKING TIPS
Get my easy no-fail holiday meals e-cookbook!
Click here to learn more!