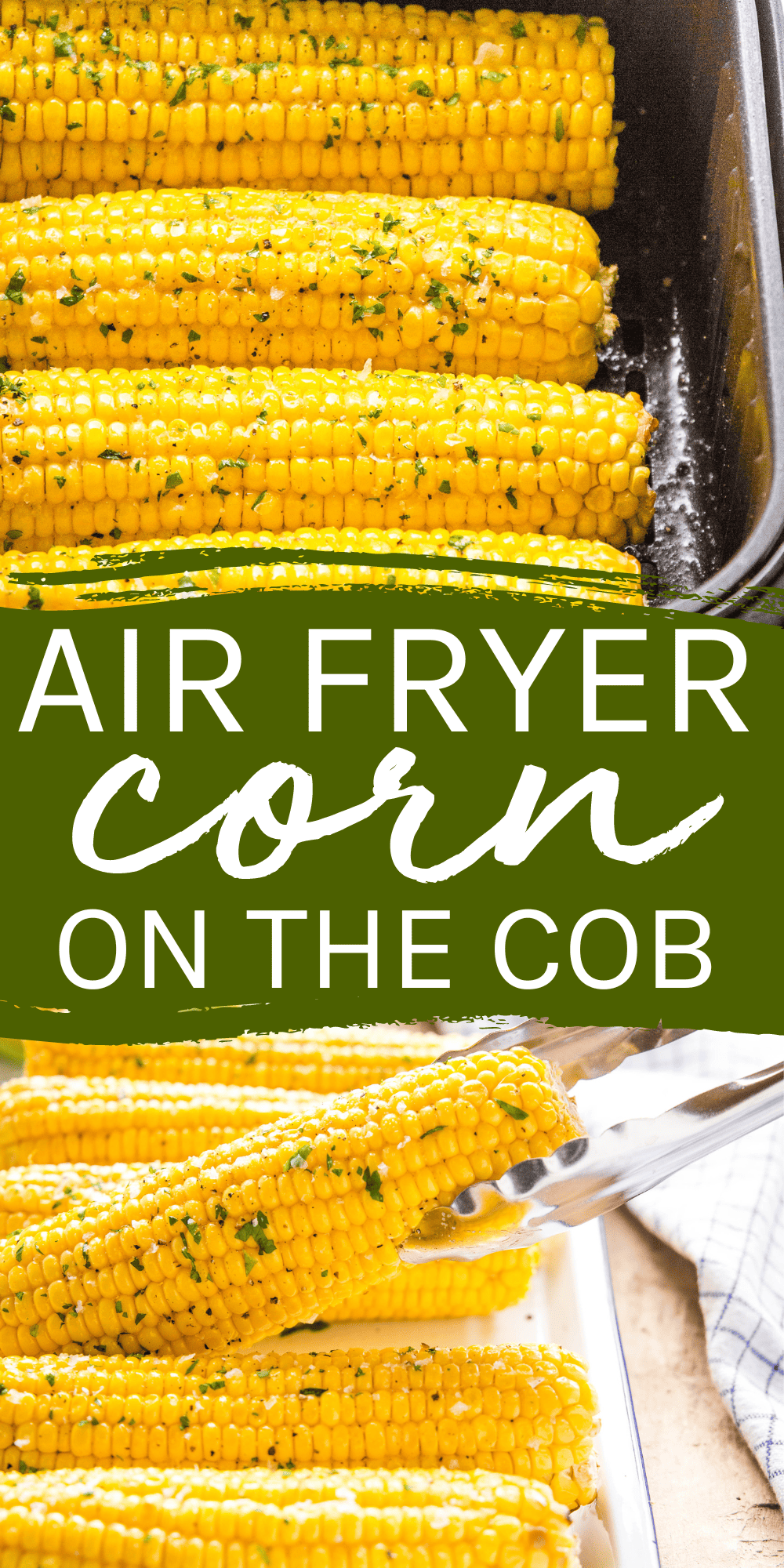 This Air Fryer Corn on the Cob recipe is the easiest way to cook fresh corn on the cob! Perfectly tender and juicy corn on the cob every single time, made with basic ingredients & ready in 10 minutes or less! You'll never boil corn on the cob again!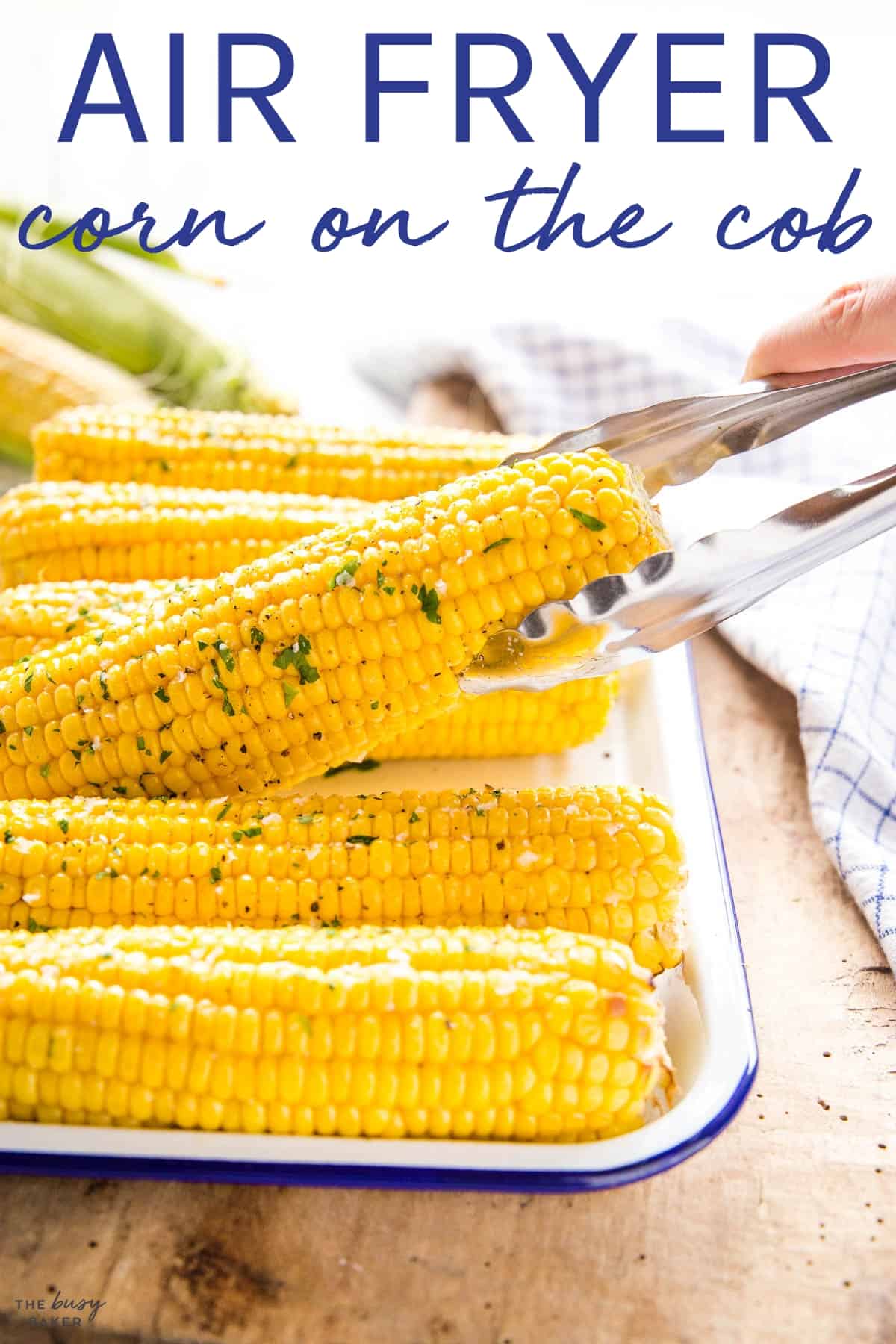 Estimated reading time: 10 minutes
There's almost nothing better than juicy, tender corn on the cob in the summer time. Whether you boil your corn on the cob, grill it, bake it, or air fry it like we do, we can all agree that it's pretty much the BEST summer side dish out there!
This Air Fryer Corn on the Cob recipe is pretty much as good as it gets. In fact, after 20 years of boiling corn on the cob in a hot kitchen, we've realized that cooking corn on the cob in the air fryer is not only easier but BETTER – that's right. Air Fryer Corn on the Cob is the best corn we've ever had and we can't WAIT to share this recipe with you!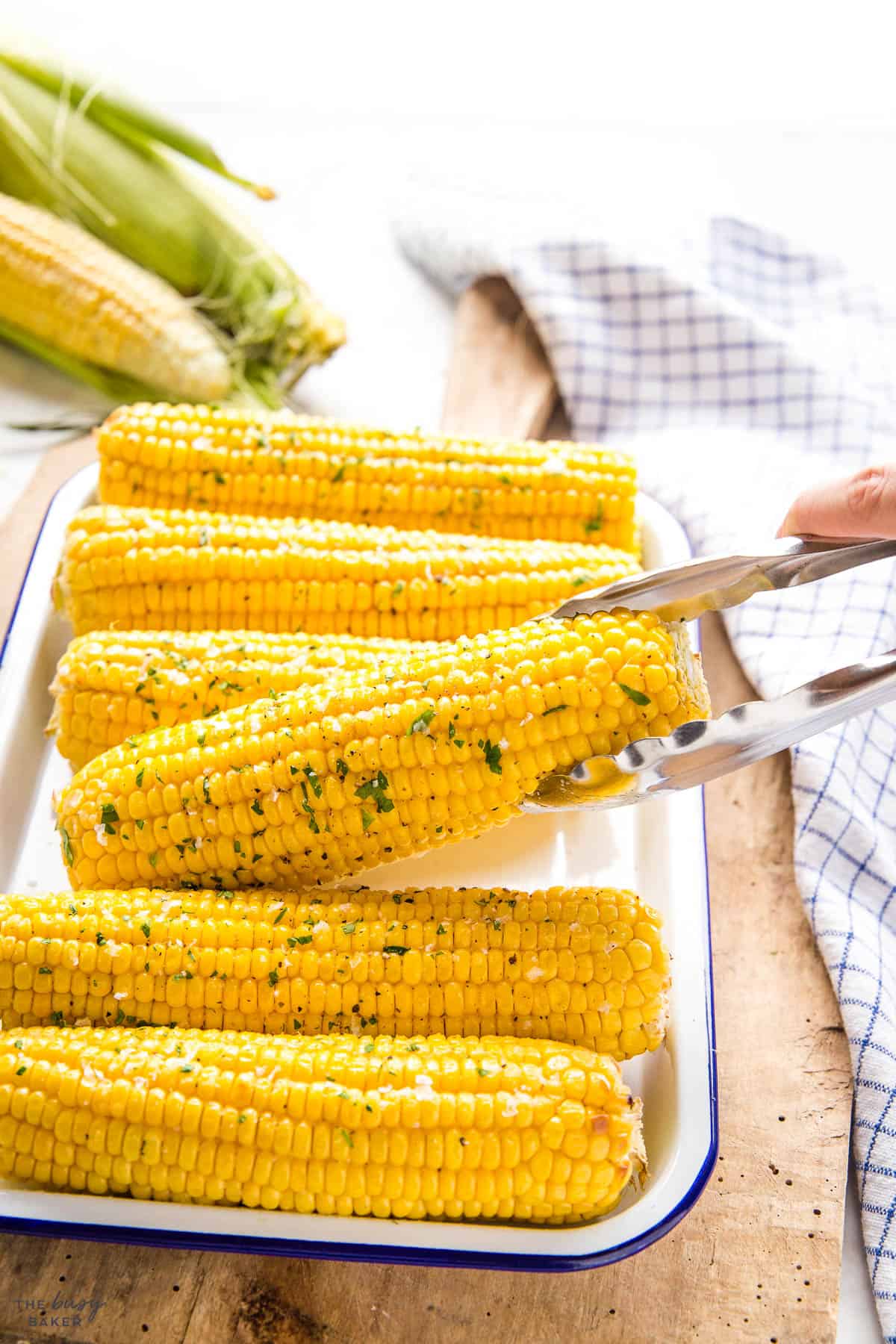 Boiling corn on the cob is probably the most popular cooking method, and it usually results in juicy, tender corn as long as the corn doesn't boil too long and overcook. This method is simple and requires minimal preparation, but it's not ideal for a hot summer day – especially if you don't have air conditioning – because a huge pot of boiling water creates a lot of heat in the kitchen.
To boil corn on the cob, boil a large pot of salted water and place the cobs into the water for just 6-8 minutes until they're bright yellow and tender. The corn cooks quickly in the water, but a large pot of water will take several minutes to come to a boil on the stovetop, so this isn't the quickest method.
Grilling corn on the cob gives it a delicious smokiness and charred flavour. Grilling caramelizes the corn, which creates flavour, but it doesn't always result in juicy corn on the cob.
To grill corn on the cob, begin by preheating the grill to medium-high heat. Place the shucked corn cobs directly on the grill grates and cook for about 10-15 minutes, turning occasionally, until the corn is cooked and slightly charred.
Baking corn on the cob in the oven is our least favourite way to prepare corn on the cob. Baking ensures even and controlled cooking, which can result in tender corn, but it can also lose its juiciness in the oven. Baking also takes a bit longer than other methods and there's a possibility of the corn drying out if not properly watched.
To bake corn on the cob, preheat the oven to 375°F (190°C). Place the shucked corn cobs on a baking sheet and bake for about 20-25 minutes.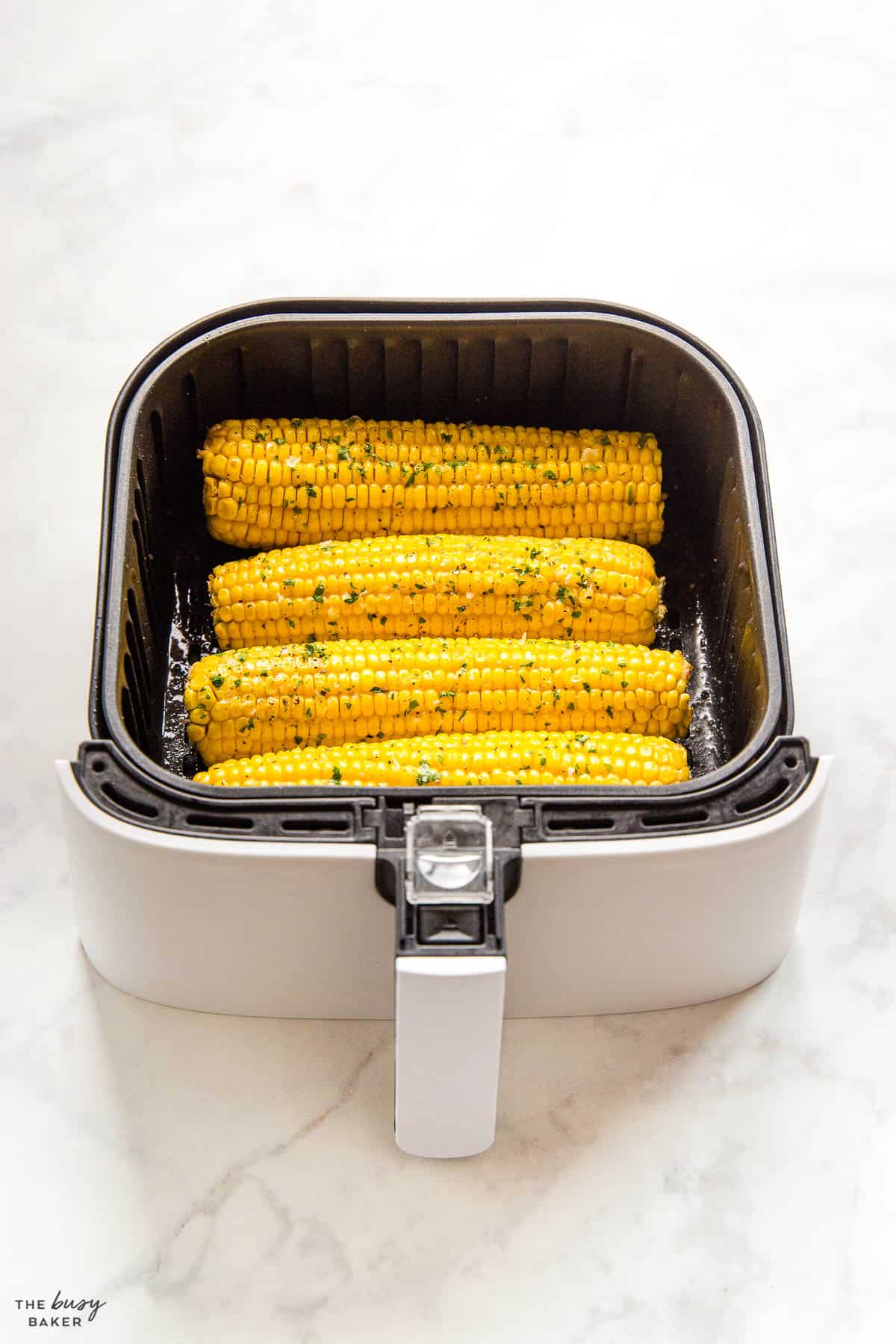 Cooking corn on the cob in the Instant Pot or Slow Cooker is another great option if you enjoy using either of these kitchen appliances.
The Instant Pot offers a result that's similar to boiling. Place the shucked corn on the Instant Pot's trivet. Add a cup of water to the pot, seal the lid, and set it to high pressure for 2-3 minutes. Once the cooking is complete, release the pressure and your corn on the cob will be tender and ready to enjoy.
If you prefer a more slow approach, the slow cooker can be a convenient choice. Place the shucked corn cobs in the slow cooker and add 1-2 cups of water. Cook on low for about 3-4 hours or on high for 1-2 hours. The slow cooker method gives a similar result to boiling, but it takes a long time to cook.
Air frying corn on the cob is by far our favourite option. The air fryer creates tender, juicy corn that's similar to boiled corn, but it also roasts it slightly giving it a slightly caramelized result similar to grilling. Essentially, it's the best of both worlds. And what's even better, it's ready in less time than boiling, grilling, or baking and there's less mess to clean up.
And brushing on some garlic butter for the last minute of cooking time makes this corn taste divine. Trust us, once you give this Air Fryer Corn on the Cob method a try you'll never go back!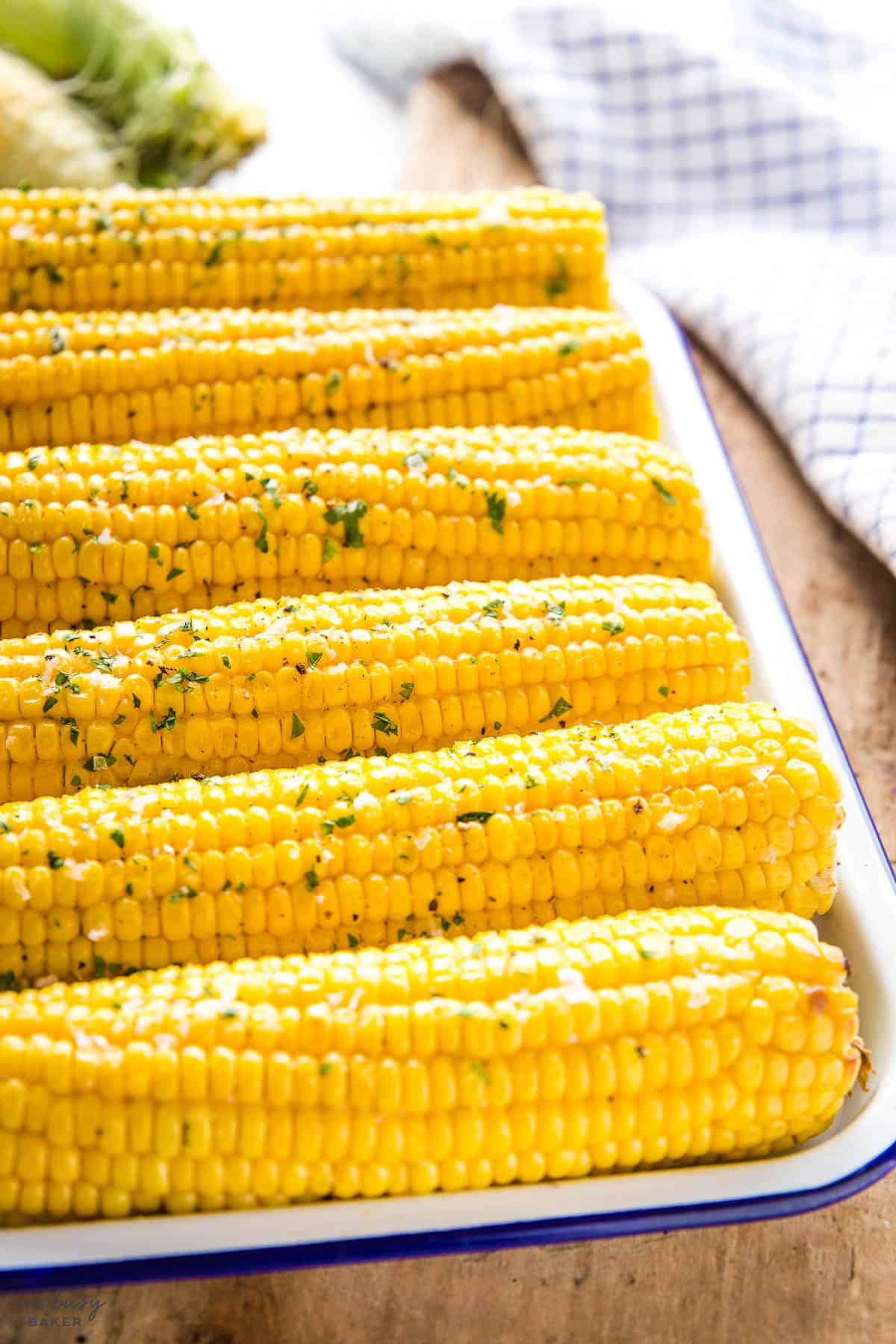 If you've been a reader of The Busy Baker for awhile now you'll already know how much we love simplifying your life in the kitchen, especially when it comes to preparing meals with fresh, healthy ingredients. Here's a list of our most favourite summer recipes that are fresh, healthy, and most importantly – EASY to make!
We love summer entertaining so much we've developed a FREE email course all about enjoying simple, delicious and healthy summer food with your friends and family, and how to do it the EASY way. Sign up for FREE here:
And if you want more where that came from, we've developed an e-book all about healthy, fresh, recipes and entertaining ideas for summer! Check it out now in The Busy Baker SHOP!
Looking for more?
EASY HEALTHY SUMMER ENTERTAINING RECIPES AND COOKING & BAKING TIPS
Get my easy healthy summer entertaining e-cookbook!
Click here to learn more!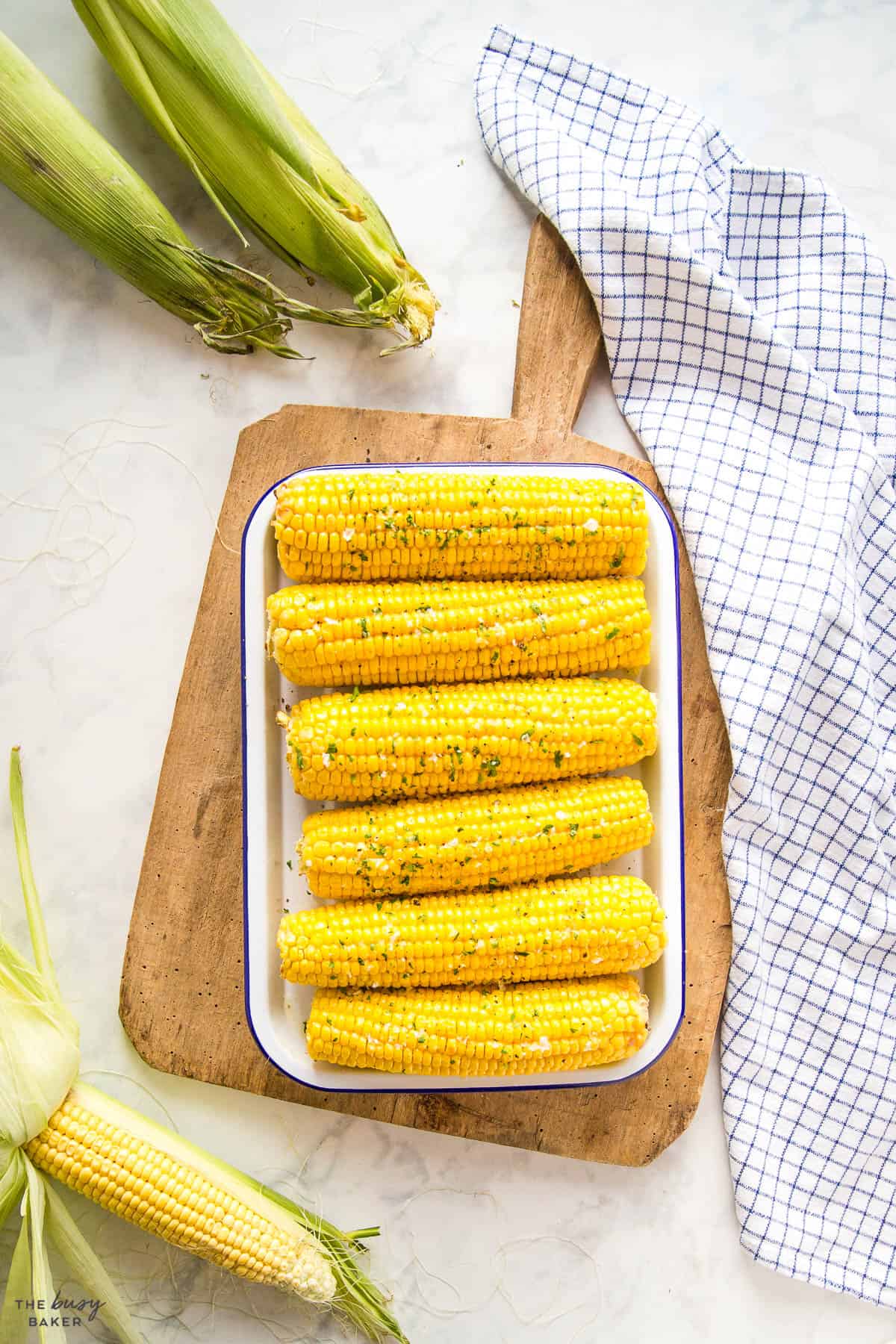 To make this recipe you'll need these ingredients:
fresh corn on the cob
vegetable oil or olive oil spray
salt and pepper
butter
garlic powder
fresh or dried parsley (optional)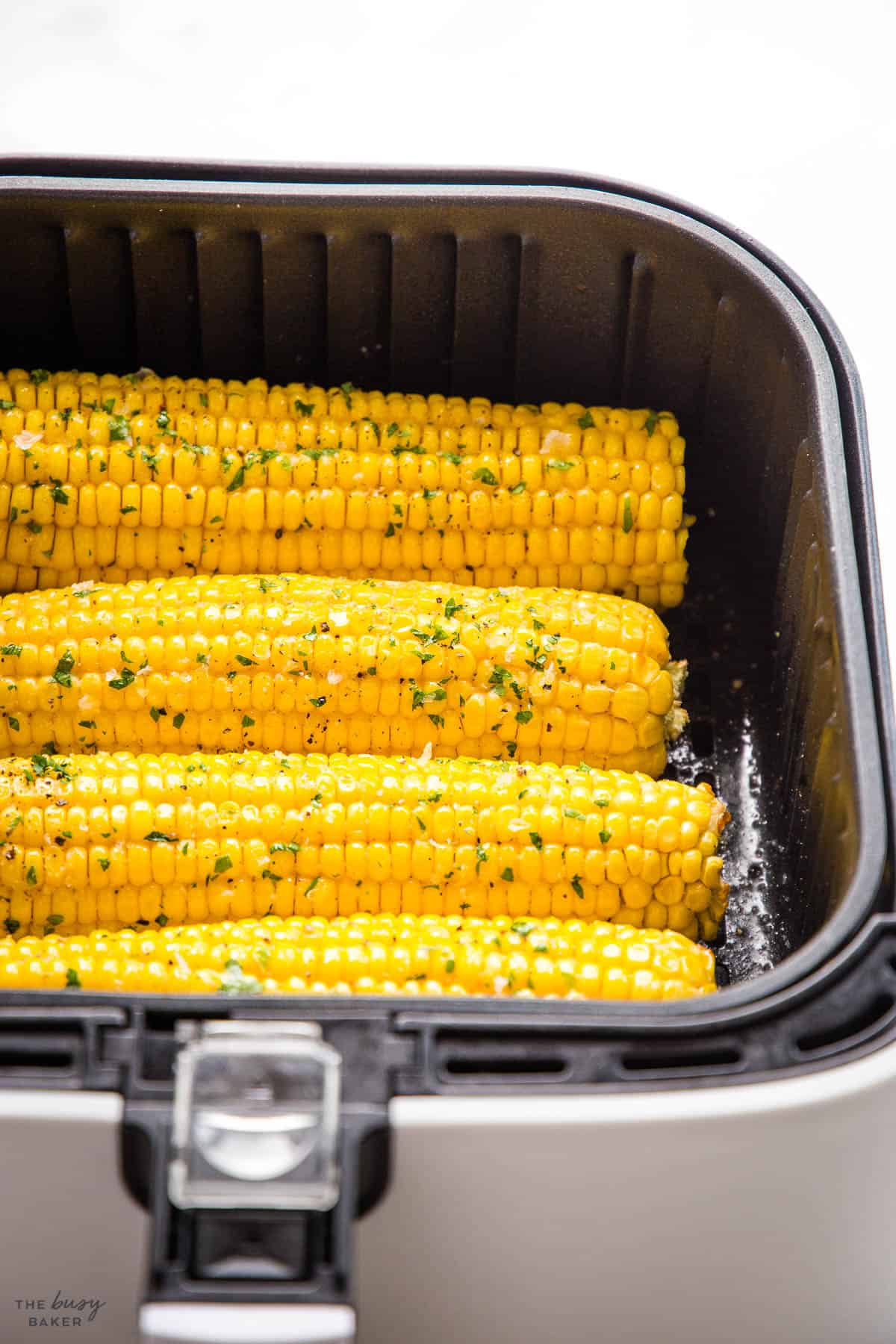 Want to take this basic corn on the cob recipe up a notch? Try one of these delicious variations on the classic!
Mexican Street-Style: Slather with a mixture of mayo, lime juice, chili powder, and crumbled Cotija cheese about halfway though air frying. Finish with fresh cilantro.
Herb-Infused: Elevate your corn by brushing it about halfway through cooking with a blend of melted butter, minced garlic, and a medley of chopped fresh herbs like rosemary, thyme, and parsley.
Parmesan-Crusted: Create a crave-worthy crust by combining grated parmesan cheese with breadcrumbs and a pinch of smoked paprika. Roll the corn in this mixture before air frying to achieve the perfect crunch.
Honey Butter: Drizzle your shucked corn with a mixture of melted butter and honey before air frying. The result? A caramelized glaze that perfectly complements the corn's natural sweetness.
Savoury Pesto: Introduce an Italian flair by spreading a thin layer of basil pesto onto the corn before air frying. The heat will melt the pesto into a deliciously savoury coating.
Sesame Soy: Whisk together soy sauce, toasted sesame oil, and a touch of honey for an umami-inspired marinade. Let the corn soak up these flavours before air frying, and finish with a sprinkle of toasted sesame seeds.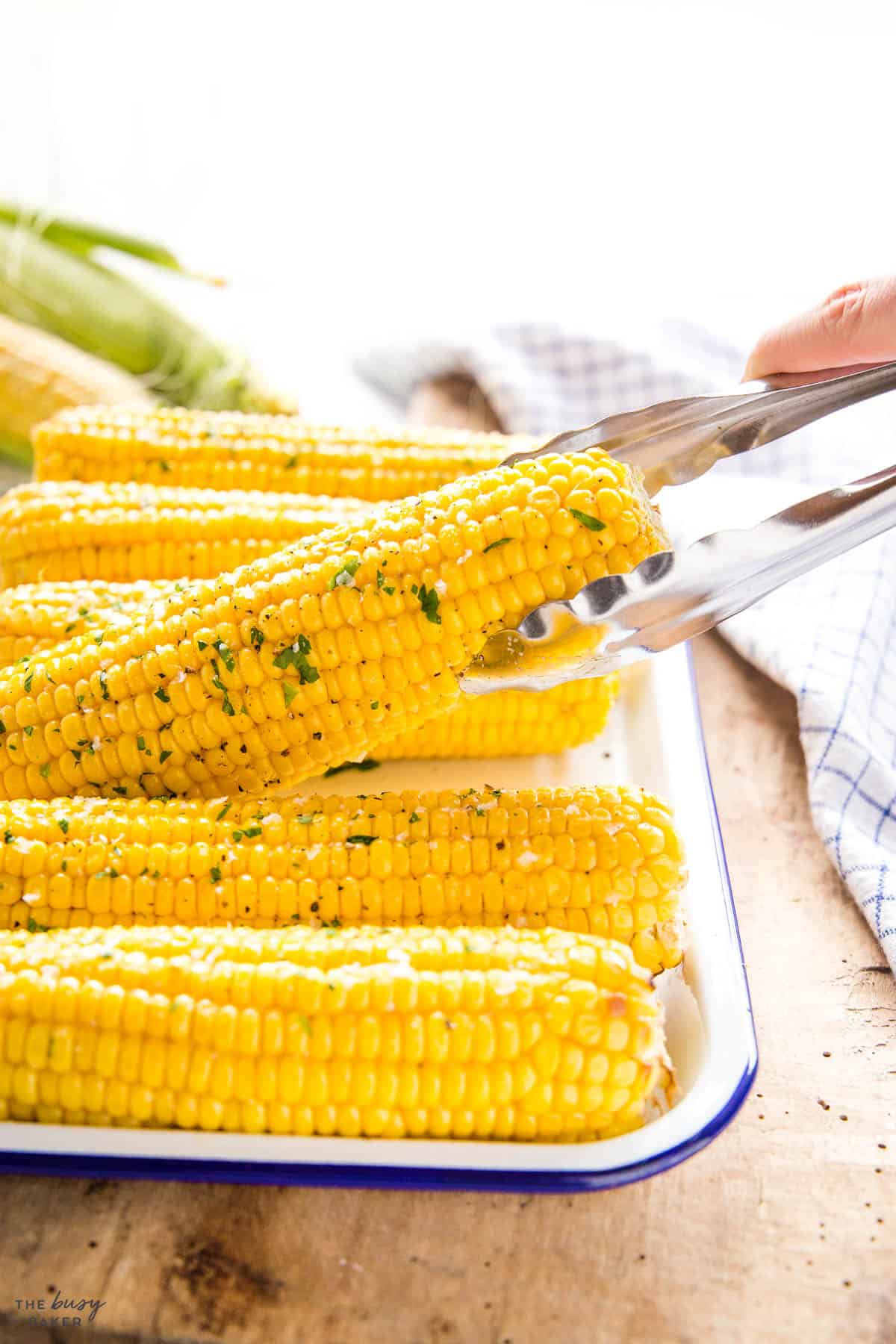 The first kitchen item you'll need to make this corn on the cob recipe is an air fryer. Here are some that we recommend, in case you're in the market for one (paid links):
In addition to an air fryer, you'll also need a pair of tongs, a silicone brush, and some measuring cups and spoons.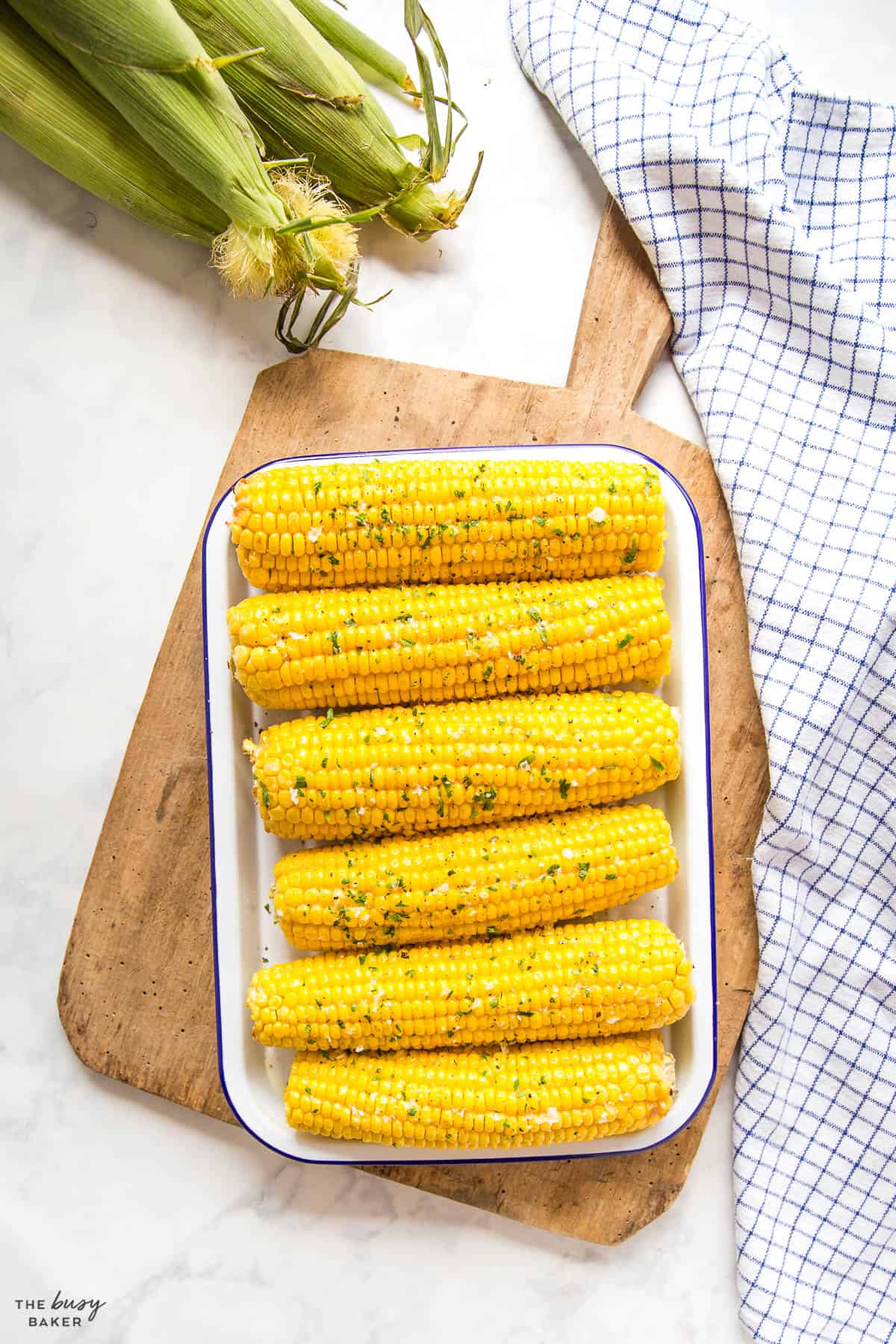 Time needed: 15 minutes
Follow these steps for the perfect corn on the cob recipe in the air fryer.
Preheat your air fryer.

Preheating your air fryer cuts down on cooking time and it aids in caramelization which adds flavour. Don't skip the preheating step!

Don't forget the water.

Adding water allows the corn to steam at the same time as it roasts in the air fryer. It helps the corn retain its moisture making sure it's juicy and tender with tons of flavour.

Flip the corn halfway through.

Flip the corn after 4-5 minutes of cooking so it cooks evenly in the air fryer.

Brush with butter before the last minute of cooking,

Brushing the corn with butter and then air frying for one more minute creates so much delicious flavour!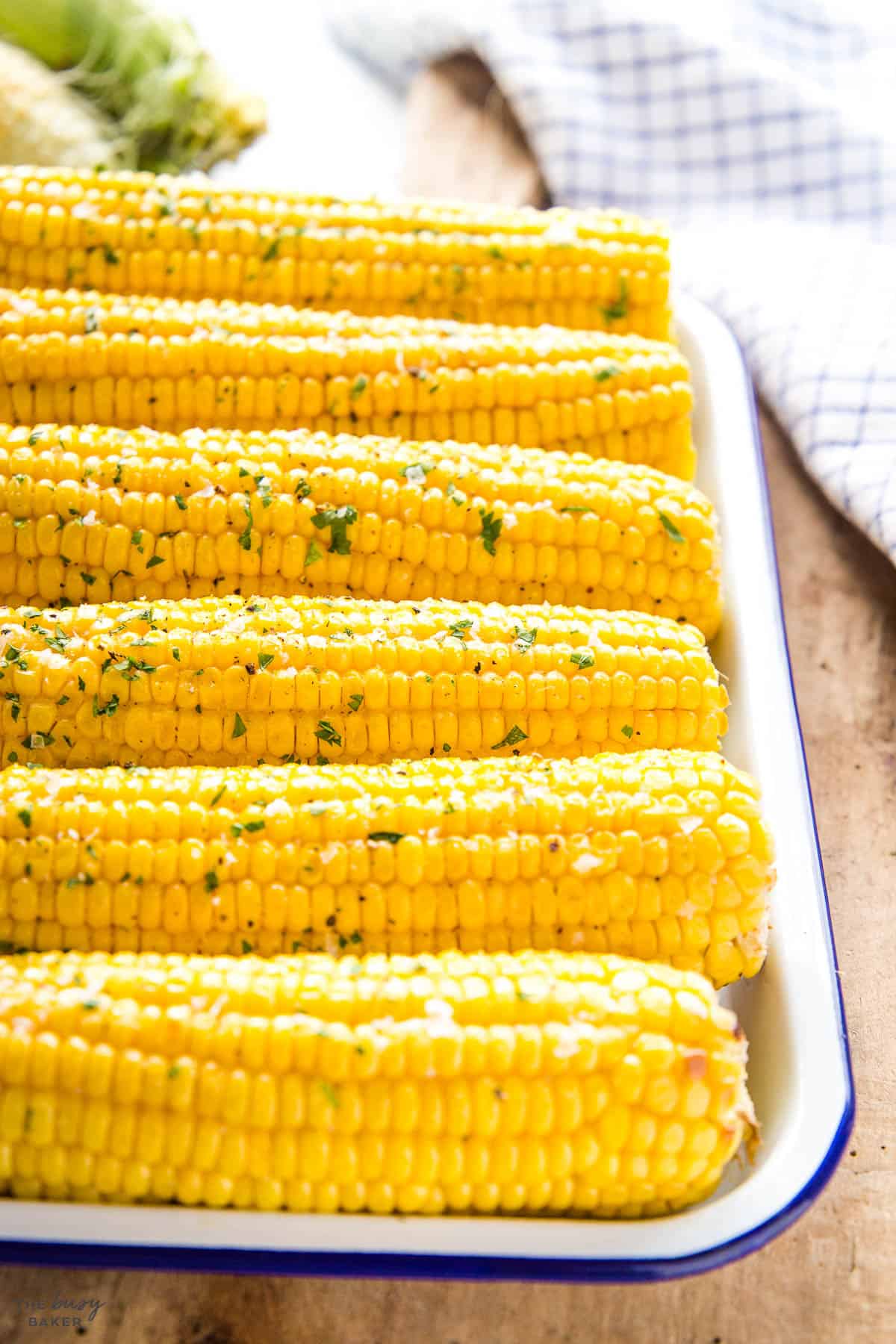 Is corn good in the air fryer?

Yes! Air fryer corn on the cob is absolutely delicious! It turns out perfectly juicy and tender with tons of flavour.
Can you put aluminum foil in an air fryer with corn?

We don't recommend using aluminum foil in the air fryer when cooking corn on the cob. Wrapping it in foil might help it steam, but aluminum foil can damage the air fryer and adding water to the bottom of the air fryer basket does a great job of steaming the corn, so the foil isn't necessary.
What if I can't fit corn on the cob in my air fryer? Can I cut it to fit?

Yes, you can cut the ears of corn in half to fit them in your air fryer. Be sure not to overcrowd your air fryer so the corn can cook evenly.
What temperature and time should I use to air fry corn on the cob?

Preheat your air fryer to around 390°F (200°C). Place the seasoned corn in the basket and cook for approximately 10 minutes, turning halfway through. The exact time might vary based on your air fryer model, so keep an eye on the corn to ensure it's perfectly cooked.
How do I prevent my corn on the cob from turning out tough and chewy?

The key to avoiding tough corn lies in not overcooking it. Be mindful of the cooking time and aim for that perfect balance between tenderness and juiciness to enjoy the best texture.
Can I cook frozen corn on the cob in an air fryer?

Yes, you can! Just remember to thaw the frozen corn first. Pat it dry to minimize excess moisture, then follow the recipe instructions for cooking fresh corn.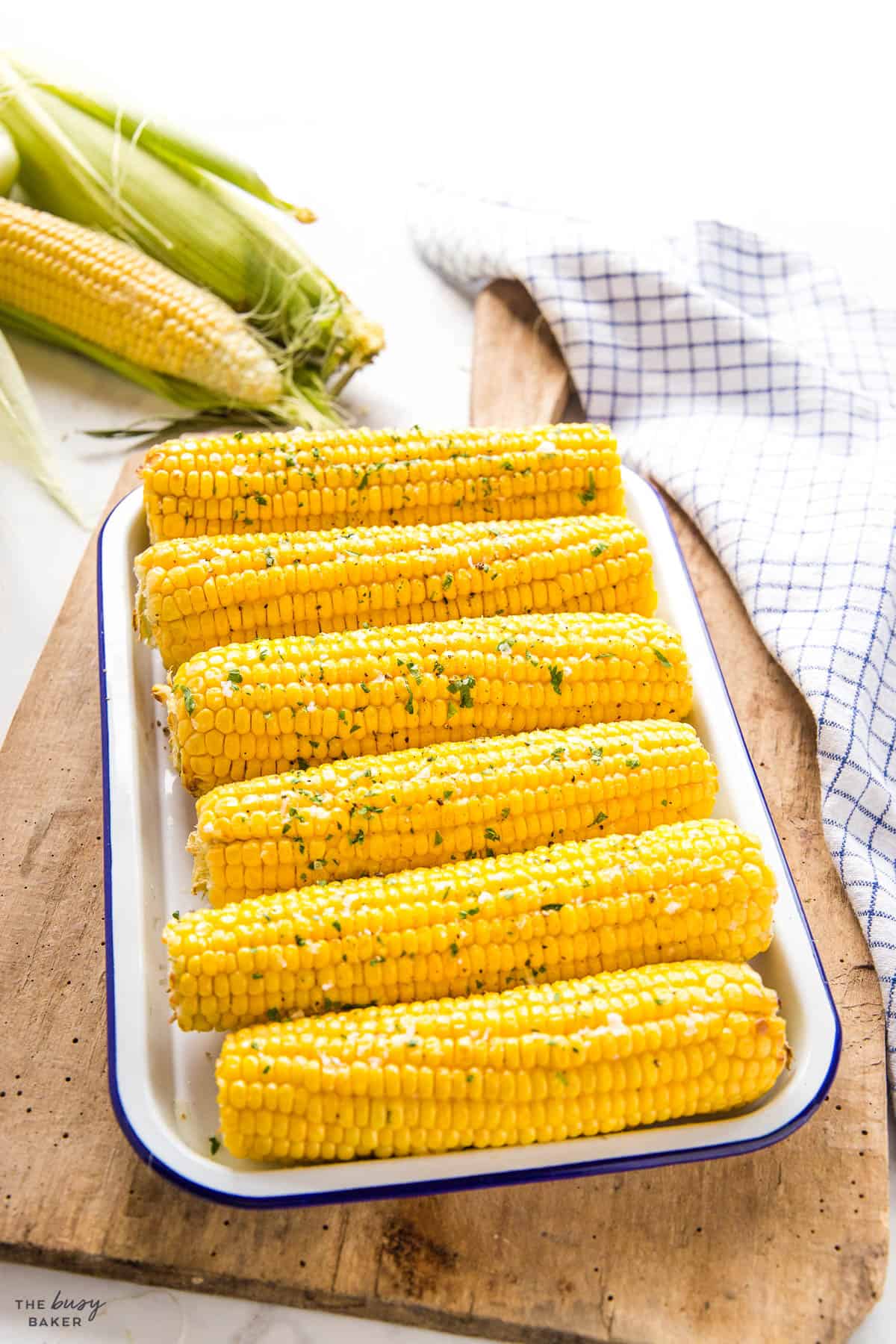 We hope you love this easy summer recipe as much as we do! Let us know in the comments below, what's your favourite easy air fryer recipe? We'd love to know!
Watch the video below to see exactly how we make this recipe. You can find many more deliciously simple recipe videos on our YouTube channel!
If you made this, share a photo!
Are you trying this recipe? Use the comment form below to share your take; now with support for image uploads and comment voting!
Share a photo
Air Fryer Corn on the Cob
Make perfect corn on the cob every time, and FAST, with this Air Fryer Corn on the Cob recipe! Perfectly tender and juicy corn on the cob that's ready in 10 minutes!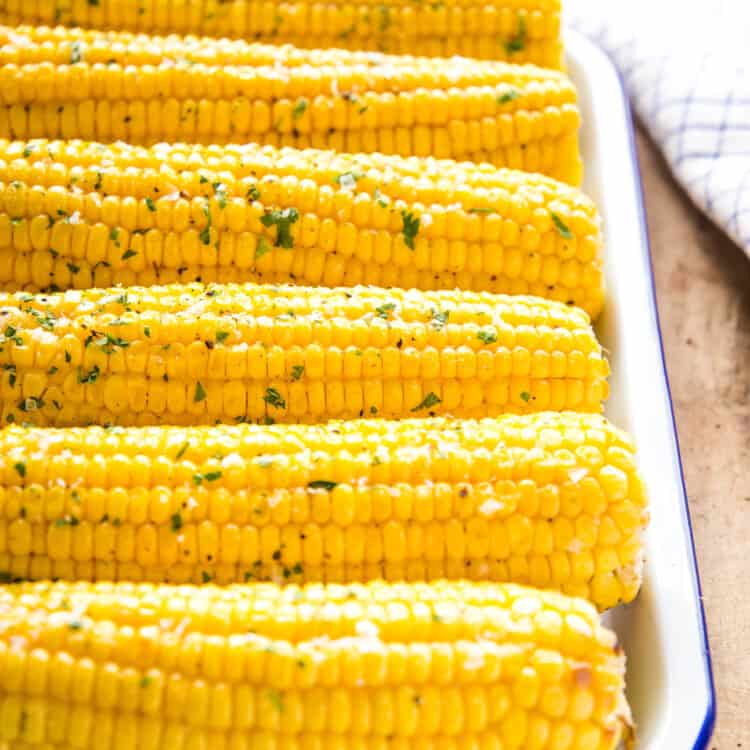 Recipe:

Ingredients
6

cobs of corn

olive oil or vegetable oil spray

(cooking spray)

1

cup

water

salt and pepper

to taste

1/4

cup

butter

melted

1

teaspoon

garlic powder

1

teaspoon

dried or fresh parsley

optional
Recipe:

Instructions
Add the water to your air fryer and preheat at 200 degrees Celsius (390 degrees Fahrenheit) for about 3-5 minutes. While the air fryer is preheating, shuck the corn, removing all the husks and stringy bits.

Add the corn to your air fryer. You may have to do this in 2 batches if you have a bucket-style air fryer that will only accommodate 3 cobs at a time.

Spray the corn on all sides with the oil spray and season on all sides with salt and pepper.

Air fry at 200 degrees Celsius (about 390 degrees Fahrenheit) for about 9 minutes, turning the corn once about halfway through the cooking time.

Add the garlic powder and parsley (if using) to the melted butter and stir together.

After the corn cooks for 9 minutes, brush the melted butter onto the cobs of corn on all sides. Cook for one more minute.

Serve immediately while the corn is hot and juicy.
Recipe:

Notes
Storage Instructions
To store cobs of corn that have been cooked in the air fryer, add them to an airtight container or bag when they've cooled completely and store them in the fridge until ready to reheat and serve.
Reheating Instructions
To reheat corn in the air fryer, add the cobs of corn to the air fryer and cook for about 1-2 minutes at 200 degrees Celsius (390 degrees Fahrenheit) or until heated through. Brush with melted butter after reheating for best results.
Recipe:

Nutrition

Nutrition Facts

Air Fryer Corn on the Cob

Amount Per Serving (1 cob)

Calories 147

Calories from Fat 81

% Daily Value*

Fat 9g14%

Cholesterol 20mg7%

Sodium 77mg3%

Potassium 251mg7%

Carbohydrates 17g6%

Protein 3g6%

Vitamin A 405IU8%

Vitamin C 6mg7%

Calcium 6mg1%

Iron 0.5mg3%

* Percent Daily Values are based on a 2000 calorie diet.

Notice: Nutrition is auto-calculated, using Spoonacular, for your convenience. Where relevant, we recommend using your own nutrition calculations.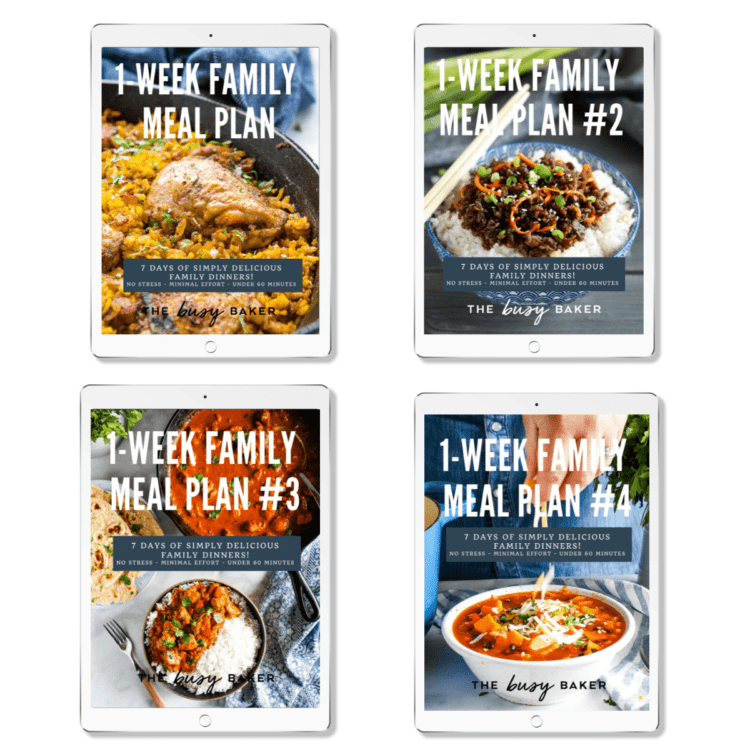 Looking for more?
TRY OUR MEAL PLANS!
Let us do the work for you with 7 days of deliciously easy family dinners, grocery lists, meal prep guides and MORE!
Buy 2, save 20%!
Buy 3, save 30%!
Buy 4 or more, save 40%!
Click here to learn more!