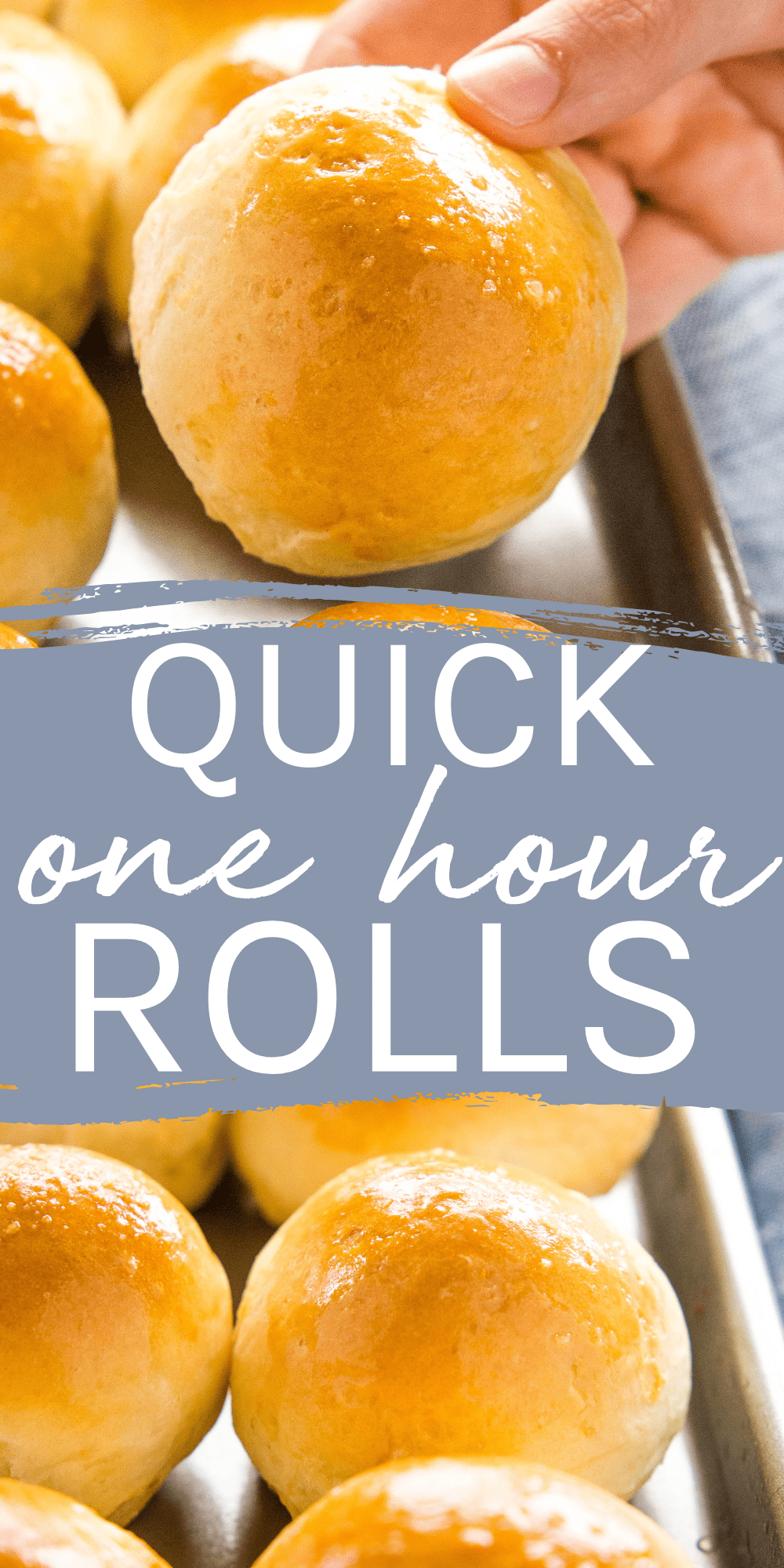 This Quick Dinner Rolls Recipe is the easiest dinner roll recipe that's ready in one hour or less. Easy pro tips and tricks for fluffy and delicious dinner rolls every single time.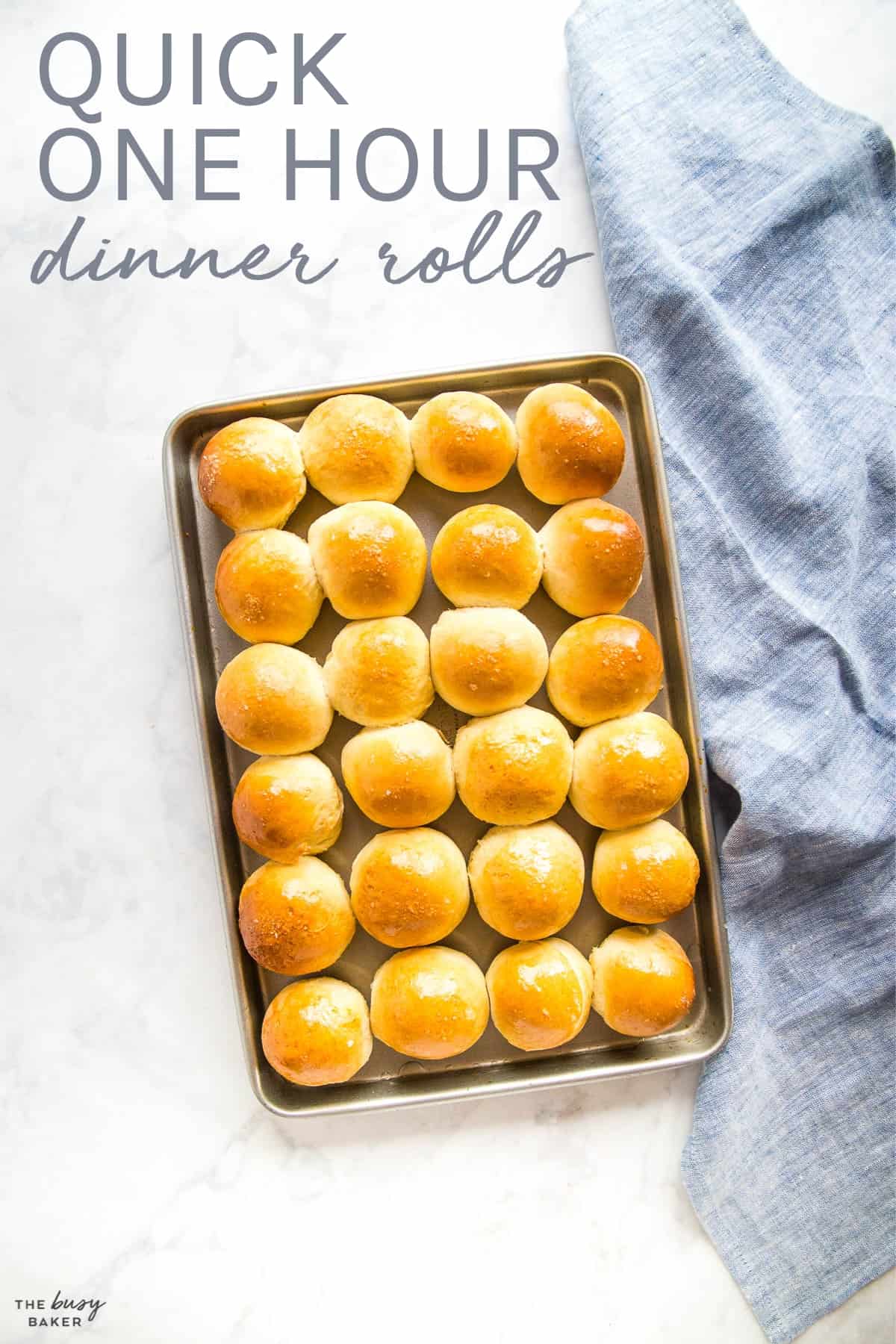 Homemade Dinner Rolls are a MUST at any dinner table or holiday meal, and this Quick Dinner Rolls recipe is the BEST and EASIEST dinner roll recipe around. They have the best golden brown crust and a fluffy & soft interior, and they're ready and on the table in under one hour!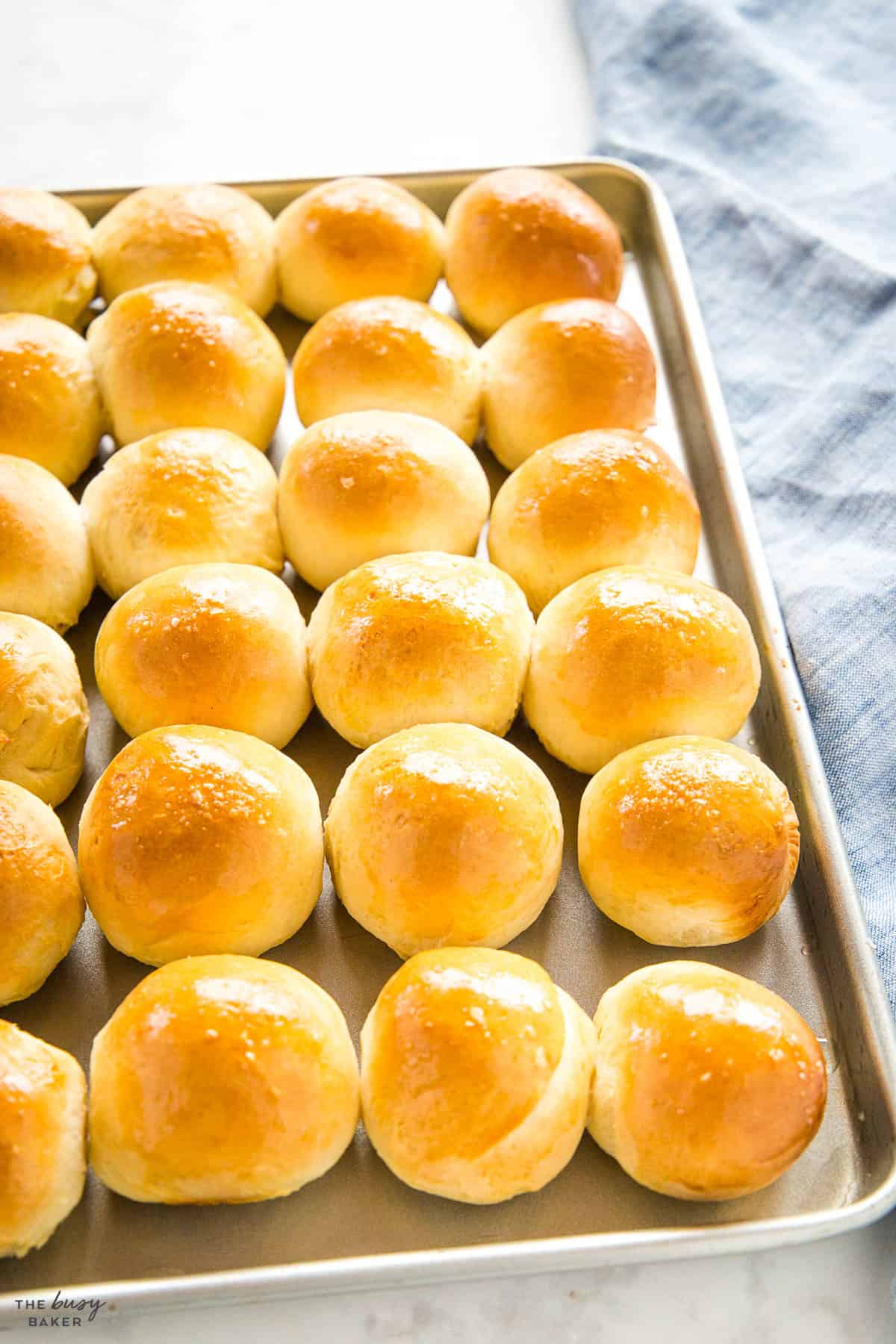 If you're looking for the perfect dinner roll for your holiday celebration, we've got what you're looking for! Our Best Ever Buttermilk Buns are a family favourite recipe, these Perfect Dinner Rolls are simple and delicious, and these Garlic Butter Dinner Rolls are a twist on everybody's favourite garlic knots.
We've also shared SO many simple side dishes that always please a crowd. Here's a short list of our favourites:
And if you're looking for more delicious holiday-inspired recipes, we've got you covered with our FREE No Fail Guide to Holiday Meals. We share our BEST tried and true holiday mains, sides, drinks, and desserts, and all our favourite tips and tricks for hosting holiday meals with minimal fuss and without all the stress. Sign up for FREE below:
And if you want even MORE holiday meal ideas, tips, tricks and recipes, grab a copy of our No Fail Holiday Meals E-Cookbook in The Busy Baker Shop!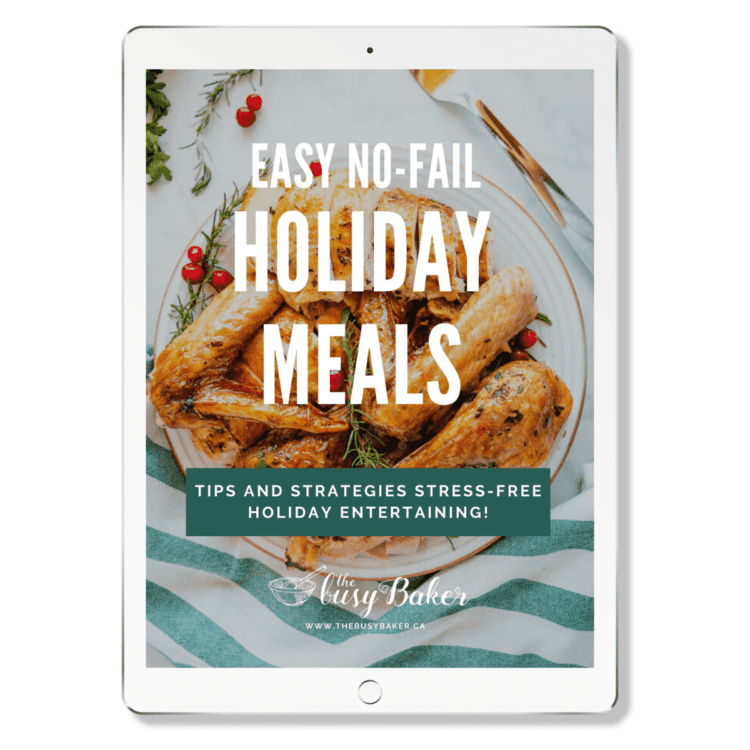 Looking for more?
EASY NO-FAIL HOLIDAY RECIPES AND COOKING & BAKING TIPS
Get my easy no-fail holiday meals e-cookbook!
Click here to learn more!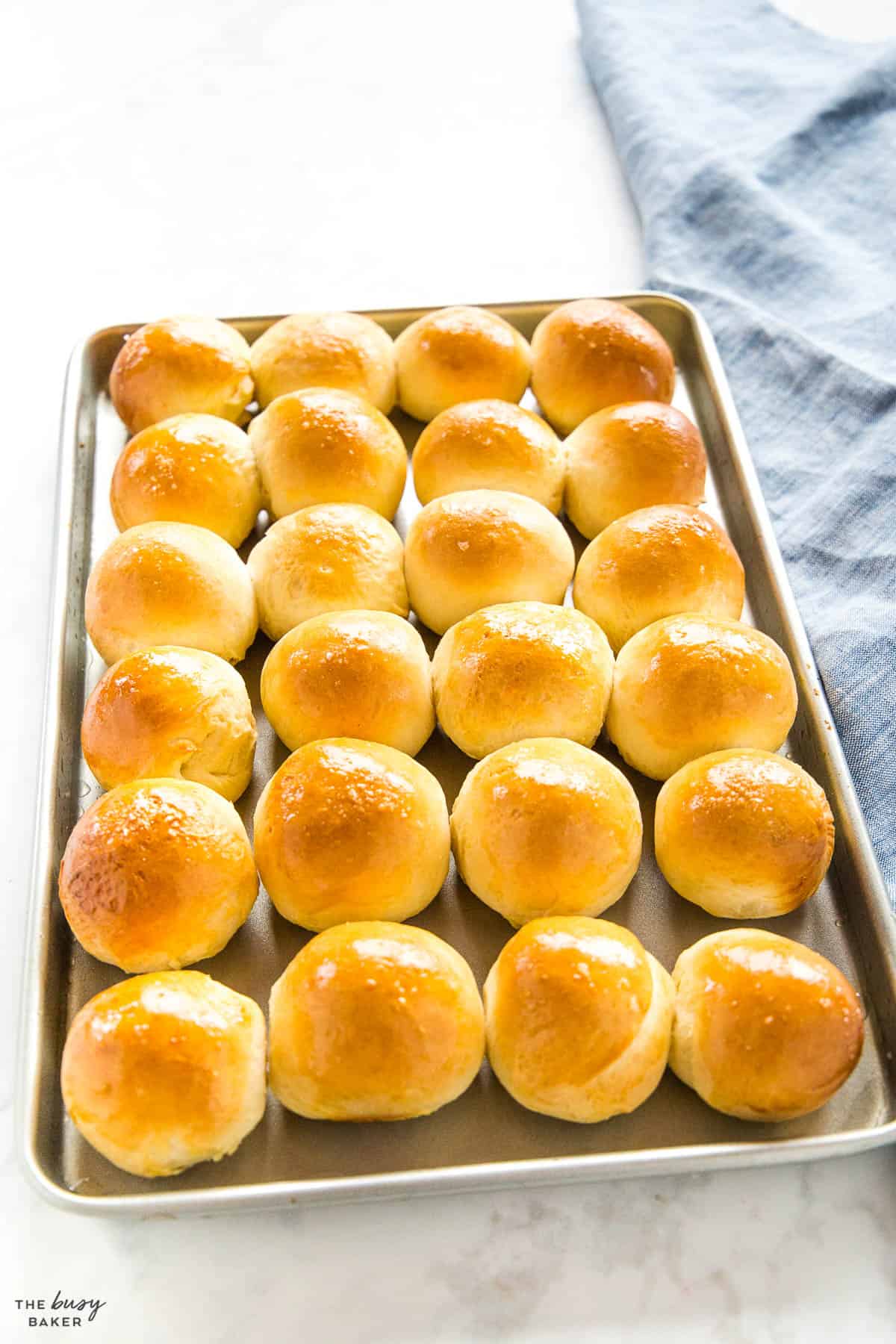 Here are the steps to shaping and rolling the perfect easy dinner rolls:
Weigh or portion the dough evenly. This recipe makes 24 rolls, so be sure all the balls of dough are the same size for even baking.
Oil your work surface, don't flour it. Adding just a few drops of oil to your work surface helps with rolling the perfect shaped balls for dinner rolls. The dough won't stick to the work surface, but it will adhere to the work surface just enough to build the surface tension that creates a smooth top.
Form a C with your dominant hand and rest it on the work surface. Place the dough ball inside the C and rotate your hand in a circular motion. This will form a round ball with a smooth top.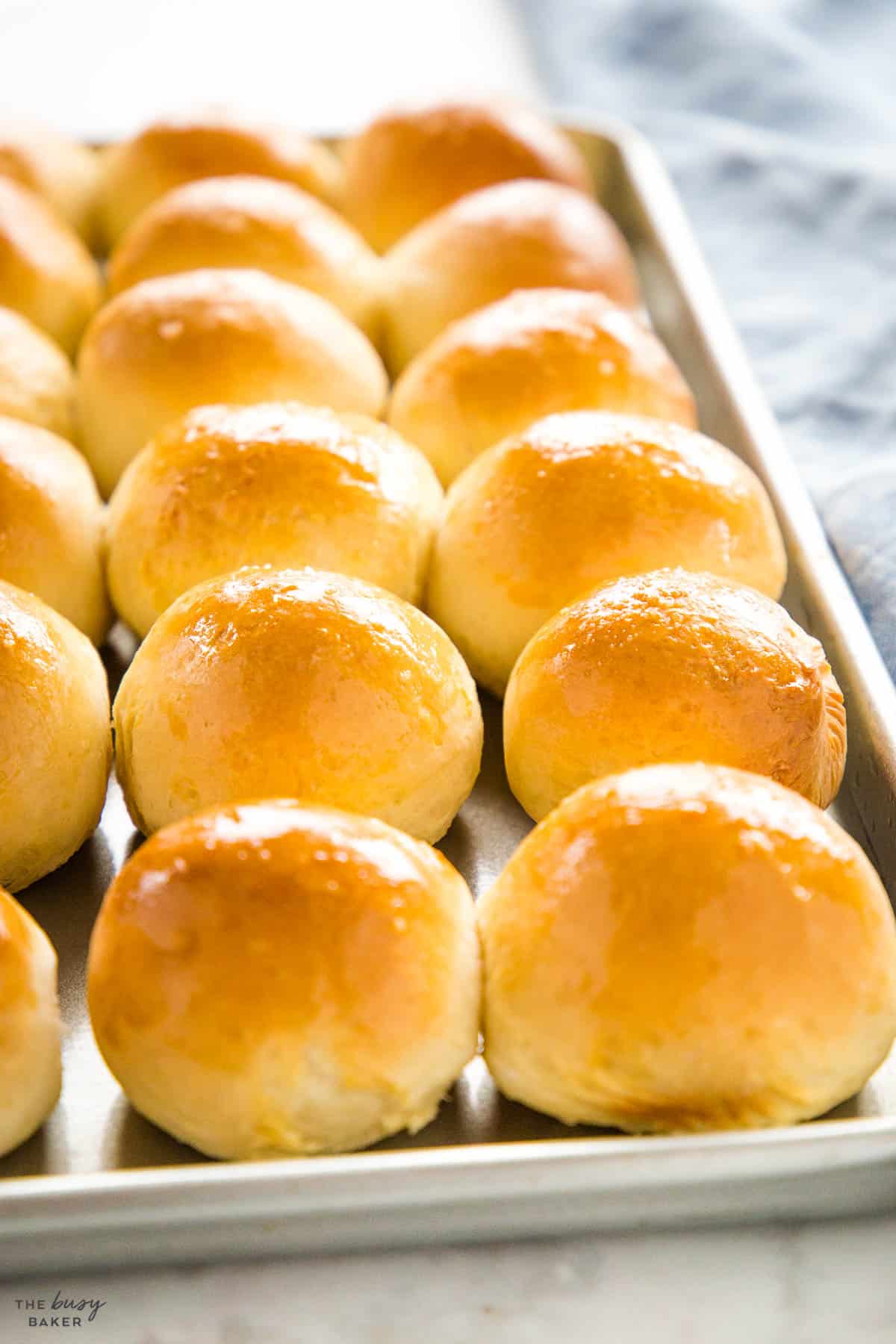 To make these rolls you'll need these kitchen tools (affiliate links):
To make this recipe you'll need these ingredients:
milk
granulated sugar
butter
eggs
active dry yeast
all purpose flour
salt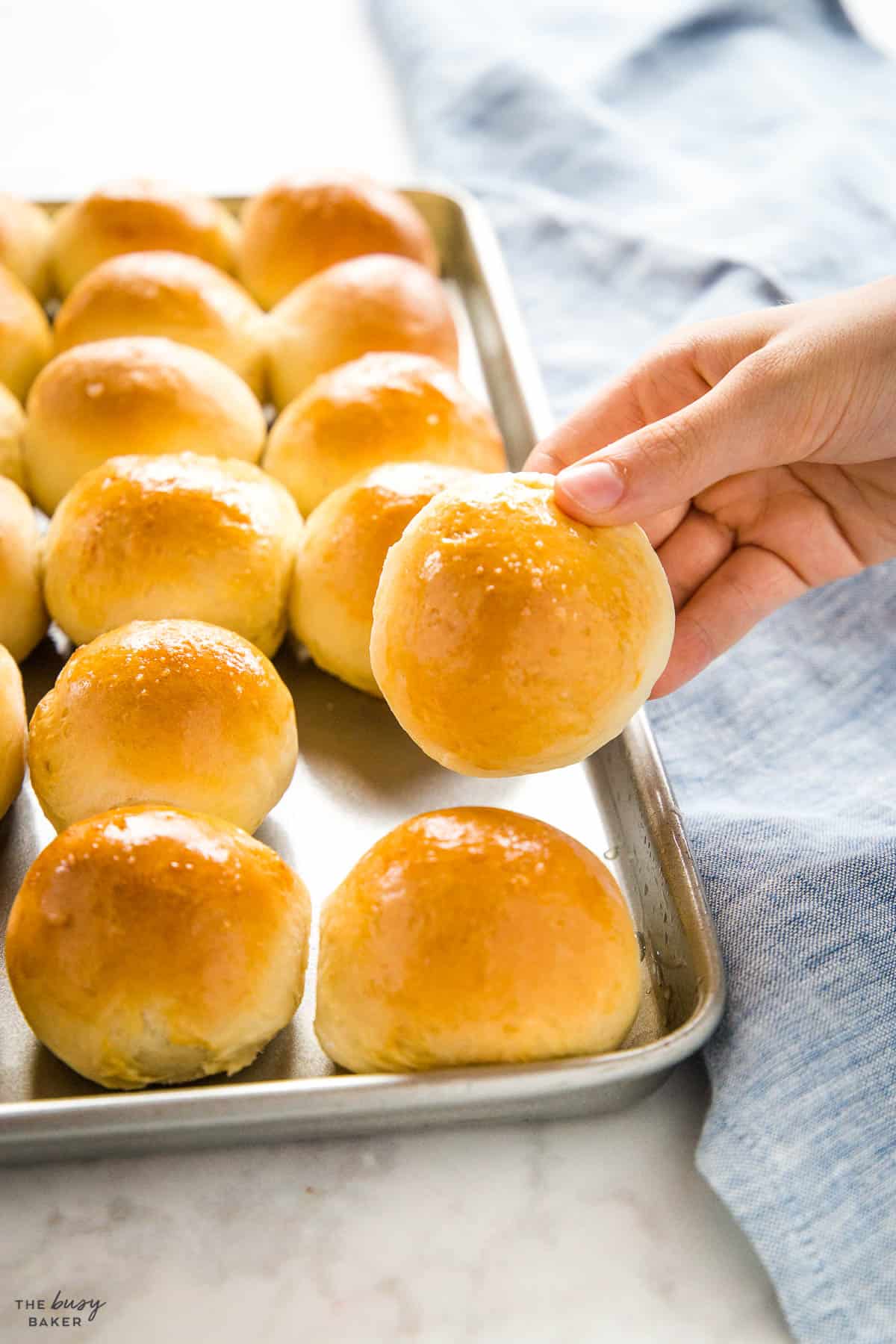 Time needed: 1 hour
Follow these tips for the best homemade dinner rolls, made in only one hour!
Use Warm Milk

In order to achieve a fluffy dough that rises well, the temperature of the wet ingredients when they hit the yeast is critical: too cold, and the yeast won't be able to grow; too hot and the liquid will kill the yeast. Both of these situations will cause your dough to be tough and dry, and you'll be lucky if it rises at all. To help these rolls rise quickly, use warm milk that feels like the temperature of a baby's bath water (not too hot!).

The Dough Should Be Sticky

Dinner roll dough should be tacky to the touch after it's been mixed, but not so sticky that it's very messy. It should pull away from the sides of the mixing bowl easily and the bowl should appear fairly clean. If the dough appears too sticky, continue kneading and add flour one tablespoon at a time until the dough reaches that tacky texture. Too little flour and the dough will be too sticky and will result in dense buns. Too much flour and the dough will be tough, resulting in dry, crumbly buns.

Rise in Warm Water

To speed up the rising process, place the bowl inside a larger bowl and then pour hot water into the larger bowl. Be sure that no water gets into the bowl with the dough. Cover both bowls with a clean kitchen towel and let rise. The heat from the water will help the dough rise quickly.

Lightly Oil Your Work Surface

Turn the dough out onto a very lightly oiled work surface, but be sure not to use too much oil. This makes the dough easy to roll out and it helps the surface of the dough to remain soft and pliable as you roll the dough.

Weigh the rolls before rolling

In order to ensure all the rolls are the same size, weigh the entire ball of dough and divide by 24 (this recipe makes 24 rolls). If you don't have a scale, do your best to be sure each roll is the same size.

Create a taut surface for the perfect rolls

For the perfect smooth surface, roll the piece of dough in your hands against the work surface in a circular motion. This will create a smooth, taut surface and prevent the rolls from cracking on the top while baking.

Brush with Egg Wash for the perfect golden brown crust

Whisk an egg together with a few tablespoons of water and brush the mixture onto the tops of the buns just before baking. I also like to sprinkle some flaky sea salt on top. This creates the BEST golden brown crust with just a hint of salt. It's delicious!!

Let the rolls rise while the oven preheats.

Add the pan with the rolls to a cold oven and then turn the oven on. The rolls will rise as the oven comes to temperature.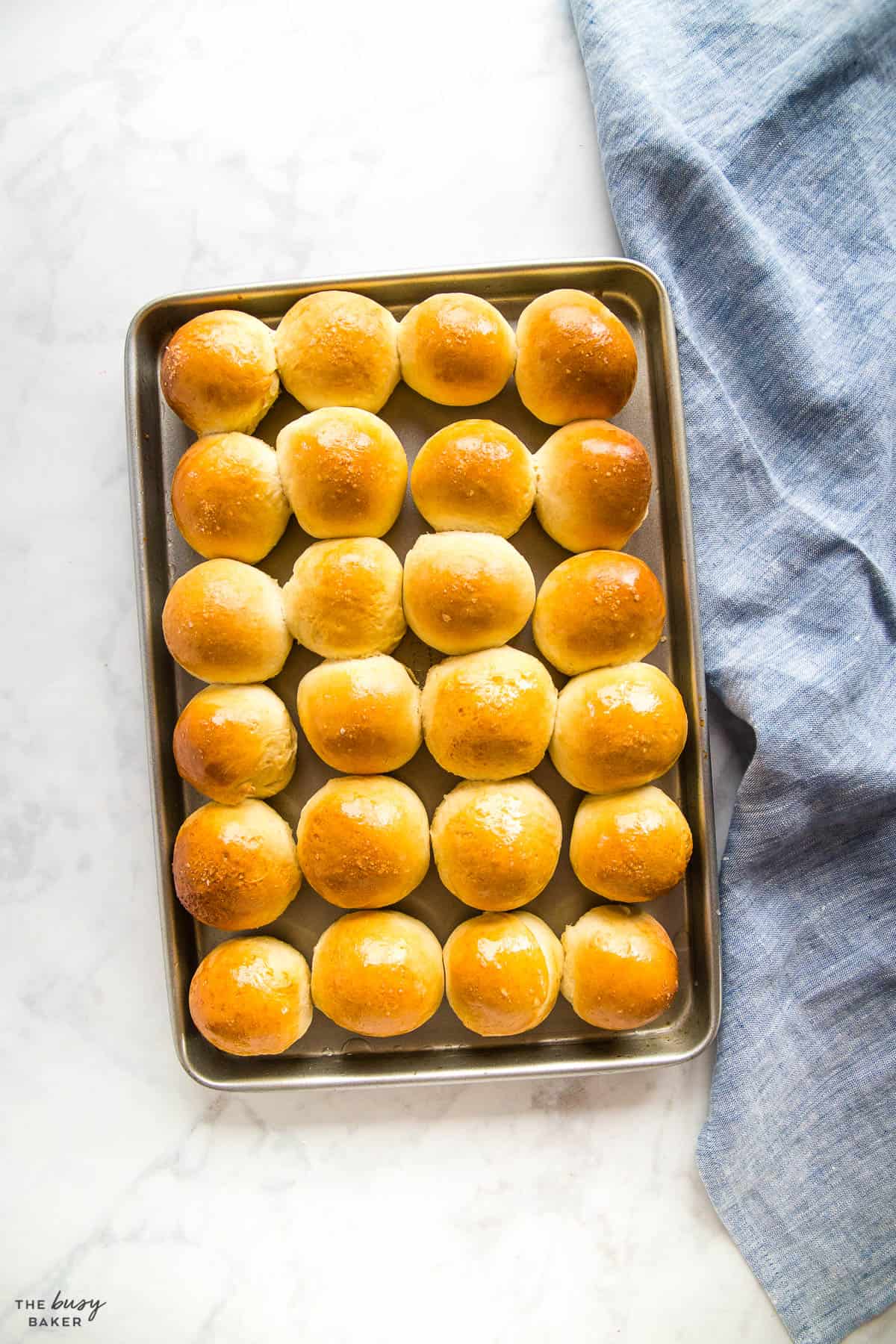 How many calories in a dinner roll?

There are about 100 calories per dinner roll.
How to reheat dinner rolls?

To reheat dinner rolls, add them to a hot oven (350 degrees Fahrenheit) for about 2-3 minutes.
Why is it called dinner rolls?

Dinner rolls are small bread rolls perfect for enjoying with dinner.
Are buns and rolls the same thing?

While buns are often larger than rolls and can be enjoyed with other ingredients inside (like a hamburger or a sandwich), rolls and buns are pretty much the same thing.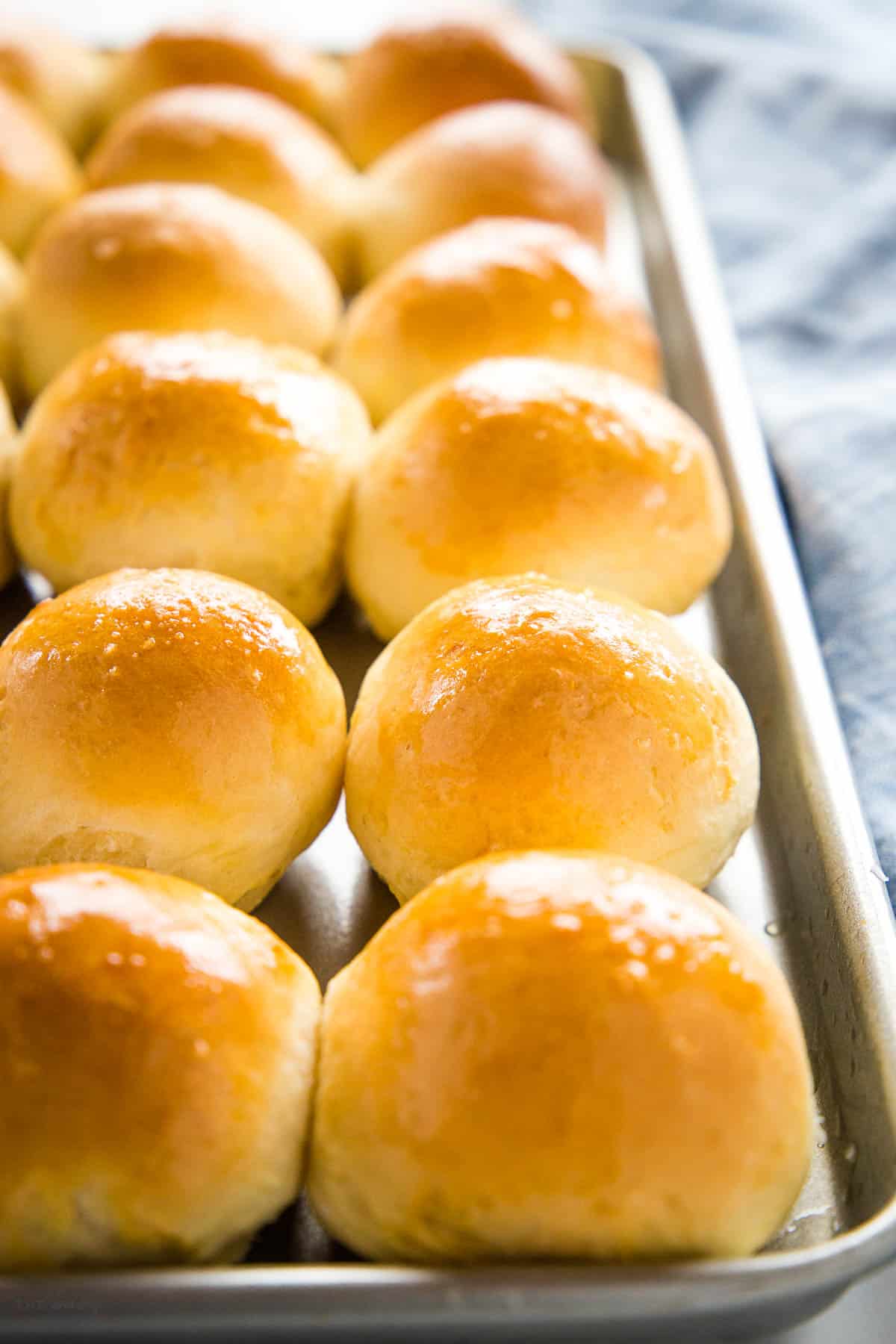 ---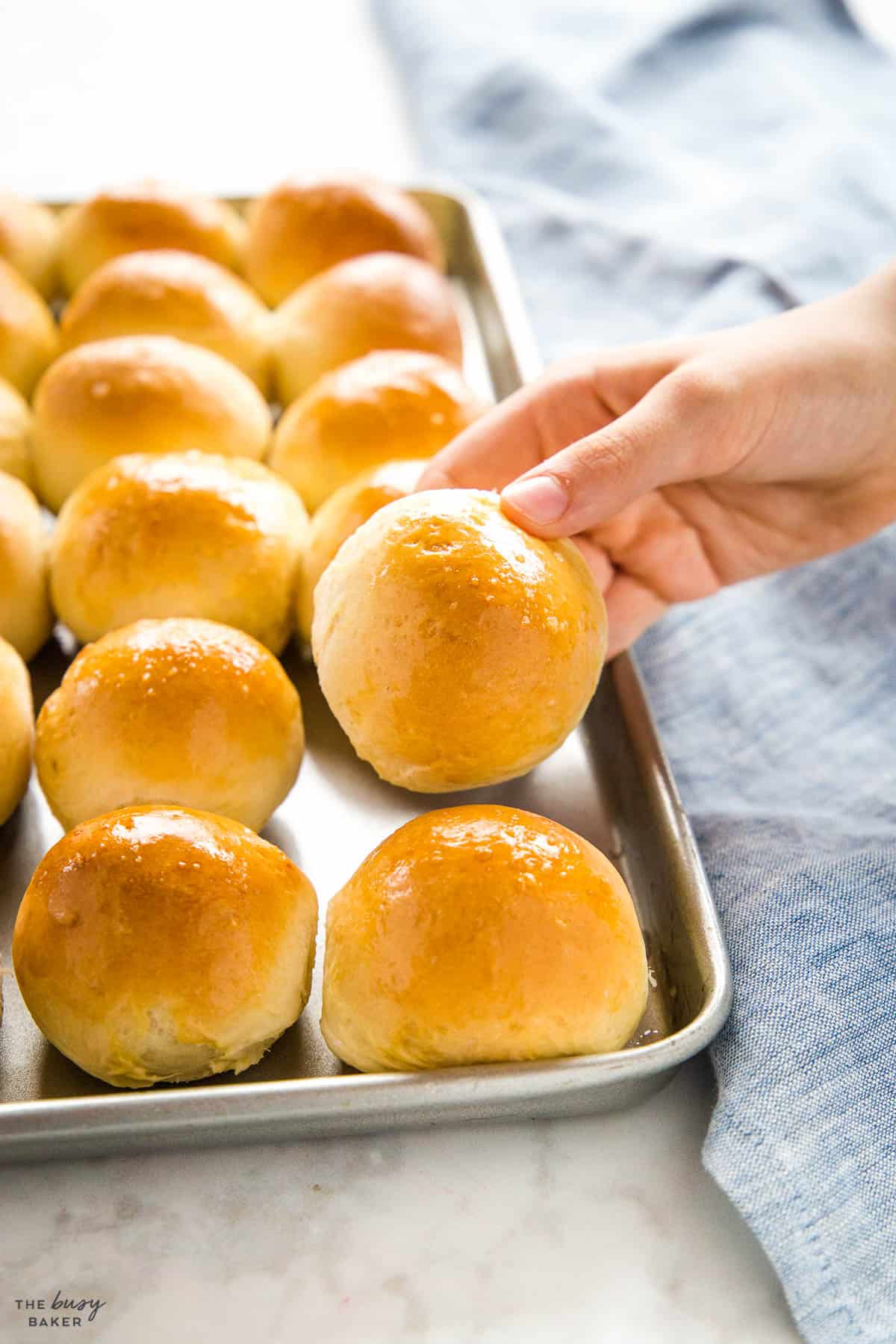 We hope you love this quick dinner rolls recipe as much as we do! Let us know in the comments below, what's your favourite bread recipe? We'd love to know!
Looking for more?
EASY NO-FAIL HOMEMADE BREAD RECIPES AND BAKING TIPS
Get my easy no-fail bread baking e-cookbook!
Click here to learn more!
If you made this, share a photo!
Are you trying this recipe? Use the comment form below to share your take; now with support for image uploads and comment voting!
Share a photo
Quick Dinner Rolls
This Quick Dinner Rolls Recipe is the easiest yeast dinner roll recipe that's ready in one hour or less. Fluffy & delicious rolls & pro-tips!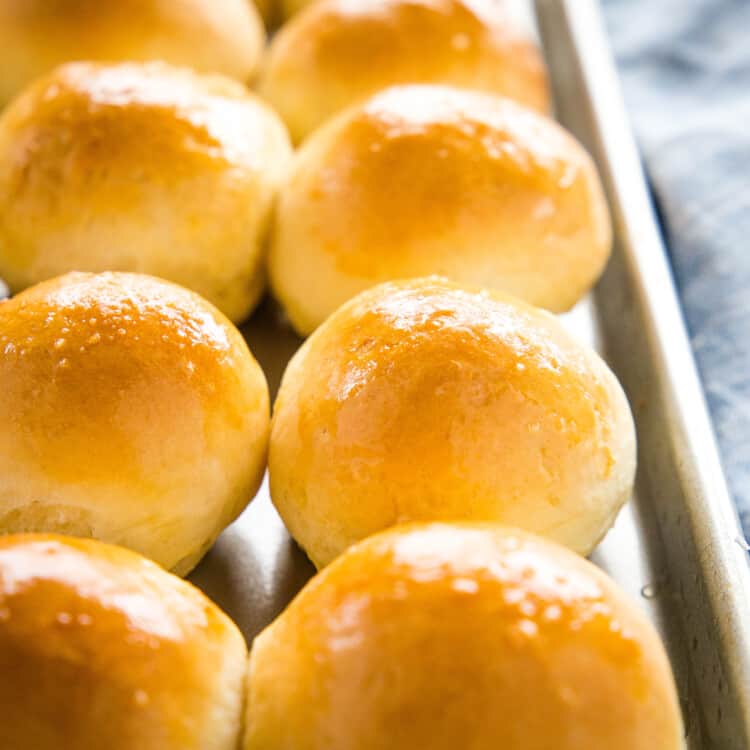 Recipe:

Ingredients
1

tablespoon

instant or active dry yeast

1 1/4

cup

warm milk

just above room temperature

3

tablespoons

granulated sugar

1/3

cup

melted butter

1

egg

3 2/3

cups

all purpose flour

(plus a few extra tablespoons for kneading and rolling)

1 1/2

teaspoons

salt

egg wash and flaky sea salt to brush on before baking (optional)
Recipe:

Instructions
Add the yeast, milk and sugar to the bowl of your stand mixer fitted with the dough hook attachment (or if making by hand, to a large mixing bowl). Mix with a fork and let sit for 3-5 minutes until bubbly.

Add the egg and melted butter and mix well.

Add the flour and salt and mix on low speed with the dough hook until a soft dough forms.

Continue the mixer on low speed, turning up to medium-low speed until the dough pulls away from the sides of the bowl. The dough will be soft and a little bit sticky or tacky.

If making the dough by hand, turn it out onto a lightly floured surface and knead for about 4-5 minutes until a soft and sticky dough forms.

Shape the dough into a ball and place it in the mixing bowl. Place the mixing bowl inside another larger mixing bowl and pour hot water into the larger bowl so the mixing bowl containing the dough is sitting in the water. Be careful not to get any water into the bowl with the dough, and only use hot water, not boiling water as it may cook the dough.

Cover the bowls with a clean kitchen towel and let the dough rise for about 15-20 minutes.

After the dough has risen, punch the dough down and turn it out onto a lightly oiled surface. Give the dough a quick knead and form it into a large ball.

Weigh the ball of dough and divide the total weight by 24. Begin portioning out the dough according to the weight to create 24 equally-weighted pieces. If you aren't using a kitchen scale, use a sharp knife cut the dough in half, then in half again, and then cut each of those pieces into 5 equally sized pieces, making sure the pieces of dough are as close to the same size as possible.

Roll each piece into a round ball, rolling the ball in a circular motion against the work surface to create surface tension. Place on a greased baking sheet (line the baking sheet with parchment paper if desired).

Brush the buns with the egg wash and sprinkle with some salt, if desired.

Set your oven to 375 degrees Fahrenheit and add the pan with the buns to the cold oven. They'll complete the second rise in the oven as it preheats. When you add the buns to the oven, set the timer for 20 minutes.

Once the timer goes off, check the buns. If they need a few more minutes, continue baking for up to 3-5 minutes more until the buns are golden brown on top.
Recipe:

Notes
Make Ahead Instructions
These buns can be made a day ahead of time and stored in an airtight bag or container until time to serve, however they are best enjoyed the day they're made.
This recipe makes 24 dinner-roll sized buns, but it also works for 16-20 slightly larger buns if you'd prefer. Adjust the baking time by a few minutes to accommodate for a larger size.
Reheating Instructions
Reheat these buns by adding them to a warm oven for 2-3 minutes.
Recipe:

Nutrition

Nutrition Facts

Quick Dinner Rolls

Amount Per Serving (1 serving)

Calories 108

Calories from Fat 27

% Daily Value*

Fat 3g5%

Cholesterol 15mg5%

Sodium 173mg8%

Potassium 43mg1%

Carbohydrates 17g6%

Protein 3g6%

Vitamin A 110IU2%

Calcium 20mg2%

Iron 1mg6%

* Percent Daily Values are based on a 2000 calorie diet.

Notice: Nutrition is auto-calculated, using Spoonacular, for your convenience. Where relevant, we recommend using your own nutrition calculations.